There's precious little time to make moves in dynasty fantasy football ahead of the 2021 NFL Draft. With the dynasty landscape set to be reshuffled, I'm looking for players to buy and sell as Round 1 quickly approaches.
Yesterday, I unveiled my top players to sell in dynasty, but selling off assets doesn't create quite the same dopamine rush that buying does. So let's shift gears and look at a few players to buy in dynasty before Thursday night.
More of PFF's 2021 NFL Draft tools here: 
2021 NFL Draft Big Board | 2021 NFL Draft Guide | 2021 NFL Draft Stats Export | NFL Mock Drafts | NFL Mock Draft Simulator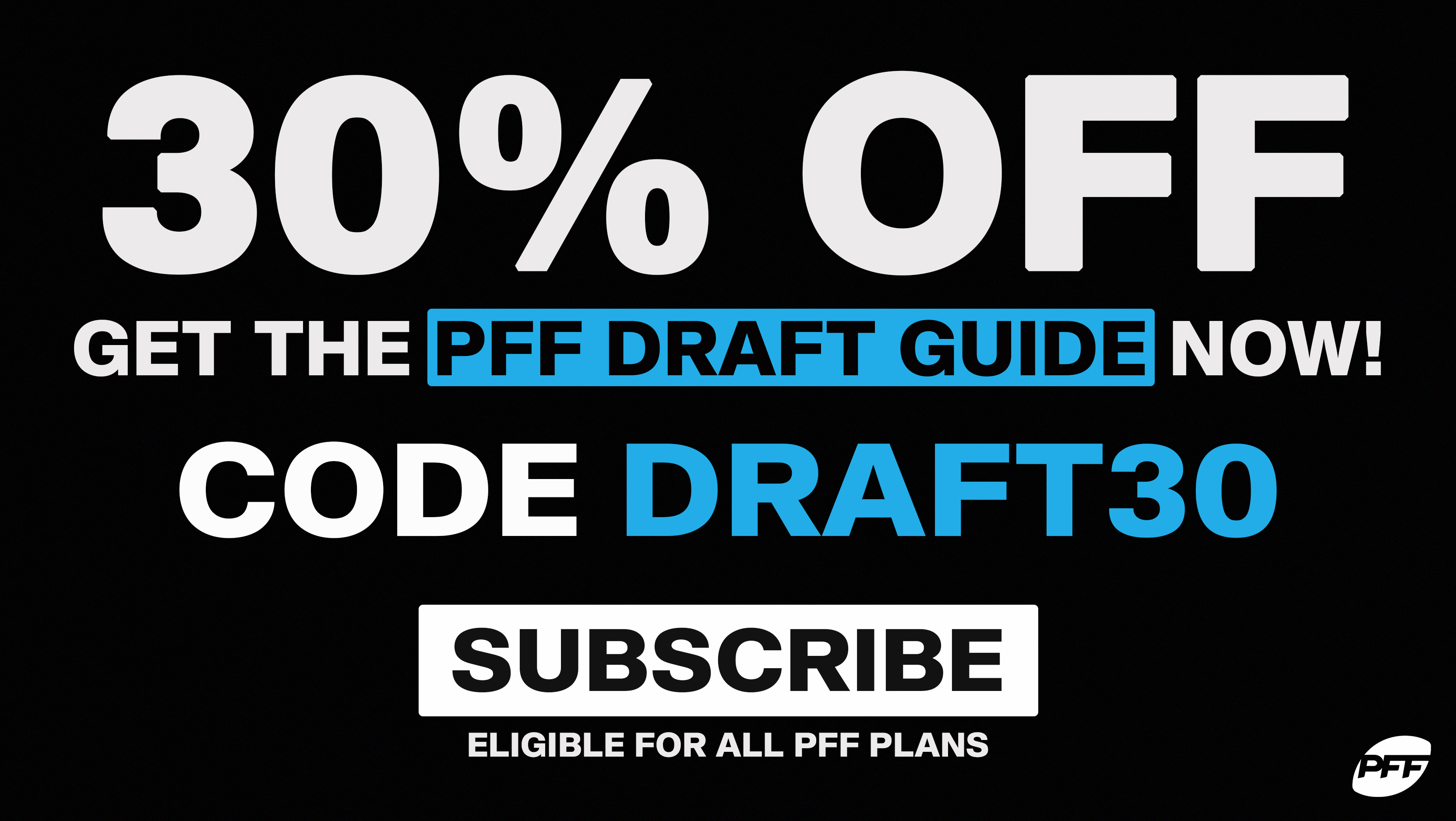 The following list includes a number of players that the masses have prematurely pegged as losers pre-draft, along with others whose values sunk during the 2020 season and are worth buying low on now.
If the Dolphins organization has shown us anything over the past several seasons, it's that Miami is an analytical-driven operation. The team trusts the numbers and acts accordingly. 
When I analyzed the draft track records of all 32 NFL GMs, no team represented the "RBs don't matter" mantra more than the numbers-driven Miami Dolphins.
They "needed" a running back last season but only added seventh-rounder Malcolm Perry.
Entering the 2016 draft (Chris Grier's first as GM), they had just lost leading rusher Lamar Miller. Miami addressed the position by adding Kenyan Drake in the third round (73rd overall). Still, it was the fifth-round pick from the previous year, Jay Ajayi, who rushed for 1,272 yards to Drake's 179 the following season.
The Dolphins haven't drafted a running back in the top 50 since taking Ronnie Brown second overall in 2005. Since then, the highest they've selected a running back was back in 2011 when they took Daniel Thomas (#throwback) at the tail end of the second round. 
This is all to say that there's a strong likelihood that third-year pro Myles Gaskin will continue to be their lead back in 2021. Gaskin already escaped free agency unscathed, which leaves the 2021 NFL Draft as his final hurdle to overcome in his pursuit of fantasy bell-cow status. 
The Miami coaching staff seems to love Gaskin — he was the featured back any time he was healthy and active during the 2020 season. His 18.3 touches per game ranked ninth at the running back position. 
Most touches per game in 2020 | RBs
| | |
| --- | --- |
| Player | Touches per game |
| Dalvin Cook | 25.4 |
| Christian McCaffrey | 25.3 |
| Derrick Henry | 24.8 |
| Joe Mixon | 23.3 |
| James Robinson | 20.6 |
| Josh Jacobs | 20.4 |
| David Montgomery | 20.1 |
| Ezekiel Elliott | 19.7 |
| Myles Gaskin | 18.3 |
| Alvin Kamara | 18.0 |
| Jonathan Taylor | 17.9 |
| Aaron Jones | 17.7 |
The Dolphins' second-year runner missed time after contracting COVID-19 but slid right back into a starting role upon returning in Week 16, commanding a 75% snap share and 19 total touches. 
He finished sixth in expected fantasy points per game (17.6) and 12th in fantasy points per game (16.8) from Weeks 1-17. His impressive per-game rates were buoyed by his second-ranked average yards per route run (1.87), which trailed only Alvin Kamara (2.19) during the regular season. 
It's almost impossible to acquire starting RBs without overpaying in dynasty, so with many concluding that Gaskin is going to be replaced — despite all indications/signals suggesting otherwise — he's worth targeting. The Dolphins look to be an offense rising in 2021, and the 24-year-old Gaskin figures to be a major beneficiary. 
Raheem Mostert is easily the riskiest "buys" of all the players here, but his cost of acquisition is enticing. He and fellow 49ers RB Jeff Wilson Jr. are being viewed similarly in terms of value, and that's making Mostert emerge as a bargain.
Back in February, I wrote about Wilson being a sneaky winner in free agency after the departures of Tevin Coleman and Jerick McKinnon. I assumed Wilson would be a value in the off-chance he'd win the starting gig for the 49ers, but that hasn't transpired with the backfield still in flux.
At cost, I'm willing to pay just a bit more for Mostert, who should open the year entrenched as the starter — that's the role he played when healthy in 2020. He averaged 15 touches per game (22nd), which was substantially more than any other 49ers RB. Wilson averaged 12.6 touches, with Jerick McKinnon (7.6), Tevin Coleman (4.0) and JaMycal Hasty (6.6) trailing behind.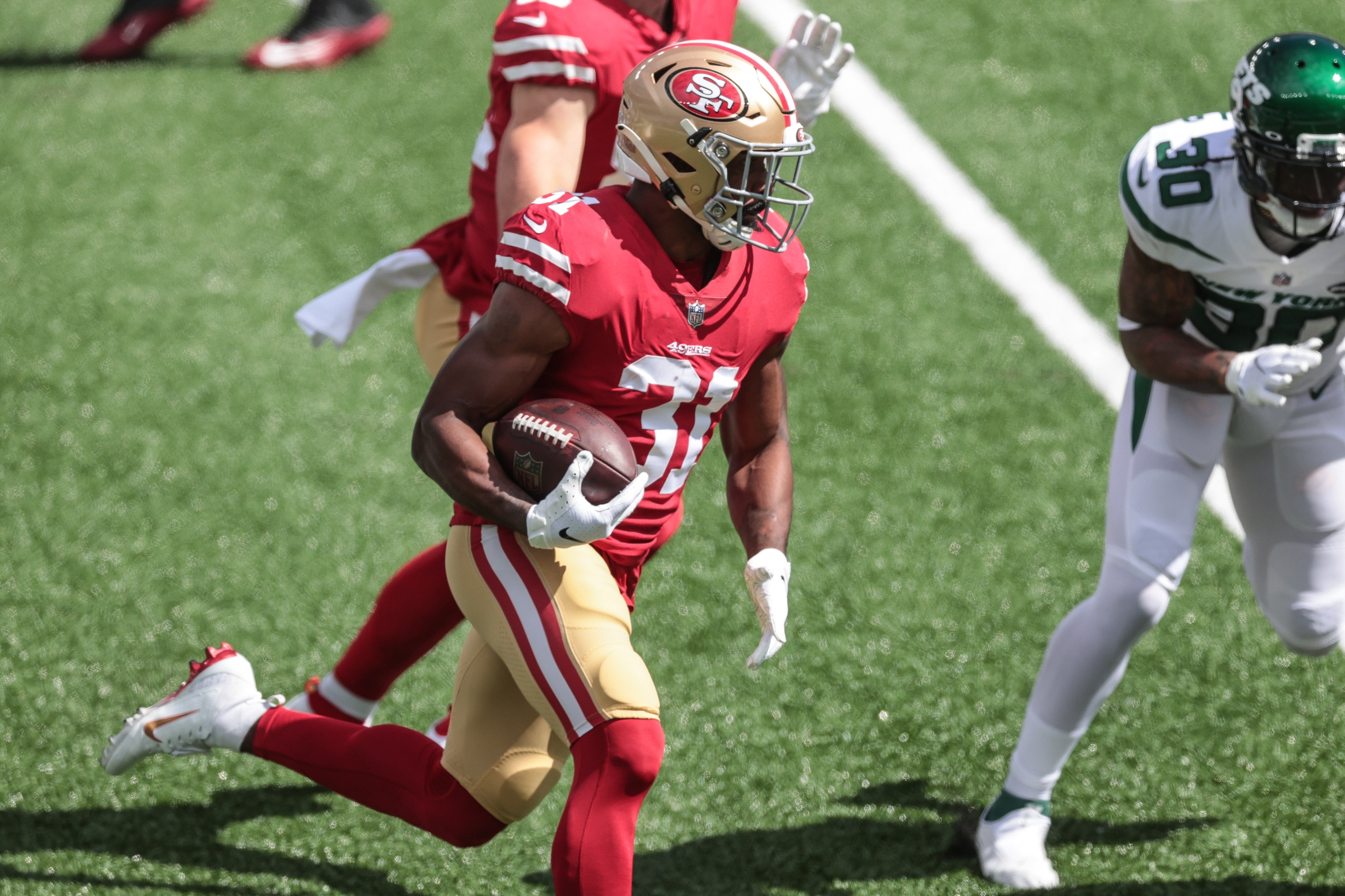 Mostert was also slightly more productive in terms of fantasy points per game (13.3) than Wilson (12.7). Since the start of 2019, Mostert ranks eighth in PFF rushing grade (86.1), second in yards per attempt (5.5), sixth in yards after contact per attempt (3.3) and sixth in rushing attempts of 15-plus yards (24). 
The addition of veteran Wayne Gallman Jr. also lessens the chance that the 49ers will draft a running back with either the 43rd overall pick or No. 102. Since John Lynch took over as a general manager for the 49ers in 2017, the team has only drafted one running back — Joe Williams in the fourth round in 2017 after Kyle Shanahan pounded the table to get him on the roster. Williams didn't record a single snap during his entire four-year career. 
Mostert's age (29) will keep most fantasy managers from holding him tightly, but he doesn't have the wear and tear of other RBs. His 456 career touches (postseason included) rank 11th in the 2015 RB draft class.
For reference, Mostert has fewer touches on his resume than 2017 draftees Alvin Kamara, Leonard Fournette, Christian McCaffrey, Dalvin Cook, Joe Mixon, Kareem Hunt, Chris Carson and Aaron Jones. 
Total touches by 2015 RB draft class
| | |
| --- | --- |
| Player | Touches |
| Todd Gurley II | 1,755 |
| Melvin Gordon III | 1,615 |
| David Johnson | 1,213 |
| Tevin Coleman | 875 |
| Duke Johnson Jr. | 807 |
| T.J. Yeldon | 716 |
| Jay Ajayi | 687 |
| Mike Davis | 624 |
| Javorius Allen | 586 |
| Ameer Abdullah | 481 |
| Raheem Mostert | 456 |
| Malcolm Brown | 435 |
Did we all just completely forget that Bruce Arians called the Ke'Shawn Vaughn "breakout" just under a month ago? Of course, I'm being facetious because Arians constantly makes statements that have zero semblance of the truth to them. We can't take anything Arians says at face value.
Still, the second-year pro might have a shot to compete for reps during training camp — an opportunity he didn't get during last year's "offseason" activities. Last year, there were reports that Vaughn was being used as a special teamer. Any suggestion of a role in the offense is a step in the right direction. 
Leonard Fournette, Ronald Jones II and Giovani Bernard will all be free agents after the 2021 season, leaving the Bucs' 2020 third-round pick as the only running back on the roster in 2022. 
With a lack of depth at the position heading into 2022, the Buccaneers could draft a running back this week. And general manager Jason Licht has shown an affinity for targeting the position. 
But there's no guarantee that happens, and the decision to sign Bernard/re-sign Fournette might just be enough to deter them from going running back at No. 32 overall. That would be a big luxury to splurge on, and looking past the "Big Three" rookie running backs in this class, Vaughn stacks up well against what is a relatively weak class overall. His third-round draft capital is going to look extremely appealing after the majority of the 2021 class is also drafted on Day 3.
Vaughn possesses a three-down skill set and showed in the NFL that he can be called upon in pass protection. On 26 total pass-blocking snaps, he earned a PFF pass-blocking grade of 84.3. That ranked second only to Nick Chubb (91.4) among running backs. Fournette saw the most pass-blocking snaps (84) among Tampa RBs and was atrocious. His PFF pass-blocking grade (28.4) ranked 41st out of 42 qualifying running backs.
Bernard's addition creates a hurdle to receiving work in the Bucs' backfield, but the newly acquired scatback isn't a lock to seize a massive role on offense, despite what BA might tell us. His one-year deal with the Bucs is worth less than $1.5 million — nearly identical to the amount of money they paid veteran LeSean McCoy in 2020. As we all know, McCoy was #dust and played a very small role in the offense. Vaughn out-carried McCoy 31 to 10. 
Last season, a Tampa Bay RB posted a top-30 PPR performance 15 times. There's fantasy value to be had even in this ambiguous backfield — chasing after the cheapest/overlooked option is the best buy-low option. Vaughn's sunk dynasty value has reached a point where there's nowhere to go but up. 
James Conner and Chase Edmonds will both be free agents after the 2021 season, leaving 2020 seventh-round pick Eno Benjamin as one of the few RBs under contract for the Arizona Cardinals in 2022. He's available on most dynasty waiver wires.
The Cardinals don't have any third- or fourth-round picks in this year's draft to further bolster their RB room, so Benjamin is a strong bet to open the season as the No. 3 back on the roster. Conner's inability to stay healthy and Edmonds' unproven track record as a starter make Benjamin more than worth a speculative add to the back-end of dynasty rosters. 
Everyone is worried about Tee Higgins and Tyler Boyd because of the potential reunion between Joe Burrow and Ja'Marr Chase. But there's more than enough volume to go around in an offense that passed at the second-highest rate (68%) under neutral game script conditions when Burrow was under center from Weeks 1-11.
Entering the 2021 season, the Bengals rank sixth in vacated air yards (36%). 
A.J. Green was inefficient as a receiver in 2020 at just 1.02 yards per route run (101st) and was detrimental to the entire Bengals offense. Yet he continued to command high-value targets at the expense of better players.
Green led the team in air yards share (31%) and team end-zone share (30%) and managed to be a colossal bust in fantasy football. His departure is a blessing for Burrow,  Boyd, Higgins and also Chase, if he ultimately falls to the Bengals at No. 5 overall. 
Boyd and Higgins might only see slight bumps in terms of raw target share in 2021, but their volume of high-volume opportunities — which tend to produce more fantasy points — is going to skyrocket, even with Chase added to the fold.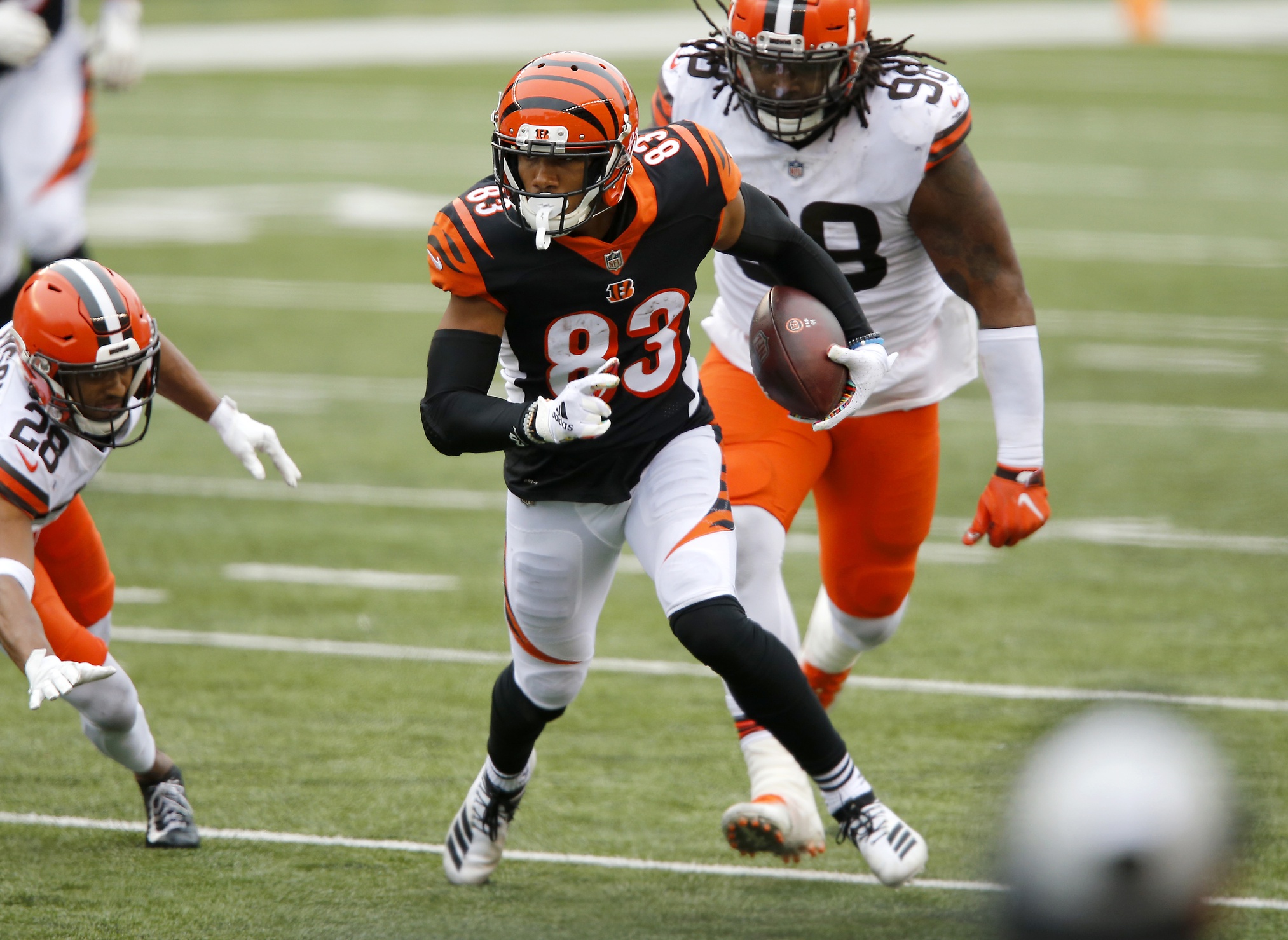 Boyd, in particular, has a chance to absolutely smash expectations in 2021. His role in the slot isn't likely to change with another pass-catcher integrated into the offense. He was a borderline elite fantasy weapon with Burrow under center; I was shocked by Boyd's numbers through the first 11 weeks of the season. 
The Bengals' shifty slot wide receiver averaged 16.3 expected fantasy points per game (seventh) and 16.2 fantasy points per game (14th). 
I have a strange feeling we could see the 2019 LSU Tigers historic offense all over again in 2021 in Cincinnati: Boyd is Justin Jefferson; Higgins is Terrace Marshall Jr.; and Chase is himself. (And as an honorable mention, tight end Thaddeus Moss can also reprise his collegiate role.)
With Green out of the picture and replaced with a more capable field-stretcher in Chase, don't be surprised to see Burrow's deep-ball improve drastically in Year 2. 
The scenario I just laid out is the "worst-case scenario" for Boyd, as there's a still chance the Bengals go with an offensive tackle in the first round. That would open up the target floodgates for both Boyd and Higgins to absolutely feast in this offense. That's why I prefer to target Boyd pre-draft — the price could go up dramatically in the next few days. 
Courtland Sutton and Jerry Jeudy have been two of my top trade targets in dynasty this offseason, and I can't help but get excited about the thought of them playing in an offense led by Justin Fields. With Fields' draft stock free-falling, the Denver Broncos look to be in striking distance of acquiring the dynamic Ohio State QB. I'm doing whatever I can to procure these receivers before the draft kicks off on Thursday night. 
Sutton ranks top-10 in yards per route run (2.12) since the beginning of the 2019 season. Jeudy finished the 2020 season ninth in total air yards but endured erratic quarterback play from Drew Lock. The Broncos' quarterback ranked 31 out of 32 QBs in percentage of uncatchable passes in 2020.
These two stud receivers would see their fantasy production skyrocket with a hyper-accurate and deep-ball savant at QB. Fields finished last year with a 72.4% accurate-pass rate (No. 1 in the nation) and since 2019 ranks third in air yards percentage (71.2%).
With all the Kyle Pitts hype in dynasty leagues, fantasy gamers are not talking about T.J. Hockenson's potential ascent to elite status in 2021. The Detroit Lions' tight end has a chance to drown in targets — the team ranks near the top in terms of vacated targets and air yards after opting to revamp their entire receiver room from a season ago. 
Many mock drafts have the Lions selecting a WR at No. 7 overall, but taking a pass-catcher that high does not align with Brad Holmes' past tendencies as an executive. While working for the Rams, the team put a heavy focus on drafting tackles, and I think that's the direction they go Thursday night.
The Lions will add a receiver or two at some point during the draft, but I doubt it will be in Round 1. A less-talented incoming rookie will allow Hockenson to emerge as the team's target leader in 2021 — a feat that can only be accomplished by the league's elite tight ends.
For that reason, I've moved Hockenson up in the rankings across all formats to TE4 overall, ahead of Mark Andrews.