We're all familiar with the argument that running backs don't matter in the NFL. Smart and informed NFL teams have realized that paying a premium at a replaceable position seldom works in the long run.
Some of the biggest contracts and investments in recent years to running backs — like Todd Gurley II, David Johnson and Le'Veon Bell — have yielded terrible results. Those poor investments have placed great financial stress on franchises, which have ultimately caused them to part ways with their once-prized RB assets.
This offseason is sure to again feature heavy movement at the running back position with several excellent options available in NFL free agency. Teams are looking to move on from pricier RB options, leaving some quality young players in the market.
In fantasy football, running backs do matter, so it's crucial to be a step ahead of our dynasty league-mates as the dominoes start to fall. The following running backs have a chance to see their values rise considerably based on how things play out in NFL free agency.
Subscribe to
Aaron Jones is PFF's No. 1 ranked free agent running back, and it's well deserved — he has been nothing but fantastic since entering the NFL in 2017. Since then, Jones ranks third in PFF rushing grade (91.1) and fourth in yards per carry (5.1). 
Jones also has limited wear on his tires because he operated in a timeshare during his four seasons in the league. He has the chance to be a huge winner in fantasy football if he lands with a team willing to commit to him as a three-down back. At age 26 and with 846 touches on his resume, Jones has at least one or two more super-productive fantasy seasons still within him.
Total Touches | 2017 NFL Running Back Draft Class
| | |
| --- | --- |
| Player | Touches |
| Alvin Kamara | 1,124 |
| Leonard Fournette | 1,072 |
| Christian McCaffrey | 1,015 |
| Dalvin Cook | 963 |
| Joe Mixon | 940 |
| Kareem Hunt | 879 |
| Chris Carson | 848 |
| Aaron Jones | 846 |
The chances of Jones returning to the Green Bay Packers seems extremely unlikely considering the team recently invested a second-round pick in its RB of the future, A.J. Dillon.
Teams like the Seattle Seahawks, Atlanta Falcons and Pittsburgh Steelers look like potentially solid landing spots for Jones where he would be able to operate as the team's primary runner while also catching passes out of the backfield. 
Jones has caught at least 52 passes in each of his last two seasons. Thirty of those receptions came with Jones lined up either in the slot or out wide, showing how dynamic he can be in the passing game. 
A.J. Dillon is about to become the "the guy" in the Green Bay backfield. (I wrote about his prospects for 2021 and beyond here.)
Dillon earned an 80.7 PFF rushing grade (80.7, 15th), averaged 5.2 yards per attempt (sixth), 3.4 yards after contact per attempt (seventh) and ranked No. 1 in the NFL in missed tackles forced per attempt (31%) in 2020. These accolades come with the caveat of just 55 rushing attempts, but the former Boston College superstar's talent was obvious.
No team ran more from inside-zone concepts last season, and Dillon was particularly effective when rushing from that offensive scheme. Packers' starter Aaron Jones led the league in yards per attempt (6.7) and yards per attempt after contact (4.2) on inside-zone runs, but Dillon was not far behind. The rookie averaged 5.9 yards per attempt (fourth) and 3.6 yards per attempt after contact (third). 
With Jamaal Williams also an impending free agent, Dillon has the chance to potentially shoulder even more work as a receiver, which is not being taken into consideration based on his lack of receiving chops in college.
Williams and Jones combined for an 18% target share in the Packers offense last season. Green Bay also threw to the running back position on 22% of its pass attempts last season, the sixth-highest percentage in the league.
Dillon getting pass-game work stands as the ceiling play, though. It's likely that Williams returns as the primary pass-catcher. And Williams offers some sneaky upside should Dillon just absolutely flame out in his second season.
During Weeks 7 and 8 with Jones sidelined, Williams averaged 18.8 fantasy points per game and 21.4 expected fantasy points per game. 
The New England Patriots are currently in a state of disarray in the post-Tom Brady-era. They have serious question marks at the quarterback position and are in dire need of upgrades at wide receiver. 
But what isn't being discussed enough is the fact that two of their most trusted running backs in the passing game — James White and Rex Burkhead — are both about to be free agents. Their loss would be a massive gain for third-year running back Damien Harris. 
I thought the team would consider cutting ties with White at some point during last season. There are plenty of teams that could utilize an above-average pass-catching specialist like White — maybe a reunion in Tampa Bay with TB12? — so he shouldn't be afraid to test the market. 
Besides, Burkhead is much more likely to be brought back at a discounted rate, which would make him a low-key winner. Sexy Rexy has always posted solid fantasy numbers in games that White has missed in the past. 
During Weeks 2 and 3 with White sidelined, Burkhead, averaged 21.9 fantasy points per game and 18.1 expected fantasy points per game. But Burkhead suffered a season-ending knee injury in November, so it will be awhile before we know when/if he'll be healthy for 2021.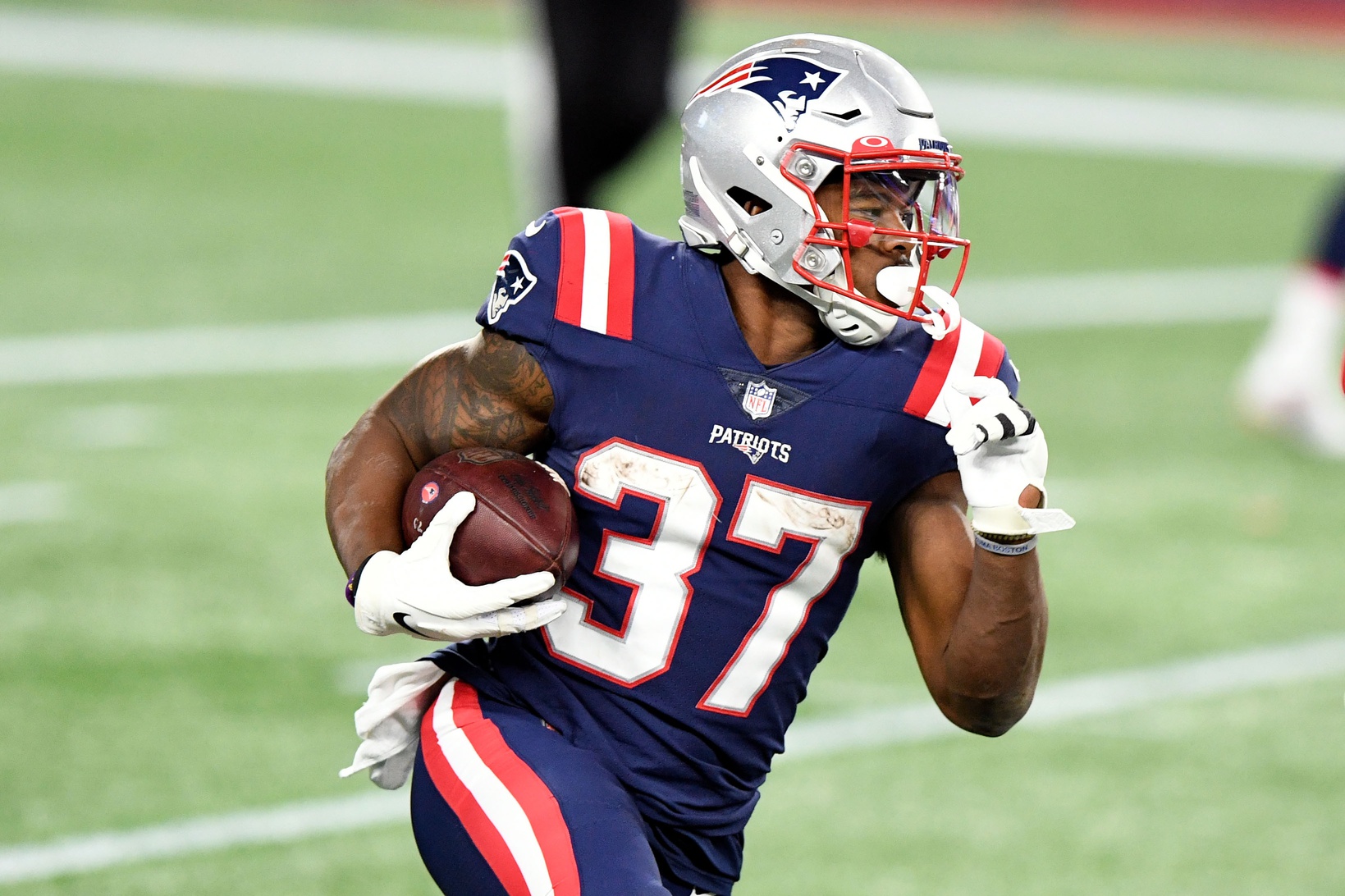 White and Burkhead collectively made up 22% of the Patriots' targets in 2020 — those vacated targets could easily find their way to Harris.
Harris was one of the lone bright spots for the Patriots in 2021, as he finished the season as PFF's third-highest-graded running back (86.9). He only averaged 9.1 fantasy points per game (41st) because he had only five catches and scored just two rushing touchdowns. Cam Newton's rushing ability inside the 5-yard line put a massive damper on Harris' fantasy upside.
As we project into 2021, all the issues that were holding back Harris no longer seem apparent. He has the chance to see an uptick in pass-game work and shouldn't lose out on goal-line work with Newton likely gone. 
We know that Harris can be an effective pass-catcher because he did it in college. Harris flashed a three-down skill set at Alabama, where he compiled 52 receptions for 408 yards on top of rushing for over 3,000 yards at 6.4 yards per carry.
Rashaad Penny's NFL career might never match the first-round hype, but next year could be his best shot. Both Chris Carson and Carlos Hyde are free agents, leaving Penny, Travis Homer (2019 sixth-rounder) and DeeJay Dallas (2020 fourth-rounder) as the only running backs on the roster.
Carson was a top-eight fantasy running back through the first six weeks of the season, averaging 20 fantasy points per game (seventh) and 16.5 expected fantasy points per game (13th) while playing a 56% snap share. But for the fourth consecutive season, he couldn't stay healthy. 
Carson didn't finish the season on I.R. for the first time in his career, but he missed a month during the middle of the season and his production fell off upon his return to the lineup. He averaged just 13.1 fantasy points per game (25th) and 11.9 expected fantasy points per game (29th) while playing about the same amount of snaps (53%).
The bruising back has been playing on his rookie deal since 2017, which was just a four-year contract for $2.5 million. PFF has him projected to command a three-year deal worth at least $10 million per season, and that might be too rich for a guy that is a longshot to suit up for 16 games. 
The Seahawks might feel more confident in letting Carson walk in favor of promoting Penny to be the lead back. Last season, he was recovering from a torn ACL during the offseason, but he finished 2020 healthy and could be leaned on more heavily next season. 
The 2018 first-round pick didn't do much on his limited action in 2020 — 11 carries for 34 rushing yards — but he was electric back in 2019. Penny saw at least eight carries in four different games that season, averaging 6.8 yards per attempt, 3.6 yards after contact per attempt and 16.1 fantasy points per game while forcing 10 missed tackles.
Penny led all running backs in PFF's breakaway percentage during the 2019 regular season (43%). 
DeeJay Dallas would become Penny's main competition for touches in the Seahawks backfield, but Seattle doesn't seem willing to go out of its way to utilize him. After he toted the rock 18 times for 41 yards in his first start of the season, his snaps and role in the offense quickly diminished as other Seattle running backs started to get healthy. 
The Arizona Cardinals told us last season how they felt about Kenyan Drake when they elected to use the transition tag on him instead of signing him to a multi-year deal. They were reportedly interested but wanted to see more before signing the dotted line on a long-term contract. 
Unfortunately for Drake, he failed to deliver after his impressive 2019 campaign with the Cardinals. He ended the season with a 60.9 overall PFF grade, the lowest mark of his career, and averaged only 2.5 yards after contact per attempt. 
That ranked dead last among all running backs with at least 150 carries. Chase Edmonds posted similar production on the ground, but his overall grade was much better than Drake's (69.3) because of his upside in the passing game.
Edmonds earned PFF's ninth-highest receiving grade (77.1) and finished seventh in receptions (52) among running backs. 
If Arizona decides not to retain Drake, it would be a dream come true for fantasy managers invested in Edmonds. He would almost certainly inherit a three-down workhorse role, as he did in the one game Drake missed last season. Edmonds totaled 21 touches and played 96% of the team's snaps on offense.
He finished the season 12th in points per touch (1.12). Drake's 0.74 mark ranked 56th, tied with Todd Gurley. 
Christian McCaffrey isn't likely to fall from the 1.01 spot in 2021 drafts, but I can say I will feel much better about it if free agent Mike Davis doesn't return.
Davis showed his value for the Carolina Panthers in 2020, filling in admirably for an injured CMC. We don't want this coaching staff to get any ideas of attempting to "split work" between the two backs. 
The only way to be sure that won't happen is if Davis does elsewhere. Do the right thing, Matt Rhule. 
I can't envision any scenario where the Chiefs bring back Le'Veon Bell after he was a complete afterthought in their offense and essentially benched in favor of Darrel Williams. 
It wasn't until Bell arrived in Kansas City that we started to see Clyde Edwards-Helaire's fantasy production falter. During the first six weeks of the season, CEH was the RB11 overall, averaging 15.9 fantasy points per game (17th) and 18.3 expected fantasy points per game (seventh).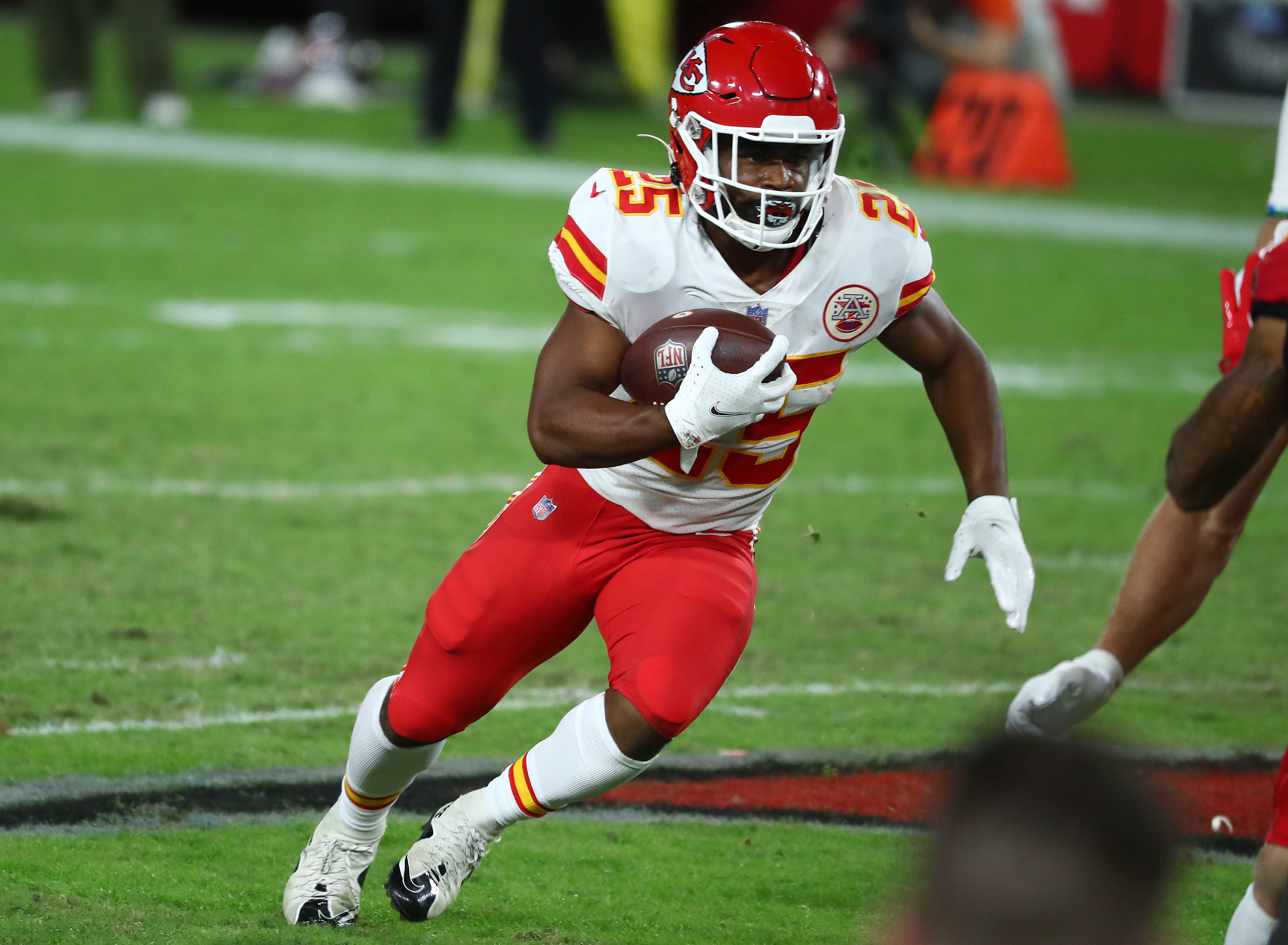 Damien Williams' return after opting out in 2020 is likely to cause some uproar among fantasy drafters invested in Edwards-Helaire, but I wouldn't be overly concerned about him longterm. The team drafted CEH in the first round before the covid opt-out, so I'd take advantage of any worried fantasy owner who might be trying to move Edwards-Helaire.
Tampa Bay running backs Leonard Fournette, LeSean McCoy, Kenjon Barner and T.J. Logan are all free agents. That is huge for 2021 third-round pick Ke'Shawn Vaughn, as he has a clear path to a role as the team's primary running back on passing downs.
Vaughn caught passes at the college level and showed in the NFL that he can be called upon in pass protection. On 26 total pass-blocking snaps, he earned a PFF pass-blocking grade of 84.3. That ranked second only to Nick Chubb (91.4) among running backs.
Fournette saw the most pass-blocking snaps (84) among Tampa RBs and was atrocious. His PFF pass-blocking grade (28.4) ranked 41st out of 42 qualifying running backs.
Ronald Jones II will reprise his role on early downs, but Vaughn should have no problem beating out ol' stone hands for pass-catching duties. Jones' PFF receiving grade (29.6) ranks dead last out of 56 qualifying running backs in 2020. 
The Buccaneers invested Day 2 draft capital on Vaughn last year. If Fournette hadn't become available unexpectedly we might have seen much more of him. Buy him everywhere while the masses wait for Fournette news to break. 
The sooner we can accept that this New York Jets team is no longer Adams Gase's team, the sooner we can start to get excited about some of its players for fantasy football. One of those players is second-year running back La'Mical Perine.
He got a raw deal last season, losing out on snaps to the likes of Frank Gore and Josh Adams. Those veterans are free agents in 2021 (Adams RFA), leaving the starting gig in a potentially newly infused offense up for grabs. 
New Jets offensive coordinator Mike LaFleur is sure to bring in a heavy outside-zone running scheme courtesy of his days spent with the San Francisco 49ers, and that will vibe well with Perine. The rookie earned his highest rushing grade (67.7) — slim pickings, I know — when he was running outside zone concepts. 
Tevin Coleman and Jerick McKinnon are not expected to be back in 2021, which leaves the backfield to Raheem Mostert, Jeff Wilson Jr., and JaMycal Hasty.
Mostert (12.7 points per game) and Wilson (13.3 points per game) posted almost identical fantasy production when given the opportunity in 2020. But Mostert is going to be drafted first across fantasy circles under the assumption that he'll be the guy.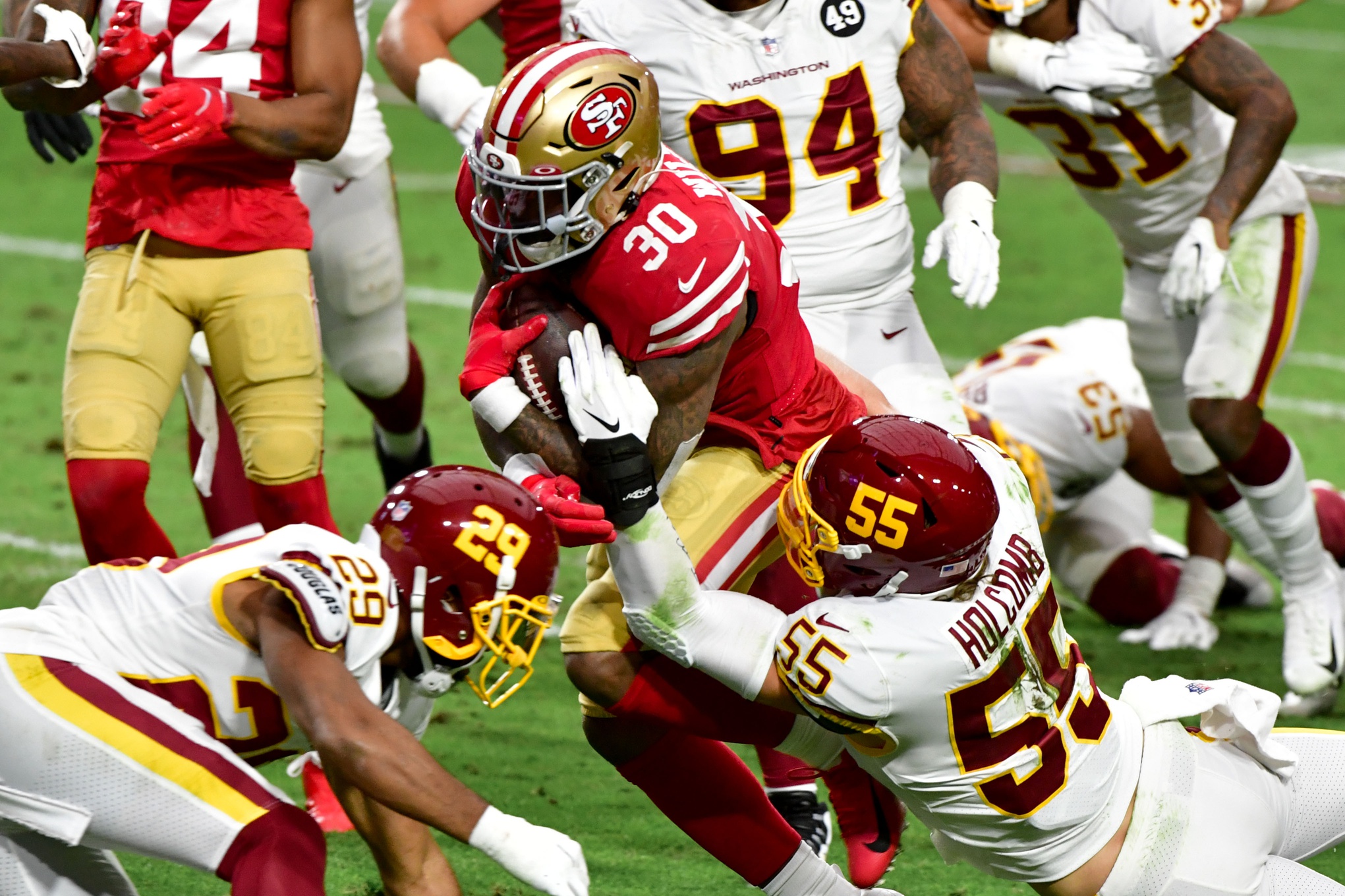 Fantasy analysts proclaiming to know for certain who is going to start in arguably the most volatile backfield in all of football are making a bet with some long odds attached.  
During Weeks 16 and 17, Wilson played snap shares of 68% and 83% with Mostert sidelined. Mostert never played a snap share higher than 59% during the regular season. 
In that final two-game stretch, Wilson also rushed for 259 yards and caught four of eight targets for 33 yards with two scores.
After an insane 2018 campaign that saw James Conner take fantasy leagues by storm, the former star Pittsburgh Steelers running back has fallen flat over the past two seasons.
Conner's fantasy points per game has fallen from 21.5 in 2018 (seventh) to 14.8 in 2019 (17th) and bottomed-out last season at 12.7 (28th). He's not on the right trajectory for NFL teams to vie for his services. And Pittsburgh has shown its hand by selecting fourth-round running backs Benny Snell Jr. and Anthony MacFarland Jr. in back-to-back seasons.
Snell operated as the team's workhorse in games Conner missed in 2020, so his stock could be on the rise rather quickly. He'd be a sell-high for me in dynasty formats because he hasn't shown nearly enough at the NFL level to be worth hanging onto longterm.
Among 77 running backs with at least 100 carries over the past two seasons, Snell ranks 72nd in PFF rushing grade (62.8). Even as a bruiser back, he just won't be able to overcome the Steelers' 31st-graded run-blocking unit from last year. I'd much rather take a flier on MacFarland, who has way more explosiveness to work with.