The 2021 NFL Draft will offer an infusion of talent for NFL rosters and fantasy squads alike. But for every rookie added to the NFL player pool, one less job remains available for veterans or young players who haven't yet earned long-term security in the league. 
Last year we saw certain players' values plummet after the draft. Consider how quickly the outlooks of guys like Damien Williams, Kerryon Johnson, Marlon Mack, Darrell Henderson, Aaron Jones, Devin Singletary, Michael Gallup, Deebo Samuel and JuJu Smith-Schuster changed after the 2020 draft when their teams invested significant draft capital at their positions. 
More of PFF's 2021 NFL Draft tools here: 
2021 NFL Draft Big Board | 2021 NFL Draft Guide | 2021 NFL Draft Stats Export | NFL Mock Drafts | NFL Mock Draft Simulator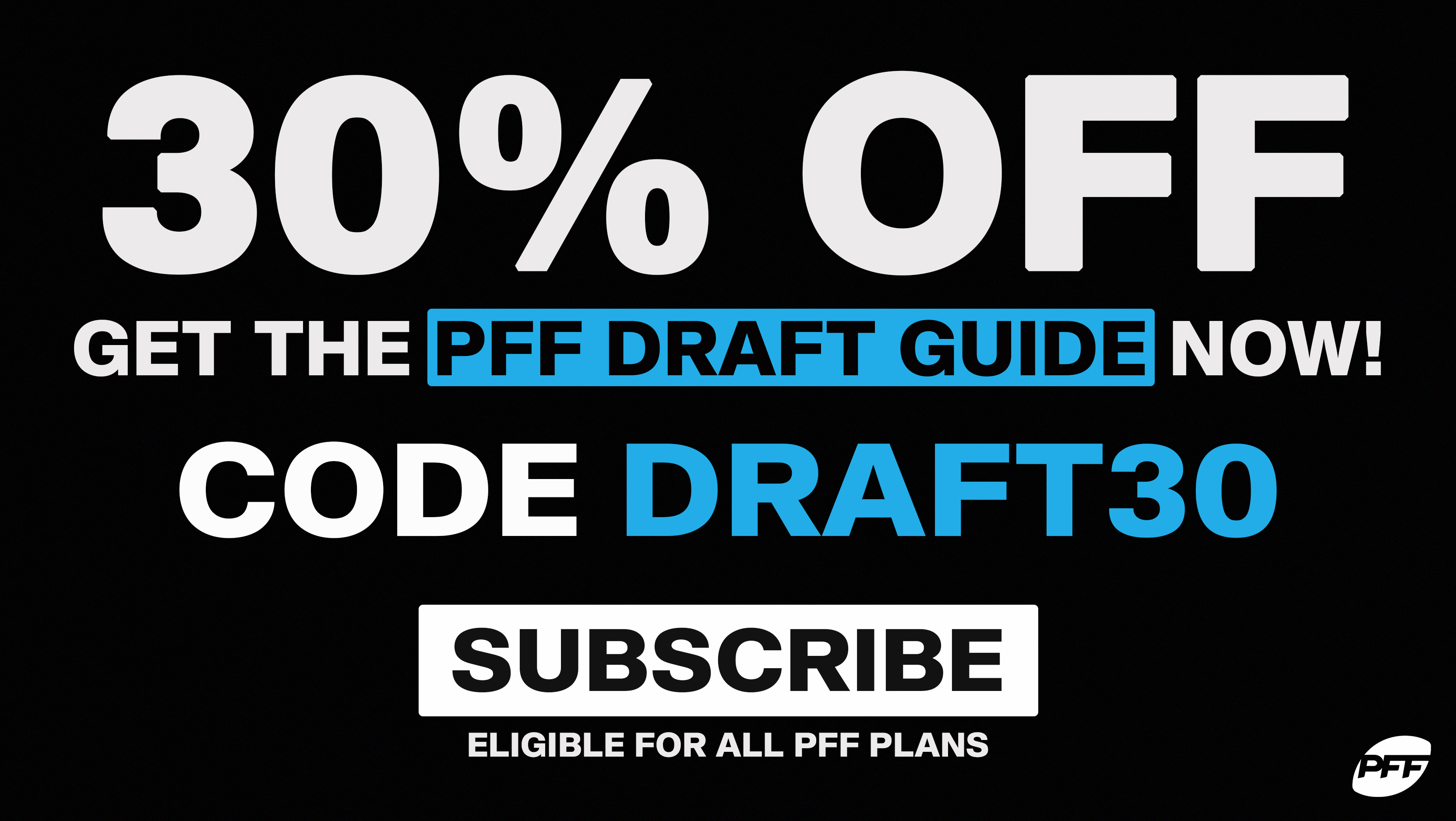 While the dip isn't always completely warranted, most of these players won't recoup their dynasty fantasy value any time soon. That's why it's wise to get out from underneath some of these investments before draft night kicks off this Thursday. 
Here are a few players worth trying to sell before any bad news hits during the 2021 NFL Draft.
The Baltimore Ravens' intention to use a high-end draft pick on a wide receiver has to be the worst kept secret in the NFL. The team was highly interested in acquiring both Kenny Golladay and JuJu Smith-Schuster. After missing out on both, they settled for Sammy Watkins, but that won't stop them from procuring another receiver.
I felt extremely certain that Baltimore was going to take a WR high in the draft based on their offseason behavior, but the blockbuster trade they recently made with the Kansas City Chiefs makes it all the more likely.
Armed with both No. 27 and No. 31 overall, Baltimore now has twice the firepower to bring in a top rookie receiver. Since taking over as general manager in 2019, Eric DeCosta has spent a plethora of draft picks on receivers inside the first four rounds. 
None of this is ideal for Marquise Brown's long-term outlook. Brown was able to finish his second season in the league strong because he commanded an absurd 32% target share from Week 11 onward. With an additional pass-catcher added to the offense, it's back to the boom-or-bust WR3 factory of sadness for Brown. 
I'm particularly concerned that the Ravens will add a slot receiver, moving Brown to the outside more often. His smaller size (5-foot-9, 170 pounds) has made it difficult to get open on the perimeter against bigger and more physical cornerbacks.
Since the start of 2019, Brown ranks 49th out of 67 qualifiers in PFF receiving grade versus man coverage when lined up outside (66.5). Many of Brown's efficiency marks see a boost when he plays in the slot, so the move inside is a natural fit.
Through two seasons, Brown has barely cracked the top 50 in terms of fantasy points per game at the wide receiver position. At this point, we know the type of player he is, and it's not the type of profile worth holding onto in dynasty. Flip him for a 2021 second-round rookie pick. 
With trade rumors surrounding Atlanta Falcons wide receiver Julio Jones, it would make sense for the Ravens to call about the All-Pro. We saw these teams pull off a trade last season (Hayden Hurst), and the Ravens have historically been very active in acquiring older veterans on the cheap. 
They brought in 35-year-old Steve Smith, who put up 1,000 receiving yards in his first season. They also traded for 30-year-old Anquan Boldin and signed 31-year-old Derrick Mason. 
Jones' price tag will be a crucial deciding factor, but the Falcons might be interested in getting his $15 million off their books in a post-June 1 trade. Future WR1 Calvin Ridley is entering the final year of his rookie deal, and the Falcons would be wise to focus their financials on him for the long-term. 
Look, people, this is your last chance to sell high on James Robinson. I've been preaching to sell J-Rob since early March, and nothing during the past eight weeks has changed my stance on the matter. 
In my piece on GM track records ahead of the 2021 NFL Draft, I noted that new Jaguars GM Trent Baalke spent 2011-2016 with the San Francisco 49ers and drafted a running back in every single draft. Five of the six RBs were taken in Round 4 or earlier.
Back in March, Baalke stated that the team wanted to "add some explosiveness to the RB room and take some of the carries off of James [Robinson]." 
Rookie running backs who could obliterate Robinson's value include Travis Etienne (Trevor Lawrence's teammate at Clemson), Chuba Hubbard, Javian Hawkins, Khalil Herbert and Elijah Mitchell. 
Jacksonville is armed with two second-round picks, plus the first pick in the third round and two fourth-rounders — more than enough draft capital to invest in the RB position. It actually wouldn't surprise me to see them take Etienne at 25 or 33.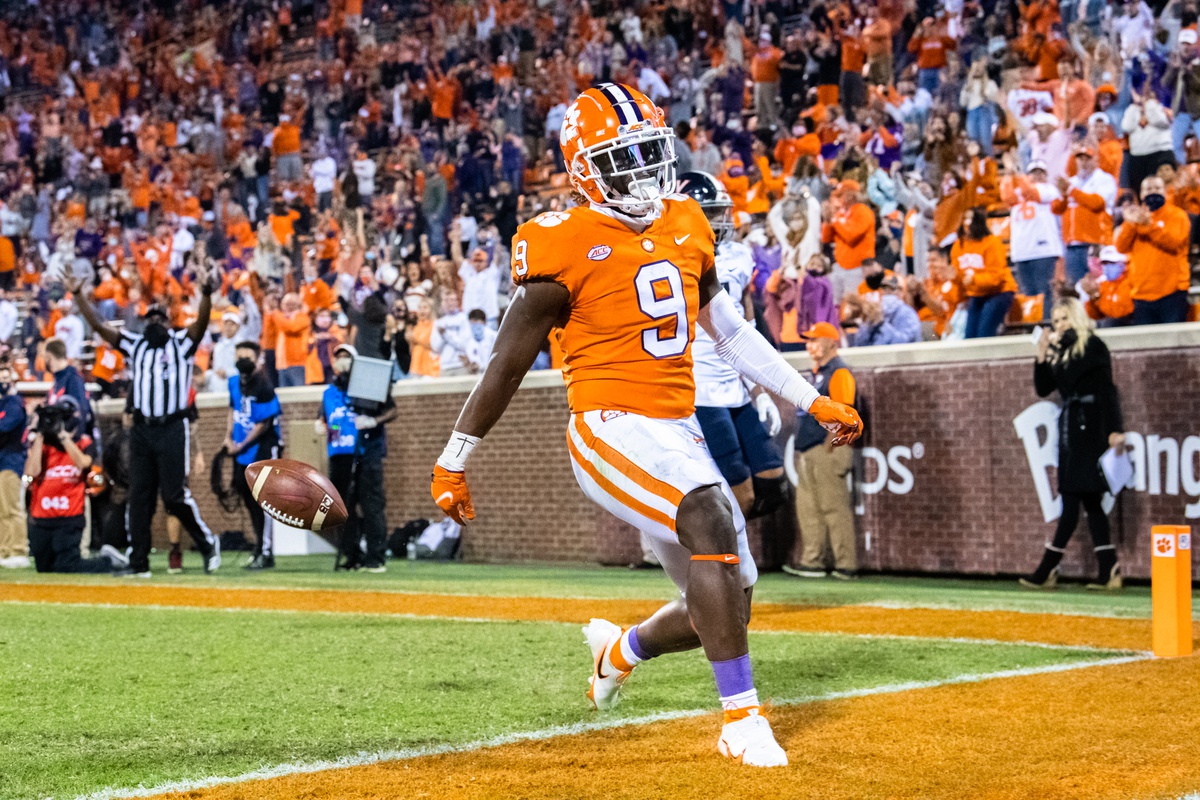 The real driver behind Robinson's fantasy success — like most running backs — was sheer volume in 2020. His 96% of team RB carries in the 14 games he played was by far the most in the league last season. In his historic 2019 season, Christian McCaffrey's mark was 93%.
Robinson's final team running back opportunity share — combining RB carries and targets — was 73%, which ranked second to only Derrick Henry.
Needless to say, the 2020 Jacksonville Jaguars fed Robinson more than any other running back in the NFL. And it's hard to blame when the team's depth chart was rounded out by Ryquell Armstead, Chris Thompson, Dare Ogunbowale and Devine Ozigbo.
With the running back room revamped in 2021, Robinson's chances at returning to bell-cow status will be low. 
I understand the main argument in favor of Robinson: The offense will be better as a whole with Trevor Lawrence under center. But Robinson's 10 touchdowns through 15 weeks tied for fifth-most at the position last season amid his insane usage, so it's still a leap to project an increase in touchdowns even in a better offense. 
Look back at the running backs who absolutely tanked from 2019 to 2020 in terms of dynasty rankings — most were all older and playing on second or third contracts with new teams. Consider the cases of Todd Gurley II, Mark Ingram, Matt Breida, Tevin Coleman and Le'Veon Bell. 
This severe drop-off shouldn't come as a surprise — running backs' best production almost always occurs during the first few seasons of their careers. This is as a warning sign for those holding the likes of Melvin Gordon, a 28-year-old RB entering his seventh NFL season.
Gordon is entering the final year of his contract, dramatically increasing the likelihood that the Broncos draft a running back. Royce Freeman is also a free agent, leaving newly signed best-ball darling Mike Boone as the only other RB of consequence under contract for 2022. 
New general manager George Paton has zero ties to Gordon and comes from an organization that did not shy away from investing draft capital into the position. During his time with the Minnesota Vikings, the team drafted three RBs with Day 2 capital (Jerick McKinnon, Dalvin Cook, Alexander Mattison). The Broncos have two picks on Day 2 this year (40, 71). 
Current Broncos offensive coordinator Pat Shurmur spent 2017 as the Vikings' offensive coordinator. During that year's draft, Minnesota selected Cook with their first pick in the draft (41 overall) despite having signed RB Latavius Murray to a three-year deal in free agency. 
Leverage Gordon's 4.7 yards per carry (tied career-high) and 3.1 yards after contact per attempt (career-high) in dynasty trade talks. He's a depreciating asset. 
Everything about Logan Thomas' breakout season last year screams sell. His fantasy production was solely tied to the insane volume/usage he saw in the WFT offense.
Thomas finished the season first in routes run (610) and third in targets (105), which helped vault him to a TE4 finish. 
Last year, the Football Team had zero established pass-catchers outside of Terry McLaurin. The team has already added Curtis Samuel and Adam Humphries in free agency — both players are going to command targets Thomas saw last year. 
At first glance, those two receivers don't seem like they would present too much of a threat to a tight end, but Thomas isn't used like most TEs. As noted by PFF's Seth Galina, Thomas played 565 snaps from the slot — the most by a tight end in a season over the last decade.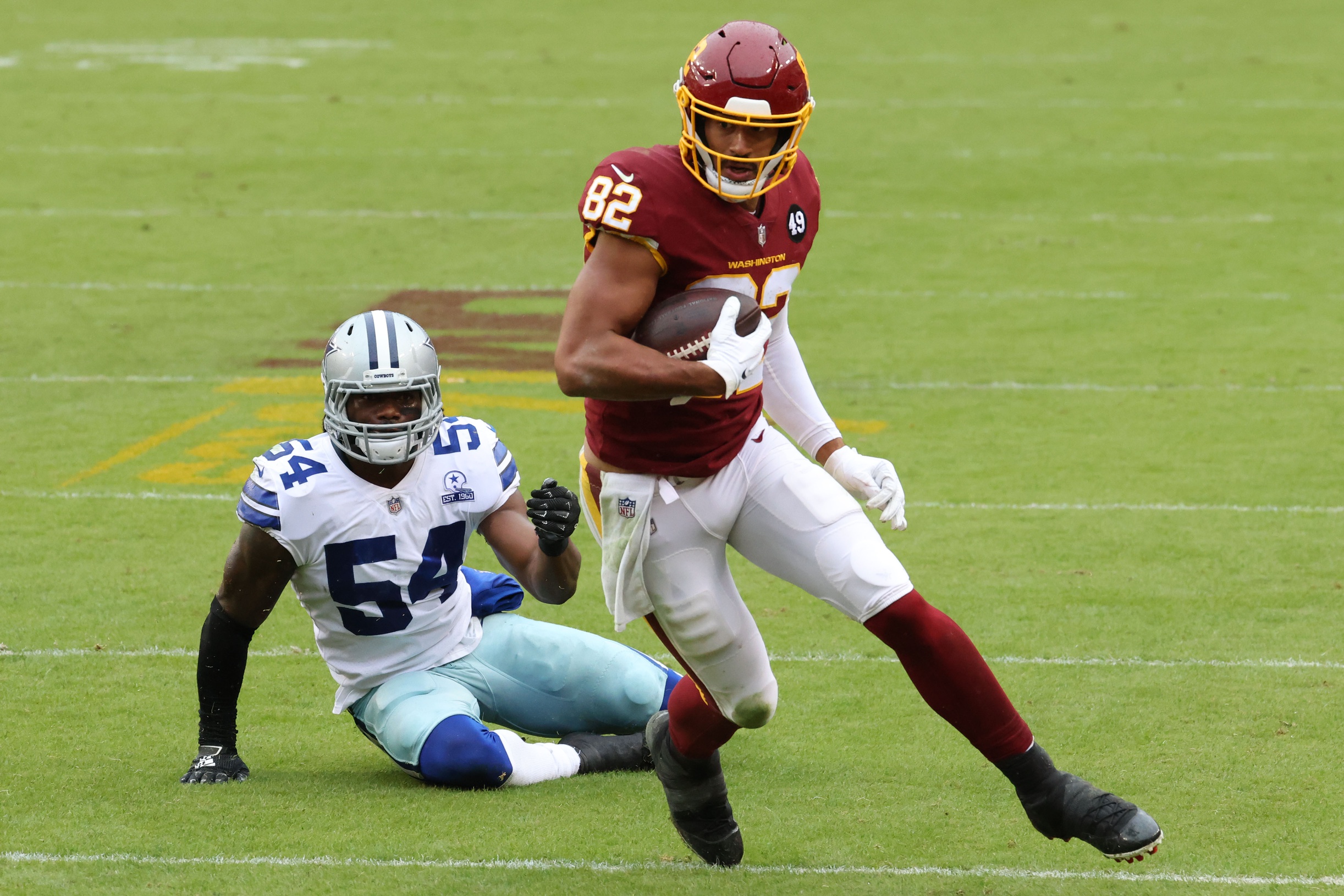 Samuel (72%) and Humphries (81%) both played the majority of their snaps from the slot in 2020. And they each commanded a 21% target rate from the slot, which is a massive increase over what the Washington slot wide receivers saw: Isaiah Wright (15%) and Steven Sims (13%).
The offseason has not been kind for Thomas' fantasy outlook (outside the addition of Ryan Fitzpatrick) and it's likely to get worse with the draft. New WFT general manager Martin Mayhew has an affinity for adding pass-catchers early in drafts, especially at the tight end position. 
As the Lions' head honcho, Mayhew used top-20 overall picks on Eric Ebron and Brandon Pettigrew. With no tight end of consequence on the roster behind Logan Thomas, Washington is primed to add one during the draft. Thomas is also a free agent at the end of the year, so a tight end selection makes a ton of sense.
Like the Ravens, the Chiefs were reportedly linked to free agent receivers like JuJu Smith-Schuster, Kenny Golladay and Josh Reynolds during the offseason. Kansas City of course missed out on those targets and also lost Watkins to Baltimore, so they're likely to add a wideout.
K.C. is equipped with picks No. 58 and No. 63 overall, which gives them access to the second tier of wide receivers in the class. Offensive tackle is no longer a need after the Orlando Brown trade, so giving Patrick Mahomes II another deadly weapon seems like the next logical step. 
The only receivers on the depth chart behind Tyreek Hill are Mecole Hardman, Byron Pringle, Demarcus Robinson, Tajae Sharpe and Antonio Callaway. All but Hill and Hardman are free agents in 2022.
Fiercer competition will create a much tougher situation for Hardman, who has already struggled to find a consistent role on offense. He only saw a 65% snap share in a quarter of his regular-season games. Dynasty managers have to wait for a Hill injury for Hardman to see a major spike in dynasty value.
The Chicago Bears have reportedly entertained the idea of trading starting slot wide receiver Anthony Miller, which means they will likely target his replacement in the draft. This wide receiver class is filled with souped-up slot WRs, and a Day 2 selection could jeopardize Darnell Mooney's rank in the target pecking order. The team already brought back Allen Robinson, and tight end Cole Kmet is expected to take another step forward in his second season.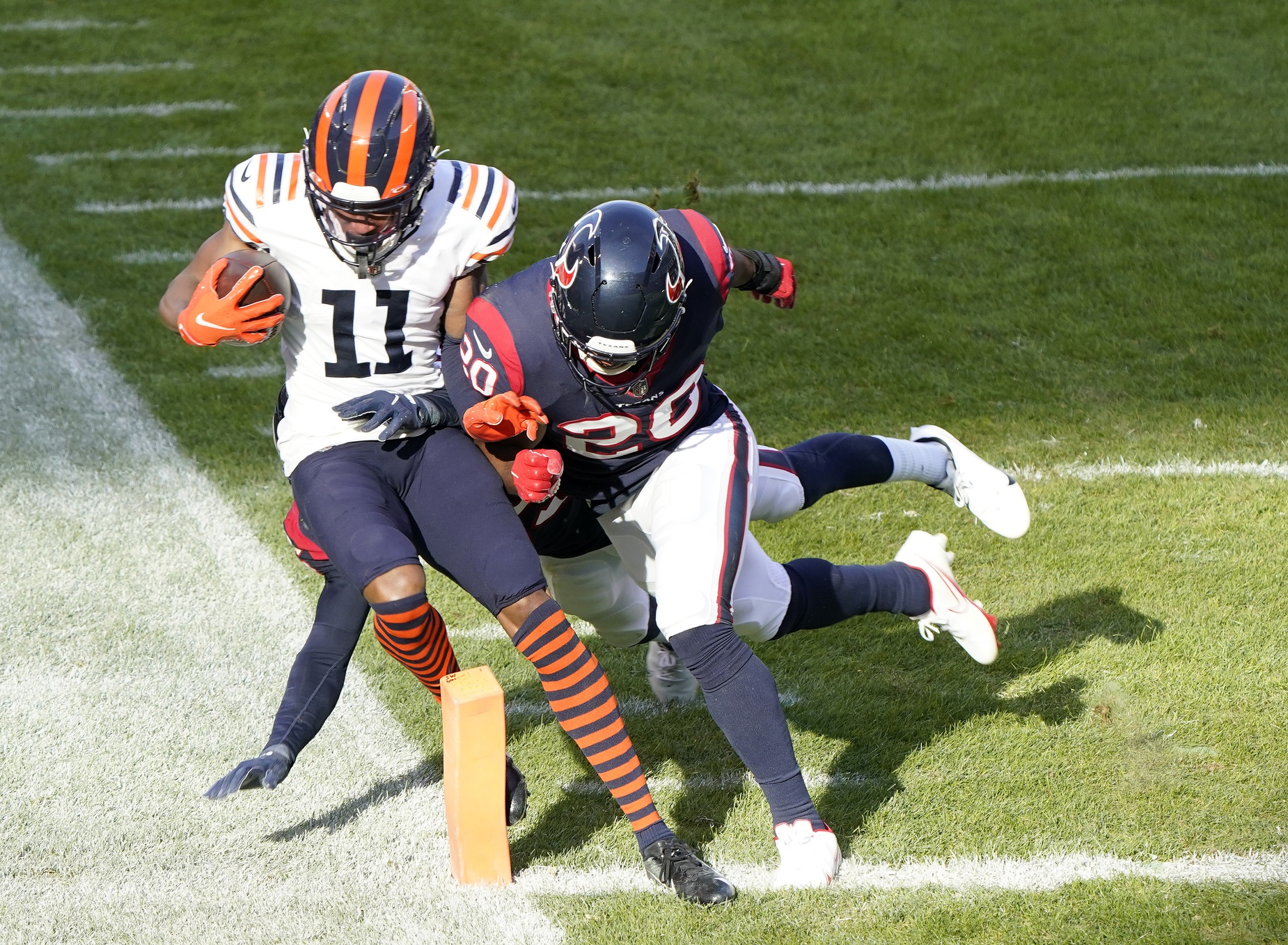 There's also a chance that this offense is simply a disaster with Andy Dalton under center, so it's best to flip Mooney — a former fifth-round pick who was free in dynasty last year — for a profit before his value fizzles out. 
Josh Reynolds' perceived value since signing with the Tennesse Titans is 100% worth putting on the trade block. His contract is just a one-year deal worth up to $1.75 million, and the Titans are geared up to make a splash selection at WR in this year's draft. 
Titans GM Jon Robinson has invested significant draft capital at wide receiver during his tenure. Among his picks in the top three rounds, receivers slightly edge out all other positions.
Reynolds has been nothing more than a "JAG" his entire NFL career, so ship him off to another manager who might view him as the team's future No. 2 option in the passing game. 
Robby Anderson is a prime "sell-high" candidate after operating last season as the Carolina Panthers' de facto WR1. I don't anticipate him holding off the likes of D.J. Moore for a second straight season, and reuniting with Sam Darnold should not be viewed as a positive for his fantasy outlook. 
Right now, Anderson looks great on paper from a projected target share perspective; there are a plethora of targets available — sixth-most in the NFL — after the departures of major contributors like Mike Davis and Curtis Samuel. But Anderson could be gone next season, too, as his two-year deal expires after 2021, and Moore is heading into his final year before the team makes a decision on his fifth-year option for 2022. Add it up, and it's extremely likely that the team looks to address the WR position at some point during the draft.