The NFL Draft is less than a week away, and the frenzy of 2021 mock drafts has reached peaked heights. Football analysts across the board are attempting to piece together plausible and convincing draft selections for all 32 teams. The main rationale behind these choices usually comes down to "team need" or "best player available," but there's a third factor that isn't considered enough: the historical track records of GMs and other decision-makers. 
A huge chunk of what we do at PFF in projecting players and teams involves leveraging past information. If we want to create the most accurate predictive mock drafts to gain an edge in betting or fantasy football, then we need to utilize all the information at our disposal. You'd be surprised how obstinate some NFL personnel are when it comes to draft strategy year over year.
More of PFF's 2021 NFL Draft tools here: 
2021 NFL Draft Big Board | 2021 NFL Draft Guide | 2021 NFL Draft Stats Export | NFL Mock Drafts | NFL Mock Draft Simulator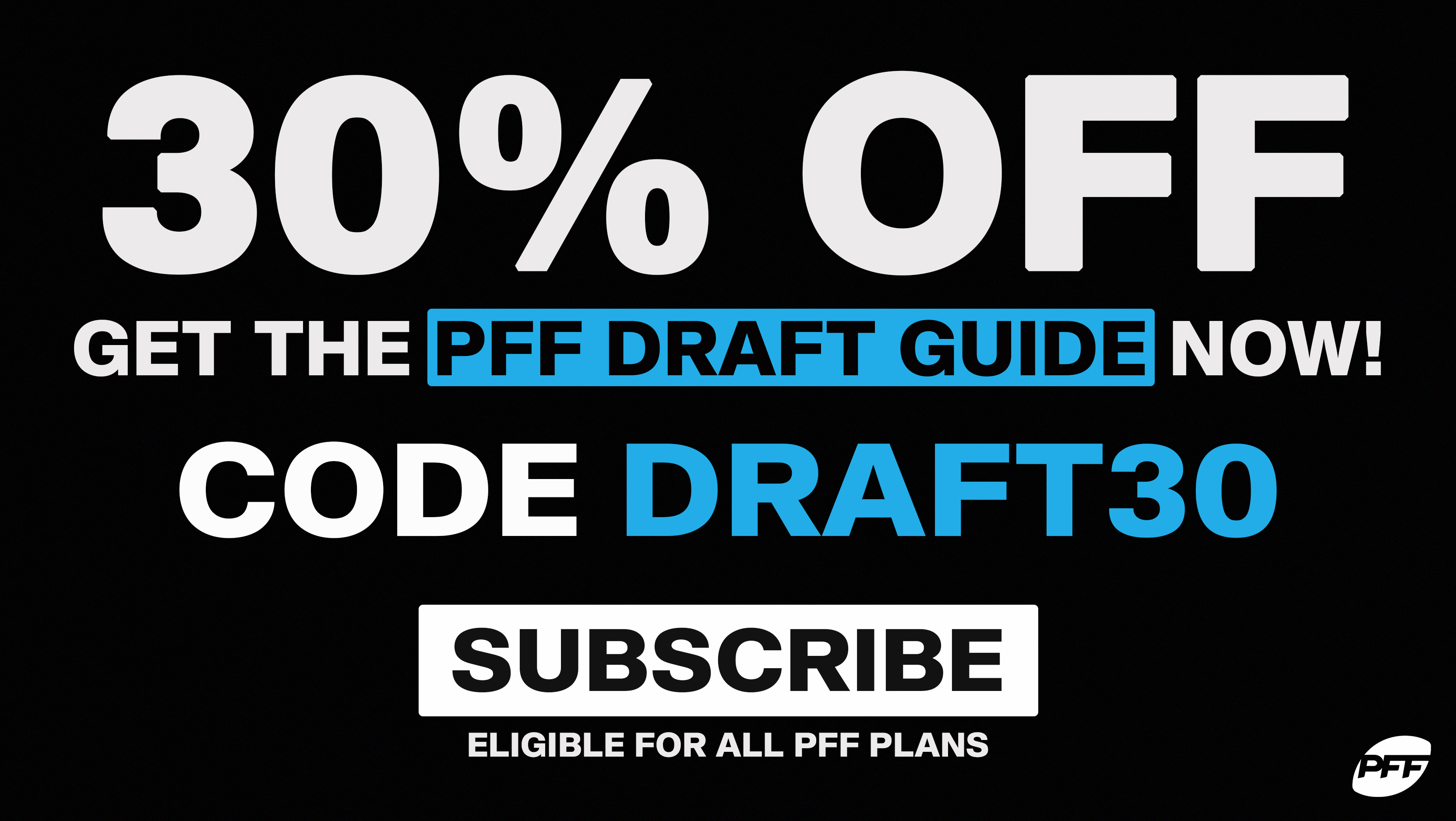 For example, New York Giants general manager Dave Gettleman has never traded down in the first round after eight drafts as a GM. That's significant evidence of how the Giants will approach this year's draft as opposed to buying into the latest report suggesting the team is open to trading back. News flash, people: Every team is open to trading back, but the offers usually aren't worth it. 
Here's a look at at the recent history of all 32 NFL front offices and how their draft tendencies and current roster makeup set each team up heading into the 2021 NFL Draft.
ARZ | ATL | BLT | BUF | CAR | CIN | CHI | CLE | DEN | DAL | DET | GB | HOU | IND | JAX | KC | LVR | LAC | LAR | MIA | MIN | NE | NO | NYG | NYJ | PHI | PIT | SF | SEA | TB | TEN | WFT
James Robinson fantasy managers… look away. Carlos Hyde isn't going to be the only running back added to the depth chart this offseason. New GM Trent Baalke spent 2011-2016 with the San Francisco 49ers and drafted a running back in every single draft. Five of the six RBs were taken in Round 4 or earlier.
RBs drafted by the 49ers 2011-2016
| | | |
| --- | --- | --- |
| Year | Player | Round (Pick) |
| 2011 | Kendall Hunter | 4th (108) |
| 2012 | LaMichael James | 2nd (61) |
| 2013 | Marcus Lattimore | 4th (131) |
| 2014 | Carlos Hyde | 2nd (57) |
| 2015 | Mike Davis | 4th (126) |
| 2016 | Kelvin Taylor | 6th (211) |
Back in March, Baalke stated that the team wanted to "add some explosiveness to the RB room and take some of the carries off of James [Robinson]." 
The rookie running backs who come to mind include Travis Etienne (Trevor Lawrence's teammate at Clemson), Chuba Hubbard, Javian Hawkins, Khalil Herbert and Elijah Mitchell. 
Jacksonville is armed with two second-round picks, the first pick in the third round and two fourth-round picks — more than enough draft capital to invest in the RB position. It actually wouldn't surprise me to see them take Etienne at 25 or 33. 
The other major trend I noticed was Baalke's targeting of defensive backs. He used a third-round pick or better on a safety/cornerback in five of six drafts. 
The three highest taken — Eric Reid (18th overall), Jimmie Ward (30th), Jaquiski Tartt (46th) — all play safety. TCU safety Trevon Moehrig is easily the most heavily mocked player to the Jags, and I couldn't agree more with the consensus. 
2. NEW YORK JETS (First-Round Picks: 2 and 23)
Jets GM Joe Douglas was hired in 2019, shortly after the 2019 NFL Draft. Douglas had input into the 2020 draft, when the team mostly addressed needs. 

Tackle Mekhi Becton, wide receiver Denzel Mims and safety Ashtyn Davis all filled holes in the roster, so I'd assume the Jets plan to attack this year's draft in a similar fashion. The only minor takeaway I had from their 2020 draft was that their top five selections all stemmed from Power Five schools. That's too not surprising coming from an inexperienced GM. 
The Jets will most likely address either CB or OL with their second first-round pick (23 overall). I have an inkling they might favor players with elite athletic testing numbers. 
Becton and Mims posted extremely impressive results at the NFL Combine and ended up being the Jets' top two picks last season. 
Cornerback Greg Newsome II and tackle Teven Jenkins both dazzled at their pro days and have been connected to the Jets throughout the pre-draft process. 
Newsome had a 91st percentile vertical jump (40) and 91st percentile 40-yard dash (91st). Jenkins put up a 90th percentile vertical jump (33) and 85th percentile 40-yard dash (5.03). 
The biggest question ahead of Day 1 of the 2021 NFL Draft is certainly the 49ers' QB choice at No. 3. Justin Fields, Mac Jones and Trey Lance look to be firmly in play. Unfortunately, the team's four years under Kyle Shanahan/John Lynch don't offer many clues. 
They've only drafted one quarterback: C.J. Beathard (2017, third round). In that same draft, they also opted to select defensive end Soloman Thomas over Deshaun Watson or Patrick Mahomes despite having career journeyman Brian Hoyer as their entrenched starter. 
Kyle Shanahan's quarterbacks — Matt Ryan, Kirk Cousins, Jimmy Garropplo — have been pocket passers like Mac Jones. A move to the more athletically gifted Fields or Lance would be a bit of uncharted territory. 
We often assume coaches and GMs will adjust, learn and evolve, but more often than not they fall back on what they're most comfortable with. For that reason, I'll continue to stick by Jones being the pick at No. 3 overall. 
NFL Network's Peter Schrager has been one of the most accurate mock drafters over the past few seasons; in his second mock draft, he again put Jones at 3 to S.F. Schrager is incredibly plugged into NFL teams, so it's certainly possible he knows something the public doesn't. 
The suspense of the No. 3 pick has gripped the pre-draft process, but we can't forget that the 49ers also hold a relatively high second-rounder (43rd overall). They've gone defense with their first selection in three of the last four drafts, so I assume they'll look to add depth at the cornerback position after locking up their franchise quarterback.
Their CB room is extremely thin behind an unreliable and often-injured Jason Verrett.
The highest cornerback drafted by the 49ers since 2017 is the 6-foot-3 and 198-pound Akello Witherspoon. Even with DeMeco Ryans replacing Robert Saleh, I don't expect S.F. to shy away from utilizing long cornerbacks. 
Syracuse's 6-foot-2 and 205-pound CB Ifeatu Melifonwu fits the mold and should be available in the second round. He's also a freak athlete like his older brother Obi Melifonwu. The younger Melifonwu finished in the 95th percentile or better in the 10-yard split, vertical jump and broad jump. 
The 49ers will likely have a strong understanding of Ifeatu's fit because his No. 1 advocate (Obi) is currently on the San Francisco roster. 
New Atlanta Falcons GM Terry Fontenot spent the last 18 years with the New Orleans Saints serving in roles that included director of scouting and assistant general manager. It's impossible to pinpoint exactly where Fontenot's input on the roster was weighed most heavily, so we have to look at his time spent with the Saints with a wide lens. 
The biggest question is whether QB is truly in play for the Falcons, and I believe it is — if it's the quarterback they want. The Saints had the luxury of Drew Brees for 15-plus seasons, so we never saw the team act aggressively for a quarterback. But we can't forget that the Saints were all over Mahomes in the 2017 draft, but the Kansas City Chiefs jumped them in the draft order. 
Simply put: If the rookie QB the Falcons want is there at No. 4, I bet they pull the trigger. Fontenot and new head coach Arthur Smith are reportedly "aligned" on their vision for the top pick, and my money is on Trey Lance being their guy. 
The inexperienced Lance could benefit greatly from sitting behind an established veteran like Ryan. The ceiling for the kid is sky-high, but thrusting him out there before he's ready could be detrimental to his development. 
Smith helped bring out the best of former first-round pick Ryan Tannehill by creating an offense based on the run game and play-action. In 2019, Lance threw 17 TDs and zero interceptions (137.3 passer rating, fourth-best) off play-action throws. 
The quarterback from North Dakota State draws an NFL player comparison to Taysom Hill with an arm — and I'm sure Fontenot can see the similarities.
If for some reason Lance is not available at No. 4, then it's a trade-back situation or tight end Kyle Pitts. Fontenot saw the significance of the tight end position firsthand during last year's draft with the Saints. Sean Payton traded the rest of their remaining 2020 picks to ensure they got Dayton tight end Adam Trautman. 
Fontenot also brought in former regional scout Dwaune Jones as his new director of college scouting, and Jones knows a thing or two about WR/TE hybrid players. Per the Falcons official website, during his tenure at the Saints, he helped the team sign Marques Colston. 
Over the past four seasons, Jones served as an area scout for the Baltimore Ravens. His time spent in Baltimore coincided with the selection of Lamar Jackson from his scouting region. The parallels between Jackson and Lance need no explanation. 
Outside the first round, the only other potential lean I have with the Falcons' remaining draft picks are at the RB position. Mike Davis didn't receive any type of true RB1 commitment from the team — a two-year, $5.5 million deal — and he isn't the explosive threat that they desperately need. Since 2019, Atlanta RBs have compiled the fifth-fewest rushes of 15-plus yards.
That's where Etienne comes into the picture. From 2018-2019, the Clemson running back posted a 92.4 PFF rushing grade and 40 rushing attempts of 20-plus yards — 11 more than the next-closest running back. 
He's also an awesome receiving threat out of the backfield, which has led many to anoint Etienne as the league's next Alvin Kamara. I wouldn't go that far, but Fontenot might disagree. 
Bengals director of player personnel Duke Tobin has been running the show as the team's de facto general manager since as early as 2013. Over that time, he's been no stranger to investing high-end draft capital into offensive linemen. 
Since 2015, the Bengals have drafted four offensive linemen (Cedric Ogbuehi, Jake Fisher, Billy Price and Jonah Williams) with first- or second-round picks. They've only once selected a wide receiver in the first round (John Ross). Their most recent highly drafted WRs have been second-rounders (Tyler Boyd, Tee Higgins). 
It's clear that addressing OL/WR is priority numero uno. It's just a matter of which hole they decide to plug first.

The free-agent signing of tackle Riley Reiff and the failed attempt to acquire wide receiver Kenny Golladay might end up being the deciding factors that lead to them drafting Ja'Marr Chase over Penei Sewell in the first round.  
Joe Burrow's biggest issue in the passing game was on throws 20-plus yards downfield; I'd argue Chase is by far the best receiver in that department. Since the start of the 2019 season, Chase leads the draft class with a near-perfect PFF receiving grade (99.0) on targets of 20-plus yards.
In Rounds 3-4, I'd keep an eye out for the Bengals to target linebackers. They've drafted a linebacker in the third round for six consecutive seasons. But with so many other dire needs at OL/DI/ED, 2021 might be the year they buck the trend in the middle rounds.
6. MIAMI DOLPHINS (First-Round Picks: 6 and 18)
Chris Grier took over as the Miami Dolphins general manager in 2016 after serving as the team's director of college scouting for nine years. He's partially responsible for the franchise's upward trajectory, as the selection of tackle Laremy Tunsil in the 2016 NFL Draft is reaping endless additional first-round picks. 
Some interesting nuggets from tracking Grier's draft history reveal that he's drafted more running backs (Kenyan Drake, Kalen Ballage) and tight ends (Mike Gesicki, Durham Smythe) than wide receivers in the first four rounds (Leonte Carroo). Gesicki was his highest-drafted pass-catcher as a second-round selection in 2018. 
I think it's noteworthy that the team has invested more in the tight end position than WR, which could suggest that Pitts is their guy at No. 6. But the failures at drafting wide receivers early seems destined to regress toward the mean with a strong incoming WR class. 
As for the running backs, the team's reliance on analytics and track record indicates to me that they won't end up using one of their top-50 picks on a runner, despite what the mock drafts say.
They "needed" a running back last season and drafted Malcolm Perry in the seventh round. Entering the 2016 draft (Grier's first as GM), they had just lost leading rusher Lamar Miller. They addressed the position in that draft by adding Kenyan Drake in the third round (73rd overall). The fifth-round pick from the previous year, Jay Ajayi, rushed for 1,272 yards to Drake's 179 the next season. 
If any NFL team knows that "RBs don't matter," it's the numbers-driven Dolphins. 
Miami Dolphins running backs drafted since 2011
| | | |
| --- | --- | --- |
| Year | Running Back | Draft Round |
| 2011 | Daniel Thomas | 2nd |
| 2012 | Lamar Miller | 4th |
| 2013 | Mike Gillislee | 5th |
| 2015 | Jay Ajayi | 5th |
| 2016 | Kenyan Drake | 3rd |
| 2018 | Kalen Ballage | 4th |
| 2019 | Chandler Cox | 7th |
| 2019 | Myles Gaskin | 7th |
| 2020 | Malcolm Perry  | 7th |
The Dolphins haven't drafted a running back in the top 50 since taking Ronnie Brown second overall. The early 2000s were wild. 
The team's 2019 seventh-rounder, Myles Gaskin, flashed as a potential workhorse when healthy in 2020, and I believe he's going to emerge as a big winner post-draft when Miami fails to add any of the "Big Three" RBs to their roster. Fantasy managers will be able to breathe a sigh of relief. 
New head coach Dan Campbell and general manager Brad Holmes can't afford to miss on their first pick as members of the organization. Holmes worked with the Los Angeles Rams in various executive roles dating back to 2003. His prior scouting role with the franchise was a major driver behind the Lions trading for Jared Goff. 
The Rams haven't had any first-round picks to work with in the past four seasons, so Holmes' first selection in the 2021 NFL Draft will be a long time coming. The last four first-rounders Holmes had a hand in selecting for the Rams were Goff, Todd Gurley II, Aaron Donald and Greg Robinson. 
In that three-year span (2014-2016), the Rams invested significant draft capital in the tackle position, so I'd expect Holmes to follow suit with his new team. Whether it be Penei Sewell or Rashawn Slater, Holmes knows creating a QB-friendly environment is key to long-term success. 
The Panthers hired new general manager Scott Fitterer after he spent the past 20 years working a number of different positions with the Seattle Seahawks. Fitterer was brought in to replace long-time GM Marty Hurney, who was fired near the end of last season.
Disagreements in approach were present between the old GM and owner; the former wanted to maintain his traditional MO, while the latter wanted to embrace a more modern and data-driven approach.
Taking a relatively low-cost flier on quarterback Sam Darnold shows that Carolina is operating more by the numbers, and we should anticipate them implementing a similar strategy during the draft.
Case in point: There's no way we see the Panthers invest their entire draft into defense as they did in 2020. Fitterer saw firsthand in Seattle how impactful poor OL play can be; Russell Wilson has been the most-sacked QB since entering the NFL nine seasons ago. 
Adding a pass-protector upfront in Round 1 instead of a pass-catcher would match Seattle's drafting philosophy to a tee. Over the past 10 years, the highest receiver they've selected was Paul Richardson at No. 45. 
George Paton agreed to a six-year deal as the new Broncos general manager this offseason. Before landing in the Mile High City, Paton spent the past nine years working in Minnesota as Rick Spielman's assistant general manager. 
Entrusting Paton with the GM title is a tell-tale sign that the team is more than open to addressing the quarterback position — albeit Drew Lock's play probably speaks for itself — with John Elway no longer calling all the shots. If a quarterback isn't selected during the draft, look for the team to try and acquire Teddy Bridgewater, who was drafted by the Vikings' brass in 2014.
Bridgewater was the last QB selected by the Vikings that required high-end draft capital.
Other interesting trends I found from past Vikings drafts with Paton on staff involve running backs, cornerbacks and tackles. 
Unlike the Dolphins, the Vikings have had no issue investing Day 2 capital into the RB position (Jerick McKinnon, Dalvin Cook, Alexander Mattison).
The Broncos might be an under-the-radar candidate to add an RB during Day 2, as Melvin Gordon III and Royce Freeman will be free agents at the end of the season. The team signed former Vikings running back and best-ball riser Mike Boone, but that likely won't dissuade them from flirting with incoming rookies.  
The Broncos are loaded at cornerback, but projected starting right tackle Ja'Wuan James has a lot of question marks. Since signing a lucrative four-year, $51-million deal with the team back in 2019, James has played just three games due to injury and the pandemic. 
He has a potential out in his contract at the end of 2021, so Denver would be wise to be proactive in finding his potential replacement. 
Jerry Jones has been in charge since 1989, but we won't go that far back with the game of football having changed so dramatically over the past decade.
Since 2010, the Cowboys have drafted four cornerbacks (two first-rounders, two second-rounders) with meaningful draft capital: Trevon Diggs, Chidobe Awuzie, Byron Jones and Morris Claiborne.
Rookie cornerback Patrick Surtain II is a slam-dunk selection and seems destined to be drafted by Dallas at No. 10 overall. 
Life. Taxes. David Gettleman talking up trading down, but never actually doing so. They are all guarantees, and I am eager (as we all should be) to see how Gettleman approaches the 11th overall pick.
David Gettleman is not here for your trade backs, computer folks ???? ????️ pic.twitter.com/tUiNgZRvTZ

— PFF (@PFF) April 21, 2021
Since joining the Giants' staff in 2018, Gettleman has spent his first pick on an offensive player every year. Dating back to his days in Carolina, Gettleman has orchestrated drafts that have gone heavy targeting his so-called "hog-mollies." In six of his last eight drafts, he's selected at least one impact defensive linemen and/or offensive linemen with a Round 3 pick or earlier. 
So although wide receivers like DeVonta Smith and Jaylen Waddle are mocked heavily to Big Blue at No. 11, I'd expect the Giants be happy with Kenny Golladay signing and sign a big man up front. 
The only wide receivers of note that Gettleman has drafted high — Devin Funchess, Kelvin Benjamin — have completely different play styles and builds than the top wideouts in this year's class. 
Last season, the Philadelphia Eagles made an epic blunder in the first round by drafting Jalen Reagor over Justin Jefferson. Reagor went on to have a below-average and injury-riddled season, while Jefferson posted arguably the greatest rookie season in the history of the NFL.
General manager Howie Roseman claimed to have made the decision to choose Reagor over Jefferson because the former fit the offense more systematically. Roseman said, "Our job is to fit the vision of the head coach."
If Roseman sticks to his drafting philosophy, then I have no doubt that DeVonta Smith would be extremely high on their boards at No. 12. Eagles head coach Nick Sirianni is coming from an offense in Indianapolis that finished second in YAC/reception and sixth in screen-pass play rate. Smith led all of college football last season in total yards after the catch and screen yards.
Smith's size concerns are sure to keep some teams from taking him in the first round, but I doubt the Eagles shy away from a player that would be the perfect fit. Roseman can be riskier than other GMs; drafting an undersized receiver is par for the course for Philadelphia.
Ex-Eagles wideout DeSean Jackson found himself trending on Twitter after Smith's official weight was announced — he's the only player in recent memory to have success in the NFL at a similar size. 
If the Eagles decide to take a position other than receiver, they are a prime candidate to go with a top-tier edge defender. Brandon Graham and Derek Barnett are both free agents at the end of the year, and Roseman has invested luxury picks in the position before.
Tom Telesco has been the Chargers' general manager since 2013. He struck gold by drafting offensive rookie of the year Justin Herbert last season, but the roster still has major holes that need to be addressed — most notably offensive line and cornerback. 
Telesco has drafted six offensive linemen in the top three rounds — the most of any position. If L.A. feels comfortable with the top tackle on the board (most likely Christian Darrisaw), that's the direction they're likely to go. 

I hit on Rick Speilman's draft tendencies in my early breakdown of George Paton, noting that he targets running backs, cornerbacks and tackles with premium picks. So although the chalky pick for the Vikings among mock drafters is Michigan defensive end Kwity Paye, history says otherwise.
Speilman has never drafted a defensive end with a first- or second-round pick, making the selection of an edge to the Vikings at No. 14 overall very uncharacteristic. USC's Alijah Vera-Tucker has experience playing both guard and tackle — he's a much more logical option for the Vikings. 
Bill Belichick has been the Patriots' stand-in GM since being hired in 2000, but this draft will be only the fifth time they're selecting in the top 20. Three of the four players (Richard Seymour, Ty Warren, Jerod Mayo) were defensive stars, with tackle Nate Solder the lone offensive player taken. For all intents and purposes, each enjoyed successful NFL careers, and I'd classify them as hits.
New England filled the majority of its team needs with aggressive spending in free agency, so the team is in a position to take the highest player on the board available at No. 15. 
Quarterback is firmly in play, but Belichick has never taken a QB in Round 1. I understand that falling into Tom Brady created that luxury, but the Patriots never prioritized drafting his heir apparent with a first-round pick. 
The majority of mocks — including my own — project a move up in the draft by the Patriots. But it seems like we're all going to look silly when the Pats stay put at No. 15 or trade back, based on Belichick's long track record of doing so. It wouldn't surprise me in the least to see New England address the QB position in Round 2 rather than Round 1. 
Steve Keim has been the Cardinals' GM since 2013 and deserves partial credit for the team's decision to move on from Josh Rosen in favor of Kyler Murray in 2019.  
What stands out about Keim's draft record is that he drafts a plethora of wide receivers, defensive linemen and cornerbacks in the early rounds, with DL being the most prominent. 
They added veterans at each of the aforementioned positions in A.J. Green, J.J. Watt and Malcolm Butler, but I doubt that sways them from continuing to bolster those areas in the draft.
Green is easily the weakest veteran of the bunch, so Arizona adding a first-round pass-catcher looks like a solid bet. 

Mike Mayock has had an "interesting" start to his career as an NFL GM. Since taking over the gig in 2019, the team has invested the majority of its high-end draft capital in the defensive secondary in the form of Damon Arnette (2020 first-rounder), Johnathan Abram (2019 first-rounder) and Trayvon Mullen (2019 second-rounder). 
But the investment has not led to success on the field; the Raiders have finished 29th in PFF coverage grade the past two seasons. 
Las Vegas' recent upheaval of their offensive line explains why so many have them drafting an OL in the first round, but Mayock's affinity to draft DBs early could easily cause a massive shake-up. He might not be able to resist the urge to select Jaycee Horn or Caleb Farley if either falls to pick No. 17. 
Second first-round pick; see write-up at pick 6.
Martin Mayhew was hired by the WFT at the start of the 2021 offseason. This is his second stint as an NFL GM; he previously served the same role for the Lions from 2008-2015. The major findings from his tenure in Detroit reveal that linemen were a priority with his first-round picks, and CBs/WRs/RBs reflected the bulk of his second- and third-round selections. 
Six of his eight first-round picks were either OL or DL, with the only exceptions being Matthew Stafford and Eric Ebron. In addition to taking Ebron early, Mayhew also invested a high pick on tight end Brandon Pettigrew. With no tight end of consequence on the roster behind Logan Thomas, Washington is primed to add one during the draft.
I also find it interesting that the Lions under the Mayhew regime drafted four running backs inside the first three rounds. The Football Team just released running back Bryce Love due to injury complications, so they're a candidate to bolster depth in the RB room. 
The Chicago Bears franchise is caught between a rock and a hard place, with seemingly no long-term plan in place. General manager Ryan Pace has had way too many misses in the first round since 2015 (Kevin White, Mitchell Trubisky, Leonard Floyd, to name a few), and that has led to mediocrity.
The 2021 draft will be the first time since 2018 that the Bears get to select a player in the first round, due to the Khalil Mack trade. Pace's approach will be interesting to watch unfold, considering he's whiffed on every first-rounder he's made except for linebacker Roquan Smith. 
The Bears' biggest need is across the offensive line, and that's due in part  to Pace failing to draft any OL with Day 2 picks since 2018. Since becoming the Bears' general manager, Pace hasn't selected a tackle inside the first four rounds. 
It's a glaring issue for their roster, so I'd bet the trend ends in 2021. But I won't be surprised in the slightest if they draft a guard, outside linebacker or defensive linemen as they have done historically. I assume they are honing in on offensive tackle Teven Jenkins at No. 19, but if he's gone all hell might break loose in the Bears' war room. 
Unlike Pace, Chris Ballard has thrived as general manager for the Indianapolis Colts. Hired in 2017, Ballard is regarded as one of the league's sharpest executives because of his exemplary drafting and roster-building approach. 
He understands the harmony required when debating a player's fit versus the best player available. For that reason, I expect Ballard to address the team's flagrant lack of pass rush with an edge defender. 
Ballard has drafted pass-rushers with Day 2 picks in every prior draft except last season. With the pass rush a more prominent issue and offensive tackles being heavily targeted in the first half of Round 1, edge defender makes perfect sense for Indy. 
I also wouldn't rule out a potential trade up for the Colts if they're locked in on a specific OT. 

Jon Robinson has been the Titans' GM since 2016, and one of the positions he has invested the most draft capital in has been at wide receiver. Among picks in the top three rounds, receivers slightly edge out all other positions. 
Only one was a first-round pick (Corey Davis), which leaves some chance that they ultimately go for a tackle. Before drafting Isaiah Wilson in the first round last year, Robinson had his hand in selecting Jack Conklin in the first round during the 2016 draft. 
Second first-round pick; see write-up at pick 2.
The Steelers' organization is well known for drafting WRs that seemingly outperform their draft day position. Since Kevin Colbert became the GM in 2010, they've drafted the likes of Emmanuel Sanders, Martavis Bryant, JuJu Smith-Schuster, James Washington, Diontae Johnson and Chase Claypool outside the first round. 
They've drafted a total of nine WRs inside the top four rounds over that time — the most of any position. I have no doubt that the Steelers have a scouting system that works when identifying WR prospects, but the sheer volume of the receivers they draft increases their odds. Don't think Pittsburgh won't take a WR they like in Round 3 or 4. 
The next three most popular selections by Colbert's Steelers are linebacker, defensive back and offensive line. O-line sticks out the most because it's been a hot second since Pittsburgh last drafted an offensive lineman in the top two rounds (2012). They were able to continually pass on the position because they've had such a great line in recent years. That's no longer the case.
After those positions, there's a glaring need at running back. They've taken a RB within the first four rounds in three of the last four drafts. Those players have performed relative to draft capital, so it might be time for them to invest a premium pick in one of the "Big Three" in the class to go after more high-end production.

Unfortunately, their position in the draft relative to other RB-needy teams makes it difficult to envision any of the top RBs being there for their second-round pick. They might be "forced" to spend their lone first-rounder to get their future bell-cow back. 
Najee Harris, come on down! 
Second first-round pick; see write-up at pick 1.
Andrew Berry was brought on as the Browns' general manager in 2020 after a brief stint with the Eagles in 2019. This would be Berry's second go-around with Cleveland, as he previously worked as the VP of player personnel from 2016-2018. 
Berry nailed last year's first-round selection of tackle Jedrick Wills, who helped Cleveland boast one of the league's best offensive lines. 
During the Browns' drafts from 2016-2018, the one common denominator was a focus on pass-rush, with DEs taken with Day 1 or Day 2 selections each season. It wasn't until 2020 that Berry shifted focus away from pass-rush in favor of OL. 
With the OL in excellent shape, I'd guess that Berry will be looking hard at this pass-rush class based on how the team operated when he was the VP of player personnel. It's possible Berry didn't like what he saw at the position, which led to the signing of free agent Jadeveon Clowney.
The other difference I noticed between the Browns from 2016-2018 and 2020 was at linebacker. Last year was the first time Berry's Browns took a linebacker with a Day 2 pick. The long drought at the position — outside of John Dorsey selecting Sione Takitaki 2019 — has left the Browns' linebacking corps barren.
In my NFL mock draft, I predicted that linebacker Jeremiah Owusu-Koramoah would be the perfect fit for them. That still makes a ton of sense. 
Eric DeCosta took over GM duties in 2019 after serving as the assistant GM for eight years. In his two drafts as the head honcho, Baltimore spent the majority of their top picks (inside the first four rounds) on wide receivers, defensive linemen, running backs and offensive guards.
The Ravens were one of the teams courting JuJu Smith-Schuster, suggesting that they aren't finished looking for a wide receiver. 

Long-time Saints GM Mickey Loomis has had his hands on the team's roster dating back to 2002. He picked up an additional title as executive vice president in 2013, so that's an appropriate spot to reference his history of drafting.
Since then, the positions he's invested the most Day 1 or 2 draft picks into include defensive backs, linebackers, wide receivers and tackles. 
The Saints' two major roster roles are at WR and CB, so Loomis should have no problem drafting exactly what his team requires. If I had to lean toward one, addressing the wide receiver position would be my gauge on the situation. Among the high-end defensive backs that Loomis has taken, Marshon Lattimore was the only cornerback. The remaining DBs were all safeties. 
As noted by PFF's Ian Hartitz, the Packers haven't used a single first-round pick on a skill-position player since drafting Aaron Rodgers in 2005. That goes well beyond the tenure of Brian Gutekunst, who has been the team's GM since the start of 2018.
Even so, it's flabbergasting that Green Bay has yet to surround Rodgers with elite offensive weaponry. Could 2021 be the year they buck the trend? 
Gutekunst has drafted plenty of wide receivers, running backs and tight ends over the past three drafts but few have turned into productive pros.
Marques-Valdes Scantling is a decent No. 3 option, but he's no world-beater. Tight ends Jace Sternberger and Josiah Deguara have done nothing despite third-round pedigree. A.J. Dillon is a solid early-down back, but he doesn't increase Rodgers' passing ceiling.
Gutekunst is apparently willing to add weapons; I'm hoping they can address their glaring weakness at No. 2 wide receiver early in the 2021 draft now that the TE/RB rooms are filled. If not, I'd guess they look to the defensive secondary as an alternative. Three of the team's five highest draft picks have been on defensive backs since 2018. 

Brandon Beane has been the Bills' GM since 2017 and deserves praise for not only drafting quarterback Josh Allen but building a roster that aided in his development. 
Beane has been a pretty balanced drafter over the past four seasons, with the defensive line the only position he has taken extra shots on in the early rounds. Outside DL, the remaining positions he's targeted most include running back, wide receiver, cornerback and offensive line. 
As one of the most complete teams in the league, Buffalo has a variety of ways they could approach this selection. In my NFL mock, I followed the precedent set by Beane to add to the defensive trenches and aligned them with Christian Barmore. 
Like Beane, Brett Veach has been his team's GM since 2017. Being part of the staff that drafted Patrick Mahomes II seemingly makes Veach impervious to criticism, but there are still takeaways to be gained from his overall drafting history. 
He's drafted a defensive lineman in the top three rounds in three of the last four drafts. Last year was also the first season the team drafted an offensive lineman in the first four rounds since 2017 (Lucas Niang).
Niang opted out of 2020 and was just a third-rounder, so his return to the team doesn't necessarily affect whether K.C. goes tackle at No. 31.
With almost their entire roster back from 2020, Buccaneers GM Jason Licht doesn't have many holes to fill on the roster and can focus on adding talented playmakers. Having no holes to fill makes it difficult to predict who the Bucs will select at No. 32 overall, but a quick peek into Licht's past can provide us with some guidance.
In the Licht era, the Bucs have taken cornerbacks most often during Rounds 1-4. It's not much of a need based on the Bucs' three starting corners — Carlton Davis, Jamel Dean and Sean-Murphy Bunting — but teams can never feel bad about having too many guys to help cover. Davis is also a free agent at the end of the season. 
After corner, the next most-drafted positions were safety, running back and defensive line. 
Teams with no first-round pick:
John Schneider doesn't have a first-round pick to work with this year (for now) but we can still leverage his body of work to identify potential targets for the Seahawks in Rounds 2 and 3. 
Since 2010, Seattle has spent the majority of its draft picks inside the top-four rounds on wide receivers, interior offensive line and defensive linemen. Only one of those three positions matches what the Seahawks need (OL), which will make their first pick at No. 56 extremely interesting.

The Los Angeles Rams haven't had a first-round pick in the past four seasons, and that trend will continue into 2021, 2022 and 2023. Needless to say, it's been a minute since our Rams have been active on the opening night of the draft.
Instead, Les Snead and company will be sitting poolside mapping out Day 2 with margaritas in hand.
Based on what Snead has done since becoming the GM in 2012, I think they'll put "strength on strength" by adding even more talent to their secondary. They've drafted more defensive backs in the first three rounds than any other position. 
Three more positions are tied for second — running back, wide receiver and tackle. Considering they went back-to-back RB and WR in last year's draft with their top two picks, I'd lean toward offensive tackle.
Nick Caserio is the Houston Texans' new GM, and that man has a boatload of work to do. Top to bottom, this looks like one of the NFL's worst rosters. Caserio doesn't have any prior experience as a GM, and we don't know how much influence he had on decision-making while part of the Patriots' organization. 
Stemming from the Belichick tree suggests that Caserio will put a premium on pass coverage over pass rush, so look for Houston to throw darts in Rounds 3-7 in an attempt to improve their atrocious secondary from a year ago.