The mock you love to hate is back for a second time during this 2021 NFL Draft season. This collection of 32 picks represents what we would do at each draft slot, leaning on our college-to-pro projections and all of the film study and analysis that goes into creating PFF's Big Board and Draft Guide.
View PFF's 2021 NFL Draft position rankings:
QB | RB | WR | TE | T | iOL | DI | EDGE | LB | CB | S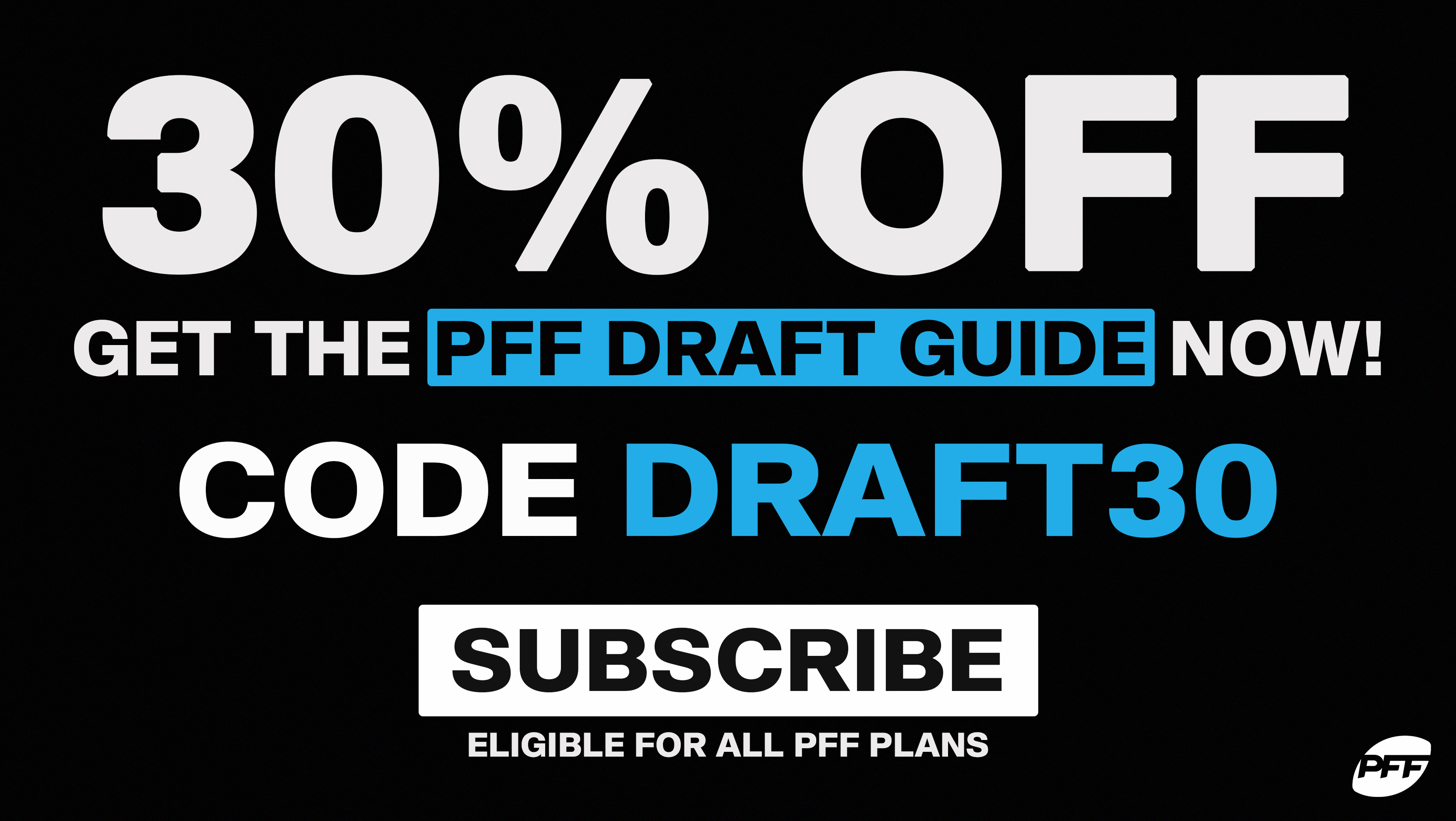 Lawrence doesn't have the best projection in our college-to-pro system and text analytics work — that distinction belongs to Zach Wilson. However, part of the analytical approach is to incorporate all information and context into the decision to acquire players. Lawrence has been projected as the 2021 No. 1 pick since January 2019 while dealing with a number of defections from his supporting cast as well as COVID-19.
Related: Trevor Lawrence continued to improve, and that's what separates him from the pack via Seth Galina
He is the favorite by most in the scouting community, which is meaningful and takes into consideration a lot of the issues above. One thing that put us over the top here is Lawrence's ability to avoid sacks, taking just 14 on 364 dropbacks in 2020 despite an offensive line that ranked just 30th in the country in pass blocking.  
Wilson is the owner of our best college-to-pro projection and our best text analytics projection. Per PFF draft guru Mike Renner in the PFF Draft Guide, "Wilson's arm is special. He made more NFL throws weekly than any other quarterback in the class."
Related: 2021 NFL Draft: A look Into PFF's projections for BYU quarterback Zach Wilson via Eric Eager
Wilson earned a 96.5 PFF grade from a clean pocket last season (best in the class) and managed to mitigate turnover-worthy plays to only 1.2% of his dropbacks despite a 10.9-yard average depth of target — the highest depth of the potential first-round signal-callers.
It should also be noted that while he didn't face much in the way of pressure last season at BYU, Wilson failed to produce a turnover-worthy play in such circumstances, and his average time to throw was just 2.8 seconds, which is right about average in the NFL. The Jets haven't been consistently good since the days of Joe Namath, and they may have found the second version thereof in Wilson.
The debate was not between Justin Fields and Mac Jones; it was between Lawrence, Wilson and Fields. Fields could have been the first or second pick and it would have been more than defensible. He is a better athlete than Wilson and Lawrence, and his 80.8% on-target throw rate was better than both.
Related: Projecting Ohio State QB Justin Fields' impact as an NFL player via Eric Eager
Instead of listening to unsubstantiated reports about his lack of work ethic, the 49ers would be wise to let his 92.9 PFF grade with broken ribs against Clemson in the College Football Playoff semifinal do the talking.
In a perfect world, the Falcons would trade out of this spot. However, there doesn't seem to be the biggest market for Trey Lance, and Pitts represents a player whose potential value over replacement is bigger than any other in the draft, barring quarterbacks. The Falcons are not going to fix their defense or offensive line with one player, but they could take their passing game to the next level with Pitts, which is why, absent Fields being available or a trade, this is the right pick.
Related: 2021 NFL Draft Profile — Florida TE Kyle Pitts via Sam Monson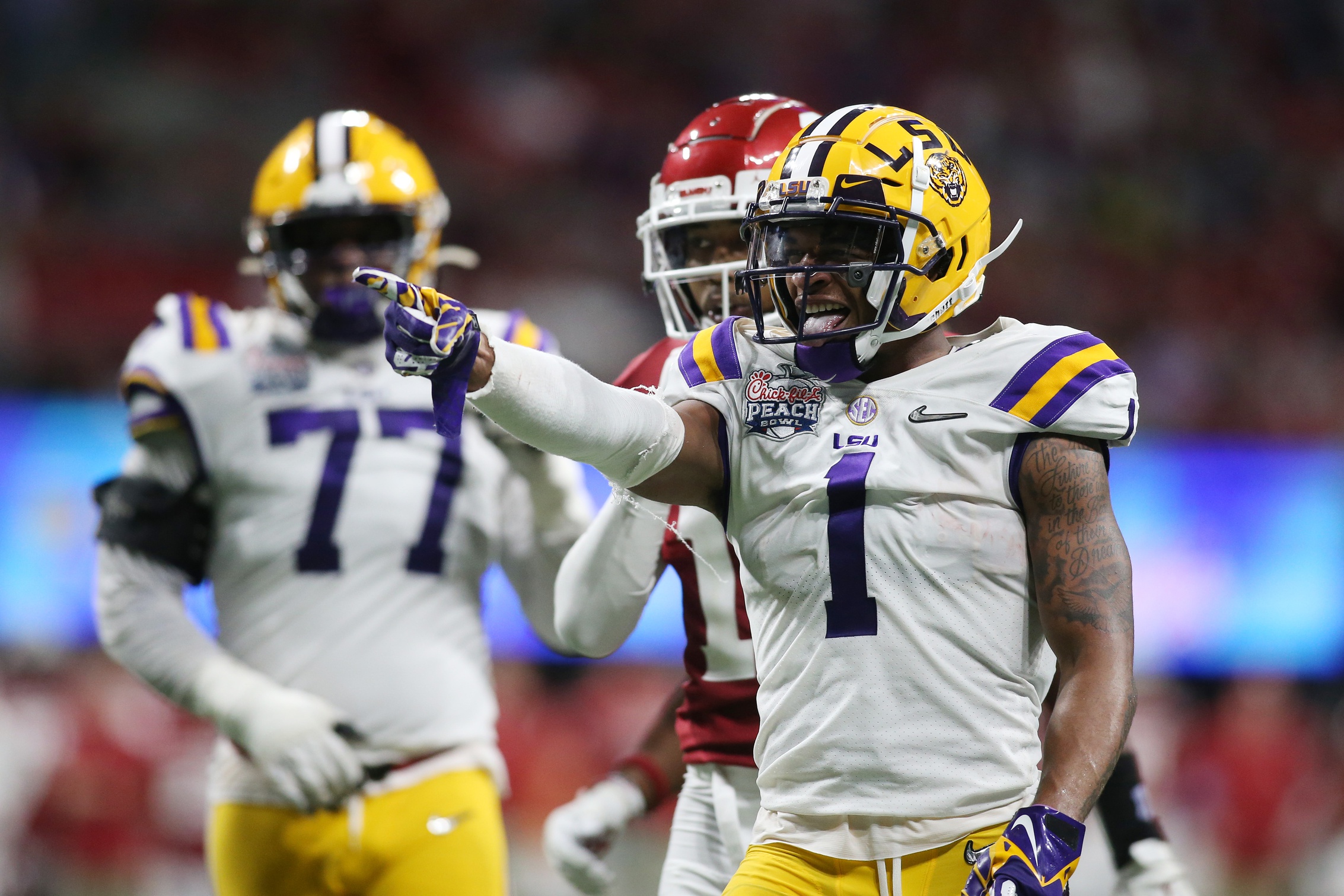 The great WR-OL debate lands here at Chase for a couple of reasons. Firstly, the NFL will always be a one-LT league, whereas it is trending toward a three-or-four-WR league, and Chase is the best wideout in the class. Secondly, Jonah Williams and Riley Reiff are on the roster, meaning that adding Sewell puts one on the sideline, or in a less-than-valuable position — something taking Chase doesn't do. 
Related: 2021 NFL Draft Profile — LSU WR Ja'Marr Chase via Sam Monson
While the Kansas City Chiefs overspent for the 25th-highest-graded tackle in football last season, the Broncos have a chance to pull closer by finding a potential franchise quarterback.
Related: College-to-pro projections for North Dakota State QB Trey Lance via Eric Eager
Lance is the best rushing signal-caller in the class, and while his small sample of playing time is limited, his ability to make any throw and stress defenses with his legs could make Denver a contender during his rookie contract. Lance played only one game last season but earned a 90.7 PFF grade in 2019. His 28 touchdowns and zero interceptions that year were no fluke. 
The Detroit Lions have one of the worst receiver situations in football, and they get here who many believe to be the best wide receiver in the class.  Antonio Brown and Santana Moss are in Waddle's statistical comps — outcomes the Lions would love to work with here since the top four quarterbacks are off the board.
Related: 2021 NFL Draft Profile — Alabama WR Jaylen Waddle via Sam Monson
 A prospect of Penei Sewell's quality is a no-brainer here at No. 8 overall. Sewell ranks fourth on PFF's Big Board and earned a 95.8 PFF grade in his sophomore year as a 19-year-old. The Panthers miss out on one of the top four quarterbacks, but now they have a supporting cast that will ensure they get the best Sam Darnold has to offer.
The Dolphins show the power in trading down by still getting one of the top three receivers in this draft despite falling three spots. Smith does not have prototypical size, but he gained separation as well as any receiver we've seen since 2014, the first year of PFF College grading. Pairing him with Tua Tagovailoa should be a good outcome for a Miami franchise that continues to make smart choices.
Related: 2021 NFL Draft Film Study — Alabama WR DeVonta Smith via Sam Monson
Dallas doesn't get a playmaker falling into its lap like CeeDee Lamb did last season, but the trade-back so that New England could grab PFF's fifth-ranked quarterback is a big win for a team that needs to build depth. The Patriots don't have many players who will get past 10 yards downfield, and the tight end attack over the middle of the field fits perfectly for Mac Jones, who led the FBS in on-target throw rate last season.
Related: Mac Jones is just as good an NFL prospect as Tua Tagovailoa was, if not better via Seth Galina
This is likely a high draft slot for Bateman, but with the top three guys off the board, the Giants go with another weapon for Daniel Jones in the former Golden Gopher who opted out for parts of the 2020 season. Former 49ers first-rounder Michael Crabtree is a statistical comp for Bateman, an outcome New York would gladly welcome.
Related: 2021 NFL Draft Profile — Minnesota WR Rashod Bateman via Sam Monson
The Eagles don't get a chance to grab a wide receiver, but they have needs at basically every position on the field, so getting CB1 isn't the end of the world. Surtain was targeted 48 times last season and allowed just 273 yards on 21 receptions — not too shabby.
Related: 2021 NFL Draft Profile — Alabama CB Patrick Surtain II via Sam Monson
While a trade-up to acquire Sewell has been all the craze, we would never advise such a move for a non-quarterback, given the current costs. Darrisaw actually rivals Sewell and Rashawn Slater in our college-to-pro system, with Jason Peters and Ryan Ramczyk as comps for the ceiling of his projection.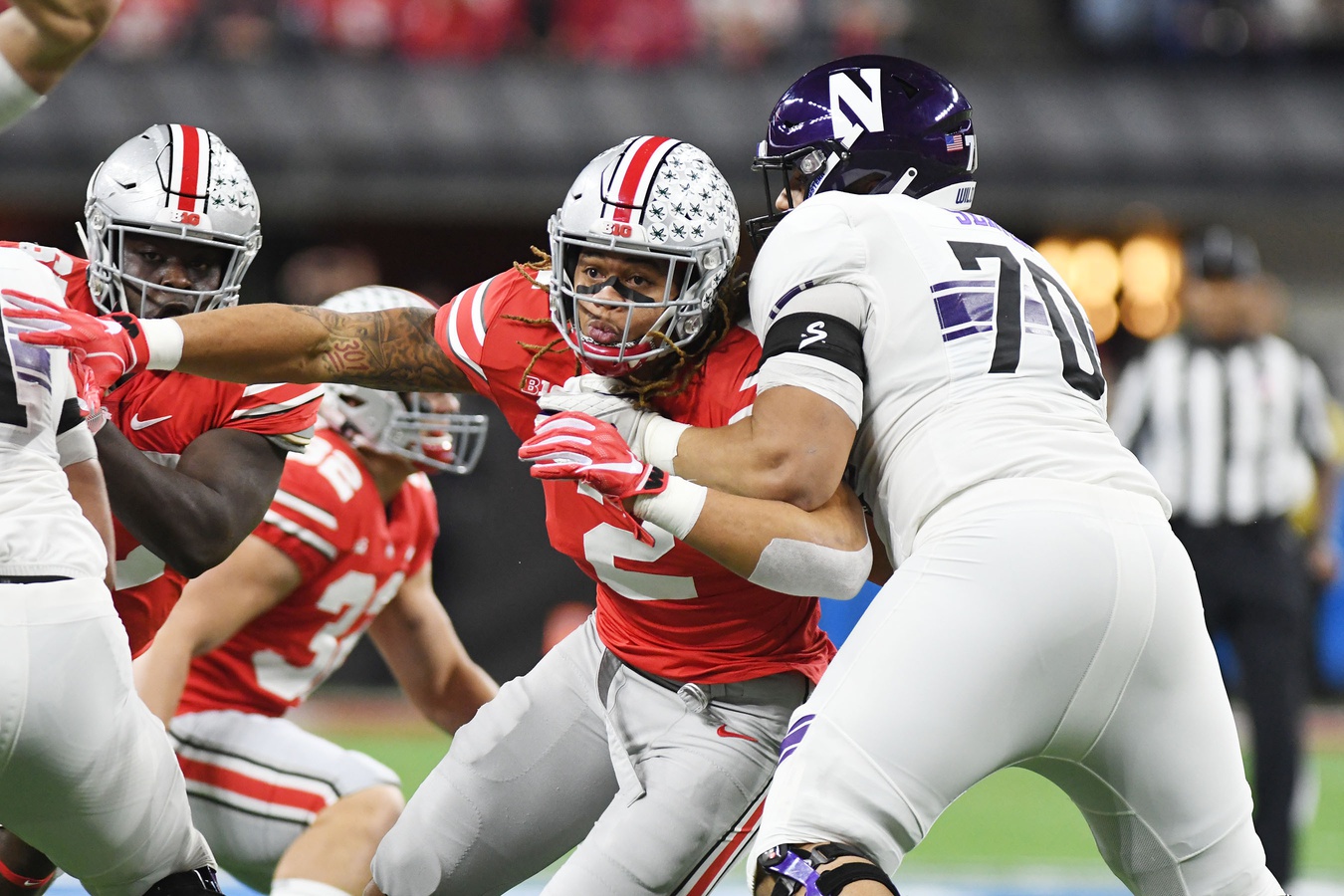 Slater is considered by many to be the top tackle in this draft despite Sewell's brilliance in 2019, but our system has him slightly below Darrisaw. Hence, he falls to Minnesota here. Russell Okung is Slater's most notable statistical comp in our college-to-pro system, with Anthony Castonzo being one of the comps for his ceiling projection.  
Dallas, previously in the Surtain sweepstakes, gets the second-best cornerback in the draft in Horn, who boasts a 91st percentile athleticism score and has college-to-pro comps that include Marshon Lattimore and Aqib Talib. The trade-back also allows them to build up their defense, which was the team's Achilles' heel last year.
Related: 2021 NFL Draft Profile — South Carolina CB Jaycee Horn via Sam Monson
Farley was the definitive top cornerback in the draft before his back injury caused him to fall. He also opted out of last season after allowing just 18 receptions on 50 targets as a sophomore to go along with a 26.8 passer rating against the poor quarterbacks who tested him in coverage.
Barmore's prop to be the first defensive lineman chosen popped up a bit during one of our Periscope streams last week, and while he's still something of a long shot to go there, he's a good value for the Raiders at No. 17 for a couple of reasons. First, interior defenders matter more than we thought recently, and second, for a team that seems to be worse than flipping coins at first-round picks, a "safe" position like interior defender should get them on the board for the first time in a while in Round 1.  
Phillips' current draft position prop on DraftKings Sportsbook is 21.5, and he'd likely go far higher if not for the concussion issues that could force his career to end early. He won on over 20% of his pass-rush snaps last season at Miami and was the No. 1 overall recruit coming out of high school in 2017. 
Parsons was at one point the betting favorite to be the first defender chosen, and while he has since fallen off, there is a relatively good reason for it. However, his statistical comps when looking at coverage include Bobby Wagner and Fred Warner, two off-ball linebackers that we'll all argue matter. 
The Bears hit on Jaylon Johnson last season and will need to replace Kyle Fuller this season. Newsome was dominant in 2020, allowing a 31.7 passer rating on throws into his coverage that ranked first among draft-eligible cornerbacks.
As we wrote last week, the Colts have one of the worst edge situations in all of football, and Ojulari adds an athletic and productive player into that mix. A lighter edge, Ojulari has a statistical comp of Shaun Phillips, who was a productive player for San Diego over the past decade.  
Paye might not be able to play wide receiver or tight end, but he's freakishly athletic and will help boost an anemic Titans pass-rush unit from last season. Paye improved his PFF grade in each of his college seasons and earned a 90.6 PFF grade on true pass sets in 2020.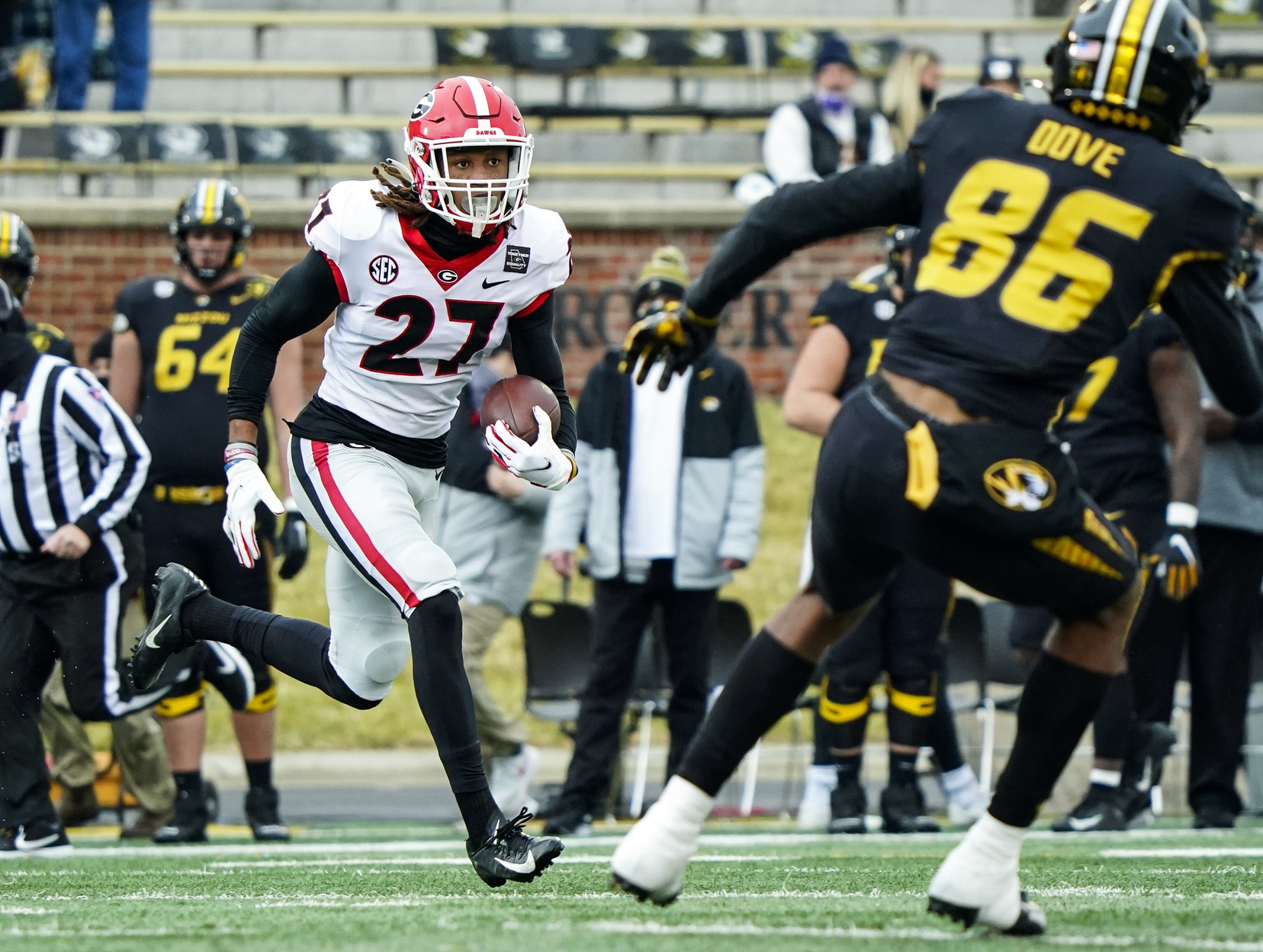 Establish The Run's Evan Silva talked about Stokes in our recent PFF Forecast podcast as a player rising up boards. And in a class full of good athletes, Stokes' Pro Day (he's an 86th percentile athlete) and production (four interceptions versus just 16 receptions allowed) could and should have him going high to a team such as the Jets, who are in need of difference-makers in head coach Robert Saleh's first year. 
Only fools would think that drafting a running back here would cure the Steelers' offensive woes. Vera-Tucker isn't an athletic specimen, but his PFF grade improved in each of his seasons at USC.
The Jaguars supplement the pick of Lawrence with another player who has high-end play on his resume. But Little also comes with plenty of question marks, as he has played only 72 snaps since 2018. He allowed just one pressure in his last seven games of 2018 while playing in a pro-style offense at Stanford.
LSU wide receivers continue to move north. Last year, our projections loved Justin Jefferson despite some concerns about his lack of usage away from the slot. Marshall not only suffers from that "slot only" stigma, but he also didn't have the once-in-a-lifetime opportunity to play with Joe Burrow as a top-two option. Instead, Marshall mired through a disaster of a season for the Tigers.
Despite that, he showed great speed off the line and deep ability, posting a 150.0-plus passer rating when targeted more than 10 yards downfield and making 25 contested catches on 41 such targets. 
The Ravens got a great deal of value in the Orlando Brown Jr. trade last week, and they start to cash in on it here with his replacement: Teven Jenkins.  Jenkins doesn't have the longest arms, but this can be overlooked in favor of his college grades, including the third-best mark in the country last year. Plus, the Ravens' system is conducive to good tackle play.  
Moore might seem like a slot-only receiver, but he has the ability to win outside, as well. His route running is mesmerizing and his production is hard to ignore. Moore earned a 90.4 PFF grade against man coverage last season. He amassed 490 yards on passes more than 20 yards downfield, which was good for seventh-best in the class.
Related — 2021 NFL Draft Comps: Ole Miss WR Elijah Moore draws comps to Tyler Lockett via Kevin Cole
This was our pick for Green Bay in the previous mock draft, and the fit is still really good. In our college-to-pro projections, Owusu-Koramoah's comps include K.J. Wright, NaVorro Bowman, Patrick Willis and Roquan Smith in coverage. The Packers haven't had a linebacker anywhere close to this good since they last won a Super Bowl.  
The Bills could easily look to strengthen a strength with Rondale Moore or Trevon Moehrig, but grabbing a tackle here makes just as much sense. Radunz allowed only one quarterback hit in his last 17 college games and has the athleticism to make it happen outside.
At this time last year, the Ravens had the now-released Earl Thomas III in the fold. Moehrig is the best safety in this draft from the market's perspective, and he would give Baltimore another great secondary player in what is already a stellar unit.
Strengthening a strength is by no means a bad thing. The Bucs rode the deepest receiving corps to a Super Bowl last season, and Moore should fit in perfectly. Moore, who missed much of the past two seasons, is as dangerous with the ball in his hands as anyone in this draft. He is another weapon for Tom Brady's arsenal.
Related — 2021 NFL Draft Comps: Rondale Moore possesses a unique skill set, and teams would be wise to take advantage of it via Kevin Cole
---
More of PFF's 2021 NFL Draft tools here: 
2021 NFL Draft Big Board | 2021 NFL Draft Guide | 2021 NFL Draft Stats Export | NFL Mock Drafts | NFL Mock Draft Simulator