The mid-to-late first round in fantasy football drafts is a good place to start at wide receiver:

There are plenty of options with a history of success that should continue to succeed this season

The fourth round has excellent options that just weren't always available:

A few wide receivers that were among the top five at the position last time they were healthy are available at a discount.

Fantasy draft approaching?

Use PFF's AI-powered

Live Draft Assistant

to win the draft and dominate your 2023

fantasy football

league.



Estimated reading time: 7 minutes
---
The perfect draft by position series looks at the strategies used in my perfect draft strategy by pick series and those used during my personal fantasy drafts.
This article compares how good these players are and when it would be best to select them. And because picking a receiver at any point is generally OK, this will focus on the five best points to target the position.
This advice primarily applies to 12-team leagues but similar logic can apply to other sizes. To try some of these strategies on your own, check out our new mock draft simulator.
For help on strategy by pick numbers and league sizes, rankings, or more details about the players, check out the rest of my summer content below. For rankings with better filtering along with auction values, check out our draft rankings page.
Take a look at PFF's 2023 Fantasy Draft Kit for even more content to help you dominate your league.
Player Profiles | Depth Charts | 10 tips to win | Undervalued | Overvalued | 500 Stats
Rankings: PPR | Half-PPR | Standard | Superflex | Best Ball
Dynasty Rankings: PPR | Rookie | Superflex | Superflex Rookie
Position Rankings: QB | RB | WR | TE
Sleepers: Top-10 | QB | RB | WR | TE
League Winners: Top-5 | QB | RB | WR | TE
Breakouts: Top-5 | QB | RB | WR | TE
Position Draft Strategy: QB | RB | WR | TE
 16-Team Draft Strategy: Overall strategy
 14-Team Draft Strategy: Overall strategy
12-Team Draft Strategy: Overall strategy | Picks 1-3 | Picks 4-6 | Picks 7-9 | Picks 10-12
10-Team Draft Strategy: Overall strategy | Picks 1-3 | Picks 4-7 | Picks 8-10
Preseason Recaps:  Week 3 | Week 2 | Week 1 | Hall of Fame Game
Last updated: 3:50 p.m. Saturday, September 2
---
1. Mid-first round
Hill was one of two wide receivers to average over 20 fantasy points per game at wide receiver last season.
Hill produced a 31.3% target rate, leading to a catch on 22.3% of his routes. Those both ranked first out of 73 wide receivers with at least 345 routes last season.

All of those receptions helped him average just more than 100 receiving yards per game, which ranked second among wide receivers.

This allowed Hill to lead all wide receivers in fantasy points per route regardless of the scoring system.

The one low spot for him statistically was touchdowns. He caught seven, tying him for 12th.

Touchdowns typically haven't been a problem for Hill, and he could have more next season. His 0.65 receiving touchdowns per game over the past five seasons ranks second-best for wide receivers with at least 40 games.

Hill was one of the best deep threats in NFL history while he was with the

Kansas City Chiefs

, and he remained an excellent deep option in Miami.

His 2.2 deep targets, 1.1 deep receptions and 39.4 deep receiving yards per game were all the most for wide receivers last season.

Hill averaged 2.235 targets on deep passes per game last year, which is tied for first out of 143 wide receivers with at least 10 games since 2022.

Someone like Hill should typically be picked early in the first round but is currently being picked in the middle.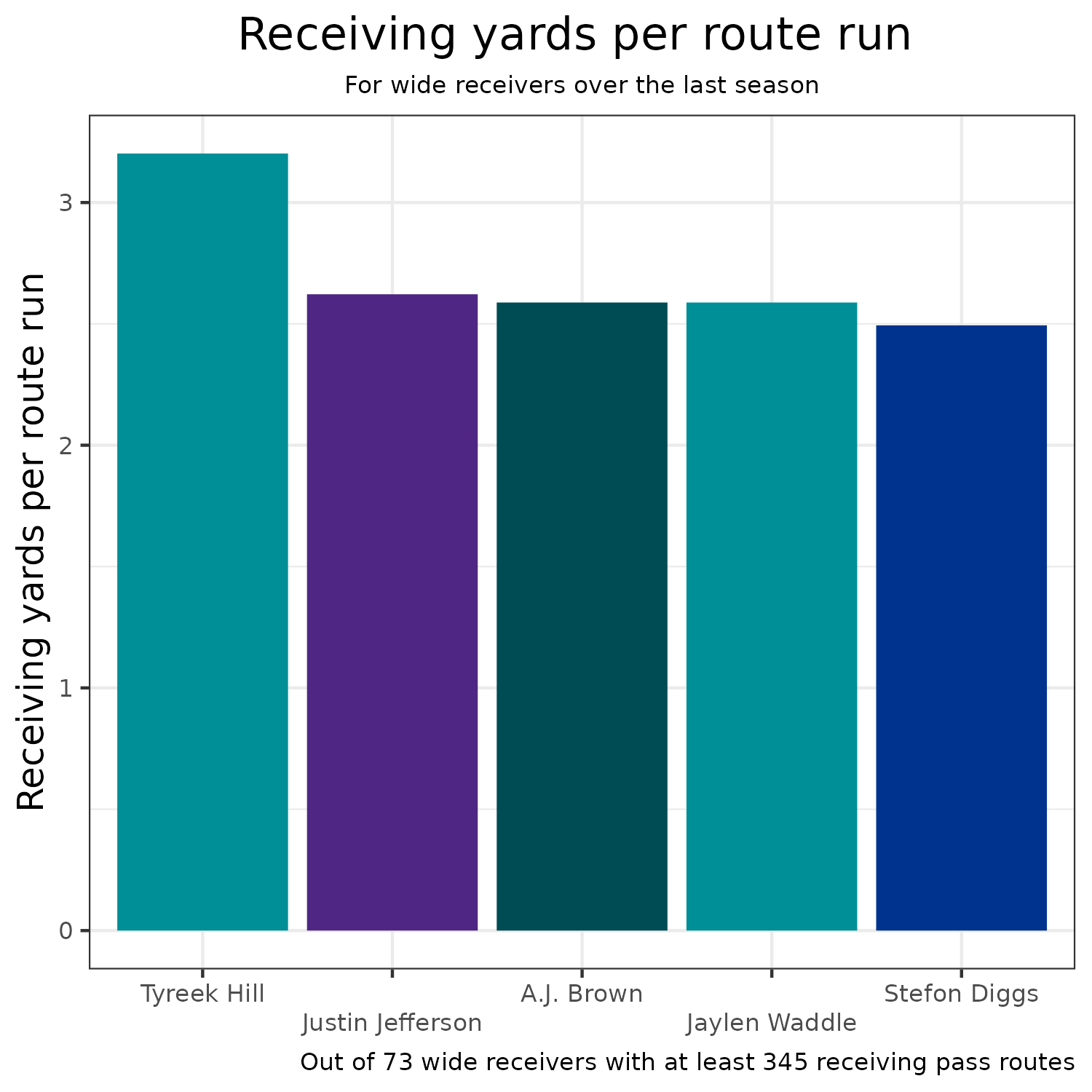 ---
2. Late first round/early second round
Anyone picking near the end of the draft can still find a very reliable wide receiver.
All three players

outside of St. Brown

were among the five wide receivers with at least 300 PPR points last season.

Adams and Diggs have each gained at least 285 fantasy points each of the last three seasons, joining

Tyreek Hill

as the only three wide receivers to have that kind of consistency.

They each caught at least 100 passes for at least 1,350 yards and nine touchdowns.

They also ranked among the top-eight wide receivers in PFF receiving grade last season with at least 87.5.

Lamb had the fewest yards, touchdowns and PFF receiving grade of the three, but he's also only 24 years old and should still be an ascending player.

St. Brown could be considered a little bit of a reach this early, but he has the talent to potentially be the

top-overall wide receiver

.

A team drafting at the end of the first round can grab one of these players and an elite running back, or even double up at wide receiver.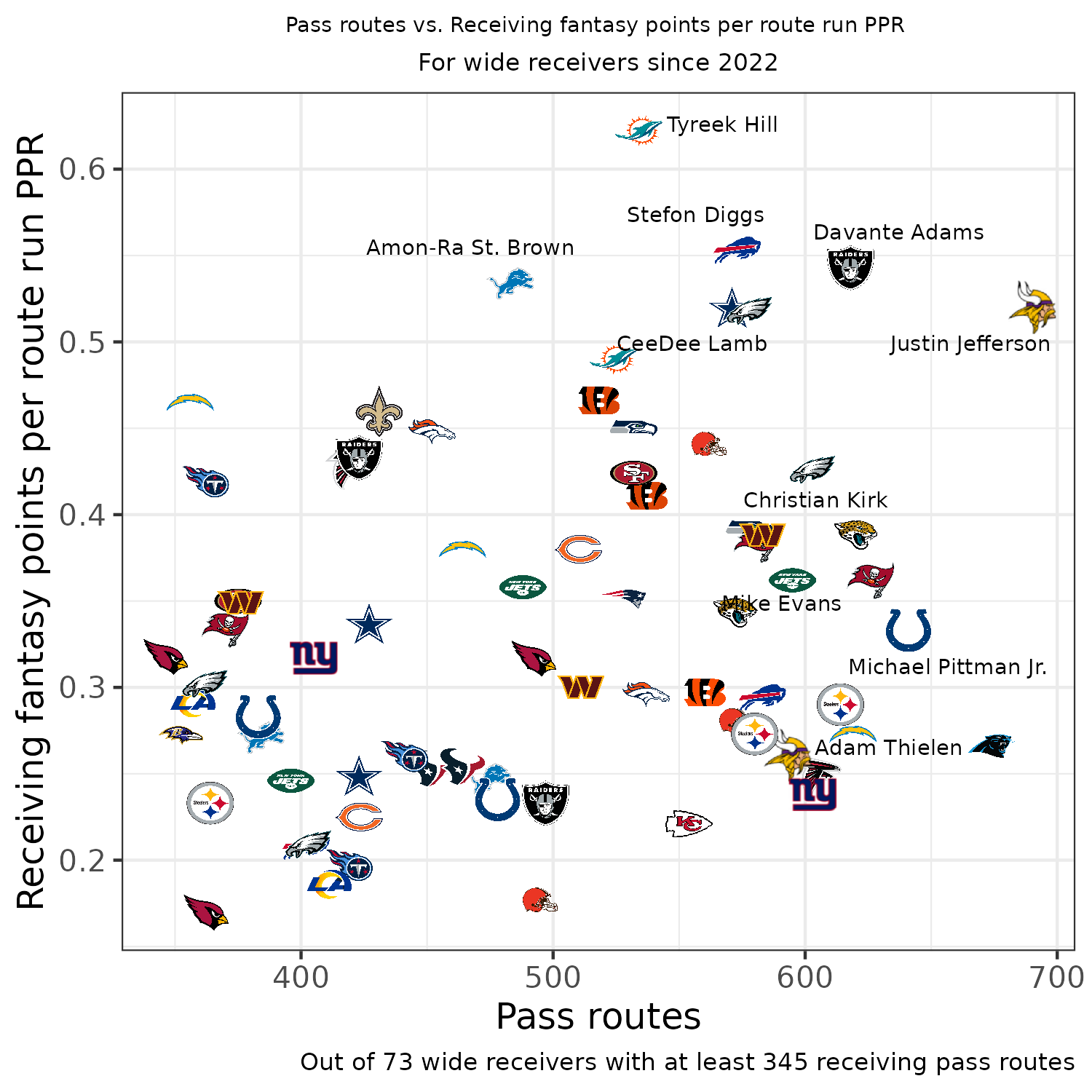 ---
3. Fourth round
The fourth round is full of wide receivers who were among the top five in fantasy points for wide receivers the last time they were healthy.
Allen missed most of September and October due to injury, but he was healthy over the last eight weeks of the season.

During that time, he scored 150.3 fantasy points, which ranked third over that time — behind

Justin Jefferson

and

Davante Adams

.

The change in offensive coordinators to Kellen Moore could lead to more targets for Allen that potentially could gain more yards.

Calvin Ridley

last played a season of football in 2020, where he scored 281.5 PPR points which ranked fifth that season.

Deebo Samuel

spent most of the 2022 season injured but scored 339.0 fantasy points in 2021 which was third-most in that time.

Plenty of wide receivers have the upside to reach the top-five, but in this round, fantasy managers can pick a player that has already accomplished that and just needs to do it again.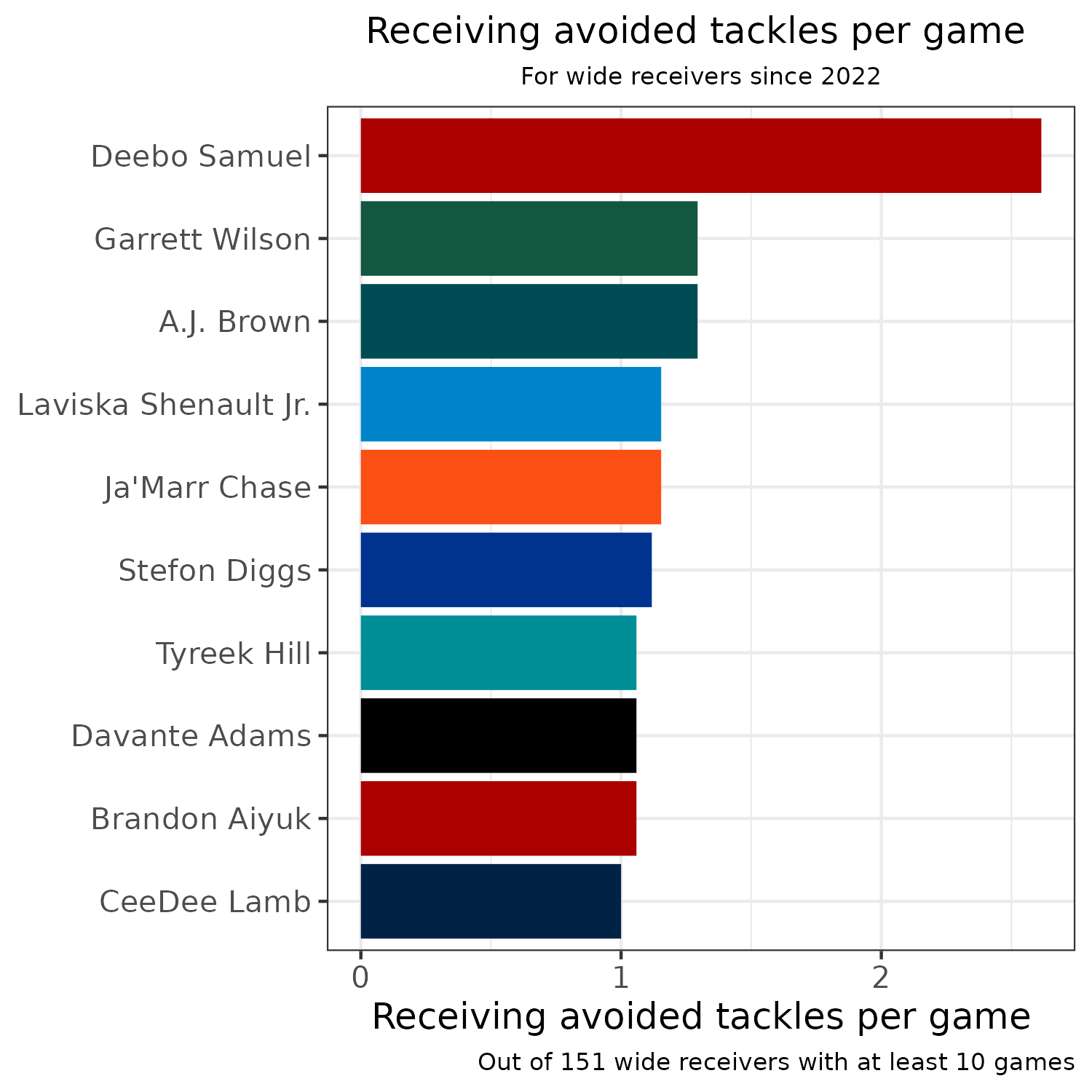 ---
4. Seventh round
The seventh round is where there starts to be a significant dropoff at quarterback, running back and tight end but not nearly as big of a dropoff at wide receiver.
This group is full of wide receivers that are still the top player on their team mixed with some talented No. 2 options.

The only player from this group that wasn't a top-

15

fantasy wide receiver last season

was London.

All of them have ADPs outside of the top-

26

wide receivers.

Their main problem is they are veterans who are unlikely to see substantial improvement, so younger wide receivers with higher upside are getting picked before them.

All these players need to do is repeat what they've done recently to make them a steal at this point.

London has been the one exception who played better late in his rookie season and is still only 22 years old. He fits into the category of younger receivers going above proven players, but it's hard to ignore the former eighth-overall pick.
---
5. Ninth round
This trio of wide receivers has a ton of upside and is a clear example of how much depth there is at wide receiver.
All three are expected to be on the field for the vast majority of plays, which is something that isn't close to true for the running backs picked in this range.

Dotson is entering his second season with the

Washington Commanders

after being a touchdown machine as a rookie, scoring four touchdowns in the team's first four games.

Dotson missed the following five games due to injuries and was eased back into action for the following three.

He averaged 68.8 receiving yards per game in the Commanders' last five outings, including another three touchdowns in that stretch.

Thomas ranks in the top three over the past five seasons in targets (9.6), receptions (7.9), yards (89.0) and PPR points (19.6) per game among wide receivers.

New Orleans Saints

quarterback

Derek Carr

has a 94.0 PFF grade over the past five seasons when throwing a crossing route — the fourth-highest mark for a quarterback with at least 200 crossing route targets.

Similarly, he has the second-highest passing grade when throwing slants, at 92.8.

Those are the routes that Thomas is targeted on most frequently.

Jordan Addison

looks to follow in the footsteps of other recent first-round picks who managed top-25 finishes in their rookie season.

Addison has a higher chance than some to get there as he should be playing in three-receiver sets in Week 1.

He was the highest-graded wide receiver in the first week of the preseason among those with at least 10 routes in the first half of a game.