The fantasy football outlook series takes an in-depth look at a single player's fantasy outlook for the 2023 season. Stay tuned for new profiles each week leading up to Week 1.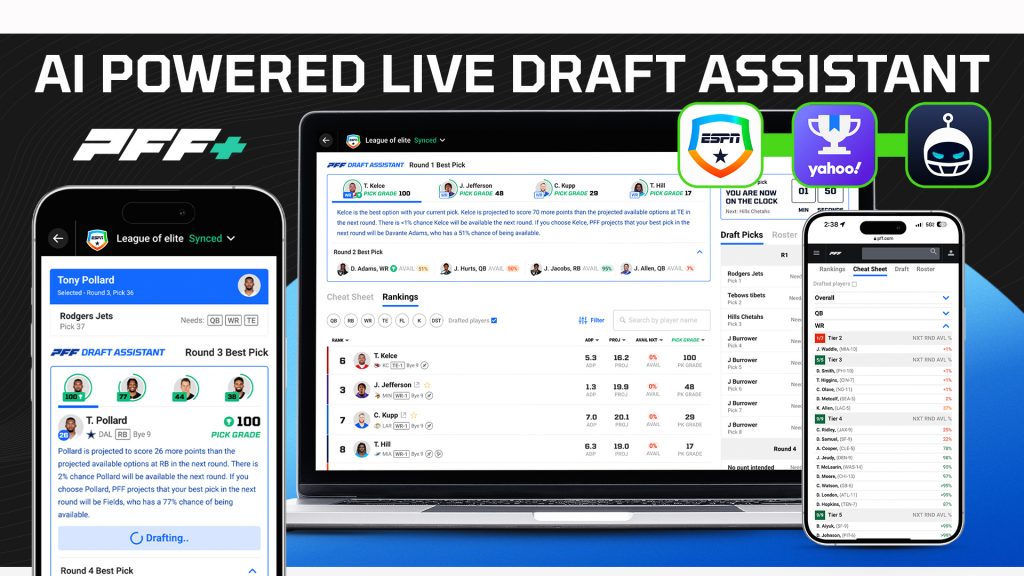 ---
Running Backs
Bottom Line: Barkley has a safe floor thanks to his rushing volume and efficiency, with his fantasy value for 2023 ultimately depending on his work as a receiver.
---
Bottom Line: Chubb is a relatively safe option in the second tier of running backs, with some reason for optimism that this could be his best season and some reason for concern that his best performances are behind him.
---
Bottom Line: Travis Etienne remains a talented back who should lead the Jaguars' running backs in fantasy production, but there are plenty of concerns that will impact his upside.
---
Bottom Line: Once Jacobs' contract situation is resolved, he should be a relatively safe top-10 running back option.
---
Bottom Line: Jones deserves more respect for how well he's played over his career, but his best fantasy seasons are likely behind him for reasons out of his control.
---
Bottom line: Kamara was once a first-round fantasy pick but is one of the riskier running backs to draft this season.
---
Bottom Line: The fifth-year running back is a high-risk, high-reward sleeper.
---
Bottom Line: Pierce has a good chance of being a fantasy starter where drafters should be cautiously optimistic.
---
Bottom Line: Robinson's talent mixed with the situation in Atlanta should make him a mid-first-round fantasy pick despite the fact that he's never played a down in the NFL.
---
Bottom Line: Swift could finish as a top-five fantasy running back or be the backup on both run and pass plays. Where he fits in might change from one week to another, too.
---
Bottom Line: Taylor could lead the NFL in rushing yards this season, but a lack of receiving production and a potential decrease in touchdowns will likely cost him from being among the top few fantasy running backs.
---
Bottom Line: The question around Williams has shifted from if he will play to how well he will play. That question alone makes him one of the riskier fantasy backs to depend on.
More coming soon…
---
Wide Receivers
Bottom Line: Adams is a clear-cut top-five receiver in real life, but the Raiders' quarterback situation could hurt his production slightly.
---
Bottom Line: Hill is a relatively safe first-round option in most league formats.
---
Bottom Line: Hopkins' most likely outcome is his worst fantasy season in years in terms of fantasy points per game. But it probably won't be much worse, still making him a fantasy starter.
---
Bottom Line: Jefferson was the top wide receiver in fantasy football last season, and there is a chance he could be even better this season.
---
Bottom Line: Jeudy has the opportunity to fill Michael Thomas' shoes in the Sean Payton offense. The question is how well can he fill them?
---
Bottom Line: Kupp has a chance to be the best player in all of fantasy football again this season, but he needs to stay healthy and so does his quarterback.
---
Bottom Line: Lamb is a clear-cut top-10 fantasy wide receiver and just needs a few offensive changes to be a consistent first-round pick in fantasy leagues.
---
Bottom Line: Metcalf is in a good situation in Seattle to maximize his fantasy value, and this next season could be his best yet.
---
Bottom Line: D.J. Moore remains a very talented receiver who is used to bad quarterback play, and he faces less competition for targets than in Carolina.
---
Bottom Line: There is always risk in relying on a player who has barely played in the past two seasons, but the upside to Ridley is blatantly obvious.
---
Bottom Line: Thomas is a huge risk, given his injuries over the past three seasons, but there is also a chance he is the steal of the draft.
---
Bottom Line: There are plenty of reasons to expect Watson's breakout to continue, but there are also a number of factors working against him that might lead to a step back in fantasy production.
---
Tight Ends
Bottom Line: Dulcich is no sure thing to finish as a top-12 fantasy tight end, but he's one of the few late-round tight ends with a lot of upside.
---
Bottom Line: Hockenson is largely a safe pick as one of the top few fantasy tight ends in the NFL.
---
Bottom Line: Johnson is considered a sleeper tight end, but more factors are working against him having a breakout season than for him.
---
Bottom Line: Kmet is a sleeper tight end who will depend on Justin Fields for his breakout.
---
Bottom Line: There are plenty of reasons to be concerned about Okonkwo's situation, but the best tight ends in real life tend to become the top fantasy tight ends regardless of the situation, and Okonkwo looked like he could be one of the league's best.
---
Bottom Line: Waller's injury history in recent seasons is a big red flag, but a healthy Waller will, at worst, be a weekly fantasy starter and, at best, a top-three fantasy tight end.
More coming soon…