Take a chance on rookie running backs:

There are plenty of running backs who could be considered sleepers, but some highly drafted backs also have low

ADP

s.

Jaylen Warren is the second-year back on the rise:

The

Pittsburgh Steelers

slowly but surely got Warren more involved in their offense last year, and they could eventually decide to give their most effective back the starting role.

Fantasy draft approaching?

Use PFF's AI-powered

fantasy

mock draft simulator

to fine-tune your draft

strategy

and dominate your 2023

fantasy football

league.
Estimated Reading Time: 7 minutes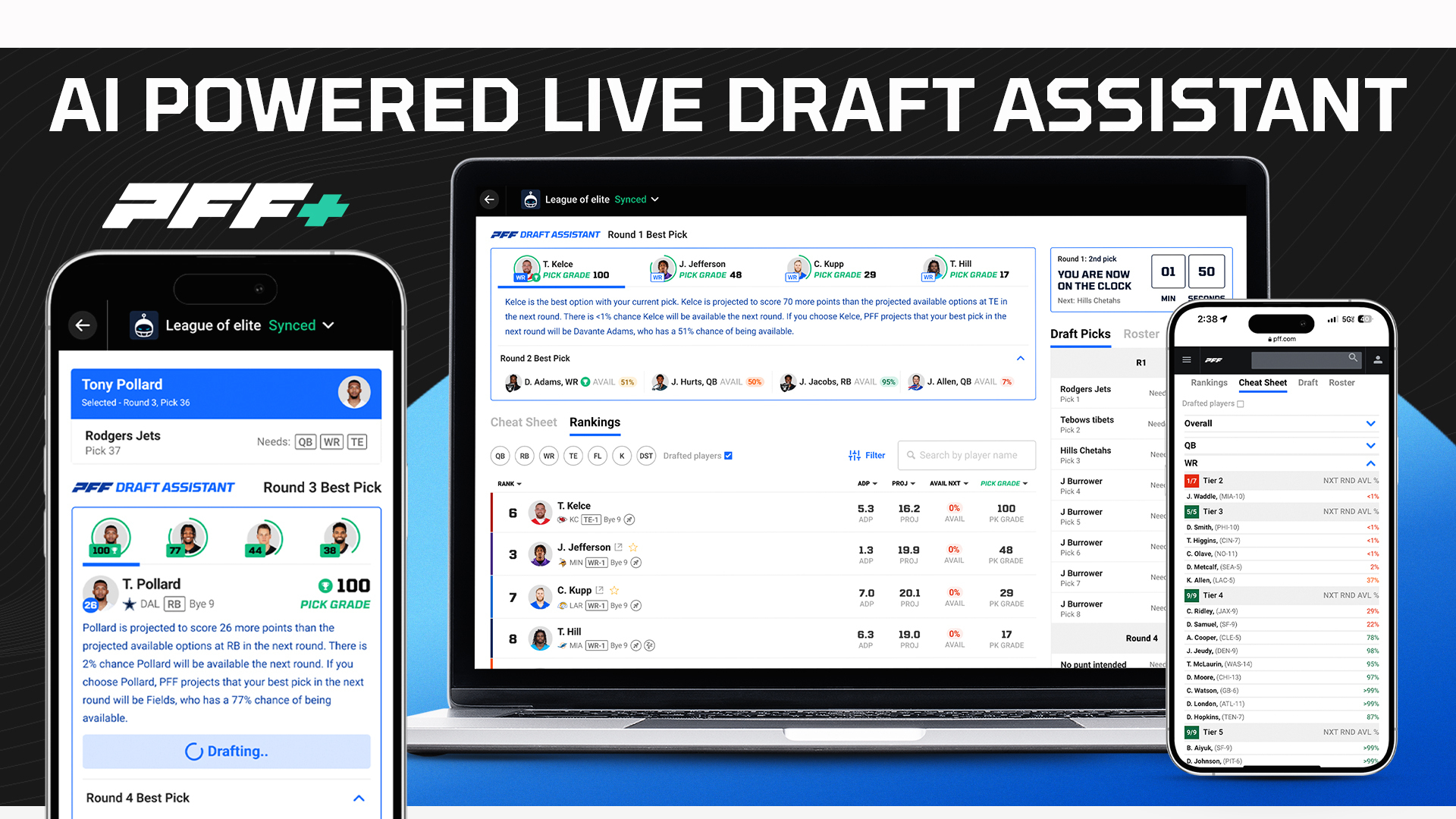 ---
These sleepers are five players with a 120-plus ADP on ESPN that I have ranked notably higher. Some of these players will have a top-120 ADP at other sources where a higher percentage of users are experts, but a variety of players were picked so at least some players could be considered a sleeper at any site.
Player Profiles | Depth Charts | 10 tips to win | Undervalued | Overvalued | 500 Stats
Rankings: PPR | Half-PPR | Standard | Superflex | Best Ball
Dynasty Rankings: PPR | Rookie | Superflex | Superflex Rookie
Position Rankings: QB | RB | WR | TE
Sleepers: Top-10 | QB | RB | WR | TE
League Winners: Top-5 | QB | RB | WR | TE
Breakouts: Top-5 | QB | RB | WR | TE
Position Draft Strategy: QB | RB | WR | TE
 16-Team Draft Strategy: Overall strategy
 14-Team Draft Strategy: Overall strategy
12-Team Draft Strategy: Overall strategy | Picks 1-3 | Picks 4-6 | Picks 7-9 | Picks 10-12
10-Team Draft Strategy: Overall strategy | Picks 1-3 | Picks 4-7 | Picks 8-10
Preseason Recaps:  Week 3 | Week 2 | Week 1 | Hall of Fame Game
Last updated: 7:15 a.m. Thursday, August 31
---
Charbonnet landed with a team that loves to use running backs but also spent a second-round pick on a running back last season in Kenneth Walker III.
The second-round rookie has the

best vision

in the class and is also the class' best short-yardage back.

Seattle has been the home of several

fantasy

starters when a player has been given opportunities.

Walker was

RB9

from Week 6 until the end of the 2022 season once he became the starter.

Rashaad Penny

was the top running back over the last six weeks of 2021 once he began seeing significant playing time, including four games with 130 or more yards and at least one touchdown.

Chris Carson

was a top-20

fantasy

running back in each season from 2018-2020.

The problem is Walker and Charbonnet will likely share the workload as long as both players are healthy.

We could see an ugly three-man rotation to begin Charbonnet's career, as head coach

Pete Carroll mentioned

DeeJay Dallas

early on when discussing his new running back room.

This is similar to the running back rotation Seattle used to begin last season, with Penny, Walker and Dallas.

Charbonnet ranked higher on

PFF's big board

this season (50) than Walker did last season (55). There is certainly a chance Charbonnet becomes the starter at some point.

He's been the healthier of the two backs in training camp and has played in both preseason games. This could help Charbonnet play more often early in the season and have a chance to show he should be the starter.

Charbonnet would also be a clear

fantasy

starter if Walker remains injured or suffers another injury. Even if he never gets the starting role, there is a chance he can have stand-alone value as the backup.

---
Warren ended last season as the Steelers' third-down back. He could see more snaps on early downs this season.
He was an undrafted rookie out of Oklahoma State last season but was able to emerge as the primary backup by the end of the preseason. He was the only backup running back for the Steelers to see any playing time in Week 1, with 23 snaps.

By the end of the season, he was the third-down back and the primary backup in all other situations.

Warren averaged 0.464 avoided tackles per reception last season, which ranked first out of 62 running backs with at least 110 pass routes.

He wasn't as good in the run game, but still solid with 0.247 avoided tackles per rushing attempt, which ranked 16th out of 80 running backs with at least 35 rushing attempts.

Compared to Harris in the run game, Warren had a higher yards-per-carry figure, yards-after-contact-per-carry figure, avoided tackle rate, first-down rate and explosive play rate, plus a lower rate of being stuffed in the backfield.

Warren won't have

fantasy

value in his current role, but there is a chance he starts seeing more early-down snaps, and he would be an every-down back if

Najee Harris

suffers an injury.

The Steelers were consistently giving Warren early-down snaps during the preseason with the starters to go along with his passing-down snaps. If that role continues into the regular season, it's certainly possible Warren will lead the Steelers backfield in

fantasy

points even if both players stay healthy all season.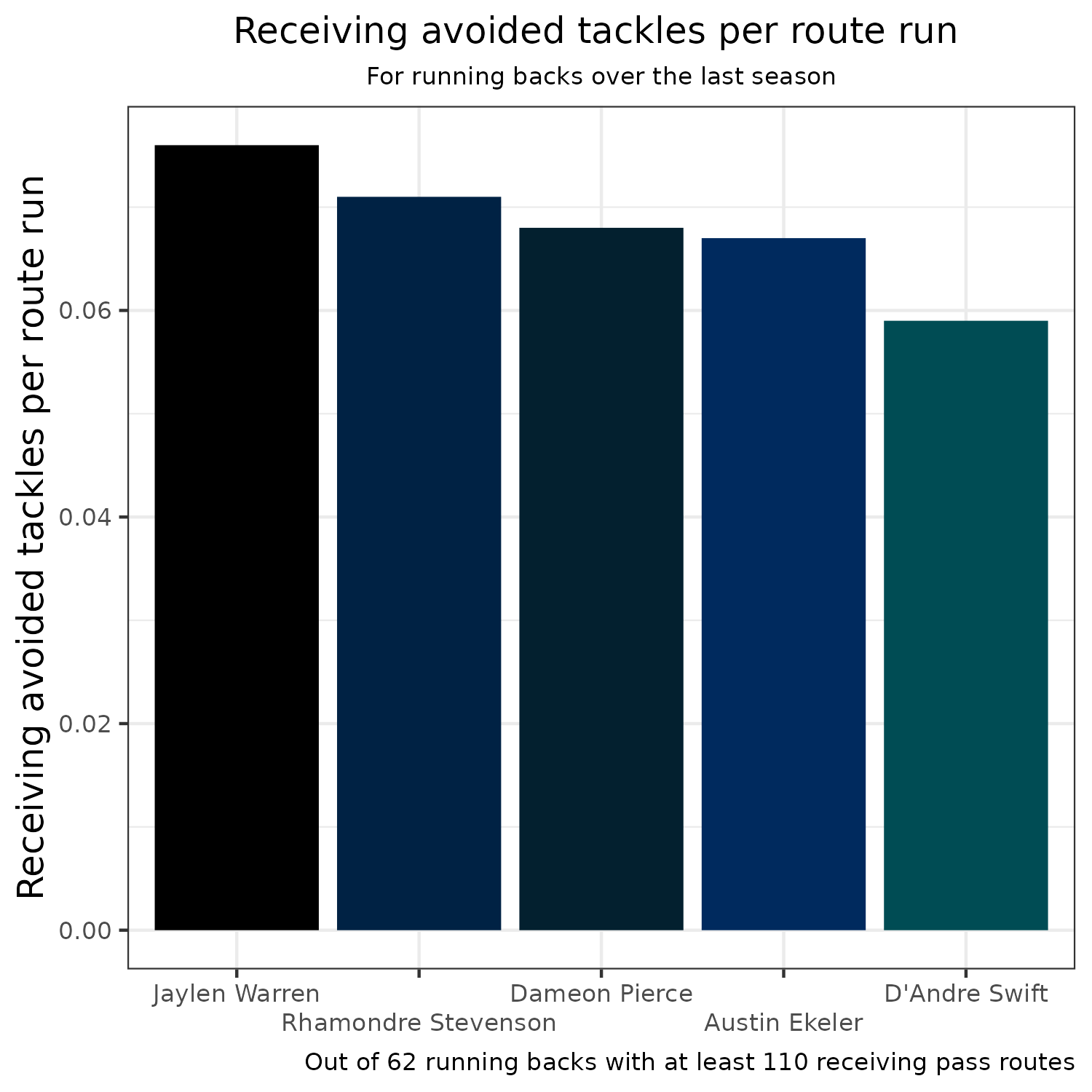 ---
Gainwell remains one of the top-three backs in one of the NFL's best offenses.
Gainwell is known as a receiving back, but he's scored a rushing touchdown on 7.5% of his rushing attempts, leading to 0.906 rushing

fantasy

points per attempt. Both marks ranked as the best out of 80 running backs with at least 35 rushing attempts last season.

Philadelphia lost

Miles Sanders

but added

D'Andre Swift

and

Rashaad Penny

.

Gainwell has received plenty of praise over training camp including seeing

more work with the first team

than any other running back.

He and

Boston Scott

were among the veterans who had the first preseason game off. Swift received that treatment in the second game, with Gainwell starting over Scott and Penny.

It's clear that he is currently among the top two on the depth chart. It was thought, at best, he'd be a receiving back while Swift or Penny take early down snaps, but it's starting to look like Gainwell could be the early down back this season. At worst, it seems like he would be Swift's backup.

Swift and Penny have dealt with several injuries in their careers, so even if he's not the starter Week 1, it's possible he is the starter at some point this season.

The Eagles have the

top offensive line

in the NFL, which would be a huge help to Gainwell or whoever in Philadelphia is running with the ball.
---
The Jaguars selected Bigsby with the 88th overall pick in the draft.
He is capable of being a bell-cow back according to

our draft guide

. The Jaguars have used him in every situation in the preseason, so it seems like Jacksonville also believes he's capable of that role.

Travis Etienne

remains the starter and is also capable of playing 80% of the team's offensive snaps.

Bigsby was the only rookie running back in the first week of the preseason to receive playing time with the normal starters, taking a short yardage snap.

This is a good sign he should at least see short-yardage carries this season which includes touchdown opportunities.

Training camp reports for him have been overwhelmingly positive, which could lead to more playing time as well.

Etienne and other starts didn't play in Jacksonville's second preseason game, but Bigsby started over

JaMycal Hasty

and

D'Ernest Johnson

, making it clear he is already second on the depth chart. This included taking passing down snaps over Hasty.

Doug Pederson has a long history of running back committee with the

Philadelphia Eagles

and

Kansas City Chiefs

, so Jacksonville could be heading in that direction this season.

If Bigsby is seeing 30-40% of the work and running at the goal line, he could have

fantasy

value similar to

Jamaal Williams

this season and would be a

fantasy

starter if Etienne ever gets injured.

He played in 36% of Jacksonville's offensive snaps with the starters in team's last preseason game, so 30-40% seems possible even in the early parts of the season.

It's unlikely but not out of the question Bigsby overtakes Etienne as the starter at some point this season even without an injury.
---
Achane has the most upside in a crowded Dolphins backfield after being picked 84th overall in the 2023 NFL Draft.
He has the best

home-run speed

of any rookie running back.

He is only 5-foot-9 and 185 pounds, which is very small for a running back. Typically, running backs that small don't get enough of a workload to be

fantasy

-relevant, but Achane could be the exception.

Justin Forsett

and

Phillip Lindsay

were the last running backs in the same ballpark in terms of height and weight to reach 200 carries in a season. Warrick Dunn was an even smaller back, and he reached 2,669 career rushing attempts.

PFF's

2023 draft guide

called Achane a "light box back," which made him a good fit for the Dolphins, as Miami backs had only 90 rushing attempts against eight-plus-man boxes in 2022. That was the fifth fewest in the NFL.

The Dolphins are also a great landing spot because their running back situation is fluid, and the player who is playing the best will earn the majority of playing time.

Miami had three different running backs put up top-12 performances in 2022, with the lead back changing multiple times over the course of the season.

Achane is one of the best late-round options because he could become the starter at any point in 2023 and is capable of a big-play touchdown in any game.

He is currently week to week with a shoulder injury. The injury mixed with a quiet preseason has driven the expectations for him down but has also impacted his

ADP

, making it easier to take a gamble on him late in a draft.