Bijan Robinson landed in the perfect situation:

Robinson is the best running back prospect in recent memory after landing on a run-first team with an excellent offensive line.

Tony Pollard earns his opportunity:

Pollard is finally the

Dallas Cowboys

' lead back, so his opportunity can finally be as big as his talent.

Fantasy draft approaching?

Use PFF's AI-powered

fantasy

mock draft simulator

to fine-tune your draft

strategy

and dominate your 2023

fantasy football

league.

Estimated reading time: 6 minutes
Want to dominate your fantasy football league this year?
Check out PFF's fantasy tools below:
---
These league winners are players who have an ADP in the first four rounds on ESPN and who I have ranked notably higher than their ADP. For help with sleepers, draft strategy, rankings or for more details about the players, check out the rest of my summer content below. For better filtering of the rankings along with auction values, check out our draft rankings page.
Player Profiles | Depth Charts | 10 tips to win | Undervalued | Overvalued | 500 Stats
Rankings: PPR | Half-PPR | Standard | Superflex | Best Ball
Dynasty Rankings: PPR | Rookie | Superflex | Superflex Rookie
Position Rankings: QB | RB | WR | TE
Sleepers: Top-10 | QB | RB | WR | TE
League Winners: Top-5 | QB | RB | WR | TE
Breakouts: Top-5 | QB | RB | WR | TE
Position Draft Strategy: QB | RB | WR | TE
 16-Team Draft Strategy: Overall strategy
 14-Team Draft Strategy: Overall strategy
12-Team Draft Strategy: Overall strategy | Picks 1-3 | Picks 4-6 | Picks 7-9 | Picks 10-12
10-Team Draft Strategy: Overall strategy | Picks 1-3 | Picks 4-7 | Picks 8-10
Preseason Recaps:  Week 3 | Week 2 | Week 1 | Hall of Fame Game
Last updated: 7:15 a.m. Thursday, August 31
---
Landing in Atlanta was the best-case scenario for the top running back prospect in years.
Robinson is the first running back selected in the top 10 since

Saquon Barkley

in 2018. Barkley finished as the overall

RB1

as a rookie.

The four other running backs picked in the top 10 in the NFL draft also finished as top-10

fantasy

running backs as rookies.

The Falcons were the only team to run the ball on more than half of their offensive plays last season, which included maintaining the run even when playing from behind.

They ran 48.8% of the time while losing, which was five percentage points more than any other team.

Those rates remained similar when

Desmond Ridder

took over as the team's starting quarterback.

The Falcons' depth was a talented

Tyler Allgeier

and 32-year-old

Cordarrelle Patterson

. Allgeier can give Robinson a rest at times, but that shouldn't stop Robinson from seeing 20 touches per game.

He will be running behind right guard

Chris Lindstrom

, who was the highest-graded run-blocking guard last season with a 93.1 grade, as well right tackle

Kaleb McGary

, the highest-graded right tackle last season at 91.6.

Falcons running backs have a 21.0% targets per route run over the last two seasons, which ranks eighth among teams.

Robinson is a well-rounded player who the Falcons will design more passes for than past running backs on the roster.

The Falcons have the

eighth-best schedule

for running backs in terms of the strength of their opponent over their first 16 games.

They also have the

easiest schedule according to our power

rankings

, which should keep them in games and keep them getting the ball to Robinson.

This all adds up to what could be the first of many

RB1

seasons.
Pollard has graded out as an elite runner in recent seasons and finally gets a chance to shine without Ezekiel Elliott in the offense.
His head coach Mike McCarthy has made it clear he wants to

run the ball

more this year.

His 92.0 run grade is the second-best among running backs over the last two seasons.

He has been among the best backs at making big plays. He gained at least 10 yards on 16.1% of his carries and averaged 3.8 yards after contact per attempt. Both ranked first out of 31 running backs with at least 175 rushing attempts since 2022.

This led to 0.802 rushing

fantasy

points per attempt, which ranked second out of the same sample of backs.

He finished at

RB8

last season despite

Ezekiel Elliott

playing every game, taking 75% of the goal line carries and leading to 12 rushing

touchdowns

.

If Pollard can take those goal-line opportunities, he should rank even higher than this. There is still a chance the Cowboys add a bigger back or bring Elliott back, and Pollard doesn't receive as many touchdown opportunities.

He should also benefit from a healthier offensive line, which ranks

sixth overall

heading into the season. Every

projected

starter was on the team last season, so they should also benefit from having worked together already.

Pollard should also benefit from running more routes. While he was a much better receiver than Elliott, he just barely ran more routes last season at 245-234.

His 1.51 yards per route run ranked fifth among running backs.

Pollard only needs to average 6.2 more

PPR points per game

this season compared to last to reach

RB1

. With his excellent rushing efficiency, receiving production and the Cowboys offensive talent, he doesn't need to be a 20-carry-per-game back to get there.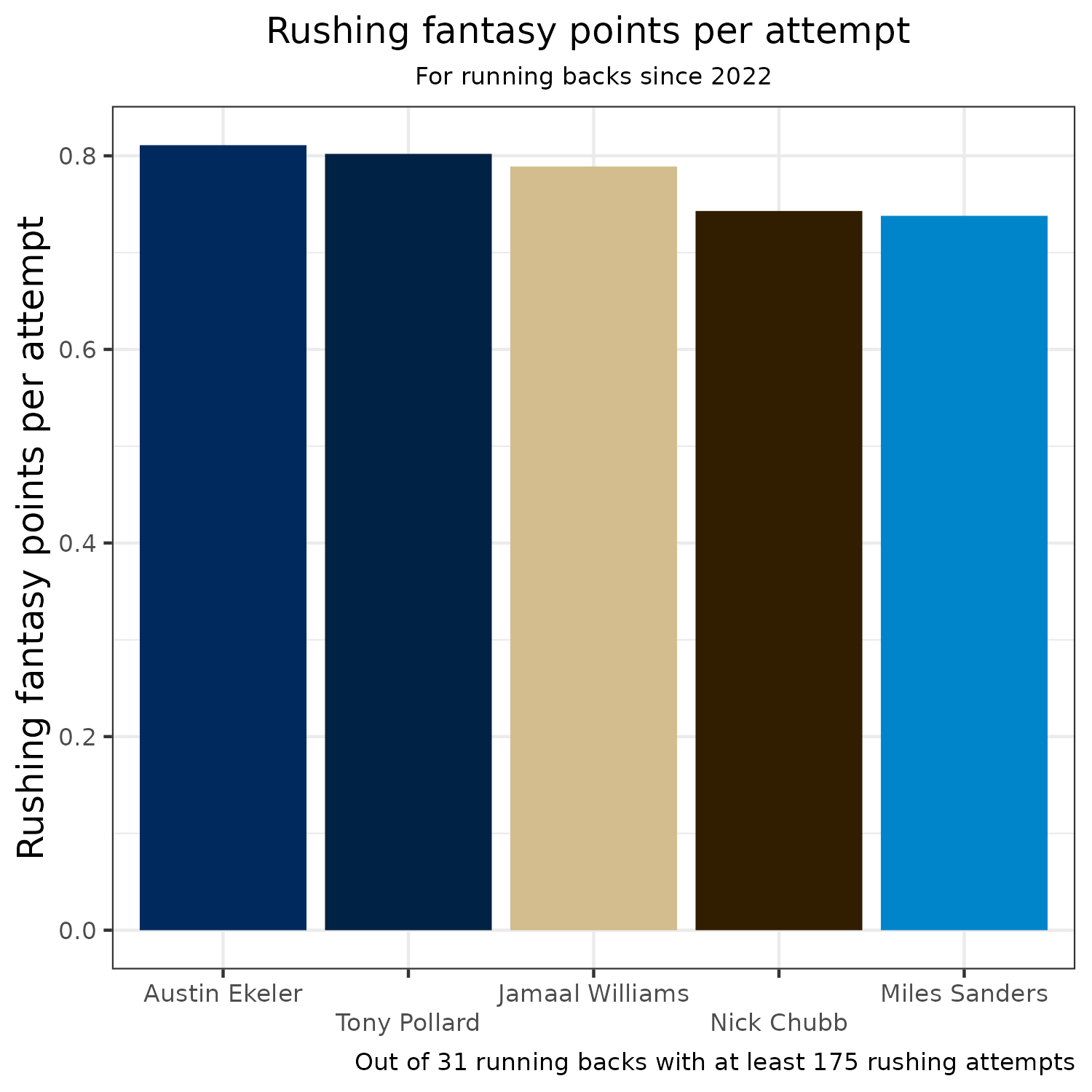 Stevenson took advantage of injuries to other Patriots running backs to see a huge role in the Patriots offense.
Stevenson graded well last season at 81.3 overall. 

His 3.8 rushing yards after contact per attempt ranked second out of 31 running backs with at least 175 rushing attempts over the last season.

He also received plenty of volume in the passing game with 5.1 targets per game, ranking third out of running backs.

This added up to 14.6 PPR

fantasy

points per game

which ranked 10th-most out of 83 running backs with at least 10 games over the last season.

His average is even higher when removing the first four weeks of the season when

Damien Harris

still had a prominent role in the offense. Stevenson was

RB6

from Week 5 on.

Harris was replaced on the roster by

Ezekiel Elliott

, an older, more run down and less efficient runner.

Stevenson has graded notably better in receiving and pass protection the last two seasons, so his third down work should not be in jeopardy.

We can expect Elliott to have a few drives per game on first and second downs, but that was going to happen regardless of the backup.

One area where Stevenson can improve is at the goal line. The Patriots had the ball on the one-yard line and ran with a running back just three times, which was tied for second lowest among teams. Stevenson received all three carries but only scored once.

Stevenson ran the ball nine times when the Patriots were within two-to-five yards of scoring and only managed one touchdown on those plays. Backs typically score on over 30% of those runs.

Elliott has been more efficient in short-yardage situations, but a lot of that likely has to do with their respective offensive lines. The lead rusher in Bill Belichick's offenses always end up being the player that also has the most goalline touches.

If Stevenson sees the same role he had for most of last season, he should see some positive touchdown regression, which could put him among the top-five backs. If he sees a notable improvement in play in his first year as a starter, he could rank even higher.