It's the middle of fantasy football draft szn and there's no better time to take a strong stance on our most-confident picks to ball the hell out in 2020. Rankings are one thing, but what players do you consistently draft the most when you're on the clock and push comes to shove?
I've consistently found myself selecting the following 10 players in best ball, dynasty and redraft formats alike during the offseason. Note that the ranks aren't in any particular order.
From 2014-2018 the Steelers starting RB was one of the most cherished positions in all of fantasy football. Usually, Le'Veon Bell was the man reaping the rewards of one of the league's most voluminous three-down roles, but he wasn't the only man to be entrusted as a workhorse:
Only Todd Gurley, Saquon Barkley, Christian McCaffrey and Alvin Kamara had more PPR points than Conner's audition as the offense's featured back in 2018. The following season was shaping up as a solid encore with Conner functioning as the PPR RB9 in Weeks 1-8, but unfortunately injuries would limit his opportunities the rest of the season.
Steelers coach Mike Tomlin pretty much confirmed Conner would be the team's three-down back in March: "I'm a featured-runner type guy by mentality. … No question in today's game, a featured runner needs to be supplemented and supplemented by guys who are capable of doing similar things in case he misses time. … Usually when it's going well, it's because you have a lead dog out front, and that guy is the featured runner. James is a featured guy and proven runner when healthy. We're excited about him getting back to health and displaying that in 2020."
This is a situation where offseason coach speak matches what we've usually seen from the man in question. The reality that 1) Pittsburgh only invested a fourth-round pick to the position throughout the entire offseason, and 2) Conner has consistently been a fantasy-friendly workhorse when healthy over the past two seasons, makes his RB19 average draft position (ADP) much closer to his floor than ceiling with even a little bit of better injury luck.
I'd draft Conner ahead of the following RBs that presently have a higher ADP:
Conner would be a consensus top-10 RB if we could turn injuries off in real life due to his three-down role inside of an offense that he's produced in both with and without Ben Roethlisberger. Unfortunately, injuries are a real concern, which is why his ADP is as depressed as it is. Just realize that there are fewer three-down backs than ever in today's NFL, and Conner is just about as cheap as they come in fantasy land with the lone exception of…
Yes, Johnson had one horrific rush attempt around left end against the Buccaneers while playing through a back injury that resembled an elderly man carrying a piano.
Also yes, the ex-Cardinals RB showed off plenty of high-end ability as a receiver in the first six weeks of the season.
RBs with more PPR than David Johnson in Weeks 1-6 before ankle/back injuries:

Christian McCaffrey
Dalvin Cook
Austin Ekeler
Nick Chubb
<end of list> pic.twitter.com/evnr0my8JB

— Ian Hartitz (@Ihartitz) May 4, 2020
I won't deny that Johnson didn't look like the same man that took over fantasy football back in 2016. Still, receiving-friendly backs are a bit of a cheat code in point-per-reception (PPR) formats, and Johnson is one of the league's more capable RBs in this facet of the game. Prior to 2019, Johnson played all 16 games in three of his four career seasons, with the lone exception being a fluky wrist injury.
The Texans lined up Duke Johnson in the slot or out wide on 26% of his snaps in 2019. This sort of usage for David would help amplify his skill-set inside of a talented, but undefined, offense.
We shouldn't expect David to function as one of the league's most-efficient backs, and luckily he won't need to do so in order to smash his present ADP. Coach Bill O'Brien has a tendency to feed his featured RB:
2014: Arian Foster 260 rushes, 59 targets
2015: Alfred Blue 183 rushes, 16 targets (Foster missed 12 games)
2016: Lamar Miller 268 rushes, 39 targets

2017: Miller 238 rushes, 45 targets

2018: Miller 210 rushes, 35 targets (missed 2 games)

2019: Carlos Hyde 245 rushes, 16 targets
The general reaction to the DeAndre Hopkins trade was a mixture of laughter and schadenfreude; don't you think O'Brien might do everything in his power to get some production out of the main return from that widely mocked transaction?
Johnson's PPR RB22 ADP simply isn't in line with his projected volume. Two-hundred-fifty touches seem more than reasonable for him in 2020. This number, like most statistical thresholds, is fairly arbitrary, but there has been a strong history of success from players that manage to reach this "milestone." Overall, only nine of 153 RBs with at least 250 touches in a season failed to finish better than the PPR RB24 since 2010.
Johnson is the 2020 undervalued RB everybody wants Fournette to be: tons of volume, not much efficient production and probably not many scores. Luckily, the former statement is the most-important concern in fantasy land, making Johnson fantasy's cheapest three-down RB and a virtual lock to function as a PPR RB2 with good health.
There appear to only be a few true three-down handcuffs in the NFL at the moment. We'll define handcuff as a RB who isn't expected to carry any standalone value (so not Kareem Hunt) but would likely inherit a workhorse role in the event of an injury. By my count there are four clear-cut backfields that appear to 1) Boast this sort of structure, and 2) Have a coach/GM unlikely to sign another committee RB in the event of an injury:
Edmonds is going more under the radar than these other backs. The Cardinals' 2018 fourth-round pick averaged a robust 5.1 yards per carry in 2019, turning in a sterling 27-126-3 rushing and 2-24-0 receiving performance against the Giants in his only game of the season as the offense's featured back.
I do believe that Drake will work as the offense's undisputed lead back as long as he stays healthy and efficient. The Cardinals consistently functioned as a one-back offense in 2019, regardless of who that player was:
Week 1: David Johnson (86% snaps)

Week 2: Johnson (60%)

Week 3: Johnson (87%)

Week 4: Johnson (86%)

Week 5: Johnson (69%)

Week 6: Johnson (75% – injured)

Week 7: Edmonds (94%)

Week 8: Edmonds (61% – injured)

Week 9: Drake (84%)

Week 10: Drake (64%)

Week 11: Drake (90%)

Week 13: Drake (79%)

Week 14: Drake (66%)

Week 15: Drake (75%)

Week 16: Drake (81%)

Week 17: Drake (96%)
Coach Kliff Kingsbury said he's happy to have *three* capable RBs in Drake, Edmonds and seventh-round pick Eno Benjamin, but his actions from 2019 point to this being Drake's backfield. If it is Drake's backfield, good for Edmonds' investors, because he's one injury away from a true three-down role inside a top-three rushing attack. If this is false, even better for Edmonds' investors, because he'll be in an open competition for a role inside a top-three rushing attack. Rookie RBs drafted outside of the top-three rounds almost never post fantasy-friendly production, making a rise to the top from Benjamin rather unlikely.
Recent discussion on Fantasy Twitter surrounding the idea that drafting your RB's handcuff limits your team's upside makes sense; there's no way both Dalvin Cook and Alexander Mattison will each have an amazing 2020 season, so Cook investors are better off targeting other handcuffs to raise their best-case scenario ceiling. Still, there are seemingly only four locked-in handcuffs across the entire league — target these players ahead of lower-upside one-dimensional talents in fantasy formats of all shapes and sizes.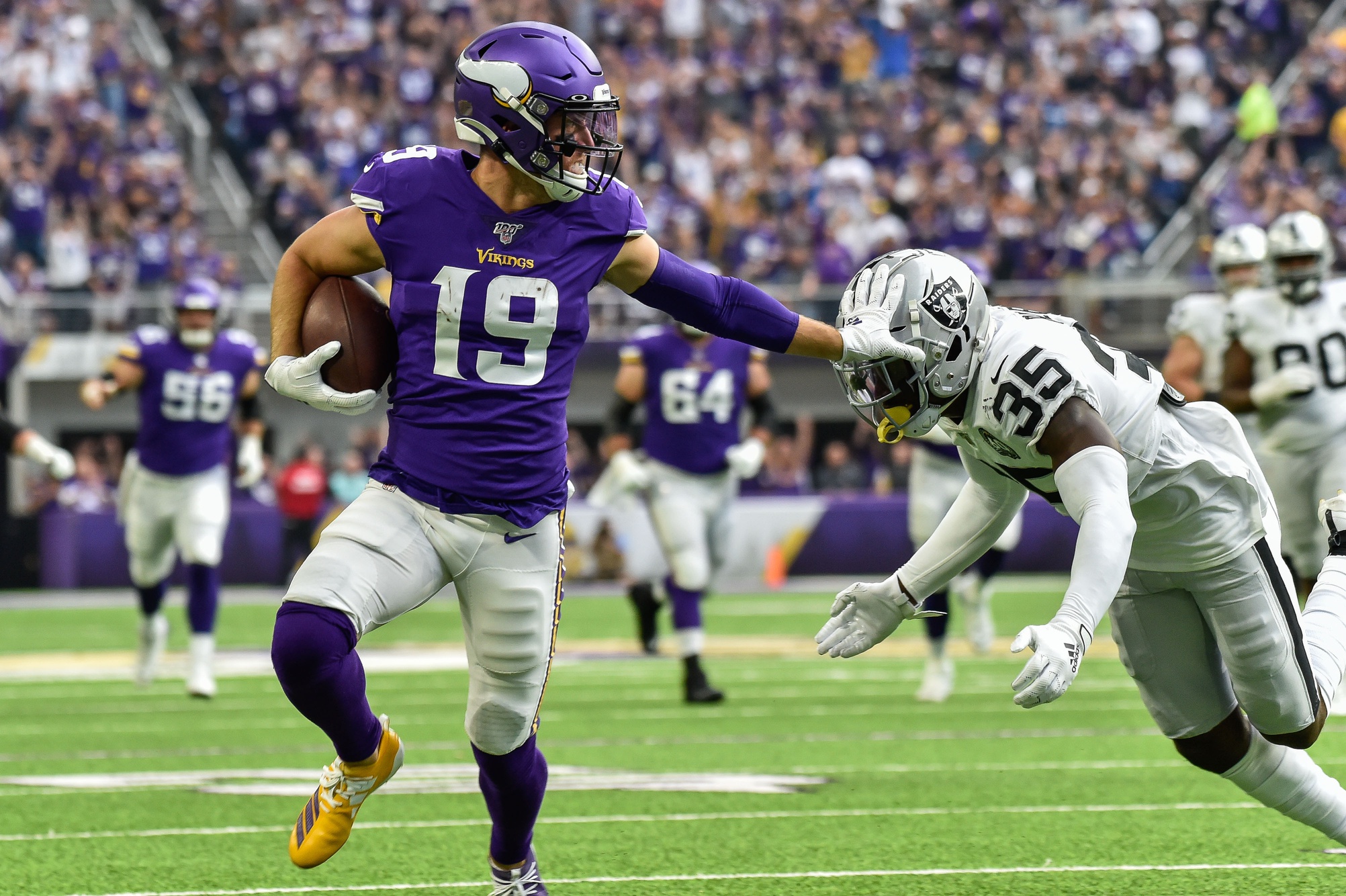 Here are the primary concerns with Thielen:
The Vikings are a run-first offense: 2019 target leader Stefon Diggs had just 94 targets.

Injury concern: Thielen dealt with a hamstring injury throughout last season and missed six games.

Ability to ball out as team's only receiver: Diggs' lid-lifting ability regularly helped draw away coverage.
Sure, these are valid questions to concern yourself with when evaluating Thielen's 2020 upside. However, we've seen evidence against the assumptions associated with all three of our issues.
The Vikings will again be a run-first offense under OC Gary Kubiak, but don't underestimate the longtime offensive wizard's ability to enable a legit fantasy WR1. Overall, Kubiak enabled a top-12 PPR WR in 12 of 23 seasons as a head coach or offensive coordinator and a top-24 WR in 19 of 23 seasons (with two of the four exceptions being due to injury). All in all, his No. 1 WR averaged a monstrous 138 targets per season.

Strong performances against the Saints (7-129-0) and 49ers (5-50-0) in the playoffs showed that Thielen was still operating near his peak post-injury. Note that he didn't miss a single game from 2014-2018.

Thielen averaged more PPR per game with Diggs (15) than without (13.5) over the past three seasons, but we have a whopping six-game sample size of Thielen without the Vikings' ex-stud WR and a much larger sample of No. 19 simply balling out. Overall, he finished as the PPR WR9 in 2017 with Case Keenum and the WR7 in 2018 after Kirk Cousins came to town.
Thielen was the PPR WR9 in Weeks 1-6 before injury last season. The man is anyone's idea of a great receiver and should be scooped up at will as long as he's being drafted on the borderline of the position's top-15 fantasy assets. This is a situation where talent is meeting potentially elite volume.
Adam Thielen is a top-8 fantasy WR and he's not 1,2,3,4,5,7 or 8pic.twitter.com/8Bni7QkFpg

— Ian Hartitz (@Ihartitz) August 15, 2020
Thielen joins the likes of Michael Thomas, Davante Adams, Allen Robinson and Julio Jones as the league's most-likely receivers to command an absolutely egregious number of targets. Even if there might be a few more talented options across the league, this sort of volume isn't properly baked in to Thielen's current ADP
The veteran Rams receiver has worked as the league's PPR WR11 and WR14 over the past two seasons. He joins a select group of players that have racked up at least 20 games with five-plus receptions and at least 50 receiving yards since 2018:
The floor is the roof for Woods inside of this offense, particularly when you consider his rushing upside. Overall, Woods racked up 17 and 19 carries in 2018 and 2019, respectively, accounting for two of five instances over the past three years in which a WR racked up at least 15 rush attempts in a single season (excluding Ty Montgomery, Tavon Austin and Cordarrelle Patterson).
Woods is also a prime candidate for positive regression for a number of reasons:
He was one of just nine players with multiple scores nullified by a penalty in 2019.

Thirty-eight players had at least 100 targets in 2019; Woods was one of just six men to score fewer than four touchdowns.

Only Alex Erickson, Danny Amendola and Auden Tate had a lower TD rate per target than Woods among 65 WRs and TEs with at least 75 targets last season.
Woods is the easy pick over Cooper Kupp at the moment due to their unwarranted difference in ADP considering 1) Their projected targets should be somewhat equal, and 2) Kupp's puzzling late-season usage. Still, both are capable of providing WR1 production if Jared Goff again leads the league in pass attempts.
Woods might not have the same sort of shiny big-play ability as some of the league's other stud WRs, but his proven ability to rack up borderline fantasy WR1 campaigns inside of this condensed passing game makes him worthy of immense attention at his present WR18 ADP.
The WR room has been the most fantasy-friendly group in terms of multiple teammates balling out together during the same season. Overall, we've seen an average of 4.3 instances of a single team employing two top-24 PPR WRs in a season since 2010. Note that 74% of these teams also included a fantasy QB1.
The potential emergence of both JuJu Smith-Schuster and Johnson with a healthy version of Ben Roethlisberger is plenty possible considering the reality that *both* Smith-Schuster and Antonio Brown had 160-plus targets during their respective WR1 seasons back in 2018. 
Johnson is objectively a baller.
All Diontae Johnson does is make plays pic.twitter.com/fqCudIfds3

— Ian Hartitz (@Ihartitz) April 19, 2020
The 2019 Steelers went 8-8 despite suffering worst-case scenario QB play, Roethlisberger threw for over 5,000 yards in 2018, Pittsburgh boasts anyone's idea of a top-five defense. This team is loaded. Fully expecting both Johnson and JuJu to qualify as fantasy WR1s in 2020 might be a bit of a stretch, but it's the ceiling.
Johnson mania was really running wild earlier in the offseason, but the hype seemingly quieted down closer to August. His status as the PPR WR35 in ADP is a potential bargain considering the likelihood that he has a high-volume role as either the offense's No. 1 or No. 2 WR. There aren't many targets I've prioritized after the first six rounds as much as Johnson regardless of position.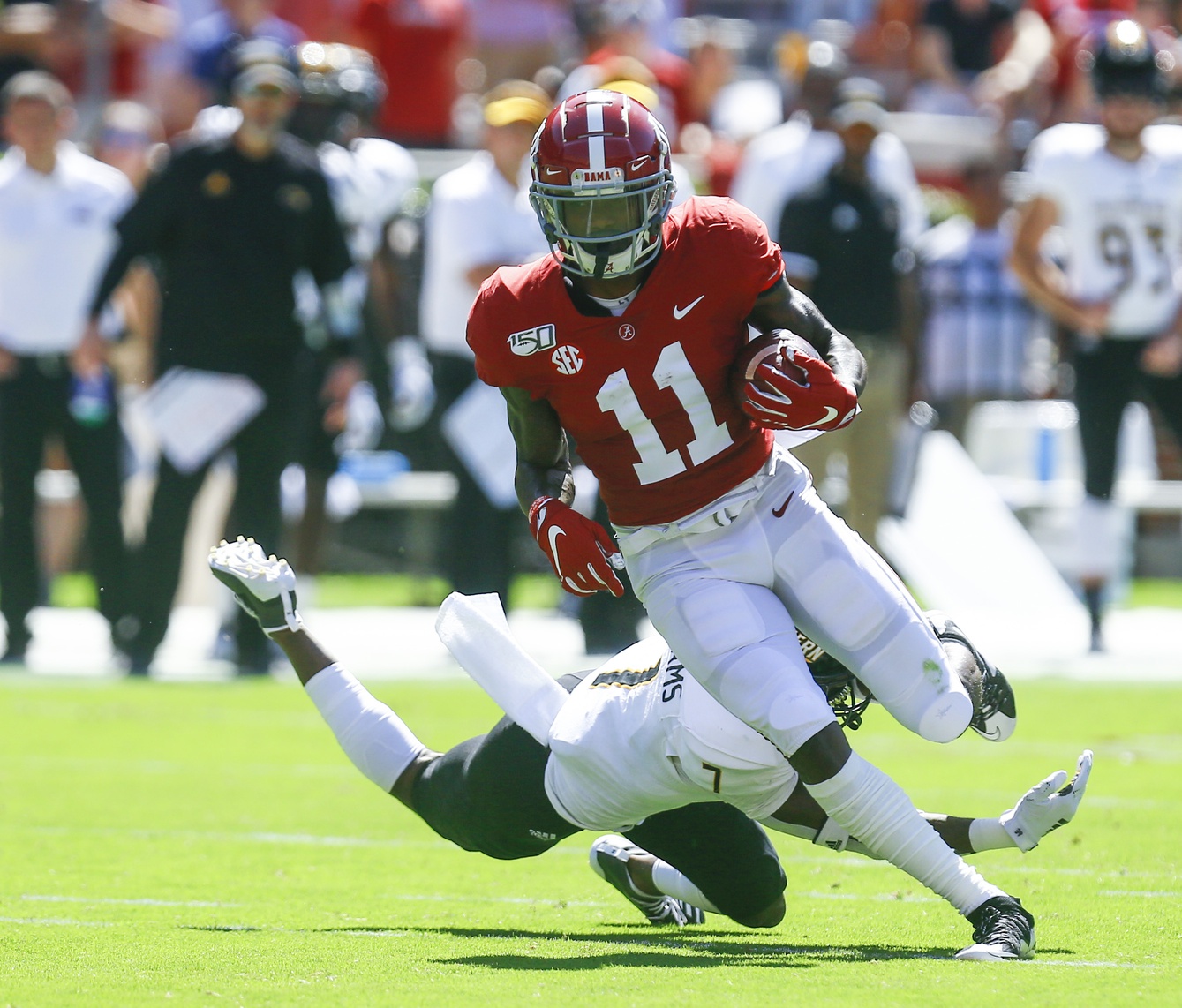 The former Alabama WR possesses blistering speed that helped him average a robust 17.5 yards per reception during his career. Somehow, Ruggs looks even faster on the field than his 4.27-second 40-yard dash might indicate. While Jalen Reagor has the easiest path to his offense's No. 1 WR spot among rookies, Ruggs might just have the best chance of seizing the role as his team's No. 1 pass-game option.
Jon Gruden's No. 1 receiver has averaged 133 targets during his time as head coach. This has been TEs Jared Cook (101) and Darren Waller (117) in 2018 and 2019, although Gruden was much more prone to feeding alpha WRs during his time in Tampa Bay. Triple-digit targets were dished out to the likes of Joey Galloway (152, 143), Keyshawn Johnson (142), Keenan McCardell (139, 101), Antonio Bryant (138) and Michael Clayton (122) between 2002-2008, not to mention some of the success Gruden had with Tim Brown and Jerry Rice during his first stint with the Raiders.
Ruggs is my rookie WR1 for both his underrated potential target share and game-breaking ability. Derek Carr's pecking order is hardly defined. No WR had a higher passer rating when targeted in college football than Ruggs. Concerns over his fit with captain check-down under center are overrated; Ruggs has the ability to win at all three levels of the field.
Contrary to popular belief Henry Ruggs doesn't need deep balls to get into the end zonepic.twitter.com/D3wDJekghj

— Ian Hartitz (@Ihartitz) August 9, 2020
Ruggs is far too cheap at his WR48 ADP considering his 1) Potential to function as his offense's featured pass-game target, and 2) Demonstrated baller ability. The Bryan Edwards hype is fun and all, but don't expect the No. 12 overall pick to take a true backseat to anyone in this offense.
The Patriots were always the best-case scenario for Newton's 2020 fantasy outcome. Sure, an Edelman-Harry-Sanu group is hardly among the league's best WR rooms, but the presence of Bill Belichick and Josh McDaniels — two coaches who have made a living constantly scheming to enhance their players' talents while attacking their opponents' weaknesses — is a godsend for a true dual-threat talent like Cam.
The Patriots certainly had plenty of fun ideas the last time they were forced to start a non-statue QB under center.
Life with a bum shoulder and broken foot has resulted in much more bust than boom for Newton over the past season and a half. Of course, fantasy life has never been anything other than beautiful for the 2015 league MVP when health has been on his side.
2011: Fantasy QB3

2012: QB4

2013: QB3

2014: QB17 (missed two games, QB7 in FP per game)

2015: QB1

2016: QB17 (missed one game, QB13 in FP per game)

2017: QB2

2018: QB12 (missed two games, QB8 in FP per game)
Some have questioned whether or not a starting job is even guaranteed for Newton considering his modest contract. His competition: 2019 fourth-round pick Jarrett Stidham and 34-year-old Brian Hoyer. This hardly seems like a move either Newton or the Patriots would have executed without the goal being a healthy-version of #1 under center.
Newton passed his physical, meaning one of the game's most talented players enters what was previously anyone's idea of a bottom-three QB room. We almost certainly won't see the same game-breaking talent from 2015, and Cam will have to continue to get by without the benefit of a great WR group. Still, the upside that a healthy version of Newton brings to the table is impossible for fantasy investors to ignore, particularly at his current draft position.
I've consistently taken Newton over the likes of Daniel Jones, Matt Ryan, Aaron Rodgers and Jared Goff, among others, thanks to his enhanced rushing floor and nearly unrivaled ceiling.
Minshew largely functioned as an average to above-average passer in everything other than raw completion percentage as a rookie:
Completion rate: 60.6% (No. 29 among 32 qualified QBs)

TD rate: 4.5% (No. 16)

INT rate: 1.3% (No. 8)

QB rating: 91.2 (No. 16)

Yards per attempt: 7 (No. 18)

Adjusted yards per attempt: 7.3 (No. 13)

Adjusted net yards per attempt: 6.44 (No. 14)

QB rating kept clean: 96.7 (No. 25)

QB rating under pressure: 77.7 (No. 10)

QB rating throwing deep: 129 (No. 1)
That's right: Minshew was the only QB rated higher than Patrick Mahomes when throwing 20-plus yards downfield on a per-attempt basis. He also flashed similar improvisation skills on a number of occasions in 2019.
The only rookie QBs (minimum eight starts) to average more adjusted yards per attempt than Minshew since 2000 have been: Dak Prescott, Robert Griffin, Ben Roethlisberger, Russell Wilson, Nick Mullens, Matt Ryan, Baker Mayfield and Marcus Mariota. Additionally, only Lamar Jackson (1,206 rush yards), Kyler Murray (544), Josh Allen (510) and Deshaun Watson (413) had more yards on the ground than Minshew (344) last season.
This isn't to say that Minshew is the same-caliber threat on the ground as those other QBs; he literally picked up all of his rush yards on scrambles. Still, it's clear he's far from a statue under center.
Minshew will need to reign in his off-script style a bit in order to become a great real-life QB. However, we don't need him to even be anything close to great in order to provide fantasy value in 2020. Minshew functioned as the QB12 in Weeks 1-9 before Nick Foles returned. His average of 16.8 fantasy PPG in 13 games with at least 80% of the snaps would've been good for the 15th-highest mark behind Carson Wentz and Aaron Rodgers but ahead of Tom Brady (per 4for4's John Paulsen).
The man can ball.
Gardner Minshew might just be #good enough to make the Jaguars annoyingly competitivepic.twitter.com/bwChYe3WbX

— Ian Hartitz (@Ihartitz) May 28, 2020
There's no reason for Minshew to be anyone's starting QB in a single-QB re-draft format, but he's a prime late-round option to utilize as a backup or QB2 in all other league sizes. There's potential here for a 2019 Ryan Fitzpatrick YOLO-ball season that produces plenty of fantasy points and entertainment at the expense of wins.
Herndon joins Mark Andrews, Rob Gronkowski, Hunter Henry, Heath Miller, Aaron Hernandez, Noah Fant, Jordan Reed, Zach Ertz and George Kittle as the only rookie TEs to average at least 8.0 yards per target since 2000. Ryan Griffin was fine in relief of Herndon in 2019, but it's not like the Jets' talented third-year TE lost his job. Herndon was simply suspended and then injured before even having a chance to show what he could do. Last season's goose egg has left a sour taste in the mouths of Herndon's ex-fantasy investors, leading to his currently depressed ADP.
Reminder: Herndon was an absolute baller as a rookie.
Friends don't let friends forget Chris Herndon is a ballerpic.twitter.com/HBnEJBOpJI

— Ian Hartitz (@Ihartitz) July 1, 2020
The Athletic's Connor Hughes noted, "To say the Jets can't wait to get Chris Herndon back in their lineup is a vast understatement."
Adam Gase's non-Manning-led offenses haven't consistently enabled a solid fantasy TE, although the likes of Julius Thomas and Martellus Bennett did receive legit passing-game roles. It would be scary to bet on Herndon as a top-10 TE, but he's an easy backup choice with around a TE20 ADP thanks to Sam Darnold's wide-open pecking order.
After a few drinks I've found it's even possible to convince yourself Herndon could be the Jets' No. 1 pass-game option. Still not sold? Take a look at what coach Adam Gase had to say during training camp:
"He's our starting tight end. Chris gives us a lot of flexibility. It's rare to have a guy with the ability to be as effective as a pass catcher and a guy that's explosive when he gets the ball in his hands, and still be an on-the-line tight end that can block in the run game and also pass protect. Chris does give you something that you just don't see a lot with all tight ends across the league where you can say, 'I can leave him in protection and feel comfortable.' If we're running a play to his side, I'm not worried about anything because he does a really good job of using the technique he's coached, knowing what to do and he's physical. Chris is a guy that has rare traits in that aspect."
Drafting for value in the late rounds to beat an ADP by a round or two is pointless; take the guy with a real chance to post top-five production at the position if he's available. There's a low floor for Herndon in 2020 — and he's currently being priced at it. Don't be afraid to scoop up one of the game's talented young TEs who just so happens to be inside of one of the league's most-barren passing attacks.