The major dominos of NFL free agency have fallen: It's best ball szn people. We're still months away from redraft leagues resuming, but that doesn't mean we can't still participate in the classic American pastime known as fantasy football. Note that you can go to Underdog Fantasy and deposit $10 using promo code "PFF" to get a free PFF Edge annual subscription.
The following rankings are based on PPR scoring and standard roster construction in an effort to provide a good early baseline for future best ball drafts. The specific ranks don't necessarily denote which players have higher median projections — this is my ordered list of targets in independent drafting situations. Draft strategy and positional weights will change throughout any draft as more information reveals itself.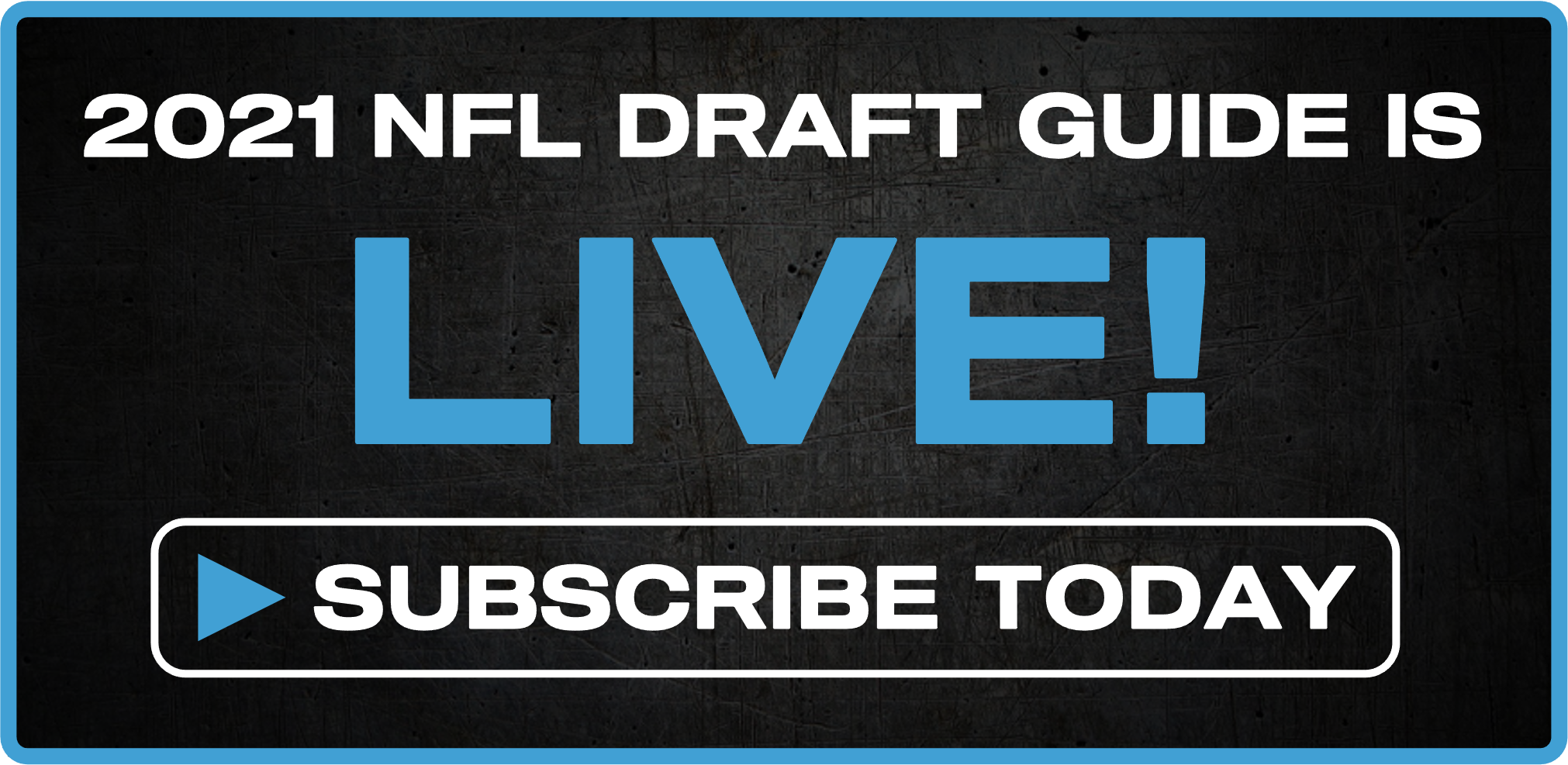 This list will update itself more throughout the offseason, particularly after the draft concludes and as players inevitably suffer injuries or get suspended.
Without further ado: my top 150 best ball fantasy assets entering the 2021 season.
Posted an absurd 97% snap rate in his only true healthy game with OC Joe Brady. CMC owns two of the top six PPR points per game campaigns from RBs in NFL history; his high-end receiving workload makes him the closest thing we have to a fantasy football cheat code.
Only Derrick Henry (14) had more games with at least 20 touches than Cook (11) in 2020. Early-career injury concerns haven't been as frequent after back-to-back 14-game seasons. Cook carries a top-five touch projection alongside top-five real life talent as one of the position's best overall players.
More targets would obviously be preferred, but fantasy investors could do worse than a 300-touch floor. Henry has a full 122 more total carries and receptions than the next-closest back over the last two seasons (including playoffs). The 27-year-old talent should continue to serve as the engine of the Titans' offensive attack.
Was 2018's overall RB1 and ranks third behind only Christian McCaffrey and Alvin Kamara in PPR points per game at the position since 2018. Barkley is arguably the league's single best player with the ball in their hands; don't sleep on a big-time comeback campaign in 2021.
Remember that Saquon Barkley guypic.twitter.com/QZ2lQc58KS

— Ian Hartitz (@Ihartitz) April 1, 2021
Only 1987 Jerry Rice (26.2) and 1995 Rice (25.9) averaged more PPR points per game in a single season than what Adams (25.6) achieved in 2020. The reigning league leader in receiving scores and yards per game once again enters a largely barren offense that should afford him all the targets he can handle.
The PPR TE1 for not one, not two, not three, not four, but five consecutive seasons again has the position's best 1) QB situation, and 2) target projection. Throw in the reality that Kelce looked better than ever from a YAC standpoint last season, and it's easy to prioritize 2020's No. 2 overall player in receiving yards in fantasy drafts of all shapes and sizes.
Don't discount what the absence of Jamaal Williams could do for Jones, who ranks behind only Austin Ekeler and Nyheim Hines in yards per route run in the slot or out wide since entering the league in 2017. Jones' overall touch projection doesn't figure to be too much different in 2021, but the potential for enhanced target share inside of the league's reigning No. 1 scoring offense is enough to warrant top-five treatment at the position. 
AJB scored in 11 of 15 games last season, leaving a lengthy trail of cornerback carcasses along the way. Only the Lions and Jaguars have more available targets than the Titans based on offseason roster turnover; Brown has been a top-10 receiver since the moment he stepped on an NFL field and now for the first time will also have a workload worthy of his talents.
Joined Davante Adams and Stefon Diggs as the only WRs to average over 20 PPR points per game last season. Makes up for having another target hog in the offense with hot, nasty, badass speed. The man went for 7-203-2 in one quarter against the Buccaneers; Hill offers week-winning upside as the No. 1 big-play threat inside of the league's most explosive offense.
Caught at least six passes in an NFL-record 18 games in debut season with the Bills. Diggs' route-running ability is borderline erotic and figures to help the 27-year-old veteran age gracefully. Even rather stark regression from Josh Allen wouldn't leave Diggs in an awful spot considering literally nobody had more total targets last season.
Hardly missed a beat in his first season with Kyler Murray. Hopkins has racked up at least 150 targets in six straight seasons; nobody else has more than four-such seasons during that span. The potential for enhanced scoring opportunity if Murray can take a third-year leap solidifies Nuk as my preseason WR5 for a second consecutive season.
Incredibly disappointing 2020 campaign still yielded a PPR RB9 finish thanks to 296-touch workload. The lack of anything resembling a decent offensive line and loss of Dak Prescott made this an incredibly tough situation to overcome; don't be surprised if Zeke finds more success as both a rusher and receiver in a far healthier offense. Tony Pollard might very well be the better player, but the Cowboys have 90 million reasons to continue to feed Elliott to his heart's desire.
The potential for Ekeler to assume an Alvin Kamara-like role in now-Chargers OC Joe Lombardi's offense can't be overlooked. The Chargers' undisputed lead back limped through a 10-game 2020 campaign, but his 6.5 targets per game reflect the reality that he's one of the more fantasy-friendly backs in the league at the moment. Ekeler probably won't ever be a guy who is actively fed 200-plus carries per season. It's a good thing we play in point-per-reception leagues and not point-per-carry leagues.
This new QB situation is potentially a lose-lose for Kamara. The Buccaneers were a below-average offense in pass attempts to RBs with Jameis Winston under center from 2015-2019, as his average target depth of 10.8 yards was easily the highest mark among all QBs. And then we have Taysom Hill, who fed Kamara one, two, three and 10 targets in four starts that led to PPR RB11 production. The likelihood that Kamara takes a step back in both the receiving and TD scoring departments in 2021 has me targeting other backs in the first round.
Obviously it'd be ideal if Chubb didn't lose so much work to Kareem Hunt, but this is still arguably the No. 1 RB in the league working behind PFF's No. 1 ranked offensive line that we're talking about here. Game script concerns are largely overblown; Chubb had at least 15 combined carries and targets in all but one non-injury-shortened game last season. Only Derrick Henry (4.1) has averaged more yards after contact per rush than Chubb (4) over the past three years.
Emerged as the featured back down the stretch with 22, 31, 16, 25, 30 and 19 touches in his final six games. Akers took over the backfield *before* Darrell Henderson suffered a season-ending high ankle sprain. The departure of Malcolm Brown opens up a true opportunity for Akers to be Sean McVay's new Todd Gurley. Note that McVay's RB1 played at least 60% of the snaps in 48 of 52 games from 2017-2019.
Literally only Davante Adams (2.96) averaged more yards per route run than Kittle (2.84) last season. Call him a tight end if you'd like: Kittle is a No. 1 receiver that just so happens to also be one helluva blocker. We probably won't see Kittle flirt with 136 targets again like he did in 2018, but his elite efficiency in every sense of the word continues to lock him in as the undisputed No. 2 player at the position.
Turned a corner halfway through his rookie season, emerging as a vicious tackle-breaking workhorse down the stretch. Hindsight schedule doctors note that his strong stretch run was helped with matchups against the Packers, Raiders, Jaguars and Texans (x2). It'd be silly for any team to deny Taylor a large workload; just realize the Colts 1) figure to target their running backs less without Philip Rivers, 2) will give Marlon Mack at least a small role if healthy, and 3) already have their pass-down back with Nyheim Hines.
The Seahawks *want* to run the ball more in 2021 just like I *want* to make millions selling digital NBA highlight trading card things. In reality, they don't have anything resembling a good enough defense to mess around playing ball-control football, and I generally can't stand the sport known as basketball for more than a few weeks a year. Metcalf has posted 6-70-0, 6-81-1, 6-93-2, 12-161-2, 10-177-0 and 5-96-2 receiving lines in his six career games with double-digit targets; the ascending 23-year-old talent remains locked in as a high-end WR1.
Carson played just 12 games in 2020 and has battled injuries throughout his career. This is mostly due to the reality that the 26-year-old talent treats every play like his last, running, jumping and generally steamrolling would-be tacklers with shocking regularity. Overall, only Nick Chubb (4) and Derrick Henry (4) have averaged more yards after contact per attempt than Carson (3.4) since he entered the league in 2017. The man has largely done nothing except ball the hell out when healthy over the years; just realize history tells us that this archetype typically ages poorly.
The "slant boy" insult is objectively funny, but it's also weird that we criticize the manner in which Thomas goes about racking up insane production; nobody ever says Steph Curry should shoot fewer three-pointers. Thomas has caught 33 of 36 (92%) catchable targets thrown at least 20 yards downfield since entering the league — the fourth-highest mark among 64 qualified receivers. It's weird to think that the NFL's record holder for most receptions in a season could have an untapped ceiling, but don't count out Thomas at least expanding his game without 1) old man Drew Brees, 2) Teddy Bridgewater and 3) Taysom Hill under center.
MiChaEl tHomAs oNlY rUnS SLanTs pic.twitter.com/w2bfRF0MnE

— Ian Hartitz (@Ihartitz) June 8, 2020
Allen had a full 10 more targets than the next-closest player in Weeks 1-14 last season. Once labeled as injury prone, Allen has posted 102-1393-6, 97-1196-6, 104-1199-6 and 100-992-8 receiving lines over the past four seasons while missing just two combined games. There's enough volume here to continue to lock in Allen as a fantasy WR1 even if Justin Herbert regresses a bit in his second season.
Davante Adams (2.96) was the only WR to average more yards per route run than Jefferson (2.66) last season. He wasn't just one of the best rookie WRs we've seen; the 2020 first-round pick was one of the best receivers in the league during his debut campaign. This is a run-first offense, but Kirk Cousins' demonstrated willingness to basically condense the passing game around his top-two receivers leaves Jefferson as a surefire top-10 WR.
Ridley's breakout 2020 campaign featured just one true non-injury-induced dud all season, and even then I'd argue that goose-egg against Jaire Alexander was more due to Matt Ryan than the Packers' stud corner. Regardless, Ridley's penchant for racking up production with an even halfway decent target share is tough to ignore in an offense that once again figures to be chucking the rock around the field. Ridley seems like a safe bet to repeat his WR1 ways, particularly if coach Arthur Smith's play-action heavy attack gets more out of Ryan in 2021.
The ceiling is the roof for McLaurin considering the fantasy success of Ryan Fitzpatrick's No. 1 WR over the years. Overall, his No. 1 WR has posted target totals of 128, 128, 137, 134, 141, 146, 148 and 173 in his eight seasons with double-digit starts. McLaurin F1 WR1 szn is alive and well; treat him as such in fantasy drafts this instant.
Nobody had more touches than Mixon in Weeks 1-6 last season. Unfortunately, he functioned as the PPR RB9 thanks to 1) the Bengals' generally atrocious offensive line, and 2) a lack of consistent work in the passing game. Mixon is more than capable of thriving as a receiver; the problem is we have eight years of evidence that Giovani Bernard is this offense's pass-down back. Twenty-five in July, Mixon might find himself in the best offense of his career with the most work yet in 2021; just don't be surprised if Gio continues to be more involved than we'd like.
Gibson overcoming Peyton Barber in a mere week for the backfield's early-down work was a pleasant surprise last season, but unfortunately the former collegiate WR/RB hybrid lost copious amounts of receiving work to J.D. McKissic. All in all, Gibson played more than 60% of the offense's snaps on just two occasions; from a projected workload perspective he's a more-exciting version of David Montgomery in a better offense. We need McKissic to be completely relegated out of the committee for Gibson's D.C. CMC ceiling to come to fruition, and there isn't any immediate reason to believe that sort of role change will occur. 
The Lions have said all the right things about Swift during the offseason, even gracing him with the token "would love to get him more work in the slot" moniker. This is all great, and new OC Anthony Lynn certainly knows a thing or two about enabling a fantasy-friendly RB. Still, the Lions might be the single worst team in the league, and we all know Jamaal Williams is good enough to steal snaps from even the league's best backs. Generally staying away from the Lions in fantasy land makes sense, but at least Swift flashed enough stupid-good ability as a rookie to believe he's capable of overcoming this mostly miserable situation.
Give D'Andre Swift 30 touches per game or we riot @Lions pic.twitter.com/ZdTDQrbqa5

— Ian Hartitz (@Ihartitz) February 11, 2021
Much like Travis Kelce and George Kittle: Waller is a No. 1 receiver that we happen to label as a tight end due to where he usually lines up when the ball is snapped. It made sense to at least question Waller's high-end workload ahead of 2020 after just one season of evidence, but now he's deserving of tier one treatment at the position after overcoming the Raiders' crop of highly drafted receivers and free-agent TEs. I try to leave every best ball draft with one of these top-three TEs whenever possible.
The PPR WR8 with Dak Prescott under center, Cooper somehow caught a career-high 92 passes despite dealing with a revolving door of mediocrity under center for most of the season. He's largely done nothing except ball out over the past three seasons: only DeAndre Hopkins, Travis Kelce, Stefon Diggs, Davante Adams and Julio Jones have more receiving yards than Cooper since the Cowboys acquired his services halfway through the 2018 season.
Injuries prevented Jones from playing at least 13 games for just the second time of his career in 2020. He sure didn't look like an old man when healthy enough to suit up, going for 9-157-0, 8-137-2, 8-97-0, 7-137-0, 5-54-1 and 6-94-0 receiving lines in his only six truly healthy games of the year. It's reasonable to believe the best of Jones is in the rearview mirror, because how could any mortal continue being that fooking good for much longer. Still, the 32-year-old future Hall of Famer continues to have a fantasy-friendly workload and enough gas left in the tank to make another WR1 run.
Arguably nobody benefits more from Curtis Samuel's departure than Moore, who has been at his best after the catch during his short career. Don't get me wrong: Moore can do anything that you want a No. 1 WR to do on the football field. Still, he was somewhat oddly utilized as the Panthers' field-stretching WR in 2020, leading to more dependence on Teddy Bridgewater than fantasy investors would've preferred. The hope is for a QB upgrade ahead of 2021, but either way Moore should benefit from more overall volume.
Andy Dalton is probably the best QB of A-Rob's career by default, which is an incredibly sad sentence to type out. The problem is whether or not Dalton will afford Robinson the same high-end opportunity he's gotten throughout his career: Only DeAndre Hopkins has more seasons with at least 150 targets than A-Rob since 2015. It's scary to continue to bet on Robinson overcoming mediocre play under center; even Nuk busted once upon a time with Brock Osweiler in 2016. Here's to hoping Robinson finds somewhere better to play in 2022.
Johnson technically played 16 games last season including the playoffs. However, he was heavily limited due to injury in three games; he was benched in another; and a fourth featured Mason Rudolph under center. Johnson totaled just 17 targets in these five games. As for the other 11 games? The Steelers' No. 1 WR was fed a ridiculous 13 targets per game. This wasn't due to some wild outliers; Johnson literally had double-digit targets in all 11 of those contests. Drops suck, but they're generally a better indicator of a WR that's getting open than someone that's bad at football. We know Johnson is a baller; WR1 production is firmly within his potential range of outcomes if Big Ben can keep Father Time away for a few more months.
The PPR WR11 with Dak Prescott under center, Lamb dominated out of the slot for stretches of the year and showed immediate chemistry with the Cowboys' franchise quarterback. The upside is limitless for the former No. 17 overall pick, and he finds himself in one of the league's most fantasy-friendly offenses. The potential for the 22-year-old talent to take a leap with more experience can't be understated; Lamb is locked in as a top-five dynasty wide receiver.
Rushing quarterbacks aren't good for fantasy running backs because they generally 1) steal rushing volume, and 2) scramble instead of dumping the ball down in the passing game. We've already seen a general reluctance from the Eagles to fully feature Sanders as a three-down back, and now he'll have to deal with a new signal-caller as well as coaching staff. Credit to Sanders for showing plenty of big-play ability throughout his short career. I'm just not thrilled about going out of my way to target a potential committee back in a likely porous overall offense.
Mahomes led the league in fantasy points per game last season among all quarterbacks who started at least six games. The marriage between Mahomes' generational arm talent, Andy Reid's ever-fantastic scheme and Tyreek Hill and Travis Kelce's own high-end ability has produced the league's scariest offense for three years running. Continue to treat the Chiefs' prodigal son as fantasy football's top player at the position.
Higgins served as the PPR WR16 in Weeks 2-10 as a starter and with Joe Burrow under center. A.J. Green's departure further solidifies Higgins as the lead outside wideout inside of one of the league's most pass-heavy offenses. We saw plenty of examples of Higgins dominating as a 21-year-old rookie, so the Year 2 breakout hype is warranted.
Godwin's return to the team should continue to make life fairly "difficult" for TB12's big-two receivers. Tom Brady generally refrained from force-feeding either of his top two receivers. Obviously, the real-life results of this decision were great, but in fantasyland, the lack of consistent targets was troublesome. Overall, Godwin had at least eight targets in just six games in 2020 after having 10 such contests in 2019 in two fewer games. Evans had more games with fewer than five targets in 2020 (7) than he did in 2014-2019 (5) combined.
Godwin and Evans were the WR15 and WR16 in PPR points per game in 2020. Both are legit No. 1 receivers who are putting up WR2 production due to their lack of relative high-end volume. Antonio Brown taking his talents elsewhere would help both in 2021, but even then, we should keep overall target expectations in check as long as TB12 is (rightfully) more worried about winning Super Bowls than putting up absurd regular-season passing numbers.
Even if Robinson is better than Carlos Hyde in every facet of football in 2021, he didn't score 35 touchdowns in 21 games with Urban Meyer calling plays back in 2012-13. The millennial Frank Gore at this point, Hyde is absolutely a threat to the three-down role that made the artist known as RB1son an international fantasy superstar last season. I'd still bet on Robinson leading the way in total touches; just realize this backfield isn't shaping up to feature a solo workhorse back as we've seen for the past half-decade.
We should again expect to see the Baltimore offense's rushing work split up fairly evenly between Lamar Jackson, Dobbins and Gus Edwards. Mark Ingram II's departure is good news for the chances of this backfield shrinking to two, and Dobbins is certainly deserving of more work after becoming just the fifth back to average at least six yards per carry in a season since 2010. Expect him to (again) be a better real-life talent than fantasy option.
CEH is seemingly entrenched as the starter now that Damien Williams is out of town. The rookie wasn't bad in 2020; the larger problem was that he saw just 54 targets in 13 games and endured some bad luck near the goal line. Expect Edwards-Helaire to lead the way in rushing by a large margin, although Darrel Williams should again see far more pass-down work than fantasy managers would prefer. I'm not prioritizing CEH in drafts due to the likelihood of another two-back committee and a subpar target ceiling.
Beckham is probably the hardest player to rank in fantasy this season. As PFF's Sam Monson eloquently put in his 2021 breakout candidate piece: "Cleveland's offense has actually been significantly better without Beckham on the field than with him. While many consider the logical conclusion to that being for Beckham to get traded away, I'm instead going to say that a coach as good as Kevin Stefanski can figure out how to mesh one of the game's most talented players with an offense that cooks on gas in his absence." I agree wholeheartedly: 16 games of OBJ with the best version of Baker Mayfield still has the potential to produce a top-10 fantasy receiver.
Hot take: the @Browns are better with Odell Beckham Jr. than without pic.twitter.com/cBpYExkfQQ

— Ian Hartitz (@Ihartitz) February 3, 2021
The pecking order in Los Angeles is a bit unclear with Matthew Stafford under center, although it'd be surprising if Kupp doesn't continue to see plenty of work. Overall, Kupp is one of just nine players with at least 250 targets over the past two seasons, and he's managed to return PPR WR15 production on a per-game basis with this volume. Don't expect Robert Woods to fall out of favor, but I do give the edge to Kupp considering Stafford's historical success with high-volume slot receivers, such as Golden Tate.
Concerns over Golladay's separation ability are probably overblown considering his demonstrated high-end contested-catch ability. Overall, he joins Michael Thomas, Chris Godwin and Stefon Diggs as the only wide receivers to catch at least 60% of their contested targets since 2017 among 81 qualified players. Receivers capable of getting consistently open are incredibly valuable. Golladay is a rare breed capable of turning 50/50 balls into 60/40 propositions with stunning regularity. It'd make sense if the 27-year-old talent doesn't age incredibly with this sort of skill set, but for now, he's anybody's idea of a high-end talent on the outside.
Coach Kliff Kingsbury stated before free agency that he views Edmonds as a true three-down back, and Edmonds was treated as such when Kenyan Drake missed time in 2021. Arizona becomes arguably the marquee spot to watch in fantasyland when it comes to additional running back moves, as refraining from adding to the group could leave Edmonds as a borderline RB1 thanks to projected volume alone. Overall, Edmonds has received workloads featuring 29 and 28 touches on 94% and 96% snap rates in his only two games as the Cardinals' undisputed lead back.
The lack of a real addition at running back is fantastic news for Mostert, who has been my preferred zero-RB target in early best-ball drafts. Jeff Wilson Jr. is also a value as long as he remains priced outside of the top-30 or so backs in fantasy. The fact of the matter is that almost any running back attached to a coach with the last name Shanahan has been great for business over the years. Don't be afraid to throw darts at both players while their costs remain far closer to their floors than ceilings.
The Bills swapped out John Brown for Emmanuel Sanders but otherwise kept the band together ahead of 2021. This is great news for Allen, who set career-best passing marks across the board during his breakout 2020 campaign. Allen's emergence through the air lands him in top-five real-life quarterback arguments, but he's always been a fantastic fantasy option thanks to his nose for the end zone as a rusher. Overall, Allen is one of just nine players with at least 25 rushing scores over the past three seasons; continue to treat him as a weekly top-three option at the position.
Murray was on a record-breaking pace before his rushing floor was zapped while playing through a shoulder injury. Either way, Murray progressed as a passer in Year 2 and posted an absurd 133-819-11 rushing line. This sort of dual-threat ability can't be ignored in fantasyland, particularly with arguably even more rushing upside on the horizon. Only Dalvin Cook and Ezekiel Elliott had more rush attempts inside the five-yard line than Kenyan Drake last season. Murray has fantasy football, and real-life, MVP inside of his potential 2021 range of outcomes.
I've continuously been too low on Boyd throughout his career, and I very well may be at it again. The Bengals' slot receiver was the PPR WR11 in Weeks 1-11 before Joe Burrow's season ended early. Even the selection of Kyle Pitts, Ja'Marr Chase or another high-round receiver likely wouldn't impact Boyd's snaps or targets. The 26-year-old talent is one of the safer picks in fantasy at the moment, and he should be especially prioritized in full PPR formats.
Lockett caught 100 passes for 1,054 yards and 10 scores in 2020, yet he made exactly zero new friends in the fantasy football world. That's because he posted 9-100-3, 15-200-3 and 12-90-2 explosions … and otherwise scored just twice all season. On 11 occasions Lockett finished with fewer than 70 receiving yards and zero scores. Sheesh. Ultimately, he remains a clear-cut top-two receiver in one of the league's more-efficient passing attacks. Consider buying Lockett at his present discount in the hope that the Seahawks' defense continues to produce weekly shootouts.
Fresh off one of the quietest 14-touchdown seasons in NFL history, Thielen scored in 10 of 15 games last season and formed one of the position's better one-two punches alongside Justin Jefferson. Of course, the presence of the latter receiver is what makes it tough to rank Thielen much higher than a borderline WR2. Kirk Cousins has proven capable of enabling multiple fantasy-relevant wideouts during his time with the Vikings, but 1) we already saw Jefferson take over as the No. 1 in 2020, and 2) Thielen turns 31 in August. There isn't major concern that Thielen falls off a cliff athletically anytime soon. I'm just more comfortable taking 30-plus-year-old receivers who aren't their offense's featured target outside of the position's top-24 options. 
Woods has posted 19-157-1, 17-115-1 and 24-155-2 rushing lines over the past three seasons. He has one of the more unique roles in the league and clearly has the trust of head coach Sean McVay. Still, 2021 will be Woods' ninth season, and he seemed to lose a half step in 2020, averaging a career-low 10.4 yards per reception and just 7.3 yards per target. Matthew Stafford's arrival has the potential to enhance everyone involved in this offense, although we shouldn't discount the possibility that Woods has already played the best years of his career.
Aiyuk showed enough as a rookie to feel excited about his chances of breaking out in 2021 regardless of who winds up starting the most games under center. He was on a 128-target pace in 2020 despite multiple stints on the COVID-19 list. Obviously, George Kittle is deserving of leading the offense in targets, but his excellence as a blocker, as well as Deebo Samuel's low-aDOT usage, makes Aiyuk the projected leader to see the most pass-game opportunities in this offense moving forward.
Brandon Aiyuk is already stupid goodpic.twitter.com/r2THV7nkUT

— Ian Hartitz (@Ihartitz) January 28, 2021
It's easy to see how having Fuller's field-stretching speed in the fold can immediately elevate an offense. Deshaun Watson has averaged 8.8 yards per attempt with Fuller versus 7.6 without, and 26.1 fantasy points per game with versus 23.1 without since 2017. DeAndre Hopkins was also far better in the fantasy points (20.3 vs. 18.9) and touchdowns (0.81 vs. 0.43) per game departments with Fuller in the lineup even though he had more targets per game without. Tua isn't Watson, but the offseason slander has been a bit much. I'm happy to target last season's PPR WR8 pre-suspension this close to his floor even though missing Week 1 is objectively not ideal.
Samuel, an explosive WR/RB hybrid, has the sort of versatility to warrant the hype. Throw in the reality that the 24-year-old talent enters a Washington offense that is already well aware of his skills thanks to offensive coordinator Scott Turner's history with him, and it's easy to pencil in Samuel as a top-30 fantasy option at wide receiver. Check out the 3/31 edition of The PFF Fantasy Football Podcast for more thoughts on Samuels' fit in the Football Team's offense.
Sutton posted a 72-1,112-6 campaign in 2019 before playing just 31 snaps last season. The 25-year-old monster made his precious few moments count in 2020 and appears on track in his recovery from a torn ACL. Sutton stands to benefit from a potential upgrade under center, and he might just be good enough to make the most out of this situation even if the Drew Lock experience continues.
Parker finished as the PPR WR42 last season despite continuously playing through the pain and dealing with a quarterback carousel. With him locked in as a top-two wideout in an offense getting zero respect in the fantasy world, I've found myself targeting the ever-cheap Tua-Fuller-Parker stack in best ball with reckless abandon at times.
Only 2019 Lamar Jackson (27.7) averaged more fantasy points per game than 2020 Prescott (26.9) among all quarterbacks in NFL history. Obviously, Prescott was bound for some regression — I'll go out on a limb and say he wasn't going to throw for 5,939 yards in 2020 with good health. Still, the 2020 Cowboys demonstrated 1) an evolution to Prescott's ability as a passer, and 2) that they have one of the worst defenses in the league. Drafting great players with great volume is usually good for business in fantasyland. 
It'd be nice to see Jackson have a No. 1 wide receiver, but alas. Nobody has fewer 2021 dollars devoted to their offense than Baltimore. Jackson will once again have to largely make the most out of an average (to be nice) situation. Luckily, things are a bit more straightforward in fantasyland considering dual-threat players tend to rise to the top of every position. Coming off back-to-back 1,000-yard campaigns on the ground, Jackson remains anyone's idea of a top-five fantasy option at the position. 
Tarik Cohen's return is bad news for Montgomery, while the insertion of Damien Williams is arguably even worse news considering the likelihood that this is now a three-back committee. Credit to Montgomery for coming on strong at the end of 2020, but his production was aided by the Bears finishing the year with matchups against the Lions, Texans, Vikings, Jaguars and Packers (x2). Montgomery's immense pass-down floor is all but gone, and he remains in an offense expected to finish closer to the bottom-10 scoring units than the top-10.
The 2020 PPR RB10 consistently made the most out of his opportunities, racking up 11 scores on a rather robust 236 touches. Things weren't always clear with Nick Chubb in the fold, but Hunt's fantasy-friendly receiving work and tendency to get plenty of fourth-quarter work in mop-up action continues to earn him RB2 treatment. Of course, an injury to Chubb would result in Hunt flirting with weekly top-five value.
Diontae Johnson racked up 144 targets in 15 games, which included plenty of shortened performances impacted by injuries. Still, JuJu (128) and Claypool (109) also saw plenty of action, and the latter stands to see even more work with James Washington expected to see more of a true backup role in 2021.
While haters will point out that taking away Claypool's good plays shows he actually didn't play that well, the rising second-year talent is locked in as a fantasy-friendly, field-stretching receiver who also gets plenty of work near the goal line. There's a chance a healthier version of JuJu gets back to looking like the 2017-18 version of himself, but I'll take the better player (Claypool) despite the slightly lower volume expectation.
Chark finds himself in one of the league's most open passing games and figures to see some sort of improvement in efficiency with Trevor Lawrence under center. He disappointed in 2020, although injuries and continuously changing, yet always mediocre, quarterback play are more than fair excuses. This time last year, Chark was being priced in the WR2 territory, yet his ceiling is probably even higher in 2021. He's one of my favorite WR3 targets at the moment.
Anderson caught at least four passes in all but two games last season, showing off previously untapped ability as a receiver in the underneath and intermediate areas of the field. Of course, the reinsertion of Christian McCaffrey into the offense could relegate him to the team's No. 3 pass-game option if D.J. Moore takes a step forward. My disparity in rank between these receivers is probably too wide at the moment, although the lack of a difference-maker under center makes it a situation that fantasy managers shouldn't exactly be dying to get exposure to.
Kyle Shanahan uses Samuel as more of a running back than receiver — he literally had more yards after the catch (401) than actual receiving yards (391) last season. Of course, style points don't matter in fantasyland, and Samuel's low-aDOT workload actually offers a higher floor than a more volatile downfield role would. This is a crowded run-first offense that could send more targets to Brandon Aiyuk and George Kittle than to Samuel. Don't be surprised if/when the 49ers' rising third-year receiver makes the most out of his opportunities.
The third-year man has a real chance to join the Tier 1 tight ends as the only players at the position who function as their passing game's No. 1 option. Hockenson has the look of the league's next great TE; the problem is that the Lions offense has the look of the league's single worst unit. Even the addition of a high-round receiver wouldn't relegate Hockenson to anything worse than the No. 2 projected target leader. That said, I've found myself waiting to get my tight end in Best Ball drafts when I haven't managed to get one of the position's top-three options.
The Raiders have fed Jacobs 568 touches over the past two seasons — he will continue to see plenty of work more weeks than not. The problem is that Kenyan Drake seems ready to make this more of a committee than we've seen in recent years, while Jalen Richard lingers as a passing-down vulture. More than anything, I'm refraining from targeting Raiders other than Waller due to the team's sudden indifference toward the offensive line. Overall, the Raiders ranked among the league's top-five spenders on the O-line during each of the 2015-2020 seasons, but they are currently 31st entering 2021.
The consensus top two backs in this class have the chance to skyrocket up these rankings if they each land in the right spot. Specifically, the Dolphins, Jets, Steelers and Falcons stand out as the four teams that seem most likely to immediately foster a high-end rookie RB. A lot can change, and there's risk associated with drafting any rookie before they land on a team, but there's serious value here for risk-takers to shoot for in large-scale tournaments.
Gaskin could rise quickly if the Dolphins (again) refrain from addressing their RB room in the draft. So far, the only real addition has been Malcolm Brown, who is the exact sort of career backup we should feel comfortable about not threatening Gaskin. Ultimately, this offense was willing to feature whoever was at RB in a true three-down role. We'll act fast on prioritizing the backfield leader once more clarity emerges from this situation.
Andrews took a step back across the board from an efficiency standpoint in 2020. The lack of any true additions to the passing game other than Sammy Watkins is good news for his ever-robust target share, although the insertion of Josh Hill could feasibly lead to more muddled snap counts. Like Hockenson, I stand firm with Andrews' ranking as a top-five option, but I find myself regularly waiting on the position in drafts if I don't get one of Travis Kelce, George Kittle or Darren Waller.
The potential for Shenault to take after Percy Harvin and Curtis Samuel and become Urban Meyer's latest RB/WR hybrid should be enough to peak the interest of every right-thinking fantasy analyst. Shenault was a tackle-breaking machine as a rookie and showed off far more polish than expected as a true route-runner. One of my favorite mid-round Best Ball stacks is Trevor Lawrence-D.J. Chark-Shenault.
Hollywood ended the season with 4-85-1, 5-39-1, 2-50-1, 6-98-0, 4-25-1, 5-41-2, 7-109-0 and 4-87-0 performances. The addition of Sammy Watkins isn't ideal, but it could've been worse in terms of projected target share lost. Ultimately, Brown is a boom-or-bust borderline WR3 in a run-first offense that adds even more volatility to his already uneven game.
I routinely rank Landry too low ahead of September, although his 101 targets in a season that featured just seven games out of OBJ was less than ideal. It's tough to say whether Landry's lack of early-season involvement was more due to Odell Beckham's presence or continued recovery from offseason hip surgery. Either way, it's tough to be too excited about the 1b (at best) pass-game option in one of the league's more run-heavy offenses.
Gallup was the PPR WR33 with Dak Prescott under center last season, although it seems clear at this point that Amari Cooper and CeeDee Lamb are the featured top two targets. We as a fantasy community overuse the phrase "better in best ball" when discussing boom-or-bust WRs, but Gallup truly does fit the bill as a player that will be far tougher to warrant exposure to in drafts that actually force us to try and figure out when they'll have a good game.
Jeudy was one of just three receivers with double-digit drops last season, but don't let that overshadow the reality that he displayed some truly lethal route-running ability throughout his rookie campaign. I expect Courtland Sutton to lead the way regardless of who is under center; just realize Jeudy sure looks like someone that can also be called a No. 1 WR sooner rather than later.
Jerry Jeudy is pretty, pretty, pretty good at this route-running business pic.twitter.com/zgCCxb3nBo

— Ian Hartitz (@Ihartitz) November 11, 2020
Davis does deserve credit for his work in 2020 and has earned upside WR4 treatment with the Jets in fantasyland. The presence of Denzel Mims and Jamison Crowder isn't ideal, but it's also not exactly the stiffest competition. Davis' gaudy contract figures to earn him the lion's share of opportunities in the passing game; there are only a few other offenses in the league where he'd be more established as the overall No. 1 WR. Things will continue to be tough for everyone involved for however long Sam Darnold is under center, but Davis could be a serious value at a likely low ADP in pre-draft Best Ball contests if a certain someone like Zach Wilson winds up making their way to the Big Apple.
Hurts has emerged as this offseason's "sleeper that isn't actually a sleeper." Already being drafted inside of the top 10 QBs, Hurts presents far too much rushing upside to be ignored. The man largely did nothing other than ball out from a fantasy perspective in his three complete starts, posting overall fantasy QB10, QB1 and QB16 finishes. There's a low floor for this 2021 Eagles offense, but Hurts deserves the offseason hype.
The Seahawks' defense remains a problem — look at their second-half opponents from 2020 before telling me they truly turned a corner. Russ might have to cook, even though Pete Carroll would rather he not. It'd be nice if they could add one more high-end receiver to the equation to complement D.K. Metcalf and Tyler Lockett, but either way, we've seen Wilson repeatedly overcome this run-first offense to produce QB1 results. Don't expect this to change in 2021, even if the untapped ceiling will remain annoying.
Herbert became just the seventh rookie fantasy QB1 since 2010, joining Cam Newton, Kyler Murray, Dak Prescott, Robert Griffin, Russell Wilson and Andrew Luck. Not all of those QBs had amazing second-year campaigns, but Herbert's cozy surrounding cast and demonstrated upside as both a passer and rusher make it easier to trust him moving forward. The throws that Herbert put on film bordered on extraordinary in 2020, and it's scary to think what an improved version of the 23-year-old QB could look like.
This ranking assumes Zach Ertz won't have an eagle on his helmet in 2021. Goedert has looked the part of a great TE alongside Ertz throughout his three-year career, even returning fantasy TE1 production in 2019 with a 58-607-3 line on 87 targets. The utter lack of receiving competition in this offense makes Goedert's ceiling as the legit No. 1 pass-game option. I'd bet on Jalen Reagor or a rookie to lead the way in the end, but Goedert is 1) good enough, and 2) has enough available targets to be treated as an upper-half TE1.
Cooks has caught footballs from Drew Brees, Tom Brady, Deshaun Watson and a better-than-usual version of Jared Goff during his career. We should praise his ability to maintain high-end production in different offenses, but the uncertainty under center in Houston at the moment makes it tough to trust Cooks as anything more than a boom-or-bust WR4. We should fade this passing game all around if Tyrod Taylor becomes the expected Week 1 starter.
The hype surrounding Chase is wild but deserved. Another rookie who could jump up 20 spots with a good landing spot, Chase is worthy of early investment in fantasy drafts of all shapes and sizes.
"Ja'Marr Chase is a better prospect than Justin Jefferson"

????️ @PFF_AustinGayle pic.twitter.com/pFqOizDc2H

— PFF Fantasy Football (@PFF_Fantasy) March 31, 2021
Concerns over Smith's size usually point out the lack of 170-pound receivers in the history of the NFL without also considering how much less physical the game is in the year 2021. It remains to be seen if the Heisman winner is capable of the same level of domination at the NFL level, but I'll be adjusting the rank here based on landing spot, not size.
One of the more alluring late-round RBs, Moss is the projected starter ahead of Devin Singletary on a Bills offense that figures to again rank among the league's elite scoring units. Yes, Josh Allen's 1.) general disregard for checking the ball down, and 2.) nose for the end zone as a rusher has made Buffalo a not-so-fantasy-friendly spot for RBs in recent years. Also yes, Moss is being priced well outside the top-30 RBs at the moment, even though he projects for upwards of 200 touches in the league's reigning second-ranked scoring offense. This ranking is probably a bit high but reflects my urgency to land Moss in the draft's later rounds.
Davis made life bearable for Christian McCaffrey fantasy investors if they were lucky enough to properly handcuff the reigning 2019 fantasy MVP. All the sixth-year journeyman RB did in 15 games of action was rack up 1,015 total yards from scrimmage with eight trips to the end zone. There's always a chance the Falcons draft a high-end RB that leaves Davis as a clear backup. Still, functioning as this offense's lead three-down back is firmly in the veteran's range of outcomes, making him a great zero-RB target in the middle rounds after the more locked-in 25 or so backs are off the board.
Mike Davis is a tough dude to tackle pic.twitter.com/RpgwOfE8iF

— Ian Hartitz (@Ihartitz) December 28, 2020
The veteran's standing in Denver doesn't exactly seem firm after late-season DUI in 2020. The depth chart is certainly thin enough for a workhorse role to be in Gordon's potential range of outcomes, but his general lack of effectiveness in 2020 and the high potential for further rookie competition has me looking elsewhere. There isn't enough money attached to Gordon for the organization to feel like they have to feature him.
Zero-R targets, although the offseason news cycle will inevitably decide to hype up Ke'Shawn Vaughn between now and August, as well. RoJo is the better runner, and Fournette the better receiver (by default): it's anyone's guess as to who the weekly touch leader will be. Of course, this is why each RB is priced closer to their floor than the ceiling, and there should be plenty of fantasy-friendly red-zone opportunities to go around for the defending Super Bowl champs.
Dillon looked rather great with his limited opportunities last season. The problem is that his over/under for 2021 touches should probably be around 150, with very few coming by way of the air. I'd be far more into Dillon if Jamaal Williams, not Aaron Jones, was the returning RB.
Fant played through the pain for most of 2020 but has looked the part of the league's next great TE. Overall, Fant is tied with George Kittle for the most yards after the catch per reception among 46 TEs with 50-plus targets over the past two seasons. The Broncos offer a crowded and volatile (to be nice) passing game, but Fant might be special enough to break out anyway.
Tonyan is the only player with more TDs than incomplete targets on a 50-plus target workload since the metric began being traded in 1992. Oh, and Tonyan had *six* additional scores than incompletions. Madness. Back with little competition, Tonyan should again be a weekly TD-dependent TE1 in an offense expected to throw plenty of TDs.
Rodgers was the best version of himself ever in 2020. Some type of regression will take place next season because humans can't be that freaking good multiple years in a row. This doesn't mean Rodgers will be anything other than a fantastic QB, but his lack of a rushing floor and expectation of fewer overall scores through the air has me treating him a bit closer to the No. 10 fantasy QB as opposed to No. 1.
Volume was king for Burrow in 2020, as he functioned as the QB14 in fantasyland in Weeks 1-10 before getting injured. Back with more than a half-season's worth of experience and presumably at least one upgraded weapon at receiver, Burrow is locked in as a top-12 option at the position thanks to his chance to flirt with the most pass attempts in the league in an ascending offense.
The artist known as TanneThrill has been the QB9 in fantasy points per game in each of the past two seasons. Last season's 24th-ranked scoring defense could be even worse in 2021 after losing the likes of Adoree' Jackson, Malcolm Butler and Desmond King in free agency. Adding another weapon would be nice, but either way, Tannehill again has the looks of a fantasy QB1 thanks to his own high-end efficiency and his team's likely awful defense.
One of the few players at the position who hardly ever leaves the field, Thomas ended 2020 on a tear and *should* see a boost in general efficiency with Ryan Fitzpatrick under center. The addition of Curtis Samuel adds a bit more competition to the overall passing game, but Thomas is still a solid fantasy TE1 worth pursuing thanks to his proven triple-digit target ceiling.
Pittman would have benefited from T.Y. Hilton taking his remaining talents elsewhere. The floor is low here:  Reich's offense is unlikely to force-feed any particular receiver. I'm fine with targeting Pittman as an upside WR4 option, but anything more than that is a bit of a reach with 1.) volume concerns, and 2.) Carson Wentz's volatile nature. Credit to Pittman for causing problems in the open field thanks to his stellar size-speed combo, although the plethora of borderline wide-open crossers that seemed to make up most of his production has me questioning his true high-end ability more so than some of the league's other rising second-year receivers.