It's always fun to play the "what if" game in football and imagine the possibilities if coaches had called a different play, made a more-aggressive decision or, my favorite: substituted the seemingly explosive-as-hell backup.
We love to mock coaches for time management errors and being conservative, but obviously these football lifers have more knowledge about the game in their little toes than most of us will ever obtain in our respective lifetimes. Still, an enterprise worth billions of dollars will inevitably draw plenty of critique and second-guessing from the public.
What follows is a look at the players who were seemingly most underused in 2019. Playing time is based on a number of factors not limited to but including: practice performance, draft capital, contract, opponent, chemistry, character and talent. It's also unfair to assume that a highly efficient backup would be able to seamlessly maintain that elite ability with a larger role — we wouldn't expect a spot-up three-point shooter in basketball to maintain amazing efficiency with double the workload.
This study is simply meant to highlight some of the league's top ballers from 2019 that demonstrated a high level of efficiency with a small workload. We'll focus on skill-position talents with the falling benchmarks:
RB: 100 or fewer carries

WR: 75 or fewer targets

TE: 50 or fewer targets
I tried to be fair about the benchmarks in relation to suspension/injury. Without further ado: all 32 NFL's teams' most underused skill-position player from 2019.
13 targets, 9 receptions, 189 yards, 1 TD; 4 carries, 15 yards
The Cardinals' backup rookie WR had two absolutely electric plays in 2019: a deep crosser that went 88 yards to the house against the 49ers and a short slant into a YAC-filled 55-yard gain against the Buccaneers. Both plays showcased the sort of top-end speed (4.31-second 40-yard dash) that made the fantasy community fall in love with Isabella in the first place.
The 2019 second-round pick will likely work behind each of DeAndre Hopkins, Christian Kirk and Larry Fitzgerald in Kyler Murray's pecking order, although the Cardinals did deploy formations featuring at least four WRs on a league-high 42% of Murray's dropbacks. Hilariously, Murray has averaged 16.1 adjusted yards per attempt when targeting Isabella — nearly eight more yards than his next-most-efficient receiver Charles Clay (8.83).
78 carries, 323 yards, 2 TD; 14 targets, 10 receptions, 69 yards, 1 TD
The Falcons' former fifth-round pick has been a load to get down since entering the league in 2017 thanks to his bruising running style. Nobody in the current Falcons' RB room was better than Hill at picking up additional yards after contact in 2019:
Don't expect the Falcons to simply feed Gurley all the touches he can handle in 2020. Both Devonta Freeman and Tevin Coleman were given featured roles when the other was injured, but Freeman played at least 60% of the offense's snaps in just 14 of 36 games (39%) with Coleman and/or Smith healthy compared to 13 of 15 games (87%) with the Falcons' backup RB injured. Expect Hill to battle it out with Smith and Ollison for the team's No. 2 RB role and don't be surprised if the rising fourth-year back manages to seize the job.
71 targets, 46 receptions, 584 yards, 7 TDs
The artist known as Hollywood played with a screw in his foot for the duration of the 2019 season. He still demonstrated the sort of high-level speed that can keep opposing defensive coordinators from getting much sleep the week before taking on the Ravens.
Marquise Brown can FLY pic.twitter.com/Ri7qA0lGAZ

— Ian Hartitz (@Ihartitz) May 6, 2020
Brown is Lamar Jackson's undisputed No. 1 WR entering 2020. Improved health and a natural Year 2 leap could help Hollywood emerge as more of a boom-or-boom than boom-or-bust WR; he's PFF's No. 31 highest-projected PPR WR.
50 targets, 28 receptions, 388 yards, 2 TDs; 1 carry, 9 yards
Knox dropped a position-high nine passes as a rookie, averaged a modest 1.1 yards per route run and ultimately graded out as PFF's No. 41 best TE among 47 qualified players.
And yet, he showed off high-end ability as a receiver/blocker/monster at least once or twice a game.
Dawson Knox is funpic.twitter.com/yTWaVx3QD6

— Ian Hartitz (@Ihartitz) August 11, 2020
The heavy odds are on the Bills' 2019 third-round pick functioning as the offense's No. 4 pass-game target behind Stefon Diggs, John Brown and Cole Beasley. Hell, Devin Singletary might even get more looks than Knox. Still, the rising second-year TE is truly entertaining to watch, and he has as smashable of a first month of the season as any player at the position.
105 targets, 54 receptions, 627 yards, 6 TDs; 19 carries, 130 yards, 1 TD
The Buccaneers, Bills and Panthers stood out as the three weakest offenses last year in terms of consistent uncatchable targets both overall and down the field. Things were especially bleak for Samuel, who had to deal with issues under center pretty much all season. He wasn't miscast as a field-stretching WR in 2019 as much as Kyle Allen was mistaken for a starting NFL QB.
Regardless, the decision to bring in Robby Anderson as well as Teddy Bridgewater could result in a new role of sorts for Samuel. The former Ohio State RB/WR has always been a dangerous threat with the ball in his hands, meaning a low-aDOT slot role featuring some carries could be a fun time.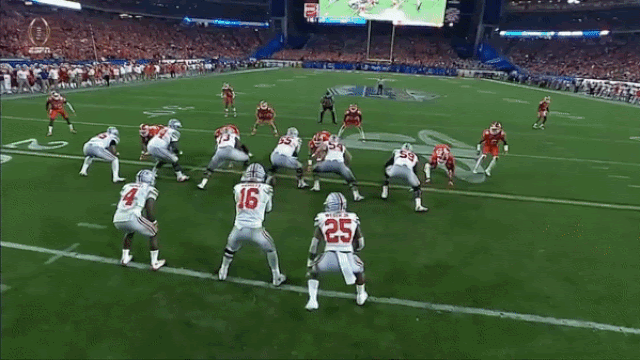 Overall, Samuels' career average of 8.97 yards per carry is the third-highest mark in NFL history among all players with at least 30 rush attempts. This offense will ultimately flow through Christian McCaffrey and D.J. Moore, but that doesn't mean new play-callers Joe Brady and Matt Rhule can't get Samuel five-plus designed touches per game.
53 carries, 170 yards; 43 targets, 30 receptions, 234 yards
The Bengals' longtime change-of-pace RB has racked up at least 50 rush attempts and 30 receptions in all seven of his career seasons. We've seen flashes of brilliance over the years, although the difference in performance between Gio and Joe Mixon in 2019 didn't shine a great light on the veteran back.
Yards after contact per attempt: Mixon (3.2); Bernard (2.4)

Missed forced tackles per carry: Mixon (0.19); Bernard (0.15)

PFF Rushing Grade: Mixon (74.9); Bernard (57.1)

Yards per route run: Mixon (1.2); Bernard (0.85)

Yards after the catch per reception: Mixon (9.6); Bernard (7.1)
Nothing against Bernard, but this selection came down to him and TE C.J. Uzomah. In that contest, gimme Gio, but it'd probably behoove the Bengals to feature Mixon even more in 2020.
17 targets, 11 receptions, 83 yards; 17 carries, 103 yards
Nobody to ever play the great game of football at the professional level that managed to get at least 100 rush attempts over the course of a career has averaged more yards per carry than Patterson. The Bears' WR/RB/TE has been more efficiency as a rusher (7.6 YPC) than Mitch Trubisky has been as a passer (6.7 YPA) throughout their respective careers.
The idea that Patterson is a bust is simply fiction. One of the best and most-efficient kick returners ever, the former 2013 first-round pick has consistently made good things happen with the ball in his hands throughout his career.
Cordarrelle Patterson is a baller and not enough people acknowledge this on a daily basispic.twitter.com/vlCWSdY6Nl

— Ian Hartitz (@Ihartitz) August 5, 2020
The 2018 Patriots are the only team to feed Patterson at least 60 touches in a season and they won the Super Bowl. Should the Bears give Patterson double-digit carries between the tackles every game? Probably not. Does their 6-foot-2 and 215-pound athlete with breakaway speed deserve at least a handful of designed touches per game? Yes. 
43 carries, 179 yards, 2 TD; 44 targets, 37 receptions, 285 yards, 1 TD
Hunt led the league in rushing and racked up 11 total scores as a rookie, posted 181-824-7 rushing and 26-378-7 receiving lines in just 11 games of action before being suspended in 2018, then produced more-than-stellar 43-179-2 rushing and 37-285-1 receiving lines during the second half of the 2019 season with the Browns. Nobody averaged more broken tackles per touch than Hunt (0.42) during the latter stretch. The PPR RB17 from Weeks 10-17, Hunt has the potential to return RB2 value with or without an injury to Chubb.
There isn't a guarantee that Hunt will see the same role that he had in the second half of last season, but new head coach Kevin Stefanski does have a history of utilizing plenty of formations other than three-WR sets. It would make more sense if the Browns prioritize two-RB formations over two-TE sets, particularly after how good Hunt was during the second half of last season. Their decision to not invest anything more than a late-round pick to address their No. 3 WR spot adds further evidence to the idea that this could be a two-RB base offense.
86 carries, 455 yards, 2 TD; 20 targets, 15 receptions, 107 yards, 1 TD
The dynamic rookie RB led the NFL in elusive rating, racking up an absurd 26 broken tackles on just 101 touches. It's scary to think what he'd be capable of achieving with a true three-down role.
Tony Pollard is objectively a studpic.twitter.com/XJ5zlojl8o

— Ian Hartitz (@Ihartitz) June 24, 2020
Pollard deserves to be mentioned alongside Alexander Mattison, Latavius Murray and Chase Edmonds as the league's top handcuff options; just don't expect consistent touches or standalone value as long as the Cowboys continue to pay Elliott a small fortune.
31 targets, 16 receptions, 218 yards
Patrick did flash on a few occasions upon returning from injury, but his placement on this list has more to do with his competition only being backup tight ends. The third-year WR will be fighting for a roster spot after the Broncos devoted early-round picks to Jerry Jeudy and K.J. Hamler.
11 targets, 7 receptions, 261 yards, 1 TD; 1 carry, 7 yards
The Lions targeted Hall on 11 occasions in 2019. The results were overwhelmingly positive:
58 yards

49 yard TD

47 yards

39 yards

34 yards

21 yards

13 yards

3 incompletions

1 interception
Only DeSean Jackson (4.18 yards per route run) was more efficient than Hall (3.84) among 165 WRs with at least 10 targets last season. Don't expect the pint-sized (5-foot-9 and 192-pounds) speedster (4.45-second 40-yard dash) to surpass any of Kenny Golladay, Marvin Jones, Danny Amendola or T.J. Hockenson in Matthew Stafford's pecking order, but another explosive season could be on the way inside of OC Darrell Bevell's downfield-happy passing attack. 
52 targets, 35 receptions, 477 yards, 3 TD; 1 carry, 21 yards
Aaron Rodgers has targeted 23 players at least 50 times since being drafted by the Packers in 2005. He's averaged double-digit adjusted yards per attempt when targeting just two of those players (per RotoViz AYA App):
Jordy Nelson (11.1)

Lazard (10.4)
There's also a bit of a bromance going on here: 1) Lazard reportedly spent last Thanksgiving at the Rodgers household, 2) Rodgers was responsible for originally petitioning for Lazard to get some extra run with the offense in Week 6, 3) The pair apparently sits next to each other in meetings. The absence of Devin Funchess (opt out) leaves Lazard as the projected No. 2 pass-game option in Green Bay.
83 carries, 410 yards, 2 TD; 62 targets, 44 receptions, 410 yards, 3 TDs
David Johnson is the Texans' starting back. I believe with all my heart that Duke is an objectively better option:
David Johnson career stats: 4.0 yards per carry, 7.2 yards per target, 5.4 yards per touch, 28 years old, 36th-percentile BMI
Duke Johnson: 4.4 yards per carry, 7.1 yards per target, 6.5 yards per touch, 26 years old, 59th-percentile BMI
Of course, Duke wasn't acquired in a deal featuring one of the biggest stars in franchise history. There are actually some people in this world who believe the all-time leading rusher from the University of Miami isn't capable of handling a three-down role because of decisions made by Hue Jackson and Bill O'Brien.
Duke ranked third in yards per touch and fourth in yards after contact per attempt among 51 RBs with triple-digit touches last season. Only Nick Chubb, Derrick Henry and Josh Jacobs have averaged more yards after contact per attempt than Duke over the past three seasons. Only Jacobs and Hunt have averaged more forced miss tackles per attempt. He's a baller.
Duke Johnson is your favorite running back's favorite running back pic.twitter.com/5eIy3ET1UP

— Ian Hartitz (@Ihartitz) June 16, 2020
Unfortunately, even an injury to David Johnson would likely lead the Texans to sign a veteran early-down grinder. Note that Duke has never missed a game since entering the league in 2015. #FreeDuke.
24 targets, 18 receptions, 127 yards, 1 TD; 4 carries, 34 yards
Campbell possesses an electric blend of size (6-foot and 205-pounds) and speed (4.31-second 40-yard dash) that helped produce many explosive plays during his days at Ohio State. The Colts' 2019 second-round pick unfortunately played fewer than 200 offensive snaps last season due to injuries, but head coach Frank Reich was certainly high on the prospect entering the year by noting, "He's making legit, NFL, I'm gonna be a stud receiver type plays."
The Colts drafted Michael Pittman in the first round, and T.Y. Hilton will remain the offense's No. 1 pass-game option whenever he's healthy enough to suit up. Still, Campbell possesses the sort of explosive YAC-ability to warrant a handful of designed touches per game, something that could be scary for defenses to deal with behind the Colts' league-best offensive line.
41 targets, 26 receptions, 538 yards, 6 TD; 4 carries, 17 yards
Hardman had the single-highest playmaker rate (chunk gains and scores per touch) in the entire league among 214 players with at least 30 touches. The dynamic second-round rookie has struggled to consistently find the field with the Chiefs often utilizing Tyreek Hill, Sammy Watkins and Demarcus Robinson in three-WR sets, but Hardman has still managed to make his touches count in a big way as a rusher, receiver and returner.
Give Mecole Hardman 5+ touches per game or we riot @Chiefs pic.twitter.com/YAnyXiQcAw

— Ian Hartitz (@Ihartitz) August 20, 2020
Something more closely resembling a full-time role is hopefully on the way next season. Hardman clocked a 4.33-second 40-yard dash at the combine and registered the seventh-fastest play of the season at 21.87 miles per hour on his 63-yard score against the Titans (Next-Gen Stats). It's tough to think of another player in the league that would give Tyreek Hill a closer race than his own teammate.
90 targets, 49 receptions, 1,001 yards, 2 TD; 1 carry, 2 yards
The Chargers' No. 2 WR was a top-10 unluckiest receiver in the league in terms of catchable target rate. Williams has seemingly done nothing except ball out with his opportunities over the years; he's the only player to average over 17 yards per catch since entering the league in 2017 (minimum 100 receptions). Overall, he joins Tyrell Williams and Tyreek Hill as the only receivers with multiple seasons averaging double-digit yards per target over the past three years (minimum 50 targets).
Tyrod Taylor never fed a receiver triple-digit targets during his time with the Bills; don't expect bunches of fantasy goodness from Williams in 2020. Still, his tantalizing contested-catch ability is up there with anyone in the league. Williams' ceiling remains untapped, although it might take a new environment and/or situation under center for it to be fully realized.
39 carries, 147 yards; 6 targets, 4 receptions, 37 yards
Nobody averaged more yards after contact per attempt in college from 2015-2019 than Henderson (5.4) among all backs with at least 300 carries. The Rams' 2019 third-round pick was highly touted entering his rookie season, but a pedestrian 4.3 yards per touch on 43 combined carries and receptions weren't exactly what fantasy investors had hoped for.
Fast forward to 2020 and the addition of second-round RB Cam Akers leaves Henderson as a potential backup despite the absence of Todd Gurley. Coach Sean McVay has talked about having *4* capable backs, but historically he's leaned on just one. Overall, McVay's RB1 has played at least 60% of the offense's snaps in 48 of 52 games he's coached with the Rams.
Henderson will need to look more like the guy that we saw at Memphis than in 2019 to beat out Akers and Malcolm Brown. You shouldn't disregard his chances, but the future is certainly less bright than it was this time last year after the Rams declined to make any real changes to their incredibly-meh offensive line.
35 carries, 108 yards; 24 targets, 14 receptions, 144 yards, 2 TD
This is less of an endorsement for Armstead and more of a reminder to please fade Leonard Fournette in fantasy drafts of all shapes and sizes in 2020. The Jaguars' starting RB is my No. 1 fade entering next season; check out all 10 of my top fades here.
64 targets, 42 receptions, 651 yards, 6 TD
Williams is the only player in the league to average at least 10 yards per target in each of the past three seasons. There's reason for optimism ahead of 2020 considering the still-barren depth chart, as well as the reality that he missed two games with a foot injury that seemed to bother him for the entire season. Williams had himself a helluva start to the year after all:
Week 1: 6 receptions-105 yards-1 TD

Week 2: 5-46-1

Week 3: 3-29-1

Week 4: 3-36-1

Week 8: 3-91-1
Still, Henry Ruggs and Bryan Edwards weren't drafted inside of the top three rounds to sit on the bench, while rookie RB/WR Lynn Bowden and even free-agent addition Nelson Agholor could make some noise as well. Expect Williams to continue to work as a highly efficient complementary option in 2020.
33 targets, 19 receptions, 164 yards; 4 carries, 5 yards, 1 TD
The Dolphins' longtime pint-sized speedster joined Saquon Barkley, Tyreek Hill, DeSean Jackson and Tyler Lockett as the only players with at least three scores stretching 50-plus yards in the 2018 season. Things weren't quite as explosive last year, although the absence of both Albert Wilson and Allen Hurns leaves Grant as the favorite to fill out three-WR sets alongside DeVante Parker and Preston Williams. Of course, Mike Gesicki and potentially even Matt Breida could wind up with more targets than Grant, but having his sort of speed on the field is hardly a bad thing.
47 targets, 36 receptions, 311 yards, 2 TD
Longtime Vikings TE Kyle Rudolph (39-367-6) was more productive than Irv Smith (36-311-2) last season, but Rudolph (48 targets) was barely more involved on a per-pass basis than Smith (47); it's tough to expect much from either as long as they're splitting snaps and all but certain to work behind Adam Thielen, Justin Jefferson and Dalvin Cook in this run-first offense.
Of course, an injury to Rudolph would open the door for Smith to assume a much larger role. Expect fireworks if this comes to fruition; the man is a baller.
Irv Smith is discount Dallas Goedert in fantasy football land pic.twitter.com/Vce9QWFHPt

— Ian Hartitz (@Ihartitz) August 20, 2020
Smith is the fantasy football discount version of Dallas Goedert: extremely talented and capable of supplying top-five production with a full-time role he won't get without injury or suspension to the team's actual starter.
65 carries, 302 yards, 3 TD; 38 targets, 27 receptions, 279 yards
The Patriots have fed Burkhead double-digit touches in just nine of 31 regular season games since joining forces in 2017. He's not really a threat to Damien Harris or Sony Michel's projected early-down role, but his presence has hurt James White's target share over the years:
White per game with Burkhead since 2017 (30 games): 12 PPR, 5.4 targets, 3.9 receptions, 36.5 receiving yards, 0.4 receiving TDs

Without (15 games): 16.6 PPR, 8.6 targets, 6.5 receptions, 48.7 receiving yards, 0.3 receiving TDs
It would hardly be surprising if the Patriots don't rely on the RBs as much in the passing game with Cam Newton expected to be under center in Week 1. Still, Burkhead always represents an efficient means of moving the ball through the air or on the ground alike; don't expect his solid role to disappear anytime soon.
27 carries, 156 yards, 1 TD; 22 targets, 19 receptions, 234 yards, 6 TD
Fantasy investors, including myself, regularly get egregiously upset whenever Hill enters the football game. He's a modern-day vulture that manages to steal red-zone opportunities from the rest of the Saints' high-scoring offense.
However, it's tough to fault coach Sean Payton for relying on Hill as a rusher and receiver. His average of 5.8 yards per carry ranked seventh among 113 players with at least 25 rush attempts in 2019. Hill's rate of 10.6 yards per target ranked eighth among 252 players with at least 20 targets last season.
The Saints' backup QB/RB/WR/TE sure looked a lot like the best player on the field for portions of the team's 2019 Wild Card loss to the Vikings. Don't expect Payton to stop using his jack-of-all-trades chess piece anytime soon (nor should he).
42 targets, 31 receptions, 268 yards, 3 TD
The 49ers drafted Smith in the sixth round of the 2019 draft, but he was the Giants' starting TE by Week 12 after Evan Engram was lost for the season. All Smith proceeded to do with the opportunity was function as fantasy's PPR TE8 during the final six weeks of the season.
Week 12: 5 receptions-17 yards-1 TD

Week 13: 6-70-0

Week 14: 2-9-0

Week 15: 3-38-0

Week 16: 6-35-2

Week 17: 8-98-0
Smith is hardly an overwhelming talent as a pure athlete or pass-catcher, but his chemistry with Daniel Jones was apparent. Don't be afraid to chase this potential volume if/when Engram misses time again in 2020.
2 targets, 1 reception, 7 yards
The Jets don't really have a good non-injury qualifier from last season. Let this entry simply be a reminder to draft Herndon in fantasy leagues of all shapes and sizes. He's my single-favorite TE this season relative to ADP; check out all 10 of "my guys" here.
61 carries, 245 yards, 5 TD; 26 targets, 24 receptions, 204 yards
Miles Sanders was the offense's workhorse following Howard's injury, posting snap rates north of 70% in six of seven non-injured games down the stretch. Overall, Sanders worked as the PPR RB8 from Weeks 11-17. He possesses big-play ability as both a rusher and receiver in addition to his proven savagery as a pass blocker; a three-down role seems likely and the Eagles have indicated as much throughout the offseason.
The case for Scott likely won't be as a standalone option. Rather, late-season usage, combined with the front office's decision to barely address the position in both free agency and the draft, indicates that Scott could be a true three-down handcuff. He certainly seemed to boast the appropriate skill-set in a pair of extended performances against the Giants in which he posted combined 29-113-4 rushing and 10-153-0 receiving lines.
Scott's yards after contact numbers weren't great, but he's deserving of the opportunity to function as the offense's No. 2 RB. Sanders' training camp lower-body injury reportedly isn't anything serious, although Scott could be looking at a larger role sooner rather than later if the Eagles' starting RB doesn't get right in a hurry.
27 carries, 105 yards, 4 TD; 5 targets, 3 receptions, 34 yards, 1 TD
Wilson deserves credit for racking up five touchdowns and two big plays on his 32 combined carries and targets this season. This was good for the single-best playmaker rate among all RBs with at least 30 touches, although clearly the minuscule sample size is a factor there. Don't expect more than a touch or two per game as long as each of Raheem Mostert, Tevin Coleman and Jerick McKinnon are healthy in 2020.
34 targets, 17 receptions, 301 yards, 2 TD; 3 carries, 25 yards
Russell Wilson has targeted 17 players at least 50 times since entering the league in 2012. His top-five most-efficient targets have been:
Tyler Lockett (10.8 adjusted yards per target)

D.K. Metcalf (10.5)

Golden Tate (10.4)

Doug Baldwin (9.3)

Moore (8.7)
It remains to be seen if the Seahawks will add either Josh Gordon or Antonio Brown to the WR room, and the addition of Phillip Dorsett could feasibly have Moore on the roster bubble. The big-bodied (6-foot-1 and 219-pounds) and speedy (4.48-second 40-yard dash) receiver has the sort of athleticism that the Seahawks love, but he'll need to impress in training camp to earn a spot inside three-WR sets next season.
70 targets, 42 receptions, 552 yards, 3 TD 
The Steelers' talented WR suffered toe, foot and knee injuries along with a concussion in 2019. League-worst QB play from Mason Rudolph and Devlin Hodges led to Smith-Schuster averaging a career-low mark in yards per target (7.9) in addition to every counting statistic. It's not a stretch to say JuJu was the Steelers' third-best WR in 2019 behind Diontae Johnson and James Washington.
Of course, we shouldn't simply disregard the first two seasons of Smith-Schuster's career when he was tearing up the record book with Ben Roethlisberger slinging the rock. Only Randy Moss (2,726) and Josh Gordon (2,451) had more receiving yards than Smith-Schuster (2,343) before turning 23 years old since 1998.
Not having Antonio Brown to take away more imposing matchups doesn't help, but JuJu's slot-heavy role should continue to get him plenty of fantasy-friendly matchups. Expect his targets to spike with Big Ben under center. *Both* Smith-Schuster and AB posted fantasy WR1 production in 2018 with their respective 160-plus target workloads.
26 targets, 13 receptions, 200 yards, 1 TD; 2 carries, 16 yards
The rookie-year production wasn't all that efficient, but Miller showcased the sort of speed (4.44-second 40-yard dash) that got him in coach Bruce Arians' good graces in the first place. He might just find himself across from Mike Evans in three-WR sets with Chris Godwin in the slot, although don't be surprised if we see plenty of two-TE formations with the more-established options of Rob Gronkowski, O.J. Howard and Cameron Brate.
44 targets, 35 receptions, 439 yards, 3 TD; 4 carries, 78 yards
Jonnu Smith finished 2019 ranked among the league's top-eight TEs in yards per target (No. 2), yards per route run (No. 8) and yards after the catch per reception (No. 2). The problem is 1) Anthony Firkser steals snaps and targets alike, and 2) Smith is this run-first offense's No. 3 (at best) pass-game option.
Hopefully the Titans prioritize scheming the ball to Smith at least a handful of times per game. The talent here is truly outrageous.
Get Jonnu Smith 3 carries per game @Titans pic.twitter.com/MRtV504dqb

— Ian Hartitz (@Ihartitz) July 31, 2020
The Titans boast three of the league's more-beastly talents in Derrick Henry, AJB and Smith. Their YAC numbers have been called unsustainable by some, but it's clear at this point that each of these big-bodied speedsters is a handful for any defender to get to the ground. Overall, only George Kittle has averaged more yards after the catch per reception than Smith at the position since 2010.
56 targets, 34 receptions, 310 yards, 4 TD; 9 carries, 85 yards 1 TD
Sims e the season on a 5-45-1, 6-64-2 and 5-81-1 tear as the only Washington WR not named Terry McLaurin to flash in 2019. He appears to be the favorite to earn the starting slot role and could feasibly finish as the team's No. 2 pass-catcher. He certainly showed enough explosive and big-play ability to warrant the opportunity.
Give the ball to Steven Sims and good things happen pic.twitter.com/YE5drjHpis

— Ian Hartitz (@Ihartitz) July 14, 2020
The pecking order in Washington behind McLaurin is incredibly murky; don't be surprised if Sims manages to see plenty of volume early in the season while the offense's new pieces are slowly integrated.