With the NFL's quarterbacks, offensive lines, wide receivers and tight ends all ranked, it's time for PFF to turn its attention to the backfield.
The NFL has moved toward more of a committee approach at running back, and many teams have at least two viable threats. Some teams will rank highly on the list due to their depth, while others are carried by one high-end player.
As is always the case with running backs, their production is very dependent on the situation around them, from playcalling to run blocking to the quality of the passing attack. Because of this, an individual's rushing production can fluctuate quite a bit from year to year. Here's a look at the best backfields in the NFL heading into 2020.
Subscribe to PFF's EDGE or ELITE subscriptions to get access to the following tools, charts, etc. 
– All Premium Article Content
– Fantasy Football Rankings & Projections
– Fantasy Football Draft Guide, Cheat Sheets & Advanced Stats
– Fantasy Football Mock Draft Tool (DraftMaster)
– Fantasy Football Strength of Schedule Matrix
– NFL Player Grades
– NFL Premium Stats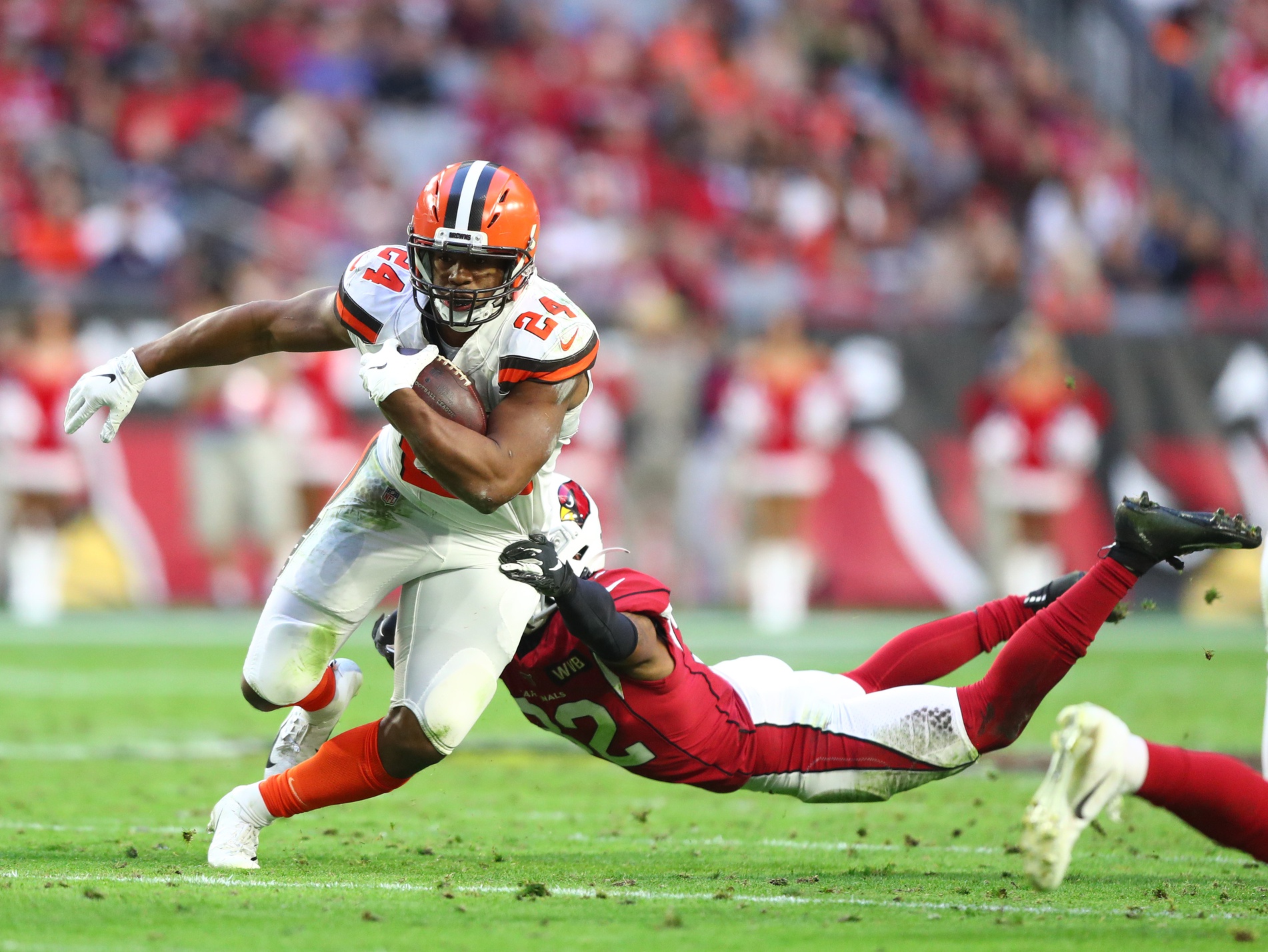 Nick Chubb has the highest overall grade (91.5) and rushing grade (92.1) among running backs over the past two years — he's been excellent at both maximizing his run blocking and creating big plays. Chubb ranks just 47th with 1.04 yards before contact over the past two years, but he's second in yards after contact (4.04). Chubb has also forced 0.32 missed tackles per reception, fourth-best during that time.
Chubb has become one of the most difficult runners to tackle and may be the best pure runner in the NFL. He's complemented by Kareem Hunt, another back who is difficult to tackle. Hunt led the league with 61 forced missed tackles as a rookie in 2017 and has two top-seven finishes as a runner in his three NFL seasons.
Hunt is also an effective receiver, forcing 41 missed tackles while hauling in 11 touchdowns on 119 career receptions. It's a five-way race for the No. 3 spot, led by Dontrell Hilliard, who has 51 career carries, but this unit is all about Chubb and Hunt — one of the best combinations in the NFL.
Over the last three seasons, Christian McCaffrey has shown that the definition of every-down running back has changed. McCaffrey is the only running back to play over 2,000 snaps over the last two regular seasons, and his 90.6 overall grade is No. 2 in the league. He's averaged 4.9 yards per carry in the run game, while he's also caught over 100 passes in each of the last two years en route to a receiving grade 93.3. McCaffrey gets the most of his underneath targets, and he has receiver-like route-running ability that can be used all over the field. He'll be the workhorse again in 2020.
The backup is Reggie Bonnafon, who saw only 68 snaps a year ago, though he did rip off a 59-yard run on one of his 16 carries. Former fifth-rounder Jordan Scarlett is also in the mix as a hard-nosed runner who averaged 3.9 yards after contact per rush in college and should be in line for more carries if the Panthers decide to give McCaffrey more of a break. This is one of the best backfields in the league, led by the best all-around threat in McCaffrey.
The Cowboys have had one of the better run-blocking offensive lines in the league over the past few years, and Ezekiel Elliott has been an excellent fit for their style. He's a gliding runner with good vision, all adding up to 4.6 yards per carry over his four-year career. Elliott doesn't force as many missed tackles as other top backs, but he's coming off career-highs in rushing grade (82.9) and yards after contact per rush (3.2).
His work out of the backfield has come in spurts, as he had catches of 72 and 83 yards in his first two years. And in 2018, he caught 83 passes on his way to a career-high 69.0 receiving grade. Last season, Dallas drafted Tony Pollard in the fourth round, and he got off to a great start with an 84.2 rushing grade and 5.3 yards per carry in 2019. He adds another pass-game element to take the pressure off Elliott. The Cowboys once again have one of the best running back units in the league.
Over the last two years, Aaron Jones has the No. 4 rushing grade (87.7) in the NFL, and he's tied for fifth in the percentage rushes that resulted in either a first down or touchdown (25.4%).
Jones has led the Packers to one of the most efficient rushing attacks in the league. He grasped the role as the top ball carrier, with 235 regular-season carries last season, and he's also graded at 82.8 as a receiver last season, good for eighth-best in the league.
The Packers drafted A.J. Dillon in the second round of the 2020 NFL Draft to add a 250-pound complement to Jones. Dillon is a good athlete who ran effectively and earned a 90.1 rushing grade last season, though he doesn't add much flexibility to the passing attack. However, Jones' 2017 classmate, Jamaal Williams, is still in the mix and is coming off an excellent year catching the ball, earning an 89.7 receiving grade and coming away with five touchdowns.
If the team's offseason moves are any indication, this unit will be featured heavily in 2020. And led by Jones, they have one of the best groups in the league.
The Saints have successfully run a two-back system in recent years, with Alvin Kamara the star, especially in the passing game. Kamara has been the second most valuable running back in the NFL since 2017, and his 59 receiving first downs rank fourth over the last two years. 
Kamara finished 10th in elusive rating last season after ranking first in 2017, which shows just how much he can create above and beyond what his teammates provide. He'll once again be joined by Latavius Murray, who graded at 73.9 last season while averaging a career-high 3.2 yards after contact per rush. Murray provides a nice change of pace from Kamara, and he even got in on the action with 14 missed tackles forced on 35 receptions last season. 
The wild card could be Ty Montgomery, a wide receiver/running back hybrid set to join an offense that knows just how to make the most out of a versatile skill set. Montgomery's best season came in 2016 when he graded at 76.0 overall while averaging 5.4 yards per carry and adding 425 yards through the air. His production has declined in recent years, but he's worth a look as a mismatch weapon in the Saints offense. 
Even with Kamara slowing down a touch over the last two years, this is one of the best running back rooms. They have a fine mix of talent to work into the offense in a variety of ways.
With a strong offensive line in place, Marlon Mack and second-round pick Jonathan Taylor are primed to benefit. Mack has been one of the best runners in the league since 2017, posting an 81.8 rushing grade and averaging an impressive 2.9 yards after contact per rush. He uses his above-average burst to get into the secondary and create big plays, as he has the 10th-highest percentage of breakaway (15-plus yards) runs since entering the league.
Taylor adds a nice complement as perhaps the best all-around runner in this year's draft class. He had an incredible three-year run at Wisconsin, grading at 95.3 as a rusher while averaging 4.2 yards after contact per rush. Like Mack, Taylor excels in any scheme, giving the Colts one of the NFL's most versatile duos from a run-game perspective.
The only question is in the pass game, where Mack has never graded above 53.8 and Taylor has the third-highest drop rate of NFL caliber running backs to come out in recent years. That's where Nyheim Hines is still useful — he has caught 107 passes over the past two years. The Colts have one of the best all-around backfields in the NFL.
Last season, Dalvin Cook showed what he's capable of when healthy, generating an 83.5 rushing grade that ranked fourth in the league during the regular season. He has one of the league's best combinations of power and burst, evident in his 4.5 yards per carry average over three years in the league. Cook is effective in the pass game, too, ranking second among running backs in screen yards in 2019. However, his eight drops and two fumbles marred his receiving grade for the year.
When healthy, Cook is right there with the top runners in the league. Behind him, 2019 third-rounder Alexander Mattison posted a 69.2 rushing grade and 4.6 yards per carry, while preseason sensation Mike Boone got into the action with 5.6 yards per carry on 49 attempts. The trio returns to give the Vikings one of the NFL's better backfields in 2020, led by Cook's big-play potential.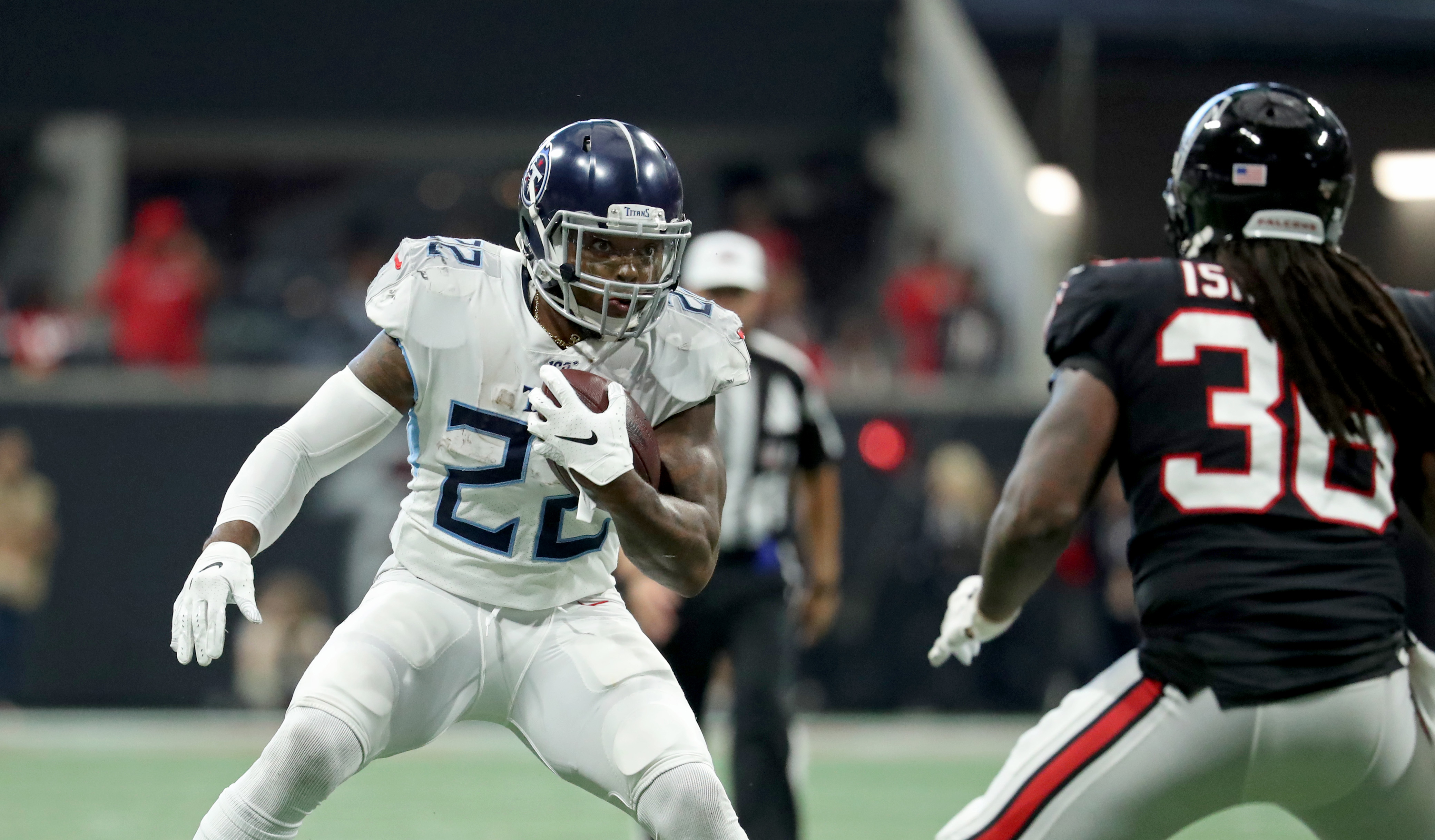 Last season, Derrick Henry took off once Ryan Tannehill took over at quarterback, and the Titans built an efficient rushing attack to complement one of the most explosive passing attacks in the league. Henry was a monster, averaging a league-high 4.2 yards after contact per rush. It took him a while to get going, but he finally started to run like a player with a 247-pound frame and a 4.54 40 time. He has an impressive 89.3 rushing grade since entering the league and has excelled as a one-cut runner who makes tacklers pay when trying to bring him down.
The backup spot will likely be manned by third-round pick Darrynton Evans, who is the opposite of Henry from a size standpoint but brings explosiveness and 4.41 speed to go with grades in the high 70.0s in each of the past two years at Appalachian State. The six players on the depth chart behind Henry have combined for just 28 NFL carries, so this looks like another bell-cow season for Henry.
The Ravens have extracted high-end production from multiple running backs over the last two years, with Gus Edwards averaging 5.2 yards per carry in 2018 to Mark Ingram II averaging 5.0 last season.
Ingram runs downhill with a violent style that fits Baltimore's run-first approach, and his 0.19 missed tackles forced per attempt ranked 14th in the NFL in 2019. He was also the top-graded receiver among Ravens running backs last season, grading at 78.0 to rank 11th among qualifiers.
Edwards is once again back in the mix, and he may have found a sweet spot as a complementary piece after tallying 136 carries in 2018 and 145 last season. He'll compete with 2020 second-rounder J.K. Dobbins, who is a strong all-around prospect who has the vision, cutting ability and pass-game acumen to make an immediate impact. Dobbins may be used more in the passing game right away, but was a big-play machine on the ground in college, with his 31 carries of 15-plus yards leading the nation last season.
Justice Hill rounds out the group, and while he did not show well as a rookie, he's sitting on 4.4 speed that is a scary proposition if deployed within this Ravens offense. Baltimore made a strength even stronger this offseason, and they added even more versatility to the offense with the addition of Dobbins.
Few running backs have the big-play potential of Saquon Barkley, as he can seemingly take it to the house at any time. Last season, he was unable to sustain the breakaway runs that defined his rookie season — he had seven 40-plus-yard carries that season — but such is the volatile nature of running back production. Barkley still must improve when it comes to just taking what is there, but one of these years the Giants' run blocking will improve, and he could go off for a monster statistical season. Most importantly, though, Barkley is a weapon in the passing game, and he's forced 42 missed tackles on only 143 career receptions so far.
The Giants also add Dion Lewis into the mix. Lewis is another elusive back who is coming off a 59.8 overall grade with the Titans, a career-low mark. He is capable of taking some of the pressure off Barkley when it comes to catching passes out of the backfield, however, as the former Patriot has two seasons in which he forced at least 15 missed tackles after the catch. Wayne Gallman then rounds out the group as the No. 3 option who is set to enter the last year of his rookie contract.
Barkley is one of the league's best all-around running backs, so if Lewis can return to past form, this duo could give the Giants one of the most dynamic units in the league.
Rookie first-rounder Josh Jacobs produced a rushing grade of 86.9 last season, the second-best rushing grade in the league. He led the league with a total of 69 missed tackles forced as a rusher, as well.
Jacobs rejuvenated the Raiders' rushing attack, and he may have even more to offer as he showed excellent receiving skills at Alabama but was only targeted 26 times last season. Jacobs always made defenders miss when given an opportunity in the committee approach at Alabama, and his rookie season was no different.
He'll be backed up by Devontae Booker, who has earned a rushing grade of just 60.1 since entering the league in 2016. An intriguing player to watch here, though, is third-rounder Lynn Bowden Jr., who was mostly a wide receiver in college but did a fine job filling in at quarterback last year for Kentucky. Bowden's slashing running style brings a different dynamic to the backfield, and he averaged 8.2 yards per carry last season while forcing 55 missed tackles. His development could take this backfield to the next level, but with Jacobs as the anchor, the Raiders' running back unit are still one of the league's best.
Phillip Lindsay was an excellent find as an undrafted free agent and has ranked in the top 10 among rushers in each of the last two seasons. Over that period, the 190-pounder has earned a zone-rushing grade of 85.3, the third-best grade among backs in that span. He's also recorded zero fumbles across 416 attempts.
The Broncos also added Melvin Gordon III to the mix after a holdout and a disappointing season that resulted in a 66.0 grade and only 3.8 yards per carry. Surprisingly, Gordon has averaged less than 4.0 yards per carry in four of his five years in the league, with his 2018 season sticking out as by far his best. That year, Gordon graded at 83.6 overall and even ranked second in the league in rushing grade, at 89.4. 
Denver will have a top-five backfield if it gets the 2018 version of Gordon, but the rest of the former Charger's career projects him as a mid-level option.
The two are joined by Royce Freeman, who has graded in the 60s in his two years in the league, though he has earned a somewhat impressive 68.1 rushing grade. He hasn't quite developed into the every-down back he looked like early in his career at the University of Oregon. He's a fine complementary piece, albeit one who will struggle to find touches with Gordon in the mix.
Melvin Gordon's departure means that there will now be more opportunities for Austin Ekeler to shine. Ekeler re-signed to a multi-year deal this offseason, and he has the fifth-best overall grade among running backs since 2017, at 90.4. Most importantly, Ekeler also has the top receiving grade (94.0) at the position. He's been outstanding with the ball in space and can create mismatches all over the formation.
Backup Justin Jackson has shown well in his two years, and he averaged 6.9 yards per carry on his 29 attempts last season. The Chargers also add fourth-rounder Joshua Kelley, who has sub-4.5 speed but mediocre college production.
This unit will come down to whether Ekeler and Jackson can handle a bigger workload after producing in part-time roles. 
Few running backs have made defenders miss more often than Chris Carson, who has forced 0.20 missed tackles per rush in his three years in the league, 10th-best in the NFL during that time. Carson has made the most of subpar run blocking, averaging 3.4 yards after contact in his career and running equally well in both gap and zone schemes.
On the downside, Carson's eight fumbles tied for the worst single-season total by a running back this decade, though that high fumble rate should return to normal in 2020.
The backup job will be Carlos Hyde's, at least until Rashaad Penny is healthy after tearing an ACL late last season. Penny has averaged 5.3 yards per carry on just 154 rushes, though that has been aided in part by a few breakaway runs. Overall, he hasn't really contributed as hoped after being drafted in the first round of the 2018 draft.
Hyde ran well last year for the Texans — his fourth team in three years — and he earned the highest rushing grade of his career (77.2) as a result. He'll provide little in the passing game — he's earned a career's worth of below-average receiving grades — but he can spell Carson if he runs as he did last season.
Seattle also adds fourth-rounder DeeJay Dallas to the mix, a former receiver who could contribute in the passing game. The Seahawks have a solid group of running backs that is made even better if Penny is healthy and given more opportunities. 
It wasn't exactly the plan, but the Lions had four different runners with at least 200 yards on the ground last season, with Kerryon Johnson leading the way (403). Johnson had a strong start to his career in 2018, grading at 80.9 overall and averaging 5.4 yards per carry to go with an excellent performance in the passing game. However, Johnson has been limited by injuries in his two years and the Lions were active in the running back market prior to the draft, landing D'Andre Swift out of Georgia in the second round.
Swift was the top running back on the PFF Big Board due to his receiving ability that will be featured right away in Detroit's offense. If Johnson is healthy, he and Swift will make a solid three-down duo. Bo Scarbrough returns as the No. 3 option after averaging an impressive 3.2 yards after contact per rush on 89 carries last season, while 2019 sixth-rounder Ty Johnson put up similar numbers on his 63 carries. The Lions have invested two second-round picks in three years at the running back position, and it will come down to Johnson's health and Swift's pass-game acumen to determine if it pays off.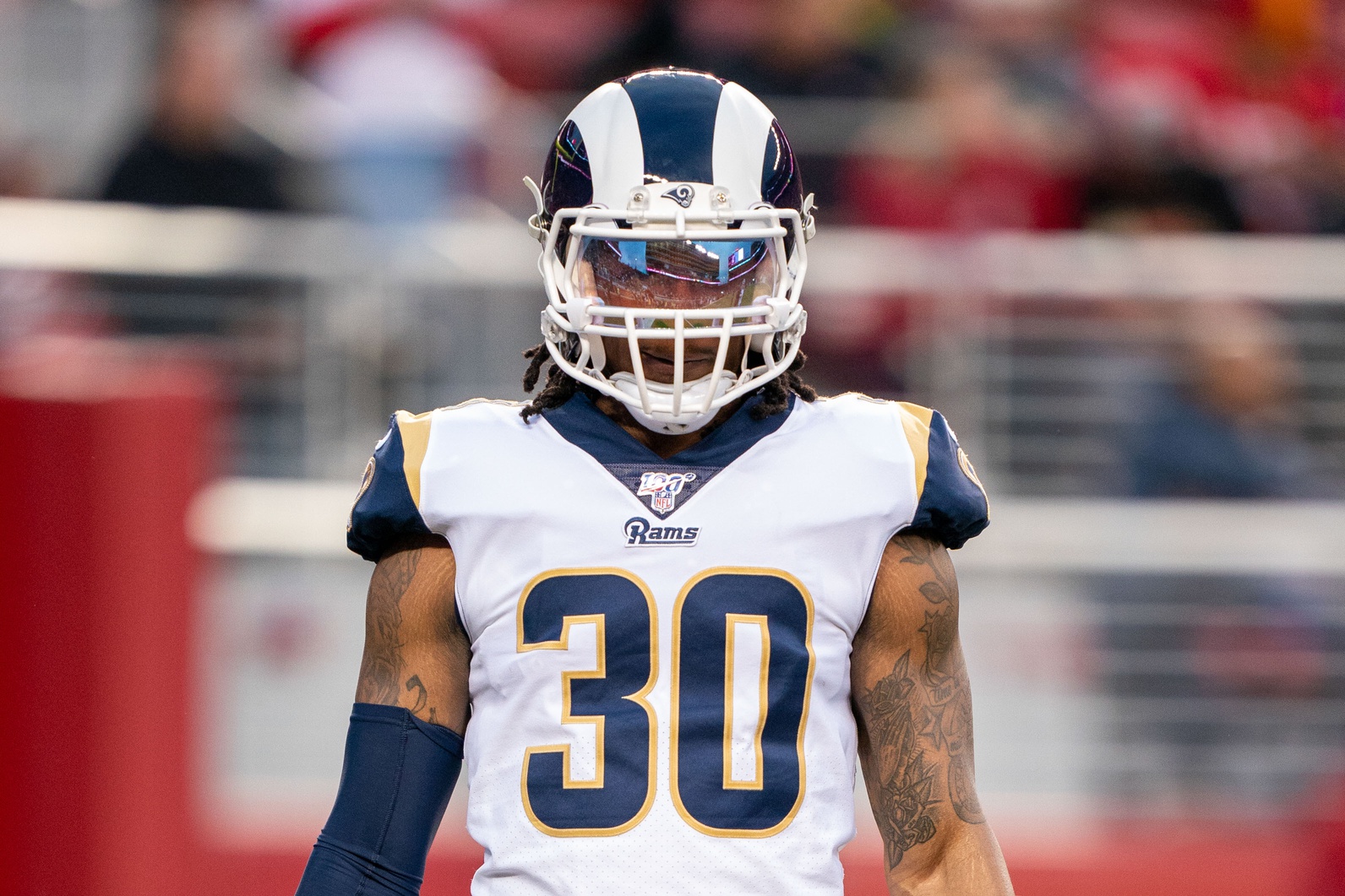 Devonta Freeman is moving on, and Todd Gurley II is moving in. The Falcons' coaching staff will be looking to reclaim the old Gurley, one of the league's best zone runners and a legitimate passing-game threat at his peak with the Rams. The former first-rounder has earned a 90.4 rushing grade on zone runs over the last three years, eighth-best among 145 qualifying running backs over that period. 
Freeman saw his production drop off in accordance with the Falcons' offensive line regression last season, and that's a familiar scene for Gurley, whose rushing production was directly correlated to the quality of his run blocking during his time with the Rams. 
After Gurley, Brian Hill is next in line for carries, and he does a fine job of running through contact. He's averaged 3.0 yards after contact per rush in his three seasons in the NFL. Ito Smith is also in the mix after showing some elusiveness with 24 missed tackles forced on only 112 attempts, 17th-best in the league over the last two years.
The Chiefs have rotated through productive running backs in recent years, and now they add first-rounder Clyde Edwards-Helaire. The former Tiger forced 0.29 missed tackles per attempt throughout his LSU career, second-best among all NFL-caliber running backs since we started grading in 2014. Edwards-Helaire is also proficient in the passing game, both before and after the catch, adding yet another weapon to a deep Kansas City offense.
The young rookie will battle Damien Williams for snaps, though Williams has had two productive seasons in the Chiefs' offense. His 63.6 elusive rating ranked 12th among running backs last year.
Darwin Thompson also played just 130 snaps as a sixth-round rookie last year after playing only 426 FBS snaps in his one year at Utah State. He's an athletic work in progress.
Expect Edwards-Helaire and Williams to share the workload for the Chiefs as this unit continues to produce as a part of one of the NFL's most outstanding offenses.
New England's backfield committee remains intact for the second straight season. Former first-rounder Sony Michel led the team in carries for the second straight season and posted a 66.6 rushing grade that ranked 40th including the playoffs. Michel has not been as dynamic as expected, forcing just 0.13 missed tackles per attempt — which ranks 42nd out of 57 qualifiers over the past two years. He also has a disappointing 43.7 receiving grade.
James White is the top pass-game threat out of the backfield, ranking third among running backs in both receiving grade (90.5) and yards per route run  (1.91). Rex Burkhead has cycled between feature back and receiving back in his three years in New England, all adding up to a 70.6 overall grade that ranks 50th during that span. The top three have defined roles, whereas 2019 third-rounder Damien Harris will try to steal some playing time after seeing just five snaps as a rookie last season.
New England also uses a fullback more than most teams, and they've brought in Danny Vitale to assume that role, but he graded at just 49.3 last season on 170 snaps with the Packers. The Patriots have their usual array of role players in the backfield, though they could use a more dynamic threat to challenge opposing defenses.
No system highlights the importance of scheme and playcalling for rushing production like the Shanahan system. And Kyle continued its evolution last season, as a more versatile scheme led to three different running backs going over 500 yards during the regular season.
Raheem Mostert led the way. After making his name on special teams for four years, Mostert broke out to post the fourth-best rushing grade in the league last year (83.3) while averaging 5.8 yards per carry and forcing 46 missed tackles on 190 rushes. Mostert has angle-changing speed, and that's even more valuable when the system puts the running back into space as often as it does.
Tevin Coleman has impressive speed of his own, and while he wasn't as successful as Mostert, he posted the highest rushing grade of his career (71.3) in his first season in San Francisco last year. He and Mostert tied for the team lead with 180 receiving yards, and they will likely be the top pass-catching options once again unless Jerick McKinnon finally makes it back onto the field. McKinnon hasn't taken a snap in either of the last two years after signing a four-year, $30 million contract, but he earned the ninth-best receiving grade in the league among running backs (83.6) in 2017. Jeff Wilson Jr. also returns after producing a solid 70.4 overall grade on 64 snaps a year ago.
And of course, we can't forget about fullback Kyle Juszczyk, one of the last remaining hopes for the PFF fullback pages in Premium Stats 2.0. The highest-graded fullback in three of the last four years, Juszczyk has averaged over 10.0 yards per reception over the last two years, as the 49ers do a great job of getting him into space and reminding defenses that they must defend the entire field.
Expect another committee approach with the running backs in San Francisco this season. 
Eagles running backs have been playing behind one of the best run-blocking lines in the league over the past few years, and last season was no different. Rookie second-rounder Miles Sanders took advantage to the tune of 4.5 yards per carry, though two fumbles and two botched mesh-point handoffs hurt his overall grade. Sanders adds a strong receiving element, too, as he graded at 74.7 while averaging 10.2 yards per reception last season.
Backup Boston Scott finally had a chance to show off the skills that made him so difficult to tackle when coming out of Louisiana Tech in 2018. Scott picked up the slack down the stretch of the 2019 campaign and did his best work in the pass game, where he earned an 85.3 receiving grade and forced eight missed tackles on 27 catches. Expect more from Scott catching the ball out of the backfield this season.
Corey Clement is a depth piece who played just three snaps last season. He did his best work as a rookie in 2017 with a 74.1 overall grade. The Eagles have a solid group of backs, including multiple options who can help in the pass game.
Le' Veon Bell kicked off the first year of his four-year contract with a 73.8 overall grade, good for 21st during the regular season. Nothing sums up the running back's dependency on their run blocking than Bell averaging 3.2 yards per carry with a 69.9 rushing grade just one year after averaging 4.0 yards per carry with a 67.7 rushing grade.
The Jets had the third-lowest run-blocking grade in the league last year, and it affected Bell's production. But as a receiver, Bell still provides mismatch opportunities when he's split out wide, and he posted a strong receiving grade of 77.3 last season, 11th-best in the NFL.
The Jets also added the ageless Frank Gore as a backup. The 16th-year veteran has averaged over 4.0 yards per carry just once since 2014, so expect him to be at the mercy of the playcall and the run blocking even more than most at this stage of his career.
Fourth-round pick Lamical Perine will compete for snaps after averaging an impressive 3.7 yards after contact per rush in college last season, while veterans Kenneth Dixon, Josh Adams and Trenton Cannon round out the depth chart. This unit depends on Bell returning to his Steelers form as an every-down mismatch weapon.
Last season, Joe Mixon continued his progression into more of a bell cow, ranking fifth in the league with 278 carries and finishing with the No. 14 rushing grade among running backs with at least 150 carries.
Mixon's vision and burst have helped him create breakaway runs (runs of 15-plus yards) at the 14th-best rate among 71 qualifiers since 2017, but his production has been hurt by the Bengals ranking as a bottom-eight run-blocking unit in each of his three seasons. Mixon has three strong years of grading under his belt, and he'll be even more dangerous with improvement up front.
Giovani Bernard returns as the backup, and he'll be looking to return to normalcy after he had his string of four high-60s grades broken up by a 51.8 mark over a 2019 season that saw him fumble four times on just 83 touches. A pair of 2019 sixth-rounders, Trayveon Williams and Rodney Anderson, will then compete for snaps behind Mixon and Bernard.
Mixon has developed into one of the league's best backs, and the Bengals have solid depth assuming a bounce-back season from Bernard.
James Conner replaced Le'Veon Bell's production nicely in 2018, averaging 4.5 yards per carry and posting a 74.8 rushing grade. Last season, Conner's rushing grade dropped to 66.8 and he averaged 4.0 yards per carry. Backup Benny Snell Jr. posted near-identical numbers with a 65.8 rushing grade and 3.9 yards per carry. Both players return as the one-two punch, with fourth-round pick Anthony McFarland Jr. set to compete for carries.
McFarland has big-play ability, as he ran a 4.44 at the combine and averaged 7.9 yards per carry in 2018, but he had just a 70.3 overall grade at Maryland last season. Conner is the best bet to produce in the pass game after his 89.8 receiving grade ranked third and he broke 19 tackles after the catch, tied for fourth. He'll get the first shot to be the every-down back, but splitting up the carries may be the best option to make use of Conner's receiving ability out of the backfield.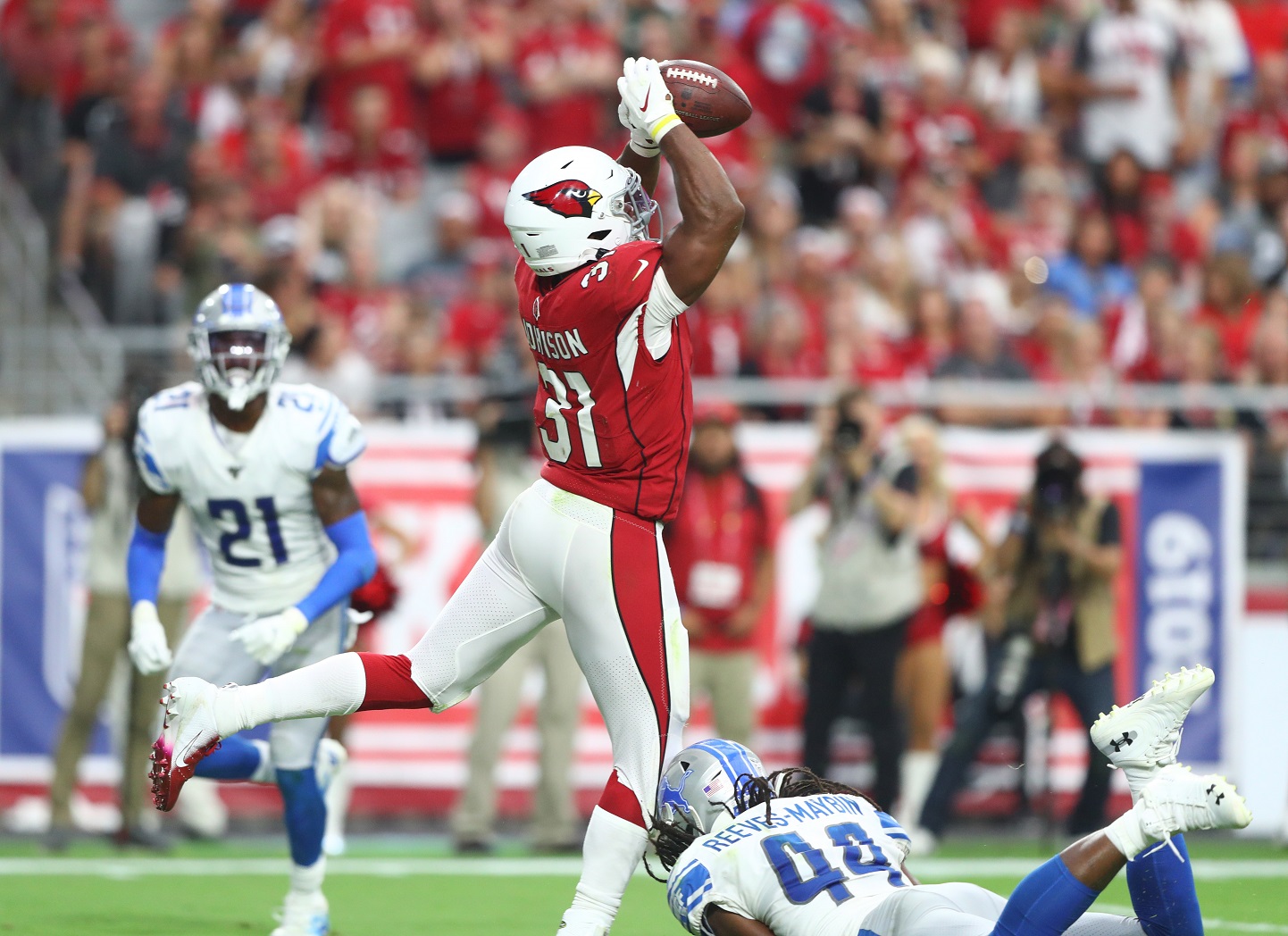 The Texans acquired running back David Johnson as a part of the DeAndre Hopkins trade, and the team will hope to rejuvenate Johnson's career as one of the best all-around backs in the league. Johnson did his best work in 2016 when he led the way with a 90.0 receiving grade, and he had 263 more receiving yards than any other running back. However, we haven't seen that level of play from him in a while, and he's been in and out of the lineup over the last three years while failing to rush for at least 4.0 yards per carry during that time.
Duke Johnson Jr. is the top returning running back, as he posted an 82.3 rushing grade to go with 3.8 yards after contact per attempt last season. Over the last three years, Duke has forced 0.25 missed tackles per attempt, second-best in the NFL, while ranking fifth among running backs with an 88.4 receiving grade. He could be in line for even more touches, especially given the difficult-to-cover playmakers the Texans have at wide receiver.
The rest of the depth chart is rounded out by relative unknowns in Buddy Howell and Karan Higdon. If David Johnson gets back to form, this is one of the best running back rooms in the league. But regardless of his performance, keep an eye on Duke Johnson, as he's been one of the most productive backs since entering the league in 2015.
Last season saw the Bears go with rookie third-rounder David Montgomery as the lead back, and he finished with a 65.3 rushing grade and just 3.7 yards per attempt. A broken tackle machine in college, Montgomery showed off some of that prowess with 47 forced missed tackles in 2019, though it didn't translate to rushing production behind one of the worst run-blocking units in the league. While Montgomery does not have breakaway speed, he does have the skill set to maximize runs, and he should be more effective in Year 2.
Tarik Cohen is the more versatile option. He's a Swiss Army knife who lines up all over the formation. However, the ball was forced to him too often last year, and he caught 77 passes for just 456 yards at a pedestrian average of 5.8 yards per reception. Montgomery and Cohen should make for an effective duo, and with better production around them, they are in line to bounce back in 2020.
The situation at running back will be determined by how much Adrian Peterson has left at age 35. He carried a heavy workload last season, totaling 211 carries and earning a 69.7 rushing grade to go along with a 4.3 yards per carry average. He's still an effective runner, but he's not the same dynamic big-play threat that he was earlier in his career.
Former second-rounder Derrius Guice showed the flashes that made him a home-run threat coming out of LSU, as he averaged 5.8 yards per carry on his 42 rushes. He's battled injuries in his first two years in the league, but he should steal more touches if he's healthy in 2020.
The wild card is third-round pick Antonio Gibson, a running back/wide receiver hybrid who could become one of the team's best playmakers. Gibson averaged a ridiculous 11.2 yards per carry and 19.3 yards per reception in his hybrid role at Memphis last year, and Washington will do everything they can to get his 4.39 speed on the field.
While Peterson remains solid, Washington's running back situation has big-play potential because of Guice and Gibson.
The Bills have spent a third-round pick on a difficult-to-tackle running back in each of the last two years. The team drafted Devin Singletary in 2019 and Zack Moss in 2020, two players who rank among the best we've ever seen when it comes to breaking tackles.
Singletary's 76.6 rushing grade tied for 14th last season, and he forced 0.25 missed tackles per attempt, second-best in the league. Moss has a similar college profile as Singletary, ranking just above him with 0.30 missed tackles forced per attempt during his college career.
Both Singletary and Moss ran in the 4.6-second range, so while the big plays may not be there, they could become one of the league's best tackle-breaking duos. T.J. Yeldon is also in the mix, though his rushing grade has regressed every year after a promising start to his career in 2015.
A midseason trade for Kenyan Drake worked out for both sides, as he averaged 5.3 yards per carry after only averaging 3.7 in his first six games with the Dolphins. Drake has the burst to make do when given space to run, and that's exactly what happened in Arizona's spread-heavy system. 
Backup running back Chase Edmonds also averaged over 5.1 yards per carry last season, posting a strong 76.3 rushing grade. Most importantly, Cardinals running backs averaged 2.06 yards before contact per rush last season — second-highest in the NFL — so that spread rushing attack is off to a good start despite the run-blocking grades not matching the production. 
The Cardinals also added seventh-round pick Eno Benjamin, another tackle-breaker with the big-play potential to benefit from the system. The big question heading into 2020 is whether Drake's production continues and if the Cardinals can get more out of the passing game from their top backs.
Ronald Jones took a step forward last year after a rough rookie season, ending the year with a 67.6 overall grade. Jones showed more of his college elusiveness than he had in years past, as he forced 0.20 missed tackles per attempt — 10th-best out of 47 qualifiers — though he fumbled three times on only 172 attempts.
Jones graded at only 59.8 as a receiver, though, so that put the Bucs in the market for a pass-catching back this offseason. They drafted Ke' Shawn Vaughn out of Vanderbilt in the third round, and he may be a solid option in that department after forcing 15 missed tackles on 66 career receptions. Vaughn gained an impressive 4.4 yards after contact per rush over his last two years in college while forcing 0.27 missed tackles per attempt. His receiving ability could give him the upper hand for early snaps if he takes to the offensive system.
The other player to watch is seventh-rounder Raymond Calais, an undersized breakaway threat with 4.42 speed. Calais averaged 7.9 yards per rush on his 232 career college carries, so the Bucs would love to get his athleticism on the field.
Dare Ogunbowale also returns after posting a 60.3 grade across 362 snaps last season. The Bucs need pass-game production from the rookies and another step in the right direction from Jones in order to rank in the top half of the league's running back units.
With Todd Gurley II out of the mix, the big question is who will take on the bulk of the work in the Rams' backfield.
The team drafted Cam Akers in the second round after a productive career at Florida State despite poor run blocking. Akers gained just 1.16 yards before contact per rush in his college career, the lowest number of any NFL-caliber runner since 2014. He also forced a solid 0.25 missed tackles per attempt, so he could produce right away if the offensive line gets straightened out. Akers will compete with Malcolm Brown, who graded at 64.4 overall last season while forcing 13 missed tackles on 69 carries. He's been a viable backup option during his five years with the Rams.
The wild card is 2019 third-rounder Darrell Henderson, who carried the ball only 39 times at 3.8 yards per carry last season, but he looked like an explosive threat and a good scheme fit coming out of Memphis. If he can take a step forward, it forms a solid 1-2 punch with Akers. Until then, the Rams enter the season with as many question marks as any running back unit in the league, though there's plenty of potential to create new stars if the offensive system gets back on track.
Despite rumors that he was on the trading block, Leonard Fournette returns as the Jaguars' top ball-carrier. Despite the perception that a Fournette-led rushing attack was a catalyst for the Jaguars' 2017 AFC Championship run, the reality is that Fournette's rushing grade has landed in the 60.0s in all three of his NFL seasons and that his 2017 campaign was the worst of the bunch.
He did take a step forward last season with a career-high 3.34 yards after contact per rush while forcing 42 missed tackles, but since entering the NFL, Fournette has ranked in the bottom half in creating for himself. Last season, he caught 76 passes, but that netted him just 522 yards (6.9 yards per reception) and a 65.4 receiving grade. Fournette does not add a dynamic element to the passing attack.
However, Chris Thompson has caught the ball well out of the backfield, peaking with an 89.9 receiving grade in 2017. Thompson likely takes on some of the pass-catching duties for the Jaguars this season. The rest of the depth chart includes Devine Ozigbo and Ryquell Armstead, who combined for 44 carries as rookies last season. Fournette must build on last year's effort and Thompson must regain his pass-game magic to get this group into the top half of the league.
The Dolphins have had the worst team run-blocking grade in four of the past five years, so it's no surprise to see the lack of rushing production in recent seasons. Last year, Mark Walton led Miami running backs with just 201 yards. The Dolphins got just 829 yards from their running backs, the lowest total in the league, leading to the offseason additions of Jordan Howard and Matt Breida to revamp the run game.
Howard is one of the league's better zone runners, and he's created a solid 2.8 yards after contact per attempt in his career. Howard does not add much as a receiver, but he should be an effective early-down runner. Breida adds a big-play element, as he's averaged 4.9 yards per carry in his three NFL seasons. The one caveat is that Breida averaged 2.4 yards before contact during that time, the second-best mark among 70 qualifiers. Kalen Ballage is also competing for carries, though he's graded in the 50.0s in both of his NFL seasons.
Rookie seventh-rounder Malcolm Perry was one of the best option quarterbacks in college football, and he'll make the transition to running back in the NFL. While Miami is still in the bottom tier of running back units, it has a unique group of skillsets that should help increase rushing production this season.