There are two sides to the coin when you try to determine how the NFL's rookies will fare without a preseason and with limited offseason workouts.
On the one hand, the lack of meaningful reps in the lead-up to their first NFL season will hurt the young players' chances to make contributions early. Coaches will default to the guys they know — giving veterans the snaps early in the season, even if they don't bring quite the same talent level to the table.
Alternatively, we've already seen multiple players opt out of the 2020 NFL season, and when things do get underway, there's a heightened chance that key contributors could miss time due to illness or injury. That means doors could open for those very same rookies to show what they can do out of necessity.
Time will tell which of those sides wins out, but few teams are talented and deep enough not to need any contributions from their rookie class. Here's what every team needs to see this upcoming season.
Subscribe to PFF's EDGE or ELITE subscriptions to get access to the following tools, charts, etc. 
– All Premium Article Content
– Fantasy Football Rankings & Projections
– Fantasy Football Draft Guide, Cheat Sheets & Advanced Stats
– Fantasy Football Mock Draft Tool (DraftMaster)
– Fantasy Football Strength of Schedule Matrix
– NFL Player Grades
– NFL Premium Stats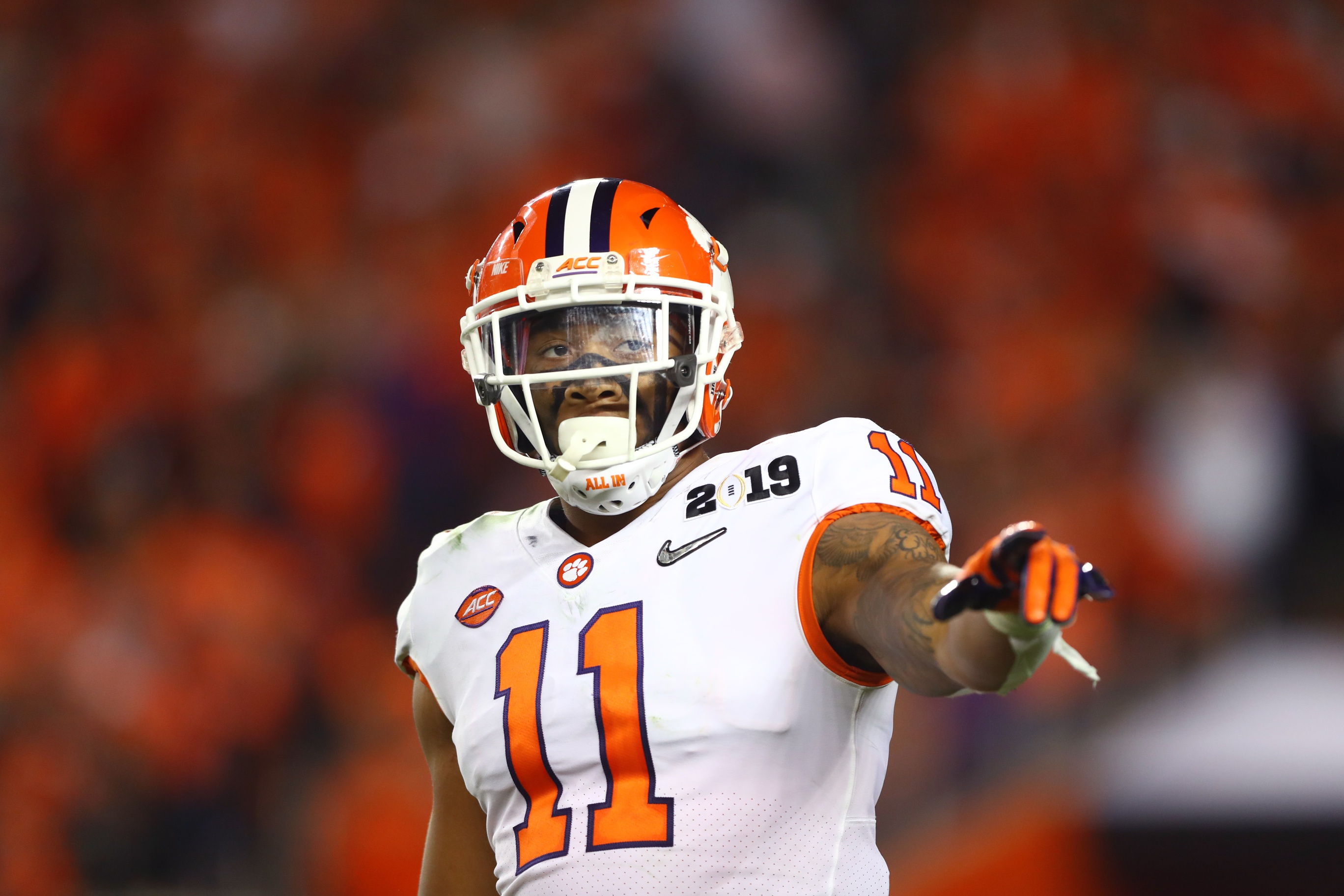 The Cardinals' struggles covering tight ends were well documented this past season, and those struggles really extended to the entire middle of the field. Arizona posted the lowest team coverage grade in the NFL on passes targeted between the numbers, allowing a 122.1 passer rating on those throws (second-worst in NFL). 
Simmons has a rare combination of size and athleticism that should pay immediate dividends in the Cardinal's effort to improve their coverage over the middle of the field. Here are a few of the "pros" that PFF's lead draft analyst Mike Renner gave Simmons in the PFF Draft Guide:
Manned up on slot receivers and held his own. Make-up speed to run with anyone down the field. 

Oily hips. Difficult to see a tight end ever beating him up the seam. 

Height and wingspan to shut down passing lanes in the middle of the field and break up passes. 
There's a reason he put up back-to-back coverage grades of 88.0 or higher in a diverse role on Clemson's defense, and it's that play that Arizona needs from Simmons as a rookie.
---
The Falcons were a bottom-10 pass defense during the 2019 season, both in EPA per play and PFF coverage grade. And then they lost  Desmond Trufant, their top outside cornerback, to the Detroit Lions in free agency.
Atlanta will be hoping that young guys like Isaiah Oliver and Kendall Sheffield continue to develop, but those two put up coverage grades of 54.5 and 48.9, respectively, this past season. There's a good chance that the Falcons will be relying on their first-round pick out of Clemson to contribute early in a starting role out wide. 
Terrell certainly has the length and speed that you want from an NFL starting cornerback, and he has the fluidity to his game to match receivers in man coverage. That physical profile is paired with a solid grading profile at the collegiate ranks, as well. Terrell earned coverage grades of 80.0 or higher in each of the past two seasons with Clemson. The biggest question is how he'll handle the increased physicality of the NFL game, particularly at the catch point. It's something that will likely be put to the test early in Atlanta.
---
Baltimore Ravens: The young linebackers provide splash plays in the middle of one of the league's best defenses
The Ravens came into this offseason with a hole at off-ball linebacker. They attacked that need in the 2020 NFL Draft, selecting LSU's Patrick Queen in the first round and Ohio State's Malik Harrison in the third round. The two profile as different types of linebackers — Queen serving as the sideline-to-sideline player with unteachable athletic tools and explosiveness while Harrison is more of your old-school linebacker in terms of both size and ability to get downhill and defend the run. They'll likely both get the chance to contribute early.
As we saw with Devin Bush and Devin White this past season, you often see the brilliance in splashes from talented rookie linebackers before the consistency comes. It takes time to nail down the intricacies of zone coverage in the NFL, but good football players tend to have a nose for the ball — and that generally translates quicker to the pro game. Perhaps it's Queen breaking on an in-route for an interception, or maybe it's Harrison getting home on a blitz for a big sack. Those are the kinds of difference-making plays that Wink Martindale will hope to see from his young linebackers — a precursor to what Baltimore hopes is a fruitful pairing for years to come.
---
Buffalo Bills: A.J. Epenesa shows he can win as a pass-rusher without elite athleticism
The Bills were one of those teams that didn't have many glaring weaknesses heading into this offseason, meaning that it's a tough roster for rookies to crack. It's unlikely that any of their first-year players draw starting jobs, but Epenesa should at least see a significant run in a rotational capacity along the Bills' defensive line throughout the year. 
Poor testing numbers at the 2020 NFL Scouting Combine sunk Epenesa's draft stock in the lead-up to the draft, but the Bills were the beneficiary of his slide. Despite less-than-ideal explosiveness of the edge, Epenesa was able to consistently win as a pass-rusher at Iowa — posting PFF pass-rushing grades of 85.0 or higher in each of the past two seasons — with a combination of size, flexibility, power and hands. Whether it be off the edge or kicking inside as an interior rusher, the Bills would like to see him put those athleticism questions to rest early with some strong performances.
---
Carolina Panthers: The Carolina defense doesn't finish the 2020 season among the league's worst thanks to several strong rookie performances
Few defenses look worse on paper right now than the Panthers' defense. The glaring loss is that of Luke Kuechly at linebacker, but there are plenty of holes in the back seven beyond that off-ball linebacker role. Both players in their projected starting cornerback tandem — Donte Jackson and Eli Apple — are coming off 2019 seasons in which they posted sub-60.0 PFF coverage grades. There's a potential that Jeremy Chinn — a safety out of Southern Illinois with athleticism to burn but is still very much a project — is called into action early. To a lesser extent, that chance exists with mid-to-late round selections such as Troy Pride Jr. (likely in the slot) and Kenny Robinson in the secondary, as well. 
Derrick Brown and Yetur Gross-Matos will be of particular interest to the Panthers' front office and coaching staff. Both are players who have the ability to be dominant but had some concerns from us here at PFF coming out. Can Brown be more than a dominant run-stuffing defensive tackle in the NFL? Can Gross-Matos turn his dominant physical tools into dominant on-the-field production? Carolina will be hoping both guys answer that question with a resounding "yes" as rookies.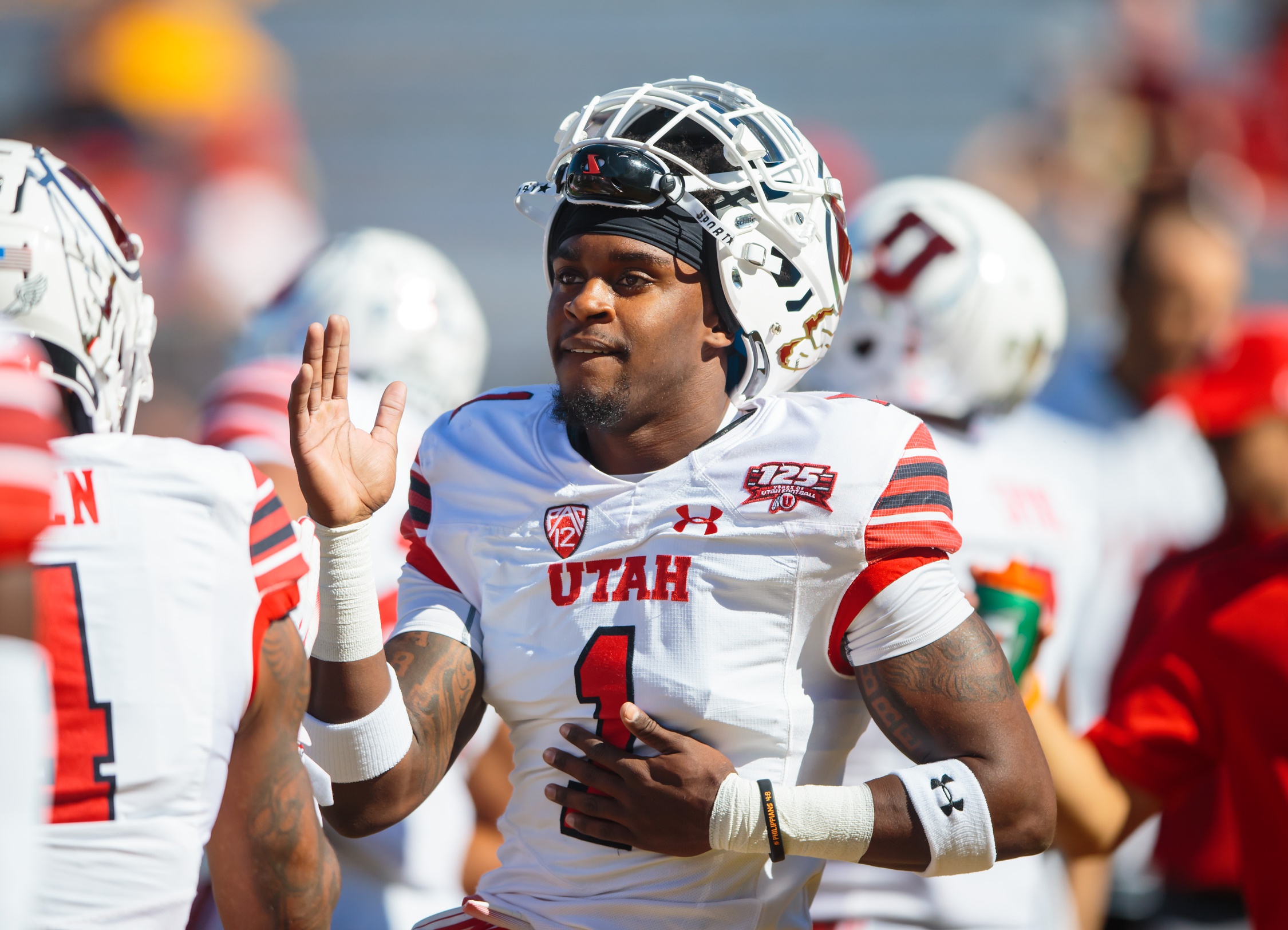 The Bears are well-positioned to have one of the league's best defenses in 2020, but the play of Johnson in his rookie season is a potential roadblock to that outcome. There's good reason to believe Johnson's addition has a better chance of helping Chicago's defense than hurting it, however. PFF's Anthony Treash outlined why PFF had the Utah cornerback as a top-25 prospect in the 2020 NFL Draft earlier this offseason, highlighting his attention to detail in film study and instincts as big reasons for his success. Over his three-year career with the Utes, Johnson allowed just 49% of the passes into his coverage to be completed. 
It may be optimistic to expect that kind of result from Johnson as a rookie this season, but simply providing similar play to what they lost from Amukamara would be considered a win for Chicago in Year 1.
---
The general public's expectations for Burrow in his rookie season are probably too high, which is probably the only downside to his historically great 2019 college season.
This is a team that just went 2-14 last season, and they even had some luck along the way to reach that record. Granted, Burrow will have plenty of weapons on offense between a (hopefully) healthy A.J. Green, Tyler Boyd, contract-year John Ross, fellow rookie Tee Higgins and Joe Mixon. Also going for Burrow is the fact that he is — by all accounts — good at football. You don't put up a 94.1 passing grade in the SEC and lead the way in PFF's accuracy-charting metrics despite throwing the ball 10 yards downfield on average without that being the case. 
The glaring hole on Cincinnati's offense is the offensive line. It was among the league's worst units in 2019, and they didn't make any significant additions to it this offseason other than the built-in addition of 2019 first-round pick Jonah Williams from injury. As it says in the PFF Draft Guide, Burrow was unfazed in the pocket this past season at LSU, stepping into deep balls with bodies collapsing around him. He'll have to show a similar ability to maneuver a collapsing pocket as a rookie in Cincinnati for this offense to have success. If that is what transpires, it's hard not to see it as the start of something big for the Bengals.
---
Cleveland Browns: Jedrick Wills doesn't look out of place as the team's starting left tackle
The Browns had problems at tackle in 2019, and they overhauled the position this offseason — signing former Tennessee Titans right tackle Jack Conklin in free agency and drafting Alabama Crimson Tide right tackle Jedrick Wills in the first round of the 2020 NFL Draft. The obvious problem is that the word "right" shows up twice in the previous sentence.
Per ESPN's Jake Trotter, Browns general manager Andrew Berry pointed out after the selection of Wills that "there's going to be some physical re-programming" but also stated Wills has the feet and athletic ability to be a left tackle.
He wasn't lying about his athletic ability. Wills' jumps at the 2020 NFL Scouting Combine tell you all you need to know about the kind of explosive athlete he is, something that should translate immediately in the run game in Cleveland. His 90.5 run-blocking grade at Alabama was one of the best marks in the country. The bigger question is how quickly he gets his footwork and hand placement down in pass protection at left tackle. There will be an adjustment period; the Browns will just be hoping it's a short one.
---
Dallas Cowboys: Trevon Diggs shows enough to comfortably win one of the team's starting outside cornerback jobs
It was tempting to wax poetic about CeeDee Lamb here, but in all honesty, the Cowboys will have an above-average receiving corps even if Lamb takes time to adjust to life in the NFL. The same can not be said for their cornerback room after losing Byron Jones in free agency. 
Diggs is going to be relied on to show that he can play early in Dallas. The talent is there — Diggs was labeled as the best press-coverage cornerback in the class in the PFF Draft Guide, using his length to eat wide receivers alive at the line of scrimmage while at Alabama. He's not someone who has the movement skills to stick with crafty wide receivers in man coverage, but he doesn't need to be if he is used correctly by first-year defensive coordinator Mike Nolan. The goal for Diggs as a rookie is simply not to be a weakness that opposing offenses exploit on a weekly basis.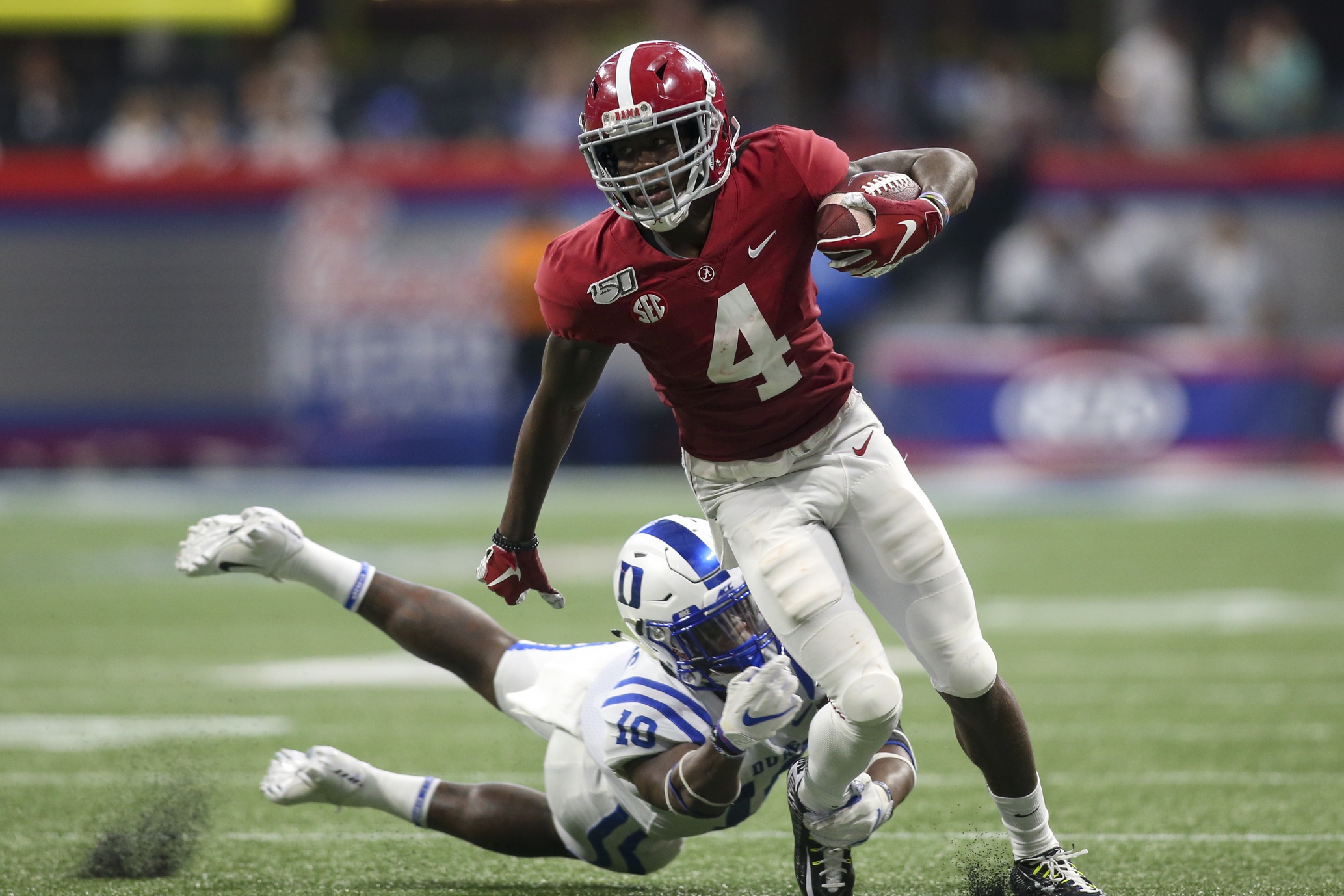 Denver Broncos: The receiving weapons Denver drafted bring out the best in Drew Lock
I'm a fan of what the Broncos did this offseason, both in free agency and NFL draft, to surround Drew Lock with plenty of talent in his first full season as the starting quarterback. As a franchise, the worst situation you can be in is where you simply don't know whether or not your quarterback is "the guy" because he doesn't have enough talent around him so to be properly evaluated. The Broncos will not be in that situation with Lock.
Jerry Jeudy was a steal in the middle of the first round for Denver, coming in as the top receiver in the class on PFF's Big Board and the fifth-ranked prospect overall. Jeudy's route running was second to none at the college level, as was his production. He averaged nearly three receiving yards per route run (2.95) over his three years with the Crimson Tide, picking up a 90.1 PFF receiving grade in the process. K.J. Hamler should do a decent job of creating separation himself as a rookie with his blazing speed, as well. Keeping pace with him when he decides to get vertical is easier said than done as a coverage defender. Add in Courtland Sutton, Noah Fant and a crowded running back room, and it becomes clear that Lock has plenty to work with. Now, he just has to make the most of that supporting cast.
---
Any time you lose a player of Slay's caliber, it's a tall task to fill that hole. Forget the coverage numbers and PFF grade from 2019 for a moment — Slay is still one of the premier man-coverage cornerbacks in the NFL. His 85 forced incompletions since 2014 are the most in the NFL. Signing a veteran like Desmond Trufant and drafting Okudah third overall is a good way to go about forgetting about Slay, though.
It is really difficult to find negatives when it comes to Okudah. Five-star high-school recruit? Check. Ideal size and length for the position? Check. Speed and movement skills that indicate he can excel in man coverage? Check. Track record of strong collegiate production? Check.
Okudah allowed a completion on just 41 of the 101 passes thrown his way over the past two seasons with the Buckeyes. There is little reason to believe he won't have early success in Detroit's defense, and the Lions will be counting on that success in their attempt to surprise the rest of the NFC North.
---
With no preseason to speak of, the Packers should be hoping they don't see any noteworthy game action from first-round selection Jordan Love this season. If they do, it means that either Aaron Rodgers is hurt or his play is in free fall, neither of which is high on the list of outcomes for a team with aspirations of contending. That leaves Dillon and Deguara as the two likely biggest contributors to this team as rookies —both brought in to supplement Matt Lafleur's run game. 
I won't sugarcoat the fact that many, us here at PFF included, saw those two selections fall into the "reach" category. Dillon graded well at the collegiate level (91.3 PFF grade in 2019), but that came largely from the fact that his size and speed allowed him to run through college defenders. That won't happen nearly as easily in the NFL, and Dillon hasn't shown the lateral agility or cutting ability to make defenders miss many other ways. Deguara, meanwhile, profiles as a solid run-blocker who can potentially play anywhere from fullback to traditional tight, and he does have some interesting route-running ability. He was listed as just a sixth-round projection in the PFF Draft Guide prior to the draft, however. Green Bay will hope that both guys prove the doubters wrong with strong contributions early.
---
Reminder: J.J. Watt is still a one-man wrecking crew. At the time of his injury last season, Watt was leading the NFL in pressures, with 52. And those 52 pressures remained the most on the Texans for the remainder of the year, even though Watt didn't participate in the second half of the regular season.
They needed to find some pass-rush help this offseason, particularly after losing their second-best defensive lineman (D.J. Reader) to the Cincinnati Bengals in free agency. Returners such as Whitney Mercilus and Charles Omenihu will be counted on for improved play in 2020, but Houston will also be leaning on their first two selections in the 2020 NFL Draft to make the opposing quarterback uncomfortable. 
Blacklock has the athleticism to be a plus pass-rusher in the NFL, but at this point, he doesn't have the repertoire of pass-rushing moves or technique to lead you to believe he'll contribute early in that facet of the game. It's much more likely he comes in as a plus run defender, where he put up an 89.5 grade this past season at TCU. Greenard, on the other hand, does show some strong hand usage and counters as a pass-rusher, but his athleticism is the question mark, as many of his dominant outings came against bad offensive tackles last year. The Texans would like to see at least one of the two step up and give some juice to the pass rush.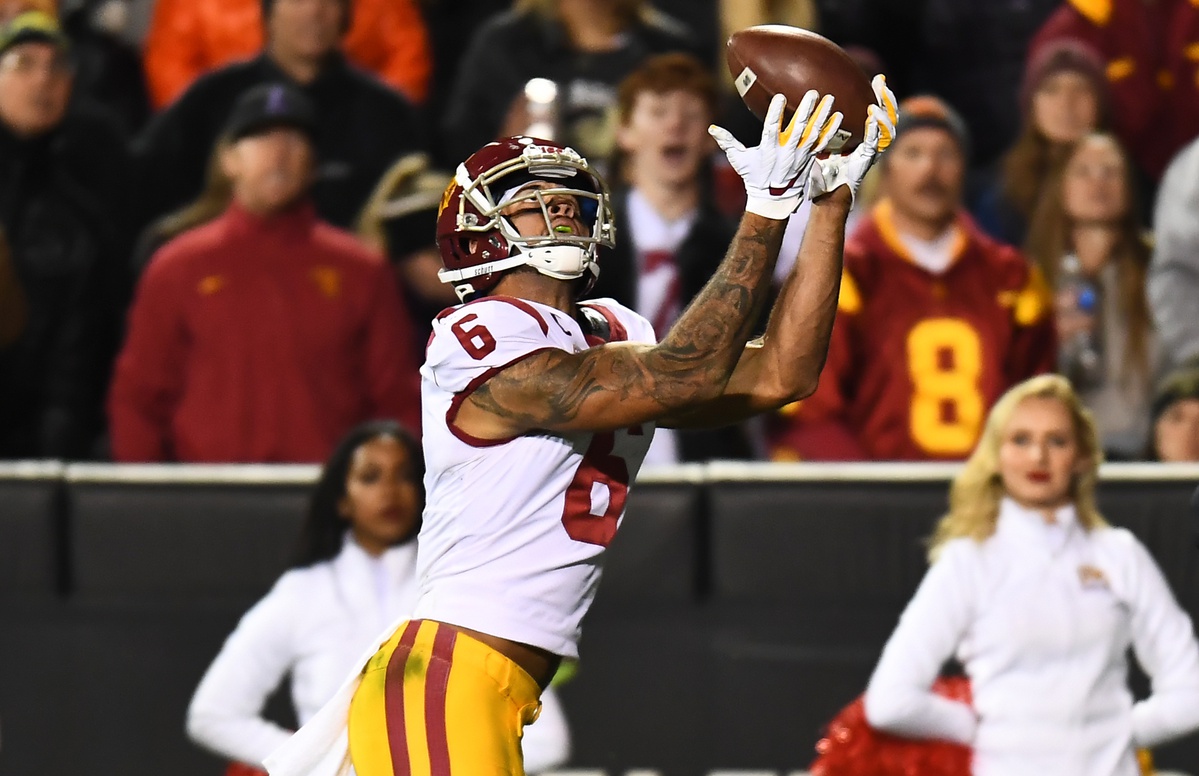 I don't know who needs to hear this, but Rivers — even if he is closer to his 2019 than 2018 form — is an upgrade over Jacoby Brissett. Brissett ended the season with a 59.2 PFF grade that ranked 29th among 32 qualifying quarterbacks. The drop from Andrew Luck to Brissett is the main reason why the high expectations for Indianapolis heading into the 2019 campaign weren't met. Now, Rivers steps into the picture with what will be the best offensive line of his career and an intriguing supporting cast on offense. 
T.Y. Hilton — persistent injury questions and all — leads that group, and Parris Campbell will be looking to make a splash in a healthy second season, but the rookies Taylor and Pittman will also play large roles offensively. In terms of pure between-the-tackles runners, Taylor was the best in the class. His size, speed, pacing and vision behind the league's top offensive line is a recipe for run-game success. Given where they took him and the fact that they traded up to make sure they got him, the Colts are likely hoping he makes it more and more difficult to give carries to Marlon Mack as the season progresses. 
Likewise, Indianapolis would like to see big things out of Pittman as a rookie. The 22nd-ranked player overall on the PFF Big Board, Pittman has the size, route-running ability and hands to be one of the premier "possession receivers" in the NFL — an archetype that Rivers has favored throughout his career. There's a chance that he's as productive as any rookie wide receiver in the league next season despite coming off the board in the second round.
---
Jacksonville Jaguars
: Some of the Jaguars' raw "projects" taken in the 2020 NFL Draft don't need as much time to develop as many think they do
If there was a theme with the Jaguars' 2020 rookie class, it was that they opted to attack high-upside players who may take some time to develop into good NFL players. Considering that they're unlikely to compete next season anyway, it's not the worst of strategies. Jacksonville would still like to see early signs of growth from those players, though. 
Perhaps K'Lavon Chaisson starts to turn all those physical tools into prolonged stretches of dominance, something he didn't necessarily do at LSU last year, as he didn't earn a single-game pass-rushing grade above 80.0. And maybe C.J. Henderson cleans up some of the things that set him back in 2019 despite an excellent sophomore season in 2018. Possibly Laviska Shenault is able to get through the season healthy, providing an occasional spark from both the slot and out wide. As I said, the Jaguars are going to be patient with a lot of these guys and their obvious talent because they can be, but it would still be nice to see those early picks show enough to get fans excited about their prospects heading into 2021.
---
Kansas City Chiefs: Willie Gay Jr. carries over collegiate success in coverage in a full season of action
Gay was a PFF favorite in the pre-draft process despite limited tape to work from. The only way for that to be the case is to make the most of your limited time on the field. Gay displayed a natural feel for coverage that led to a 93.9 PFF coverage grade across just 293 coverage snaps in the last three years for Mississippi State. His athletic testing numbers from Indianapolis speak for themselves — the guy is a next-level athlete. A 4.46-second 40-yard dash and an 11-foot, four-inch broad jump at over 240 pounds is rare stuff. The Chiefs will need that explosiveness and coverage ability to translate early at linebacker because it's a group that has been a weak spot for them in recent years. Damien Wilson and Anthony Hitchens both put up PFF grades below 51.0 in 2019. Gay should get a chance to show what he can do early.
---
Las Vegas Raiders: Henry Ruggs validates his selection as the first wide receiver off the board in the 2020 NFL Draft
While most expected either Jerry Jeudy or CeeDee Lamb to be the first receiver off the board for much of the leadup to the 2020 NFL Draft, it was Ruggs who went first overall. It's a small risk on the part of the Raiders, as there is less known with Ruggs than with Jeudy or Lamb thanks to somewhat limited college production on a crowded Alabama offense, but there is still plenty of reason to believe that Ruggs was a good selection at the 11th overall pick.
If you didn't pick up on the kind of hops he has from his viral high school basketball video, his results at the 2020 NFL scouting combine provide a glimpse into the explosiveness and speed he brings to the table. It's also easier to forgive his raw receiving totals at Alabama when you look at how efficient he was with his opportunities. Over the past two seasons, quarterbacks averaged an absurd 12 yards per attempt when targeting Ruggs.
The Raiders need to see signs of him growing into a top option in the passing game as a rookie, not just a speedster. The route-running chops and ball skills are there for him to do that. Convincing Derek Carr to take more downfield shots with big-time separation deep would be a win, as well.
---
I think there's a decent chance that Taylor is able to hold on to the starting job for the entire 2020 season, in which case this becomes a moot point for the Chargers. If Herbert does see meaningful playing time as a rookie, Los Angeles needs him to show that we at PFF were wrong with our pre-draft evaluation of him. This isn't a Christian Hackenberg case (who we gave an undraftable grade back in 2016), but Herbert is someone who we thought should have gone much lower than sixth overall — coming in at 30th on the PFF Big Board, which takes into account positional value. 
It's a case of the arm talent, size and athleticism, which are there in spades for Herbert, not exactly matching what he has shown on tape. Herbert recorded an 82.7 overall grade at Oregon this past season, but his worst performances came against some of the better defenses he faced — Auburn, Arizona State, Utah and Wisconsin. Unfortunately for him, the defenses only get better in the NFL. The Chargers will need to see Herbert consistently hit the open throws and take steps toward getting better at some of the mental aspects of the position if he sees the field. Otherwise, Los Angeles may have been better off letting another team take the risk on Herbert.
---
With how often teams are running three-wide receiver sets in the modern NFL, having a good No. 3 wideout is often an underrated part of fielding a good offense. The Rams, of course, have been the poster child of 11 personnel under Sean McVay, running it on an absurd 91% of their offensive snaps during the 2018 regular season. Their usage tailed off significantly toward the end of this past season, but the 73% of offensive plays in which they ran it over the course of the year still ranked third in the NFL. 
Why is this noteworthy? The Rams traded away one of their top-three wide receivers (Brandin Cooks) this offseason. Josh Reynolds has seen plenty of playing time over the past several seasons as an injury replacement, but he has two consecutive PFF grades in the 60.0s, so the Rams would ideally like to see the rookie Van Jefferson join Robert Woods and Cooper Kupp in three-receiver sets. He'll need to improve when it comes to handling physical cornerback play on his routes, but he has some speed to win deep and does a good job of separating with his route-running ability. Considering he's already older than three-year veteran JuJu Smith-Schuster, the Rams could look for him to make an immediate impact as a rookie.
---
I called the Dolphins the second-most improved offensive line in the NFL heading into next season, and they still came in at dead last on PFF's offensive line rankings heading into the 2020 NFL season. If that doesn't give you an idea of just how bad the group was this past season, then nothing will. Miami did make a concerted effort to add to the offensive line through both free agency and the draft, but there are still questions. 
With Jackson, there's plenty of work to be done on his game at the NFL level. As the PFF Draft Guide put it, "Jackson is a project for the position not only technically, but physically. Not yet 21 years old, there's reason to believe he will continue to improve both, but to what degree?" Throwing him out there as the Day 1 starting left tackle as a rookie will likely come with some growing pains. 
Similarly, Hunt will go through a learning curve, especially if he plays at tackle. PFF's lead draft analyst Mike Renner listed Hunt as one of the top tackle-to-guard converts in the class to capitalize on his power and minimize some of his weaknesses, but there's a good chance the Dolphins keep him at tackle as a rookie. If that's the case, Miami's hope should simply be that the two get by as rookies without putting the quarterback on his back too many times as they develop.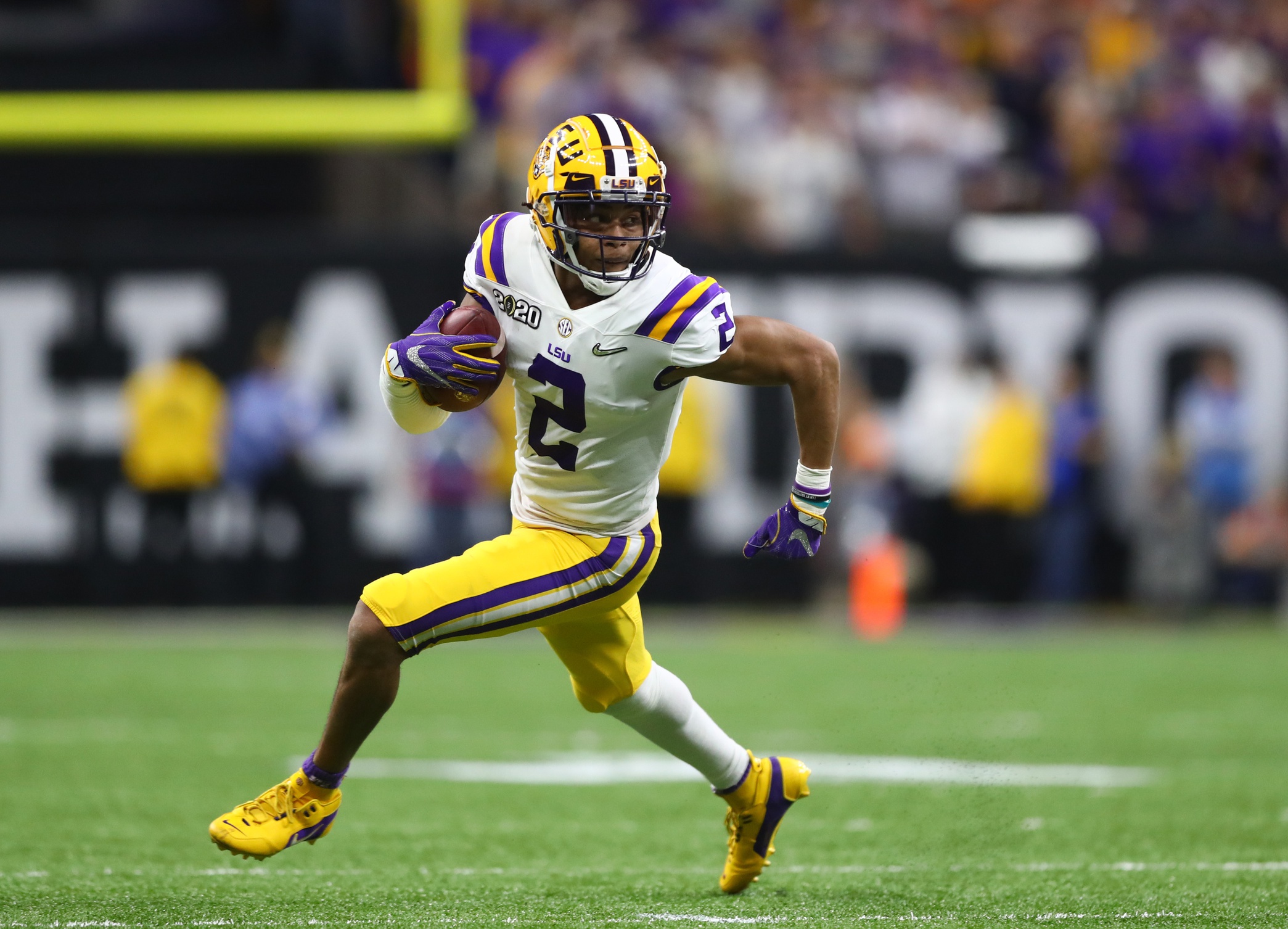 Stefon Diggs is out, and Jefferson is in. There is a lot to like about what Jefferson brings to the table for the Vikings. He put up video-game numbers in LSU's offense this past season, putting his after-the-catch ability (24 broken tackles after the catch) and some of the best hands in college football (12 contested catches on 13 opportunities) on full display.
The biggest thing that the Vikings need to see heading into next season is that Jefferson can consistently win against press coverage on the outside. Much of his production at LSU came through finding holes in zone from the slot, rarely facing press-man coverage outside. It's not so much that he can't do it — and his combine results indicate he has the athleticism to do so — but it's something Jefferson needs to display in game action if he is to truly replace what Diggs gave them.
---
New England Patriots: Early defensive draft picks are more than just special teamers on a defense that lost some talent this offseason
When you have a team with a history of prolonged success like New England, it's rare to see rookies come in and have a big impact early. There's a process in place where those players gain snaps and experience gradually, playing behind others who have had sustained success. This is a Patriots team that lost some starters defensively through both free agency and player opt-outs, though. That should give early picks, such as Kyle Dugger, Josh Uche and Anfernee Jennings, more opportunities for defensive snaps than they would have otherwise had as rookies. 
Dugger will get a shot to replace Patrick Chung as the middle-of-the-field matchup weapon in Bill Belichick's defense. As PFF's Sam Monson discussed recently, Dugger showed he could win in a few man coverage reps against better competition at the Senior Bowl. If nothing else, his explosiveness and physicality should play well in the box. Uche's versatility — being able to win on the edge and as a stand-up blitzer over guards while at Michigan — should be put to use in New England better than just about anywhere else. Jennings, meanwhile, doesn't have great burst off the edge, but he is one of the better edge defenders in the class against the run (88.6 run-defense grade in 2019). 
This is still one of the best secondaries in the league with one of the best defensive playcallers in the NFL running the show, but the Patriots will need to hit on some of these young guys to stay near the top of the league in the years to come.
---
New Orleans Saints: Cesar Ruiz plays well enough as a rookie that the decision to move on from Larry Warford looks like a good one in hindsight
Most, including myself, were surprised by the Saints' selection of Ruiz in the first round. They had just signed Andrus Peat to a big extension at left guard; Erik McCoy had a tremendous rookie season (78.0 PFF grade at center ranked fourth at the position); and Larry Warford was coming off a year where his 75.8 PFF grade ranked eighth among all guards. There was no clear path to the field for Ruiz early — at least until the Saints released Warford, leaving Ruiz as the likely candidate to replace him at right guard. 
Ruiz was a well-rounded prospect coming out of Michigan without many weaknesses in his game. He has a terrific anchor and shows good balance and hands in pass protection, where he earned an 87.2 grade this past season. There's plenty of reason to believe he will develop into another good young player on what is one of the best offensive lines in the NFL, but New Orleans would like to see that come to fruition early on in his rookie season. Otherwise, the decision to let Warford go becomes more questionable for one of the top Super Bowl contenders in the NFL.
---
Upgrading the tackle position was clearly a priority for Dave Gettleman and company in the 2020 NFL Draft, but they probably would have preferred if Solder had not opted out of the upcoming season. 
Thomas is the most pro-ready tackle prospect in this year's class. He came into the SEC as a true freshman and posted a 76.7 pass-blocking grade, which isn't a feat to take lightly. Thomas improved his pass-blocking and run-blocking grades in each subsequent season for the Bulldogs, resulting in a 92.7 PFF grade this past year. 
Peart also has a lot to like when it comes to his pass-blocking chops as an NFL tackle, but until he adds some play strength to his frame, things could get hairy early if he's asked to start. He'll compete with Nick Gates and Cameron Fleming for the right tackle job as a rookie. Solder and Remmers certainly weren't anything to write home about in 2019, but starting two rookie tackles is a challenge in its own right if Peart does win the job. Any sort of upgrade over that duo — no matter how small — should be welcomed by New York.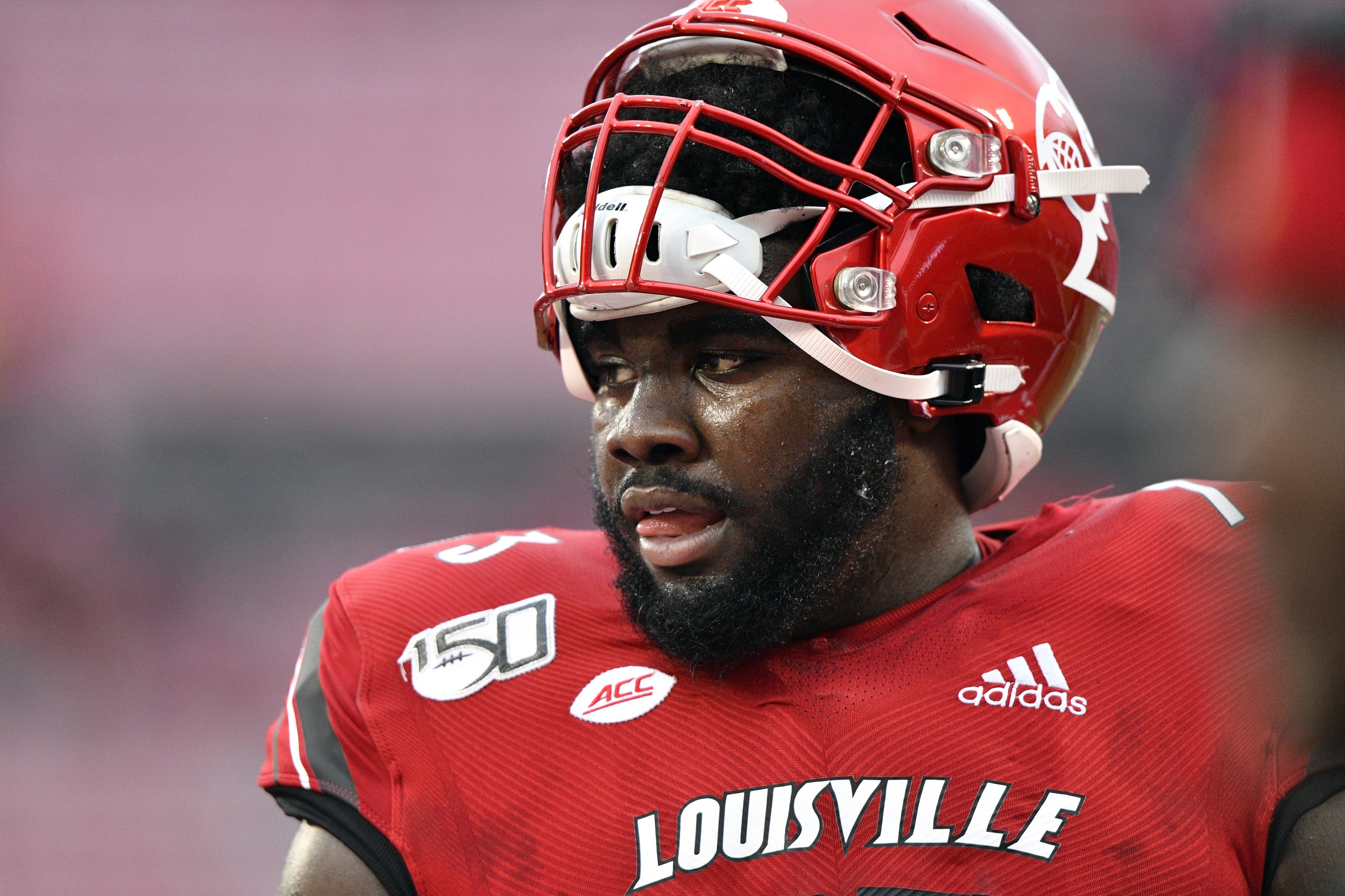 This is a make-or-break year for Darnold. To be fair, it hasn't been an optimal situation for him to this point in his career between missing a significant stretch of time with mono to having one of the league's worst supporting casts at offensive line and wide receiver. The Jets made a concerted effort to improve in those areas in the 2020 NFL Draft, adding Becton and Mims with their first two picks. 
Becton is an absurd athlete for his size, and the college-to-pro projections developed by PFF's research and development team gives him a well-above-average projection in the run game at the NFL level. The important thing that the Jets will want to see from him as a rookie is that he holds up in pass protection. Louisville ran a lot of play action and designed rollouts — things that make life easier on a tackle during pass plays. He still needs to show he can win consistently on true pass sets in New York. 
From Mims, the Jets need to see that the hype he generated during the pre-draft process with his performance at the Senior Bowl and NFL scouting combine was warranted. As PFF's lead draft analyst Mike Renner tweeted prior to the draft, "I think Baylor WR Denzel Mims is going to be my most frustrating eval in this entire class. Senior Bowl was so much different from his game-to-game consistency." You can argue that Mims is the best receiver in this class at going up and getting the ball down the sideline, and he should be able to win vertically early on. Given the state of the rest of their wide receiver room, the Jets need him to.
---
By the end of the season, the number of injuries that had mounted at wide receiver for the Eagles was almost comical — unless, of course, your name is Carson Wentz. A running back (Miles Sanders) led the team with 165 receiving yards on passes 20 or more yards downfield. Desean Jackson (who ran all of 38 routes all season) nearly matched that total, as well. After Jackson went down with injury, Philadelphia really didn't have anyone who could challenge defenses deep. 
Reagor won't only fill that deep threat role in 2020. He'll also have a good chance of being the team's top wide receiver in production by the end of the season. Don't let the limited production in 2019 fool you; TCU quarterbacks notched the fourth-lowest rate of accurate passes of any Power Five program on the year. Reagor is faster than his 40-yard dash time at the combine, and he is as explosive as they come. That athleticism, combined with a willingness to attack the ball in contested catch situations, makes him the top deep threat in the class. Philadelphia will hope that a Reagor/Jackson pairing out wide will lead to significantly more big plays on offense this year.
---
Without Ben Roethlisberger in 2019, the Steelers offense fell — and it fell hard. They ended the season ranked 32nd in expected points added per play after top-five showings in both 2017 and 2018. There's reason to believe that they'll make a significant jump with Roethlisberger returning to the fold this upcoming season, and Pittsburgh gave him a few more weapons to work with in an attempt to aid that comeback.
Claypool is coming off a career year with the Fighting Irish in 2019, putting up an 83.3 overall grade at wide receiver. He's on the bigger end for the position and has put up run-blocking grades of 80.0 or higher in each of the past two seasons, fueling some speculation that he may transition to tight end in the NFL. As the PFF Draft Guide suggested, he may still profile best after a Darren Waller-esque transition to tight end down the line, but he should get his first shot as a wide receiver. The Steelers can utilize his size, speed and explosiveness as a mismatch weapon on vertical routes and in the red zone.  
McFarland, meanwhile, brings some burst and pure speed that was previously lacking in the Steelers' backfield. When healthy, James Conner has been productive — making defenders miss tackles at one of the highest rates in the league. He doesn't have McFarland's breakaway speed, though. Benny Snell Jr. doesn't, either. As is the case with Claypool, all the Steelers need to see from McFarland as a rookie is production in the limited role they ask him to fill — a change-of-pace back who can rip off the occasional big play.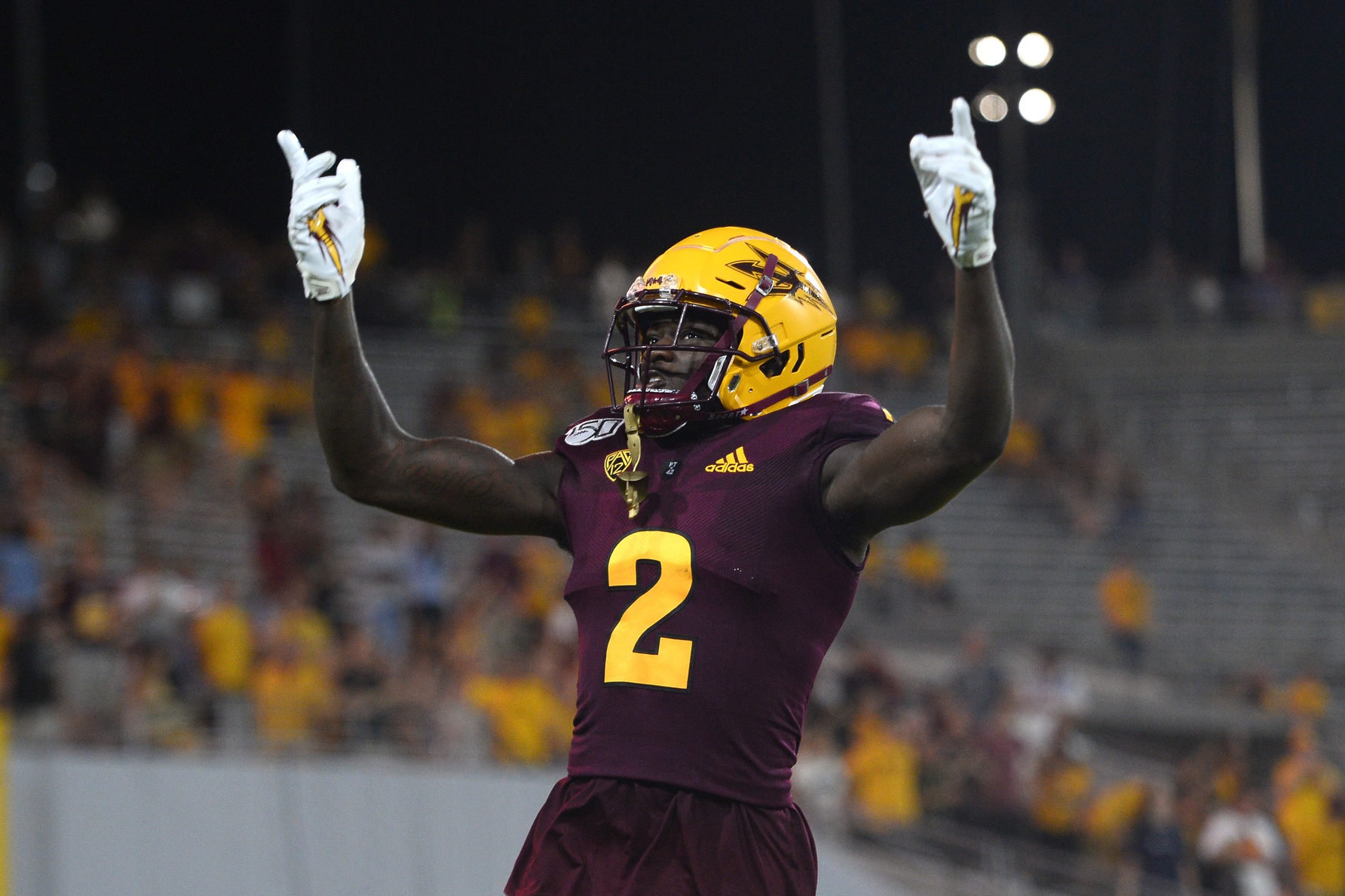 49ers head coach Kyle Shanahan said after the 2020 NFL Draft that Aiyuk was the team's top-rated wide receiver in the class. While Aiyuk wasn't particularly close to the Jeudy/Lamb/Ruggs tier for many, it's not hard to see why he would appeal to Shanahan. Similar to Deebo Samuel and George Kittle, Aiyuk does a lot of his damage after the catch. He averaged 10.9 yards after the catch this past year at Arizona State, fitting well with the short, quick passing game that is at the core of San Francisco's offense. 
With the departure of Emmanuel Sanders and potential missed time for Samuel due to injury early in the season, there's a chance Aiyuk could be the top option at wide receiver early on. The 49ers would like to see that he can handle that role and offer similar value to what we saw from Samuel after the catch in 2019.
---
With Everson Griffen joining Dallas, Seattle is still being linked to free agent Clay Matthews as it searches for pass-rush help. As things stand now, it's looking pretty rough. Outside of the rookies, the Seahawks' options off the edge include L.J. Collier (one pressure in 79 pass-rushing snaps as a rookie last season), Bruce Irvin (62.6 pass-rushing grade in 2019), Rasheem Green (57.5 pass-rushing grade in 2019) and Benson Mayowa (70.2 pass-rushing grade in just over 300 snaps last season in Oakland). 
That paints the picture that Seattle needs something from either Taylor or Robinson. Even if the Seahawks sign outside help, it would be nice to have the rookies stick out as bright spots along the defensive line. Taylor is currently on the non-football injury list as he recovers from leg surgery in January, but he should be good to go by the start of the season. His bull rush could translate immediately to the NFL. Meanwhile, if Robinson is going to win as a pass-rusher in the NFL, it's going to be with power and a high motor. He didn't show great bend to get around the edge at Syracuse and struggled to win consistently against better competition. Both players have a decent opportunity to crack the field early in their NFL careers.
---
Landing Wirfs in the first round of the 2020 NFL Draft was an ideal outcome for the Buccaneers. He has all-time athleticism at the tackle position — something he put on full display at the 2020 NFL scouting combine — and that translated to the field this past season for Iowa. Wirfs earned a 92.3 overall grade for the Hawkeyes in 2019. His college-to-pro projections show a player who has a bright future as a pass protector. 
With Tom Brady now in town, that will be the most important thing for Wirfs in his first season. Can he hold off the pressure long enough for Brady to find Chris Godwin, Mike Evans, Rob Gronkowski and others down the field?
---
Getting Fulton at the back end of the second round was one of the better values in the 2020 NFL Draft based on the PFF Big Board. Fulton was our second-ranked cornerback and 12th-ranked player overall. His bottom line in the PFF Draft Guide stated he's plug-and-play into any scheme in the NFL. Looking at his production with LSU, it's hard to argue that point. Fulton allowed less than 45% of the passes into his coverage to be completed in both 2018 and 2019 with the Tigers, breaking up 20 passes over that two-year span. Most importantly, his playstyle should translate to the NFL with strong balance, footwork and movement skills. 
He'll be tasked with replacing Logan Ryan in Tennessee. He'll compete for snaps both in the slot and outside with players such as Adoree' Jackson, Malcolm Butler and Johnathan Joseph. Ideally for the Titans, Fulton shows enough early on in his career to at least crack their top-three cornerbacks, ensuring he is on the field for most of the team's defensive snaps.
---
Washington Football Team: The two Antonios play significant roles on a Washington offense that needs multiple young guys to step up
An offense desperate for young players to emerge has taken multiple blows in recent weeks with the injury to wide receiver Kelvin Harmon and the release of running back Derrius Guice. That makes it all the more important for Dwayne Haskins and company to get meaningful contributions from rookies Antonio Gibson and Antonio Gandy-Golden. 
Projecting Gibson at running back is difficult given that he carried the ball just 33 times in his college career. However, we know what he can do with the ball in his hands; he's dangerous. Gibson's 4.39-second 40-yard dash at nearly 230 pounds is a ridiculous time, and he proved to be very elusive in the open field with 17 broken tackles on 38 catches in 2019. He has the potential to be one of the best backs in this class. Gandy-Golden, meanwhile, is a bigger receiver who had a lot of downfield success while at Liberty. His catch radius is massive, but the route running outside of the vertical route tree is still a work in progress.
Washington knows what Chase Young brings to the table, but they need Gibson and Gandy-Golden to contribute in a big way on offense to have success on that side of the ball.