Receivers who can both separate and make plays with the ball in their hands should be near the top of every team's wish list, because outside of whom they have at quarterback, it's arguably the biggest factor in having a successful offense.
With the 2020 NFL Draft and free agency behind us, we now have a pretty good idea of each team's depth chart, which allows us to look at the teams that project to have the best receiving corps next season across the wide receiver, tight end and running back positions. Using PFF's play-by-play grading and the signature stats that can be found in Premium Stats 2.0 as a guide, here is where each team's receiving corps ranks right now as we look forward to the 2020 NFL season.
[Editor's note: Subscribe to PFF ELITE today to gain access to PFF's Premium Stats and new Player Grades experience in addition to the 2020 NFL Draft Guide, 2020 Fantasy Rookie Scouting Report, PFF Greenline, all of PFF's premium article content and more.]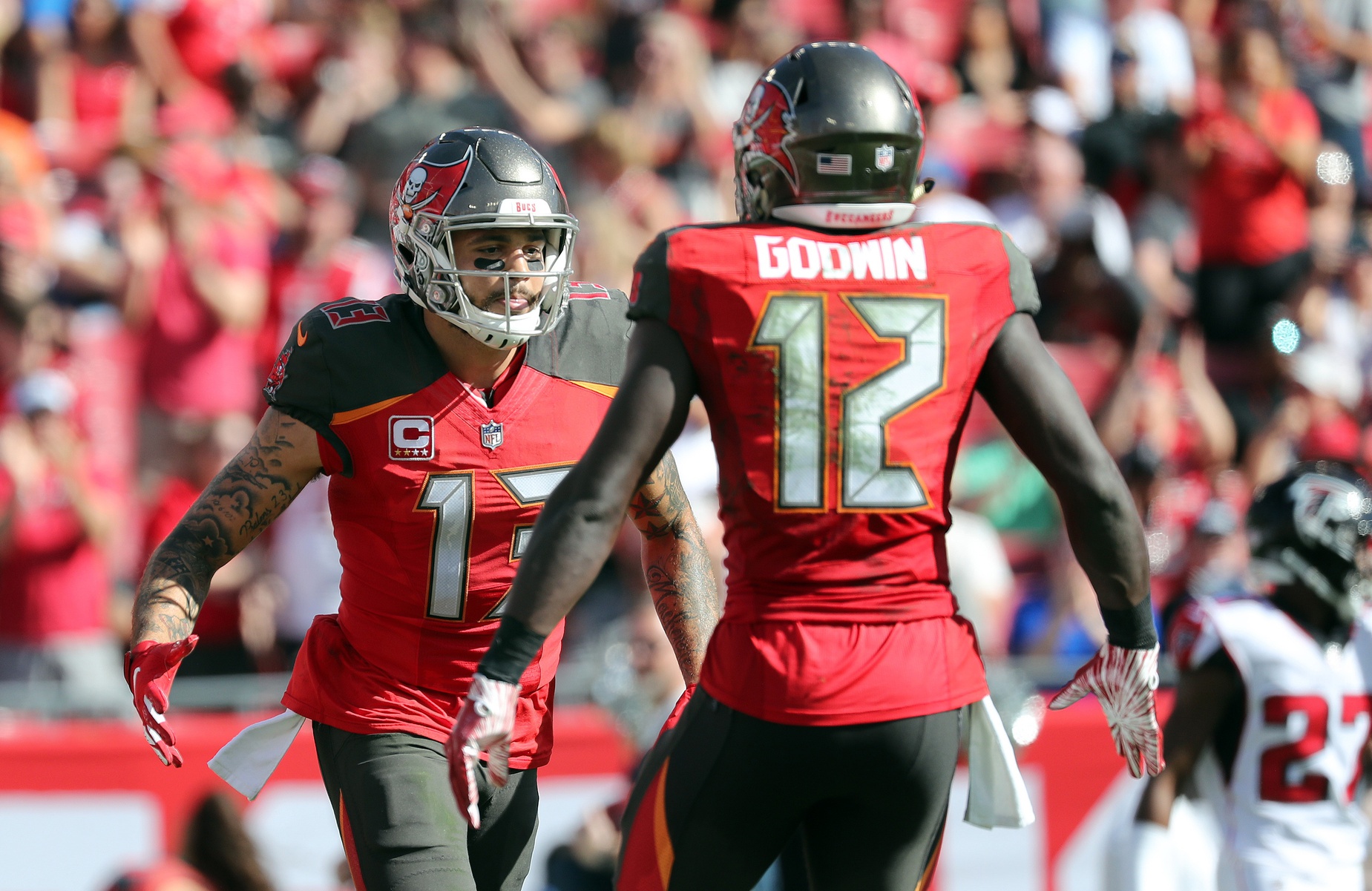 The Buccaneers were the only team in the NFL with two top-10 wide receivers in terms of PFF grade in 2019 — Chris Godwin finished the season ranked first at the position in overall grade (90.7) while Mike Evans finished the year tied for sixth (85.7). All Tampa Bay did in the offseason was improve on that group by adding the highest-graded wide receiver in the FBS over the last two seasons (Tyler Johnson) and Canton-bound tight end Rob Gronkowski to pair with the two solid receiving options at tight end already in O.J. Howard and Cameron Brate. The cupboard is full for Tom Brady as he looks to get back to the Super Bowl again, this time with a new team.
The collection of talent the Chiefs have assembled around the best quarterback in the NFL is bordering on unfair. Tyreek Hill has rare speed and change-of-direction ability that makes him a nightmare for opposing defenses, and his 1,765 receiving yards on passes 20 or more yards downfield since 2017 (over 500 more than the next closest wide receiver) are a testament to that. Travis Kelce is right up there with George Kittle in the conversation for the game's best tight end, and if you look at the past five seasons, no tight end comes close to his 155 receptions of 15 or more yards. The weapons extend to players like Sammy Watkins, Mecole Hardman and even someone like Clyde Edwards-Helaire out of the backfield now. This Chiefs offense is going to remain very difficult to defend.
When the Cowboys selected CeeDee Lamb in the first round of the 2020 NFL Draft, they created arguably the best trio of starting wide receivers in the NFL — a group where all players are capable of moving around and playing different roles in the offense. Lamb put up silly numbers at Oklahoma, averaging 19.5 yards per reception on his 127 catches over the past two seasons and recording a receiving grade of 91.1 in the process. Amari Cooper and Michael Gallup, meanwhile, both finished the 2019 season ranked among the top-32 wide receivers in the NFL in terms of receiving grade. Anything Dallas gets from other pieces in the passing game like Blake Jarwin and Ezekiel Elliott is the icing on the cake.
The efficiency that Michael Thomas was able to produce on that kind of outlandish volume in 2019 boggles the mind. His 180 regular-season targets were 27 more than any other wide receiver, and the 82.8% completion rate on those targets was nearly seven percentage points higher than the next wide receiver with at least 50 targets (Tyler Lockett, 75.9%). Thomas is hands down one of the best wide receivers in the NFL, but the Saints added another legitimate No. 1 wide receiver in Emmanuel Sanders this offseason to give Thomas some help at the position. Sanders comes with reliable hands, having dropped just one of his 96 targets last season. With options like Jared Cook and a healthy Alvin Kamara behind those two, there will be plenty of quality options for Drew Brees to target in 2020.
When the Bills traded for Stefon Diggs, my colleague Sam Monson wrote that the Bills had the best wide receiver group in the NFL. That may be debatable, but their standing near the top shouldn't be. Diggs, John Brown and Cole Beasley all excel at creating separation, and they complement each other well, specializing in different areas of the field. That trio alone bumps the Bills into the top-five on this list. Dawson Knox will be an interesting player to watch at the tight end position in 2020. He struggled with drops as a rookie (nine compared to just 28 receptions), but he showed some big play and after-the-catch ability with six forced missed tackles on those 28 receptions.
The duo of Kenny Golladay and Marvin Jones Jr. may be underrated around the league, but both guys can win in a number of ways, and they excel in contested-catch situations. Golladay ranks fifth in contested catches since 2017 (49) while Jones ranks eighth (42), and both have top-10 contested-catch rates among qualifiers. Danny Amendola remains a solid option in the slot at 34 years old after earning a 71.5 overall grade in 2019, and there's reason to believe T.J. Hockenson will take a step forward as a receiver in his second season given how effective he was at Iowa. The addition of the best receiving running back in the class — D'Andre Swift — only bolsters the group.
There are questions at the quarterback position for the Chargers; there are questions about the left side of the offensive line, as well. Where there shouldn't be too many questions, though, is at the skill positions on offense. Keenan Allen is one of the best route-runners in the NFL and is the fourth-highest-graded wide receiver in the league over the last three seasons. Mike Williams is an effective downfield threat, averaging over 20 yards per reception in 2019 on his way to the first 1,000-yard season of his career. Outside of Hunter Henry and Austin Ekeler, both of whom are among the top receiving options at their respective positions, one player who could surprise in 2019 is K.J. Hill. He has an NFL-ready skill set for the slot, and Andre Patton was a complete non-factor in that role for the Chargers last season (56 receiving yards on 303 routes run).
The Panthers' receivers had to deal with some brutal quarterback play in 2019 between an injured Cam Newton, Kyle Allen and Will Grier. Things should be better with Teddy Bridgewater at the helm in 2020, and he has an intriguing cast of weapons to work with on offense. D.J. Moore and Curtis Samuel provide a nice one-two punch, and the addition of Robby Anderson only strengthens the group. Anderson dealt with shaky accuracy downfield in New York, but he has earned a whopping 112 targets 20 or more yards downfield since 2016 (fifth in NFL). Add in Christian McCaffrey — the most valuable running back in the NFL since 2017 in terms of PFF WAR largely because of his contributions as a receiver — and the Panthers receiving corps sticks out as the strength of their team.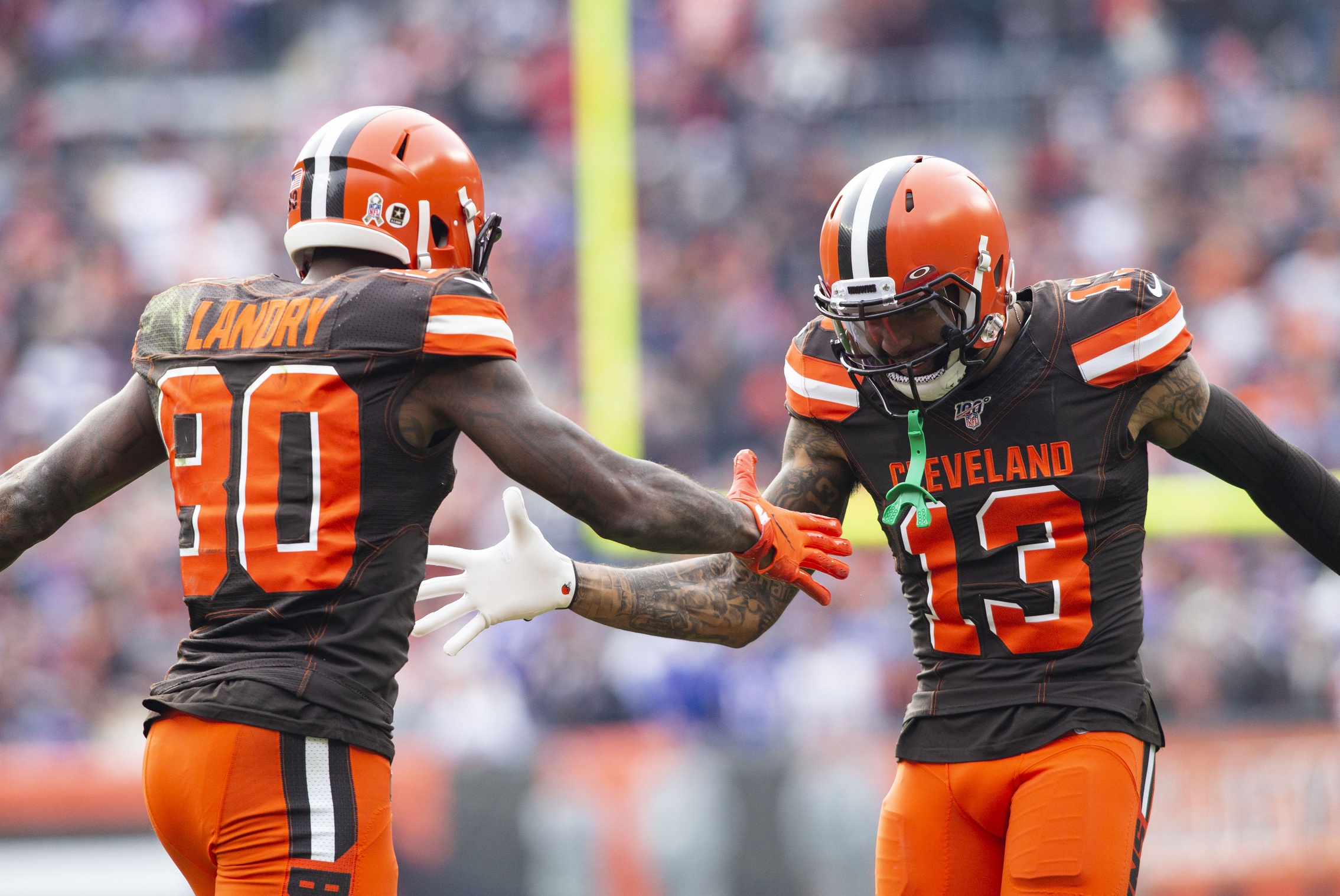 Things didn't go according to plan in Cleveland last season, but their receiving corps is still in good shape to rebound next season. Odell Beckham Jr. and Jarvis Landry rank seventh and 13th, respectively, in PFF receiving grade since entering the league in 2014, and they are both among the top three players at the position in forced missed tackles after the catch over that same time span. Because Kevin Stefanski's offense heavily featured two-tight end sets last season in Minnesota, the next two players in line figure to be tight ends. Both Austin Hooper — the newly crowned highest-paid tight end in the NFL — and David Njoku have been solid receiving options to this point in their NFL careers and should complement this receiving corps well.
The Broncos really revamped their offense in the 2020 NFL Draft, and it should serve them well heading into next season. Courtland Sutton emerged as a legitimate primary option outside last year, moving past the drop issues that plagued him as a rookie and ending the 2019 season with an 83.1 overall grade that ranked 10th at the wide receiver position. His new running mate,  Jerry Jeudy, excels as a route-runner, and his ability to create separation was unmatched in this class, which is precisely why he entered the draft as PFF's WR1. With those two outside and the speed over the middle of the field with K.J. Hamler, Noah Fant, and Albert Okwuegbunam, the Broncos have handed Drew Lock a golden opportunity to prove that he belongs.
Unlike most situations highly drafted quarterbacks find themselves in, Joe Burrow will actually have weapons to throw to in Cincinnati next season. A.J. Green has struggled to stay healthy of late, but he is one of the game's elite when he's at 100% — he has recorded grades of 80.0 or higher in each season he has played in since 2012. Tyler Boyd, Tee Higgins and John Ross form a strong supporting cast, as well, and all bring their own strengths to the table. The big question with Cincinnati's offense is the offensive line, but if that group can manage to hold up, Burrow could impress with this receiving corps early in his career.
The biggest receiving acquisition of any team this offseason was the Cardinals bringing in DeAndre Hopkins for what was essentially a second-round draft pick. Hopkins is the third-highest-graded wide receiver in the NFL over the past five seasons, and he boasts one of the most reliable pairs of hands in the NFL with a drop rate of just 3.7% over that same stretch (sixth among qualifying wide receivers). One of the names above him in drop rate is his new teammate Larry Fitzgerald. Fitzgerald doesn't provide a whole lot of burst at this stage of his career, but he's still a reliable target out of the slot in Kliff Kingsbury's offense. With Christian Kirk, Kenyan Drake out of the backfield and hopefully the emergence of a young speedster like Andy Isabella, the Cardinals' passing offense is in good shape to continue its upward trend.
Any time you have a top-two like Julio Jones and Calvin Ridley, it's hard to drop a team too far on this list. Jones has been the highest-graded wide receiver in the NFL over the past five seasons and the undisputed champ of our yards per route run metric. Ridley has gotten off to a solid start to his career with grades of 68.8 and 74.9 in his first two seasons and should continue to improve next season. The problem is that the Falcons don't have much behind those guys. Hayden Hurst should do a solid job of replacing Austin Hooper's production, but the depth chart at wide receiver quickly falls to relatively unproven options like Russell Gage and Laquon Treadwell.
The Eagles' receiving corps is one of the more interesting ones in the league heading into next season. No one really knows what to expect from Alshon Jeffery after a year in which he struggled with injuries, nor do they know what Desean Jackson has left, given that he has battled injuries over the last couple of seasons but remains electric when on the field. J.J. Arcega-Whiteside needs to show considerable improvement over the non-existent display he put together as a rookie, notching well under one receiving yard per route run on the year. There is talent in that group, though, along with first-round selection Jalen Reagor and their two tight ends, Zach Ertz and Dallas Goedert. Health will be the key to not repeating the disappointment of last season.
The Rams will have to replace Brandin Cooks with either Van Jefferson or Josh Reynolds next season, which is a hit to the offense. Robert Woods and Cooper Kupp is still a pretty nice combination at the top of the wide receiver depth chart, though, and both Gerald Everett and Tyler Higbee can pose a threat as receivers from the tight end position. Higbee really picked things up towards the end of last season — his 522 receiving yards over the last five weeks of the season were more than any other player in the NFL, and his 91.2 receiving grade over that span also sat near the top of the league. The big question for the Rams on offense is how well their offensive line can hold up for Jared Goff to get the ball out to those weapons.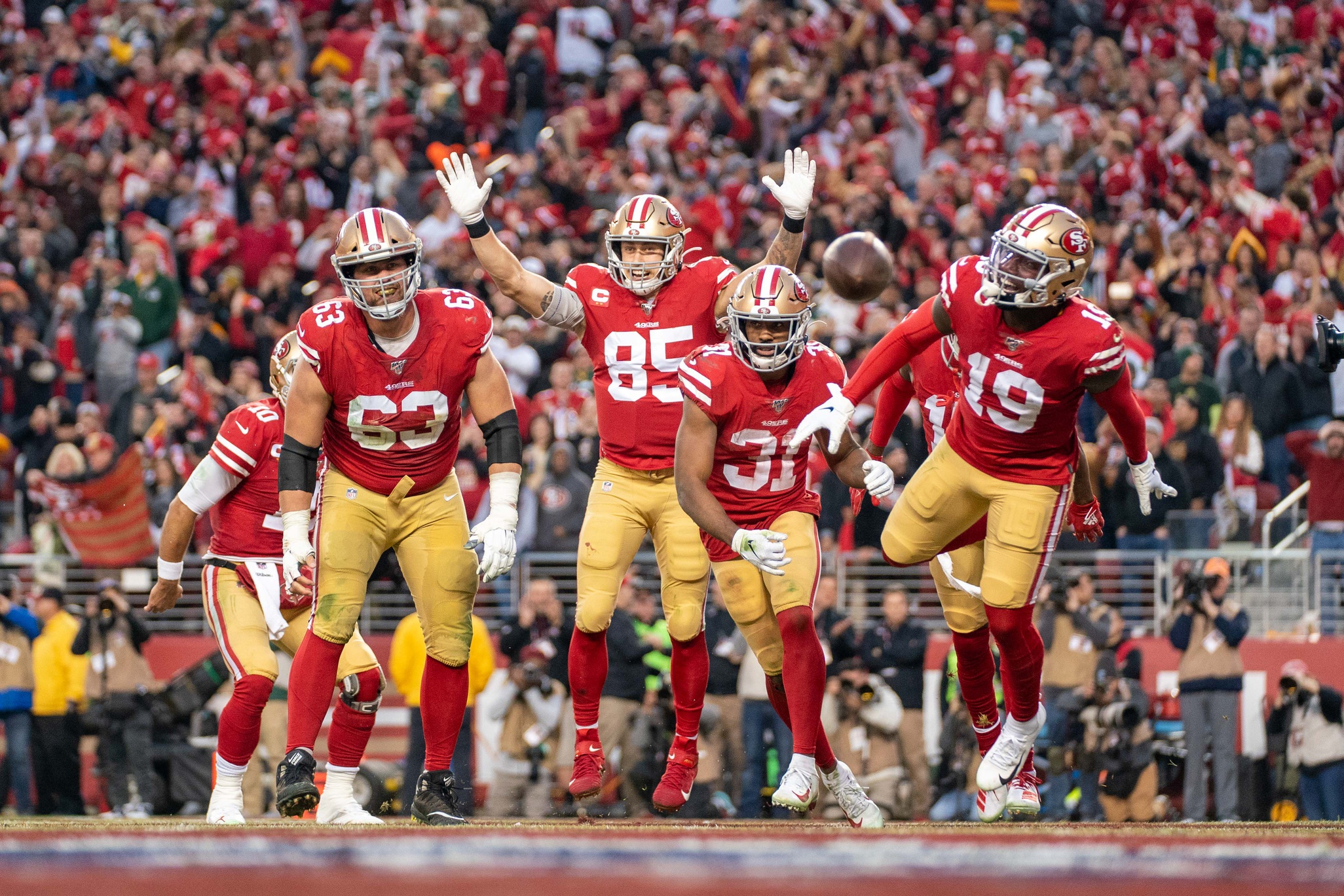 It can be difficult to figure out exactly how talented the receivers are in Kyle Shanahan's offense since he puts them in such good positions to do what they do best. There is no doubt that George Kittle is talented, however, as only Christian McCaffrey has more yards after the catch than Kittle over the last two seasons. Deebo Samuel made an immediate impact as a rookie, instantly becoming one of the top after-the-catch threats in the NFL. Those are the kind of players San Francisco has targeted, and guys like Brandon Aiyuk, Jalen Hurd and possibly even Jauan Jennings have a chance to carve out similar success for themselves. The reason the 49ers sit closer to the middle of the pack here is that they don't have a clear-cut primary wide receiver. It's too early at this point to call Samuel that, given his usage as a rookie.
Tyler Lockett is often undervalued in the conversation of the game's top receivers. Though a lot of it can be attributed to the guy at the other end of the connection, he has been one of the game's most efficient wide receivers since entering the league and has generated a passer rating of 127.3 on his targets since 2015 (first among wide receivers with 100 or more targets). D.K. Metcalf also emerged as a problem for defenses as the season progressed last year, finishing the year with a 73.4 PFF grade. Seattle doesn't really have a strong option at the third wide receiver spot, though, one that the likes of David Moore, Phillip Dorsett and John Ursua should be fighting for. That could lead to some more two tight-end sets with Will Dissly and Greg Olsen in 2020.
Pittsburgh has a very young group of receivers. In terms of experience at the wide receiver position, JuJu Smith-Schuster is the elder statesman, and he's not even 24 years old yet. There is talent here for sure, though. Diontae Johnson was listed as one of Sam Monson's breakout candidates for 2020, coming in as one of the better young route-runners in the NFL. James Washington started to put things together towards the end of the season, as well, earning a receiving grade of 73.4 from Week 9 through the end of the season (28th among wide receivers). There is a fairly wide range of outcomes for this group in 2020, but the ceiling is there with a healthy Ben Roethlisberger.
The disaster that was Antonio Brown's 2019 season and injuries to Tyrell Williams limited this group last season. However, the Raiders were still able to put up solid results offensively thanks to the emergence of pieces like Darren Waller (86.8 receiving grade) and Hunter Renfrow (76.5 receiving grade). They added unteachable speed and athleticism to that group with their first pick in the 2020 NFL Draft by selecting Henry Ruggs III out of Alabama. Ruggs' production with the Crimson Tide won't blow you away, but he has the tools to be a complete wide receiver at the next level, and not just a deep threat. It remains to be seen if he can be that player right out of the gate, though.
Any time you lose a player like DeAndre Hopkins, your receiving room is going to be worse for it. The Texans helped mitigate that loss by bringing in Brandin Cooks, but now they're stuck with an interesting collection of wide receivers. Outside of Randall Cobb in the slot, their top-three options at wide receiver (Cooks, Will Fuller V and Kenny Stills) are all viewed first and foremost as deep threats. All three rank among the top-20 wide receivers in the NFL in receiving yards on passes thrown 20 or more yards downfield since 2017. Too much speed is never a bad thing, but having a little diversity in their games would be helpful. It doesn't help that the Texans don't have a dynamic option to turn to at tight end in the short and intermediate range.
Giants fans were vehemently opposed to taking a wide receiver early in the 2020 NFL Draft, but the fact remains that they've been a team with good complementary pieces in the passing game and no true No. 1 option ever since the departure of Odell Beckham Jr. Golden Tate and Sterling Shepard are solid slot and secondary options in the short and intermediate range, and Darius Slayton showed promise as a downfield threat in his rookie season. Evan Engram and Saquon Barkley both provide plus athleticism and receiving ability for their positions. That's a good supporting cast; New York is just missing the star.
The Colts' cast of pass-catching options was ugly last season. T.Y. Hilton, Devin Funchess and Parris Campbell all dealt with injuries, and that thrust Zach Pascal into the WR1 role at times. To be fair, Pascal played well in that role (73.7 overall grade in 2019), but now Hilton and Campbell return healthy and Michael Pittman Jr. is set to be added into the mix. Pittman is someone who should have a big immediate impact on this offense — he is one of the best underneath route-runners in this class and boasts sure hands (five drops on 176 career catchable passes in college). This is a group that still has a lot to prove, but it's one that shows promise.
A.J. Brown was all the Titans could have hoped for and more as a rookie last season. His after-the-catch ability translated immediately over from Ole Miss to Tennessee, and he ended up leading all wide receivers in yards after the catch per reception at 8.9 yards, averaging over 20 yards per reception in all. Beyond Brown, the Titans' receiving corps is full of solid yet unexciting options. Corey Davis has provided reasonable WR2-caliber play at wide receiver the last two seasons, but he certainly doesn't look like he's going to turn into the guy the Titans expected when taking him fifth overall in the 2017 NFL Draft. Adam Humphries and Jonnu Smith are also nice pieces, but not much more than that (though Smith does have the big-play ability to develop into a larger receiving threat). It's reasonable to think Tennessee might move up these rankings, but right now, they're closer to a middle-of-the-pack group.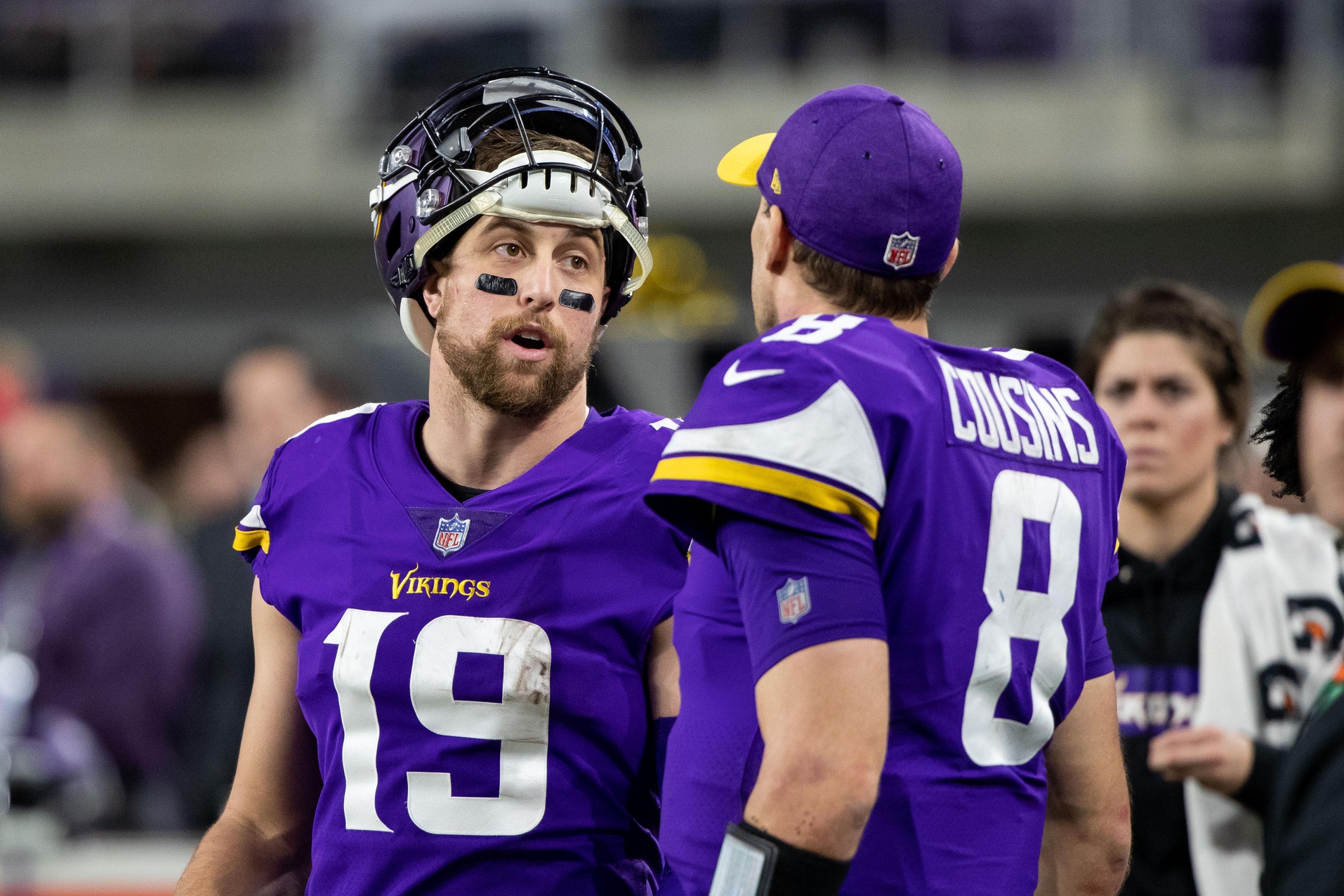 The Vikings are going to feel the loss of Stefon Diggs next season, particularly as a deep threat. Diggs' 635 receiving yards on passes 20 or more yards downfield in 2019 ranked first among all wide receivers during the regular season. Diggs' presumptive replacement, LSU product Justin Jefferson, showed that he has the speed to separate downfield at the 2020 NFL Scouting Combine, but he put up a lot of his numbers with LSU in the slot last season, attacking holes in zone coverage and making the most of plays underneath coverage. That's not a slight to what he did with the Tigers; it's just an acknowledgment of how he was primarily used. The Vikings could continue to use two-tight end sets with Kyle Rudolph and Irv Smith Jr., given their lack of strong options at wide receiver behind Adam Thielen and Jefferson.
Considering that the Ravens finished the 2019 regular season as the NFL's most efficient offense, you would think their receiving corps would finish higher than 25th on this list. Their offense and the uniqueness of Lamar Jackson's game means they don't need a lot of high-level receiving talent, though. Marquise Brown appears to be poised to break through in 2020 after generating an NFL-high passer rating of 134.4 on his 65 targets in 2019 despite playing through injury. Mark Andrews also staked his claim as one of the top receiving threats at the position last season, leading all tight ends in receiving yardage from the slot by a wide margin. Behind those two is where things get murky — Baltimore will be hoping one of Miles Boykin, Devin Duvernay or James Proche can beat out Willie Snead IV at WR2.
The consensus biggest need for the Packers heading into this offseason was another threat at wide receiver to take some of the burden off Davante Adams, and their marquee acquisition to solve that problem was … Devin Funchess. Funchess has been a solid option in the passing game as a possession receiver, earning overall grades between 64.4 and 74.7 in his four seasons of NFL action. However, the Packers still lack dynamic playmakers behind Adams on the depth chart. They're relying heavily on young guys like Allen Lazard (69.6 overall grade in 2019) and Jace Sternberger (99 snaps in 2019 due to injury) to take big steps next season.
Allen Robinson II may be getting the best quarterback play he's ever seen with Nick Foles getting the opportunity to win the starting job over Mitchell Trubisky. The fact that Robinson has been able to be as productive as he has (84.9 career receiving grade) despite dealing with Trubisky and Blake Bortles at quarterback is a testament to just how talented he is. Chicago still is probably a little short in the receiving department heading into 2020, however. They ended last season ranked tied for 28th in team receiving grade, and their major additions consisted of Ted Ginn Jr., Darnell Mooney, Jimmy Graham and Cole Kmet. None of those players seem likely to move the needle significantly next season.
There is a lot of pressure on Denzel Mims to develop into "the guy" at wide receiver for the Jets. It's safe to say that players like Breshad Perriman (deep threat) and Jamison Crowder (slot/underneath receiver) are more specialized, complementary pieces. A lot of New York's success as a receiving corps will come down to whether Mims plays more like the receiver everyone saw at the Senior Bowl or the one who produced inconsistent tape at Baylor and how Chris Herndon looks in his return to action at tight end after putting up a 78.7 receiving grade in 2018. There are still a lot of questions with this group heading into next season.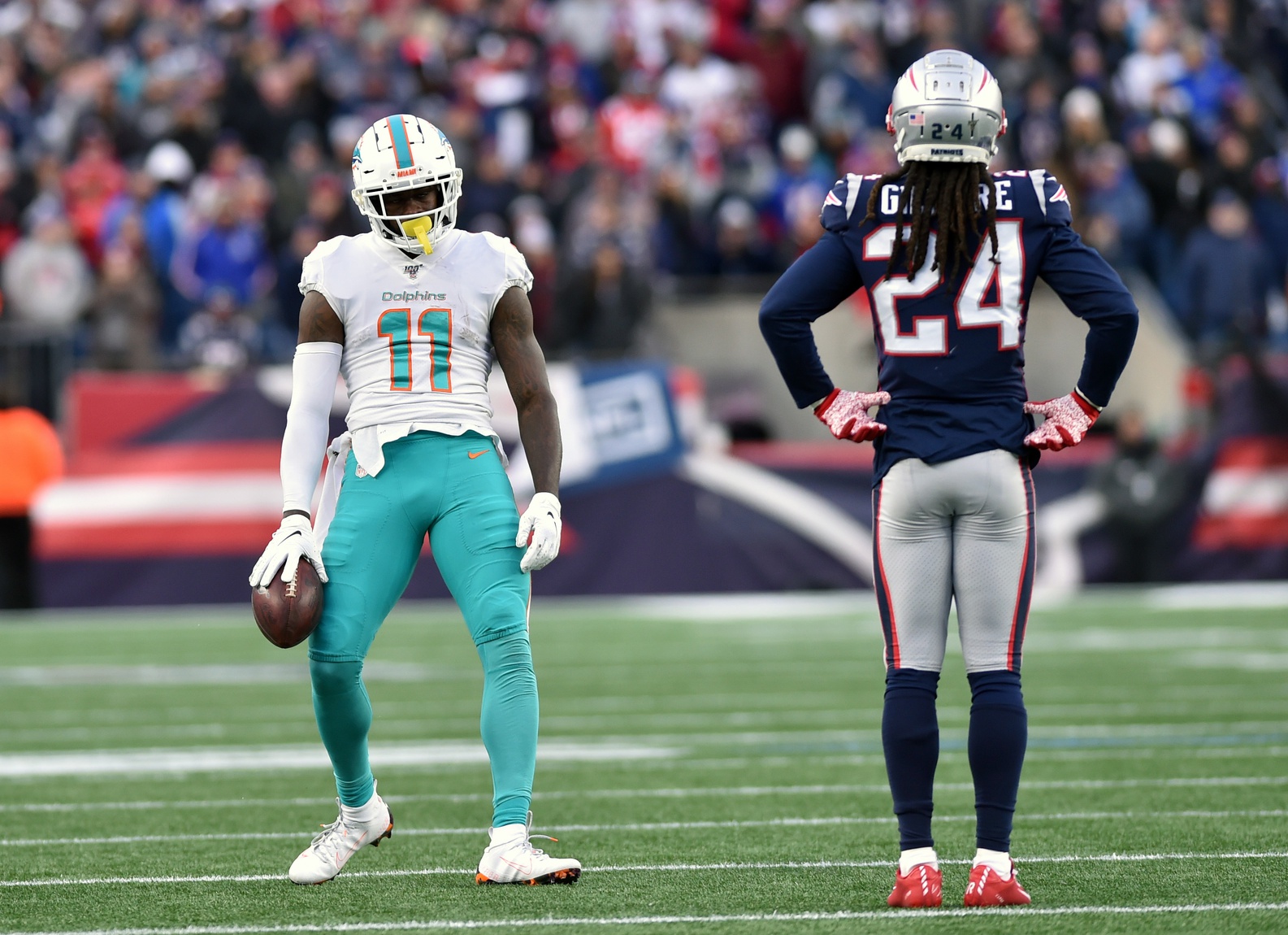 The DeVante Parker breakthrough finally came late last season. Over the final weeks of the season, he was one of the top wide receivers in the entire league, ranking first in the NFL with 22 receptions of 15 or more yards from Week 10 through the end of the regular season. We're not quite to the point where Parker can be relied upon as a true No. 1 option yet, though, and players like Preston Williams, Albert Wilson and Allen Hurns aren't striking fear into opposing defenses any time soon. Mike Gesicki is the X-factor for this group heading into 2020. We saw flashes of what he could bring last season with his size and athleticism, but he needs to put it together more consistently in Year 3.
While many will point to Tom Brady's numbers last season, the big problem with the Patriots' offense was that they just didn't have receivers who could separate downfield. Julian Edelman remains one of the more reliable slot options in the short and intermediate range, but Mohamed Sanu added very little after he was acquired by the Patriots midseason (57.1 overall grade post-trade) and N'Keal Harry's rookie campaign was a disappointment headlined by an injury that sidelined him for a large portion of the season. The two tight ends New England picked up in the third round of the 2020 NFL Draft should see playing time, given the lack of options in front of them on the depth chart, but neither is likely to really solve the issue as a rookie. The Patriots' biggest hope for the year will be that Harry takes a big step forward in a healthy sophomore campaign.
The Jaguars still lack a true primary option in the passing game. It looked like D.J. Chark Jr. might jump out to that kind of role early during the 2019 season with an NFL-high 550 receiving yards over the first five weeks of the year, but he slowed down the stretch with just one single-game receiving grade above 70.0 after Week 5. Chris Conley and Dede Westbrook are unexciting secondary options in the passing game, but the one player who could strike some fear into opposing defenses with his athleticism and physicality is the rookie Laviska Shenault Jr., who was the FBS leader in missed tackles forced after the catch since 2018. Shenault, however, is still raw as a route-runner and has dealt with numerous injuries the last several seasons. I expect him to develop into a dangerous threat in the passing game, but that's probably not coming immediately as a rookie. 
Terry McLaurin was awesome as a rookie last season. Outside of McLaurin, though, there really isn't a whole lot to get excited about here. Kelvin Harmon and Steven Sims did some nice things with overall grades of 64.7 and 64.6 in 2019, but neither of them can be counted on at this stage. The tight end position is a giant question mark, and the only players the Redskins brought in this offseason to improve the receiving corps were Cody Latimer (has never played more than 400 snaps in a single season in his six-year career and was recently arrested), Antonio Gandy-Golden (a fourth-round rookie who projects as a possession receiver) and Antonio Gibson (intriguing player who can slot at either running back or wide receiver). Those additions are unlikely to move the needle all that much next season.