The 2019 receiver class was heralded for its depth, but as we saw play out in the draft, it was lacking in legit top-tier prospects. The first receiver (Marquise Brown) didn't come off the board until the 25th overall pick. We, however, saw 11 receivers selected from pick No. 25 through No. 67. 
That's going to change in 2020. Alabama's Jerry Jeudy, Colorado's Laviska Shenault, Oklahoma's Ceedee Lamb, Oklahoma State's Tylan Wallace, Texas' Collin Johnson, Clemson's Tee Higgins, Minnesota's Tyler Johnson and TCU's Jalen Reagor have all firmly put themselves in the first-round conversation for next spring with their on-field performance already. 2020 will quite easily be the best receiver class since 2014. With all that talent, though, two guys have separated themselves as head-and-shoulders above the others in the class. The first one is obvious, the second isn't near the household name… yet.
We'll have a whole year to poke holes in Jeudy's game, but I find it extremely difficult to envision a scenario where, without off-field concerns or injury, Jeudy isn't a top-10 pick and the first receiver off the board when he declares for the draft. Saying 10 is even being conservative, as there aren't five better players returning to college football next year. The biggest knock on Jeudy is that he doesn't look like Calvin Johnson or Julio Jones. At 6-1, 192 pounds, he's far from the prototype size, yet he's firmly in the best receiver prospect since [insert favorite WR prospect] conversation.
[Editor's Note: PFF will be releasing a Preseason 2020 NFL Draft Guide in August of this year. All EDGE and ELITE subscribers will have access to the guide upon release. Sign up today to ensure you have access the day it comes out!]
The highest compliment I can pay Jeudy is that he just moves differently than any receiver in the country. I've never seen a receiving prospect go from full speed to a full stop as easily as Jeudy can.
If most people stop on a dime, Jerry Jeudy stops on a nickel. pic.twitter.com/F7xrcSFvUU

— Carter Donnick (@CDonScouting) April 5, 2019
As far as elite traits go, I'd say Jeudy qualifies as such for each of the following:
Speed

Elusiveness

Play strength

Hands

Route running
Here he is running away from the fastest player at the 2019 Combine, Ole Miss safety Zedrick Woods who ran a 4.29.
OH MY!

Whatever you think Alabama WR Jerry Jeudy's 40 time is, it's probably faster. The safety that doesn't have a chance to run with him on this play (Zedrick Woods No. 36) ran a 4.29 40 at the Combine. Jedy can fly!!! #RollTide pic.twitter.com/4BO7gL8TSP

— Joe Marino (@TheJoeMarino) March 20, 2019
This is legit angle-changing speed that will strike fear into defensive coordinators everywhere.
Man, Jerry Jeudy is gonna be something special pic.twitter.com/iSGpFUk46K

— Josh Mensch (@JoshMenschNFL) February 21, 2019
This dig route against LSU might be the most impressive single rep any receiver had in college football last season. His combination of athleticism, elusiveness, and route-running is on another level.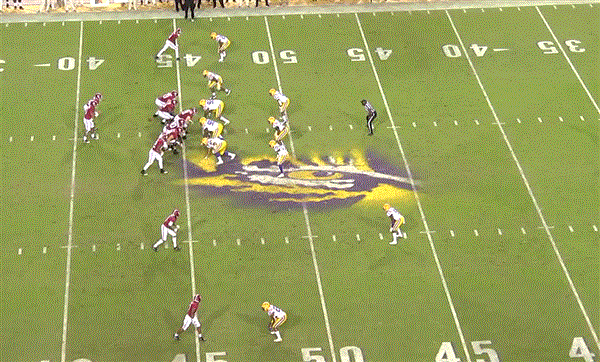 Jeudy dropped only four passes on 72 catchable last season, hauled in 14 scores, broke 17 tackles and converted seven of his 11 contested opportunities. There isn't much left for the Biletnikoff award winner to prove, but selfishly I'd love to see him get more reps against press on the outside. Jeudy was about 60 percent slot last season compared to 40 percent out wide for Alabama. He has all the traits to be a true 'X' receiver in the NFL, and it would be nice to see him get a jump start on that role.
While Jeudy is certainly the number one receiver on PFF's board for the 2020 class, there's another guy who isn't too far behind. TCU's Jalen Reagor would have put up similar eye-popping numbers to Jeudy if the former had a quarterback like Tu'a Tagovailoa. The Horned Frogs quarterback trio of Shawn Robinson, Michael Collins and Grayson Muehlstein combined for almost twice as many turnover-worthy plays (27) as big-time throws (15). TCU passers threw accurate passes at the fourth-lowest rate of any Power-5 program. The fact that Reagor still put up 1,040 yards and nine touchdowns is a minor miracle with how often he was missed badly with tons of separation like the play below.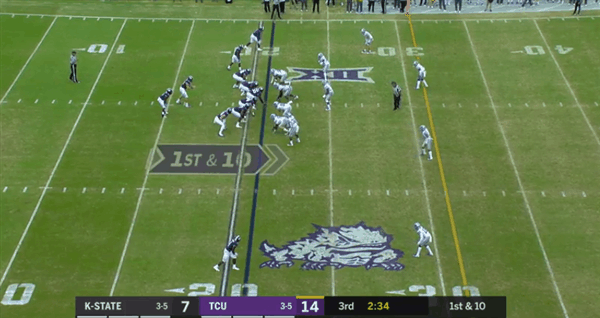 That alone was 79 yards left on the field, and it didn't stop there. Reagor actually had more targets 10-plus yards downfield with more than two yards of separation than Jeudy (26 vs. 24), but only 13 catches on them compared to 18 for Jeudy. When it comes to separating, Reagor is arguably the best at it in the class. He reportedly ran a 4.32 40 last spring and was the Texas state long jump champion back in high school. He's as explosive a receiver as there is in college football and is murderous on the vertical route tree.
— Mike Renner (@PFF_Mike) April 3, 2019
Unlike most deep threats, Reagor is far from a one-trick pony. He only dropped five of 76 catchable passes last season, converted 15-of-31 contested-catch opportunities and broke 11 tackles. At 5-foot-11, 195 pounds, Reagor is the prototype for where the game is headed for the receiving position in the NFL. At this time next year, don't be surprised if we've heard both Jeudy and Reagor's names called within the first 10 picks of the draft.
[Editor's Note: PFF will be releasing a Preseason 2020 NFL Draft Guide in August of this year. All EDGE and ELITE subscribers will have access to the guide upon release. Sign up today to ensure you have access the day it comes out!]