Most college offensive line coaches aren't afforded the height and length cutoffs that NFL GMs often employ. If they get someone who can pass protect, chances are they're throwing him at tackle because it's the most valuable position on the offensive line. Of PFF's 10 highest-graded guards from a season ago, half were offensive tackles their final year in college, and some others even dabbled there on occasion. If you're looking for interior offensive line help in the coming draft, open your mind to some of these players who were out on the edge last season. 
[Editor's note: Check out PFF's 2020 Post-Free Agency Mock Draft and NFL Draft Big Board. PFF Elite subscribers can also download the 1,100-page 2020 NFL Draft Guide.]
Round 3
Isaiah Wilson, Georgia 
At 6-foot-6, 350 pounds with 35 ½-inch arms, Wilson should get every shot to fail at tackle before kicking inside. Chances are, with his sluggish feet, he'll have to be protected in pass pro against quicker rushers off the edge. When he gets his hands on guys at the snap, he ends reps immediately. But getting his hands on guys can be the problem. Plays like the one below (right tackle) are not uncommon on his tape, unfortunately.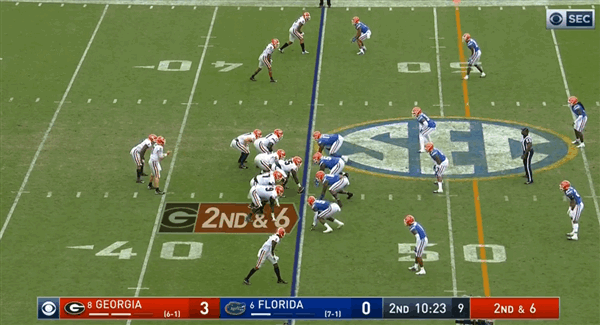 Putting Wilson inside could protect him against quicks like that and let his natural power shine.
Robert Hunt, Louisiana-Lafayette
Hunt is a similarly massive tackle whose talents look best-suited on the inside. He showed up at the Combine at a svelte 6-foot-5, 323 pounds with 33 ½-inch arms and 10 ¾-inch hands. Before Hunt was injured last season, he earned an 80.7 pass-blocking grade and 86.0 run-blocking grade for the Rajin' Cajuns. A four-year starter, Hunt racked up 2,947 career snaps at Louisiana. His calling card is a unique combination of flexibility and raw power, as you can see below (right tackle):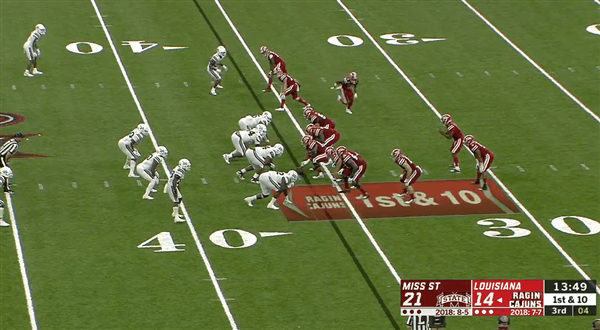 He's another player who could stay at tackle, but doesn't quite have the quicks you'd want there. Those guys get moved to guard nine times out of 10 in the NFL.
Round 4
Danny Pinter, Ball State
Pinter is a little different from most of the others on this list in that his move to guard is solely predicated on length and has nothing to do with movement skills. In fact, he tested out as one of the best athletes along the offensive line at the combine.
Pinter switched from tight end to offensive tackle only a couple of years ago and still retained some of those movement skills despite packing on the mass. He has no problem cutting off linebackers at the second level or leading out to the edge. Pinter's play strength is a concern, but we've seen that increase dramatically even since 2018. 
Tyre Phillips, Mississippi State
Phillips is a naturally massive human being at 6-foot-5, 331 pounds with 35 ⅛-inch arms and 10 ⅜-inch hands. He also moves like a massive human being with an 8.0-plus second 3-cone and 5.0-plus second shuttle at the combine (often seen as thresholds for tackle). In a phone booth, though, you don't want any part of him. He doesn't cede an inch in the pocket and is already an accomplished pass protector. Phillips earned a 78.2 pass-blocking grade this past season at left tackle. He was already kicked inside at the Senior Bowl practices and won eight of his 11 reps in the one-on-ones for the highest win rate of any guard in attendance. 
Round 5
Calvin Throckmorton, Oregon
Throckmorton tested out bottom of the barrel athletically at the Combine and it looks like center — the position where athleticism has shown to be least correlated to success along the offensive line — will be his best position. The good news is that while he's played 2,706 snaps at right tackle throughout his career, Throckmorton has also cross-trained at every single position along the offensive line, with 230 coming at center. Over his four years as a starter, Throckmorton earned a pass-blocking grade of 91.2 and a run-blocking grade of 80.2. It may not always be pretty, but Throckmorton gets the job done.