More so than any other position, the wide receiver role makes it obvious how dependent their performance is on the players around them — the most important one of those being the quarterback. If you aren't matched up with a high-volume passing offense or a talented quarterback, it's simply far more difficult to put up numbers at the position.
For these rankings, it's not a one-to-one reflection of the receiver's talent — that's what our position rankings are for — although that plays a factor when it comes to the share of targets and routes we assume the wideout will get. For example, Mecole Hardman went to play with Patrick Mahomes while Andy Reid schemed up an ideal role for the receiver, but he wasn't going to take snaps away from Tyreek Hill. Here, we rank rookie receivers' ability to not only produce efficiently but also voluminously in their given situation.
[Editor's note: Subscribe to PFF ELITE today to gain access to PFF's Premium Stats and new Player Grades experience in addition to the 2020 NFL Draft Guide, 2020 Fantasy Rookie Scouting Report, PFF Greenline, all of PFF's premium article content and more.]
Look at every receiver who has had success with Philip Rivers over his career and the body types he targets most:
While it could very well be a coincidence, the fact remains that Rivers has had a ton of success with bigger-bodied wideouts. The Colts didn't have anything resembling Pittman's skillset on the roster before drafting him, so he slides immediately into the possession role that Rivers covets.
While this one might not seem obvious on its face, as Lamb goes to a team with two 1,000 yard receivers from a year ago in Amari Cooper and Michael Gallup, don't think that will stop Lamb from producing. In Mike McCarthy's last season with the Green Bay Packers, they ran 11 personnel (three receivers, one back, one tight end) on 76% of their offensive snaps (second-most in NFL). They also passed on 72% of their offensive snaps (most in the NFL). As you can see in the chart below, the 2018 Packers were massive outliers compared to the rest of the league.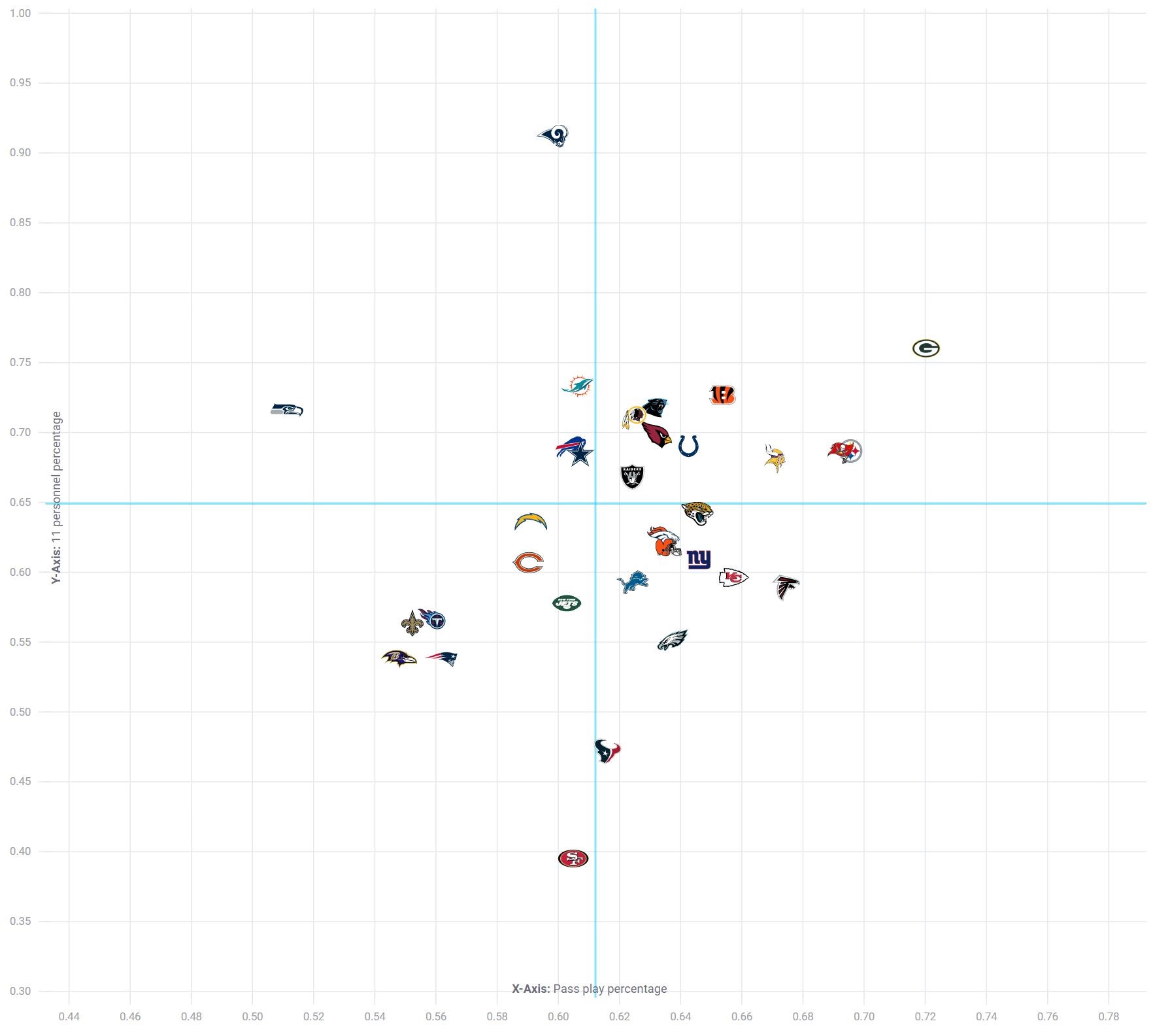 Don't expect the tiger to change its stripes anytime soon. With the weapons Dallas has offensively, Lamb will see the field, and the ball will be in Dak Prescott's hands far more than Ezekiel Elliott's.
This one is easy to project. Stefon Diggs and his 6.1 targets per game are gone and now completely up for grabs in the Vikings' offense. And trust me, they aren't turning to Olabisi Johnson. The key here is also the big-play aspect. Diggs was tasked with getting vertical in the Vikings' offense. His 15.6 average depth of target was the ninth-highest among receivers with at least 50 targets last year. Those are the far more valuable targets that Jefferson should absorb and excel at right off the bat.
Jeudy's success in the NFL has far less to do with his own talent than it does with Drew Lock and the offense as a whole. The Broncos put some training wheels on Lock when he took over last season, and they passed on only 61.1% of their offensive plays from Week 13 on. If that opens up, there's no reason to think Jeudy can't replace the six targets a game that Emmanuel Sanders was getting while in a Broncos uniform.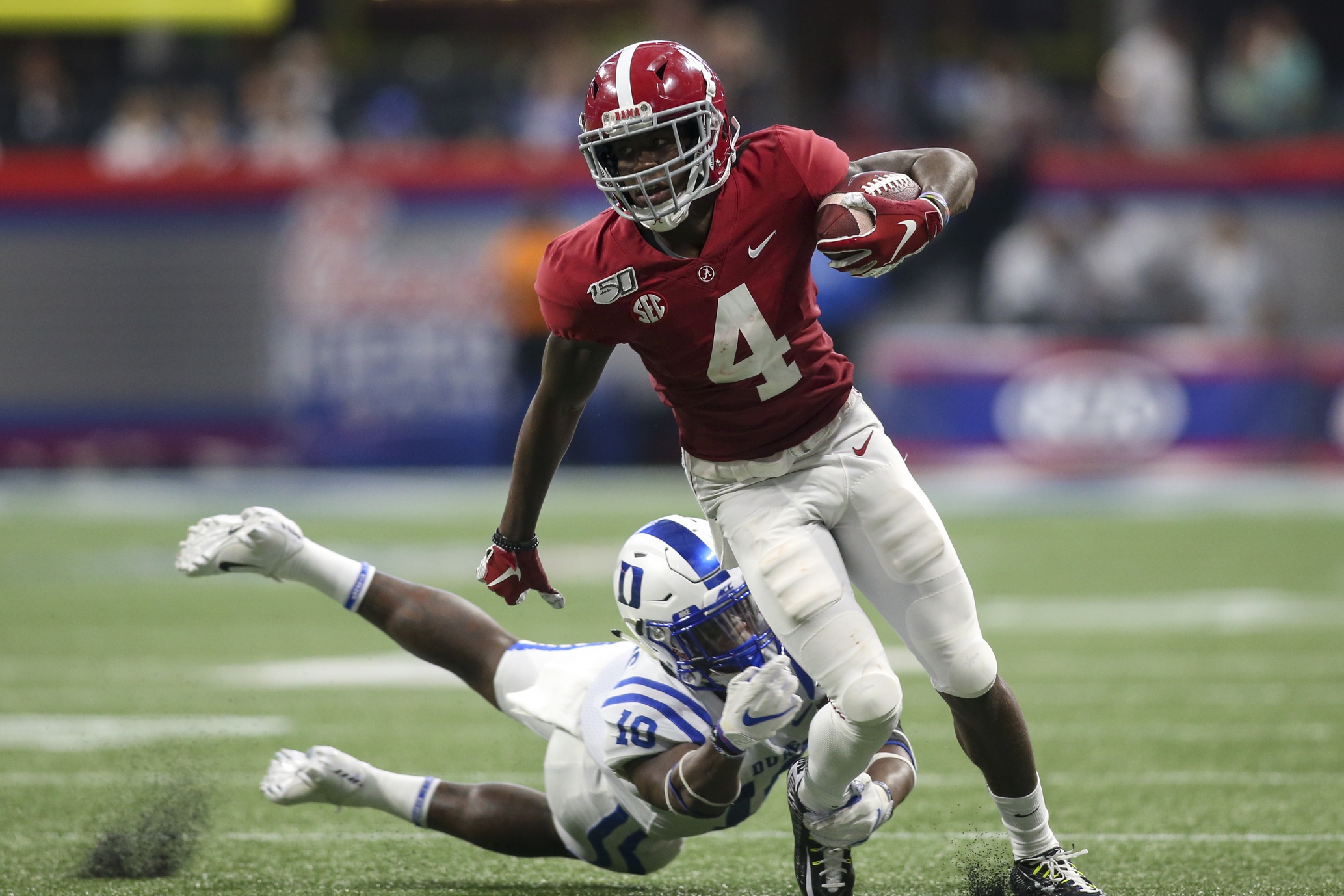 For as often as the Jets' offense stalled in 2019, it might be surprising to learn that they still generated explosive pass plays (15-plus yards) when targeting receivers more frequently (19.8% of dropbacks) than the Kansas City Chiefs last year (19.7%). Sam Darnold is at his best when throwing downfield, but whether it's a lack of weapons or the offense as a whole, he hasn't been able to target those routes consistently. That should be where Mims wins, as he posted a 14.9 average depth of target last season at Baylor.
The new-look 2020 Buccaneers' offense remains to be seen, blending what Tom Brady has done the majority of his career with what Bruce Arians has done the majority of his career. What I do know, though, is that Johnson fits the profile of a receiver Brady favored with the New England Patriots. Johnson ranked top-10 in yards per route each of the past two seasons while operating almost exclusively from the slot. Brady — even in his down 2019 season — still had the third-most passing yards (1,617) and fourth-highest passing grade (91.6) when targeting slot receivers.
Even as the third receiver, Jefferson will be seeing the field. The Rams backed away from their 90%-plus rate of 11 personnel from 2018 a little bit this past year, but they still ran it 73% of the time in 2019. They also had the second-most pass plays of any team in the league (679). Even with a struggling Jared Goff who earned a 72.5 passing grade in 2019, Jefferson is still in as good a situation as he could have hoped for to produce.
The worry with Ruggs isn't whether he will see the field, but rather will he be put in a position to succeed? He goes to a quarterback in Derek Carr who targeted deep routes at the fifth-lowest rate of any starter in the NFL. When targeting receivers last season, his average depth of target was only 10.3 yards downfield (fifth-lowest in NFL). That number was 10.2 in 2018, as well (lowest in NFL). You can make a chicken or the egg argument, but the place where Ruggs' speed is most dangerous hasn't been in his new quarterback's wheelhouse.
Reagor gets moved down this list because his path to the field looks the murkiest of any first-rounder. His projection skyrockets if he replaces DeSean Jackson or last year's second-rounder J.J. Arcega-Whiteside early on, but neither of those are guaranteed at the moment. Usurping the 33-year old Jackson seems a more logical fit from a skillset perspective, but Reagor will still need to prove he's versatile enough to kick into the slot when need be. He took a grand total of 240 snaps in the slot over the past two seasons for TCU.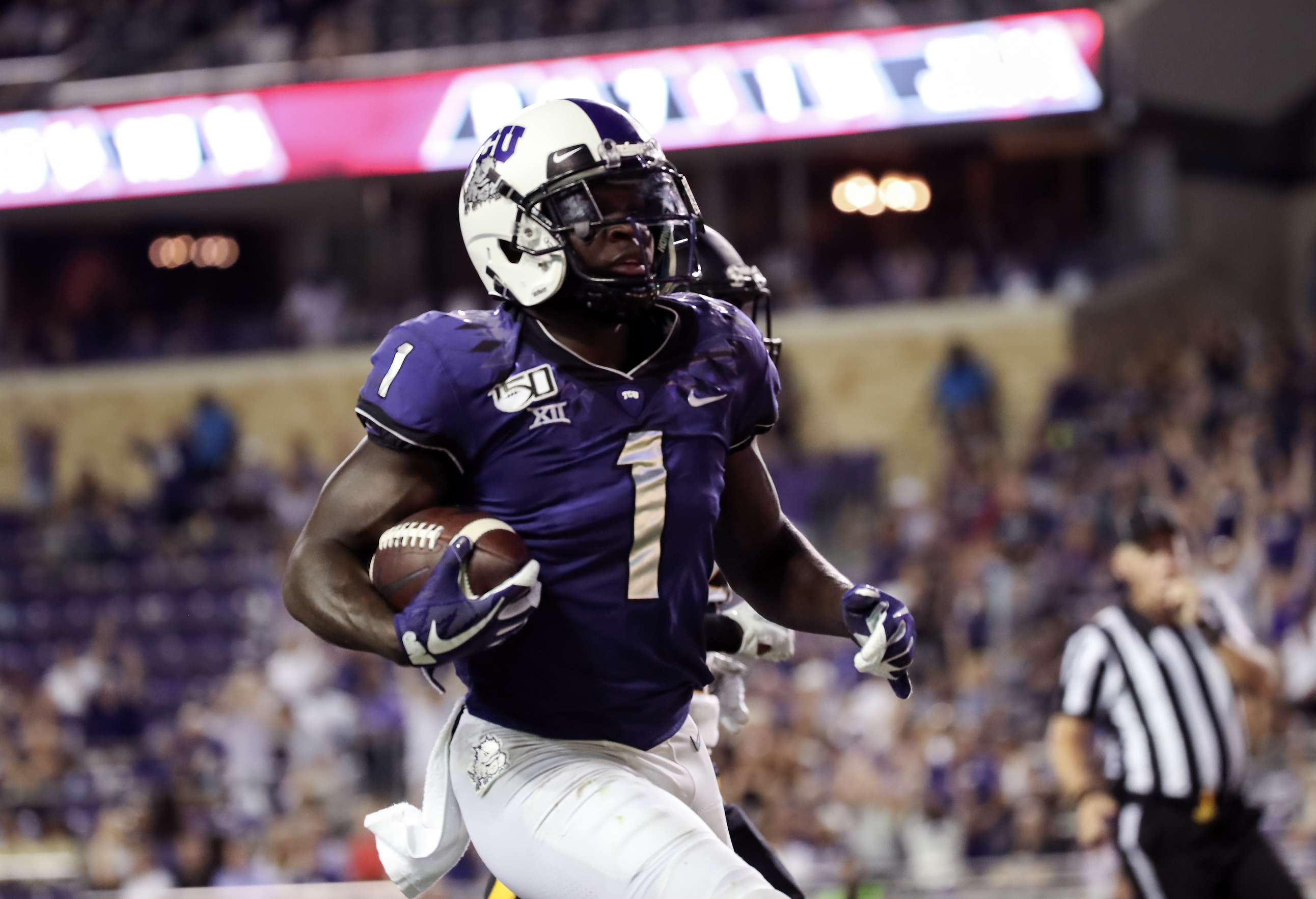 Aiyuk's issue is getting buried sharing targets with Deebo Samuel and George Kittle commanding the ball in a run-heavy offense. Those two accounted for just over 40% of the 49ers' targets in 2019 and should only rise with Samuel in Year 2. Aiyuk's limited route tree at Arizona State could come into play, too, as the 49ers' offense doesn't feature a ton of simplistic routes. In fact, their receivers had the fewest yards (529) of any group on screens, hitches, go's, and crossers last year.