It finally happened.
After a few months of laughing at the idea of him playing for anyone other than the New England Patriots, and then another few months of second-guessing that thought, and then another few months of debating his potential landing spots and guessing whether or not he had the "guts" to leave, Tom Brady finally announced his intent to leave the New England Patriots.
Last night, it was reported by ESPN's Adam Schefter and Jeff Darlington that he'd be signing with the Tampa Bay Buccaneers.
Per usual, many people have gone to Twitter to voice their opinion on Tom Brady's plan to join forces with the "Quarterback Whisperer" Bruce Arians and his "no risk it, no biscuit" offense.
Arians is known for his infatuation with the deep ball and aggressive play-calling. His quarterback in 2019, Jameis Winston, owned an average depth of target of 10.8 yards downfield, but his new quarterback, TB12, was over two yards shorter than that a season ago.
My colleague Timo Riske, who does remarkable work within the football analytics community, wrote an article that explained that while Brady might not be a natural fit in his offense, he is still going to be a better fit in Arians' offense than everyone thinks.
Riske detailed how Brady's targeted routes and depth fluctuated by the receivers he had available at his disposal, and how we should expect there to be a significant change in 2020, given the presence of a downfield receiver like Mike Evans. You can read more about this in greater detail here.
Some have taken the side of "Tom Brady is a washed-up quarterback who averaged the third-fewest yards per attempt and fourth-lowest completion percentage last year." But this, ladies and gentlemen, is a laughable take. Tom Brady is still very much a top-tier quarterback and the Tampa Bay Buccaneers have a well-constructed roster, and these things together make this team a Super Bowl contender ahead of the 2020 NFL season.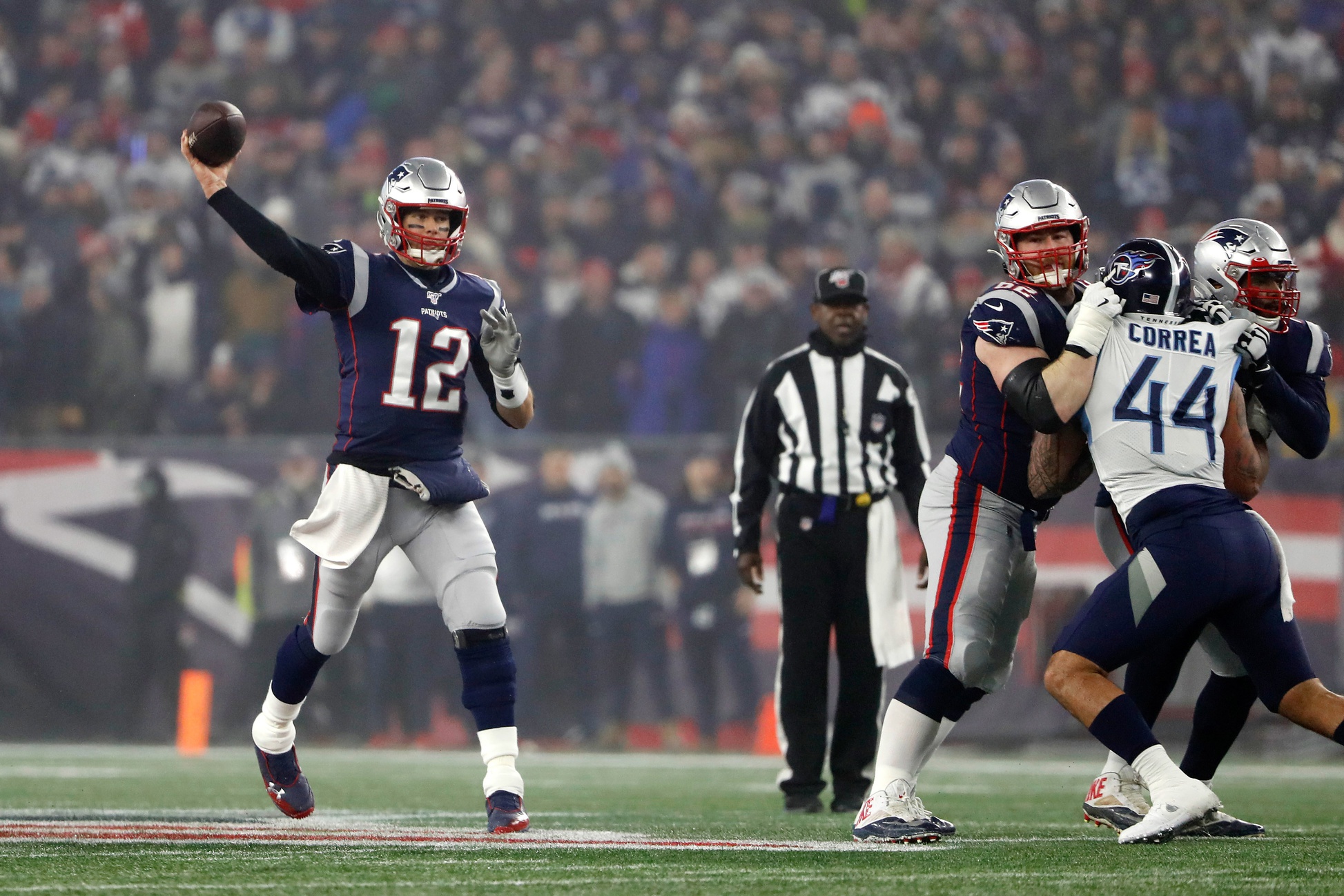 Tom Brady still has juice left in the tank
Brady wasn't the same top-three quarterback we all knew and (some) loved in 2019 — I'm certainly not arguing that he was. However, the six-time Super Bowl champion was still very much a way-above-average quarterback in 2019. He posted a PFF passing grade that ranked 12th in the NFL, and he did it with perhaps the worst supporting cast of his NFL career.
The 2019 New England receiving unit actually posted the worst receiving grade by a Patriots group in the PFF era (2006-present), and it was one of just two seasons in which they fell below the league average. The group also ended the season as the least valuable pass-catching unit of the Brady era, per PFF WAR.
For what it's worth, the three highest-graded games of Brady's 2019 season all came in the first three weeks of the season when he was armed with a healthy Julian Edelman, Josh Gordon and Antonio Brown (for one game).
Brady was among the 10 most accurate passers in the entire league on throws targeted 10 or more yards downfield last year, while his negatively graded throw rate (which is a stable metric for QBs from year to year) on those same throws also ranked among the league's 10 best passers.
His receivers, however, didn't do any favors for Brady here, as they just flat-out struggled to gain any separation on their targets on those 10-plus-yard passes. In fact, Brady's rate of tight-window passes on those throws was the eighth-highest rate in the league. And this just goes to show that Brady, by himself, can only do so much.