The action never ends in dynasty fantasy football leagues, and we're about to get into the most exciting time of the year with rookie drafts rapidly approaching.
In the past, we've provided extensive fantasy football coverage for the NFL Draft, but we didn't have a central home for all of this valuable information. That all changes right now with the brand new PFF Rookie Fantasy Scouting Report.
[Editor's Note: The PFF Rookie Fantasy Scouting Report for the 2020 NFL Draft is available to all EDGE and ELITE subscribers. Sign up today to download your copy.]
This dynasty fantasy football draft guide pulls together all of the key intel you need to dominate your dynasty rookie drafts. We go player by player to provide in-depth analysis and insights for every fantasy-relevant player in the 2020 NFL Draft, including player profiles and unique PFF metrics and grades.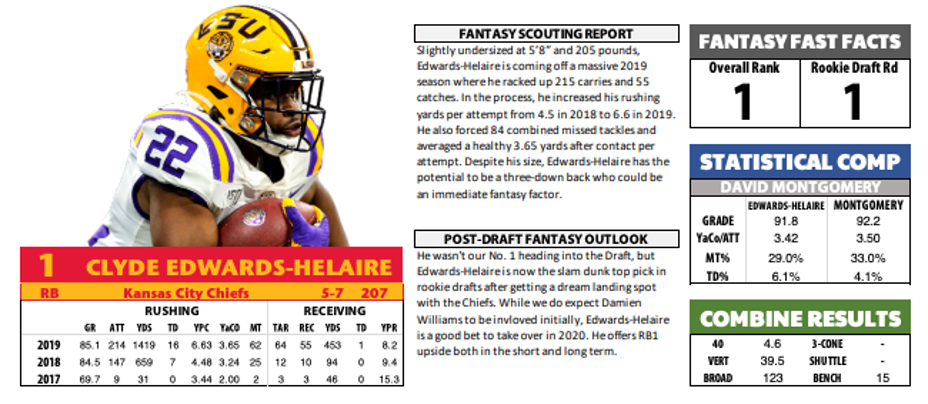 In addition to the numbers and analysis, our player profiles also include a statistical player comp. NFL draft comps are a fun part of the process, so we put our own unique spin on this idea.
Instead of attempting to describe the player's style with a comp, we dug into the numbers and found players with similar metric scores from the data within the PFF era (which goes back to 2014 with complete data for college football). And the best part is we provide comps for all 195 players listed in this guide.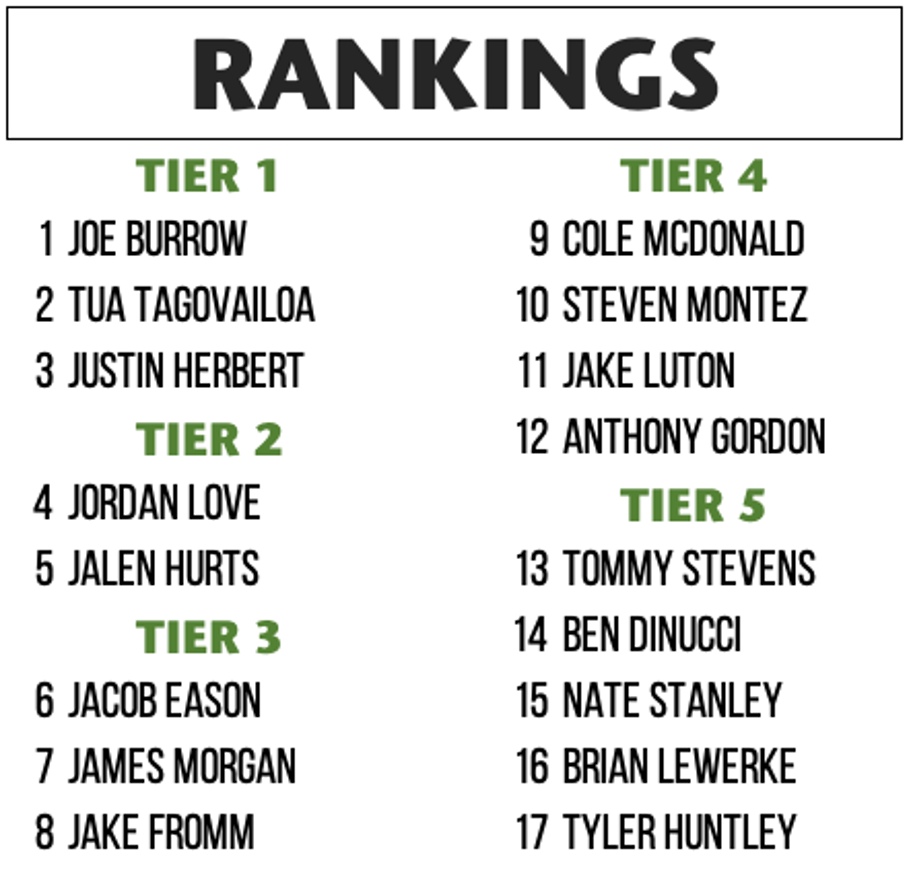 But the fun doesn't stop there. For every position, we also have tiers based on our dynasty fantasy football rookie ranking. We also break things down with a set of overall fantasy football rookie rankings and my unique fantasy football draft board.
This year's edition of the Rookie Fantasy Scouting report has two versions. The first version came out on April 13, 2020 for the lead-in to the Draft. The second version with updated information on all of the players post-draft was published on May 4, 2020.
[Editor's note: Check out all of PFF's 2020 NFL Mock Drafts, NFL Draft Big Board and NFL Mock Draft Simulator. PFF Elite subscribers can also download the 1,250-page 2020 NFL Draft Guide.]