The NFL is a matchup-driven league. Offensive coordinators are always looking to scheme their playmakers into one-on-one situations against a defender, while defensive coordinators will attempt to do anything in their power to upset the timing and rhythm of the opposing QB.
Click here for more PFF tools:
Rankings & Projections | WR/CB Matchup Chart | NFL & NCAA Betting Dashboards | NFL Player Props tool | NFL & NCAA Power Rankings
---
Despite the obvious impact that defenses have on opposing offenses, fantasy players and fans alike are often left with one-way metrics to describe offenses and defenses that they are then forced to compare against each other in an attempt to identify mismatches.
The goal here is to provide easy-to-decipher charts and notes to define each week's key matchups and advantages on both sides of the ball in:
Explosive Plays

Pace

Pressure

Yards Before Contact

Passing Game

EPA
The following charts display matchup-specific information meant to highlight the largest mismatches in these ever-important facets of football to ultimately gain actionable betting and fantasy takeaways. And, of course, to have fun.
Note: Data is from Week 1-15, 2021. Key discrepancies will be highlighted in the ensuing paragraphs and the metrics will get stronger as the season continues.
Explosive Plays
Big plays make the football world go round. Matchups between explosive offenses and leaky defenses are exactly what we're looking for when compiling game stacks in DFS, or when betting an over.
Explosive Pass Rate

: The sum of an offense's rate of 20-plus yard completions per pass attempt and the opposing defense's rate of 20-plus yard completions allowed per pass attempt. A higher percentage is better for offenses (blue  is good, red is bad).

Explosive Run Rate

: The sum of an offense's rate of 15-plus yard gains per rush attempt and the opposing defense's rate of 15-plus yard runs allowed per rush attempt. A higher percentage is better for offenses (blue is good, red is bad).
Mismatch Manifesto Week 15: combined explosive play rate.

Higher or lower % = large or small combined sum of the pass/rush big-play rate from the matchup's offense and defense (blue = good, red = bad)

Big pass play: 20+ yds
Big run play: 15+

All data from 2021, PFF pic.twitter.com/Pan7W5WSPw

— Ian Hartitz (@Ihartitz) December 15, 2021
These offenses breed explosive plays: Five offenses are averaging an explosive pass play on at least 10% of their dropbacks: Raiders (11%), Patriots (11%), Rams (10.5%), Cardinals (10.4%) and Bengals (10.1%). Football is truly better when there are good quarterbacks littered throughout the league; thankfully it appears the latter squad has found their gunslinger of the present and future.
Let Joe cook: Burrow is PFF's fourth-highest graded passer this season. He's posted rather stark increases in big-time throw rate (6.5% vs. 3.6%), yards per attempt (8.4 vs. 6.5) and adjusted completion rate 77.2% vs. 71.8%) from 2020 to 2021 while also reducing his turnover-worthy play rate (3.2% vs. 3.0%).
The film goes hand in hand with the analytics: Burrow has been playing some truly great football in 2021.
88 seconds of Joe Burrow throwing dimes pic.twitter.com/enVgzCMspu

— Ian Hartitz (@Ihartitz) December 13, 2021
Vic Fangio's well-coached Broncos certainly aren't a cake walk; they're one of just five defenses to allow fewer than 17 fantasy points per game to opposing quarterbacks this season. Still, Burrow and company are awfully difficult to slow down when everything is clicking.
Good offense beats good defense in today's NFL: Three offenses are set up to absolutely thrive in their quest to create some explosive pass plays: Packers, Cardinals and the Raiders. Of course, the latter two passing games are going through a bit of an identity crisis due to key losses at the wide receiver position.
Take my eyes but not Nuk Hopkins: Ugh. DeAndre Hopkins (knee) is expected to miss the rest of the regular season with a sprained knee. He disappointed with just four top-24 finishes in 10 games this season. The primary issue was simple: volume. Week 14 marked the first time all season that Nuk had double-digit targets in a game; wasn't isn't the same target-hog that fantasy managers are used to seeing:
2015: 12 targets per game

2016: 9.4

2017: 11.6

2018: 10.2

2019: 10

2020: 10

2021: 6.3
Credit to A.J. Green for posting season-high marks in receptions (7) and yards (102) on 10 targets himself last week; just realize he's finished with just a single catch in two of his last four games. The same sort of weekly volume concerns that impacted Hopkins go for everyone else in this offense; it's why Christian Kirk (WR38 in PPR points per game) and Rondale Moore (WR67) haven't been more productive despite their standing as integral pieces of the league's fourth-ranked scoring offense.
Nothing about the Lions pass defense is scary. Seriously. Pick pretty much any stat that has to do with defending wide receivers and there's a good chance the Lions are among the league's worst teams in it:
Yards per attempt allowed: 9.2 (No. 27)

Explosive pass play rate allowed: 22.6% (No. 29)

Contested target rate: 17.4% (No. 27)
Still: Look no further than Week 13 when Kyler Murray threw the ball just 15 total times for an example of the Cardinals being willing to take their foot off the gas against an inferior opponent. Kirk and Green deserve to be elevated to WR3 territory, but neither figures to simply assume Hopkins' status as the passing game's clear-cut No. 1 option because Nuk himself wasn't even getting that sort of volume. Moore has seen his usage spike here and there, but Antoine Wesley has consistently been entering the starting lineup instead of the Cardinals' 2021 second-round pick. Neither Moore nor Wesley are recommended starts.
Who doesn't love a gritty slot receiver: Hunter Renfrow has posted the following production in six games since this offense lost Henry Ruggs:
Week 9: 7 receptions-49 yards-1 TD (9 targets), PPR WR11

Week 10: 7-46-1 (9), WR11

Week 11: 4-30-0 (4), WR53

Week 12: 8-134-0 (9), WR5

Week 13: 9-102-0 (10), WR12

Week 14: 13-117-1 (14), WR1
The offense has scored 16 or fewer points in five of those six games; in no way has this stretch coincided with the Raiders playing their best offensive football. Still, it's at least nice when bad offenses can still provide a viable fantasy asset or two (looking at you, Jacksonville).
The Browns defense ranks sixth in explosive pass play rate and first in contested target rate allowed this season; Carr and company aren't set up well to get right in this tough road spot, but that doesn't mean Renfrow will stop vacuuming up receptions anytime soon. He's my PPR WR17 on the week ahead of guys like Tee Higgins, Deebo Samuel and Brandon Aiyuk.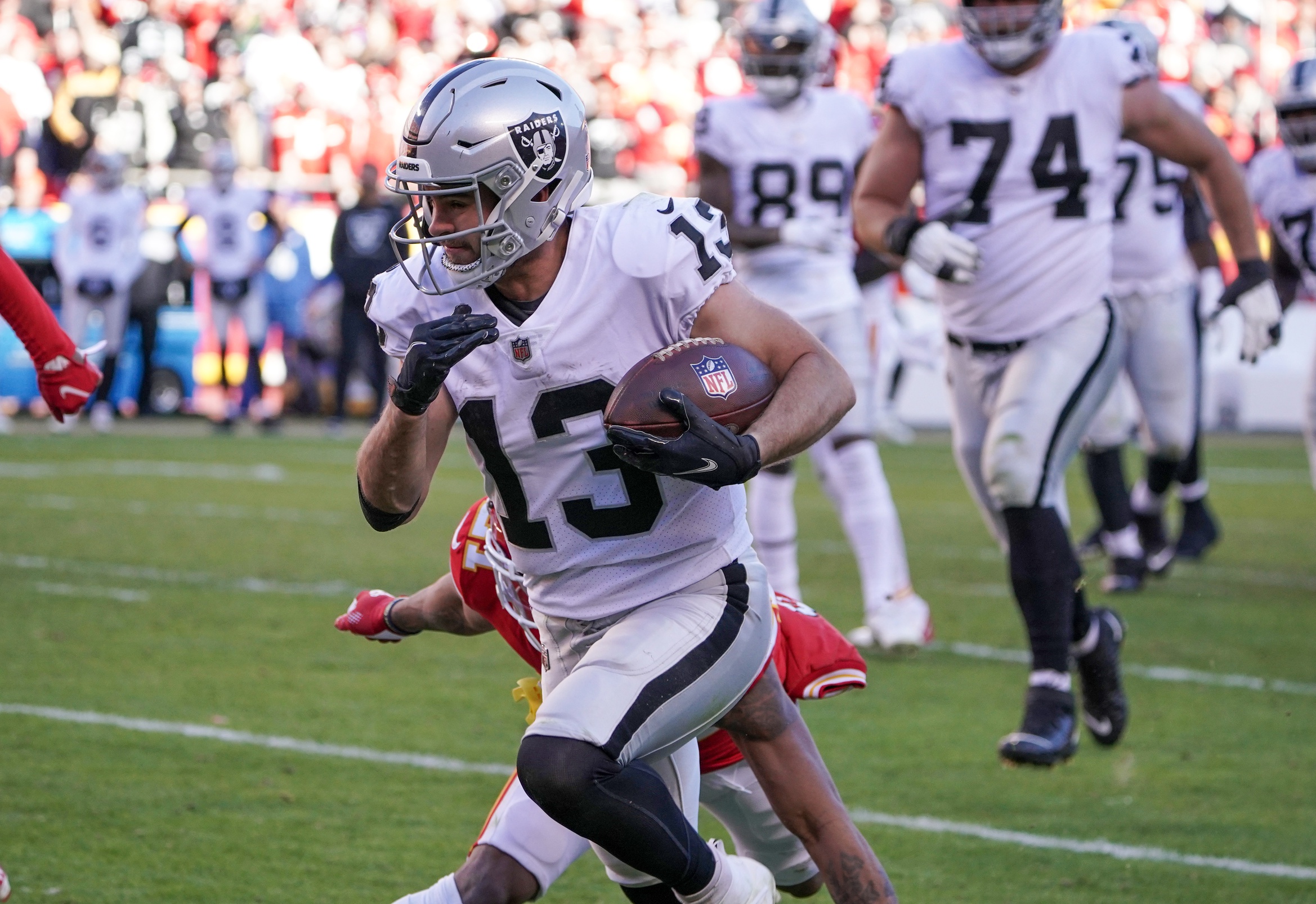 Offense is easier when the defense sucks: The only four defenses allowing an explosive pass play on at least 10% of their opponents' dropbacks: Jets (11.7%), Ravens (11.1%), Lions (9.9%) and the Cowboys (9.6%). Hopefully the presence of the former squad leads to an explosive performance from the 2021 NFL Draft's No. 6 overall pick.
Then he waddled away, waddle, waddle, waddle, waddle: Jaylen Waddle has been on a heater over the past two months, ripping off PPR WR4, WR16, WR60, WR16, WR37, WR11, WR1 and WR15 finishes in his last eight games. The WR17 in PPR points per game, the floor here has been ridiculously high thanks in large part to Waddle's status as an extension of the run game. Overall, Waddle has had a whopping 60 targets thrown his way either behind the line or no further than 5 yards downfield — the fourth-highest mark in the league.
These sort of easy quick-hitters give Waddle a floor that is impossible to bench in full-PPR formats against a Jets defense that he managed to catch eight of nine passes for 65 yards against back in Week 11. The Jets are one of just four defenses to allow more than 6.0 yards after the catch per completion allowed; that's incredibly problematic against a YAC-specialist like Waddle.
Waddle is my WR16 this week, while DeVante Parker comes in as my WR35. He's managed to catch at least four passes in every game this season, showing off his always-awesome contested-catch ability along the way. The Dolphins have the league's sixth-highest pass play rate in non-garbage time situations; there's enough volume here to enable more than one fantasy-relevant receiver, particularly if the Dolphins wind up being without most of their running back room due to covid.
Not every passing attack is meant to fly: The clear-cut bottom-five offenses in terms of expected failure in creating big plays through the air: Panthers, Football Team, Lions, Titans and Colts. There's nothing more frustrating than watching a great receiver be undone by incompetence under center.
This award for his generation's Allen Robinson/Andre Johnson, meaning the dope wide receiver that consistently receives terrible quarterback play goes to: Nobody has more incomplete targets that were deemed to be their quarterback's fault than D.J. Moore (24). Just three players have lost over 400 receiving yards on incomplete targets considered their quarterback's fault:
Marquise Brown

(542)

Courtland Sutton

(420)

Moore (417)
Note that those totals could be even higher with potential yards after the catch; these figures were simply calculated by obtaining the product of each player's average target depth on said opportunities that were deemed to be their quarterback's fault.
Seriously: Moore deserves better.
D.J. Moore with a nominee for best non-catch of the year pic.twitter.com/dzB47eUMGI

— Ian Hartitz (@Ihartitz) December 13, 2021
Ultimately, Moore (hamstring) is banged up. Neither Cam Newton nor Phillip Walker have played anything resembling consistently good football. The Bills rank first in fewest PPR points per game allowed to opposing wide receivers, and the Panthers are implied to score an absolutely brutal 16.5 points this week.
Moore is my WR25 out of respect to his talents, but he's not someone who needs to be started while playing through the pain inside of this truly abysmal offense. Robby Anderson would leap into WR4 territory if Moore is ultimately ruled out, but I prefer guys like Russell Gage, K.J. Osborn and Amon-Ra St. Brown when it comes to spot starts. Check out the Tuesday edition of The PFF Fantasy Football Podcast for more thoughts on the best wide receiver additions of the week along with full analysis on the rest of the waiver wire.
Has a quarterback with a name really close to Heinicken ever won a Super Bowl? That's what I thought: Terry McLaurin (concussion) was injured coming back to an underthrown prayer into double coverage. The play was even more frustrating upon seeing Taylor Heinicke (knee) actually told McLaurin to go deeper downfield … before, you know, feeding him an underthrown hospital ball with Cowboys defenders everywhere.
It's almost a shame to see McLaurin at the top of every contested-catch metric. He's a far better route-runner than that might indicate; the larger problem has been the erratic nature of the Heinicke experience. Some weeks McLaurin posts the sort of elite production that is expected from a player of his abilities; other times the Football Team's passing game flounders bad enough to render one of the position's smoothest talents nearly obsolete.
Week 1: PPR WR56

Week 2: WR3

Week 3: WR45

Week 4: WR4

Week 5: WR50

Week 6: WR60

Week 7: WR5

Week 8: WR62

Week 10: WR33

Week 11: WR9

Week 12: WR43

Week 13: WR57

Week 14: WR100
Fire up McLAurin as a borderline WR2 at this point; the floor is scary-low enough to fade him if your roster is loaded enough. The matchup against the Eagles' third-ranked defense in fewest PPR points per game allowed to opposing wide receivers also is far from ideal: Slay is PFF's third-highest graded cornerback in coverage this season. Here's to hoping Heinicke and McLaurin are healthy enough to at least convert some of his high-end volume into realized production this week around.
Don't let these run games get hot: The Mount Rushmore of rushing attacks expected to find all sorts of success in creating chunk plays: Titans, Browns, Colts and Bills. Hopefully you aren't one of those people with a fantasy commissioner who decided to start the playoffs during Jonathan Taylor's bye.
Seriously just give the man the ball on every play: Taylor has scored a touchdown in an NFL-high 10 consecutive games. He's posted 305-1,758-21 rushing and 41-349-2 receiving lines in his last 16 regular season games. Nobody has more fantasy points above expectation this season:
Pour one out for the poor souls who started their fantasy playoffs in Week 14 and had to deal with Taylor on a bye. As for the rest of you filthy animals? Get back to treating fantasy's overall RB1 as such on Sunday night football against the Patriots. Even Bill Belichick's jedi mind tricks haven't helped the Patriots rank as an above average defense in yards per carry allowed (4.4, tied for No. 19).
Everyone loves a three-down running back: Kareem Hunt (ankle) is likely out for the Browns' Saturday matchup against the Raiders due to an ankle injury. This means D'Ernest Johnson will see more work than usual; just realize this backfield was largely the Nick Chubb show in two games without Hunt this season:
Week 8: 16-61-0 rushing, 1-8-0 receiving

Week 9: 14-137-2 rushing, 2-26-0 receiving
Don't expect Chubb to flirt with a true every-down 80% snap rate; he didn't even clear 60% in his two full games with Hunt sidelined. Still, it might not take all that many touches for him to rack up some serious production against the Raiders' 30th-ranked defense in PPR points per game allowed to opposing running backs.
Chubb is an auto-start RB1 for however long Hunt is sidelined, while Johnson is nothing more than a borderline RB3 with meager touch counts of five, eight and five in three extended appearances without Hunt. These ranks are purely driven by volume: Credit to Kevin Stefanski, this offensive line and whatever the hell they're putting in the water in this running back room because all three of these running backs have truly balled out all season.
A Javonte Williams tweet disguised as a Browns backfield tweet disguised as a Tony Pollard tweet disguised as a Rhamondre Stevenson tweet disguised as a Devin Singletary tweet disguised as an Elijah Mitchell tweet disguised as a Jonathan Taylor tweet. pic.twitter.com/e5rnfiX9E1

— Ian Hartitz (@Ihartitz) December 14, 2021
These offenses might just want to pass the ball: Offenses that look pretty screwed in creating big plays on the ground this week: Steelers, Texans, Falcons, Seahawks, Rams and Ravens. Luckily there's a little thing called volume that can make even the worst matchups turn out just fine.
Find someone that loves you like Mike Tomlin loves a three-down back: Only Jonathan Taylor (11) has more weeks as a fantasy football RB1 than Najee Harris (9). The Steelers' rookie joins Alvin Kamara and Derrick Henry as the only running backs with at least 21 expected PPR points per game. Of course, Harris has been plagued by general ineffectiveness throughout the season: Only Myles Gaskin (-35.3) has more PPR points below expectation than Harris (-34.3) through 14 weeks of action.
The matchup this week certainly isn't easy: The Titans join the Saints as the league's only two defenses to allow fewer than 20 PPR points per game to opposing backfields. They've quietly emerged as one of the league's more complete defenses in EPA per pass and run play.
And yet, Harris has the sort of ridiculous volume that is impossible to fade in fantasy land. Continue to fire up the rookie as a matchup-proof RB1 and pray to the fantasy Gods that the Steelers offense looks more like the unit we saw in the second half of Week 14 as opposed to the atrocity that took the field during the game's first 30 minutes.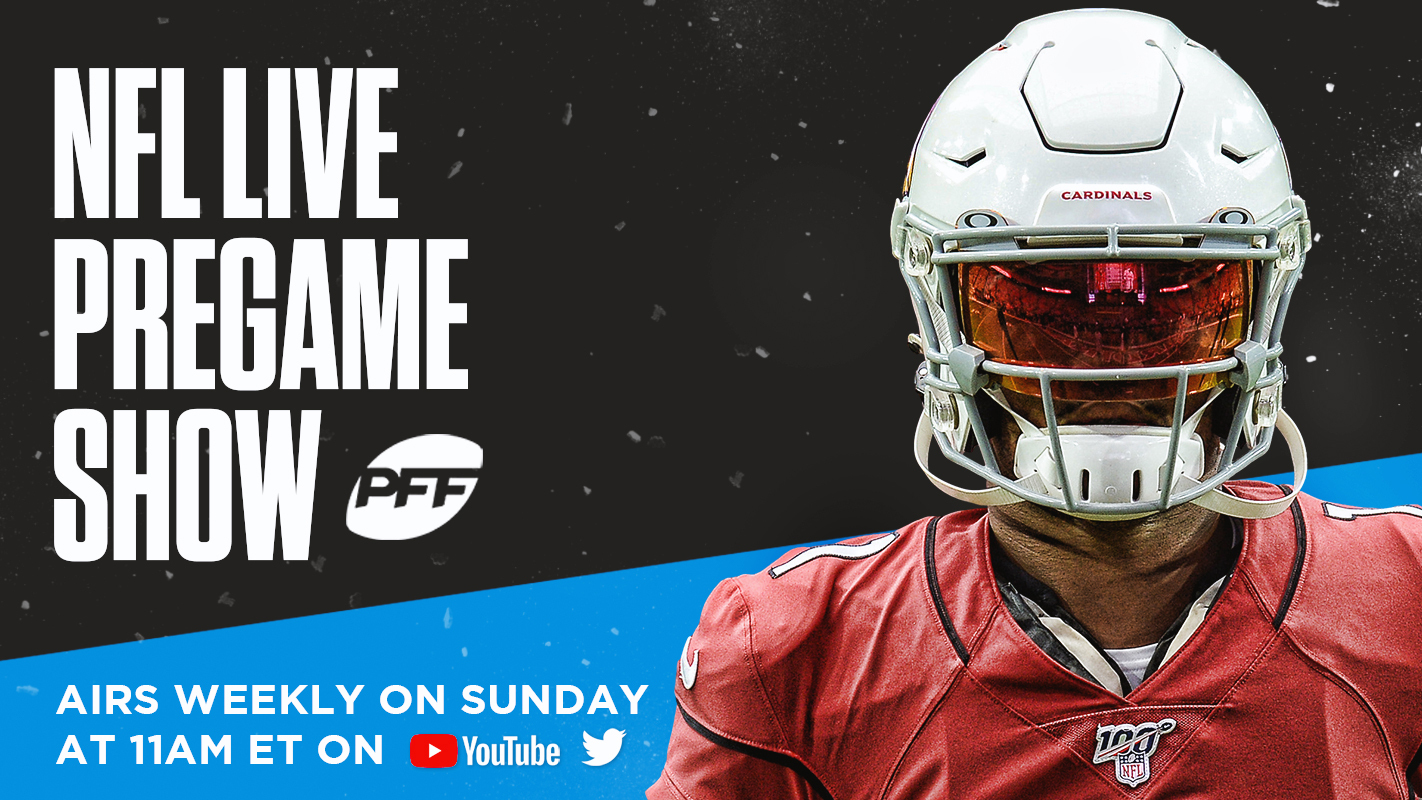 Pace
Fast-paced games lead to more plays, which lead to more points. Every week usually consists of at least a few games that could resemble a track meet based on their combined situation-neutral pace (Football Outsiders).
Combined Situation-Neutral Pace

: Represents the combined situation-neutral pace between each matchup's two offenses. A lower number indicates fewer average seconds per play (blue = fast-paced game), while a higher number indicates more average seconds per play (red = slow-paced game).
Mismatch Manifesto Week 15: combined situation-neutral pace.

Low combined numbers (blue) = two fast-paced offenses
High combined numbers (red) = two slow-paced offenses

Data from 2021, Football Outsiders pic.twitter.com/5SlOffK0Tl

— Ian Hartitz (@Ihartitz) December 15, 2021
Get ready to see a track meet: This week's sponsored Ricky Bobby "I want to go fast" highest-projected matchup features the Cowboys (No. 3 in situation neutral pace) at the Giants (No. 8). Of course, the expected absence of Daniel Jones (neck) could lead to a more subdued approach with either Mike Glennon or Jake Fromm under center. Yuck on both accounts.
We'll be moving plenty fast elsewhere too: More matchups expected to feature plenty of total plays include the Chiefs (No. 4) at the Chargers (No. 6) as well as the Seahawks (No. 13) at the Rams (No. 1). This Thursday night football game is almost too good to be true. Feels like a trap.
Unfortunately some offenses are slow and lame: The single-slowest matchup of the week pits the Patriots (No. 25) at the Colts (No. 32). Yes, Mac Jones is PFF's sixth-highest graded passer on the season and has the Patriots sitting as arguably the team to beat in the AFC. Also yes, there's a reason why watching this passing game over the course of 60 minutes typically doesn't lead to one highlight after another. The following quarterbacks are the league's only signal-callers to throw short of the sticks on more than 55% of their passes this season:
Seriously, what are you waiting for: More matchups that might not supply the sort of volume fantasy managers are hoping for include Bengals-Broncos and Packers-Ravens. Cincy's reluctance to actually try and get their stud second-year quarterback more snaps remains nauseating.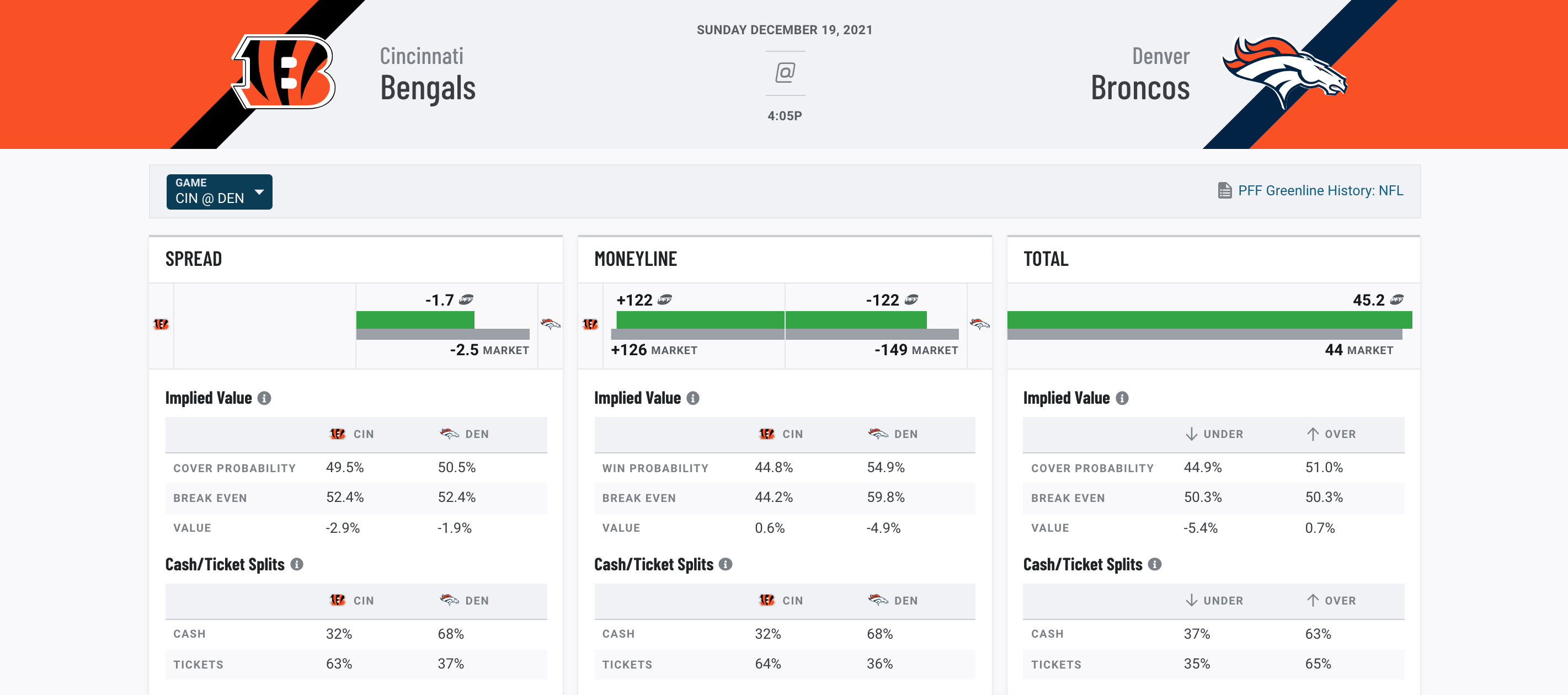 Pressure
An overmatched offensive line can result in poor fantasy days for all skill-position players involved. Meanwhile, QBs with all day to throw can help generate points in bunches. We can determine which offensive lines might be especially better (or worse) this week with help from PFF's offensive and defensive pressure statistics.
Combined Pressure Rate

: The sum of the offensive line's rate of pressures allowed per dropback and the opposing defense's total pressures generated per dropback. A higher percentage (red) is better for defenses and indicates that quarterback could be under fire, while a lower percentage (blue) indicates that matchup's quarterback could face reduced pressure.
Mismatch Manifesto Week 15: combined pressure rate

Sum of pressure rates between opposing offenses and defenses.

Higher percentage: that offensive line could be in trouble (red)
Lower percentage: not expecting much pressure on QB (blue)

Data from 2021, PFF pic.twitter.com/aZTkWqeaK3

— Ian Hartitz (@Ihartitz) December 15, 2021
Under pressure: good song, bad for fantasy football: Quarterbacks who could feel the heat this week include: Zach Wilson, Russell Wilson, Carson Wentz and Tua Tagovailoa. It makes sense when quarterbacks struggle under duress, but things are truly problematic when good things fail to happen even in the best of situations.
Not saying he's a bust, but: The following metrics denote Wilson's performance compared to his peers when targeting an open first read:
PFF passing grade: 84.9 (No. 30 among 33 qualified quarterbacks)

QB rating: 100.4 (No. 32)

Yards per attempt: 9 (No. 28)

Adjusted completion rate: 79.5% (No. 33)
The latter stat tells you all there is to know: Wilson has been the NFL's single-most inaccurate quarterback when targeting his first read when controlling that the player had to be open. There have at least been some flashes of Wilson making big things happen off script; the problem is that he's going to have an awfully hard time making it in the NFL if things continue to go south even when the play-design seemingly works to perfection.
As for this week: Only Mike Glennon and Mike White have been worse against the blitz than Wilson in terms of PFF passing grade; good luck dealing with the NFL's single-most blitz-happy defense that impressively ranks second in Havoc through 14 weeks. .
Don't call it a comeback, I've been here for years: Russ brought the moon ball back into action last week. It was awesome.
Missed this pic.twitter.com/OKlfyliYlG

— Ian Hartitz (@Ihartitz) December 13, 2021
The team is 2-0 since signing Adrian Peterson and entering "win-now mode." Wilson has posted his best PFF passing grades since returning from injury in back-to-back weeks and now faces a defense that he was having plenty of success against back in Week 5 before hurting his finger in the first place.
Expecting any secondary to contain the likes of D.K. Metcalf and Tyler Lockett for 60 minutes is wishful thinking when Wilson is operating as his usual self. This wasn't the case for Metcalf last week, but a potential date with a Rams defense missing Jalen Ramsey (covid, IR) could be just what Russ and company really need to revisit their overall ceiling.
Some offensive lines and quarterbacks are just more prone to pressure: The Dolphins, Seahawks, Titans, Colts and Panthers are the league's only five offenses that have been pressured on at least 34% of their dropbacks this season. This is just one of about a dozen problems with the Titans offense at the moment.
Running backs matter: The Titans blanked the Jaguars in Week 14, but this offense continues to look like a shell of itself. Getting Julio Jones back should help; just realize this offense has truly been a bottom-five unit since losing Derrick Henry (foot, IR):
The Steelers have allowed 36-plus points in three of their last four games; this defense is hardly impenetrable against both the pass and run. Still, nothing has been easy for this offense without their workhorse back; I remain skeptical that the bad times will stop rolling until either Henry or A.J. Brown (chest, IR) returns to action.
Sundial joke about having a ton of time to throw: Tom Brady, Matthew Stafford and Jimmy Garoppolo are set up the best to work from consistently clean pockets this week. It sure seems like it's a lot easier to play quarterback when you have good players to throw the ball to. Wild concept, I know.

Kings stay kings: TB12 has thrown 61 touchdowns without a single interception inside the 20-yard line since joining the Buccaneers. Madness. The favorite for MVP honors continues to largely defy father time and now gets a Saints defense that he threw for 375 yards and four touchdowns against back in Week 8.
Yes, New Orleans has taken down Brady in three of their four matchups over the past two seasons. Also yes, this is the GOAT we're talking about. The NFL's leader in pass yards (4,134), pass touchdowns (36) and pass yards per game (318), Brady continues to prove that age ain't nothing but a number when you sell your soul eat avocado ice cream. Expect more fireworks against the league's 10th-worst defense in fantasy points per game allowed to opposing quarterbacks.
Pass rushes that haunt the dreams of your favorite quarterback: The league's best pass rushes feature the Dolphins, Packers, Buccaneers, Cowboys, Rams, Chiefs, Raiders, Patriots and Bills above all else. Look the hell out for this Dallas defense moving forward. Micah Parsons, Randy Gregory and Demarcus Lawrence in the same front-seven? In this economy? That's scary.
The league's finest individual rushers of the passer: Just 10 defenders have racked up at least 55 pressures this season: Maxx Crosby (78 pressures), Aaron Donald (68), Shaquil Barrett (67), Myles Garrett (62), Trey Hendrickson (60), Nick Bosa (59), Raashan Gary (58), Matthew Judon (57), Chris Jones (56) and Joey Bosa (50). Donald looked to be having a "down" year (for him) over the first half of the season, but is a solid month of football from once again leading the league in total pressures. I guess training with knives is a good idea.
Trench Battles
RBs receive most of the praise for an offense's rushing output, but an overmatched offensive line can thwart a team's run game before it even has a chance to get started. We can determine the offensive lines that might be especially better (or worse) off this week by looking at yards before contact.
Combined Yards Before Contact Per Rush

: The sum of an offensive line's adjusted line yards per rush and the opposing defense's adjusted line yards allowed per rush. A higher number (blue) is good for running backs, while a lower number (red) indicates that matchup's offense could have some trouble consistently running the ball.
Mismatch Manifesto Week 15: combined yards before contact per rush

Sum of each offense and defense's YBC/carry.

High number: Good run-blocking o-line vs. bad run-defending D (blue)
Low number: Bad run blocking o-line vs. stout D against the run (red)

Data from 2021, PFF pic.twitter.com/sZEbF0IWHq

— Ian Hartitz (@Ihartitz) December 15, 2021
Great day to be a great running back: The Mount Rushmore of backfields set up well to run the ball this week: Chiefs, Ravens, Lions and Cowboys. Clyde Edwards-Helaire better hope the rushing lanes are open because the second-year back sure isn't getting fed targets these days.
Throw the damn ball: CEH is just the RB27 in expected PPR points per game this season; the fact that he's ripped off RB15, RB23 and RB10 finishes in his first three games back from injury has been almost entirely due to him racking up three touchdowns. A true receiving role remains nothing more than a pipe dream; Edwards-Helaire doesn't have more than three targets in a game all season.
This is still a two-RB backfield; Derrick Gore only played three total snaps during the first half of the Chiefs' blowout win over the Raiders. Still, CEH (15 first half snaps) remains entangled in a sneaky, evenly split committee with Darrel Williams (13), and the latter back is the favorite to rack up more receiving production on a weekly basis.
The Chiefs are implied to score 27.75 points, a mark which they've reached just twice since Week 6 and only against the Raiders. The following metrics denote Patrick Mahomes' performance against the Raiders compared to everyone else over the past 10 weeks:
vs. Raiders: 76.6 PFF passing grade, 7 TD, 0 INT, 9.0 YPA, 74.3% completion rate

Everyone else: 62.5 PFF passing grade, 6 TD, 8 INT, 6.1 YPA, 59.9% completion rate
Trusting CEH is trusting the Chiefs' scoring upside because his current usage isn't high enough to warrant auto-start RB2 treatment. Ultimately, Edwards-Helaire deserves to be in more starting lineups than not as the lead back of the league's eighth-best scoring offense; just realize it's tough for any back to consistently post high-end production on fewer than 15 touches per game.
Will NASA focus less on the moon and more on injuries: Lamar Jackson (ankle) should be considered questionable at best to suit up Sunday. If active and less than 100%, it's tough to see the 2019 MVP causing the same level of problems for the opposing defense. This passing game has already been struggling more weeks than not throughout the second half of the season; taking away Jackson's unparalleled rushing ability might be the straw that breaks this offense's back.
It'd be a lot easier to feel optimistic about Jackson and company if the Packers hadn't been so damn good against the pass virtually all season:
Yards per attempt allowed: 6.75 (No. 6)

Explosive pass play rate allowed: 11.2% (No. 3)

QB rating allowed: 90.9 (No. 5)
This group has the potential to go from great to borderline elite once CB Jaire Alexander (shoulder, IR) and pass-rusher Za'Darius Smith (back, IR) return to action; hopefully Jackson is healthy enough to give them a real test. Look for Tyler Huntley to run to his heart's desire if Jackson is sidelined.
Personal note: Check out my Week 15 Quarterback Predictions for more fun facts and a forecast on every squad's starting quarterback.
Just one more personal note: Check out my Week 15 Backfield Report for more specific information on the league's ever-evolving running back stables.
More running backs expected to have a little thing called success: The Giants, Jaguars, Eagles and Titans also stand out as groups that should see more open lanes than usual this week. 
Just give RB1son the ball already: The Jaguars have scored 17 or fewer points in all seven games since their Week 7 bye. This sort of general futility on offense, combined with injuries and the ever-annoying presence of Carlos Hyde, have led to James Robinson finishing outside of the position's top-40 backs on three occasions during this stretch.
Luckily, the fantasy gods work in mysterious ways and have gift wrapped the Texans defense for any fantasy managers lucky enough to have made their way into the playoffs. They also get the Jets next week, offering Robinson two consecutive matchups against bottom-six defenses in PPR points per game allowed to opposing backs.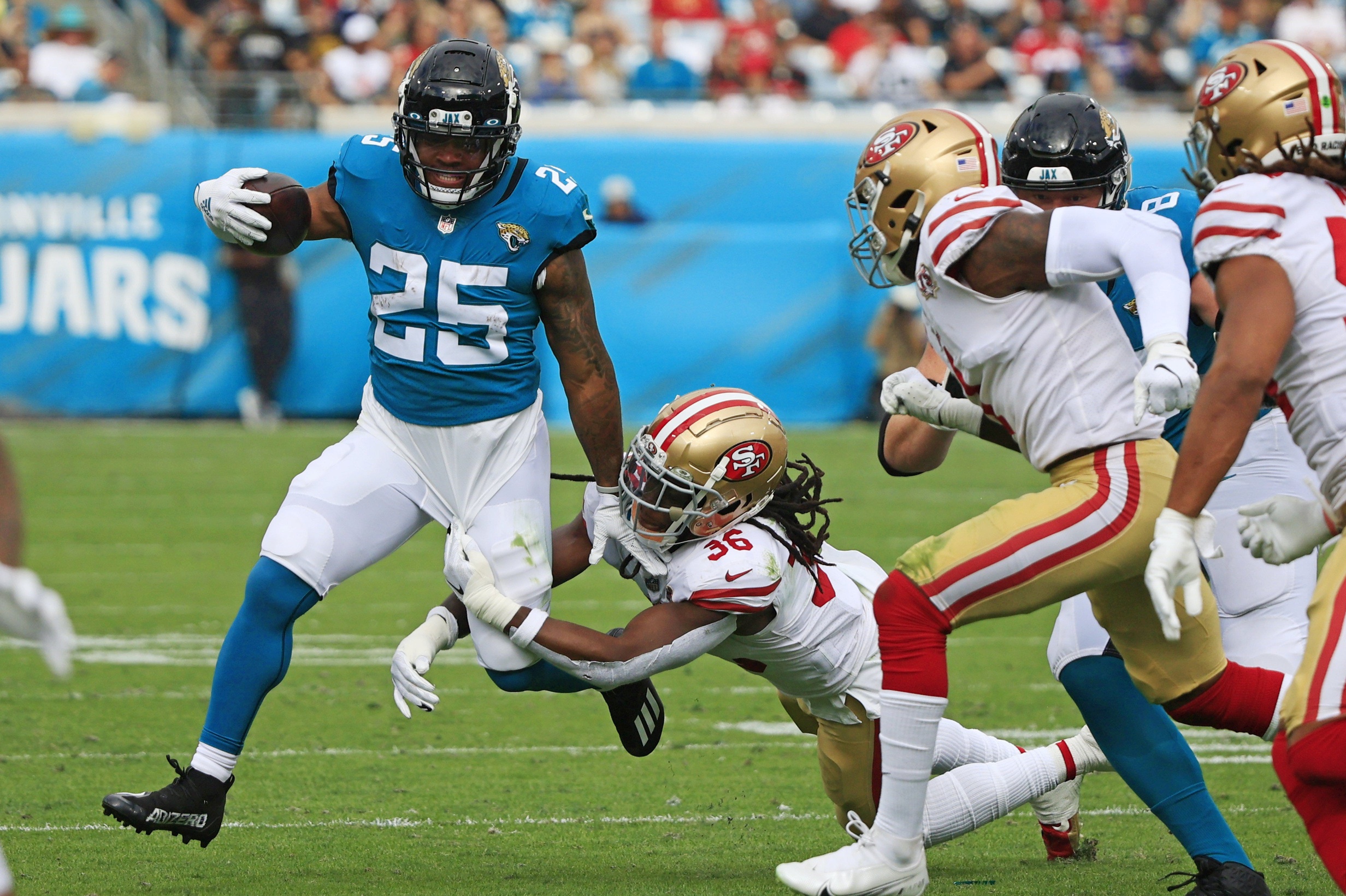 Urban Meyer found a way to screw up just about everything in Jacksonville; his firing offers a semblance of hope that Robinson can help during the most important (fantasy) weeks of the season. The opportunity for a more neutral game script than usual (the Jaguars are favored by 3.5 points!) should theoretically lead to Robinson seeing something in the neighborhood of 20 combined carries and targets. PFF projections are optimistic and have the artist formerly known as RB1son as the RB13 this week; cautiously fire him up as a boom-or-bust RB2 that is better set to do the former than he has been in weeks.
Bad offenses can still support good fantasy running backs: Saquon Barkley's PPR RB11 finish last week was thanks to a pretty sluggo route that results in a garbage time score for the 2018 NFL Draft's No. 2 overall pick.
???? pic.twitter.com/R1UvRS8WcE

— Ian Hartitz (@Ihartitz) December 14, 2021
Nothing is ever easy inside of the Giants' 27th-ranked scoring offense, but Barkley continues to flirt with 20 combined carries and targets on a weekly basis. That sort of volume is impossible to fade almost regardless of the running back in question; continue to fire up Barkley as a volume-based RB2 that should be in far more starting lineups than not.
Booker has a combined 22 touches over the past two weeks and is a solid enough bench stash in deeper formats considering the likelihood that he'd also function as a volume-based RB2 if Barkley were to miss any time. Arguably the most damning part about Barkley's 2021 performance has been the fact that it's awfully hard to tell which Giants running back has the ball when watching live.
Gotta love a good run game scheme: Only five offenses are averaging at least 1.75 yards before contact per carry: Ravens (1.97), Chiefs (1.93), Eagles (1.92) and the Bills (1.78). Call me crazy, but having a mobile quarterback might just help matters.
Best Steven Tyler voice: Run away, run away from the pain yeah, yeah, yeah, yeah, yeah: The Texans, Panthers, Falcons, Packers and Steelers look like the most screwed offenses in terms of expected success on the ground before contact. Don't look meow, but there's been a role change going on in Atlanta.
C-Patt for offensive player of the year: Cordarrelle Patterson has found the end zone on 10 separate occasions this season and enters the fantasy playoffs as the RB10 in PPR points per game. However, the manner in which he's gone about putting up numbers has changed in recent weeks.
Patterson had double-digit carries on just two occasions prior to injuring his ankle in Week 10; he's ripped off rush attempt marks of 16, 13 and 16 over the past three weeks.

Defenses were having all sorts of problems containing C-Patt as a receiver early on, as he posted 5-58-1, 6-82-0, 5-82-3, 7-60-0, 5-37-1 and 6-126-0 receiving lines around three duds during the first 10 weeks of the year. Since returning from injury: 2-27-0, 3-18-0 and 2-1-0 on a combined 13 targets. Not great.

Routes over the last three weeks from

Mike Davis

: 14, 29 and 16. From Patterson: 14, 19 and 13.
The man has still produced PPR RB4, RB21 and RB17 finishes despite the change in workload; just realize he's not exactly the same sort of PPR darling that we saw during the first two months of the season.
This 49ers defense has been awfully good against the run this season, only allowing Jonathan Taylor (18-107-1), James Conner (21-96-2) and Aaron Jones (19-82-1) to surpass even 75 rushing yards on non-special teams aided production. I'm treating Patterson as more of a low-end RB2 this week due to his more traditional running back role of late, while Davis is a sneaky-solid FLEX option for desperate rosters given that he's handled at least eight touches in three consecutive games.

Passing Game
Some pass offenses are obviously more efficient than others, while certain secondaries are seemingly capable of shutting down any aerial attack. We can determine the week's biggest mismatches in the passing game using each offense and defense's pass yards per dropback.
Combined Passing Yards Per Dropback

: The sum of an offense's passing yards per dropback and the opposing defense's passing yards allowed per dropback. A higher number (blue) is good for quarterbacks and receivers, while a lower number (red) indicates that matchup's pass offense could be in trouble.
Mismatch Manifesto Week 15: combined pass yards per dropback

Sum of offense's pass yards/dropback with defensive rate.

Higher number: efficient pass offense vs. bad pass defense (blue)
Lower number: inefficient pass offense vs. good pass defense (red)

Data from 2021, PFF pic.twitter.com/TgemkMEZIB

— Ian Hartitz (@Ihartitz) December 15, 2021
Sometimes it just looks so easy: Kyler Murray, Matthew Stafford and Aaron Rodgers stand out as the week's top-three quarterbacks in expected success through the air. So it turns out that veteran receiver that the Rams got for free isn't washed?
I'm going going, back back, to Cali Cali: It remains to be seen if Odell Beckham (covid, IR) will be ready to go for Sunday. He'll continue to work as an upside WR3 if available; the man has largely done nothing other than ball out since becoming a member of the Rams.
Washed pic.twitter.com/8oRkMsz9w3

— Ian Hartitz (@Ihartitz) December 15, 2021
Note that OBJ has scored in three straight games, while Baker Mayfield has thrown just two total touchdowns to wide receivers since the Browns decided they were better off without the ex-Giants talent.
The absence of Beckham would lead to a bigger role for Van Jefferson, who is on a three-game scoring streak of his own and remains a recommended start with or without a potential target bump. This Rams offense has peeled off 28, 37 and 30 points since their disappointing two-game stretch prior to a Week 11 bye; a good rule of thumb in close start/sit questions is to simply take the better offense.
The one concern for both OBJ and Jefferson is if this Seahawks' secondary can continue to hold up rather brilliantly against the deep ball. Few defenses are capable of slowing down Matthew Stafford and company when everything is clicking, but this backend does deserve some credit. The following metrics denote the Seattle defense's performance on passes thrown at least 20 yards downfield this season:
Completions allowed: 11 (No. 2)

Yards per attempt: 8.8 (No. 3)

Explosive pass play rate: 23.4% (No. 1)

Pass touchdown rate: 6.4% (tied for No. 6)

QB rating: 58.3 (No. 3)
Obviously Cooper Kupp remains locked in as a top-three fantasy receiver no matter what; just realize Jefferson and OBJ could have a slightly tougher time than usual in the big-play department if this Seahawks secondary keeps on keeping on.
60% of the time, the Packers work every time against the Ravens: The continued absences of Marlon Humphrey (pec, IR) and Marcus Peters (ACL, IR) leaves this Ravens defense painfully short of legit depth at cornerback. None of Jimmy Smith (PFF's 67th-highest graded corner), Chris Westry (tied for 102nd), Tavon Young (tied for 102nd) nor Anthony Averett (tied for 115th) have demonstrated any level of consistent high-end play, which is particularly problematic for a defense like Baltimore that blitzes at a top-five rate.
The Ravens' best hope of stopping Rodgers is to pressure him: Nobody has a steeper dropoff in yards per attempt when kept clean vs. when under pressure than A-aron this season. Still, the lack of available bodies that can realistically match up with Davante Adams is incredibly concerning.
Adams is my No. 1 receiver of the week, while the likes of Marquez Valdes-Scantling and Allen Lazard are viable boom-or-bust WR4 types thanks to their respective potential to work as the passing game's No. 2 target during any given week that Randall Cobb (core muscle, IR) remains sidelined. Lazard gets the nod from me this week considering the Ravens are the league's sixth-worst defense in yards per attempt allowed to receivers aligned from the slot.
The government calls it a passing league for a reason: The 49ers, Vikings and Buccaneers also stand out as passing attacks that should have plenty of success through the air. Don't forget: Tight ends can be No. 1 pass-game options too.
If aliens invaded Earth and made us play a game of football to save the planet: George Kittle is our tight end: George Kittle trails only Davante Adams in yards per route run over the past two seasons. Largely nobody has been more productive than the 49ers' stud tight end since he returned from injury in Week 9; only Justin Jefferson has more receiving yards (530) over the last six weeks. Overall, Jimmy G has thrown just nine incompletions in Kittle's direction during this span — and six touchdowns.
The 49ers ramped up their passing numbers last week, something that can be scary when each of Kittle, Deebo Samuel and Brandon Aiyuk are ready to rock and roll. Credit to A.J. Terrell for working as PFF's second-highest graded cornerback this season, but the Falcons have still allowed the second-most fantasy points per game to opposing quarterbacks this season. Check out the Tuesday edition of The PFF Fantasy Football Podcast for full thoughts on Jimmy G's and the rest of the week's top waiver wire options.

These passing games might be a bit rough n' rowdy: The Panthers, Lions and Saints look like the bottom-three offenses this week in terms of expected aerial success. The Ravens, Colts and Bills don't look to be in especially great spots, either. Good thing that sometimes wide receivers, or rushing quarterbacks, are good enough to just win anyway.
Bad real life quarterbacks are legally allowed to still be good at fantasy football: Taysom Hill has posted the following rushing lines in his five career starts under center:
Week 11, 2020: 10 carries-49 rush yards-2 TD

Week 12, 2020: 10-44-2

Week 13, 2020: 14-83-0

Week 14, 2020: 5-33-0

Week 13, 2021: 11-101-0

Week 14, 2021: 11-73-2
Hill has worked as a fantasy football QB1 each and every time. The Buccaneers certainly present more problems than your usual rushing defense, although Josh Allen did just convert 12 carries into 109 yards and a score against them last week. Continue to fire up Hill as a legit top-12 fantasy football quarterback even though he's nowhere close to that range when it comes to real life performance.
And the award for shadow matchup of the week goes to: Stephon Gilmore vs. Stefon Diggs. Gilmore shadowed for the first time all year last week, limiting Russell Gage to a fairly modest 4-64-0 line on six targets. Note that just one reception for six yards occurred in Gilmore's coverage; this is why projected shadow matchups are better used as a downgrade or tiebreaker as opposed to a major component of the weekly ranking process.
Diggs earned matchup-proof WR1 treatment a long time ago; the more interesting story is what to make of Gabriel Davis and Cole Beasley with Emmanuel Sanders (knee) sidelined. This season the Panthers have run the sixth-most coverage snaps in either Cover-0 or Cover-1, coverages that are either leaving their cornerbacks completely on an island or with just a single safety to help out.
The Bills have posted the following targets per route against Cover-0 and Cover-1 this season:
Diggs (0.31 targets per snaps)

Davis (0.24)

Dawson Knox

(0.18)

Beasley (0.16)

Sanders (0.1)
Josh Allen has already been leaning on Davis more than his other complementary receivers in one-on-one situations; now he has even more reason to do so with Gilmore expected to spend most of his time across from Diggs. Fire up both Beasley (my WR37) and Davis (WR36) as rock solid top-40 options. I'll be picking these receivers in most close start/sit questions; life inside of the league's sixth-ranked scoring offense can be awfully fantasy friendly sometimes.
Not so fast my friend: Offenses that haven't averaged even 5.8 pass yards per dropback this season: Jaguars, Bears, Texans, Panthers, Lions, Giants and the Dolphins. With that said: Cut the latter squad's quarterback some slack.
Something fishy is going on here: Yes, only Daniel Jones and Matt Ryan have thrown a lower percentage of their passes at least 20 yards downfield than Tua Tagovailoa this season. Also yes, the Dolphins have essentially been forced to deploy their low-aDOT RPO-heavy attack due to their offensive line easily functioning as the league's single-worst pass blocking unit.
PFF pass blocking grade: 49.9 (No. 32)

Pressure rate: 37.8 (No. 30)

Quick pressure rate: 28.4% (No. 32)
This unit is historically bad: Only the 2019 Dolphins have a worse team PFF pass blocking grade than the 2021 edition. Throw in the continued absence of Will Fuller (finger, IR), and it's honestly pretty remarkable that Tua has played as well as he has during just his second professional season.
The Jets rank just 22nd and 17th in overall and quick pressure rate; here's to hoping Tua will have more clean pockets than usual to work from in this one.
Dope secondaries always have the best nicknames: The Bills, Patriots, Buccaneers, Panthers, Cardinals and Packers are the only six defenses to allow less than 6.0 pass yards per dropback. Don't look now, but the Tampa Bay secondary is suddenly healthy. Why do we keep betting against the Brady Bunch? I get that they should be considered the favorite at this point in time, but like generally over the past 20 years? Why? Sheesh.
EPA
Points are ultimately what wins football games. We can measure the expected points of every play on offense and defense by considering the down, distance and field position before factoring in the result. Estimated points added (EPA) is thus the value of a play that takes context into account and thereby better measures efficiency at the play level.
Combined EPA

: The sum of an offense's EPA/play and their opposing defense's EPA/play allowed. A higher number (blue) is good for offenses, while a lower number (red) indicates that offense could be in trouble.
Mismatch Manifesto Week 15: combined EPA per play

Sum of EPA/play of matchup's offense and defense to see biggest potential overall mismatches

High numbers indicate efficient offense vs. inefficient defense (blue), lower numbers are bad for o (red)

Data from 2021, PFF pic.twitter.com/IyBPKviulH

— Ian Hartitz (@Ihartitz) December 15, 2021
Blowout alert: The clear top-five matchups in terms of one offense likely having a huge relative advantage over their opponent: Cardinals over the Lions, Cowboys over the Giants, Bills over the Panthers, 49ers over the Falcons and Vikings over the Bears. Each of those squads are favored by at least 9 points, except the Vikings (-3.5). Makes ya think.
Over alert: The highest combined matchups in expected offensive success: Chiefs-Chargers, Seahawks-Rams and Packers-Ravens. We need more old fashioned NFC West shootouts. And by old fashioned I mean like what was more common two or three years ago. You get it.
Under alert: Panthers-Bills and Texans-Jaguars stand out as the week's two matchups that could feature the most overall offensive futility. Would you attend the Texans-Jaguars game all expenses paid with a sideline pass?
Upset alert: Teams expected to have a relative offensive advantage, yet are underdogs, include the Chargers (+3), Browns (+1.5) and Patriots (+2.5). Did somebody say moneyline parlay?