It's officially fantasy football playoff season. It's a great day to be great, so let's attempt to predict the future.
---
Click here for more PFF tools:
Rankings & Projections | WR/CB Matchup Chart | NFL & NCAA Betting Dashboards | NFL Player Props tool | NFL & NCAA Power Rankings
---
What follows are my best guesses for every starting quarterback's defining Week 15 storyline. This will be accomplished through a superlative format, identifying who is most likely to accomplish whatever.
Please don't confuse this as an all-encompassing preview of the position, as the goal is merely to get a solid preview on the game's most important position and attempt to learn a thing or two along the way.
Mahomes and company were largely flawless during their 48-9 destruction of the Raiders on Sunday. Unfortunately, we already saw essentially this same game play out in Week 10. The larger problem has been everything in between. The following metrics denote Mahomes' performance against the Raiders compared to everyone else over the past 10 weeks:
vs. Raiders: 76.6 PFF passing grade, 7 TD, 0 INT, 9.0 YPA, 74.3% completion rate
Everyone else: 62.5 PFF passing grade, 6 TD, 8 INT, 6.1 YPA, 59.9% completion rate
Of course, Mahomes did start the season on a tear, throwing for at least three scores and averaging 304 pass yards per game through the first four weeks but just realize we've pretty much only seen that version of him against the Raiders ever since.
The best version of this passing game is capable of exploding against any defense so, hopefully, last week's second reawakening goes with a better encore this time around. The Chiefs' chances will certainly improve if S Derwin James (hamstring) remains sidelined.
At his best, Herbert forces defenses to defend every square inch of the field thanks to his underrated mobility and howitzer for a right arm. Seriously, this was an absolutely incredible throw:
Bruh pic.twitter.com/kpQojXdEUp

— Ian Hartitz (@Ihartitz) December 13, 2021
No offense has a higher catchable deep ball rate than the Chargers (67%) this season, and Herbert is a top-five quarterback in PFF passing grade (94.9), yards per attempt (18.5), adjusted completion rate (57.8%) and QB rating (119.7) when throwing at least 20 yards downfield this season. Hopefully, the Chargers embrace this side of their young quarterback just a bit more moving forward, as only Daniel Jones, Matt Ryan, Tua Tagovailoa, Jimmy Garoppolo and Davis Mills have thrown a lower percentage of their passes deep through 14 weeks.
The Chiefs have struggled to slow down Herbert, allowing him to post 311 pass yards-1 TD-1 INT, 302-3-0 and 281-4-0 performances in three career matchups. Of course, this Chiefs defense has been playing out of its mind in recent weeks and hasn't allowed more than 17 points in a game since Week 7. Get your popcorn ready for this Thursday night matchup.
Hunter Renfrow has posted the following production in six games since this offense lost Henry Ruggs:
Week 9: 7 receptions-49 yards-1 TD (9 targets), PPR WR11
Week 10: 7-46-1 (9), WR11
Week 11: 4-30-0 (4), WR53
Week 12: 8-134-0 (9), WR5
Week 13: 9-102-0 (10), WR12
Week 14: 13-117-1 (14), WR1
The offense has scored 16 or fewer points in five of those six games. This stretch has in no way coincided with the Raiders playing their best offensive football. Still, it's at least nice when bad offenses can still provide a viable fantasy asset or two (looking at you Jacksonville).
The Browns defense ranks sixth in explosive pass play rate and first in contested target rate allowed this season. Carr and company aren't set up well to get right in this tough road spot, but that doesn't mean Renfrow will stop vacuuming up receptions anytime soon.
Mayfield is playing through a laundry list of injuries. Credit to him for finding Jarvis Landry and Austin Hooper for short touchdowns in Week 14, but generally, it's been awfully difficult to expect any level of high-end production from any wide receiver involved in this passing game. On the season, Mayfield has thrown just five touchdowns to players designated as a wide receiver while Sam Darnold (six), Trevor Siemian (six), Teddy Bridgewater (seven), Jameis Winston (seven), Jared Goff (seven), Trevor Lawrence (seven), Ben Roethlisberger (eight) and Jalen Hurts (eight) have thrown more.
Related content for you:
NFL Week 15 Fantasy Football Waiver Wire Targets: All league sizes & scoring types via Andrew Erickson
The Raiders have been surprisingly solid against wide receivers all year long, allowing top-10 marks in touchdown rate, yards per attempt and explosive pass play rate against, so it'd be surprising if Donovan Peoples-Jones and company find their footing in a major way against Casey Hayward and the rest of the Vegas secondary.
Yes, Jones is PFF's sixth-highest graded passer on the season and has the Patriots sitting as arguably the team to beat in the AFC. Also yes, there's a reason why watching this passing game over the course of 60 minutes typically doesn't lead to one highlight after another. The following quarterbacks are the league's only signal-callers to throw short of the sticks on more than 55% of their passes this season:
The Colts are one of just five defenses to allow at least 15 yards per attempt on passes thrown at least 20 yards downfield. Maybe Jones and company will come out of the bye looking to take this passing game to the next level by employing a more downfield-oriented attack, but it's awfully tough to argue with the idea that "if it ain't broke, don't fix it."
Wentz has been more good than not this season, tossing multiple touchdowns in eight separate games and largely looking more like the guy we saw in 2018-2019 compared to 2020. Of course, his life has been made just a bit easier by having the league's single-best (healthy) running back by his side. It's impossible to have a conversation about the league's single-best running back without including Jonathan Taylor:
PFF rushing grade: 90.5 (No. 3 among 77 running backs with 100 carries in 2020-2021)
Rushing yards: 2,517 (No. 2)
Rushing touchdowns: 27 (tied for No. 1)
Missed tackles forced per carry: 0.2 (tied for No. 14)
Yards per carry: 5.3 (No. 3)
Yards after contact per carry: 3.3 (No. 10)
The Titans racked up 270 rushing yards against this defense in Week 12, and only Dak Prescott and Davis Mills (lol) have managed to throw for that many yards against Bill Belichick's evil empire all season. Look for Wentz to continue to do a great job existing in the second or two between getting the snap and handing the football to the Colts' stud second-year workhorse.
The Titans blanked the Jaguars in Week 14, but this offense continues to look like a shell of itself. Getting Julio Jones back should help but just realize this offense has truly been a bottom-five unit since losing Derrick Henry (foot, IR):
| | | | |
| --- | --- | --- | --- |
| EPA/Play | Overall | Pass | Run |
| With Henry | 8th | 15th | 2nd |
| Without | 28th | 22nd | 27th |
The Steelers have allowed 36-plus points in three of their last four games, as this defense is hardly impenetrable against both the pass and run. Still, nothing has been easy for this offense without its workhorse back. I remain skeptical that the bad times will stop rolling until either Henry or A.J. Brown (chest, IR) returns to action.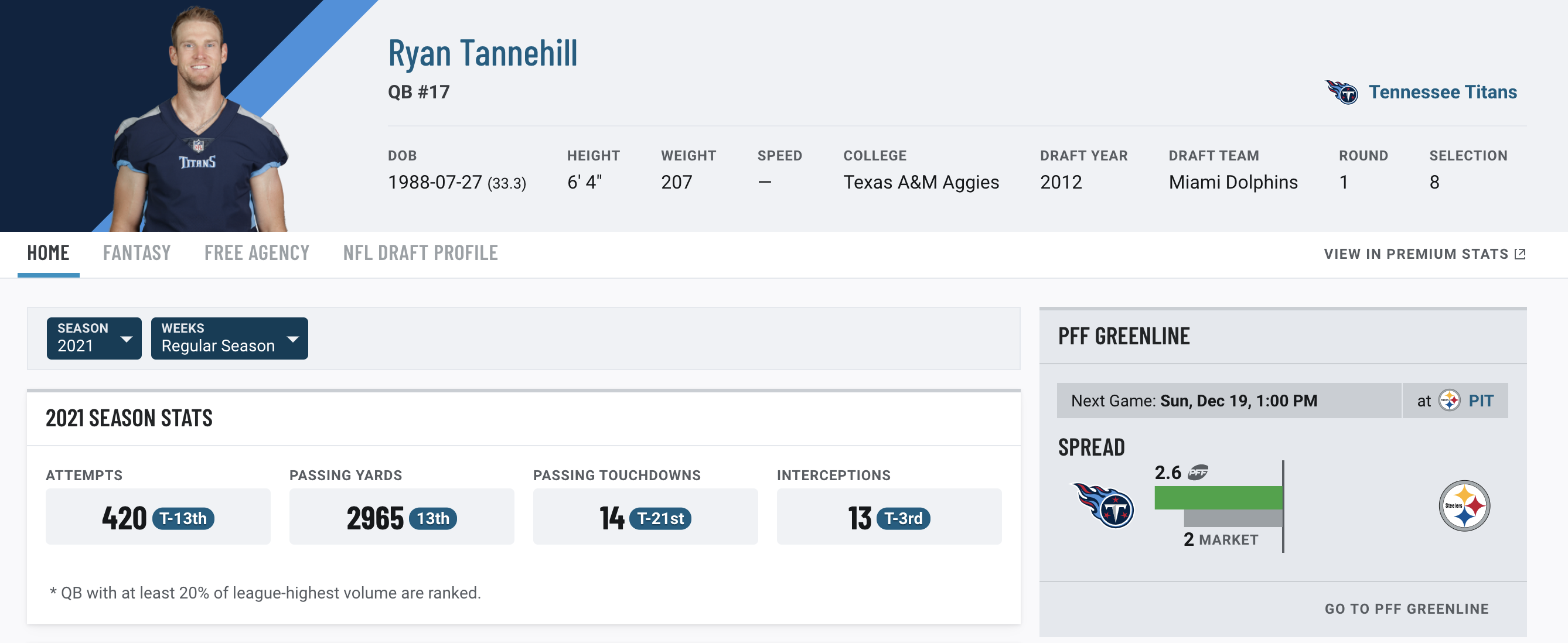 Credit to Roethlisberger for largely playing his best football of the season over the past two weeks. His comeback performance against the Vikings was particularly impressive, as this last-second seed to Pat Freiermuth was literally thrown as perfectly as possible.
Still, two games don't outweigh 11. Roethlisberger is one of just eight quarterbacks who has, at least, five more turnover-worthy plays than big-time throws this season:
There's certainly enough talented pass-catchers spread throughout this offense for last week's second-half success to roll into this Sunday but just realize that's been the case all year and typically presented negative results.
Coach Matt Rhule said in the postgame that Newton remains the Panthers' starting quarterback, but it's clear the leash is shorter than ever.
You know who the real loser in this situation is? D.J. Moore, who is well on his way to working as his generation's Andre Johnson/Allen Robinson, which is also known as "that awesome wide receiver who had to play with one bad quarterback after another."
D.J. Moore with a nominee for best non-catch of the year pic.twitter.com/dzB47eUMGI

— Ian Hartitz (@Ihartitz) December 13, 2021
Nobody has more incomplete targets that were deemed to be their quarterback's fault than Moore (24) this season. The league's 24th-ranked scoring offense has surpassed the 21-point mark just once since Week 6, and I'd expect that streak to still exist this time next week.
Allen (foot) is tentatively expected to play through the pain this week. He was rather awesome during the Bills' ill fated comeback attempt against the Buccaneers, but the "problem" is that he's rarely managed to string together these sort of performances in 2021:
Week 1: 72.6 PFF passing grade (No. 16 among quarterbacks with 10-plus dropbacks)
Week 2: 45.4 (No. 30)
Week 3: 85.5 (No. 3)
Week 4: 62.5 (No. 24)
Week 5: 92.8 (No. 1)
Week 6: 81.3 (No. 7)
Week 7: Bye
Week 8: 72.3 (No. 10)
Week 9: 50.8 (No. 24)
Week 10: 86.4 (No. 2)
Week 11: 40.5 (No. 31)
Week 12: 81.5 (No. 3)
Week 13: 60.9 (No. 21)
Week 14: 66.5 (No. 11, pre-MNF)
This Bills offense is capable of toppling just about any defense when everything is clicking. Hopefully, Allen's banged up foot won't add further issues to the passing game's general inconsistency.
Heinicke (knee) is banged up and should be considered questionable for Sunday. Any sort of reduction in mobility would be bad news considering his general inability to force defenses to respect the deep ball this season, as these metrics denote when Heinicke passes the ball downfield (20+yards):
PFF passing grade: 48.9 (No. 37 among 37 qualified quarterbacks)
Big-time throw rate: 18.8% (No. 34)
Turnover-worthy play rate: 14.1% (No. 36)
Yards per attempt: 9.4 (No. 33)
Adjusted completion rate: 32.2% (No. 34)
Losing Terry McLaurin (concussion) for an extended period would only make matters worse. Note that McLaurin was injured when Heinicke rather inexplicably waived his No. 1 receiver to go deeper downfield before badly underthrowing him and causing another unnecessary contested-catch situation.
Overall, only the Titans, Lions and Giants have posted a worse catchable deep ball rate than the Football Team this season. Don't count on things getting better against an Eagles defense that has allowed fewer completions on passes thrown at least 20 yards downfield than everyone other than the Bills and Seahawks.
Hurts (ankle) will be back under center after having a Week 14 bye to heal up. He's turned in a top-12 fantasy performance all but one of his career starts in which he played the entire game.
Week 14, 2020: fantasy QB11
Week 15, 2020: QB1
Week 16, 2020: QB12
Week 17, 2020: QB20 (in three quarters)
Week 1, 2021: QB5
Week 2, 2021: QB10
Week 3, 2021: QB10
Week 4, 2021: QB4
Week 5, 2021: QB11
Week 6, 2021: QB7
Week 7, 2021: QB6
Week 8, 2021: QB24 (in three quarters)
Week 9, 2021: QB12
Week 10, 2021: QB7
Week 11, 2021: QB3
Week 12, 2021: QB27
Note that the latter numbers sure would have looked a lot better if Eagles receivers hadn't dropped not one, not two, but three potential scores throughout the afternoon.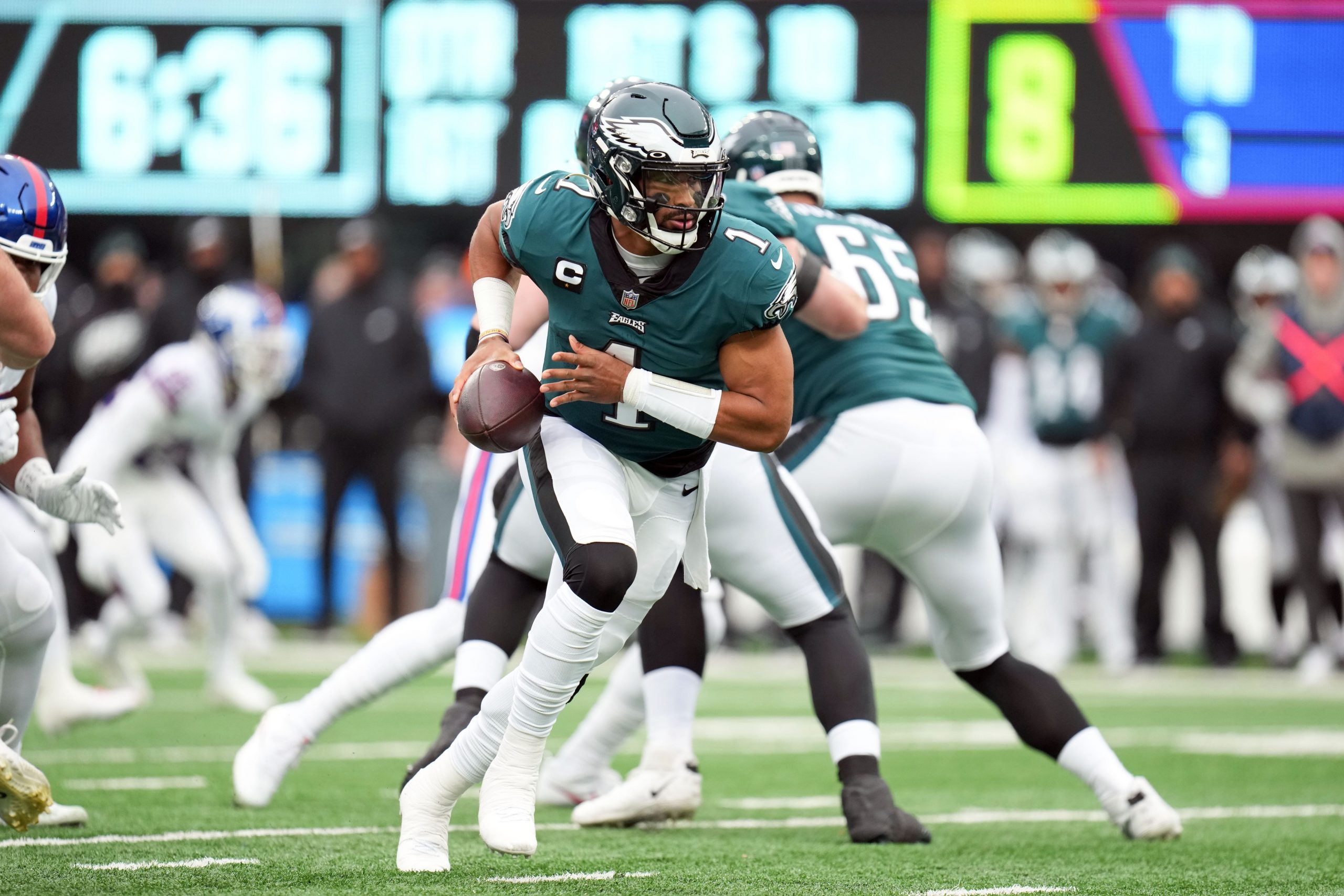 Nobody has allowed more fantasy points per game to opposing quarterbacks than the Football Team. Hurts is locked in as a top-five fantasy signal-caller and sure looks capable of (continuing) to make plenty of good things happen throughout the fantasy playoffs.
Mills has certainly been rather awful this season, but that's also been true for every rookie quarterback except Mac Jones:
Credit to Mills for throwing for 300-plus yards on three separate occasions this season, but the floor for everyone involved in the Texans' league-worst scoring offense remains horrifically low. No Week 15 matchup has a lower game total than Texans-Jaguars (41).
Can anyone name one objective thing that Urban Meyer has done well since taking over as the Jaguars' head coach? Anyone? Buehler?
2021 has served as a lost season for Lawrence, who has thrown just a single touchdown during the Jaguars' last six games. It's hardly been all Lawrence's fault, as only Justin Herbert (28), Patrick Mahomes (27) and Matthew Stafford (26) have had more passes dropped than the 2021 NFL Draft's No. 1 overall pick (24) through 14 weeks.
The last time Lawrence reached even 250 passing yards in a game occurred in Week 6. He hasn't thrown for multiple touchdowns since Week 1. The Jaguars and Texans stand as PFF's bottom-two offenses in team passing grade. Neither team was necessarily expected to take the league by storm with a rookie under center, but c'mon man.  
Prescott posted a season-low 37.8 PFF passing grade during the Cowboys' win over the Football Team last week, racking up four turnover-worthy plays in the process. It's tough to see him playing this poorly two weeks in a row, although it's fair to say the Cowboys' passing attack hasn't been quite so lethal since their franchise quarterback returned from a calf injury in Week 9:
Weeks 1-6: 87.6 PFF passing grade, 16 TD, 4 INT, 8.4 YPA, 73.2% completion rate
Weeks 9-14: 67.7 PFF passing grade, 8 TD, 6 INT, 6.6 YPA, 63.2% completion rate
Obviously, having to deal with various injuries across the rest of the offense hasn't helped matters but just realize the league's second-ranked scoring offense looked far more potent during the earlier parts of the season than it has in recent weeks.
It's certainly possible Prescott and company rebound in a major way this week against a Giants defense that he personally shredded to the tune of 302 yards and three touchdowns back in Week 5. 
Maybe Daniel Jones (neck) is back under center this week. Either way, sheesh. The Giants offense hasn't been able to make big things happen in the passing game all year, as it has posted the league's single-worst catchable deep-ball rate at just 34%.
This Cowboys' pass rush is scary good when each of Micah Parsons, Randy Gregory and DeMarcus Lawrence are healthy, as each is a major threat to create a game-changing turnover at any given moment. The Giants collectively have averaged just 5.5 yards per attempt when pressured this season (26th) and grade out as PFF's third-worst pass-blocking offensive line, so it'd be surprising if the league's 27th-ranked scoring offense gets right against a defense that sure looks a lot like their kryptonite. 
No quarterback has found the end zone more as a rusher than Murray over the past two two seasons. In fact, he finds himself as one of just 11 players with more than 15 scores on the ground during this stretch:
This isn't to suggest Murray isn't slinging the rock at an exceptionally high level as well, as the Cardinals' third-year signal-caller ranks first in both big-time throw rate (8.8%) and turnover-worthy play rate (1.5%) this season. Murray has consistently made "elite" throws while limiting mistakes better than any other quarterback in the league. Look for his already-robust highlight film to grow even longer after his one is all said and done.

Only Ben Roethlisberger has thrown short of the sticks more often than Goff this season. And yet, things are even more egregious after digging a little deeper. Overall, Goff "leads" the league in highest percentage of passes thrown short of the sticks in clear pass-first situations, which are defined as third and fourth downs with six or more yards to go. Not great, Goff.
This very article praised Goff after his rather great performance against the Vikings in Week 14, but that section ended with the following note: "Credit to Goff for earning his first career win without Sean McVay as his head coach, but my money is on his second-such feat not occurring anytime soon." Don't expect a boom performance to occur against the Cardinals' third-ranked defense in fewest fantasy points per game allowed to opposing quarterbacks.
The following metrics denote Wilson's performance compared to his peers when targeting an open first read:
PFF passing grade: 84.9 (No. 30 among 33 qualified quarterbacks)
QB rating: 100.4 (No. 32)
Yards per attempt: 9 (No. 28)
Adjusted completion rate: 79.5% (No. 33)
The latter stat tells you all there is to know, as Wilson has been the NFL's single-most inaccurate quarterback when targeting his first read when controlling that the player had to be open. There have, at least, been some flashes of Wilson making big things happen off script, but the problem is that he's going to have an awfully hard time making it in the NFL if things continue to go south even when the play design seemingly works to perfection.
As for this week, only Mike Glennon and Mike White have been worse against the blitz than Wilson in terms of PFF passing grade so good luck dealing with the NFL's single-most blitz-happy defense that impressively ranks second in Havoc through 14 weeks. 
Yes, only Daniel Jones and Matt Ryan have thrown a lower percentage of their passes at least 20 yards downfield than Tagovailoa this season. Also yes, the Dolphins have essentially been forced to deploy their low-average depth of target (aDOT) run-pass option-heavy attack due to their offensive line easily functioning as the league's single-worst pass-blocking unit.
PFF pass-blocking grade: 49.9 (No. 32)
Pressure rate: 37.8 (No. 30)
Quick pressure rate: 28.4% (No. 32)
This unit is historically bad, as only the 2019 Dolphins have a worse team PFF pass-blocking grade than the 2021 edition. Throw in Will Fuller's (finger, IR) continued absence, and it's honestly pretty remarkable that Tagovailoa has played as well as he has during just his second professional season.
The Jets rank just 22nd and 17th in overall and quick pressure rate. Hopefully, Tagovailoa will have more clean pockets than usual to work from in this one.
Burrow is PFF's fourth-highest graded passer this season. He's posted rather stark increases in big-time throw rate (6.5% vs. 3.6%), yards per attempt (8.4 vs. 6.5) and adjusted completion rate 77.2% vs. 71.8%) from 2020 to 2021 while also reducing his turnover-worthy play rate (3.2% vs. 3.0%).
The film goes hand in hand with the analytics, as Burrow has been playing some truly great football in 2021.
88 seconds of Joe Burrow throwing dimes pic.twitter.com/enVgzCMspu

— Ian Hartitz (@Ihartitz) December 13, 2021
Vic Fangio's well-coached Broncos certainly aren't a cake walk, as they're one of just five defenses to allow fewer than 17 fantasy points per game to opposing quarterbacks this season. Still, Burrow and company are awfully difficult to slow down when everything is clicking.
Bridgewater has displayed the following target distribution in seven games with Jerry Jeudy active this season:
I understand that Jeudy's superior separation skills make him more of an ideal No. 1 target for a more risk-averse signal-caller such as Bridgewater, but paying Sutton $60 million to work as this offense's No. 5 passing-game option certainly doesn't seem ideal.

Bridgewater has thrown 30 or fewer passes in four of his last six games, as the Broncos' ideal strategy is to give the ball to Javonte Williams and Melvin Gordon as much as possible. Hopefully, the 2022 version of this offense features someone under center who can get more out of this rather loaded group of pass-catchers.
The Falcons simply haven't seen high-end play from Kyle Pitts throughout his rookie season, essentially leaving Ryan without a true replacement for either Julio Jones or Calvin Ridley (personal, IR). Cordarrelle Patterson has done his best to continue to give this offense a spark, and Russell Gage has come on strong during the second half of the season.
Still, this is anybody's idea of a below-average offense in the NFL at the moment:
PFF offense grade: 73.5 (No. 20)
PFF pass grade: 71.6 (No. 16)
PFF pass-blocking grade: 57.2 (No. 25)
PFF receiving grade: 74.2 (No. 14)
PFF run grade: 64.2 (No. 29)
PFF run-blocking grade: 74.6 (No. 12)
Overall, the Falcons rank 26th in expected points added (EPA) per play — ahead of only the Bears, Lions, Panthers, Jets, Jaguars and Texans. The 49ers' 20th-ranked scoring defense is dealing with a multitude of injuries to its secondary, but largely the only consistency in this Atlanta offense has been the general inconsistency they've shown off all season.
George Kittle trails only Davante Adams in yards per route run over the past two seasons. Largely nobody has been more productive than the 49ers' stud tight end since he returned from injury in Week 9, as only Justin Jefferson has more receiving yards (530) over the last six weeks. Overall, Garoppolo has thrown just nine incompletions in Kittle's direction during this span — and six touchdowns.
The 49ers ramped up their passing numbers last week, something that can be scary when each of Kittle, Deebo Samuel and Brandon Aiyuk are ready to rock and roll. Credit to A.J. Terrell for working as PFF's second-highest graded cornerback this season, but the Falcons have still allowed the second-most fantasy points per game to opposing quarterbacks this season.
Check out the Tuesday edition of The PFF Fantasy Football Podcast for full thoughts on Garoppolo and the rest of the week's top waiver wire options.

Wilson brought the moon ball back into action last week, and it was awesome.
Missed this pic.twitter.com/OKlfyliYlG

— Ian Hartitz (@Ihartitz) December 13, 2021
2-0 since signing Adrian Peterson and entering 'win-now mode,' Wilson has posted his best PFF passing grades since returning from injury in back-to-back weeks and now faces a defense that he was having plenty of success against back in Week 5 before hurting his finger in the first place.
Expecting any secondary to contain D.K. Metcalf and Tyler Lockett for 60 minutes is wishful thinking when Wilson is operating as his usual self, as this game has sneaky-shootout potential with a relatively robust game total of 47.5 points. Only Chiefs-Chargers (50.5) is higher at the moment.
This Rams offense is at its best when Stafford is able to throw rockets downfield to one open receiver after another — something that might not be a constant reality next week against a Seahawks defense that has been awfully solid at defending the deep ball this season. The following metrics denote the Seattle defense's performance on passes thrown at least 20 yards downfield this season:
Completions allowed: 11 (No. 2)
Yards per attempt: 8.8 (No. 3)
Explosive pass play rate: 23.4% (No. 1)
Pass touchdown rate: 6.4% (tied for No. 6)
QB rating: 58.3 (No. 3)
Cooper Kupp can win against anyone while Odell Beckham and Van Jefferson are hardly incapable of creating separation downfield but just realize this Seahawks defense isn't the same liability against the deep ball that we've seen in recent years.
Marlon Humphrey (pec, IR) and Marcus Peters' (ACL, IR) continued absences leave this Ravens defense painfully short of legit depth at cornerback. None of Jimmy Smith (PFF's 67th highest-graded corner), Chris Westry (tied for 102nd), Tavon Young (tied for 102nd) nor Anthony Averett (tied for 115th) have demonstrated any level of consistent high-end play, which is particularly problematic for a defense that blitzes at a top-five rate.

The Ravens' best hope of stopping Rodgers is to pressure him, as Nobody has a steeper dropoff in yards per attempt when kept clean vs. when under pressure than Rodgers this season. Still, the lack of available bodies who can match up with Davante Adams is incredibly concerning.
Jackson (ankle) should be considered questionable at best to suit up Sunday. If active and less than 100%, it's tough to see the 2019 MVP causing the same level of problems for the opposing defense. This passing game has already been struggling more weeks than not throughout the second half of the season, and taking away Jackson's unparalleled rushing ability might be the straw that breaks this offense's back.
It'd be a lot easier to feel optimistic about Jackson and company if the Packers hadn't been so damn good against the pass virtually all season:
Yards per attempt allowed: 6.75 (No. 6)
Explosive pass play rate allowed: 11.2% (No. 3)
QB rating allowed: 90.9 (No. 5)
This group has the potential to go from great to borderline elite once CB Jaire Alexander (shoulder, IR) and pass-rusher Za'Darius Smith (back, IR) return to action; hopefully, Jackson is healthy enough to give them a real test. Look for Tyler Huntley to run to his heart's desire if Jackson is sidelined.
Hill has posted the following rushing lines in his five career starts under center:
Week 11, 2020: 10 carries-49 rush yards-2 TD
Week 12, 2020: 10-44-2
Week 13, 2020: 14-83-0
Week 14, 2020: 5-33-0
Week 13, 2021: 11-101-0
Week 14, 2021: 11-73-2
Hill has worked as a fantasy football QB1 each and every time. The Buccaneers certainly present more problems than your usual rushing defense, although Josh Allen did just convert 12 carries into 109 yards and a score against them last week. Continue to fire up Hill as a legit top-12 fantasy football quarterback even though he's nowhere close to that range when it comes to real-life performance.
Brady has thrown 61 touchdowns without a single interception inside the 20-yard line since joining the Buccaneers. Madness. The favorite for MVP honors continues to largely defy father time and now gets a Saints defense that he threw for 375 yards and four touchdowns against back in Week 8.
Yes, New Orleans has taken down Brady in three of their four matchups over the past two seasons. Also yes, this is the GOAT we're talking about. As the NFL's leader in passing yards (4,134), passing touchdowns (36) and passing yards per game (318), Brady continues to prove that age ain't nothing but a number when you sell your soul eat avocado ice cream. Expect more fireworks against the league's 10th-worst defense in fantasy points per game allowed to opposing quarterbacks.
Cousins' Week 14 performance would have been far bigger with just a bit better luck. He gets a lot of flack for his lack of high-end playoff success over the years, but the man has largely been nothing short of remarkable when given the benefit of a clean pocket this season. The following metrics denote Cousins' performance when not under pressure:
PFF passing grade: 92.8 (No. 4 among 43 qualified quarterbacks)
QB rating: 118 (No. 3)
Big-time throw rate: 4.8% (No. 11)
Yards per attempt: 8.5 (No. 8)
Adjusted completion rate: 81.6% (No. 9)
The Bears are a bottom-seven defense in Havoc, so don't be surprised if Cousins is able to wheel and deal against a defense that is a lot less scary without Khalil Mack's (foot, IR) services.
Fields ranks 33rd in turnover-worthy play rate (4.3%), which is bad. However, he ranks eighth in big-time throw rate (6.1%), which is good.
Ideally, the Bears' rookie signal-caller will learn how to reduce his mistakes while maintaining the ability to make 'elite' throws at such a high rate but either way, it's encouraging that the 2021 NFL Draft's No. 11 overall pick has flashed a ceiling after just nine career starts.
Big-time throw rate vs. turnover-worthy play rate (PFF, minimum 100 dropbacks)

Kyler Murray is good. pic.twitter.com/Gz0uiIuVkX

— Ian Hartitz (@Ihartitz) December 13, 2021
The Vikings don't have a single cornerback ranked among PFF's top-50 corners in coverage grade, so it'd make sense if Allen Robinson and Darnell Mooney are able to make, at least, one or two big plays thanks to their quarterback's affinity for making at least some good things happen inside of the league's 28th-ranked scoring offense.