• A.J. Brown's first hat trick: The Eagles wide receiver scored a touchdown on three of the team's first four drives. It was his first game scoring three touchdowns, and he achieved a career high in receiving yards.
• Dolphins wide receivers not slowing down: Both Tyreek Hill and Jaylen Waddle achieved their fourth 100-yard performances of the season, making them the fourth and fifth wide receivers to do so in 2022.
• Backup running backs can't be stopped: D'Onta Foreman and Tony Pollard scored three rushing touchdowns each with their teams' starters out due to injuries.
---
PFF's fantasy football recap focuses on player usage and stats, breaking down all the vital information you need to achieve fantasy success in 2022.

Jump to a game:
[email protected] | [email protected] | [email protected] | [email protected] | [email protected]
[email protected] | [email protected] | [email protected] | [email protected] | [email protected]
[email protected] | [email protected] | [email protected]
---
• Travis Etienne: 24 carries, 156 yards, one touchdown; 3 receptions, 6 receiving yards
• Jerry Jeudy: 6 receptions, 63 yards, one touchdown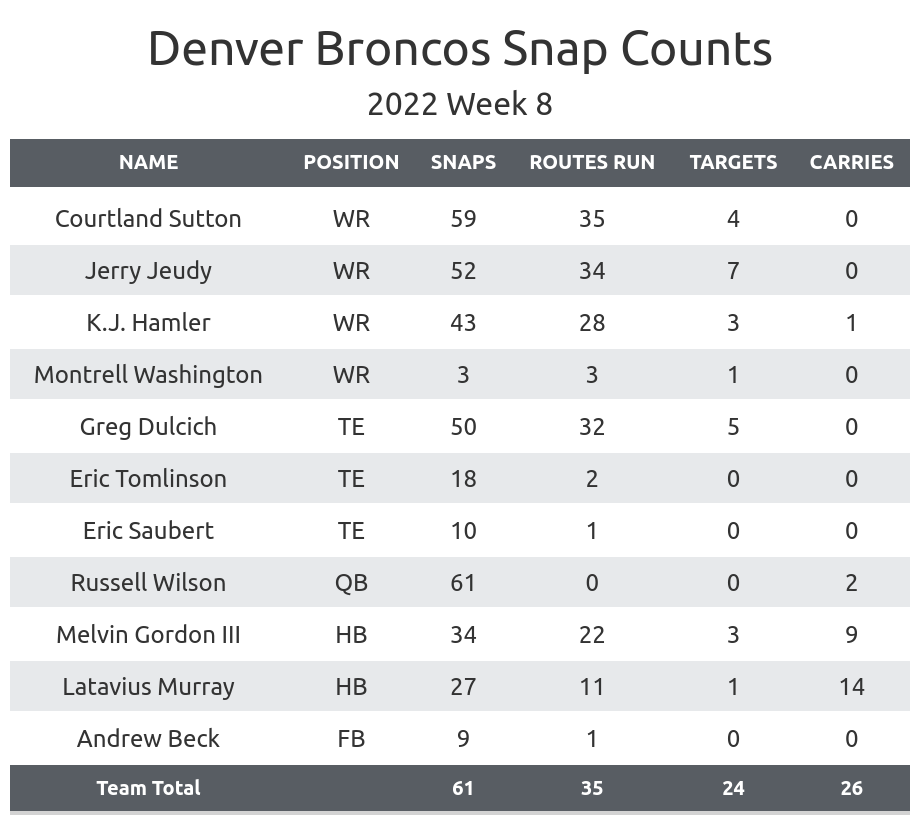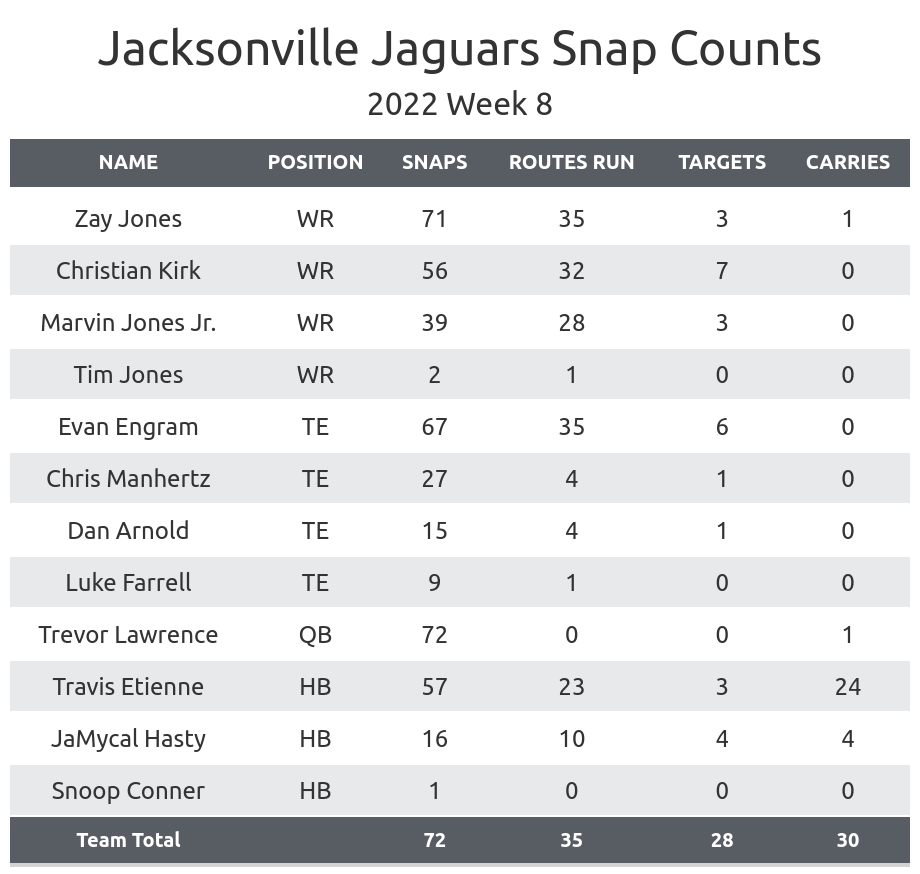 Travis Etienne's dominance continues: The Jaguars back dominated playing time a week ago, and that trend continued after the Jags traded James Robinson to the Jets.
Etienne was the lead back in every situation. He was substituted out only for breaks after he ran the ball a few times in a row or when he broke a big run.

The only problem there is that he would sit out for a few consecutive plays rather than immediately re-entering the game.

He ended the game with a career-high in carries and rushing yards and tied for a career-high in receptions.

The way the Jaguars use him now gives Etienne top-five fantasy potential, but the offense needs to improve to provide the back with more touchdown opportunities.

He scored his second touchdown of the season against the Broncos, but it wasn't until the last four minutes of the game.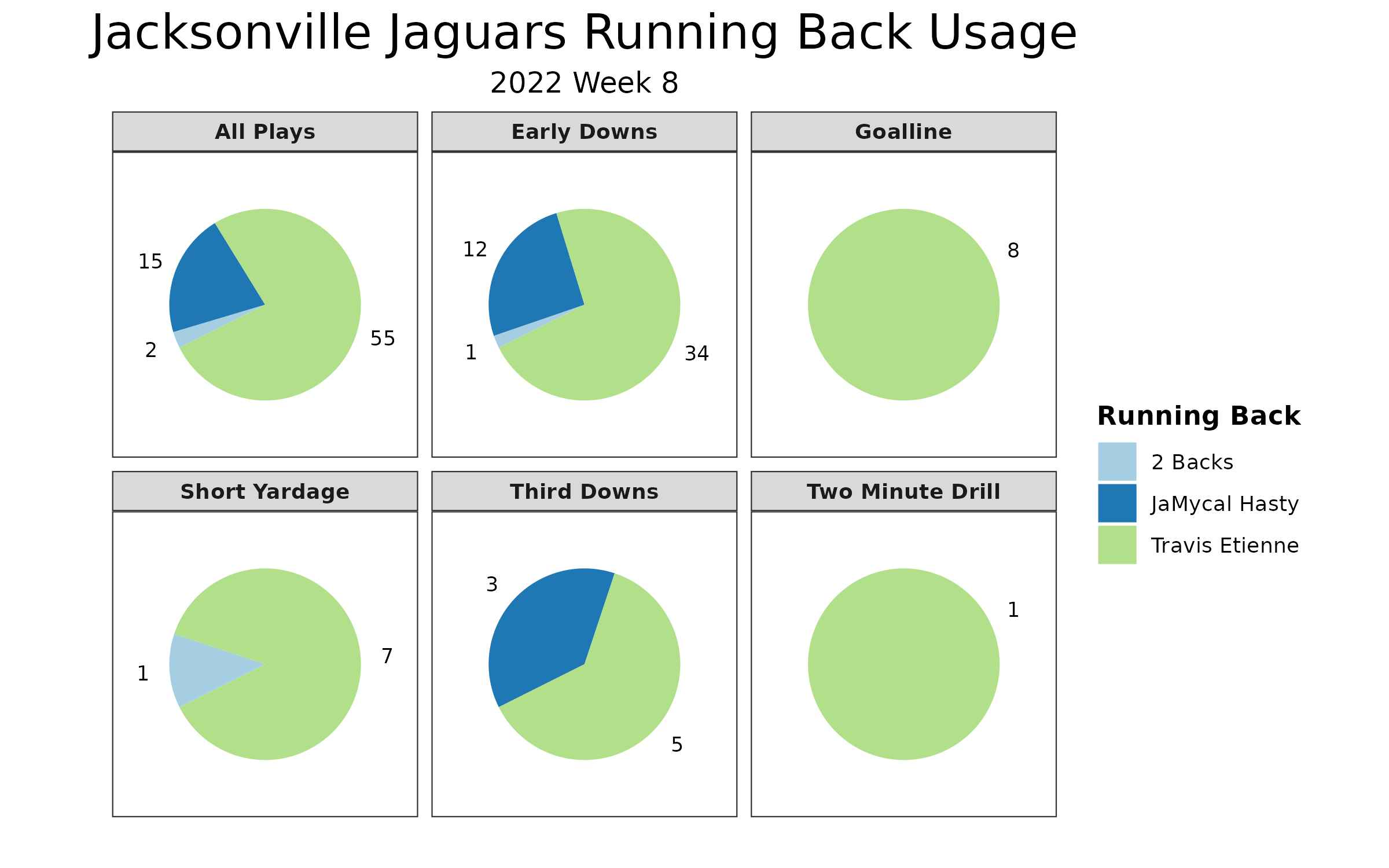 Broncos two-man committee: The Broncos' three-man running back committee dropped to a two-back rotation after Mike Boone landed on injured reserve.
The Broncos added

Marlon Mack

from the 49ers practice squad, but he was inactive.

They also signed

Devine Ozigbo

to the active roster from the practice squad for a potential revenge game, but he didn't play on offense.

Melvin Gordon III

started the game for Denver and took every snap on the first two drives.

Latavius Murray

didn't take the field until Drive 3, similar to last week.

They continued to rotate roughly every two drives. 

Gordon dominated offensive snaps, as he played in the long drives to end the first half, but Murray led the team in rushing attempts as Denver closed out the game.

The Broncos also cut one of Murray's drives short — which ended up being the drive Gordon scored.

Murray's rest-of-season value declines after this game despite one less player to compete with. Gordon remains the top back, and Murray did nothing in this game to show he should be the starter.

He averaged just over 3.0 yards per carry, although scoring the game-winning touchdown doesn't hurt.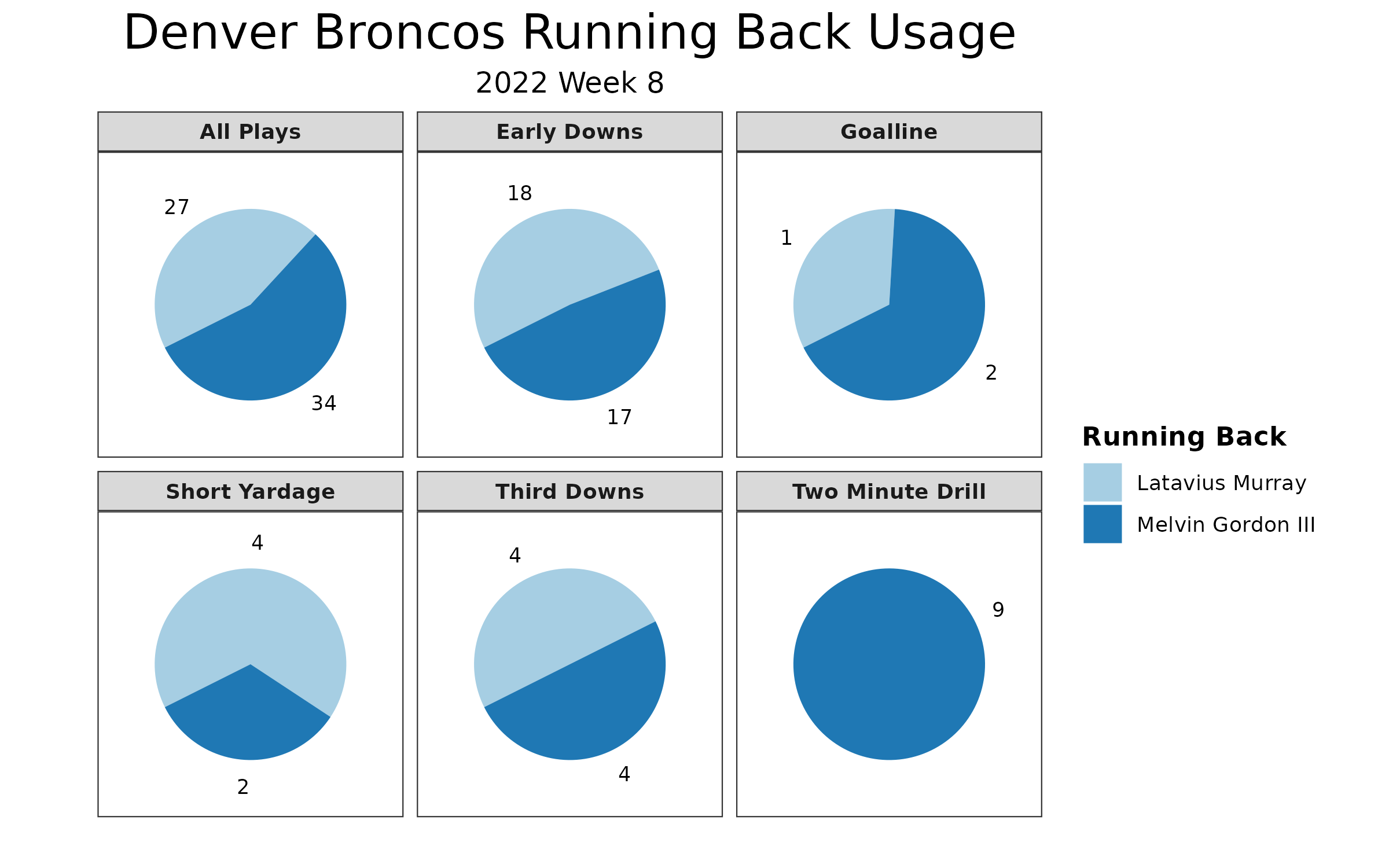 Add Greg Dulcich: The Broncos' rookie tight end led the team in receiving yards (87).
He will likely boast a third-straight week as a top-12 fantasy tight end unless several other players have great games this week.

Dulcich has been the clear tight end in 11 personnel, but his percentage of snaps outside 11 personnel has also increased each week. When he's off the field, there is a high chance the Broncos are running the ball.

His 19.7% targets rate heading into the week was 14th-best for tight ends. That mark went down today, but they were facing a Jaguars defense that allowed the sixth-fewest fantasy points per game to tight ends this season.

He's been a consistent fantasy starting tight end since he became healthy, and there is only room for him to grow. His target share could increase further, and if the offense improves, he could score more.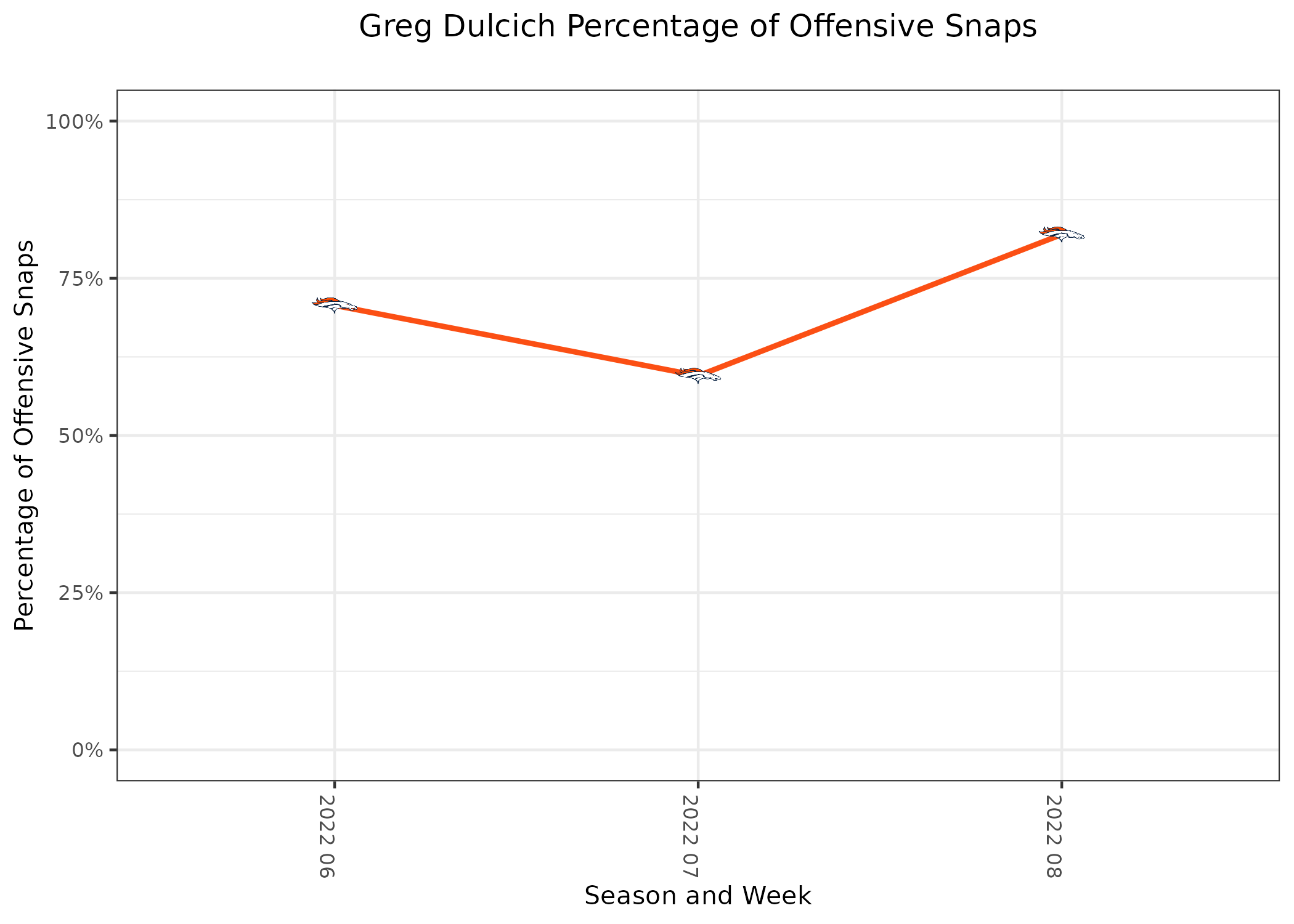 If you can't add Dulcich, add Evan Engram: The Jaguars tight end was TE16 heading into the week, but that should increase after scoring his first touchdown of the season.
Engram's play time has steadily increased throughout the season, and he has mostly left the field in clear run formations.

His 216 routes run were the fourth-most at the position heading into the week.

He gained at least 50 receiving yards for the third time in four weeks.

He was the target of multiple end-zone passes, leading to his first touchdown of the season.

Engram doesn't have the same upside as Dulcich due to the two player's talent levels, but Engram's usage makes him a dependable tight end and a great bye-week fill-in.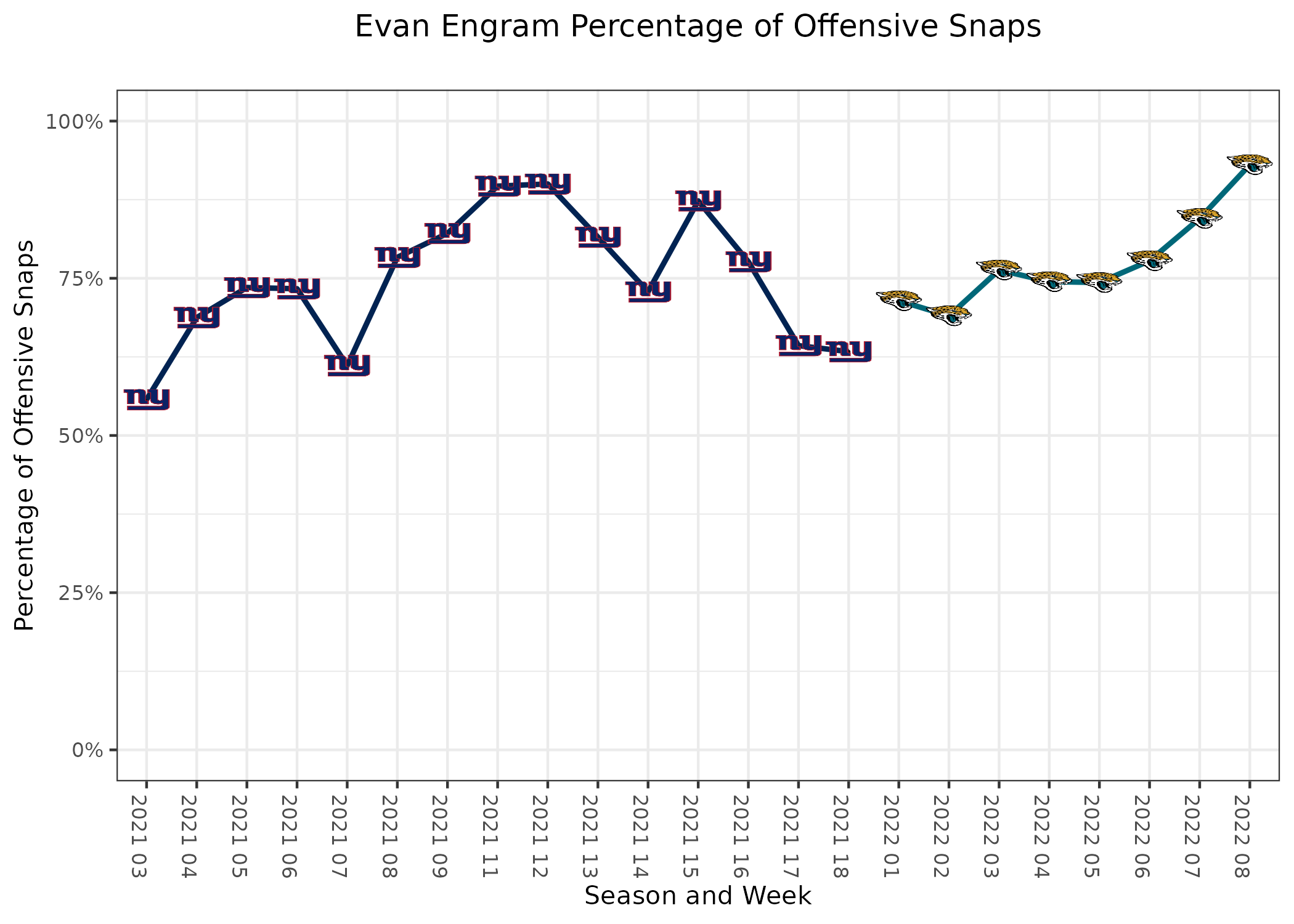 Drop Marvin Jones: The Jaguars have used more two-tight end sets in the last two weeks, with the offense more focused on Etienne. This has meant less playing time for Jones.
He is third on the depth chart and was consistently off the field in two-tight end sets.

He didn't catch any of his three targets against the Broncos.

Jones is still capable of good games and will likely have another one or two this season, but it will be much harder for him to do that with any kind of consistency in a reduced role.

He's traditionally been a threat in the red zone, but the Jaguars aren't making enough trips to the end zone to take advantage of Jones there.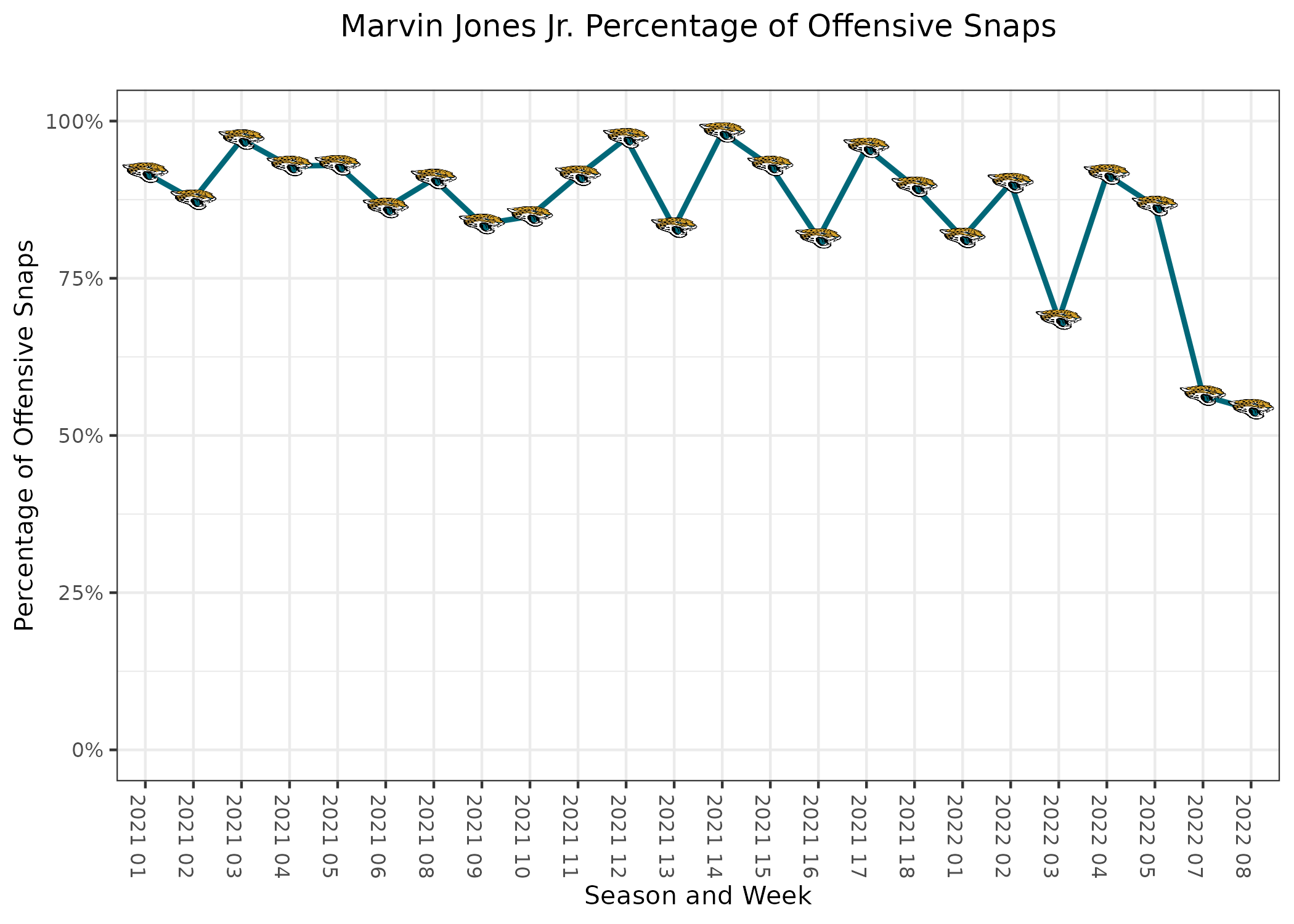 ---
• D'Onta Foreman: 26 carries, 118 yards, 3 touchdowns
• D.J. Moore: 6 receptions, 152 yards, 1 touchdown, 1 carry, 3 rushing yards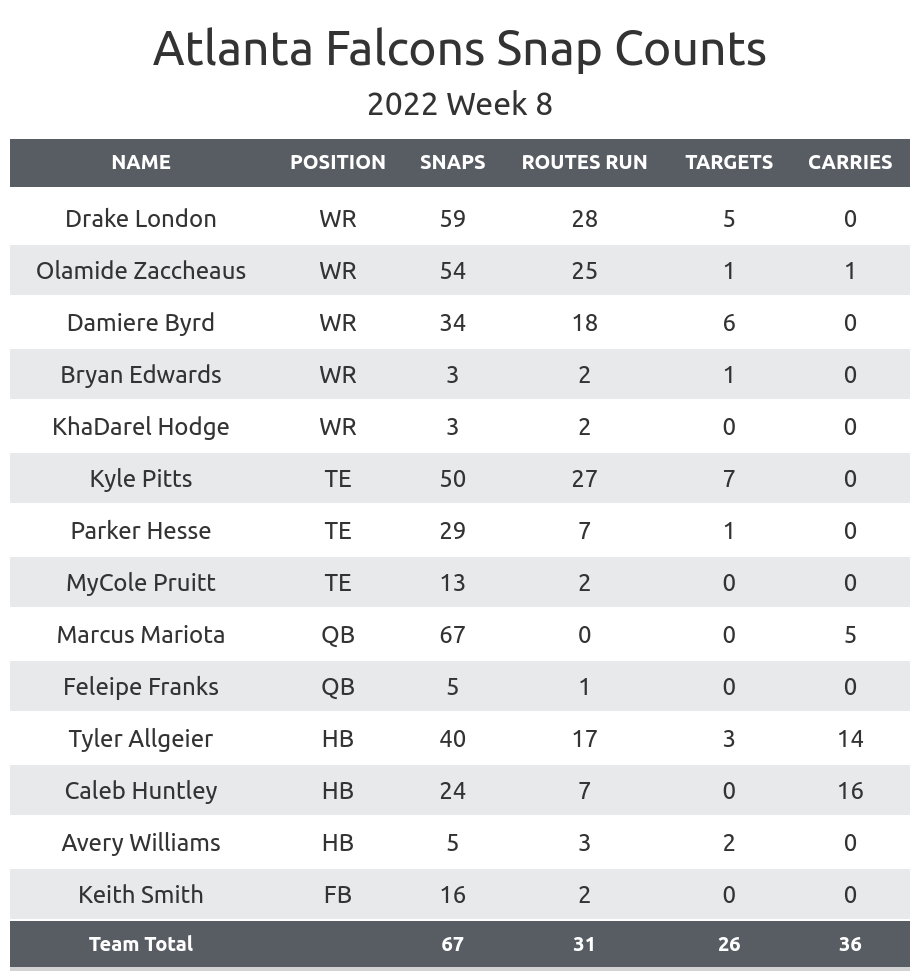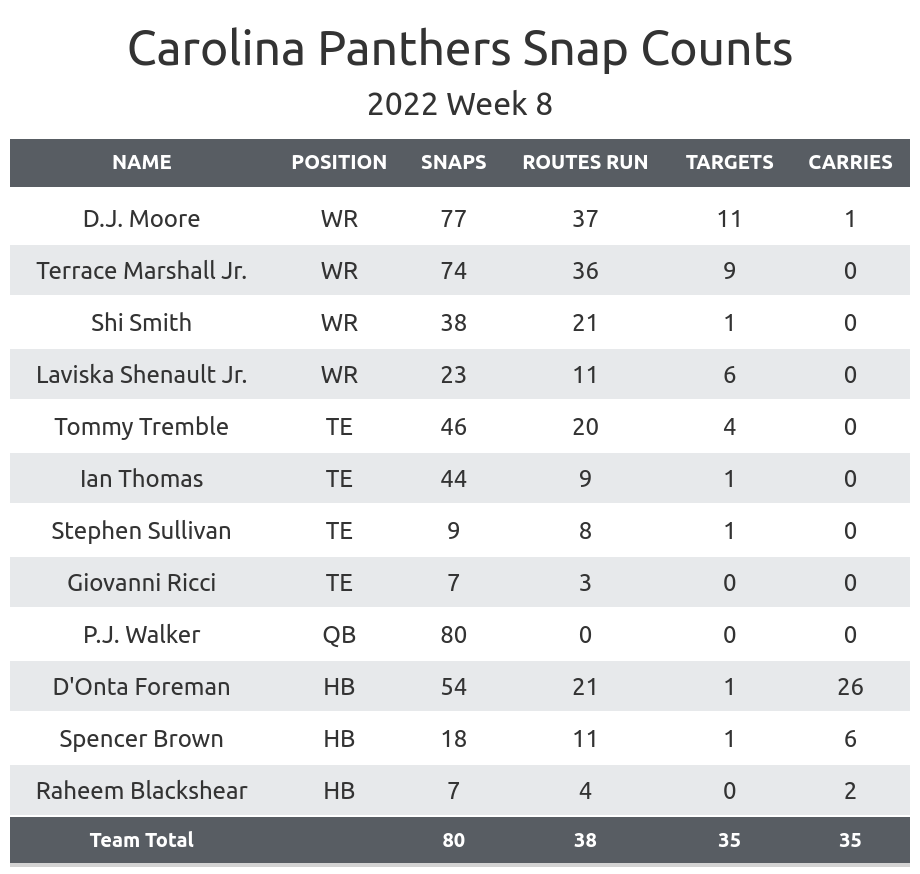 The Panthers without Chuba Hubbard: D'Onta Foreman had no problem being the Panthers' lead back, putting up a dominant game on the ground.
Foreman saw a clear majority of snaps in most situations, leading to his dominant game on the ground.

It's worth remembering that Hubbard had double the carries and more routes than Foreman in three quarters prior to his injury.

Foreman rarely played on third downs, which is a good indication that Hubbard will still see the receiving work when healthy.

We would expect Foreman to probably lead the team in carries with how well he's played the past two weeks, but that is no sure thing — it depends on how much the Panthers like Hubbard.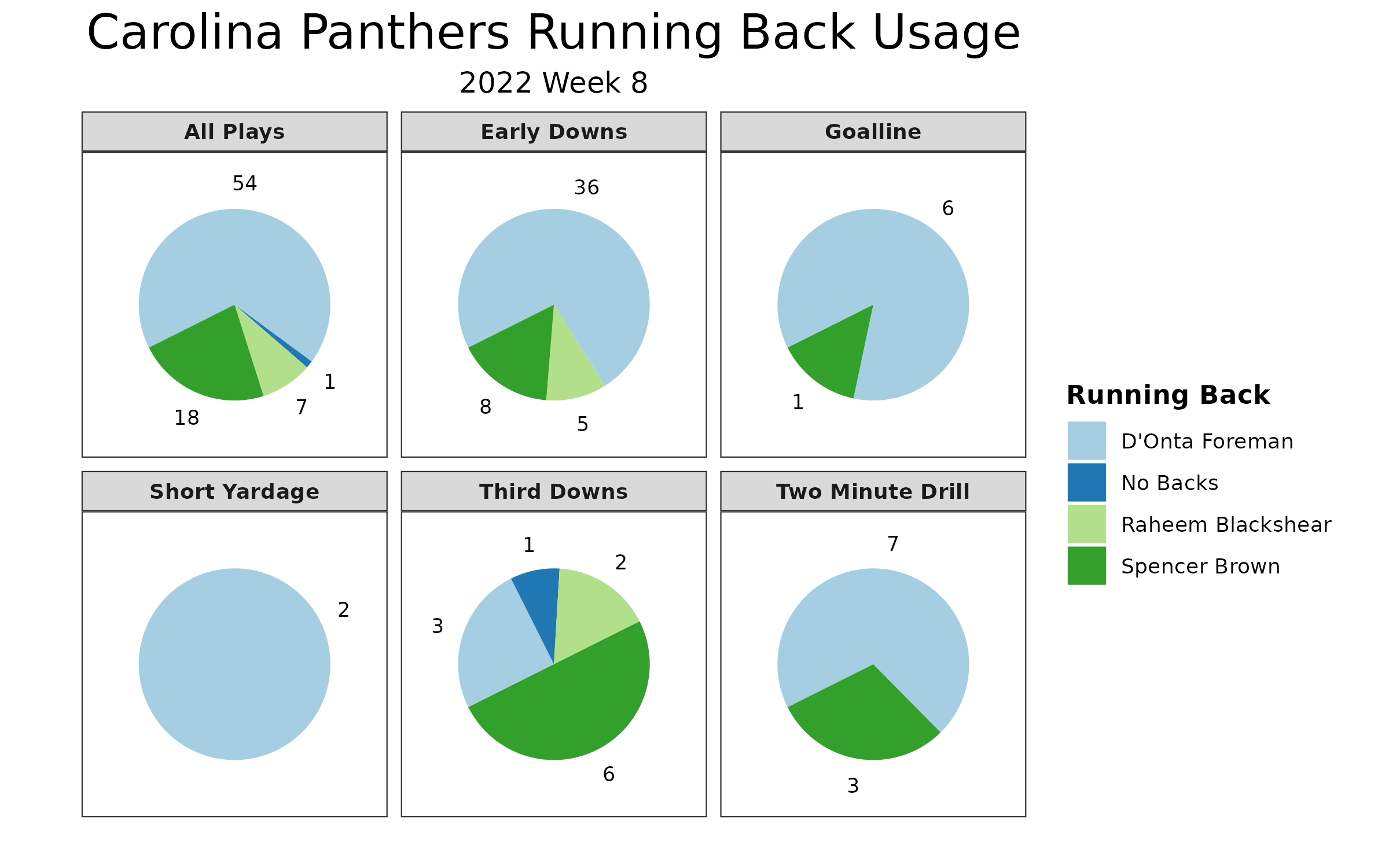 Add Terrace Marshall Jr.: The second-year receiver caught four passes for 87 yards in the Panthers' loss.
Marshall remains the clear second receiver for the Panthers. His playing time has blown up since the team traded

Robbie Anderson

to the Cardinals.

Laviska Shenault Jr.

became more involved in the offense, but it was at the expense of

Shi Smith

instead of Marshall. This is a good sign Marshall will remain a clear starter for the rest of the season.

He is still only 22 years old and was very talented in college. This is similar to picking up any other highly drafted rookie in hopes they blow up in the second half of the season.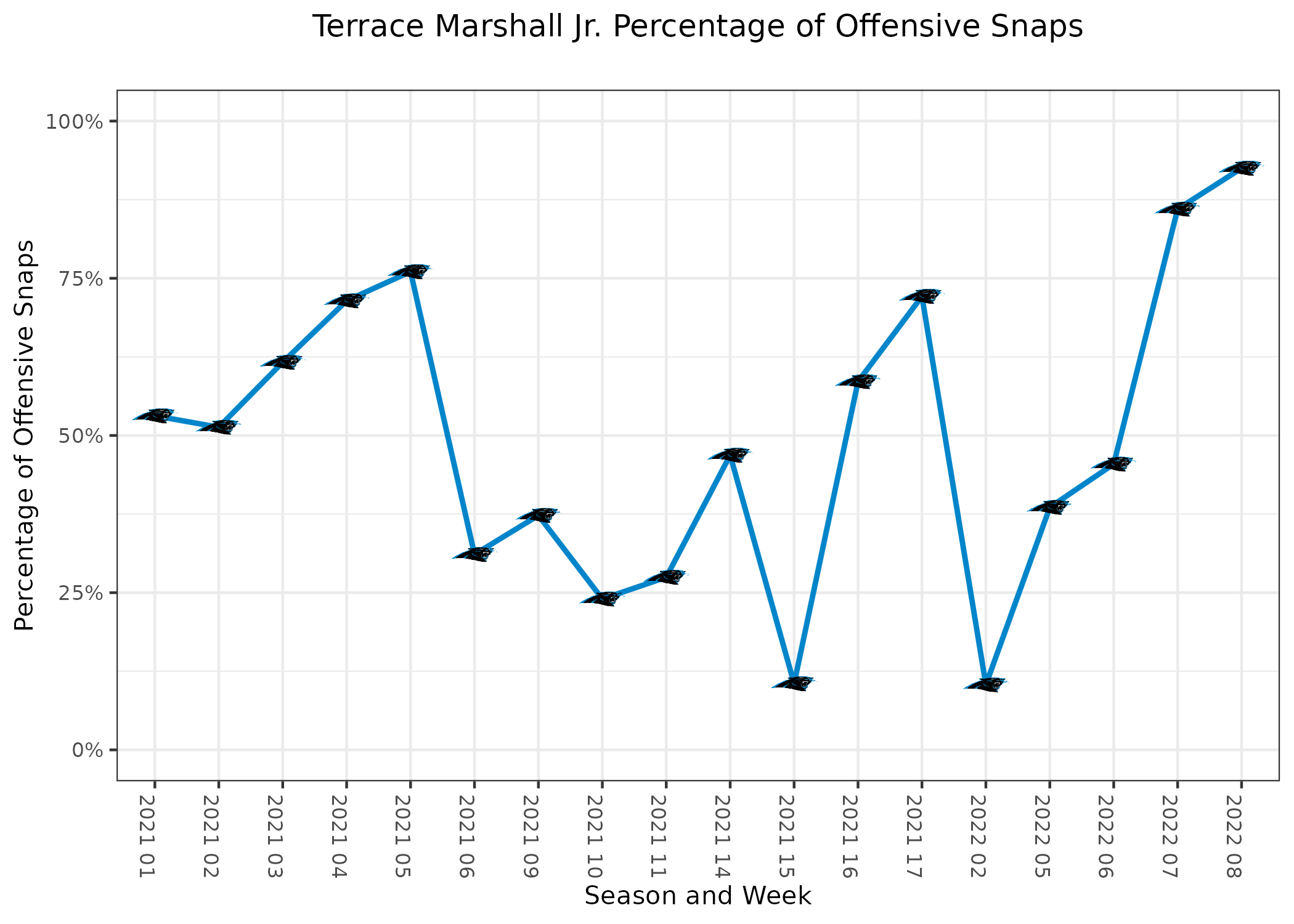 Sell high on Kyle Pitts: Pitts caught five passes for 80 yards and a touchdown, but this might not be a sign of things to come.
The Falcons have heavily relied on Pitts when playing from behind. He has 1.71 yards per route run with a lead compared to 0.85 while playing from behind.

Seventy-one of Pitts' 80 receiving yards against the Panthers came when the game was tied or the Falcons were playing from behind.

Atlanta has the

second-easiest remaining schedule

. Six of their nine remaining opponents have a losing record so far this season, and no team is more than a game over .500.

Both

Cordarrelle Patterson

and

Damien Williams

are eligible to return from injured reserve this week.

We can expect Atlanta to become even more run-heavy going forward with a favorable schedule and their veteran backs.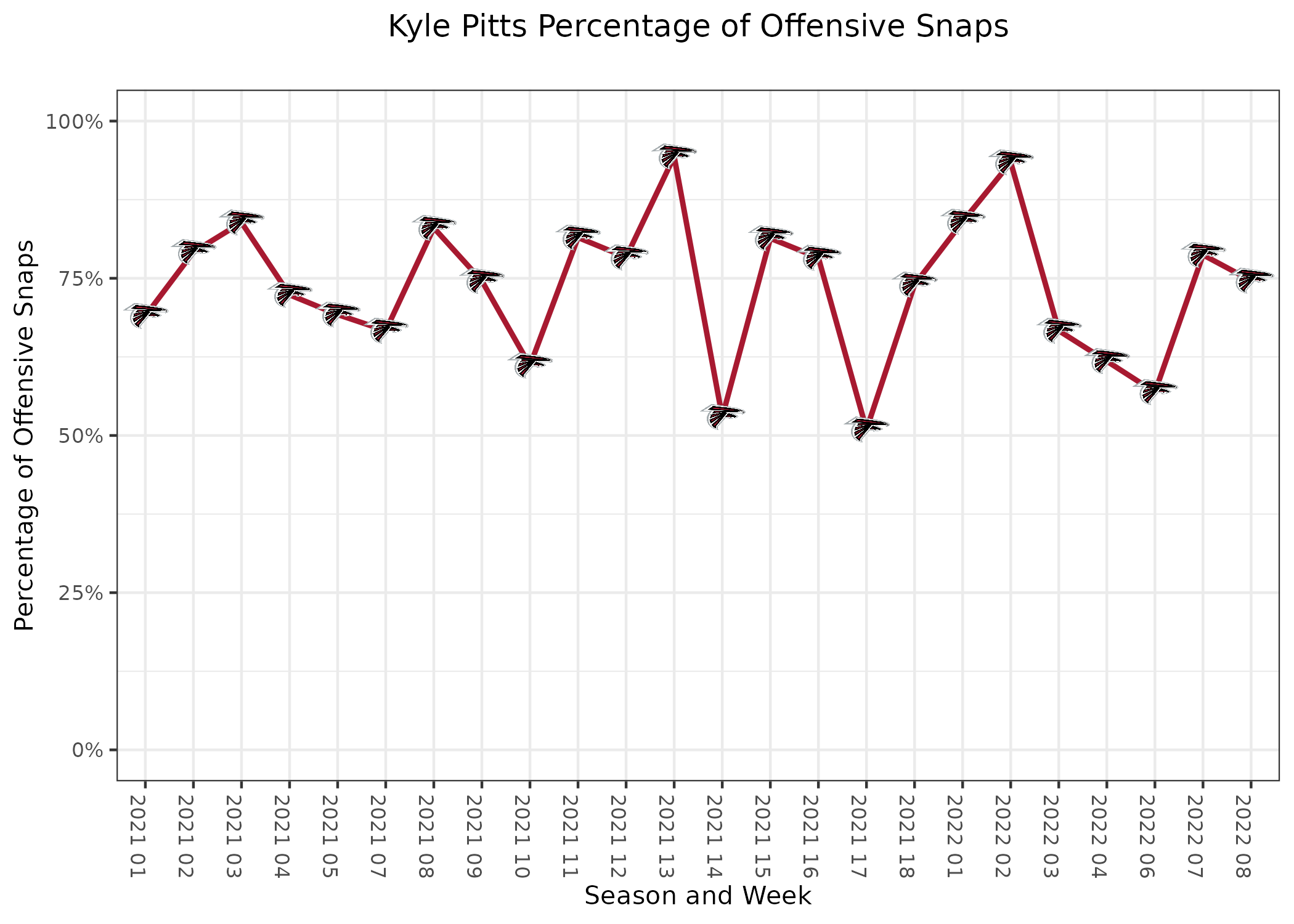 ---
• Tony Pollard: 14 carries, 131 yards, 3 touchdowns, 1 reception, 16 receiving yards
• CeeDee Lamb: 5 receptions, 77 yards, 1 touchdown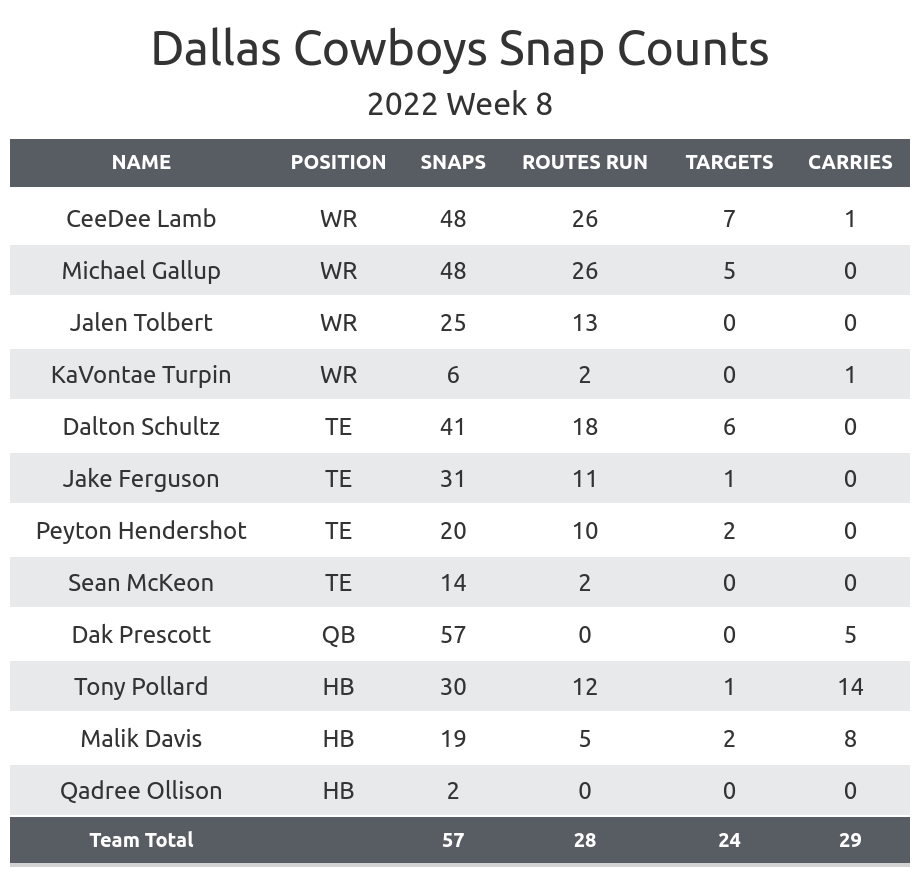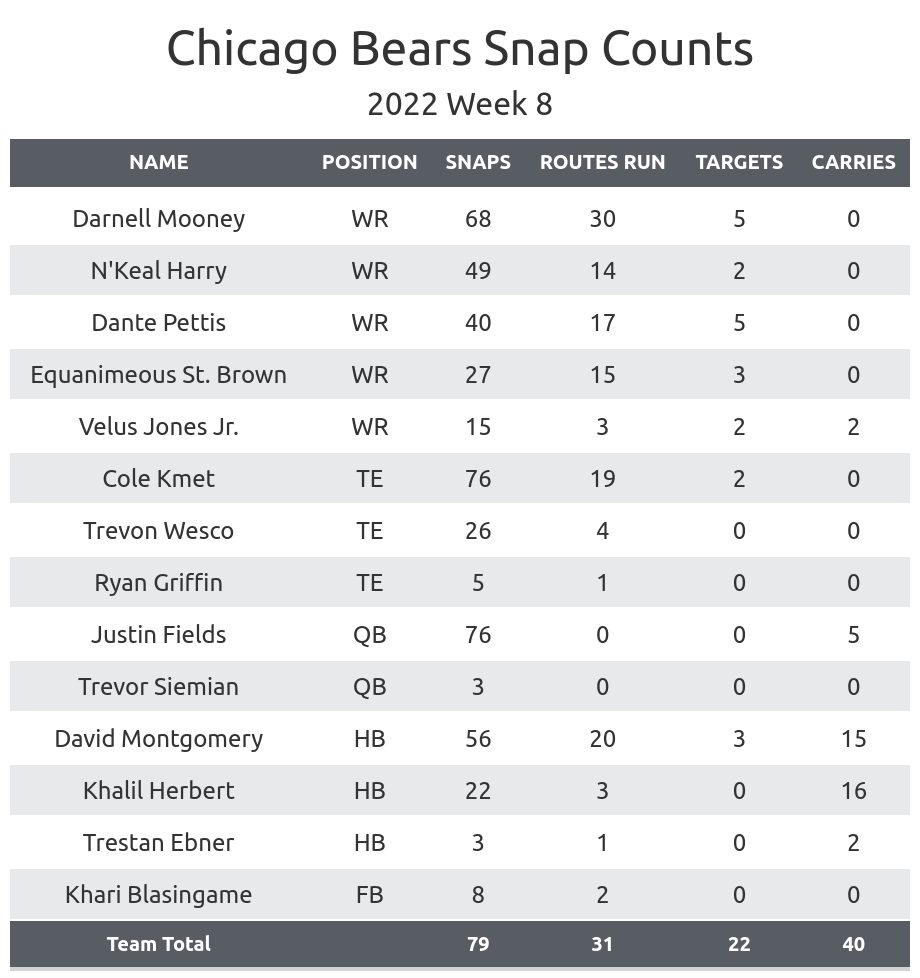 Tony Pollard starts: The Cowboys didn't have Ezekiel Elliott due to injury, allowing Pollard a chance to shine.
His playing time didn't increase as much as some might expect. Undrafted rookie

Malik Davis

saw significant playing time in the backfield, typically in normal early-down situations.

CeeDee Lamb

lined up in the backfield for five snaps, something he hadn't done since 2021.

Pollard scored three rushing touchdowns, something Elliott has never done in a game in his career.

Ideally, this excellent performance would lead to more playing time, but owner Jerry Jones already said this remains Elliott's backfield.

This makes Pollard a sell-high candidate. The Cowboys have the fifth-worst schedule for running backs

during the fantasy playoffs.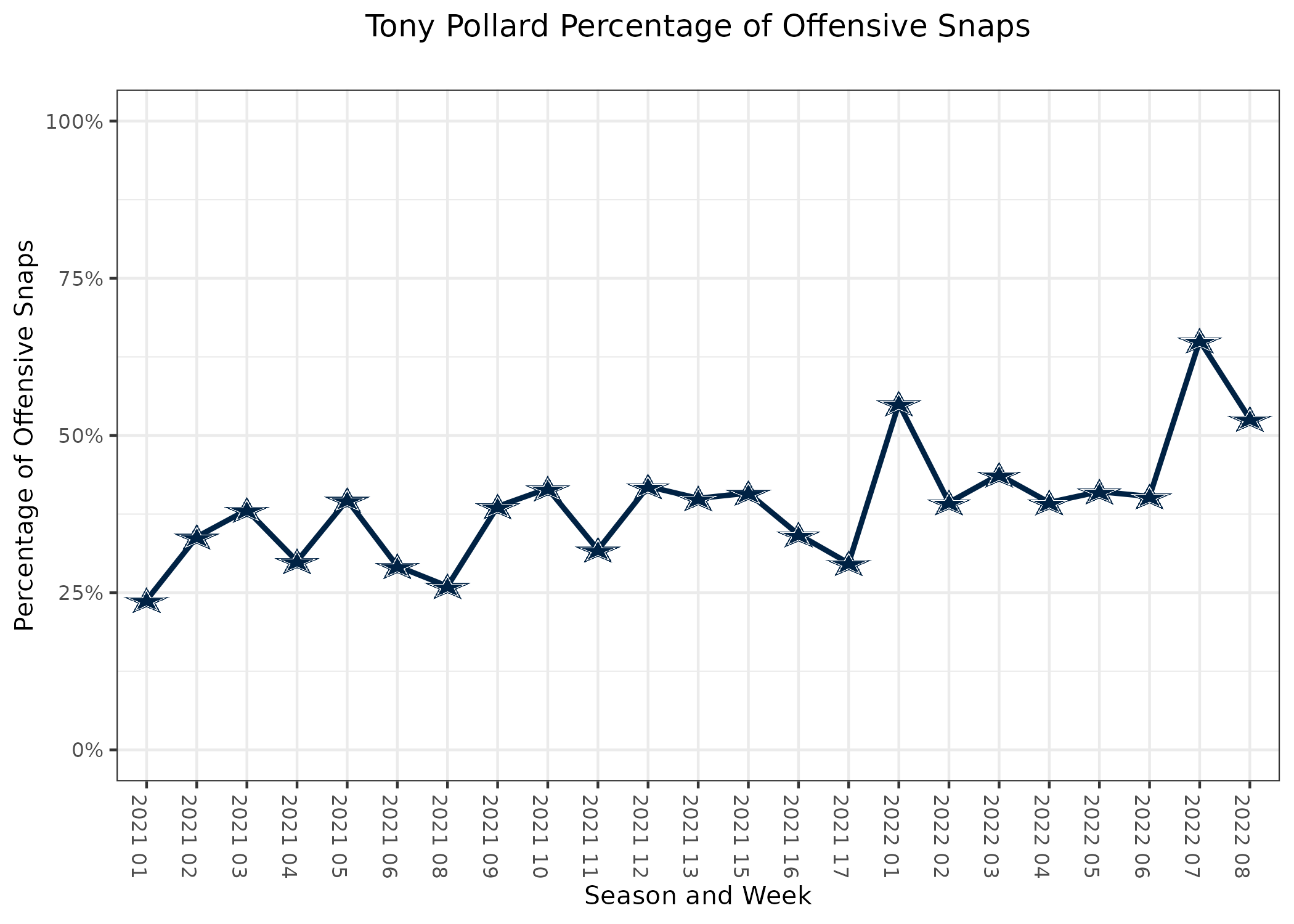 Jalen Tolbert's missed opportunity: Noah Brown missed this game due to injury, allowing Tolbert to move up to third on the team's depth chart.
Tolbert was consistently playing in three-receiver sets but never saw a target in the game.

He will likely go back to barely seeing playing time, assuming Brown is ready to go after the Cowboys' bye week next week.
Monitor Dalton Schultz: The Cowboys tight end played for the second straight week.
He was limited in practice all week with his knee injury and was questionable coming into the game.

He played his highest percentage of snaps in nearly a month, but it still wasn't near how much he played during his peak last season.

Schultz still received enough playing time to be the Cowboys' second-leading receiver, catching six passes for 74 yards.

Ideally, he sees more playing time as he gets healthier. The Cowboys' rookie tight ends have still been playing well, so there is a chance Schultz never reaches his peak playing time.
Add Khalil Herbert: Herbert continues to be the Bears' most productive running back on the ground, which is earning him more carries.
Herbert isn't seeing nearly as much playing time as

David Montgomery

, but he's typically touching the ball whenever he's on the field.

The Bears continued their tradition of using Montgomery exclusively over their first two drives. 

Herbert ran the ball 16 times compared to nine for Montgomery after that point.

He has 564 rushing yards compared to 361 for Montgomery this season, despite Montgomery having 92 carries compared to 91 by Herbert.

Herbert has reached the point where he could be considered for fantasy starting lineups in games Chicago can stay competitive in.

The Bears' schedule has been more difficult than average

over the first half of the season but will be easier than average over the second half. This will lead to more rushing.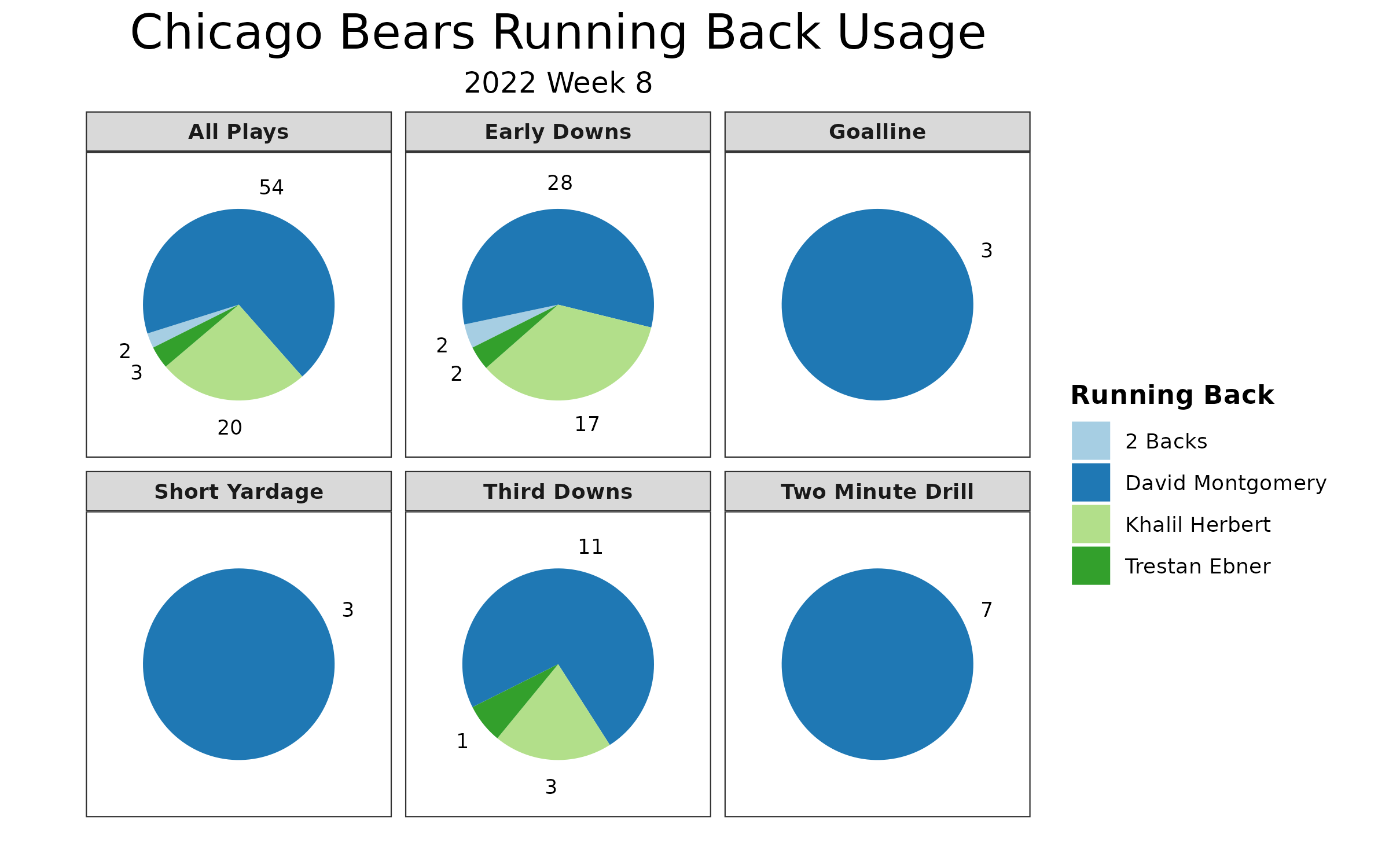 The Bears' new No. 2 wide receiver: N'Keal Harry caught a touchdown at the end of the first half, leading to more playing time in the second half.
Harry played 33 of a possible 42 plays in the second half, making him a clear second in offensive snaps at the position.

His snaps came at the expense of

Equanimeous St. Brown

.

Dante Pettis

remained the typical third wide receiver.

The Bears' passing game hasn't been very friendly to fantasy managers, but Harry can be picked up in very deep leagues in case he continues to turn his career around.
---
• Tyreek Hill: 12 receptions, 188 yards
• Jaylen Waddle: 8 receptions, 106 yards, 2 touchdowns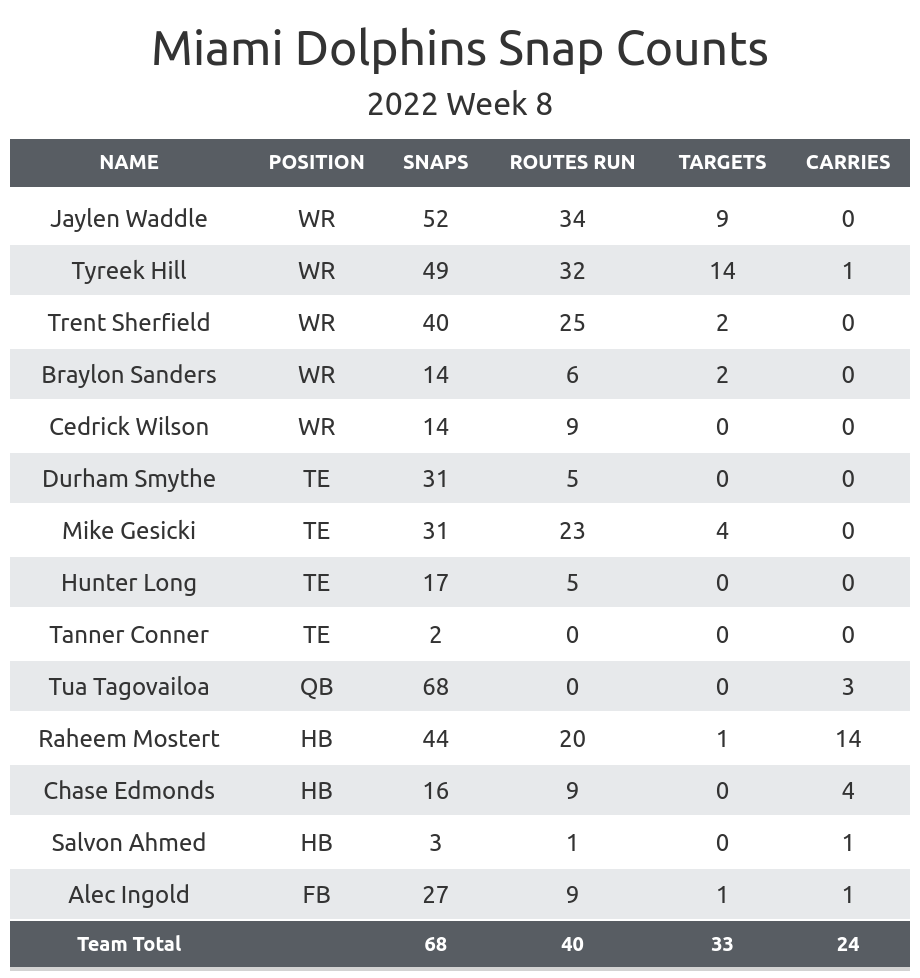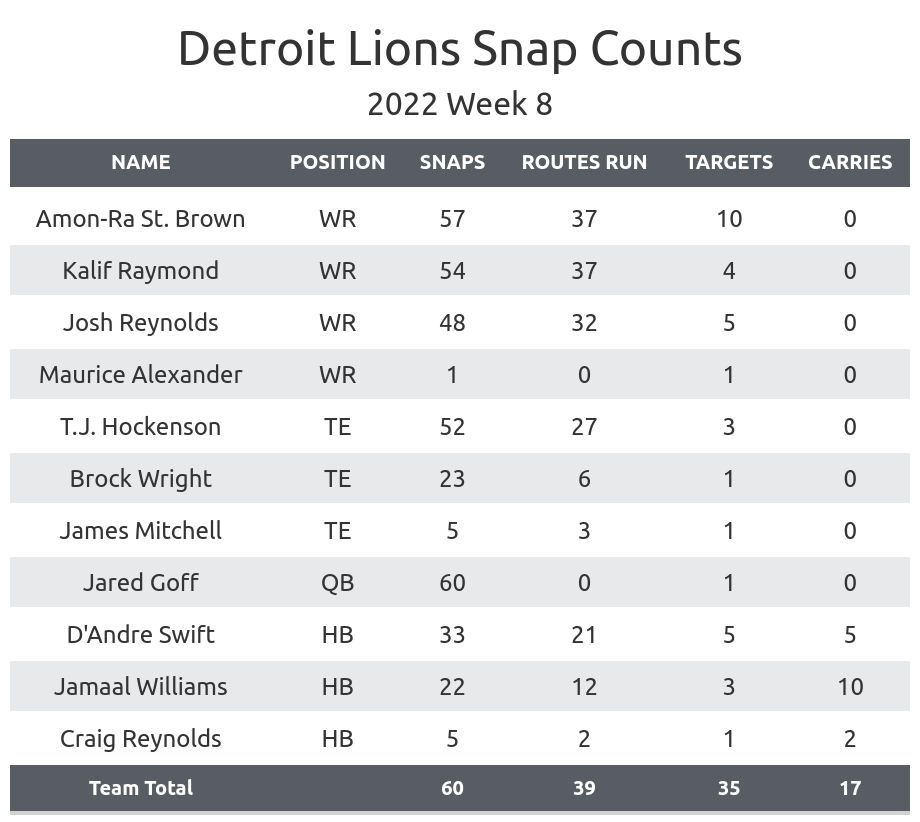 D'Andre Swift's return: Swift returned to the Lions' lineup after last playing in Week 3.
His role in the offense was basically the same as it had been all season. He played on clear passing downs and a slight majority of early downs, but not much in short-yardage situations.

He wasn't very effective rushing the ball, tallying six yards on five carries.

He caught five passes for 27 yards and a touchdown, which saved his fantasy value.

The game script was one where the Lions could have run more if they wanted to.

We can expect more carries from Swift as he gets healthier, but

Jamaal Williams

could very well continue to lead the team in carries and score most of the rushing touchdowns.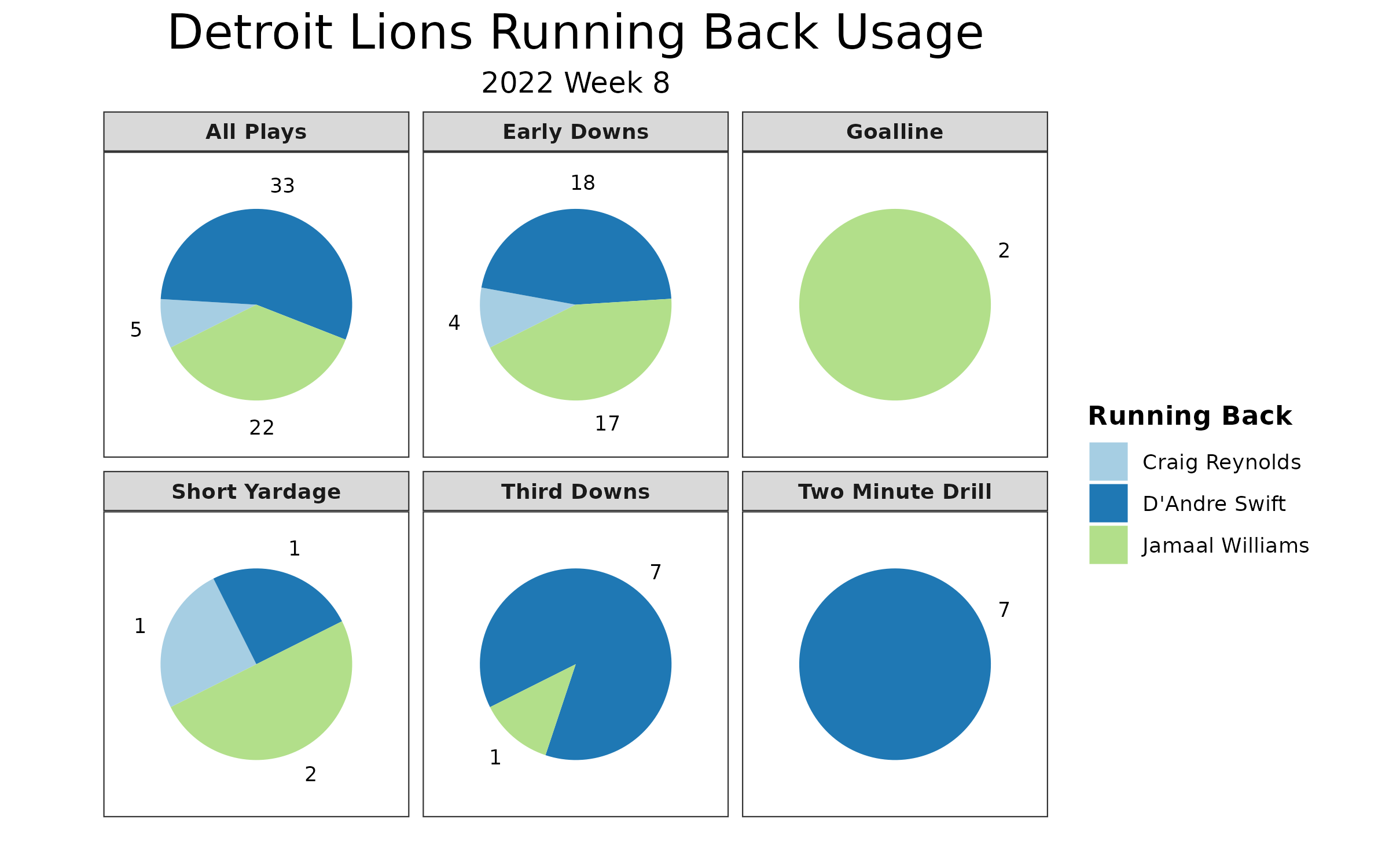 Amon-Ra St. Brown's return: St. Brown missed most of last week after being in the concussion protocol, but he was back to his normal role this week.
He also missed playing time earlier in the month with an ankle injury, but he wasn't on the injury report with any ankle issues.

His playing time was back to normal, and he doubled anyone else on the team in targets.

He can comfortably be put back into fantasy starting lineups for any fantasy managers who were hesitant to start him this week.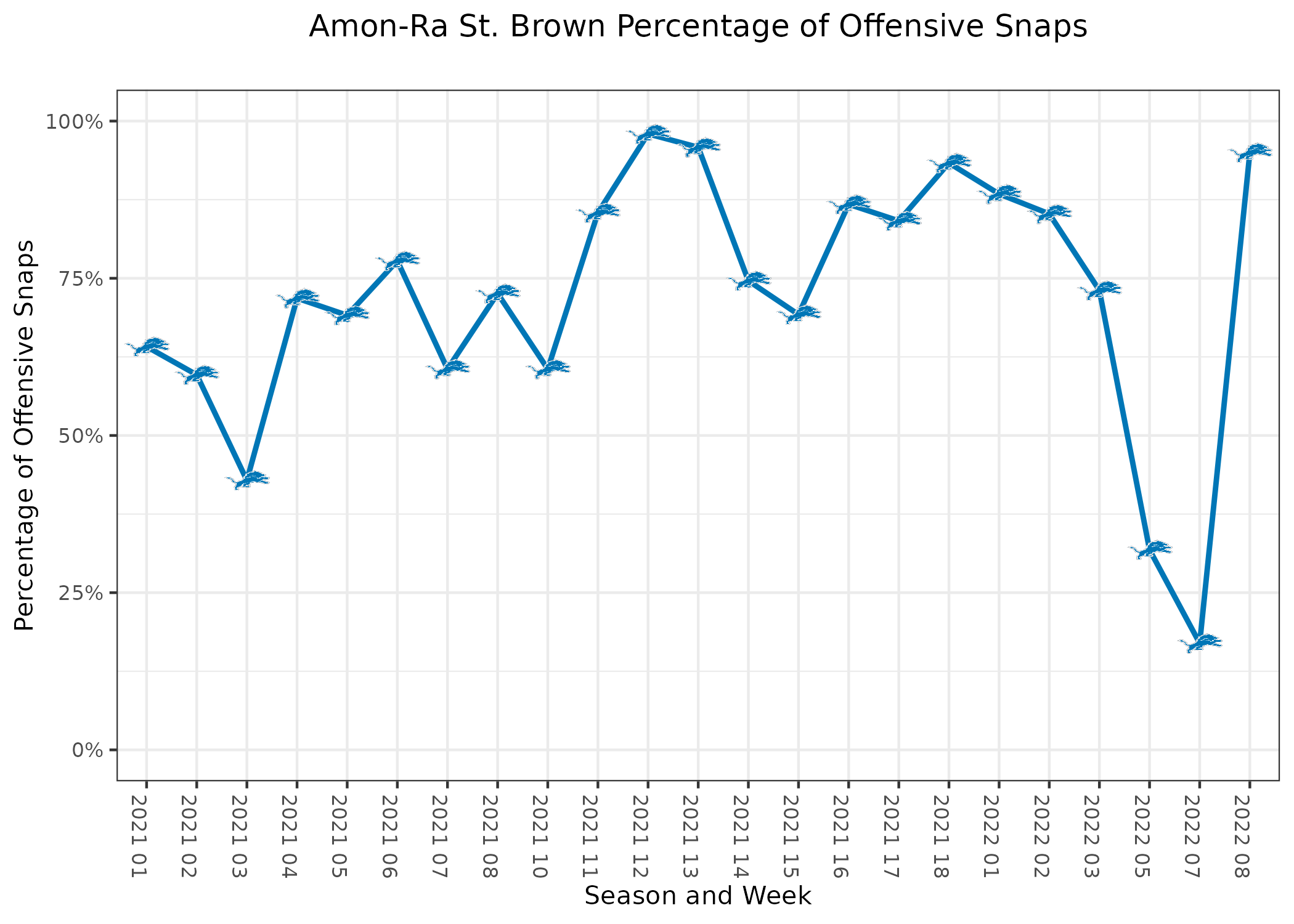 Buy low on Raheem Mostert: Mostert remains the Dolphins' clear lead rusher, recording 14 carries for 64 yards, but he failed to score a touchdown.
His role in the offense has remained relatively consistent over the past five weeks, leading Miami in every situation.

The Dolphins were playing from behind for the first three quarters, which left them passing the ball a lot more than running.

The Dolphins have had the

third-most-difficult schedule to date

, but they will have an easier-than-average slate for the rest of the season.

Miami has the

fifth-easiest remaining schedule

for running backs.

We can expect plenty of rushing from the Dolphins over the rest of the season — and, ideally, more touchdowns from Mostert.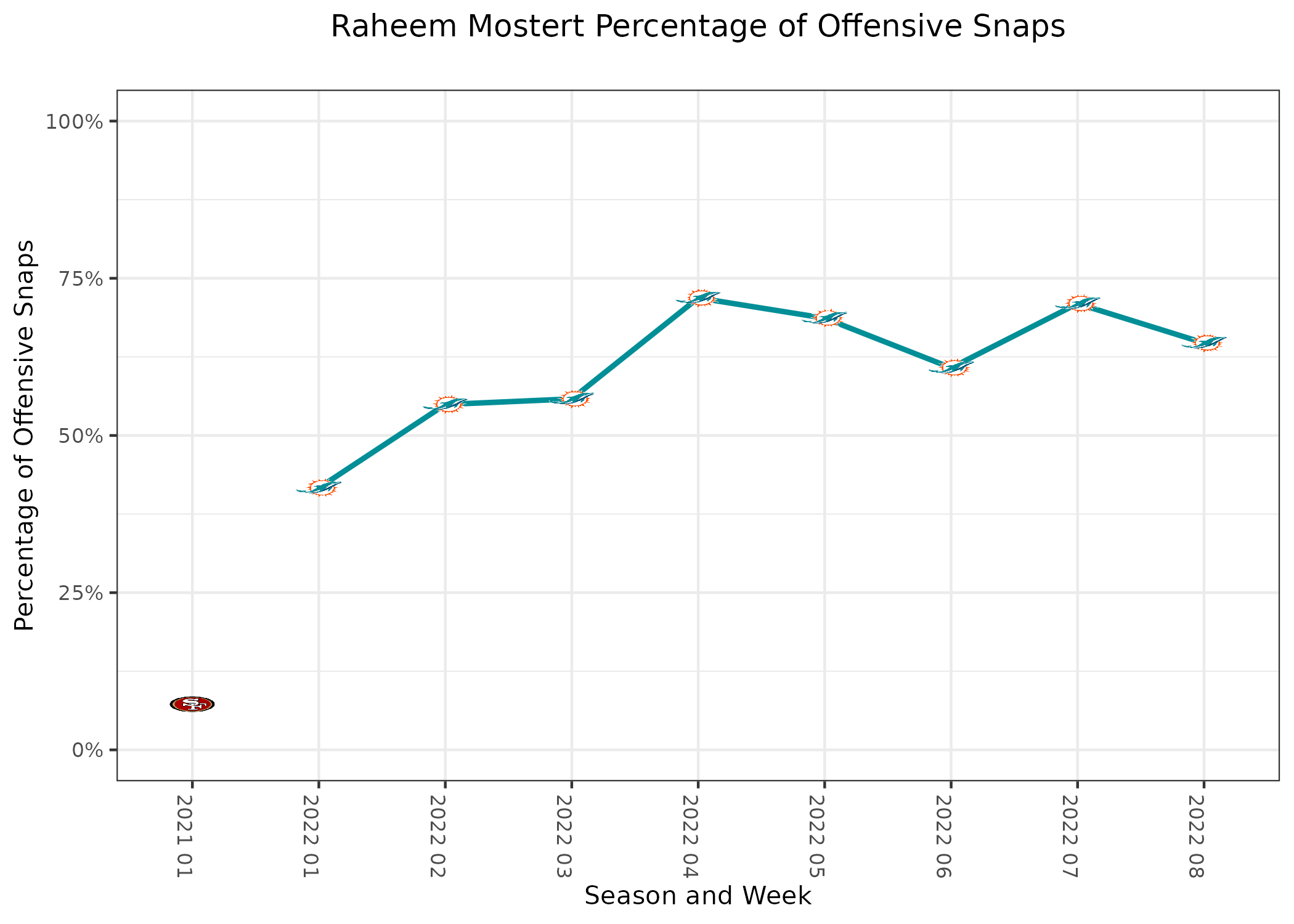 Sell high on Mike Gesicki: He scored a touchdown in the Dolphins' victory but was rarely targeted.
His playing time increased in recent weeks, but that was largely due to the health of

Durham Smythe

. Smythe was closer to 100% against the Lions, so he returned to his usual role.

Gesicki was targeted on only one in every nine pass plays for Miami.

The Dolphins'

schedule gets easier

the rest of the season, which will mean more run blocking by the tight ends and less receiving.

There is a chance Gesicki gets traded before the trade deadline, so wait to send trade offers until that point. His fantasy value could skyrocket if he lands in a good offense without a good tight end.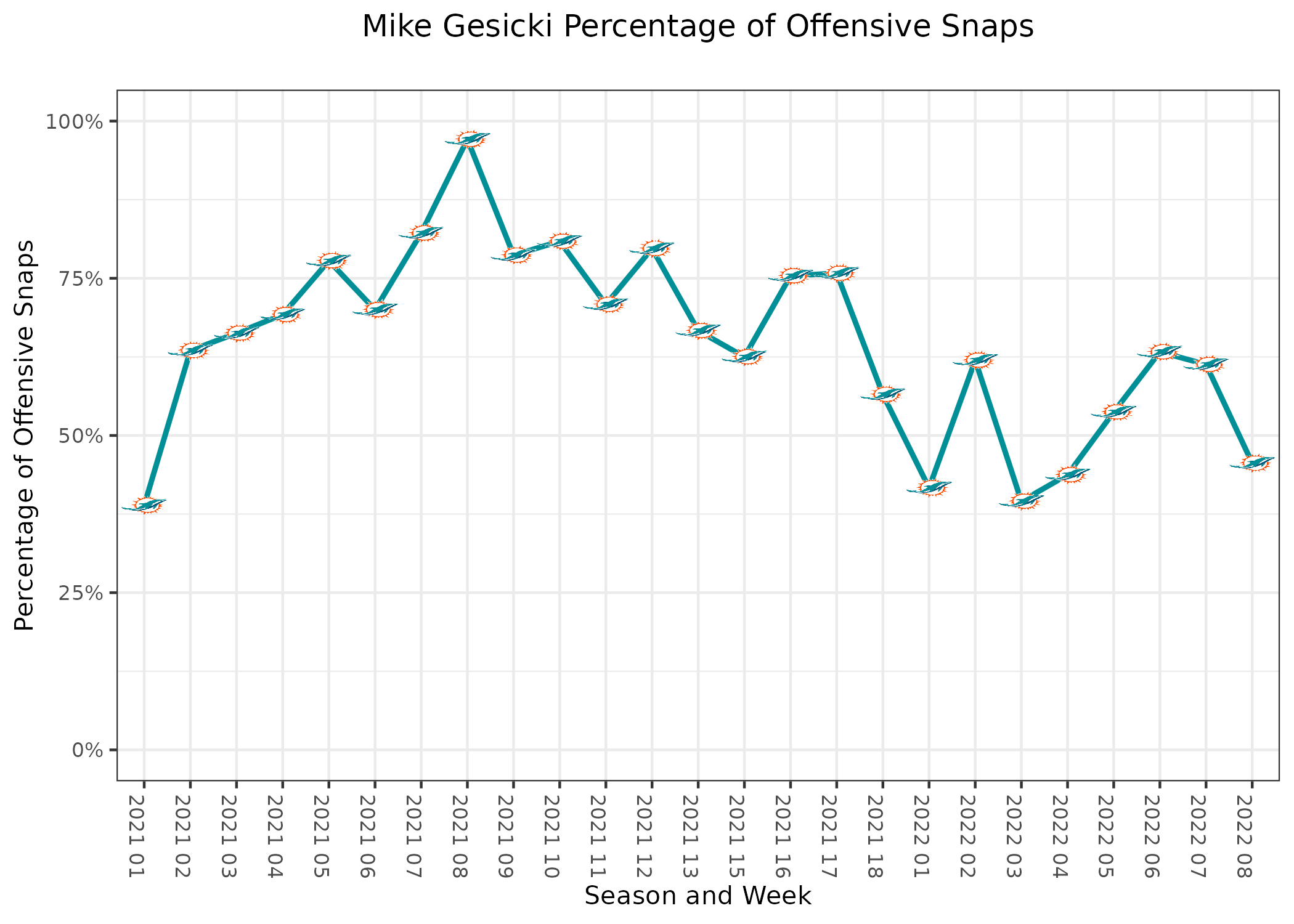 ---
• DeAndre Hopkins: 12 receptions, 159 yards, 1 touchdown
• Dalvin Cook: 20 carries, 111 yards, 1 touchdown, 5 receptions, 30 receiving yards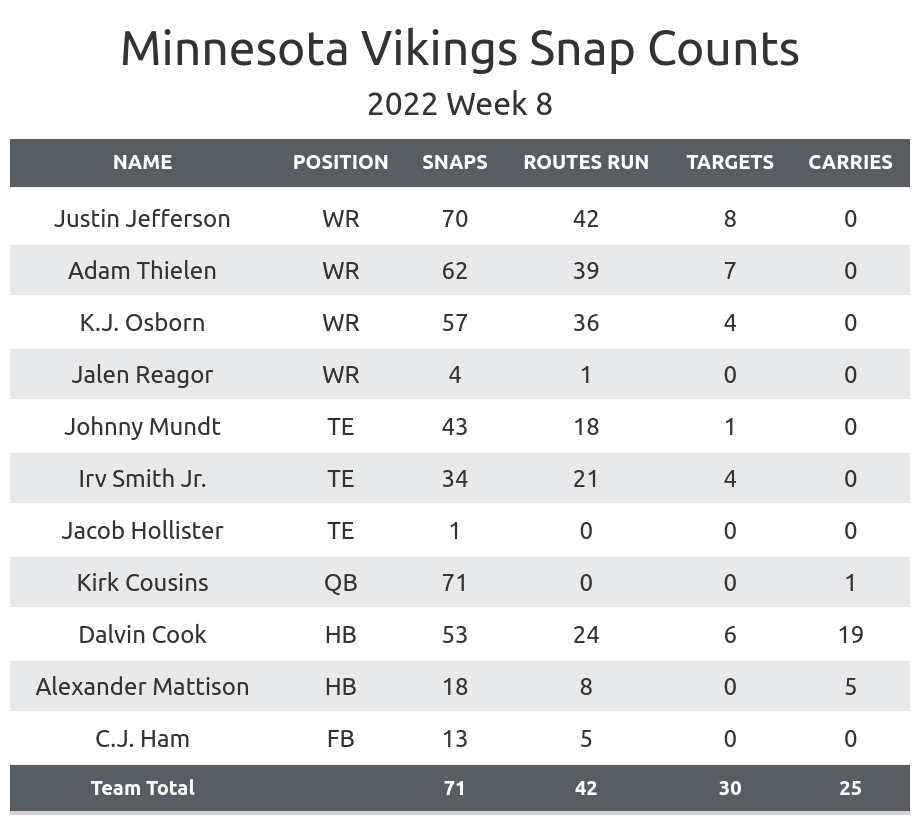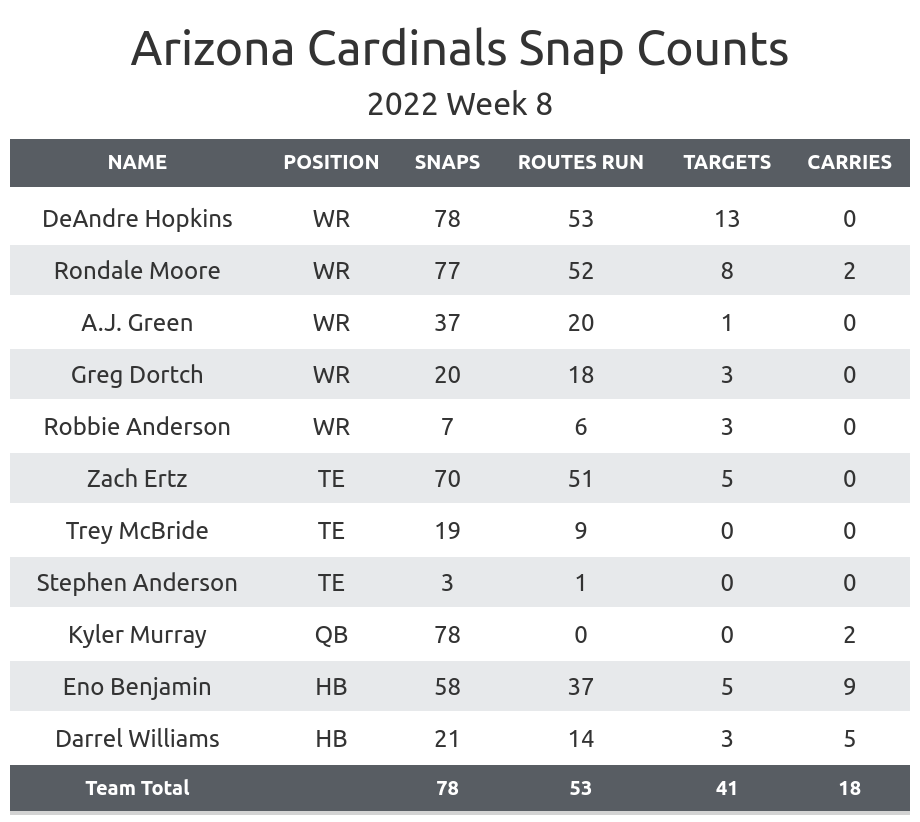 Darrel Williams' return: The Cardinals still don't have James Conner back, but their third-string running back did return.
Williams had last played in Week 5, where he handled just eight snaps before suffering his injury.

Eno Benjamin

's playing time was unaffected by the move. Williams' return just pushed

Keaontay Ingram

back down the depth chart.

Neither running back found much success running the ball. The ineffective run game just increases the chances of Conner seeing a very big role once he's healthy.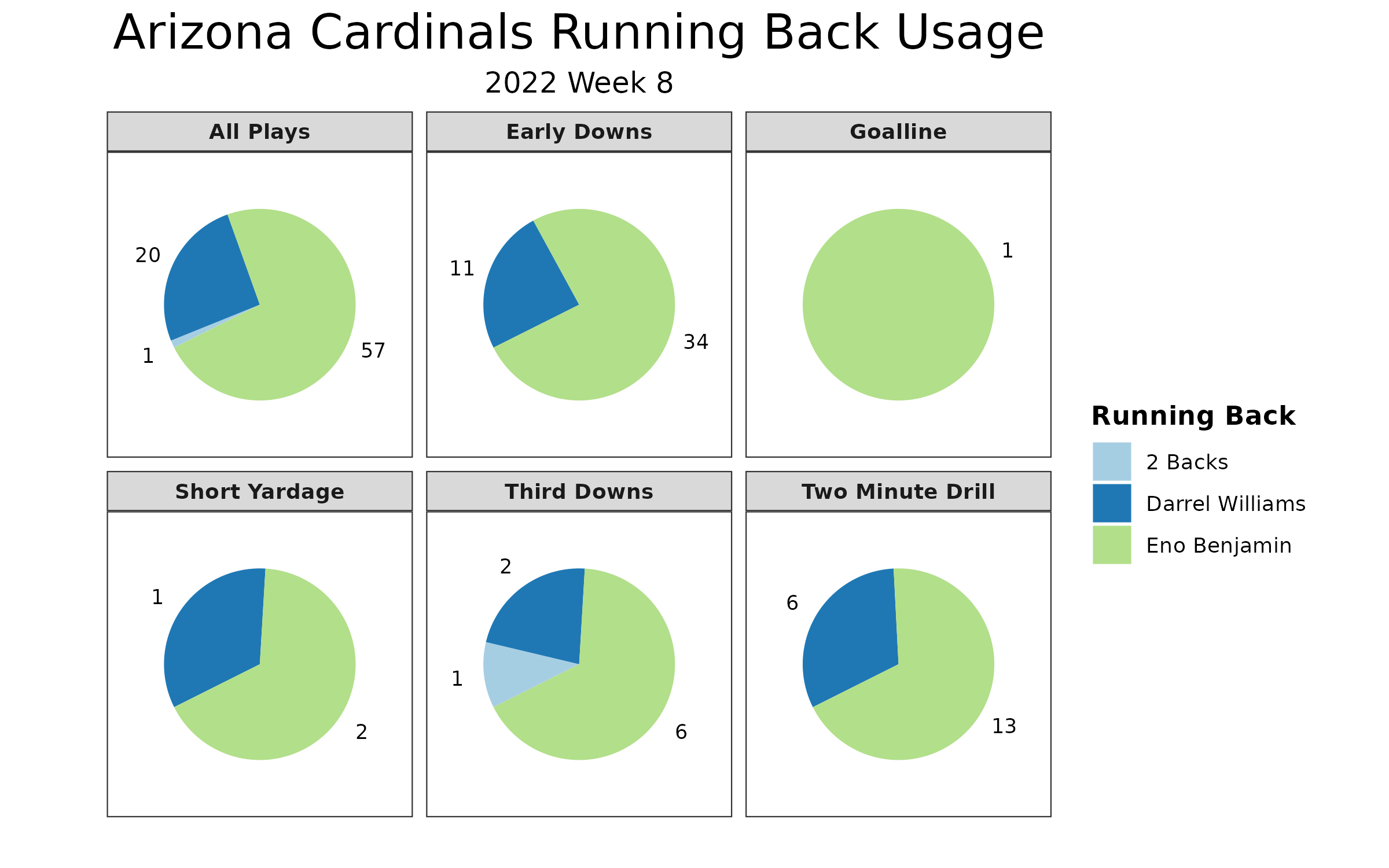 A.J. Green bounced back: Green didn't see a single offensive snap when the Cardinals played on Thursday Night Football last week, but he returned to third on the depth chart.
Green was the clear player in three-wide receiver sets in the first half. He played 18 of a possible 30 snaps, compared to two by

Greg Dortch

and one by

Robbie Anderson

.

That split changed in the second half, with Dortch seeing equal playing time and more pass plays while Anderson mixed in more.

Anderson can be cut in fantasy leagues, as he's in a three-man rotation fighting for snaps in three-receiver sets.

Rondale Moore

can be put in starting lineups, as he is never leaving the field and seeing significant targets.

Moore caught seven passes for 92 yards and a touchdown while rushing for 12 yards.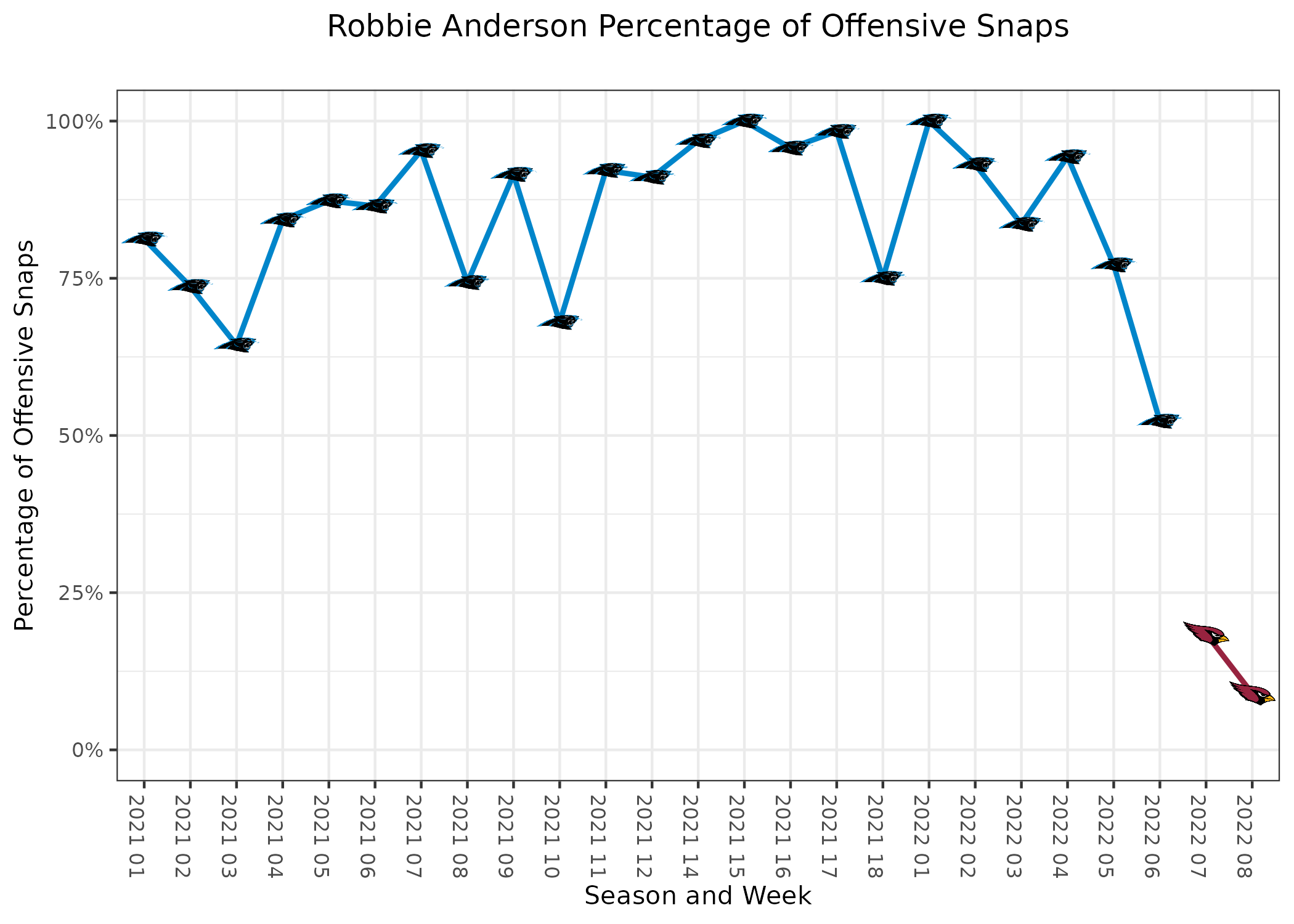 Cut Irv Smith Jr.: The Vikings tight end caught four passes for 28 yards while Johnny Mundt vultured a touchdown.
Smith's playing time declined while the Vikings held a lead throughout the day, allowing them to stay in more rushing situations.

Smith hasn't caught more than four passes in a game since Week 2. He also hasn't tallied more than 42 receiving yards in a game this season.

For some time, there was at least a little hope his playing time would increase as the season progressed, but the odds of that happening have decreased significantly.

The Vikings don't have a good matchup for their tight ends again until

December

.

There are too many other options at tight end who are seeing more playing time and have higher ceilings.

Head coach Kevin O'Connell said Smith suffered an ankle injury. Smith didn't play in the last few minutes of the game, which wasn't too surprising given the game script. Smith can be dropped from fantasy lineups, regardless of his health.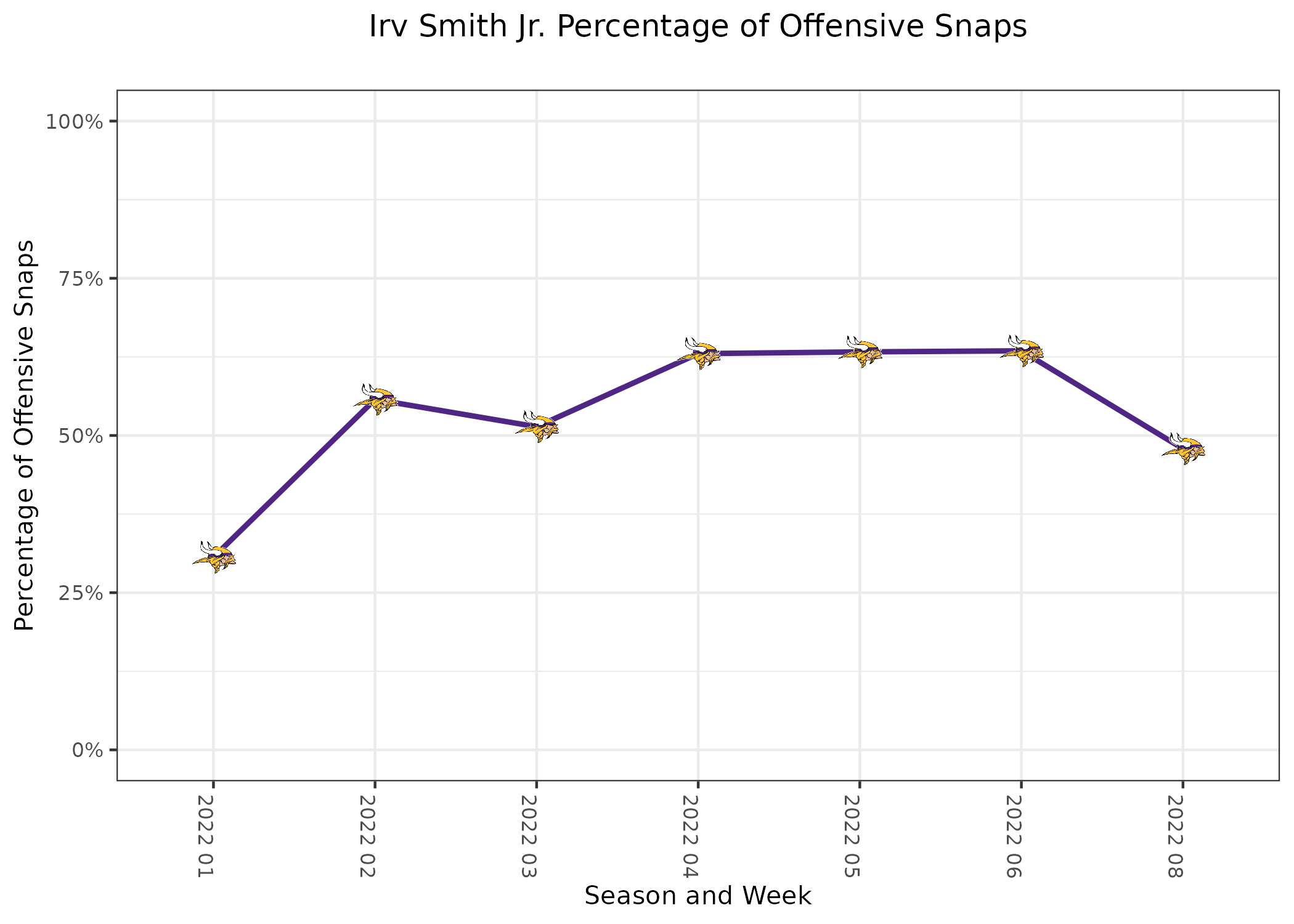 ---
• Alvin Kamara: 18 attempts, 62 yards, 1 touchdown, 9 receptions, 96 yards, 2 touchdown receptions
• Mack Hollins: 7 receptions, 64 yards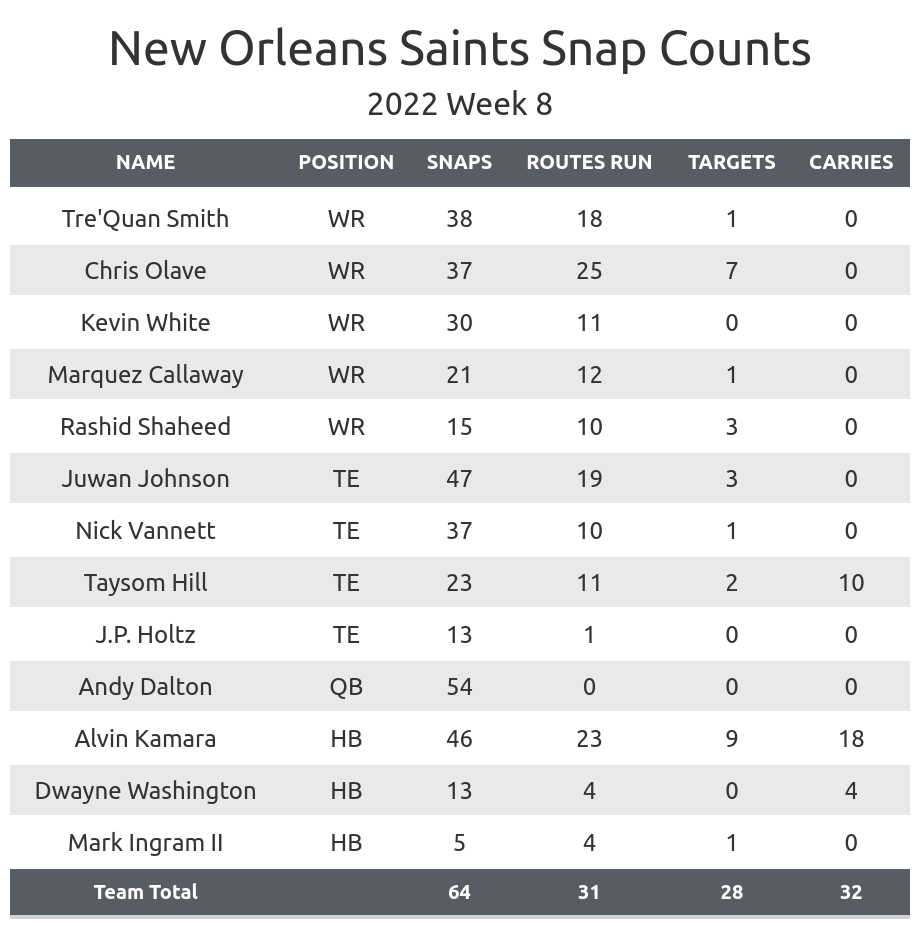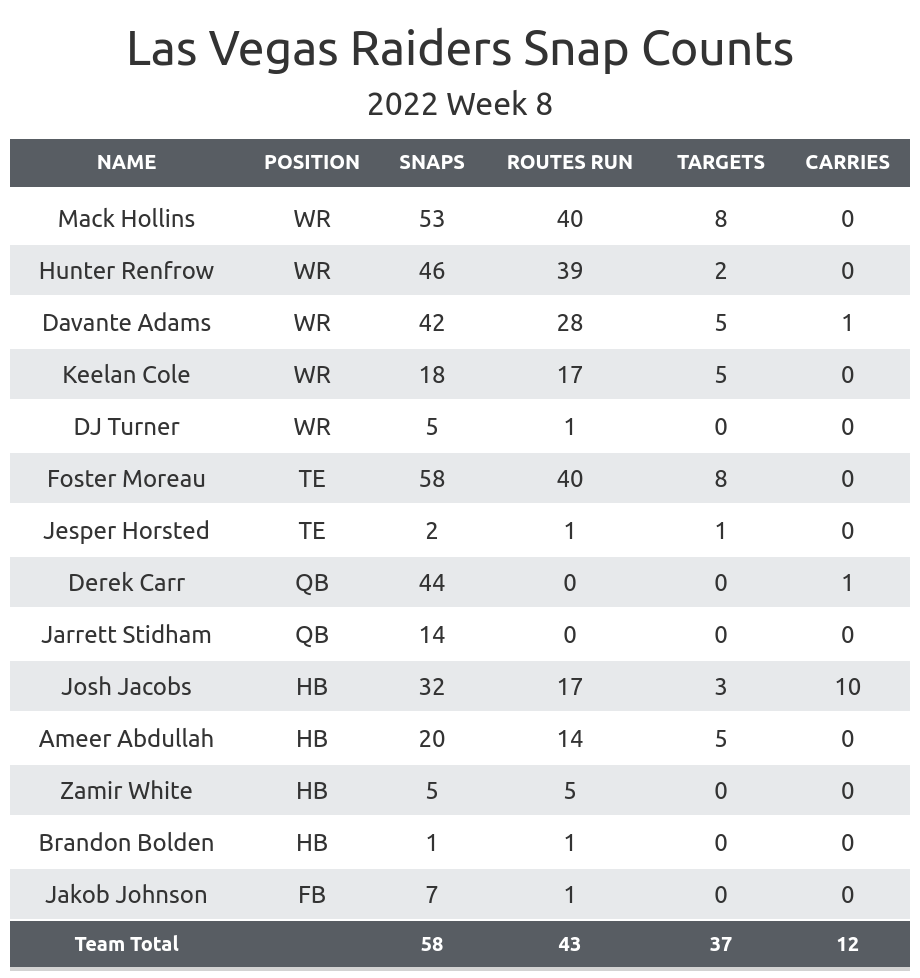 Monitor Mark Ingram II's injury: Ingram suffered a knee injury at the beginning of the second quarter and did not return.
Alvin Kamara

has typically played around 70% of offensive snaps this season, and that didn't change in the first quarter.

Ingram never ran the ball when he was on the field, but did have a two-yard catch.

Dwayne Washington

is the team's third running back. He barely played in the first half but mixed in significantly in the second half while the Saints had a huge lead.

The Saints were running with

Taysom Hill

plenty before the Ingram injury, and Ingram's absence didn't seem to impact that. In fact, Hill lined up either in line or as a wide receiver a season-high 14 times against the Raiders.

New Orleans has both Jordan Howard

and

Jake Funk

on the practice squad. If the Ingram injury is serious, it's possible one of them would be elevated from the practice squad and potentially see some playing time.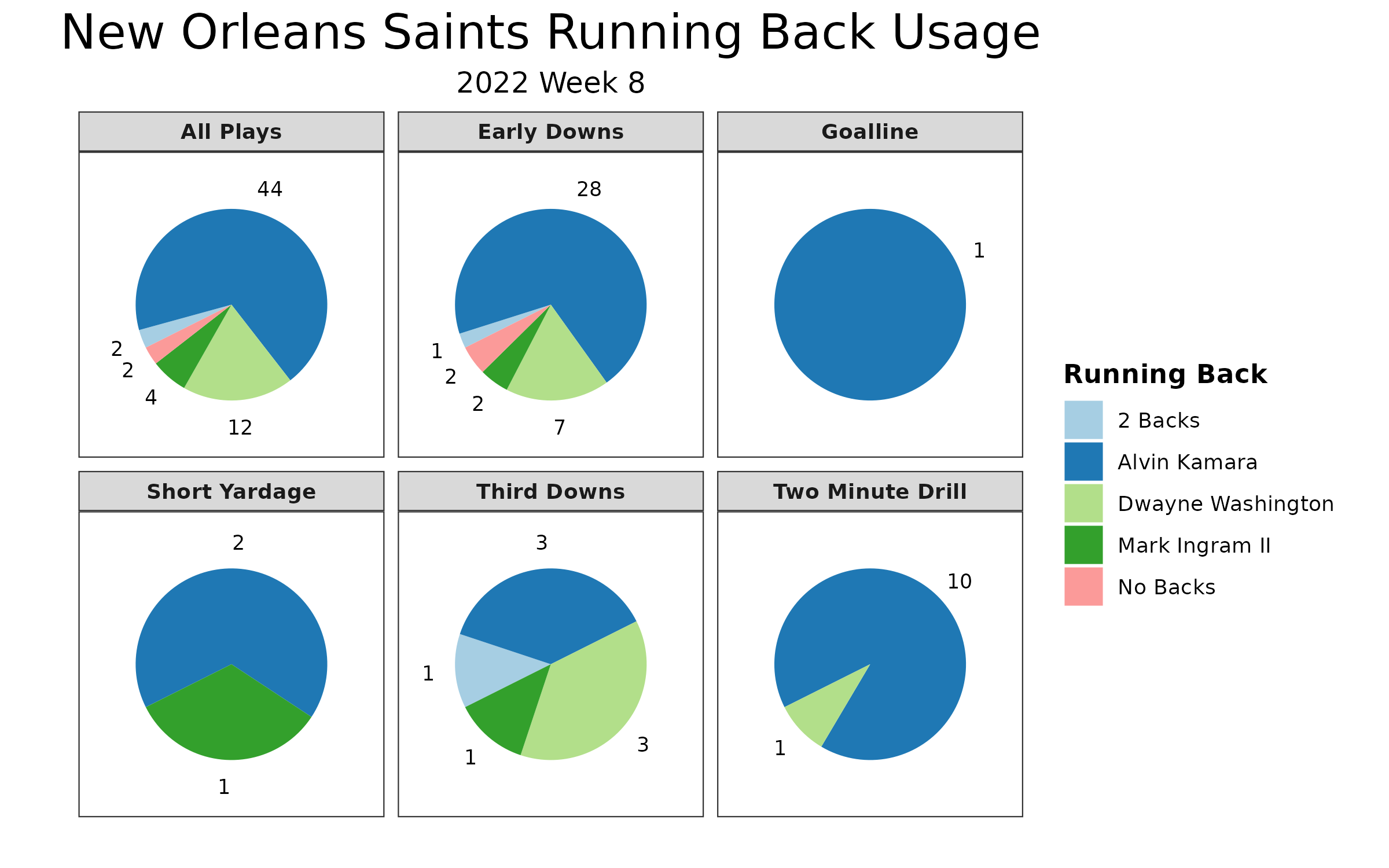 Marquez Callaway falls down rotation: The Saints still don't have Michael Thomas or Jarvis Landry, but that didn't mean Callaway was a clear receiving option as in previous weeks.
He ran a route on only 12 of a possible 31 plays, similar to the rates of both

Kevin White

and

Rashid Shaheed

.

Part of the reason for that low snap count was how much the Saints were in run formations, but he also played only 12 of a possible 22 snaps from 11 personnel.

Callaway isn't on rosters in many fantasy leagues, but he probably also shouldn't be relied on in DFS.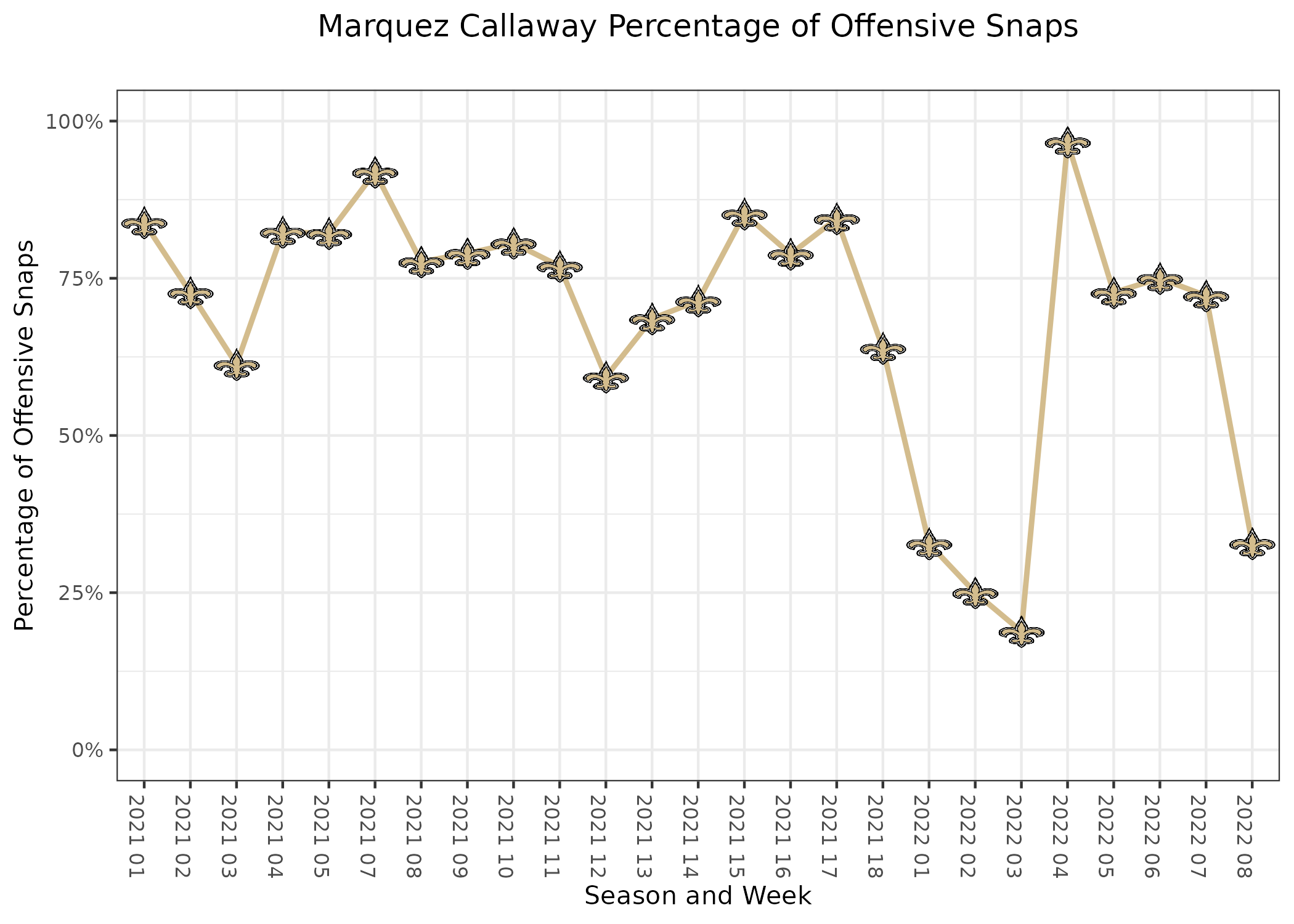 Buy low on Davante Adams: The Raiders receiver caught one pass for three yards on five targets in the team's blowout loss.
Las Vegas put in some backups in the fourth quarter, which meant taking Adams out. Other wide receivers padded their stats during that time, which is why Adams' playing time looks lower than usual.

Adams was on a streak of three consecutive games with over 90 receiving yards.

There is every reason to believe the All-Pro receiver will rebound, so it can't hurt to send a trade offer.
Josh Jacobs falls back down to earth: The Raiders running back gained just 43 yards on 10 carries but also lost his third-down snaps.
Jacobs played at least half of the third-down or two-minute drill snaps during Week 4 and Week 5, which helped his dominant performances.

Ameer Abdullah

quietly took over as the third-down back last week, but the Raiders were rarely in third-down situations and Jacobs still played during the two-minute drill.

Jacobs didn't see a single snap on clear passing plays against the Saints.

The game script contributed to how much the Raiders were in each situation, but it did not impact the Raiders taking Jacobs out of these situations.

Jacobs is still a must-start and should have huge games when the Raiders are winning, but there might be more games like this if their offense is struggling.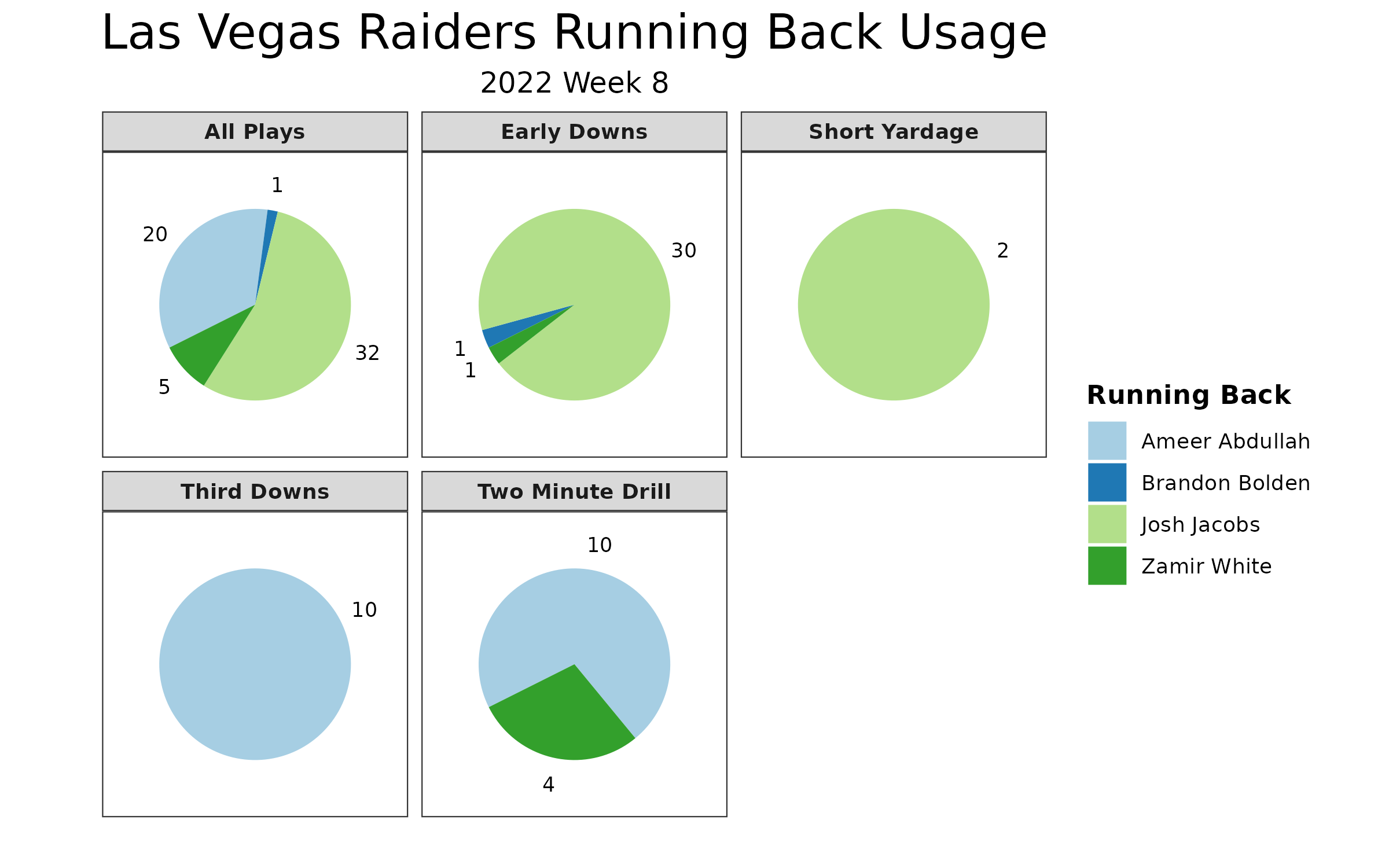 ---
• Tyler Conklin: 6 receptions, 79 yards, 2 touchdowns
• Jakobi Meyers: 9 receptions, 60 yards, 1 touchdown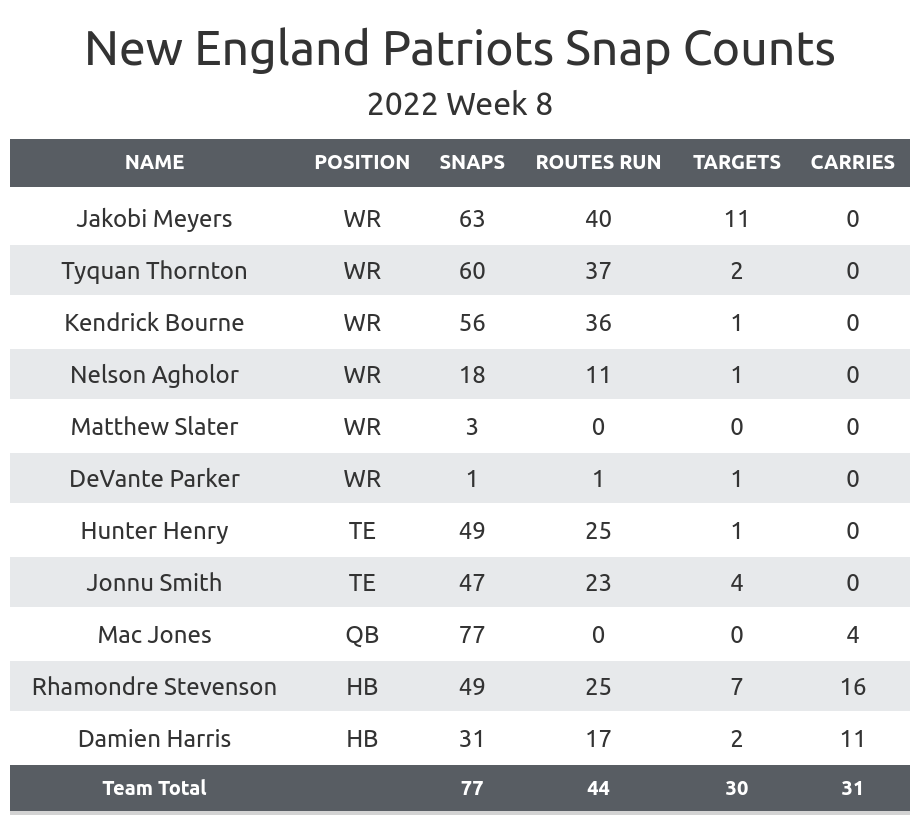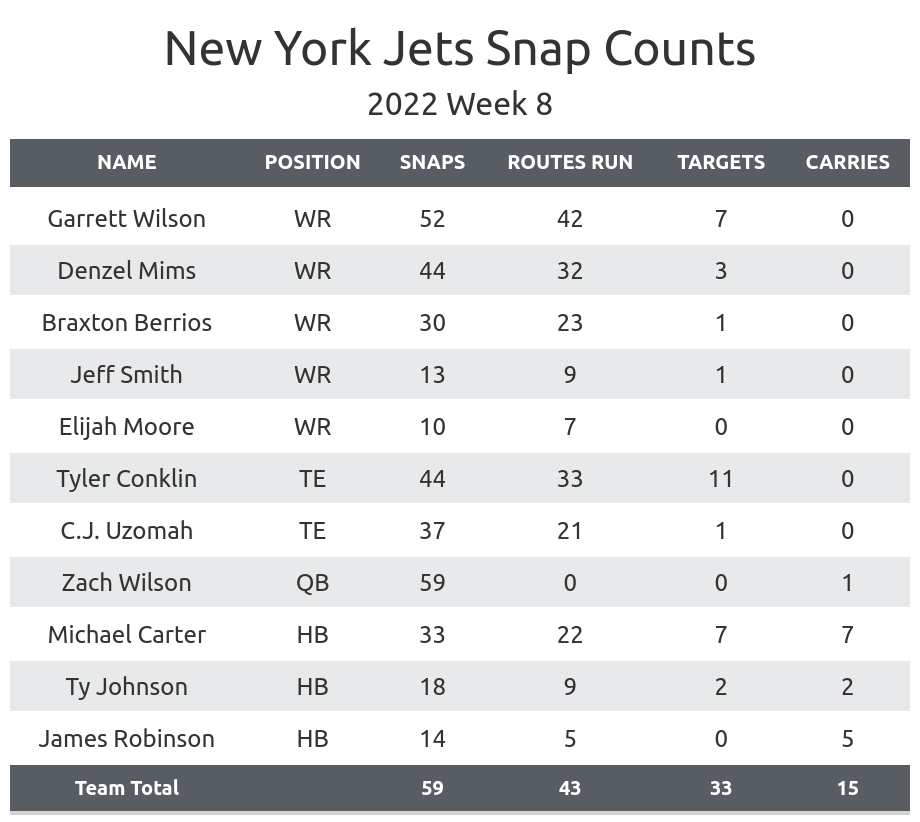 Monitor the DeVante Parker injury: Parker suffered a knee injury on the first play of the game and did not return.
He joined

Nelson Agholor

in the starting lineup. Agholor has started in four of the past five games he has played.

While Agholor got the start, it was

Tyquan Thornton

and

Kendrick Bourne

playing the vast majority of the game on the outside, with

Jakobi Meyers

taking on his usual role in the slot.

Meyers remains the only Patriots wide receiver to trust in fantasy football.

Thornton is worth a waiver wire addition in most leagues. He caught only one pass for 13 yards, but there is a chance he keeps this role and eventually sees increased targets.

It will be harder to add Thornton if Parker misses significant time.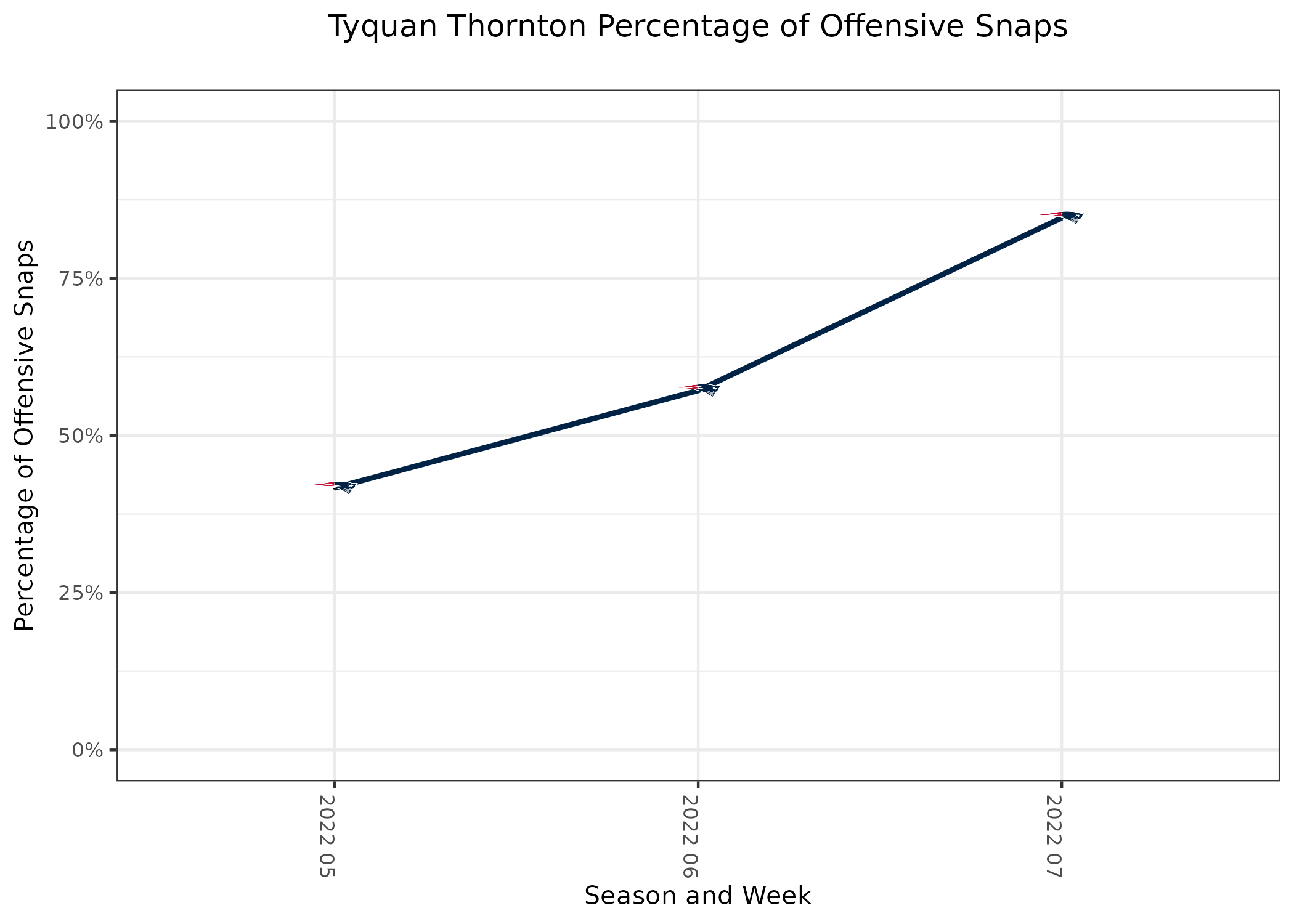 Damien Harris starts for New England: Harris was off the injury report and back into New England's starting lineup.
Rhamondre Stevenson

started last week for the first time in a game Harris also played, as Harris was coming back from injury.

New England continued to rotate the backs mostly by drive, but Stevenson still saw all of the third-down snaps as well as the work during two-minute drills.

The goal-line and short-yardage work was largely based on which running back was playing that drive.

This kind of rotation is something that will likely continue as long as both are healthy. This makes Stevenson a fantasy starter every week, and Harris can also be a starter in games where the Patriots are clear favorites.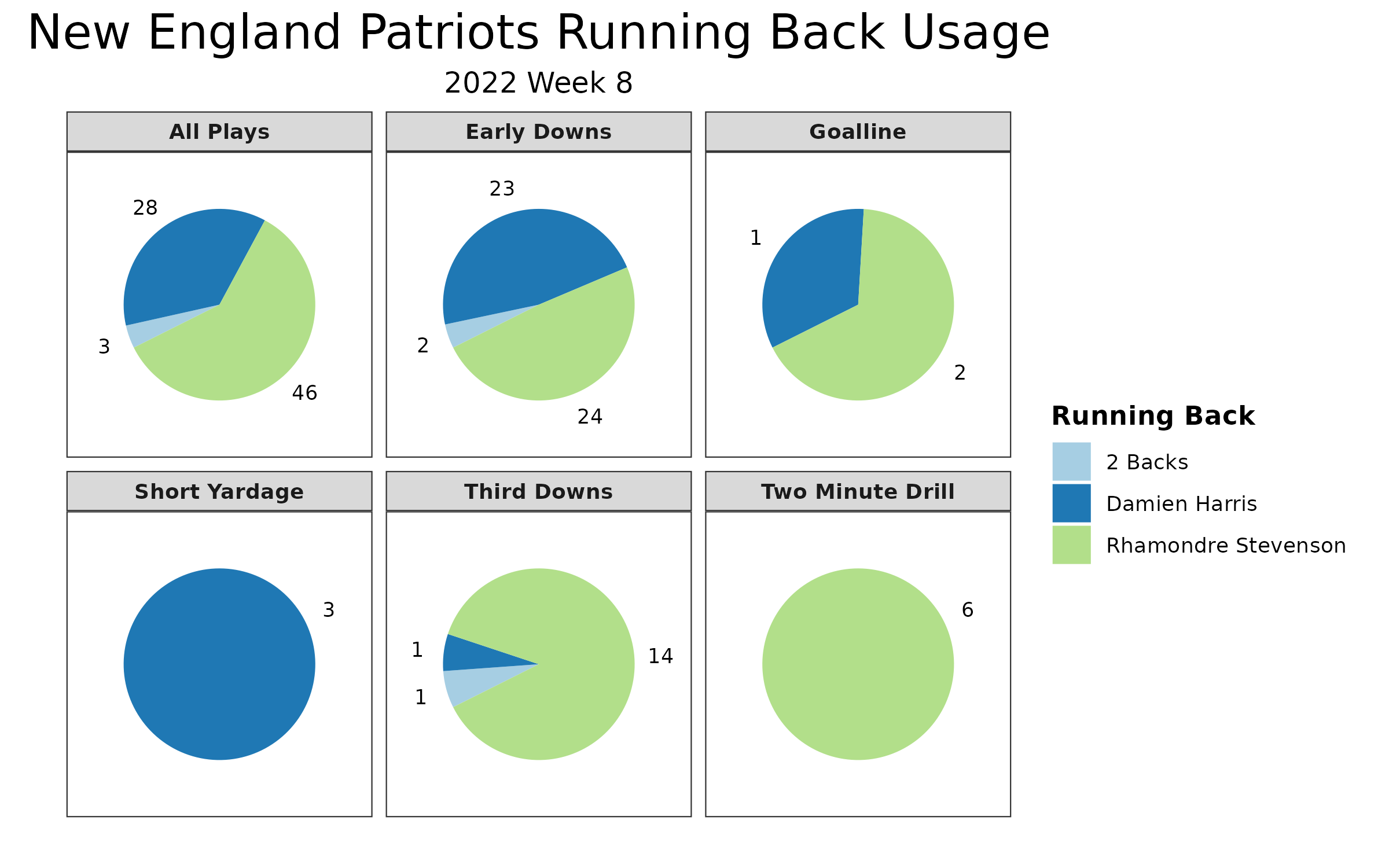 Drop Hunter Henry: Henry saw a sharp decline in playing time alongside a healthy Jonnu Smith, and the two split time.
Henry's playing time was similar to earlier points of the season when both players were healthy.

Smith ended up with four targets compared to one for Henry.

It is very difficult for a tight end to be a fantasy starter when they are running a route on only 57% of their team's pass routes.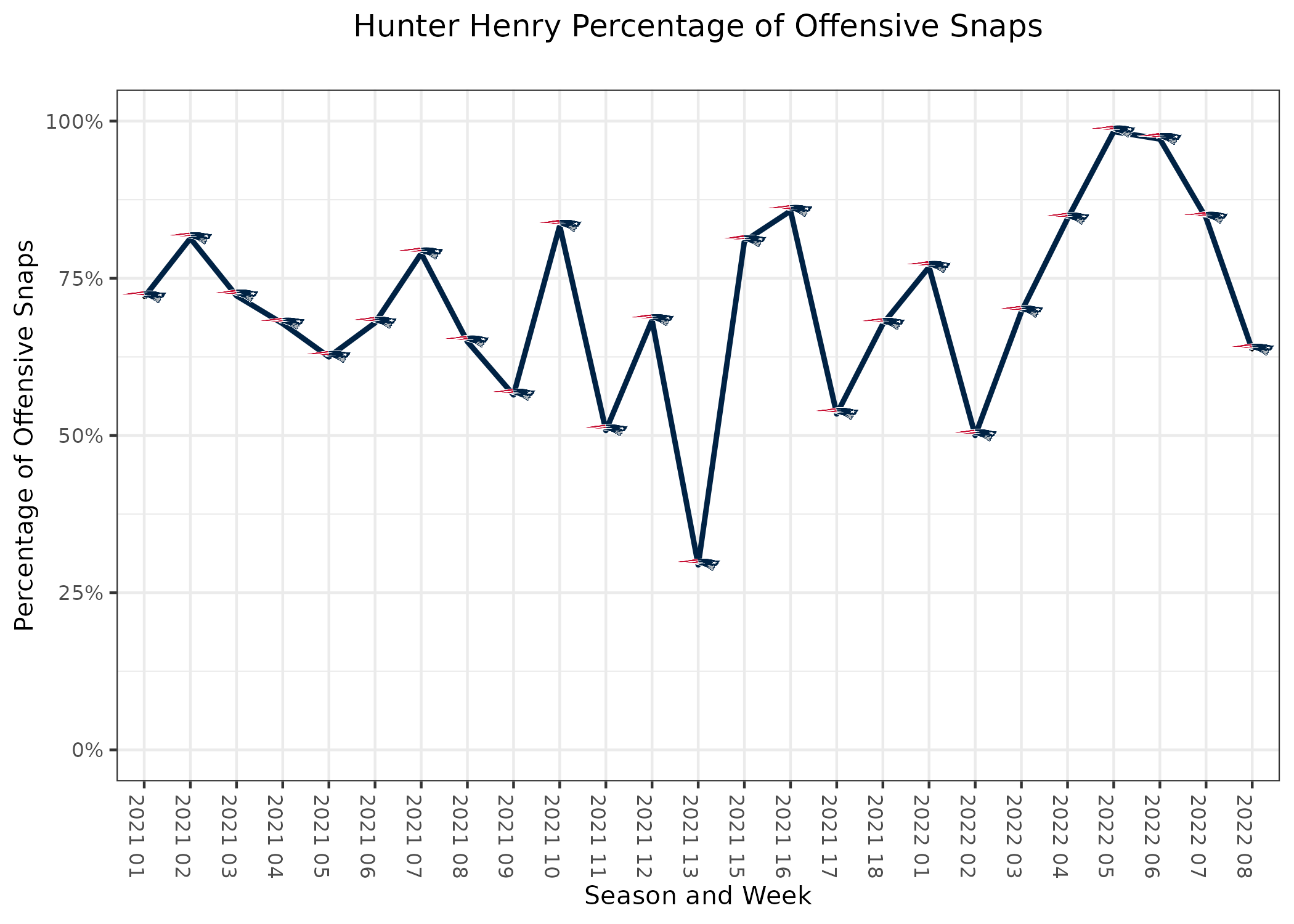 James Robinson's Jets debut: The former Jaguars running back made his debut with New York, with the team easing him into action.
Michael Carter

started the game for the Jets, but Robinson was eased in during the team's second drive.

Robinson played significantly in the first and third quarters but barely in the second and fourth periods.

Ty Johnson

was the third-down back, making this a three-man committee.

We can expect Robinson to take more snaps from Carter over time.

The big question is if Carter will then take third-down snaps from Johnson as he loses snaps on early downs.

Robinson is a buy-low candidate after his quiet debut. The Jets have the second-easiest remaining schedule

for running backs, including the easiest in the fantasy playoffs.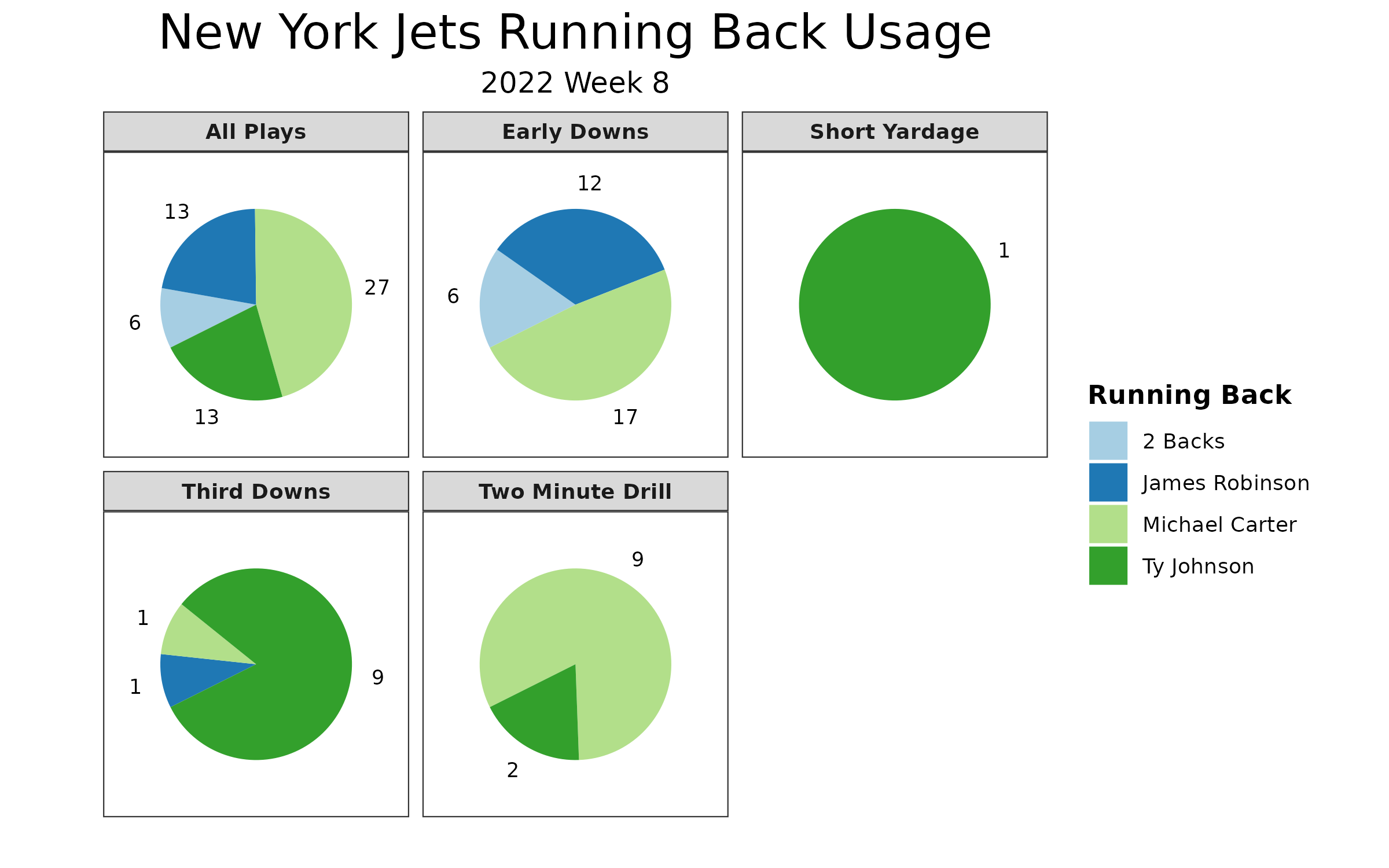 Elijah Moore benched: Moore was the fifth wide receiver on the Jets' depth chart after missing a week following his trade request.
Corey Davis

missed this game with an injury, making it even more surprising that Moore didn't see a normal amount of playing time.

Garrett Wilson

played much more on the outside compared to the slot. He took on Moore's role in the offense.

Unsurprisingly, this led to Wilson's best performance all month: six catches for 115 yards.

Wilson has now played all three wide receiver roles in the Jets' offense at various points this season.

He has a 25.2% targets per route run rate when lined up out wide in his career compared to 19.4% from the slot.

Denzel Mims

took Davis' role, leading to two catches for 76 yards.

Braxton Berrios

played in the slot, while

Jeff Smith

was the backup to Mims and Moore was the backup to Wilson.

Ideally, Moore gets traded in the next few days, but if not it's OK to drop him from your fantasy roster. He might get out of the Jets' doghouse sometime this season, or he could go back to being inactive once Davis is healthy.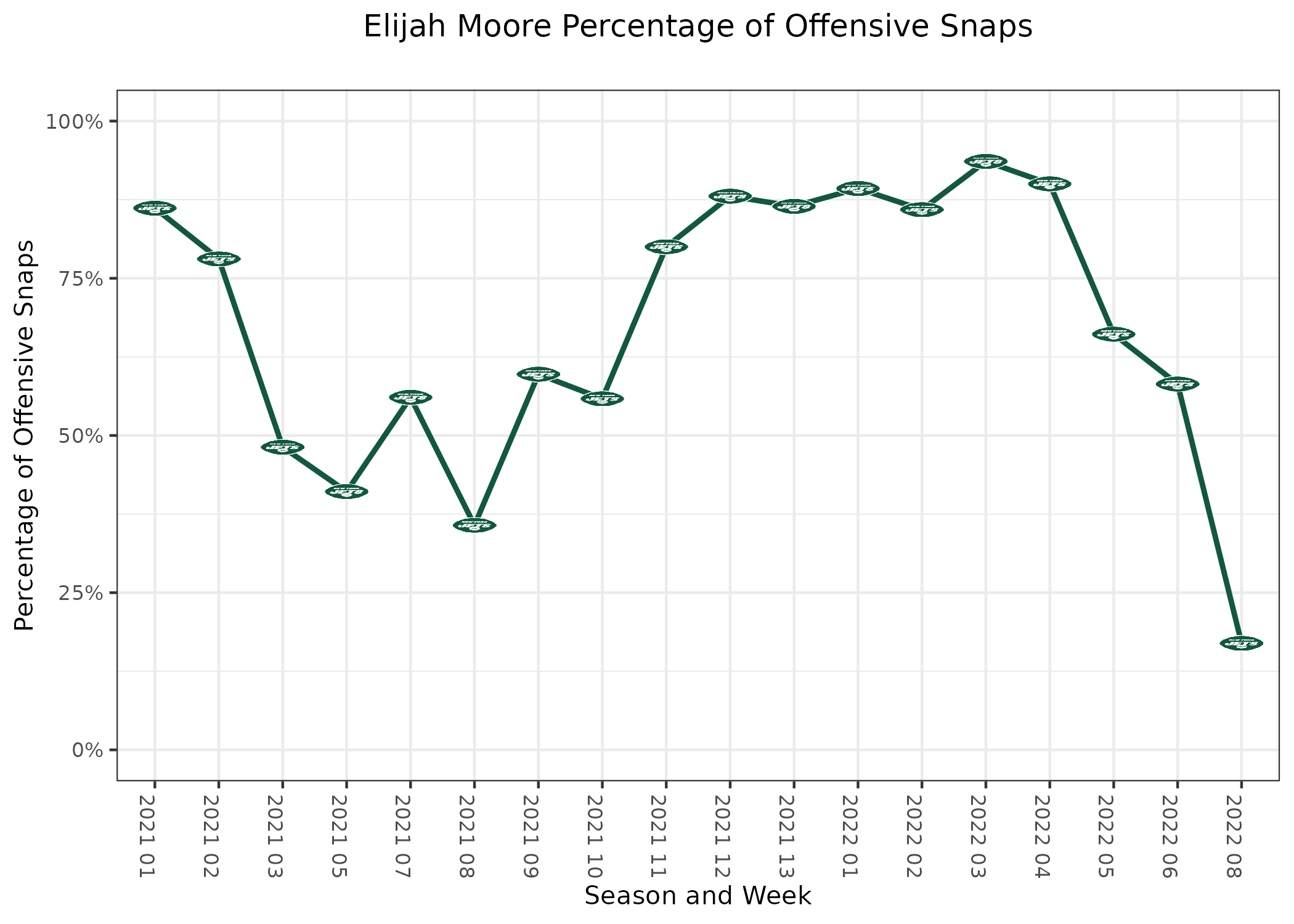 Add Tyler Conklin: Conklin scored two touchdowns while hogging targets in his best performance in over a month.
He's lost playing time to

C.J. Uzomah

, particularly on third downs, but he's slowly but surely worked his way back to the third-down role.

He will very likely see fewer targets if the Jets become satisfied with their wide receiver room again.

The Jets have the

second-best remaining schedule

for tight ends, largely because they have three of the best matchups during the fantasy playoffs.

Conklin might not be someone to put in fantasy starting lineups in the near future, but he's a great player to stash and unleash during the fantasy playoffs for any team without an elite tight end.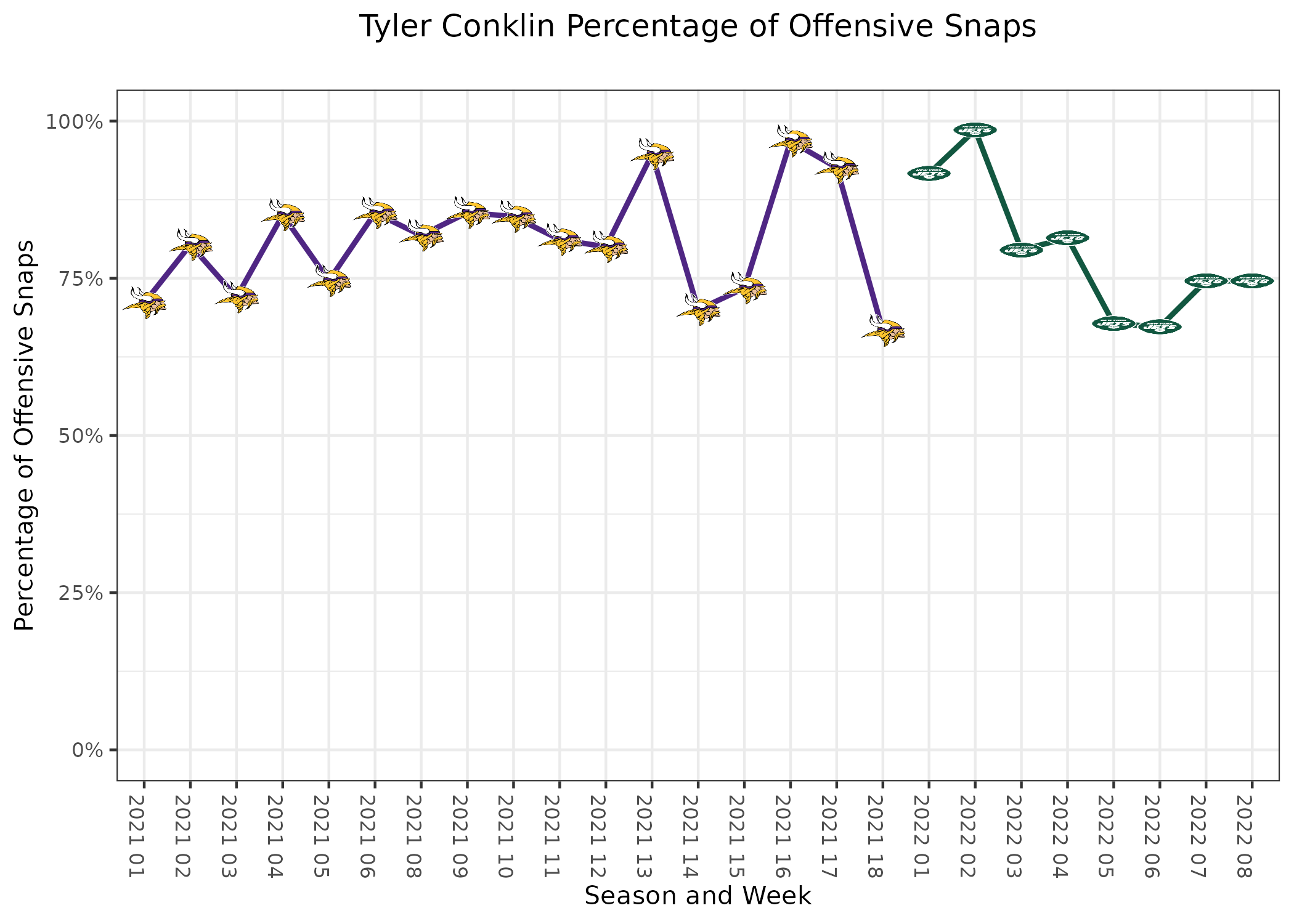 ---
• A.J. Brown: 6 receptions, 156 yards, 3 touchdowns
• Miles Sanders: 9 carries, 78 yards, 1 touchdown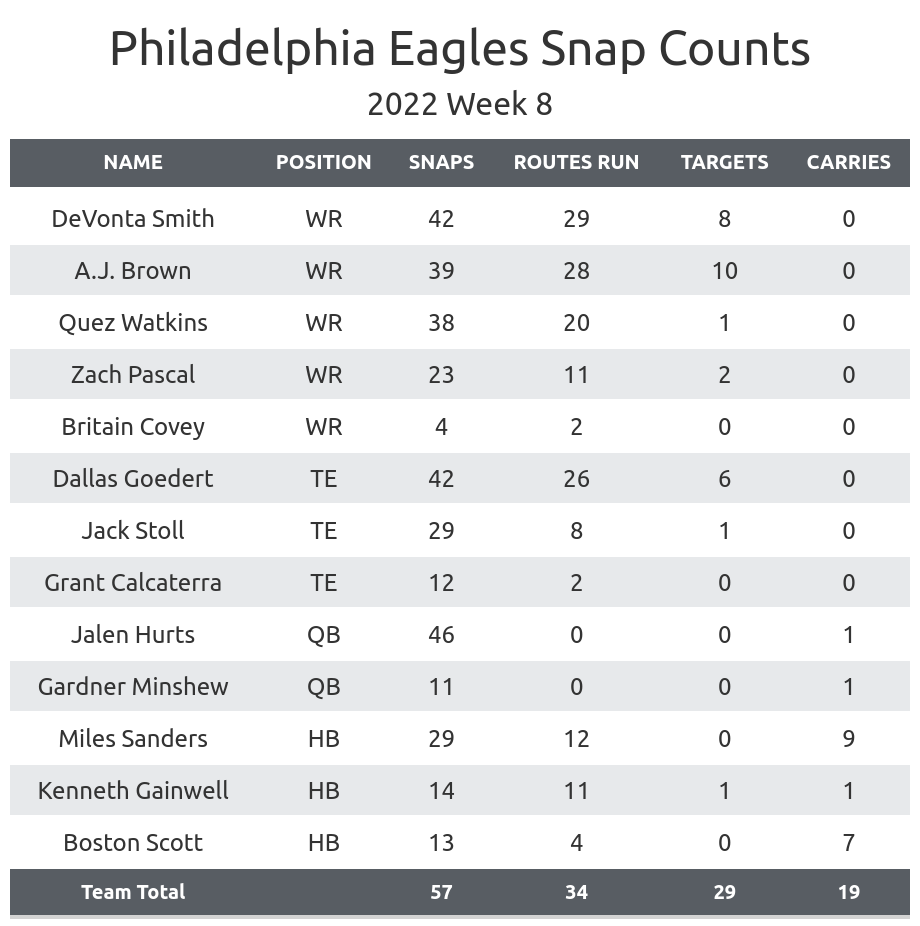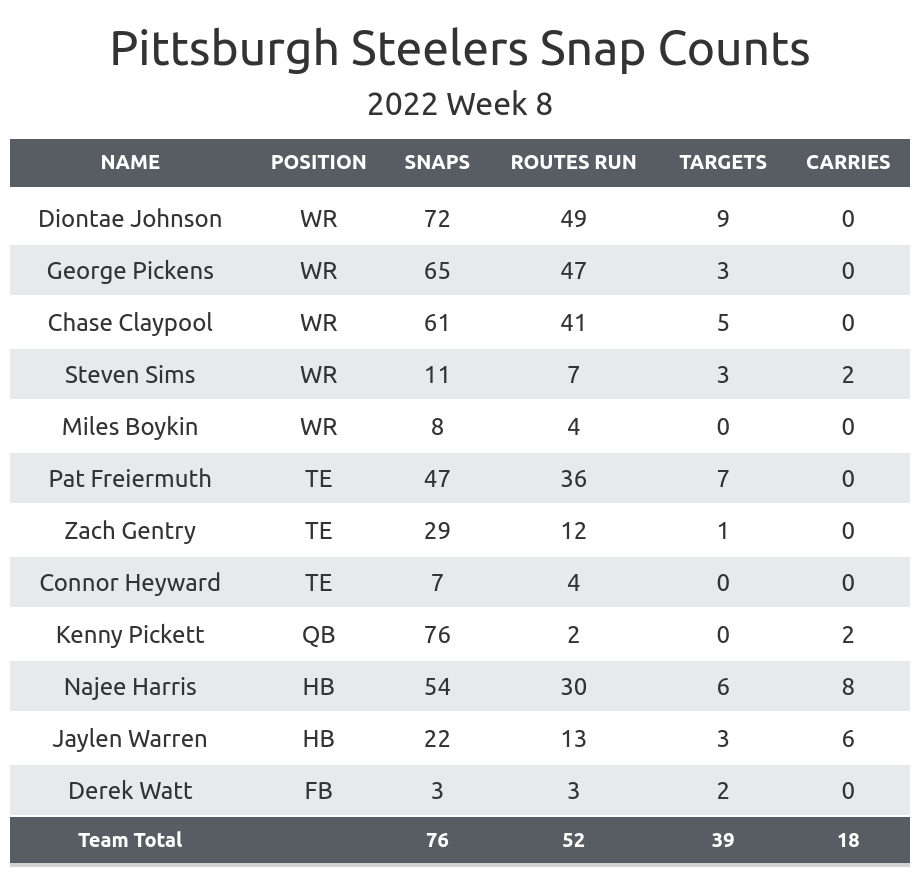 Add Jaylen Warren: The backup led the Steelers in rushing yards, with 50 on six carries.
Warren continues to be the third-down back, and the most impressive runner, in the Steelers' backfield.

Warren is averaging a full two yards more per carry than

Najee Harris

this season.

Seven of Warren's 29 carries have gone for 10 or more yards, compared to nine of Harris' 108.

There is no indication that the Steelers are ready to give these backs more even playing time yet, but it will be hard not to with how much better Warren has been playing.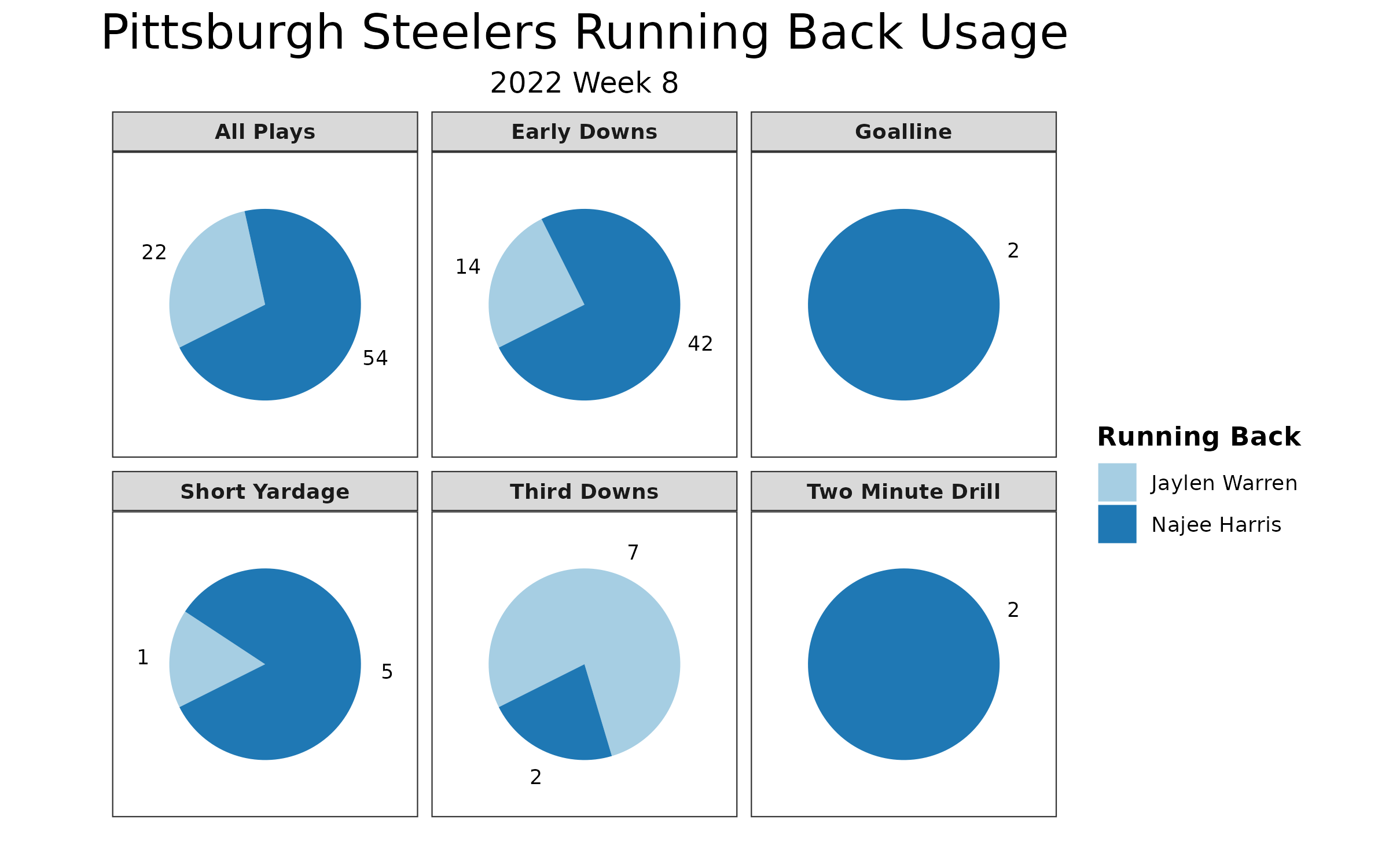 Buy low on DeVonta Smith: Smith was held to five catches for 23 yards in the Eagles' victory.
Smith maintained a high 27.6% targets per route run rate against the Steelers.

His 4.5-yard average depth of target was lower than usual. That should rebound.

He dropped two passes, which hurt his production but is unlikely to remain a problem going forward.

Smith was on the field for only two plays in the fourth quarter, as the Eagles rested plenty of starters during that time. That is why all of the skill players saw fewer snaps than usual.

The Eagles have the fourth-best remaining schedule

for wide receivers.
---
• Derrick Henry: 32 carries, 219 yards, 2 touchdowns, 1 reception, 9 receiving yards
• Dameon Pierce: 15 carries, 35 yards, 3 receptions, 16 receiving yards, 1 receiving touchdown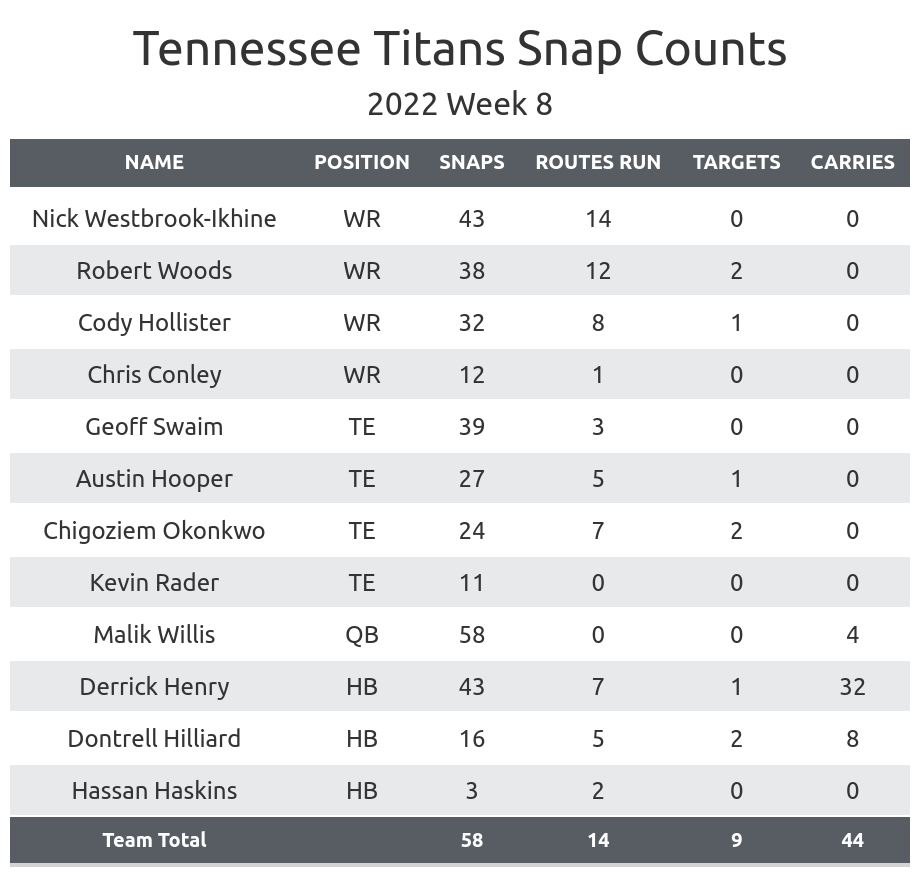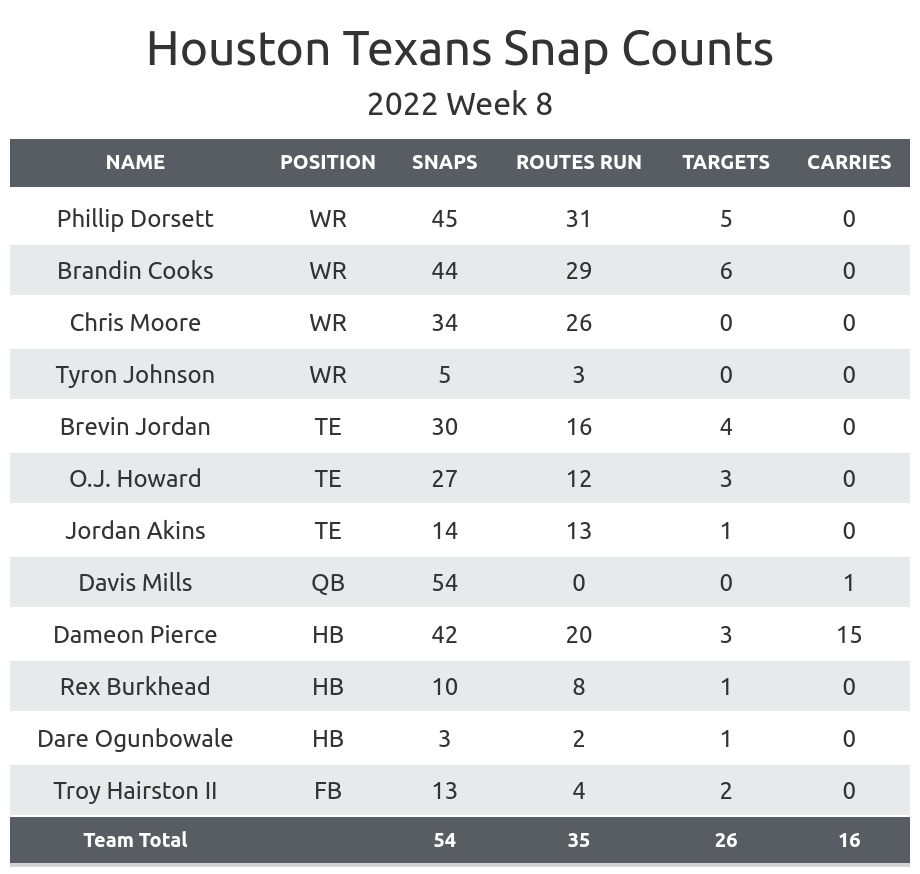 Malik Willis' first start: The Titans rookie made his first NFL start with Ryan Tannehill out due to injury.
The Titans basically went with the strategy of running every play. And it worked. Their running backs ran the ball 40 times for over 300 yards.

This game made it more clear that

Dontrell Hilliard

is the handcuff in case

Derrick Henry

gets hurt at any point this season. Hilliard ran eight times for 83 yards.

Willis ran the ball on designed runs three times and scrambled on two of his 12 dropbacks.

Willis is an intriguing fantasy option because of his rushing ability, but he did nothing to show he should stay the starting quarterback beyond this week.

The Titans have one of the best records in the NFL, so they are unlikely to turn to Willis unless Tannehill remains hurt or plays much worse.

Typically in a game like this, a receiver could be a buy-low candidate, but the Titans' tight ends have been unplayable all season, and Treylon Burks

will likely disrupt any momentum a wide receiver could build once Burks is back.
Avoid the Texans' receivers: Houston had a game script that could have led to a lot of receiving production, but no receiver stepped up.
Brandin Cooks

was the only receiver with more than 25 receiving yards. He can remain in starting lineups.

He has been the subject of trade rumors, so this may have been his last game with the team.

Nico Collins

is a waiver wire target, particularly if Cooks get traded, but he missed this game with a groin injury.

Phillip Dorsett

became a starter with Collins out but caught just one pass for six yards.

Chris Moore

became a mainstay in three-receiver sets but didn't see a target.

Brevin Jordan

led the Texans' tight end room in snaps after missing most of the season to date, but it remained a three-man committee.

Jordan is a player to keep an eye on if he can eventually take the third-down snaps back from Jordan Akins

.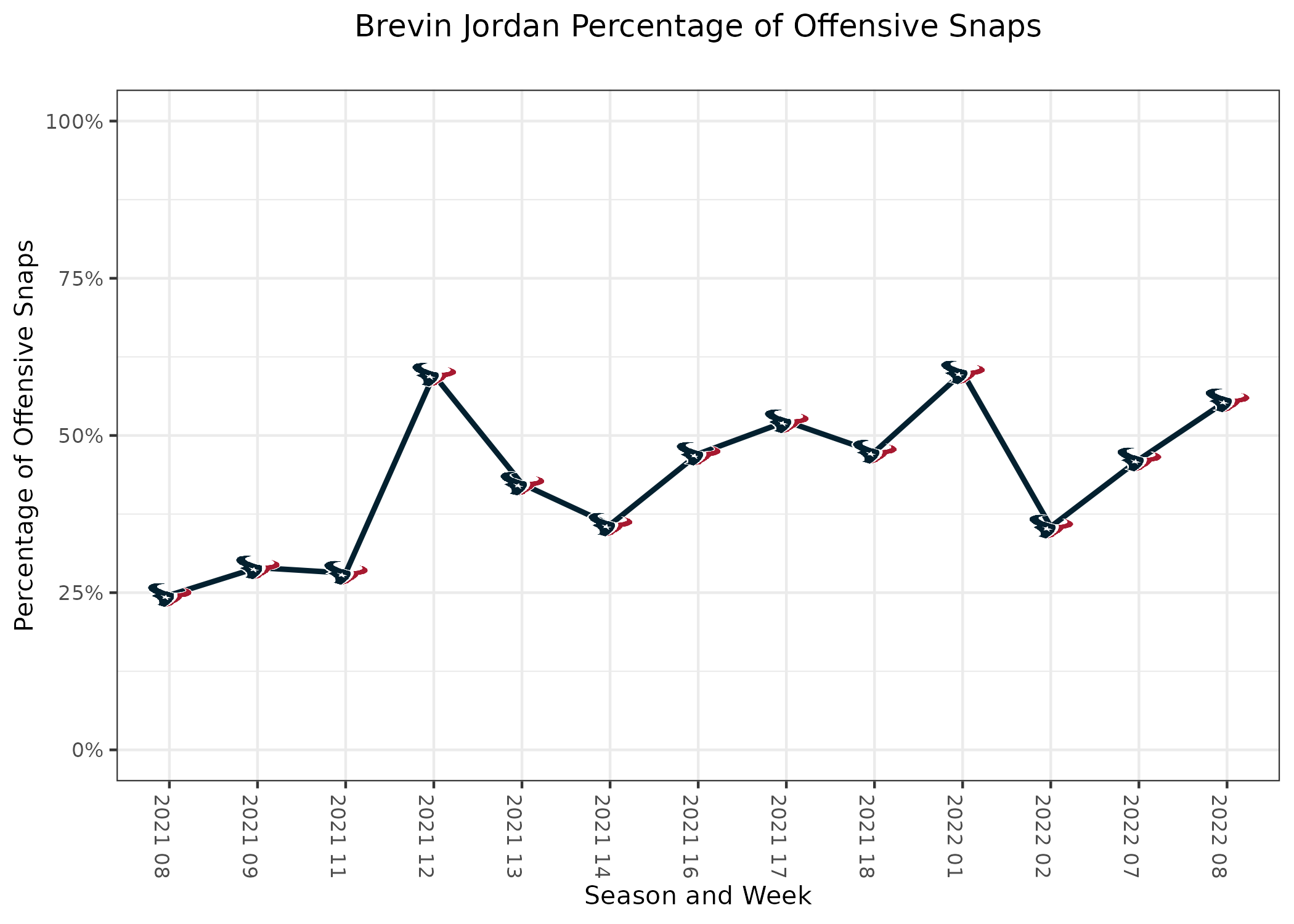 ---
• Antonio Gibson: 7 carries, 19 yards, 7 receptions, 58 receiving yards, 1 receiving touchdown
• Nyheim Hines: 5 carries, 20 yards, 1 touchdown, 2 receptions, 29 receiving yards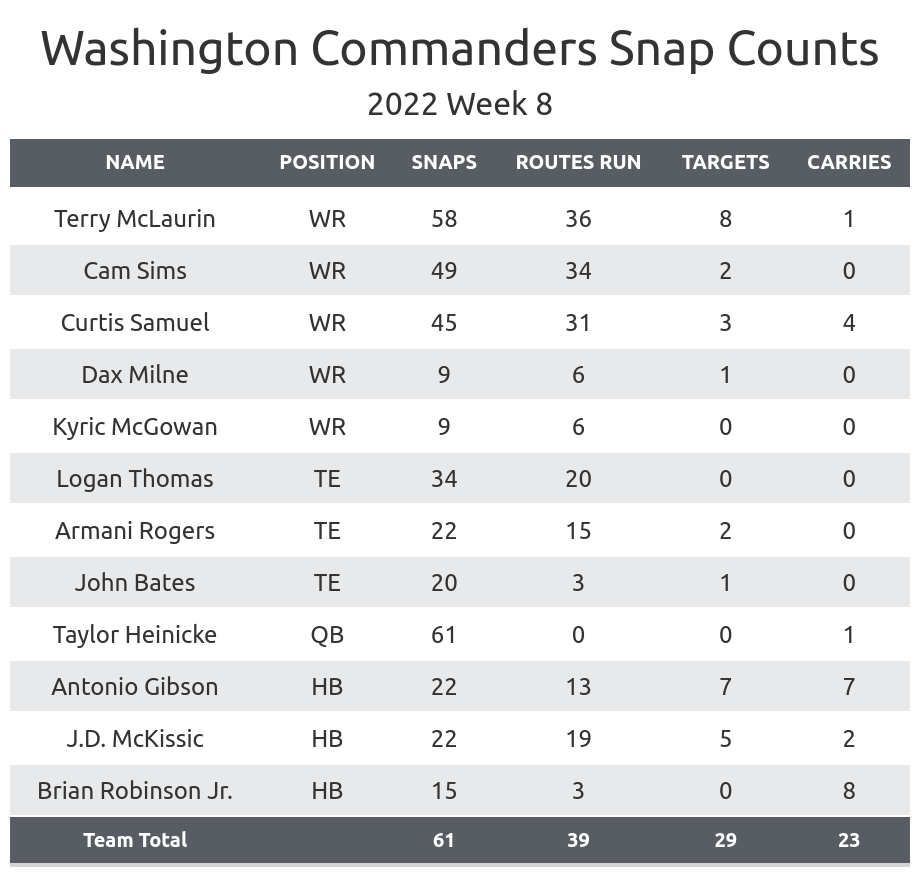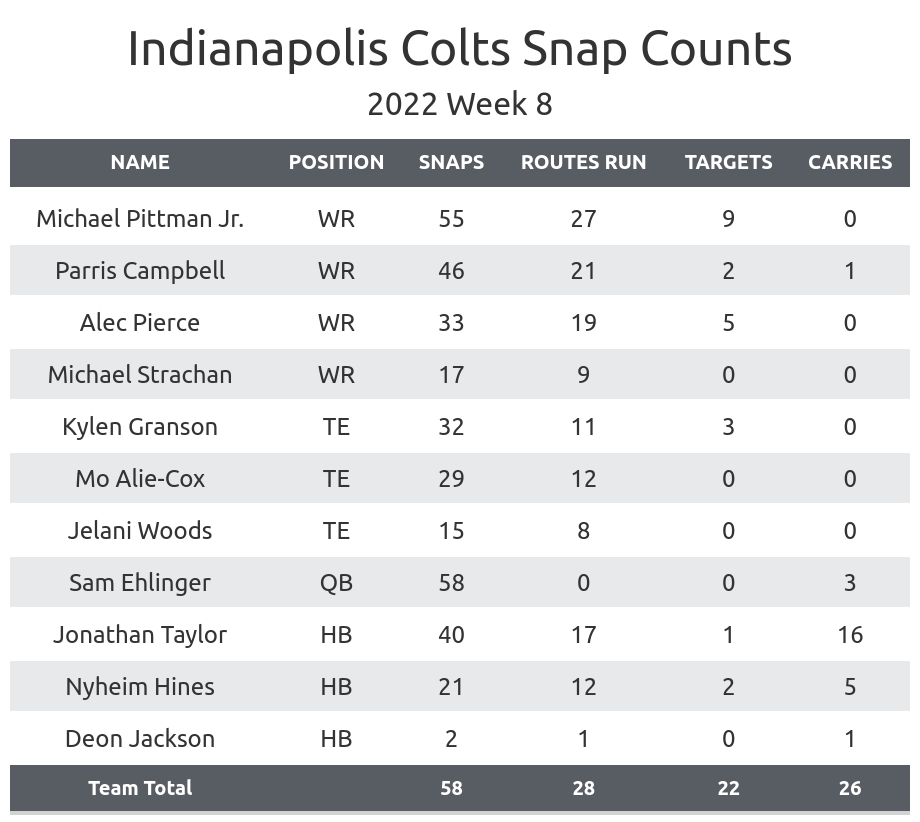 The Commanders' frustrating three-man committee: Washington's three backs almost evenly split the workload.
Antonio Gibson

started the game after coming off the bench the past two weeks.

Brian Robinson Jr.

, who started the previous two weeks, started playing on the second drive.

The two players split carries and were equally ineffective.

J.D. McKissic

seemed to be losing some of his work on third downs to Gibson, but he took a strong hold on the clear receiving situations.

McKissic can still be left on the waiver wire, as he's rarely playing on early downs.

This remains a situation to avoid. Different game scripts will favor different running backs, but there probably isn't a specific script that makes someone worth starting.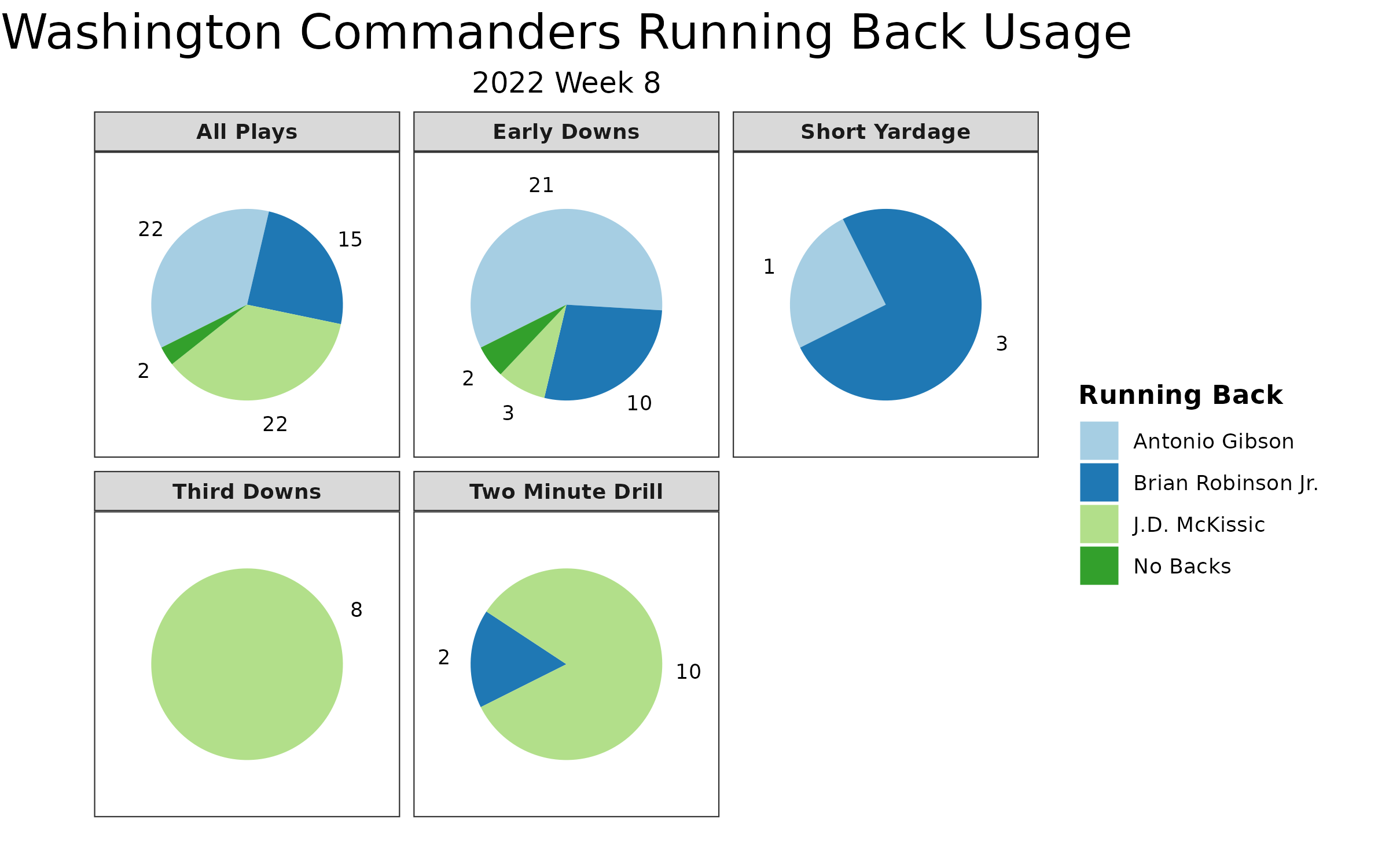 Logan Thomas' return: Thomas saw his first NFL action since Week 4 due to a calf injury.
He was still limited in practice all week.

Thomas split time with

Armani Rogers

, and the two were used interchangeably. Meanwhile,

John Bates

was consistently playing in two- or three-tight end sets.

He was not targeted in this game.

There is a chance Thomas can take most, if not all, of the snaps from Rogers and see playing time similar to 2021 at his peak.

Thomas is a waiver wire target in deeper leagues, as the Commanders have the fourth-easiest remaining schedule

for tight ends.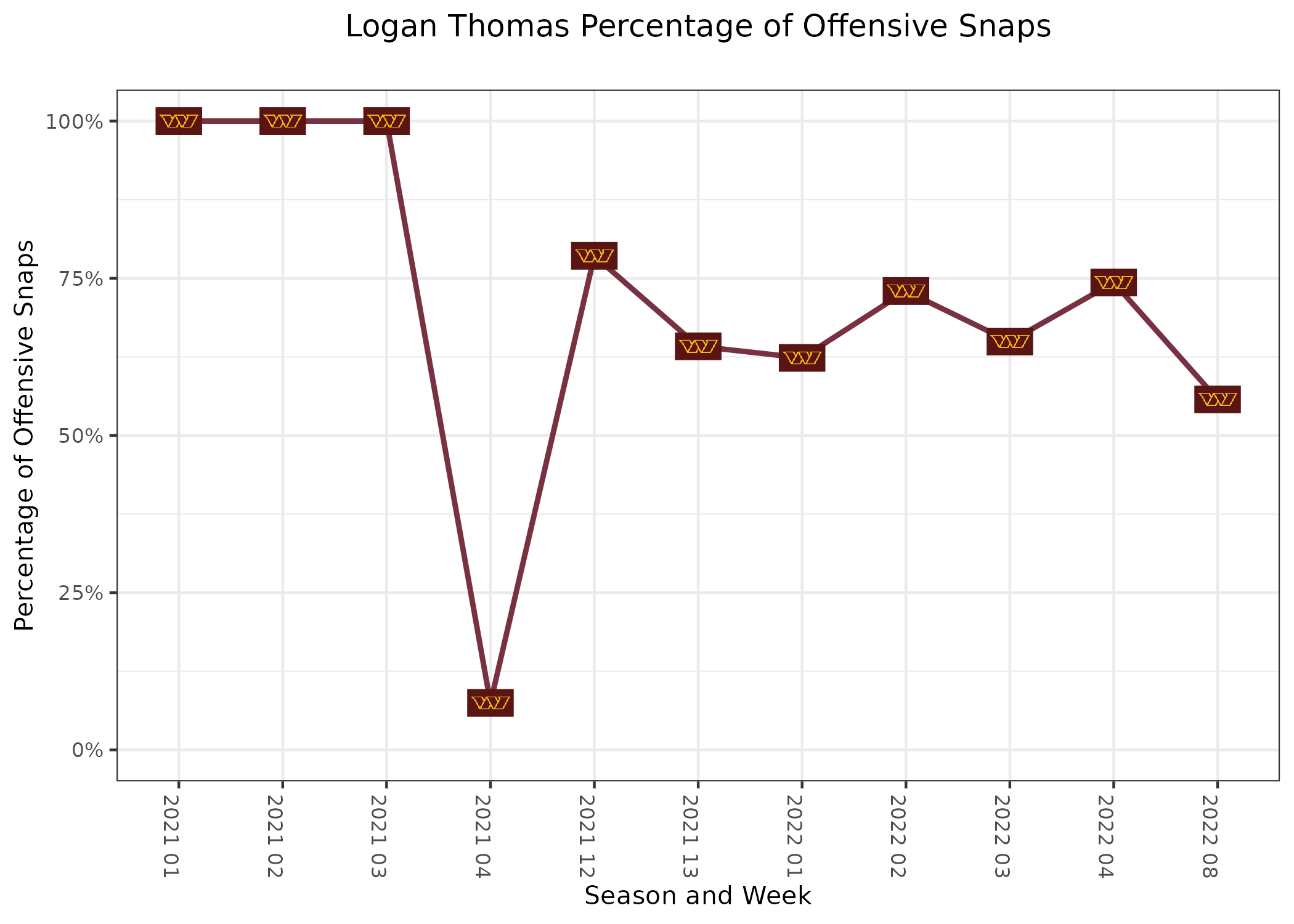 First look at Sam Ehlinger: The second-year quarterback was named the starter for the rest of the season.
He focused his attention on outside wide receivers, with over half of his targets going to players lined up there.

Ehlinger targeted players lined up in the backfield or as an inline tight end only twice each.

This was good news for

Michael Pittman Jr.

and

Alec Pierce

, who finished first and second in targets, receptions and receiving yards.

Pittman posted a 33.3% targets per route run rate. His season high prior to this week was 24.1%.

Ehlinger ran the ball six times, with three coming from scrambles and three from designed runs.

He is worth a waiver wire target in deeper leagues or superflex leagues, as the Colts will need to rely on him more in games where they don't have a lead. His rushing production gives him a safer floor.
---
• Christian McCaffrey: 18 carries, 94 yards, 1 touchdown, 8 receptions, 55 receiving yards, 1 receiving touchdown, 1 pass attempt, 1 pass completion, 34 passing yards, 1 passing touchdown
• Cooper Kupp: 8 receptions, 79 yards, 1 touchdown, 2 carries, 10 rushing yards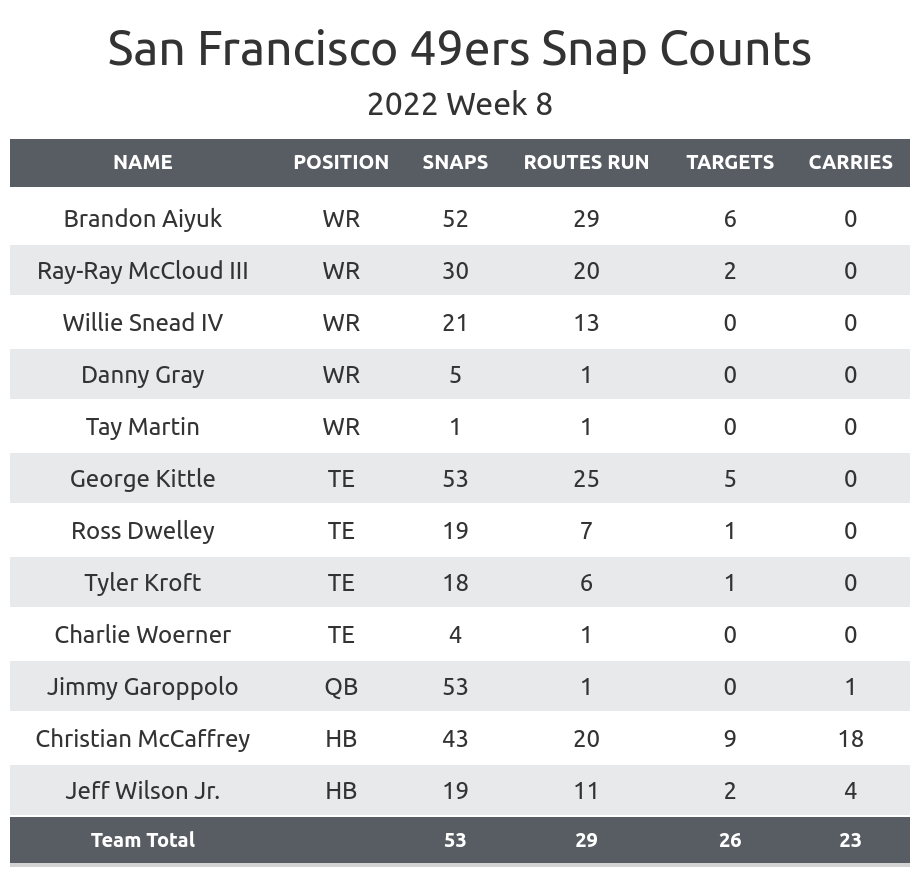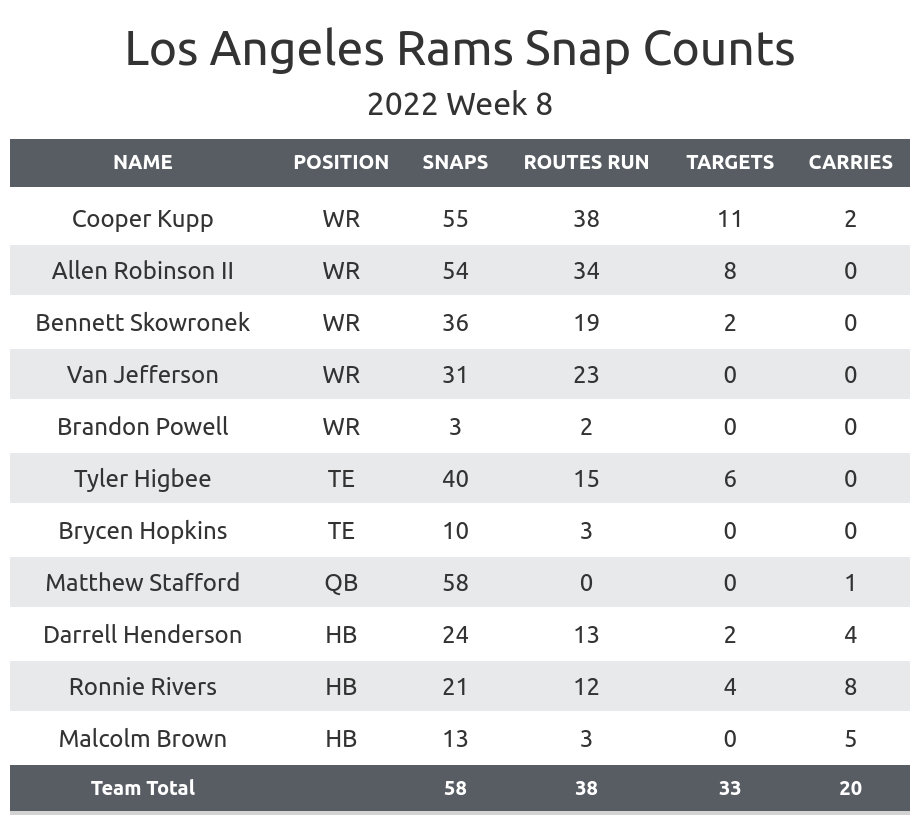 Christian McCaffrey dominates: McCaffrey had more than a week to learn the 49ers' playbook for this game, which led him to be the clear lead running back for the team.
Jeff Wilson

still saw significant playing time for the 49ers, but this was largely in two-back sets. Part of the reason for that use could have been the 49ers being down two of their top three receivers.

McCaffrey lined up in a wide receiver position eight times.

The All-Pro might see fewer touches once

Deebo Samuel

is back, but he should still be in starting lineups every week going forward.

Wilson can be dropped. The 49ers have a bye week next week, and Elijah Mitchell

could be back after the bye.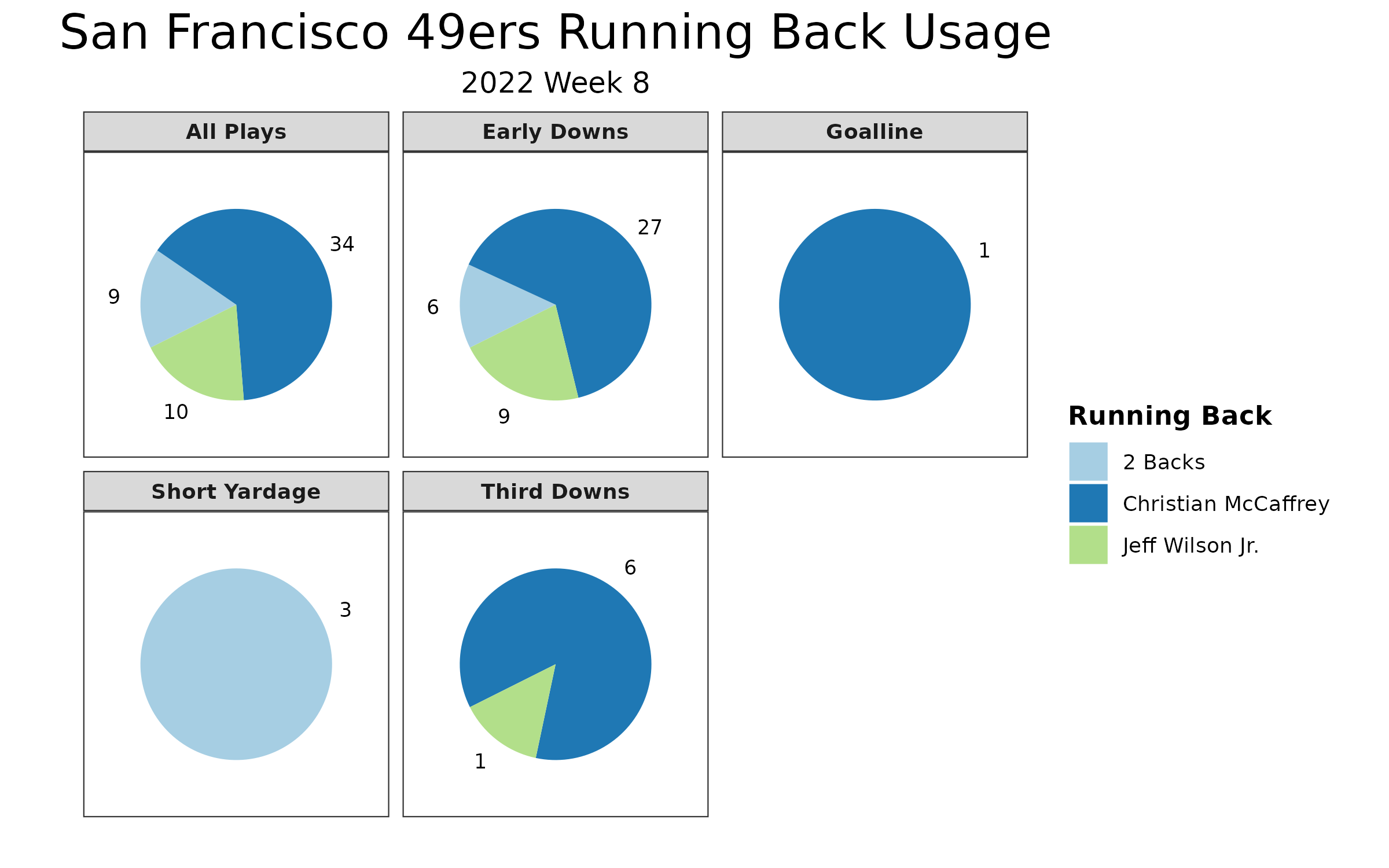 Sell high on Brandon Aiyuk: The 49ers receiver led the team in receiving with six catches for 81 yards and a touchdown, but quieter days are ahead for him.
The 49ers had both

Deebo Samuel

and

Jauan Jennings

inactive due to injuries.

Thirty-four of his receiving yards and his touchdown came on a trick play.

San Francisco has the fourth-easiest remaining schedule. The 49ers will want to run the ball a lot, and they'll get to.

When they do throw, Aiyuk will arguably be the fourth-best option when everyone is healthy.
The Rams' running back committee: Darrell Henderson seemed to be the clear starter in recent weeks, but the backfield became more of a committee this week due to his health.
Henderson has been dealing with an illness all week, which limited his practice time.

Henderson kept his third-down role, but undrafted rookie

Ronnie Rivers

was the lead rusher. Rivers gained 21 yards on eight carries.

Malcolm Brown

was the goal-line rusher, which further complicated the backfield, but Brown was unable to score.

Los Angeles situation could become more complicated by next week.

Cam Akers

is expected to return to the Rams if they are unable to find a trade partner this week.

Kyren Williams

was designated to return from injured reserve earlier in the week. He wasn't ready for this game but should be good to go next week.

Any combination of the five backs could be active next week, and anyone could lead the team in fantasy points.

Williams is the one player to consider off the waiver wire, as he's the one Los Angeles seems most excited about.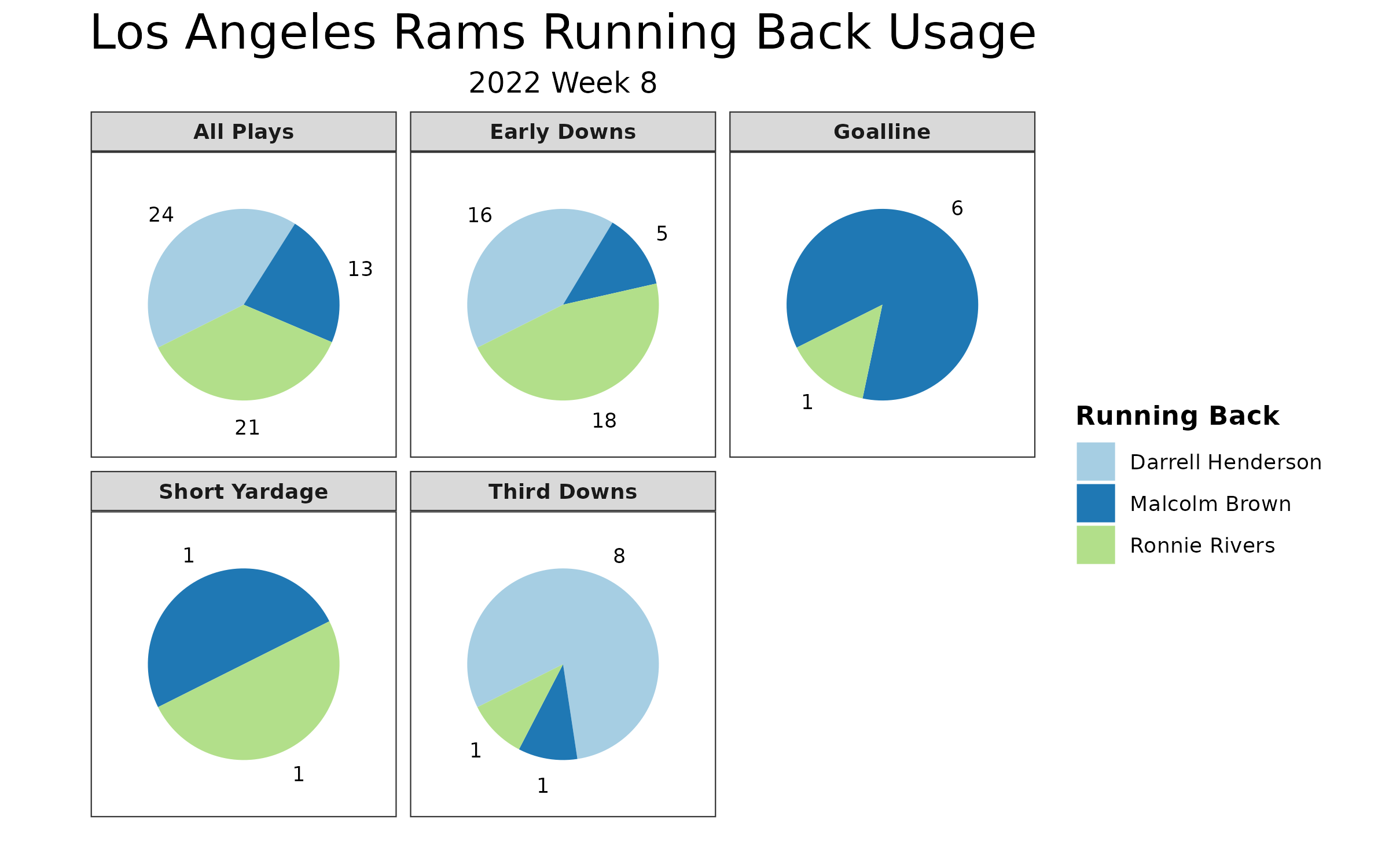 Monitor Cooper Kupp's health: Kupp suffered an ankle injury within the last two minutes of the Rams' loss to the 49ers.
The early indication is that he

dodged a bullet

, but we won't know for sure until there are more tests.

The injury overshadowed the return of

Van Jefferson

, who made his season debut.

Jefferson split playing time with

Bennett Skowronek

in three-receiver sets and didn't really impact

Allen Robinson II

's playing time.

Those three receivers would play nearly every snap if Kupp misses any time with an injury.

Robinson is available off the waiver wire in 40% of ESPN leagues and needs to be picked up. He received a season-high eight targets and went over 50 receiving yards for the second straight game.

Jefferson should be picked up in other leagues despite not having a target. His playing time should only rise from here.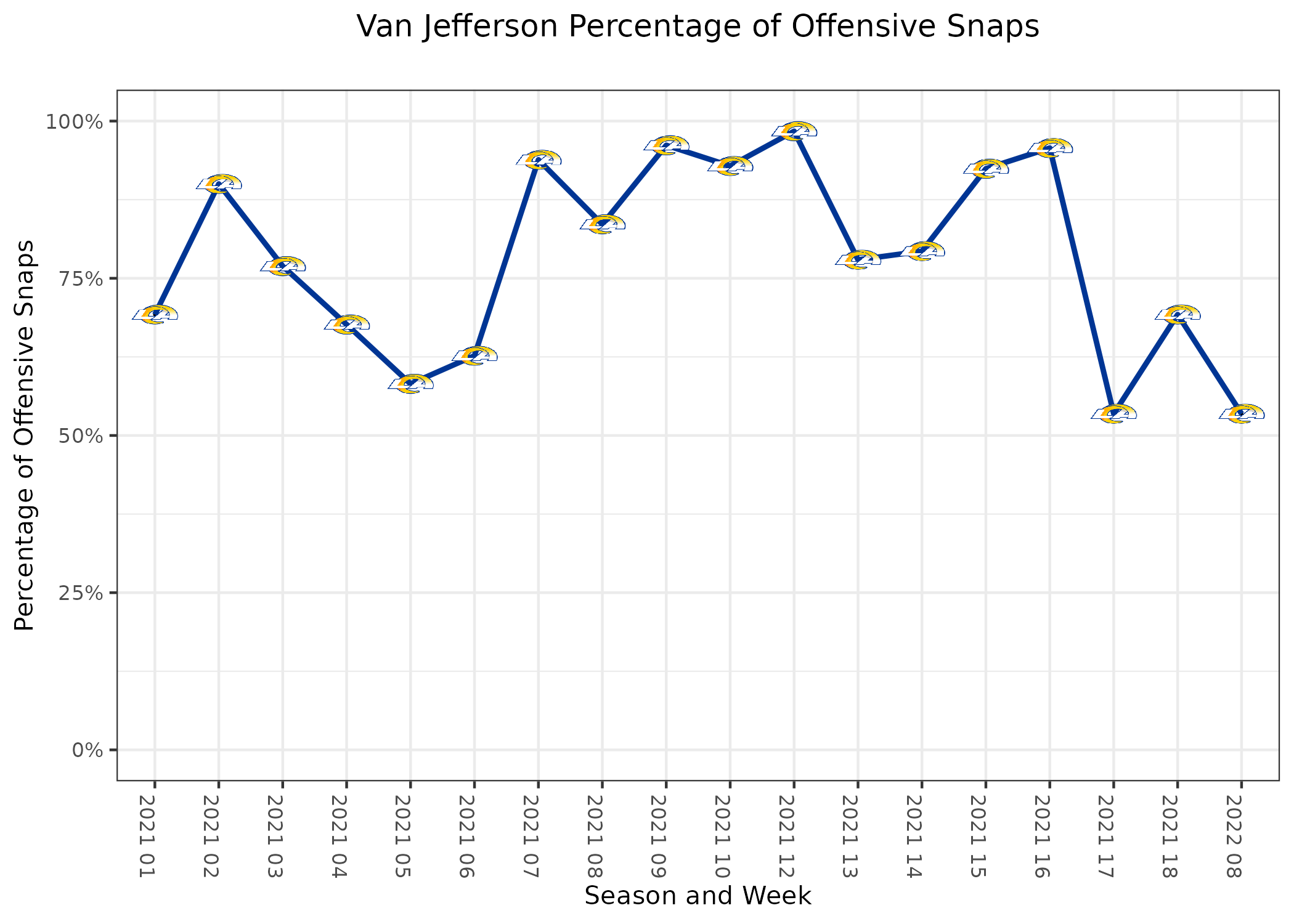 ---
• Tyler Lockett: 5 receptions, 63 yards, 1 touchdown
• D.K. Metcalf: 6 receptions, 55 yards, 1 touchdown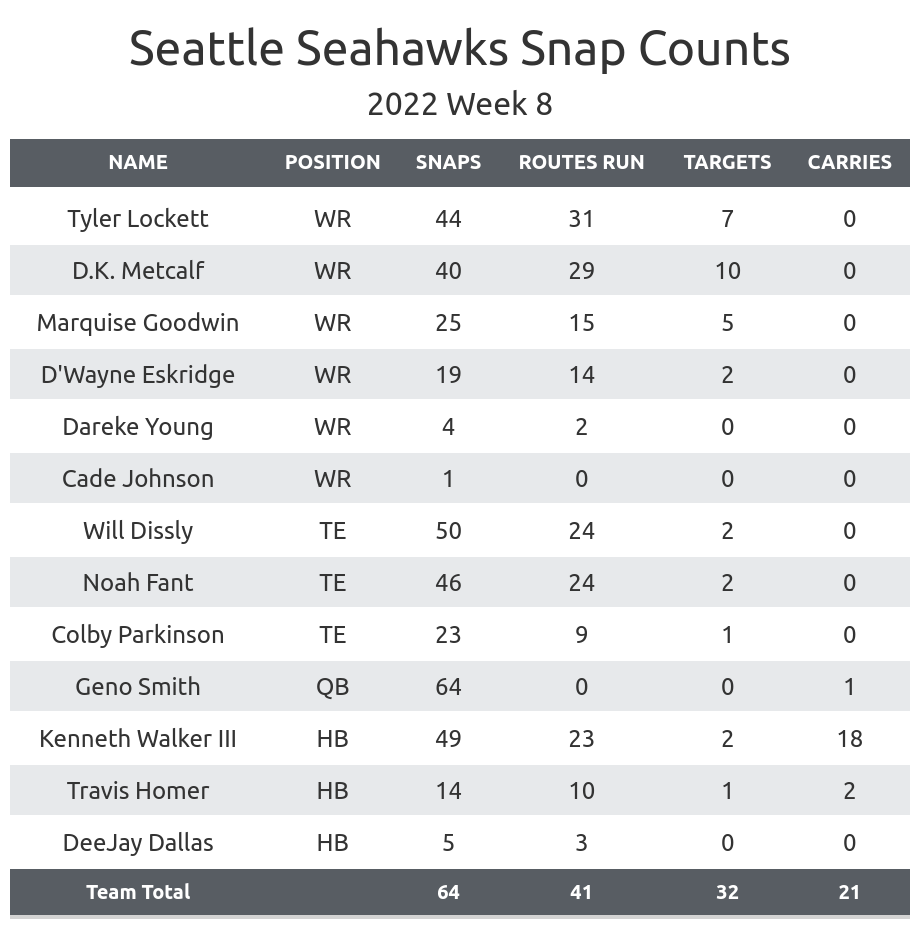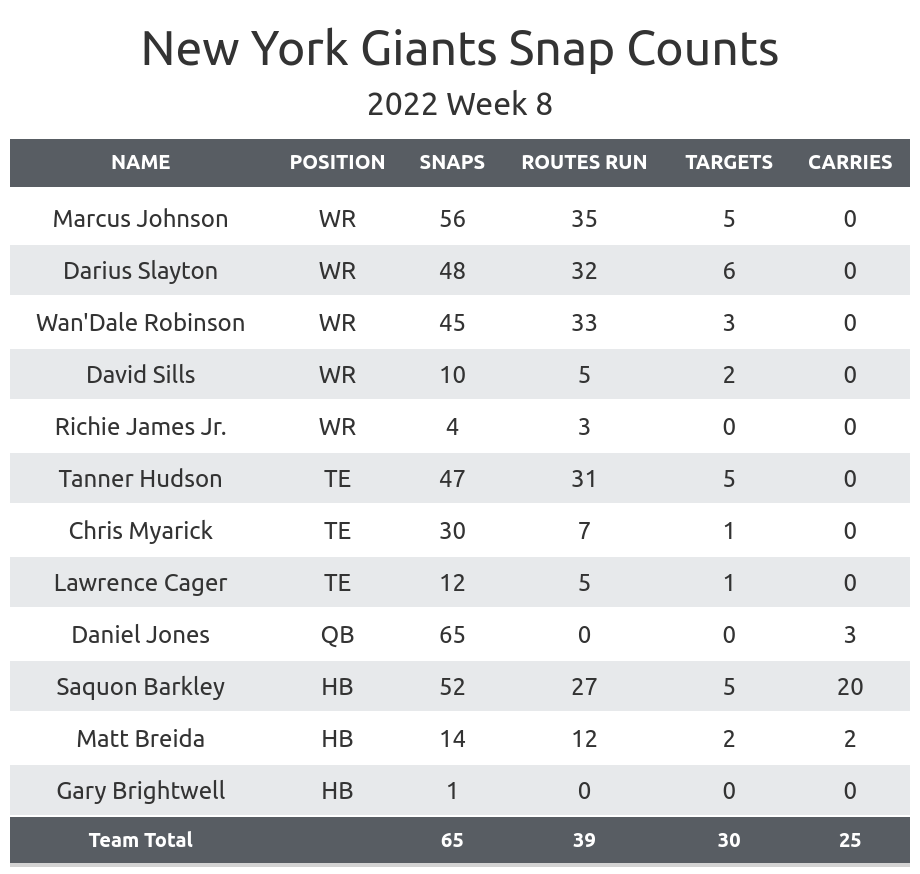 Travis Homer's return: The Seahawks' receiving back was activated from injured reserve and returned to his usual role.
Homer specifically played on third down, taking the snaps that

DeeJay Dallas

handled over the past month.

He likely would have also played in two-minute drills had the Seahawks ran one.

His return had no impact on

Ken Walker

, who dominated all early-down and short-yardage situations.

Homer is the handcuff in Seattle if something were to happen to Walker this season.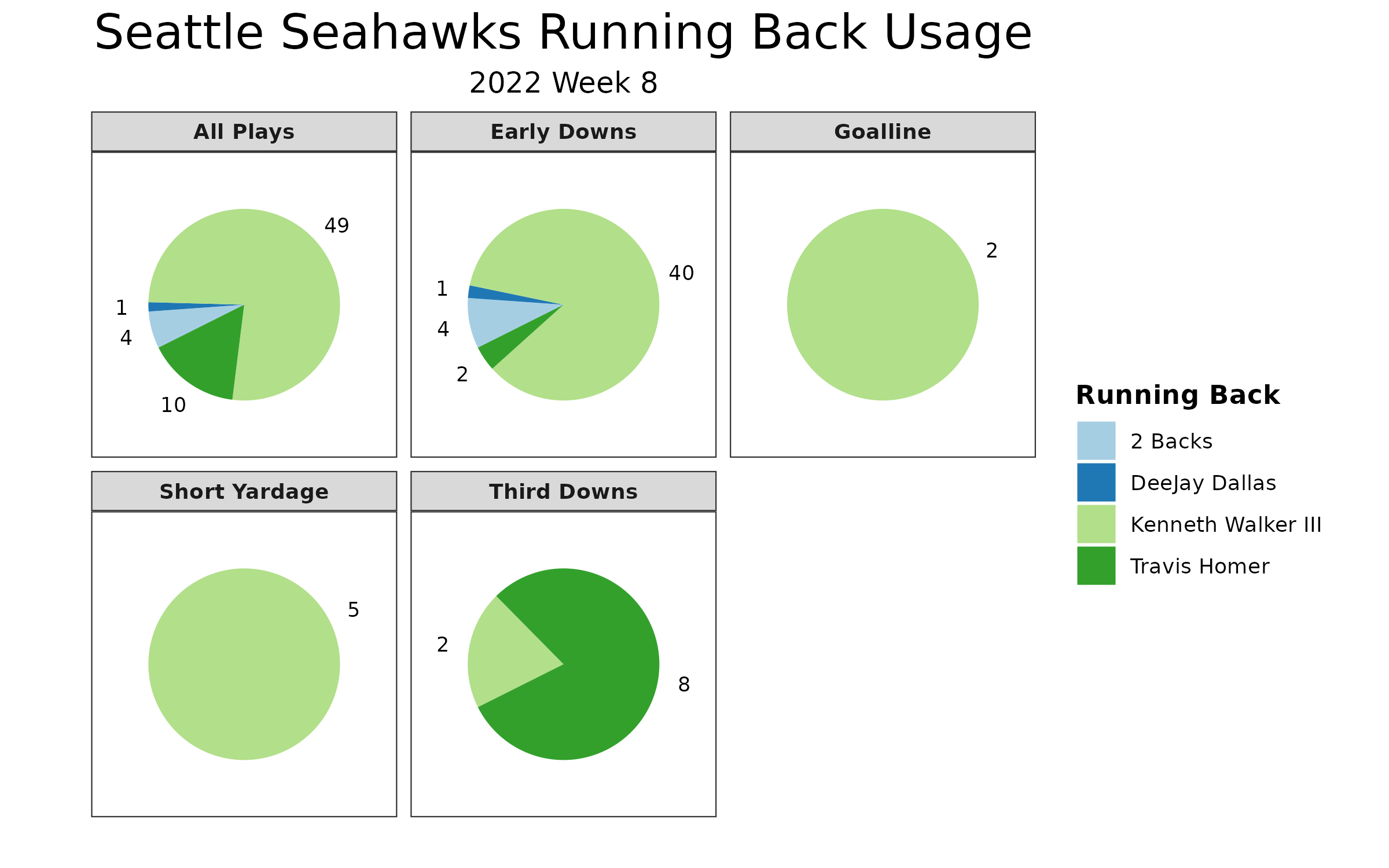 Monitor the health of the Seahawks' wide receivers: D.K. Metcalf and Tyler Lockett were both questionable heading into Week 8. They both played — but not as much as usual.
Both players played significantly less in Week 7 than any other game the past two seasons. Both players rebounded in playing time this week, but still not nearly as much as usual.

This didn't stop them from performing when they were on the field.

They finished first and second in targets, catches and receiving yards, and they both scored a touchdown.

The fact that Metcalf and Lockett played as much as they did is a good sign they can safely be in starting lineups next week, but it's a situation worth monitoring nonetheless.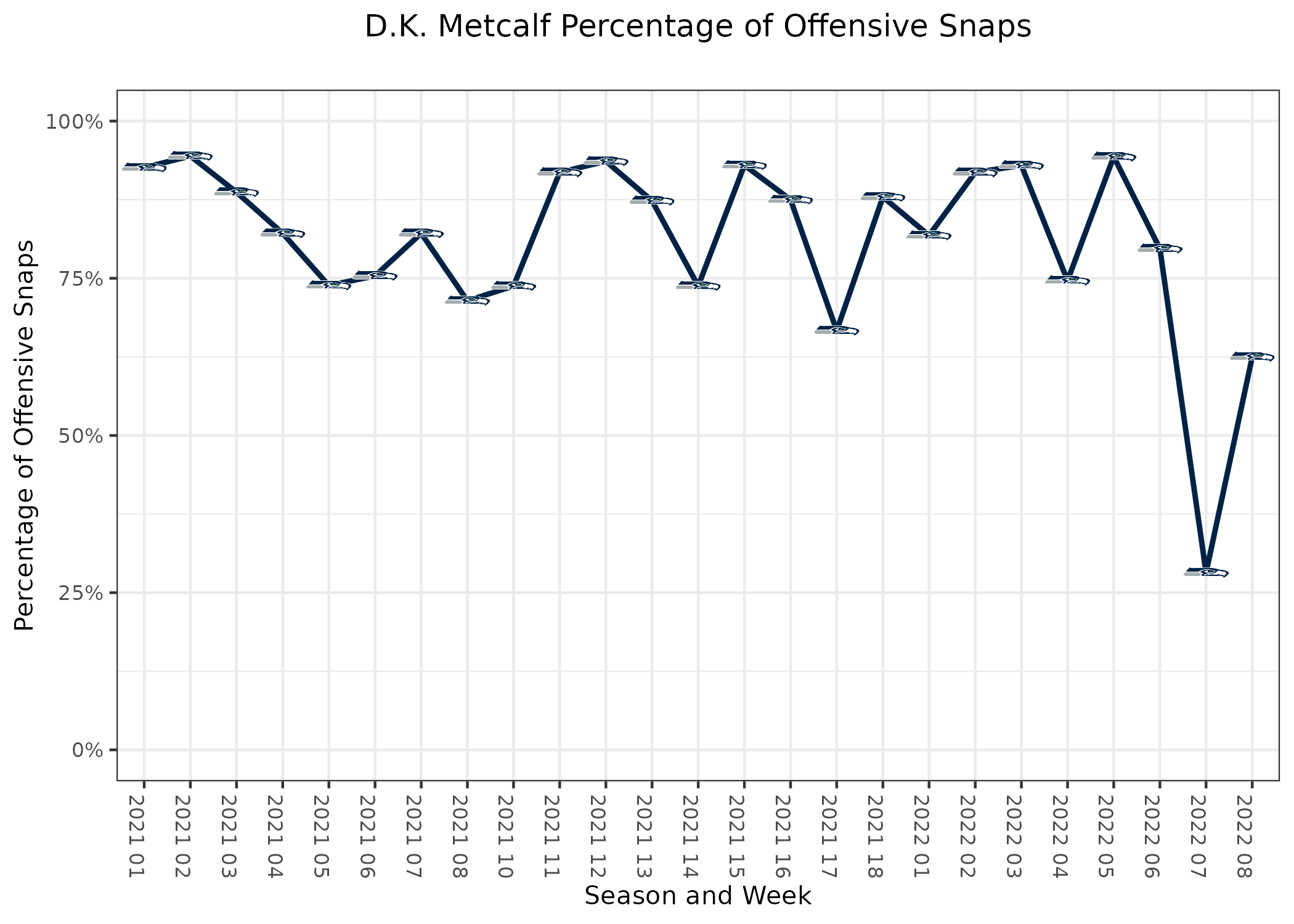 Monitor Richie James Jr.'s health: James was carted off the field after suffering a concussion, and he didn't return.
James was already getting phased out of the offense in favor of

Wan'Dale Robinson

in the slot. He lost two fumbles in this game, making it even less likely he is involved once he's healthy again.

Robinson finished third on the team in receiving yards (15) in a game where the Giants' passing game struggled.

Darius Slayton

led the team in receiving yards. He gained over 50 yards for the third time in four weeks.

He could be the Giants' top outside wide receiver over the rest of the season, especially after the team traded

Kadarius Toney

to the Chiefs — ensuring he won't take any of Slayton's snaps.

Slayton has slowly but surely taken playing time from

David Sills V

, who was a starter earlier in the season but is now a clear backup.

Slayton could be considered a waiver wire target after his recent production.

New York has a bye week this upcoming week, so he wouldn't be an option for a team looking for a wide receiver in Week 9.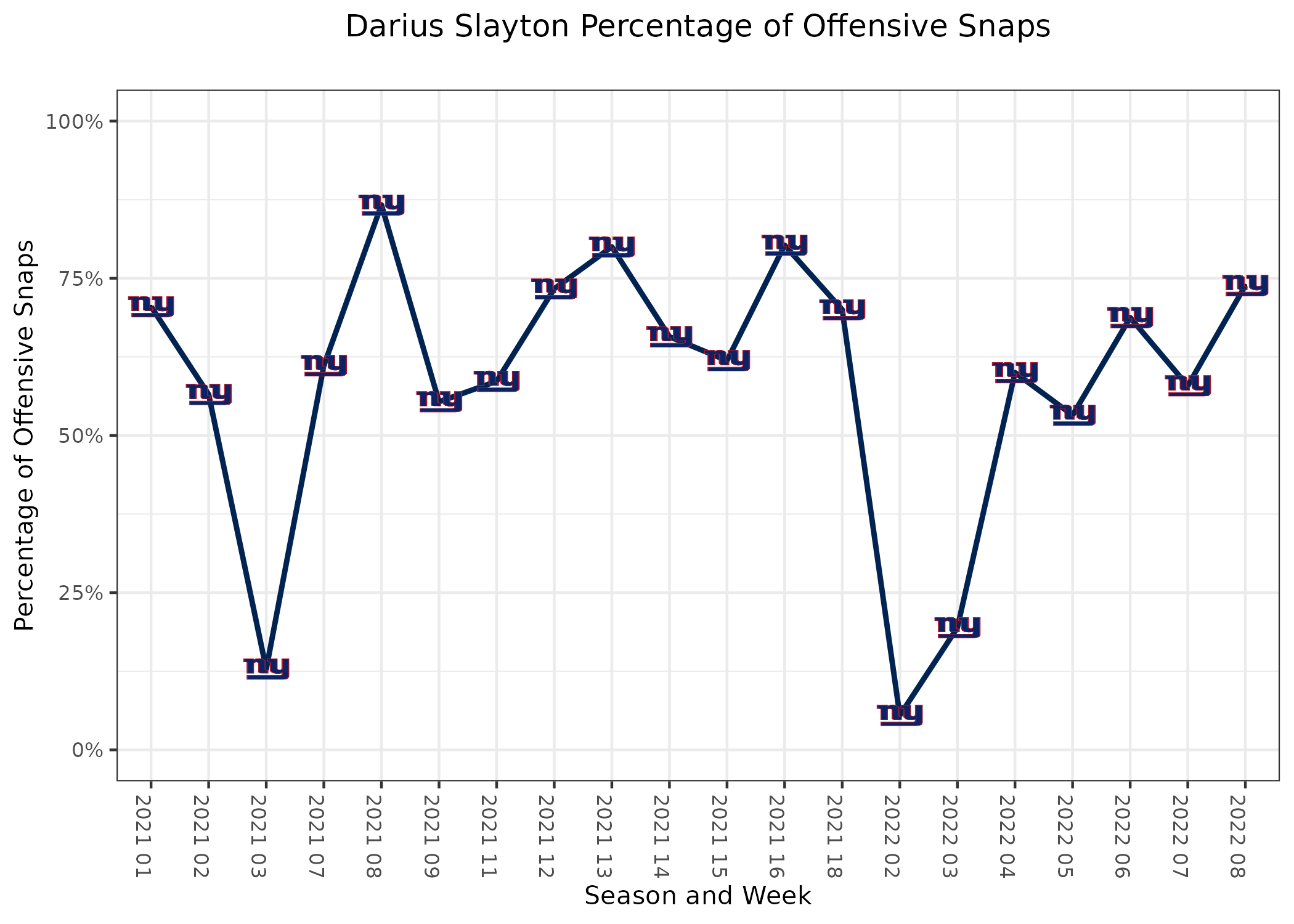 ---
• Stefon Diggs: 6 receptions, 108 yards, 1 touchdown
• Aaron Jones: 20 carries, 143 yards, 4 receptions, 14 receiving yards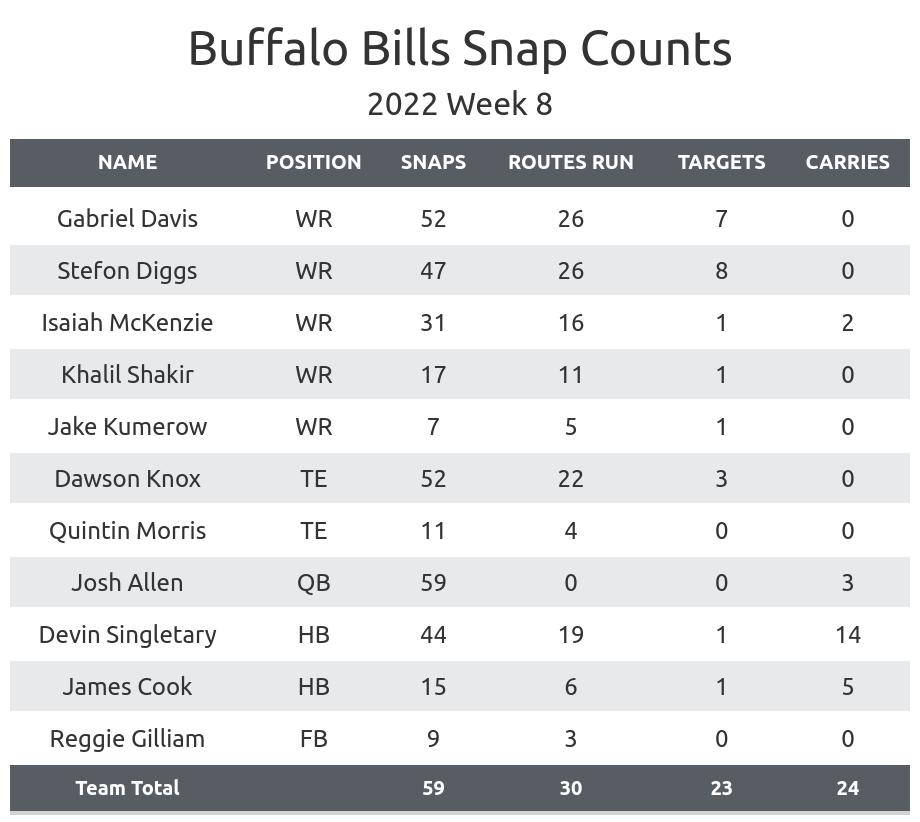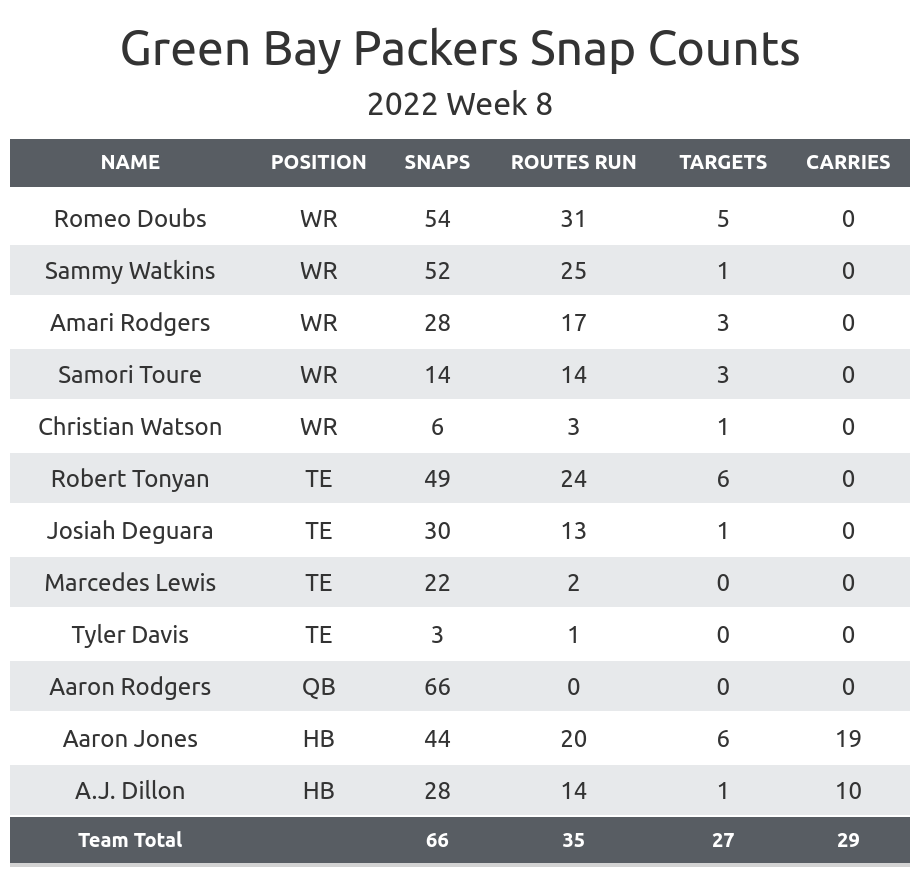 MonitorChristian Watson's health: Watson suffered a concussion after his only catch and didn't return to the game.
He had missed the last two weeks and was questionable coming into the game with a hamstring injury.

He played six of the first eight snaps, seeing more playing time than fellow rookie

Romeo Doubs

, albeit in run situations.

He was playing across from

Sammy Watkins

, as

 

Allen Lazard

 was inactive due to injury and

Randall Cobb

 is on injured reserve.

Doubs resumed the starting role after the injury and scored the Packers' first touchdown.

Amari Rodgers

was used in three-receiver sets from that point on, although he never saw a target.

Doubs is worth a waiver wire claim, as he's the only intriguing healthy option on the offense. He led the team in targets and receiving yards.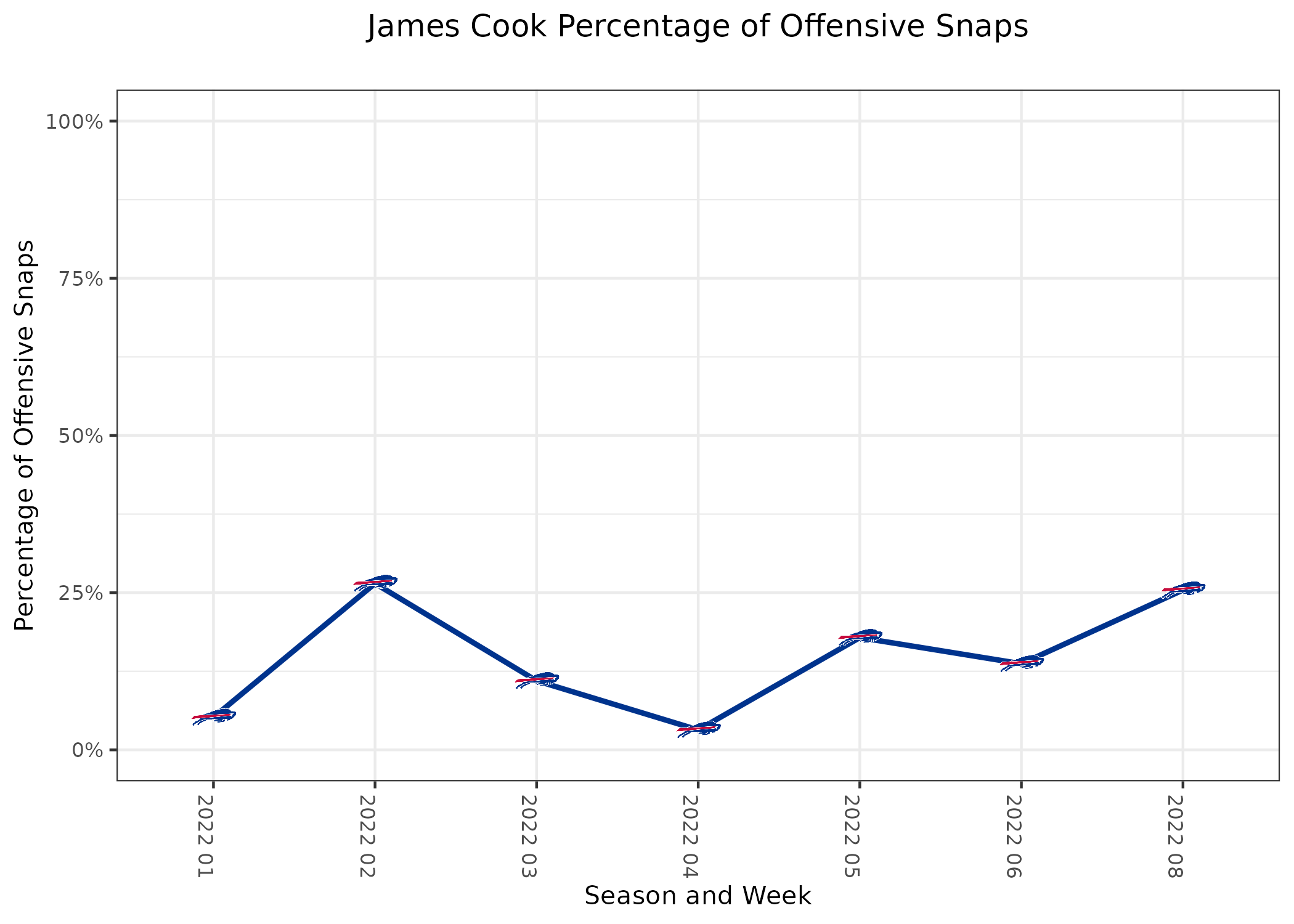 Add James Cook: The Bills rookie put up the best numbers of his career and could continue to play more.
He ran the ball five times for 34 yards and caught a 41-yard pass.

Zack Moss

was inactive in Buffalo's last game, which showed Cook was a clear second on the depth chart.

Moss was active tonight, but Cook was still the only other running back to see playing time.

Buffalo has

one of the easiest schedules remaining

and will have plenty of low-risk opportunities to let Cook play, giving him a chance to earn more playing time.
---
Table Notes
• Snaps include plays called back due to penalties, including offensive holding or defensive pass interference. The other three stats have these plays removed.
• Targets may differ from official NFL sources. The most likely discrepancy would be from a clear thrown-away pass, where the NFL may give the target to the nearest receiver, while this data will not.
• Carries are only on designed plays. Quarterback scrambles won't count for the total number of carries in the game.