The NFL is a matchup-driven league. Offensive coordinators are always looking to scheme their playmakers into one-on-one situations against a defender, while defensive coordinators will attempt to do anything in their power to upset the timing and rhythm of the opposing QB.
Click here for more PFF tools:
Rankings & Projections | WR/CB Matchup Chart | NFL & NCAA Betting Dashboards | NFL Player Props tool | NFL & NCAA Power Rankings
---
Despite the obvious impact that defenses have on opposing offenses, fantasy players and fans alike are often left with one-way metrics to describe offenses and defenses that they are then forced to compare against each other in an attempt to identify mismatches.
The goal here is to provide easy-to-decipher charts and notes to define each week's key matchups and advantages on both sides of the ball in:
Explosive Plays

Pace

Pressure

Yards Before Contact

Passing Game

EPA
The following charts display matchup-specific information meant to highlight the largest mismatches in these ever-important facets of football to ultimately gain actionable betting and fantasy takeaways. And, of course, to have fun.
Note: Data is from Week 1-12, 2021. Key discrepancies will be highlighted in the ensuing paragraphs and the metrics will get stronger as the season continues.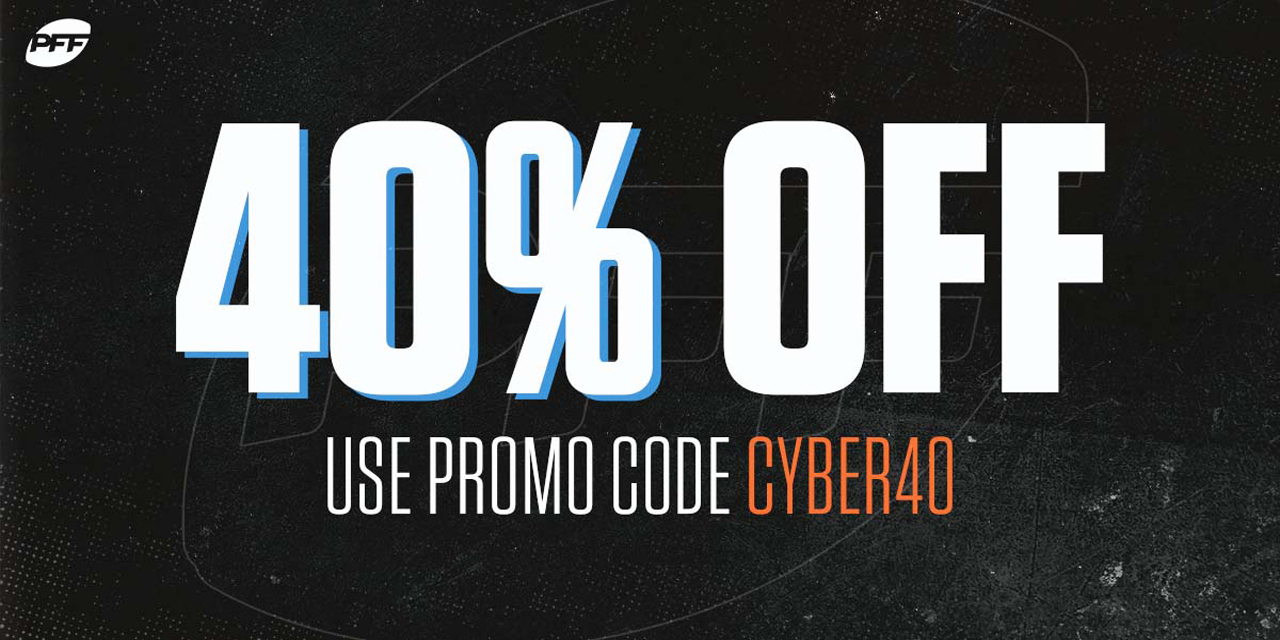 Explosive Plays
Big plays make the football world go round. Matchups between explosive offenses and leaky defenses are exactly what we're looking for when compiling game stacks in DFS, or when betting an over.
Explosive Pass Rate

: The sum of an offense's rate of 20-plus yard completions per pass attempt and the opposing defense's rate of 20-plus yard completions allowed per pass attempt. A higher percentage is better for offenses (blue is good, red is bad).

Explosive Run Rate

: The sum of an offense's rate of 15-plus yard gains per rush attempt and the opposing defense's rate of 15-plus yard runs allowed per rush attempt. A higher percentage is better for offenses (blue is good, red is bad).
Mismatch Manifesto Week 13: combined explosive play rate.

Higher or lower % = large or small combined sum of the pass/rush big-play rate from the matchup's offense and defense (blue = good, red = bad)

Big pass play: 20+ yds
Big run play: 15+

All data from 2021, PFF pic.twitter.com/AfIrX60e3A

— Ian Hartitz (@Ihartitz) December 1, 2021
These offenses breed explosive plays: Offenses averaging an explosive pass play on at least 10% of their dropbacks: Raiders (12.8%), Patriots (11%), Cardinals (10.9%), Vikings (10.6%) and Rams (10.2%). I can't stress enough how great it is to (probably) have Kyler Murray (ankle) back in action.
Size (allegedly) doesn't matter: Murray and DeAndre Hopkins (hamstring) are both tentatively expected to return for their Week 13 date against the Bears. Credit to Colt McCoy for playing some truly awesome football for stretches of his three-start sting; just realize Murray was arguably the league's single-best passer before going down with the injury. The reality that he's been the best quarterback in big-time throw rate while also boasting a lower turnover-worthy play rate than anybody is truly bonkers.
Big-time throw rate vs. turnover-worthy play rate (PFF, min. 150 dropbacks)

Further up: Making a lot of turnover-worthy plays
Further down: Taking good care of the football
Further left: Not making many "elite" throws
Further right: Making all sorts of "elite" throws pic.twitter.com/ywFAzzmXn0

— Ian Hartitz (@Ihartitz) November 29, 2021
The only "problem" for the league's fifth-ranked scoring offense is just how spread out this passing game has been. The following players had at least 10 targets with Nuk and Murray active in Weeks 1-8:
Obviously Hopkins remains the projected alpha and should be started in fantasy lineups of all shapes and sizes; just realize he's more of an upside WR2 these days as opposed to a locked-in top-five option due to these target concerns. Kirk and AJG are borderline WR3 types.
Good offense beats good defense in today's NFL: Offenses set up to thrive in their quest to create some explosive pass plays: Vikings, Raiders, Rams and Eagles. The former and latter squads are certainly benefiting from facing a pretty, pretty, pretty inferior opponent.
Let Kirk cook: Justin Jefferson and Adam Thielen have an argument as the league's single-best one-two punch in terms of top weapons in the passing game. No duo has more combined touchdowns (16) than the Vikings' pair of stud receivers, while their combined marks in receptions and receiving yards come in at a plenty respectable fourth and third.
This Lions secondary doesn't have a shot in hell at slowing down these two receivers if Kirk Cousins is functioning at anything close to his usual self come Sunday:
Yards per attempt: 8.25 (tied for No. 31)

Explosive pass play rate: 17.4% (No. 31)

QB rating: 105.5 (No. 24)

Pass touchdown rate: 5.3% (No. 28)
I have both Jefferson (my PPR WR4) and Thielen (WR9) ranked inside the week's top-10 receivers; both should be started in fantasy leagues of all shapes and sizes.
Bah gawd, that's OBJ's music!: It's funny what a change of scenery can do for a guy.
— Ian Hartitz (@Ihartitz) December 1, 2021
Obviously the Rams offense is far from fixed, but at least Matthew Stafford got back to hitting some big plays to his outside receivers after that brutal dry stretch in Weeks 9-10. This downfield passing game is set up even better against the Jaguars' bottom-seven defense in yards per attempt and explosive pass play rate allowed on balls thrown at least 20 yards downfield. Both Odell Beckham (my PPR WR29 and Van Jefferson (WR33) are worthwhile upside WR3 plays in this smash spot.
Cooper Kupp has had at least seven receptions with 90-plus yards in 10 (!) games already this season. The only other players to do that in the history of the NFL: 2014 Antonio Brown (12), 2015 Julio Jones (11), 2019 Michael Thomas (11), 2002 Marvin Harrison (10) and 1995 Michael Irvin (10). Madness. Kupp is the overall WR1 on the week and figures to battle it out with Jonathan Taylor for fantasy MVP honors the rest of the year.
Offense is easier when the defense sucks: The only four defenses allowing an explosive pass play on at least 10% of their opponent's dropbacks: Jets (11.9%), Ravens (11.7%), Lions (10.4%) and Cowboys (10.2%). Of course, the Saints might not be attacking defenses through the air as much with Taysom Hill now under center.
It'd sure be a lot cooler if Jameis was still healthy: NFL Network's Ian Rapoport has reported that Hill is taking first-team reps in practice and expected to start on Thursday night barring a setback with his foot.
Hill at least put up some numbers resembling that of a solid quarterback during his four starts last season.
PFF passing grade: 68.9 (No. 29 among 44 qualified quarterbacks)

Big-time throw rate: 2.5% (tied for No. 40)

Turnover-worthy throw rate: 4.5% (tied for No. 34)

Yards per attempt: 7.7 (tied for No. 11)

Adjusted completion rate: 82.6% (No. 1)
Let's be clear: Hill didn't accomplish any of this in style. Still, Hill's penchant for taking off and running on his own made him a fantasy darling of sorts during his 3-1 stint as the Saints' starter. Overall, Hill peeled off overall QB3, QB11, QB7 and QB9 fantasy performances in his four weeks under center on a full-time basis. His 16-game rushing pace extrapolated from those four games: 156 carries.
Of course, that could be more difficult than usual if stud Cowboys rookie Micah Parsons continues to absolutely wreak havoc: Parsons is PFF's highest-graded pass-rusher (92.9) regardless of position or experience through 12 weeks. Madness.
Not every passing attack is meant to fly: The clear-cut bottom-five offenses in terms of expected failure in creating big plays through the air: Jaguars, Football Team, Texans, Dolphins and Bears. Thank god for alpha wide receivers.
Then he waddled away, waddle waddle, waddle waddle: Last week Jaylen Waddle (74% snap rate) was the only Dolphins wide receiver to play even half of the offense's snaps. He showed off some of the tantalizing ability that made him the 2021 NFL Draft's No. 6 overall pick on his way to working as the week's top-overall fantasy receiver.
Waddle waddle pic.twitter.com/46LEKqC26C

— Ian Hartitz (@Ihartitz) December 1, 2021
Waddle is the overall PPR WR10 this season and the WR17 in PPR points per game; fire him up as a rock-solid WR2 in fantasy formats of all shapes and sizes against the Giants' bottom-12 defense in fantasy points per game allowed to opposing wide receivers.
Houston, we don't have a problem with at least one player: Brandin Cooks has functioned as the PPR WR22, WR8, WR23, WR75 and most recently WR24 with Tyrod Taylor under center this season. He hasn't seen his usual gaudy target numbers in recent weeks, but that's probably more of a carryover effect from Tyrod Taylor throwing just 50 combined passes over the last two weeks than anything. Don't expect the Texans to have the same sort of positive/neutral game script they experienced against the Titans and Jets in this week's matchup; they're currently 9 point underdogs to Jonathan Taylor and company.
Cooks diced up this secondary to the tune of a 9-89-0 performance back in Week 6 and should spend most of his day across from Xavier Rhodes, who has left plenty of open roads (see what I did there) this season on his way to grading out as just PFF's 87th-ranked cornerback in coverage grade among 122 qualified players. Fire up Cooks as the low-end WR2 he's largely been all season; otherwise try to avoid everyone else involved with the Texans' league-worst scoring offense.
Don't let these run games get hot: The Mount Rushmore of rushing attacks expected to find all sorts of success in creating chunk plays: Colts, Eagles, Bears and Ravens. Luckily two of these backfields feature one back ahead of everyone else.
Best rapper running back alive?: All Jonathan Taylor has done in three career matchups against the Texans is convert 43 carries into 319 rushing yards (7.4 yards per carry) for three touchdowns to go along with a more than stellar 8-69-1 receiving line. The Colts are presently 9-point favorites with an implied team total of 27.25 points; you don't need me to tell you that Taylor is the top running back play of the week.
Nyheim Hines hasn't reached even five touches in a game since Week 9; he's not a realistic fantasy option as long as the Colts continue to (rightfully) give Taylor the overwhelming majority of this backfield's work.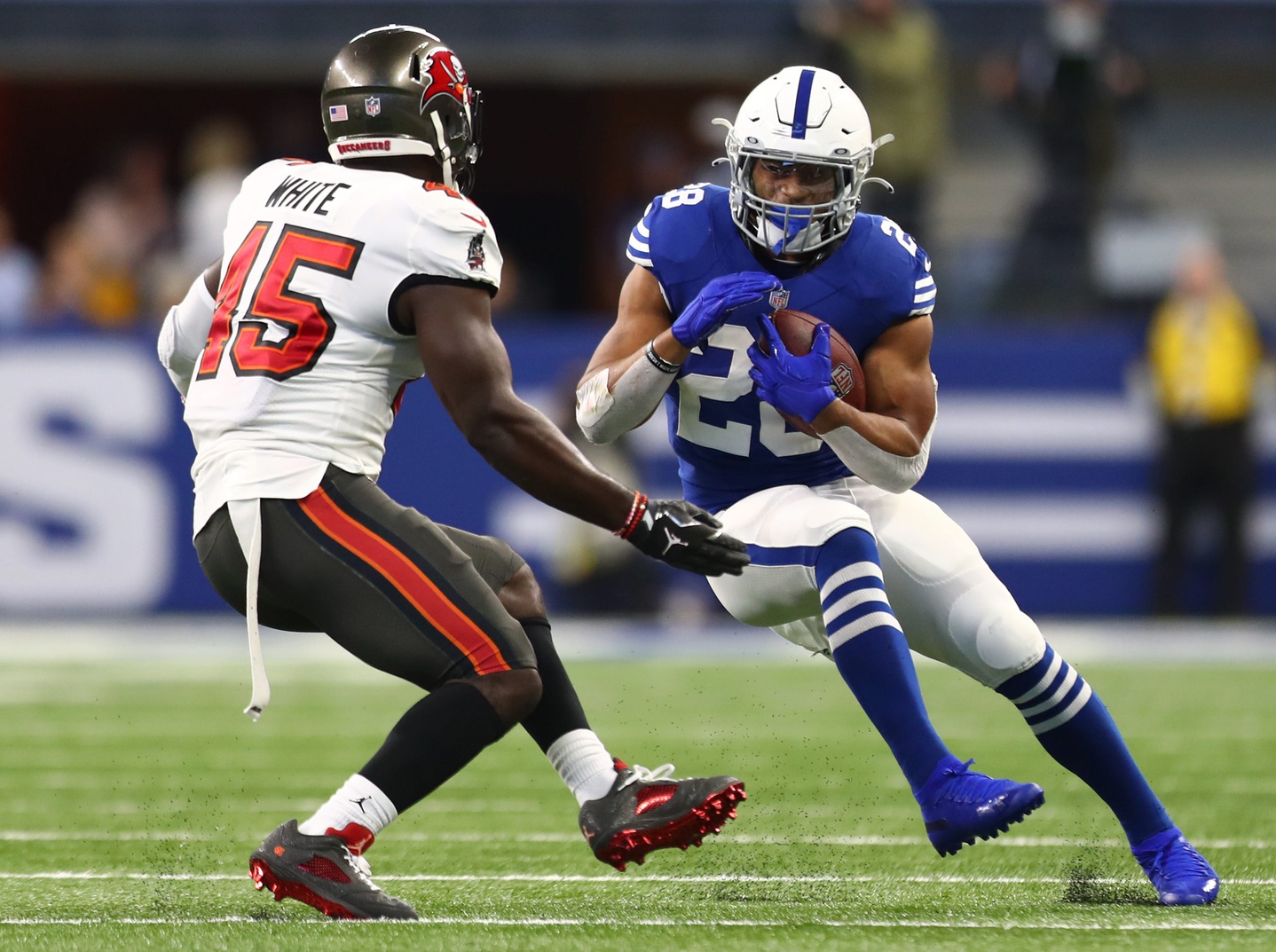 Everyone loves Raymond a three-down running back: David Montgomery has played over 80% of the offense's snaps with 15-plus touches in each of his three games since returning from injury. The problem is that the third-year back hasn't found the end zone since Week 4; there aren't exactly copious scoring opportunities available inside of the league's 29th-ranked scoring offense.
The going isn't guaranteed to get any easier in Week 13; just realize Montgomery is impossible to fade with this sort of workload. At a minimum he'll provide some fantasy goodness during the playoffs:
Week 13: Cardinals (No. 13 in PPR points per game allowed to opposing running backs)

Week 14: Packers (No. 9)

Week 15: Vikings (No. 23)

Week 16: Seahawks (No. 31)

Week 17: Giants (No. 28)
Montgomery is a volume-based RB2 this week with potential RB1 goodness waiting for him down the stretch. Khalil Herbert remains the preferred handcuff but doesn't carry any level of standalone value and doesn't *need* to be rostered in most standard-sized redraft leagues. 
These offenses might just want to pass the ball: Offenses that look pretty screwed in creating big plays on the ground this week: Texans, Jaguars, Raiders, Dolphins and Falcons. Obviously the latter team's stud running back doesn't need to worry about matchups as much because kings stay kings.
CP4MVP: Cordarrelle Patterson was the single-most efficient rusher in Week 12 in terms of rushing yards over expectation. And yet, it's been his receiving ability that has truly separated him from the rest of the league's running backs. C-Patt owns PFF's highest receiving grade (93.8) through 12 weeks, as nobody has averaged more yards per route run (3.13).
His fantasy production from purely receiving is almost next to none at the position:
Austin Ekeler

(140.3 PPR points from purely receiving production)

Patterson (121)

D'Andre Swift

(110.9)

Najee Harris

(99.1)

J.D. McKissic

(94.7)
Patterson is sixth in PPR points per game among running backs and seventh among wide receivers. Whatever your fantasy league designates the 30-year-old talent's position as: Continue to start him with confidence, even against the Buccaneers' league-best defense in yards before contact allowed per carry.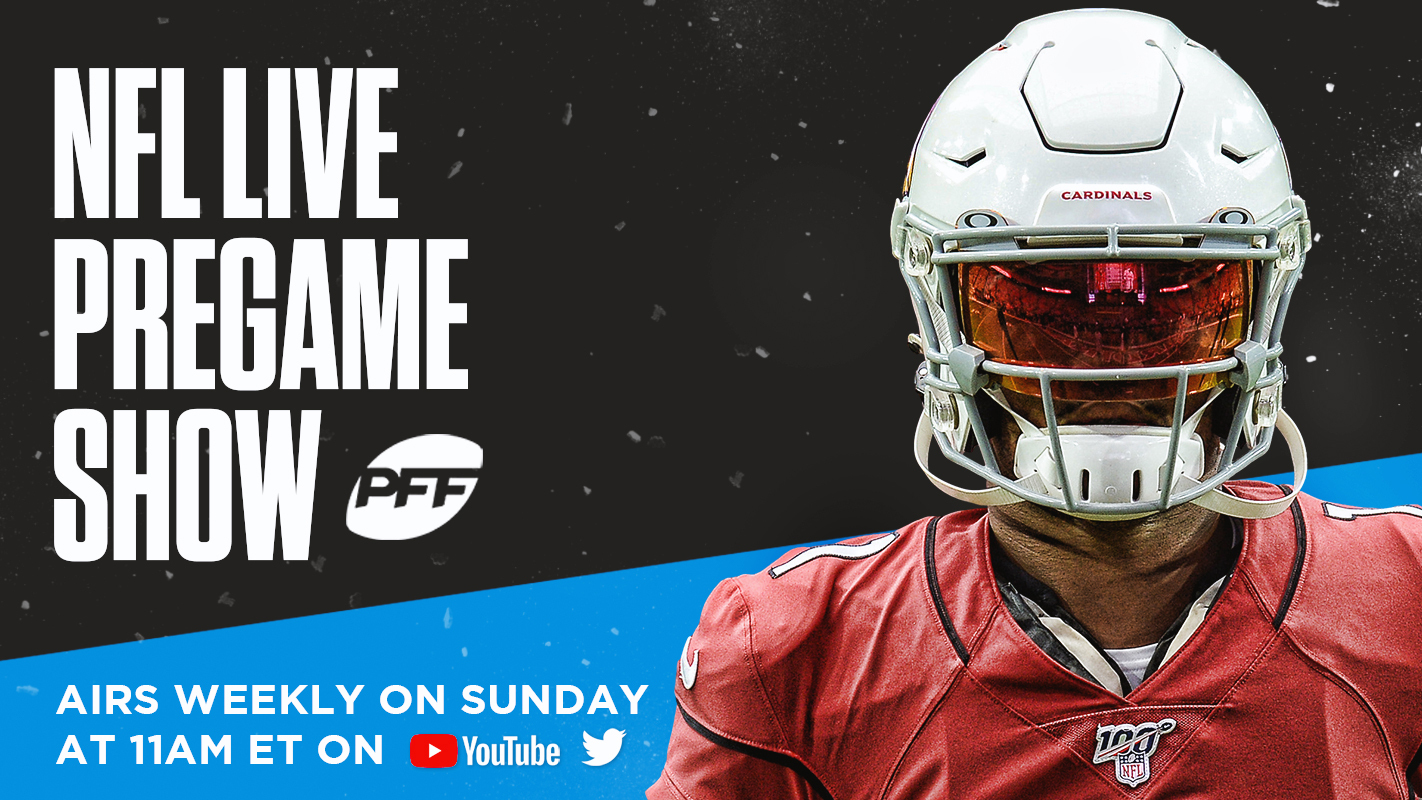 Pace
Fast-paced games lead to more plays, which lead to more points. Every week usually consists of at least a few games that could resemble a track meet based on their combined situation-neutral pace (Football Outsiders).
Combined Situation-Neutral Pace

: Represents the combined situation-neutral pace between each matchup's two offenses. A lower number indicates fewer average seconds per play (blue = fast-paced game), while a higher number indicates more average seconds per play (red = slow-paced game).
Mismatch Manifesto Week 13: combined situation-neutral pace.

Low combined numbers (blue) = two fast-paced offenses
High combined numbers (red) = two slow-paced offenses

Data from 2021, Football Outsiders pic.twitter.com/rwsgvvUCFM

— Ian Hartitz (@Ihartitz) December 1, 2021
Get ready to see a track meet: This week's sponsored Ricky Bobby "I want to go fast" highest-projected matchup features the Jaguars (No. 13 in situation neutral pace) at the Rams (No. 1). Honorable mention goes to the Buccaneers (No. 5) at the Falcons (No. 7). At least Urban has done at least one thing right in Jacksonville.
We'll be moving plenty fast elsewhere too: More matchups expected to feature plenty of total plays include Cowboys-Saints and Eagles-Jets. Thursday night football, maybe being good? Bold move, NFL/Cotton.
Unfortunately some offenses are slow and lame: The single-slowest matchup of the week pits the Colts (No. 31) at the Texans (No.23). Honestly that's fine; we can all catch Jonathan Taylor's highlights whenever. 
Seriously, what are you waiting for: More matchups that might not supply the sort of volume fantasy managers are hoping for include Vikings-Lions, Chargers-Bengals and Ravens-Steelers. The fact the Bengals are the third-slowest moving team in the NFL remains a national tragedy.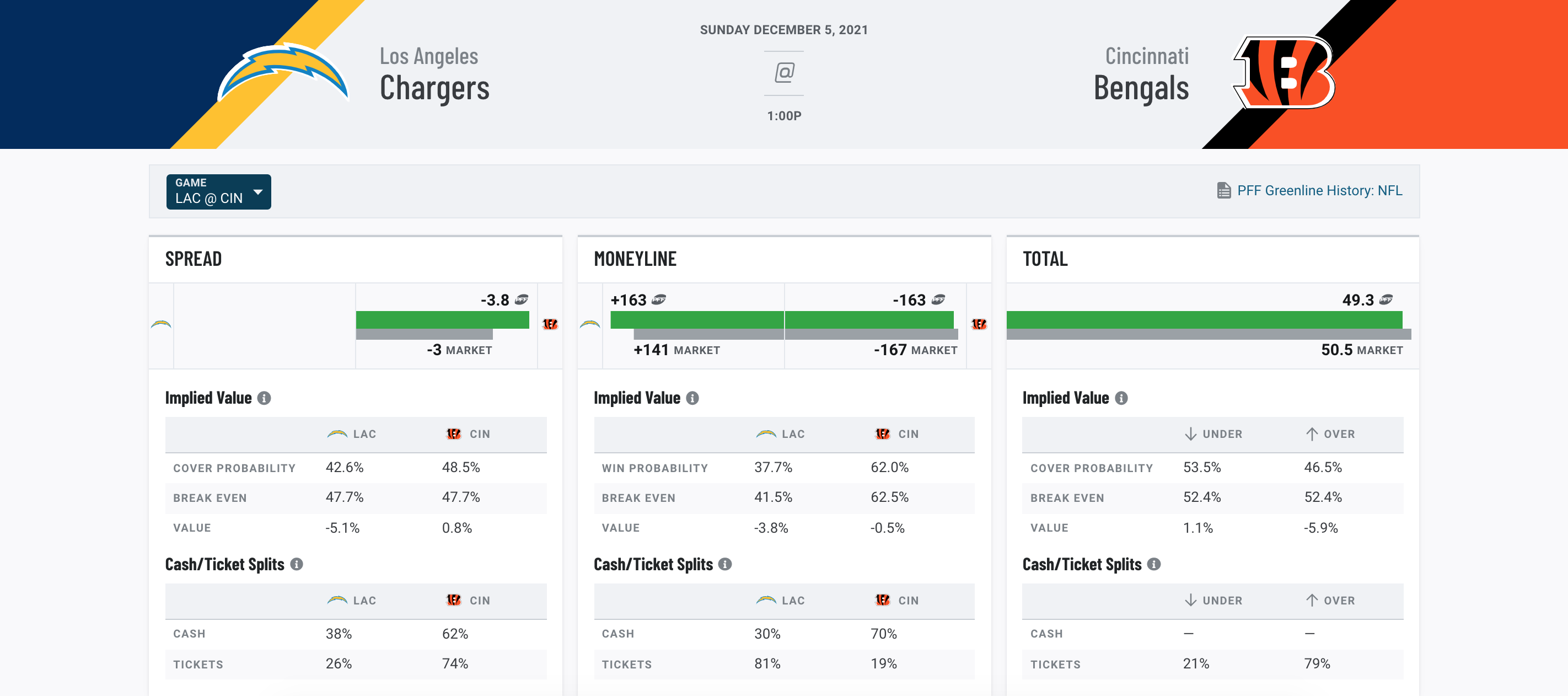 Pressure
An overmatched offensive line can result in poor fantasy days for all skill-position players involved. Meanwhile, QBs with all day to throw can help generate points in bunches. We can determine which offensive lines might be especially better (or worse) this week with help from PFF's offensive and defensive pressure statistics.
Combined Pressure Rate

: The sum of the offensive line's rate of pressures allowed per dropback and the opposing defense's total pressures generated per dropback. A higher percentage (red) is better for defenses and indicates that quarterback could be under fire, while a lower percentage (blue) indicates that matchup's quarterback could face reduced pressure.
Mismatch Manifesto Week 13: combined pressure rate

Sum of pressure rates between opposing offenses and defenses.

Higher percentage: that offensive line could be in trouble (red)
Lower percentage: not expecting much pressure on QB (blue)

Data from 2021, PFF pic.twitter.com/mMn9x7lqXR

— Ian Hartitz (@Ihartitz) December 1, 2021
Under pressure: good song, bad for fantasy football: Quarterbacks that could feel the heat this week include: Tua Tagovailoa, Daniel Jones (neck), Matt Ryan, Derek Carr and Carson Wentz. Nobody wants to see anyone get hurt, but the Giants potentially having to bench Jones for Mike Glennon because of a neck injury is objectively hilarious.
Giants: Big beings, big problems: It'd make sense if the Giants largely fade the idea of trying to pass the ball regardless of who is under center. This Dolphins defense ranks first in overall pressure rate (50.3%) and second in quick pressure rate (27.3%) after 12 weeks of action. Nobody has blitzed on more total snaps (218). This could be especially detrimental to Jones, who ranks just 36th, 33rd and 28th in QB rating, PFF passing grade and yards per attempt when blitzed this season.
Sterling Shepard (quad) and Kadarius Toney (quad) remain banged up and should be considered questionable for Sunday. Yes, Toney balled out the last time Glennon was under center. Also yes, the rookie was actually healthy himself that week and also benefited from Shepard as well as Saquon Barkley not being factors.
Try to avoid starting any receiver from an offense implied to score an absolutely brutal 17.75 points. Kenny Golladay is a borderline WR3 if Shepard and Toney remain sidelined, but this week's expected shadow matchup against Byron Jones is concerning; the plus-sized corner has the sort of size and athletic ability to not be overpowered at the catch point. I'll be answering the heavy majority of close start/sit questions involving a Giants receiver with the other guy.
We can all still see your arm even with the camouflage sleeve on, Carson: Things could get ugly in Houston if Wentz is given the benefit of a consistently clean pocket. Only Matthew Stafford (6) has more completions on balls thrown at least 40 yards downfield than Wentz (5) this season. Generally good things have happened when Wentz has had enough time to uncork one down the field.
Carson Wentz throwing a pretty deep ball pic.twitter.com/md0Im5TeXo

— Ian Hartitz (@Ihartitz) November 29, 2021
Up next is a Texans defense that ranks dead last in yards per attempt allowed on passes thrown at least 20 yards downfield this season. It'd make sense if Jonathan Taylor is able to instill his will on the ground, but Wentz and company have a good chance of making their downfield opportunities count in a major way this week.
Some offensive lines and quarterbacks are just more prone to pressure: The Dolphins (42%), Seahawks (36%), Colts (35%), Panthers (35%) and Titans (35%) are the league's only five offenses that have been pressured on at least 35% of their dropbacks this season. Whatever Russ has been cooking recently ain't it, dog.
How hard can it be to throw the huge/fast guy the football: It should be illegal for D.K. Metcalf to only get one reception in a game. It's not like the guy is incapable of getting open on quick-hitting plays.
Lol pic.twitter.com/OocBvcyBoI

— Ian Hartitz (@Ihartitz) December 1, 2021
Ultimately, Metcalf has posted PPR WR52, WR56 and WR92 finishes since Russell Wilson returned from the injured reserve list. Tyler Lockett has been better with PPR WR67, WR23 and WR28 finishes, but this offense still wastes an awful lot of snaps not throwing the ball to their two best players. Overall, both Metcalf and Lockett are averaging 6.9 targets per game this season — tied for just the 40th-highest mark in the NFL. Not nice!
The good news: Wilson did look better throwing the football in Week 12 than he did in Weeks 10-11. I'm betting on talent winning out after a rough stretch and have both Metcalf and Lockett among my top-18 receivers of the week. Metcalf in particular has a chance to blow up if properly featured; he's hung 6-70-0, 6-81-1, 12-161-2, 3-21-0 and most-recently 4-65-1 receiving lines on this defense during his short three-year career.
Sundial joke about having a ton of time to throw: Tom Brady, Kyler Murray and Dak Prescott are set up the best to work from consistently clean pockets this week. This potential reality could be absolutely brutal for the Saints to deal with.

Maybe, just maybe, this Cowboys offense will get really good again: Prescott has had some down moments in 2021, namely when the Cowboys have been forced to play without all-world LT Tyron Smith or the offense's top-two receivers.
The one scenario that has consistently brought out the best in Prescott throughout the season has been when the sixth-year quarterback is given too much time to throw. The following metrics denote Prescott's performance when getting the ball out of his hands in 2.5 or more seconds:
PFF passing grade: 84.6 (No. 2 among 38 qualified quarterbacks)

QB rating: 106.7 (No. 2)

Yards per attempt: 8.9 (No. 10)

Adjusted completion rate: 71.8% (No. 13)
The Saints rank just 25th in overall pressure rate and 30th in quick pressure rate (getting to the quarterback in under 2.5 seconds). Failure to improve in this facet of the game could be particularly detrimental against a true connoisseur of the quarterback position like Prescott.
Pass rushes that haunt the dreams of your favorite quarterback: The league's best pass rushes feature the Dolphins (38% pressure rate), Bills (36%), Buccaneers (36%), Ravens (36%), Packers (35%), Raiders (35%), Jaguars (35%) and Patriots (35%) above all else. That's right: Miami simultaneously has the No. 1 defense in getting after the quarterback and the single-worst offense in limiting pressure. Practices must be absolute hell for Tua.
The league's finest individual rushers of the passer: Just eight defenders have racked up at least 50 pressures this season: Maxx Crosby (71 pressures), Myles Garrett (59), Shaquil Barrett (58), Matthew Judon (53), Trey Hendrickson (52), Harold Landry (51), Raashan Gary (50),and Joey Bosa (50). Note that rookie Micah Parsons ranks first in PFF pass rush grade at 92.9. As a rookie. Madness.
Trench Battles
RBs receive most of the praise for an offense's rushing output, but an overmatched offensive line can thwart a team's run game before it even has a chance to get started. We can determine the offensive lines that might be especially better (or worse) off this week by looking at yards before contact.
Combined Yards Before Contact Per Rush

: The sum of an offensive line's adjusted line yards per rush and the opposing defense's adjusted line yards allowed per rush. A higher number (blue) is good for running backs, while a lower number (red) indicates that matchup's offense could have some trouble consistently running the ball.
Mismatch Manifesto Week 13: combined yards before contact per rush

Sum of each offense and defense's YBC/carry.

High number: Good run-blocking o-line vs. bad run-defending D (blue)
Low number: Bad run blocking o-line vs. stout D against the run (red)

Data from 2021, PFF pic.twitter.com/gVsol4A5UO

— Ian Hartitz (@Ihartitz) December 1, 2021
Great day to be a great running back: The Mount Rushmore of backfields set up well to run the ball this week: Eagles, Lions, Colts, Chiefs and Ravens. Of course, the former and latter teams are fairly unique in how they go about moving the ball on the ground.
It Hurts being this good: OK fine: Jalen Hurts struggled last week; it marked the first time in 16 career starts that he failed to turn in a top-12 fantasy performance when playing all four quarters. Still, this was hardly all his fault, as Eagles receivers dropped no fewer than three touchdowns during the course of the afternoon.
Sheesh pic.twitter.com/5kWjHBXk6C

— Ian Hartitz (@Ihartitz) November 29, 2021
Ultimately, Hurts' rushing upside is what keeps him firmly in the upside QB1 conversation. He's now converted 168 carries into 967 yards and 11 touchdowns on the ground in 16 career starts. These figures rank second, fifth and fourth among top single-season rushing marks among all quarterbacks in NFL history.
In 2021 only Jonathan Taylor, Joe Mixon, Derrick Henry, James Conner, Nick Chubb and Ezekiel Elliott have more fantasy points from purely rushing production than Hurts. This unique dual-threat skill-set could be on full display against a Jets defense that ranks dead last in fantasy points per game allowed to "running backs."
Personal note: Check out my Week 13 Quarterback Predictions for more fun facts and a forecast on every squad's starting quarterback.
Remember some of those physical Ravens-Steelers games from about 10-15 years ago? That shit was wild: Devonta Freeman continues to work well ahead of Latavius Murray as the Ravens' lead back. He's turned in PPR RB23, RB21, RB11, RB30, RB9 and most recently RB37 finishes in this role. The Ravens have been content enough with Freeman to feed the veteran at least 14 combined carries and targets in four consecutive games; he's carved out solid enough borderline RB2 standing in fantasy land the rest of the way.
Of course, it's Lamar Jackson's world and we're all just living in it. Having to share a backfield with the most run-heavy quarterback in NFL history will always present some volume problems for the involved running backs. The position's single-season record holders in terms of raw rush attempts:
2021 Jackson (on pace for 197 rush attempts)

2019 Jackson (176)

2021

Jalen Hurts

(on pace for 174 rush attempts)

2020 Jackson (159)

2018 Jackson (147)
Up next is a Steelers defense that has been rather thrashed in three consecutive weeks by D'Andre Swift (PPR RB15), Austin Ekeler (RB2) and Joe Mixon (RB2). Fire up Freeman with confidence, while Murray is nothing more than a bench stash/desperation FLEX.
Just one more personal note: Check out my Week 13 Backfield Report for more specific information on the league's ever-evolving running back stables.
More running backs expected to have a little thing called success: The Colts, Buccaneers, Bills and Broncos also stand out as groups that should see more open lanes than usual this week. Of course, a little thing called usage can take a good matchup from "cool" to "borderline erotic" in a hurry. That latter is more fitting for the Bucs' undisputed No. 1 back.
Lombardi Lenny is a mythical figure at this point: Leonard Fournette has posted 203-921-10 rushing and 69-502-2 receiving lines in his last 15 games including the 2020-2021 playoffs. He's the RB10 in PPR points per game this season, but the RB4 in expected PPR points per game. This is largely thanks to one of the most robust receiving roles in the league: Fournette (51 receptions) joins D'Andre Swift (56), Najee Harris (52) and Austin Ekeler (51) as the only backs to catch at least 50 passes this season.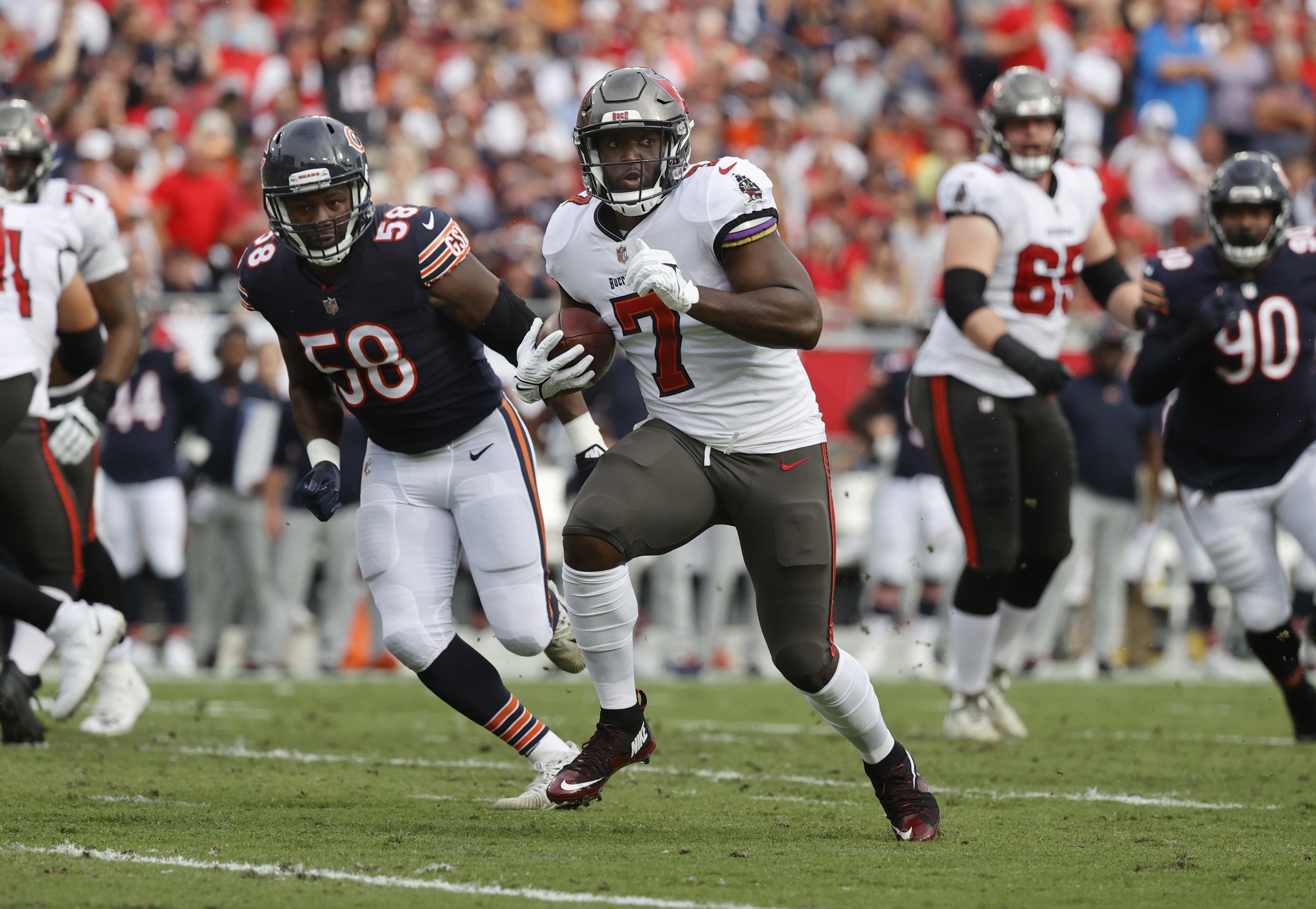 Don't even consider taking Fournette out of your starting lineup for the rest of 2021; his fantasy-friendly three-down role inside of the league's top-ranked scoring offense is the definition of matchup-proof treatment. Neither RoJo nor Gio offer standalone value; they don't need to be stashed on the bench by any stretch of the imagination.
Free Javonte: The Broncos' stud rookie back has now out-snapped Melvin Gordon in back-to-back games, although clearly this fairly evenly-split committee isn't going anywhere.
There's nothing wrong with Gordon; it'd just be nice to see Javonte Williams get truly featured considering how damn good the rookie has been all year long. Don't believe me? Watch the film.
Free Javonte Williams pic.twitter.com/Pa4ZMhuenY

— Ian Hartitz (@Ihartitz) November 30, 2021
Ultimately, Gordon has finished inside fantasy's top-30 backs in six straight games, while Williams has accomplished that task in five of his last seven games. Both players are weekly high-end RB3 options who would each vault into RB1 territory with the backfield all to themself. This holds true ahead of Sunday night's matchup against the Chiefs' 28th-ranked defense in yards before contact per carry.
Gotta love a good run game scheme: Only five offenses are averaging at least 1.8 yards before contact per carry: Chiefs (2.12), Eagles (2.08), Ravens (2.01), Lions (1.88) and the Bills (1.82). Call me crazy, but having a mobile quarterback might just help matters.
Best Steven Tyler voice: Run away, run away from the pain yeah, yeah, yeah, yeah, yeah: The Falcons, Steelers and 49ers look like the most screwed offenses in terms of expected success on the ground before contact. Note that the latter squad ranks second in rushing yards gained after contact per carry, but 29th when looking at success before contact. Either way: Elijah Mitchell is locked in as a fantasy RB1 thanks to his potential to reach 30-plus touches during any given week.
Passing Game
Some pass offenses are obviously more efficient than others, while certain secondaries are seemingly capable of shutting down any aerial attack. We can determine the week's biggest mismatches in the passing game using each offense and defense's pass yards per dropback.
Combined Passing Yards Per Dropback

: The sum of an offense's passing yards per dropback and the opposing defense's passing yards allowed per dropback. A higher number (blue) is good for quarterbacks and receivers, while a lower number (red) indicates that matchup's pass offense could be in trouble.
Free Javonte Williams pic.twitter.com/Pa4ZMhuenY

— Ian Hartitz (@Ihartitz) November 30, 2021
The government calls it a passing league for a reason: Matthew Stafford, Derek Carr, Kyler Murray and Kirk Cousins stand out as the week's top-four quarterbacks in expected success through the air. The 49ers, Cowboys, Buccaneers and Bengals also stand out as passing attacks that should have plenty of success throwing the damn ball. By the way: throw the damn ball.
Turns out that one rookie that was really good last year is still really good:  Deebo Samuel (groin) is expected to miss one to two weeks. This opens the door for Brandon Aiyuk to keep on keeping on. The talented second-year receiver has had quite the two halves of the 2021 season so far:
Weeks 1-7: 9 receptions-96 yards-1 TD, PPR WR94

Weeks 8-12: 23-336-2, WR14
Expect even more consistent targets as well as a potential rush attempt or two with Samuel sidelined; Aiyuk warrants upside WR2 treatment in this winnable spot against a defense he torched to the tune of an 8-91-1 performance a season ago. I would start Aiyuk ahead of notable names like Amari Cooper, Brandin Cooks and Michael Pittman this week.
Otherwise: meh. Credit to Jimmy Garoppolo for functioning as PFF's highest graded quarterback since the 49ers' Week 7 bye, but after Aiyuk and George Kittle it's tough to see any single receiver getting too many targets. Jimmy G has thrown 30 or fewer passes in all but two games this season and might not need to keep his foot on the gas against a Seahawks defense that has been pushed around by A.J. Dillon (128 total yards, 2 TD), James Conner (99 total yards, 1 TD) and Antonio Gibson (146 total yards) over the past three weeks.
60% of the time, Tom Brady works every time against the Falcons: Antonio Brown (ankle) is expected to miss at least two more weeks. It's still awfully tough to expect Brady to cool off against the Buccaneers' NFC South rival. He's been nothing short of God-like in three matchups vs. the Falcons since taking his talents to Tampa Bay:
2020, Week 15: 31/45, 390 yards, 2 TD, 0 INT, fantasy QB11

2020, Week 17: 26/41, 399 yards, 4 TD, 1 INT, QB2

2021, Week 2: 24/36, 276 yards, 5 TD, 0 INT, QB3
This secondary isn't atrocious by any stretch: Only the Cowboys have thrown for more than 300 yards against them, and No. 1 CB A.J. Terrell is PFF's third-highest graded player at his position this season.
And yet, it's impossible to treat Mike Evans or Chris Godwin as anything other than must-start WR1s in fantasy land as long as Brown is sidelined. Even then they'd only drop down into upside WR2 territory at worst; it's just a shame there's only one ball to go around inside of the league's No. 1 ranked scoring offense.
This latter point holds true for Rob Gronkowski as well. He's posted 8-90-2, 4-39-2, 6-71-0 and 7-123-0 receiving lines in his only four healthy games this season. The film matches the analytics: Gronk is functioning at his most efficient level in years:
2021: 2.44 yards per route run

2020: 1.54

2018: 1.69

2017: 2.4

2016: 2.98

2015: 2.23

2014: 2.4

2013: 2.74

2012: 2.35

2011: 2.41

2010: 1.97
He comes in as my TE4 on the week behind only Travis Kelce, Mark Andrews and George Kittle. 
These passing games might be a bit rough n' rowdy: The Bears, Jaguars and Dolphins look like the bottom-three offenses this week in terms of expected aerial success. The Football Team, Falcons and Patriots don't look to be in especially great spots either; luckily sometimes wide receivers are good enough to just win anyway.
You hear that? Bears. Now you're putting the whole team in jeopardy: Justin Fields (ribs) returned to practice Wednesday and tentatively appears to be in line to start this Sunday. The status of Allen Robinson (hamstring) is more unclear; it'd be tough to expect much from A-Rob with a snap count and/or re-aggravation on the table.
The only viable wide receiver in this Chicago passing game is Darnell Mooney, who has posted 5-45-1, 2-39-0, 6-64-0, 3-41-1, 5-121-1 and 5-123-0 receiving lines in his past six games. Volume is a helluva drug, and PFF fantasy projections have Mooney in line for the week's 14th-most targets.
This week's matchup against the Cardinals' eighth-ranked defense in PPR points per game against wide receivers isn't quite as cozy as Thanksgiving's date against the Lions; just realize Mooney has the sort of established no-doubt No. 1 pass-game option role that makes him a tough sit in fantasy land. He's my WR17 on the week ahead of guys like Tee Higgins, Amari Cooper and Brandin Cooks..
Contrary to popular belief, Scary Terry sometimes actually isn't that scary: It's almost a shame to see Terry McLaurin at the top of every contested-catch metric. He's a far better route-runner than that might indicate; the larger problem has been the erratic nature of the Taylor Heinicke experienced. Some weeks McLaurin posts the sort of elite production that is expected from a player of his abilities, other times the Football Team's passing game flounders bad enough to render one of the position's smoothest talents nearly obsolete.
Week 1: PPR WR56

Week 2: WR3

Week 3: WR45

Week 4: WR4

Week 5: WR50

Week 6: WR60

Week 7: WR5

Week 8: WR62

Week 10: WR33

Week 11: WR9

Week 12: WR43
Expecting McLaurin to boom against Casey Hayward (PFF's 23rd-ranked cornerback in coverage) or Nate Hobbs (No. 13) might be wishful thinking; here's to hoping he gets to line up against Brandon Facyson for at least a handful of snaps, as the former Chargers backup has graded out as PFF's single-worst cornerback in coverage among 122 qualified corners.
Continue to roll with the punches and get McLaurin into that starting lineup; he's my WR14 on the week ahead of guys like Tyler Lockett, Brandon Aiyuk and Tee Higgins.
Not so fast my friend: Offenses that haven't averaged even 6.0 pass yards per dropback this season: Jaguars (5.4), Bears (5.5), Panthers (5.6), Lions (5.6), Texans (5.8), Dolphins (5.8), Eagles (5.8), Steelers (5.9) and Saints (5.9). Come on guys. It's 2021. Be better. Especially you, Ben Roethlisberger.
You can't spell "Big Ben is washed" without "Big Ben": Chase Claypool and Pat Freiermuth good enough to come down with one or two of Ben's hospital balls per week, but it's just so tough to expect anyone other than Diontae Johnson and Najee Harris to post consistent high-end fantasy production. Pick any passing metric you want: Big Ben finds himself near the bottom of the league in it.
PFF passing grade: 56.9 (No. 36 among 38 qualified quarterbacks)

Big-time throw rate: 3.6% (No. 24)

Turnover-worthy play rate: 4.6% (No. 35)

Yards per attempt: 6.6 (No. 31)

Adjusted completion rate: 73.3% (No. 28)
To summarize: Roethlisberger has been inaccurate while not making many "elite" throws and racking up bad decisions. Other than that, he's been great.
Luckily Johnson just keeps on keeping on. He has finished as a top-24 PPR wide receiver in every single game since Week 1. He's tied with Stefon Diggs as the WR7 in PPR points per game after 12 weeks of action; fire up Johnson as an upside WR2 at the absolute worst against a Ravens secondary that didn't exactly slow down the likes of Jarvis Landry (6-111-0), Darnell Mooney (5-121-1), Marquise Goodwin (4-104-1) and Justin Jefferson (3-69-1, on 5 targets) over the past month.
Dope secondaries always have the best nicknames: The Bills, Patriots, Cardinals, Panthers, Buccaneers, Raiders and Packers are the only seven defenses to allow fewer than six pass yards per dropback. In 2021. In this economy. Madness.
EPA
Points are ultimately what wins football games. We can measure the expected points of every play on offense and defense by considering the down, distance and field position before factoring in the result. Estimated points added (EPA) is thus the value of a play that takes context into account and thereby better measures efficiency at the play level.
Combined EPA

: The sum of an offense's EPA/play and their opposing defense's EPA/play allowed. A higher number (blue) is good for offenses, while a lower number (red) indicates that offense could be in trouble.
Mismatch Manifesto Week 13: combined EPA per play

Sum of EPA/play of matchup's offense and defense to see biggest potential overall mismatches

High numbers indicate efficient offense vs. inefficient defense (blue), lower numbers are bad for o (red)

Data from 2021, PFF pic.twitter.com/1VW5v9dV9P

— Ian Hartitz (@Ihartitz) December 1, 2021
Blowout alert: The clear top-five matchups in terms of one offense likely having a huge relative advantage over their opponent: Bucs over Falcons, Cardinals over Bears, Eagles over Jets, Colts over Texans and Vikings over Texans. Don't you love when numbers make sense?
Over alert: The highest combined matchups in expected offensive success: Broncos-Chiefs, Football Team-Raiders, Chargers-Bengals and Jaguars-Rams. I'm not saying parlaying four overs is the best idea, but I'm also not saying that it wouldn't be fun.
Under alert: Patriots-Bills, Giants-Dolphins and Cardinals-Bears stand out as the week's three matchups that could feature the most overall offensive futility. Honestly the former matchup just depends on which version of Josh Allen shows up. Allen continues to do his best Jameis Winston impression by either completely crushing it, or struggling mightily, with seemingly nothing in between:
Week 1: 72.6 PFF passing grade (No. 16 among quarterbacks with 10-plus dropbacks)

Week 2: 45.4 (No. 30)

Week 3: 85.5 (No. 3)

Week 4: 62.5 (No. 24)

Week 5: 92.8 (No. 1)

Week 6: 81.3 (No. 7)

Week 7: Bye

Week 8: 72.3 (No. 10)

Week 9: 50.8 (No. 24)

Week 10: 86.4 (No. 2)

Week 11: 40.5 (No. 31)

Week 12: 81.5 (No. 3)
Upset alert: The Broncos (+9.5) stand out as the only team expected to have a relative offensive advantage yet are underdogs. Note that the Chiefs offense has scored more than 20 points on exactly one occasion since Week 6. Just saying. Something to keep in mind.