With no preseason, fantasy football prognosticators had less sense of how playing time would be distributed for running backs and wide receivers than any other season. Now that Week 1 for most teams is in the books, we have a much better sense of how players will be used based on this week's action.
Here we'll examine how Week 1 played out for skill players on the Sunday slate and what to expect from those situations going forward. In some cases, game situations dictated how players were and will be used. But there are also situations where a player's unexpectedly larger or small role can be a sign for things to come. This is going to be especially important to monitor early on as we consider waiver wire targets and rookie situations. 
Zack Moss' fantasy value continually increased as the offseason went on to the detriment of Devin Singletary's, which made made the Bills RB situation interesting going into the game. The two split the rushing attempts with Singletary playing better on the runs — he ran for three first downs to none by Moss. Singletary ran more pass routes and had more targets, but Moss was the one to end up with a touchdown. Singletary can be expected to have better fantasy performances in the near future. It wouldn't be surprising if Moss eventually overtakes Singletary's playing time.
The Jets' running back situation was also heavily debated going into the game. Le'Veon Bell dominating playing time in the first half, making it clear that the Jets backfield was his. But he left with an injury early in the second half, and Frank Gore and Josh Adams split playing time from there with Gore as the primary runner and Adams as the primary receiver.
If Bell were to miss any playing time, both Gore and Adams are worthy free agents additions. With an upcoming game against the 49ers, I would expect the Jets to plan to throw a lot, which makes Adams a more attractive option despite the Gore revenge game narrative.
First-half RB snap %
| | |
| --- | --- |
| Le'Veon Bell | 93.1% |
| Frank Gore | 6.9% |
The Jets wide receivers and tight ends were very predictable. Jamison Crowder led the team with 12 targets. Chris Herndon was only in for 22 of a possible 41 pass plays but saw eight targets. He's clearly a major part of the offense, although his target share will decrease as the playing time increases. 
Waiver Wire Targets: RB Josh Adams
Josh Jacobs was another hotly debated player during the offseason as fantasy drafters wondered whether he would see more targets in Year 2. Having earned PFF's second-highest run grade (86.9), any additional targets could push the former first-rounder into another tier at RB. The Raiders traded Lynn Bowden Jr. and cut Theo Riddick on cut down day, which eased some of the concerns. This game should ease the rest of them.
Jacobs saw 76.6% of the playing time and 49 snaps were more than any game he played in last season. He and Devontae Booker were both involved in the passing game, though Booker saw targets on all three of his pass routes while Jacobs was targeted on five of his 18. Those target shares will go in opposite directions moving forward. Jacobs is one of the few every-down backs in the league, and fantasy owners should be very happy they drafted him. 
Bryan Edwards and Henry Ruggs III led the Raiders in playing time, as expected, with Hunter Renfrow not far behind. Darren Waller fans shouldn't need to worry about the depth the Raiders have at tight end. Waller had 29 snaps to just one for Foster Moreau in 11 personnel. Jason Witten saw nearly all of his playing time in two tight end sets.
For Carolina, the biggest question coming into the game was how the wide receivers would be used. D.J. Moore, Robby Anderson and Curtis Samuel all played between 50 and 60 snaps. There wasn't much difference between who was used in running situations vs. passing.
Waiver Wire Targets: None
The Washington running back situation was a hot topic over the last month. J.D. McKissic and Peyton Barber ended up leading the team with 30 snaps each, although Barber was clearly the primary ball-carrier for the team and J.D. McKissic the receiving back. Rookie Antonio Gibson had the second-most snaps in each area but only played 23.1% of snaps.
It might take some time to get value from Gibson. He's a good player to target in trades since this is probably the lowest his value will be the rest of the season. While Barber and McKissic played a lot, neither were all that effective. McKissic had one catch for one yard on five targets. Barber averaged under 2.0 yards per carry.
While Barber was ineffective rushing, any running back who sees 15 or more carries in a game needs to be rostered. Against a better matchup, he should be more effective. He might not be worth rostering as the season progresses, but he could have value in the short-term.
Veteran Logan Thomas ended up winning the starting tight end job and playing in 52 of a possible 70 snaps. He led the team with eight targets, catching four and a touchdown. One decent game isn't enough to feel comfortable starting him, but he's worth a flier to see if his target share continues to be high.
Boston Scott had both the most rushes and pass routes among the Philadelphia running backs over three quarters but left the game in the fourth. Scott would be the clear starter again if he's healthy and Miles Sanders is not. That's obviously valuable, but he's back to handcuff duty whenever Sanders returns.
Jalen Reagor led all of the Eagles wide receivers in playing time, which is a good way for him to start his career even though he only had one catch. It's noteworthy that Zach Ertz only ran two more pass routes than Dallas Goedert — and Goedert had more targets, more than twice as many catches and significantly more yards. Ertz might be a player to sell before Goedert becomes the No. 1 tight end in Philadelphia.
Eagles HB snap percentage in first three quarters
| | |
| --- | --- |
| Boston Scott | 63.5% |
| Corey Clement | 34.6% |
| Jason Huntley | 1.9% |
Waiver Wire Targets: RB Peyton Barber, TE Logan Thomas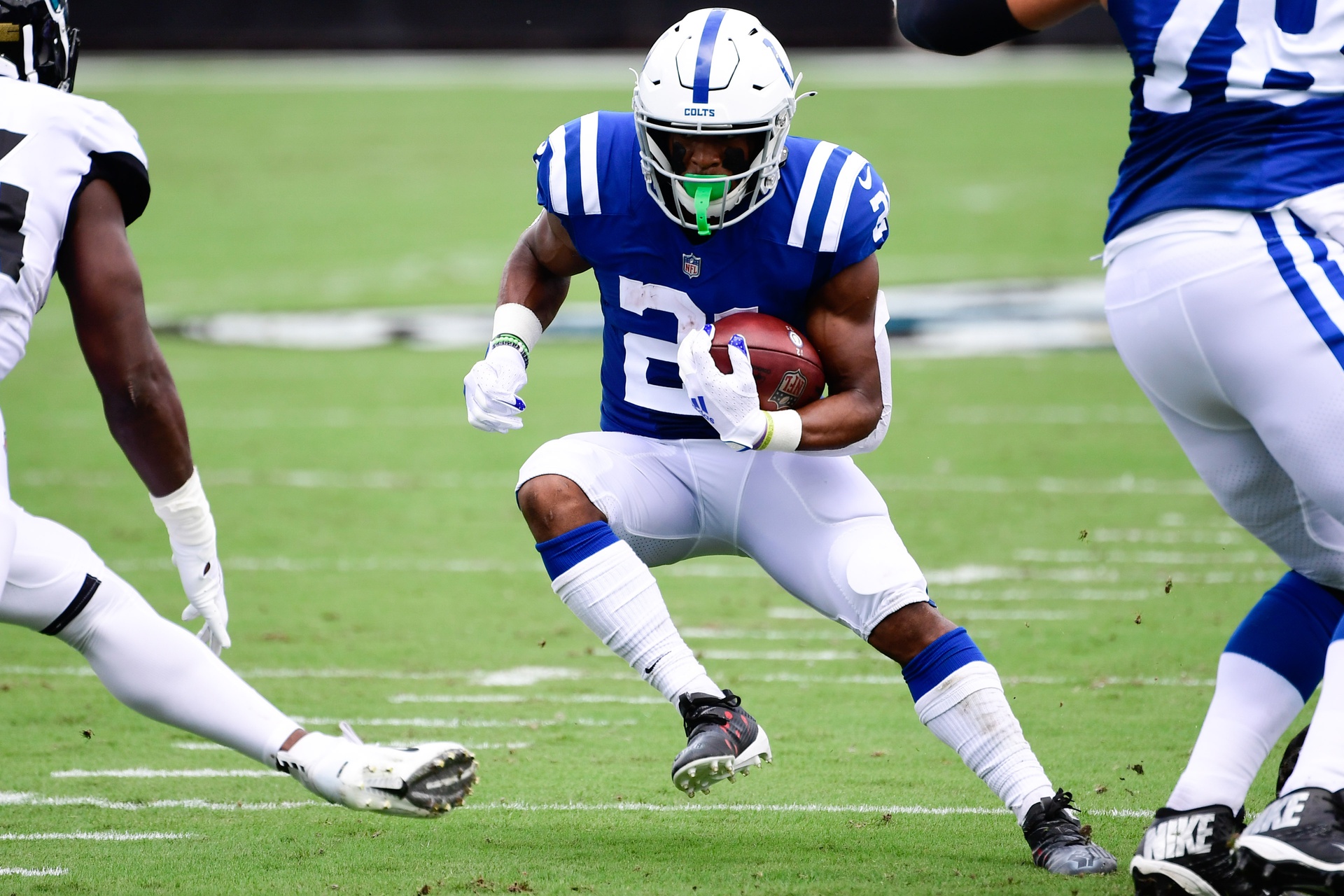 It wasn't a surprise that James Robinson was Jacksonville's primary runner, but few expected the undrafted rookie to be the only running back on the team to receive a carry. He also only ran only one less pass route than Chris Thompson. While plenty of people knew he should be rostered coming into this game, he is still available in far too many leagues. He's going to be worth starting at least the next two weeks with Devine Ozigbo and Ryquell Armstead on injured reserve. By then, he might have already played well enough to keep the running back job.
The Colts running back situation was also a bit of a mystery coming into Week 1. Nyheim Hines and Marlon Mack split playing time in the first quarter without Jonathan Taylor seeing the field. In the second quarter, Mack suffered what is feared to be a torn achilles. Taylor and Nyheim Hines split playing time in the second half.
As expected, Taylor was the primary runner with Mack out, and he was targeted on five of his nine pass routes in the second half. Taylor and Hines will continue to split the playing time relatively evenly for as long as Mack is out. If there are games where the Colts can build a lead, it will be Taylor who takes over as the clock-killer. 
Colts wide receiver Parris Campbell had a disappointing rookie season in 2019 and saw his stock plummet with the drafting of Michael Pittman Jr. Campbell ended up leading the Colts wide receivers in playing time and tied for the lead in targets. The Colts will need to throw a lot this season — if Campbell is a favorite target of Philip Rivers, then he needs to be owned in all leagues.
Waiver Wire Targets: RB James Robinson, RB Nyheim Hines, WR Parris Campbell
Matt Breida and Jordan Howard led the Dolphins running back debate all offseason, but Myles Gaskin ended up playing in 59.1% of Miami's offensive snaps. The 2019 seventh-round pick narrowly led the team in carries while having a large lead in pass routes. Jordan Howard had all three carries within the 5-yard line.
Any running back who leads their team in both carries and pass routes as a needs to be on a roster. Gaskin is the one getting the opportunities, and opportunity is king. He's the biggest name to add on waiver wires from the Sunday games.
Mike Gesicki was considered a popular sleeper option at tight end this offseason. There was cause for concern early in the week, as he was listed second on the team's depth chart. He ended up with 45 snaps while no other Dolphins tight end had more than 15. He had five targets on 27 pass routes — the depth chart shouldn't be a cause for concern for him any longer.
The Patriots backfield looked very similar as it did last year when everyone was healthy. Each running back had a role and no one saw more than 20 snaps. Even fourth-string back J.J. Taylor managed eight snaps. Anytime there's a four-man running back by committee, it's probably not worth starting any of the backs.
Julian Edelman is no longer playing in the Patriots base offense, and both Damiere Byrd and N'Keal Harry ended up with significantly more snaps than Edelman, although they all had roughly the same amount of pass routes. He ended up being targeted on seven of 20 pass routes, which is a higher rate than he can sustain, so this reduced role should be cause for concern for Edelman owners.
Patriots wide receiver snaps by category
| | | | |
| --- | --- | --- | --- |
| Player | Overall | Pass Snaps | Run Snaps |
| Damiere Byrd | 56 | 21 | 35 |
| N'Keal Harry | 51 | 20 | 31 |
| Julian Edelman | 37 | 20 | 17 |
| Jakobi Meyers | 7 | 2 | 5 |
Waiver Wire Targets: RB Myles Gaskin
The most interesting situation for Seattle heading into Week 1 was at tight end, where the team added high-priced free agent Greg Olsen to go along with Will Dissly, who was having a career year in 2019 before suffering a season-ending injury. Olsen ended up leading the team in playing time and, more importantly, had a dominating lead in routes run with 24 to Dissly's nine. Dissly can probably be dropped after being used more as a blocker than a receiver, while Olsen should be added as a backup tight end. He only saw four targets but caught them all including a touchdown.
Chris Carson owners have reason to be concerned despite the big fantasy performance — he only played 28 snaps after topping that in 14 of 15 games in 2019. Two touchdown receptions saved his fantasy day, but free agent addition Carlos Hyde ended up with more carries than him. Last year's sixth-round pick Travis Homer even carved out a role in the offense with 13 snaps. Both Hyde and Homer had carries within the 5-yard like and Carson had none. It's worth seeing what you can get for Carson in a trade coming off this performance.
There were few surprises for Atlanta. Newcomers showed up, as Todd Gurley II dominated the team's carries and tight end Hayden Hurst dominated the team's pass routes.
Russell Gage's usage was the biggest surprise for the offense. He was the third wide receiver for Atlanta last year after the Mohamed Sanu trade and had been drafted in fantasy leagues at times as insurance against Julio Jones and Calvin Ridley.
He showed in Week 1 that he doesn't need something to happen to one of those two for him to have value. All three had nine catches on 12 targets for over 100 yards. If Gage is playing this well and can see 12 targets in a game, he needs to be picked up off waivers if he's available. It is worth noting that some of Gage's targets and yards came in garbage time, but he was seeing close to equal playing time and had more targets than Ridley before that point.
Waiver Wire Targets: TE Greg Olsen, WR Russell Gage
The Bears were mocked for the number of tight ends they rostered throughout the offseason. With 31 routes run, Jimmy Graham proved to be the only receiving option out of the group. Cole Kmet was second for the tight ends on the team at eight. Graham caught three of six targets including a touchdown — those six targets were tied for second-most on the team. He was a borderline backup tight end during fantasy drafts, but he's worthy of being on rosters in most leagues as a backup tight end since it's his job at the moment. 
Outside of Allen Robinson II, the Bears wide receivers look to be a group to avoid. Ted Ginn Jr., Anthony Miller, Javon Wims and Darnell Mooney all played between 21 and 28 snaps. Miller saw a lot of of targets considering the limited routes he ran, but if he's not on the field more then it's hard to rely on him for fantasy purposes. 
The Lions running back situation became a little more clear, as each back seemed to have a specific role. Adrian Peterson was the clear lead back in rushing situations, with D'Andre Swift leading pass-catching duties. Kerryon Johnson took a backset in both facets. Peterson seems to already have control of the early-down role and needs to be added where he's available.
Lions RB usage by situation
| | | | |
| --- | --- | --- | --- |
| Name | Total Snaps | Run | Pass |
| D'Andre Swift | 34 | 5 | 29 |
| Adrian Peterson | 24 | 15 | 9 |
| Kerryon Johnson | 20 | 7 | 13 |
Waiver Wire Targets: RB Adrian Peterson, TE Jimmy Graham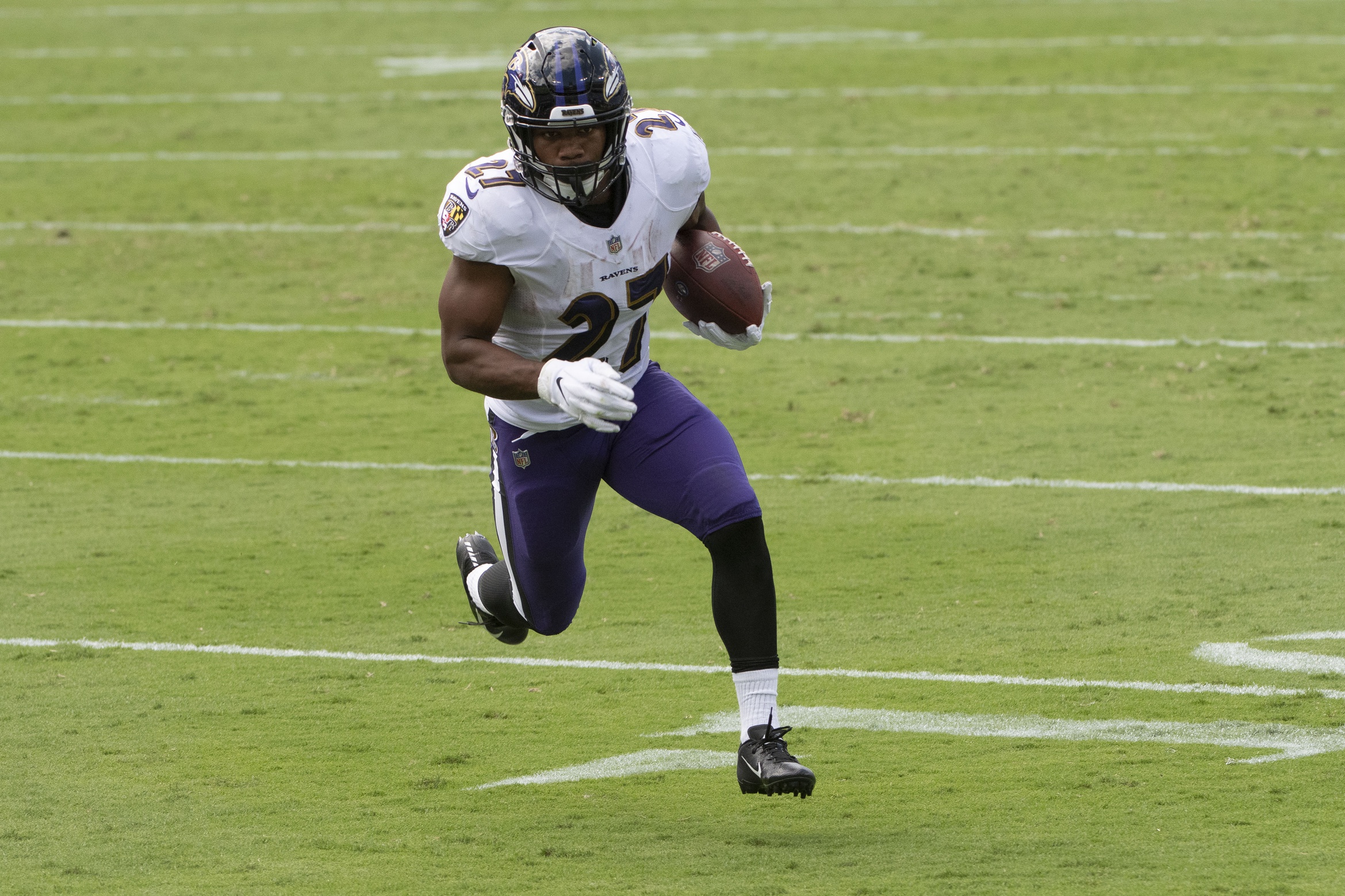 The Ravens were another team that added a talented rookie back likely to push for playing time sooner than later. Mark Ingram II led the team in carries Week1, and J.K. Dobbins was used the most in passing situations even though he was only asked to pass block on one of 16 pass plays. Gus Edwards was asked to pass block more often than not while he was on the field.
Dobbins is already the running back to own among here. None of the three running backs saw any targets, and that's bound to change. Dobbins also took both goal line carries for touchdowns. Obviously, Dobbins isn't going to punch in two touchdowns every game, but his volume is sure to rise moving forward. This won't be Ingram's typical output, either, but the the lack of receiving potential or goal line works makes it harder to trust him.
Mark Andrews had 42 total snaps, leading the Ravens tight ends. This was just the third regular season game he has played in 42 or more. He caught five of six targets for 58 yards and two touchdowns. His playing time was expected to increase after the departure of Hayden Hurst, and we saw that his efficiency might not fall off very much with more usage — that's huge for his owners. 
David Njoku might be a popular waiver wire addition at tight end after racking up 50 yards and a touchdown, but he shouldn't be. He only ran 10 routes, which was third-most for the Browns tight ends. Hooper led the way but had a very low target rate. That should bounce back, while Njoku's will regress to the mean.
Odell Beckham Jr. and Jarvis Landry are clearly the top two wide receivers in Cleveland, but it's worth noting that KhaDarel Hodge was the clear number three receiver. He had 26 routes to Rashard Higgins' nine. At this point, neither of those two need to be rostered, but it's worth noting in case Beckham or Landry are injured at any point.
The Browns running back situation was also a bit of a surprise, as Nick Chubb ended up running more pass routes than Kareem Hunt. Last season, Chubb had roughly three times the carries as Hunt once the latter was activated, while Hunt ran more routes. Their playing time on Sunday was about as even as it could get.
Waiver Wire Targets: None
Rookie Justin Jefferson played the second-most snaps at wide receiver with 36. Olabisi Johnson wasn't far behind at 33. Until one of these guys wins the job, neither is worth starting.
Although this is Dalvin Cook's backfield, Alexander Mattison played a little too much for comfort for Cook owners. Cook played in 30 snaps after averaging 43 snaps per game in 2019. Cook still had more carries and ran more pass routes, but he might not dominate the playing time as much as he has in the past.
Kyle Rudolph and Irv Smith Jr. basically split playing time, which is something we saw last year as well. Smith had slightly more pass routes, but Rudolph had more targets. If one of them were to ever get hurt, the other could be a borderline TE1. Until then, both are stuck at being low-end TE2s/high-end TE 3s.
In Green Bay, only three wide receivers saw playing time. Marquez Valdes-Scantling tied for the second-most targets at six and caught four passes for 96 yards and a touchdown. His stock is up, as last year he had to compete with Geronimo Allison and Jake Kumerow for playing time. 
A.J. Dillon only played in five offensive snaps in his rookie debut. This is good news for Aaron Jones owners. Jones had more than twice as many carries as the rest of the Packers running backs and led the backfield in targets. He had three of the four carries within the 5-yard line. He's still sharing some playing time with Jamaal Williams like he did most of last year, but there's enough volume here for him to continue to function as a safe RB1. 
Waiver Wire Targets: WR Marquez Valdes-Scantling
Austin Ekeler had 50 total snaps at running back — that was more than any Chargers back had in any game in 2019. Joshua Kelley saw some snaps as the second rusher, and Justin Jackson also came in for some passing downs, but Ekeler owners should be happy with the playing time he saw. It only led to one target and no touchdowns, but those are both things that should change in future weeks.
The biggest area of future concern for Ekeler is goal line work, as Kelley had both of the carries within the 5-yard line and punched in a TD. Either way, it's worth checking in with all Ekeler owners to see if they'll sell low after a disappointing box score. 
The Chargers' top receiving options saw the same roles as last year. Keenan Allen, Mike Williams and Hunter Henry all saw the vast majority of snaps. Jalen Guyton was the clear third wide receiver for Los Angeles — he had 46 snaps and the next-closest wide receiver was K.J. Hill at 12.
John Ross ended up leading the Bengals skill players in offensive snaps. With the return of A.J. Green and drafting of Tee Higgins, it was expected that Ross' snaps would take a hit. He saw five targets, although they only led to two catches. He has improved every year of his career and is seeing the most snaps, which could lead to more targets as the year goes on.
The Bengals running back situation went largely as expected. Joe Mixon saw 19 of the Bengals 20 carries from running backs, although only managed 69 yards and no touchdowns. Cincinnati ended up passing a lot more than rushing. Mixon ended up with more pass routes than Giovani Bernard, partly because the Bengals didn't have many third downs. Still, Mixon only had one catch on two targets for two yards. 
Waiver Wire Targets: John Ross
Tampa Bay's running back situation was one of the biggest fantasy stories over the last month. Bruce Arians said that Ronald Jones would be the main back with LeSean McCoy mixing in on pass downs, and that's exactly what happened in this game.
Jones played 60% of first down snaps while McCoy played nearly 70% on third downs. Leonard Fournette played the third-most snaps for the team, all of which came on first and second downs.
The Buccaneers tight end usage was particularly unique. Rob Gronkowski is known for his receiving, but over his career he's been an elite blocking tight end as well. Gronkowski had 50 snaps to 34 for O.J. Howard, but the big difference there was their blocking snaps. Gronkowski only had two more pass routes than Howard. This helped Howard see second-most targets, which resulted in four receptions and a touchdown.
Howard could have more big games against easier defenses. He probably can't be trusted to start at this point, but he's worth a pickup in case he does become the top receiving tight end option for the Buccaneers.
The most interesting part of the Saints offense was at wide receiver. Tre'Quan Smith had 43 offensive snaps to Emmanuel Sanders' 31. Like the Buccaneers tight ends, this was largely due to blocking. Smith only ran two more routes than Sanders, but Smith was asked to block 10 more times. Because of his role and the rotation at the position, Sanders only played 23 of 34 pass plays. He still saw four targets, but he'll need to increase his playing time to reach his true potential.
Waiver Wire Targets: TE O.J. Howard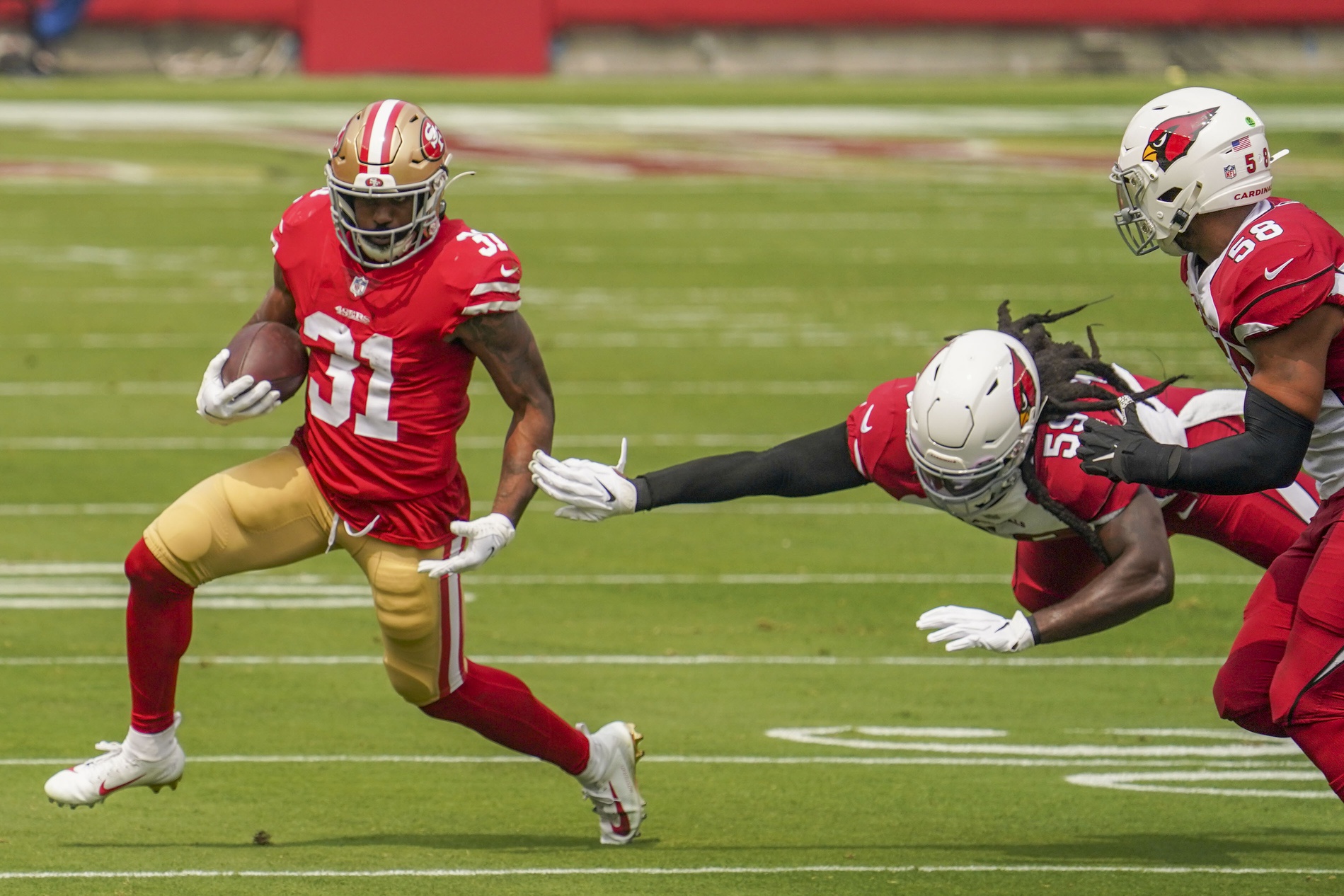 For only the third time in his career, DeAndre Hopkins saw 16 targets — that's fairly remarkable for his first game with a new quarterback. Hopkins was already drafted highly and Hopkins owners probably won't trade him, but it's worth noting how much potential Hopkins has to be the top fantasy wide receiver this season.
His target share does hurt Christian Kirk even more than expected. On 45 pass routes, he only saw four targets, bringing in only one for zero yards. He won't be startable until something changes dramatically in the Arizona pecking order. 
Deebo Samuel and Brandon Aiyuk were expected to be the top two wide receivers for the 49ers this season but both were missing from this game with injuries. The 49ers wide receivers were led by Kendrick Bourne and Dante Pettis, with Trent Taylor coming in for the rare three-wide-receiver set. The wide receiver group had a combined 43 receiving yards, with most of them coming from Bourne. This group can be avoided fantasy leagues until their early draft picks from the last two seasons return.
Raheem Mostert owners should be celebrating his usage even if 49ers fans aren't celebrating today. His 37 snaps today marked a total he only hit two times last season. That could partly be due to Tevin Coleman barely playing after reports suggested he might not play at all due to the air quality.
Mostert's playing time came completely on first and second downs, where he played 75% of the snaps. Jerick McKinnon had all but one of the third-down snaps among the running backs. We'll need to see what the 49ers look like at full health before pushing all our chips in on Mostert, but today's usage was certainly a good sign. 
Waiver Wire Targets: None
Darrell Henderson was on the injury report with a hamstring injury, so tonight was set up for Cam Akers to impress. Instead, it was Malcolm Brown who had a huge night. Brown and Akers partially rotated, but Brown saw a ton of high-leverage work. 
Brown played 16 third-down snaps compared to one each by Akers and Henderson. He also saw both carries inside the 5-yard line and punched both in for scores. In all other situations, Brown played in slightly over half of the snaps. It's hard to start a back like Akers when he's not seeing third-down or goal-line situations. The rookie could end up carving our more first- and second-down snaps, but the situation will be more complicated once Henderson is fully healthy. 
Malcolm Brown, on the other hand, is sure to be one of the biggest waiver wire additions of the week. He might not be a fantasy starter for too many weeks, but as long as it's his job he should be started in most formats.
The roles of Robert Woods and Cooper Kupp weren't in question coming into the game, but there was some question as to who would be the third wide receiver for L.A. The Rams rotated by drive, with veteran Josh Reynolds starting the game and playing the first drive with rookie Van Jefferson in on the second drive.
This resulted in fewer pass routes for Jefferson, but he ended up with more receiving yards. It wouldn't be surprising to see the second-rounder seize the role at some point in the season. One of these two receivers was used instead of Cooper Kupp in most two wide receiver sets. If Jefferson wins the job at some point in the season, he could end up out-snapping Kupp. Jefferson is worth a stash if you're looking for a WR to gamble on. 
Cowboys tight end Blake Jarwin suffered what is believed to be a torn ACL, which would cost him the season. He had 15 pass routes in the first half compared to three for Dalton Schultz.
Schultz is a former fourth-round pick who saw only 20 targets over the last two years for 14 catches and 142 yards, while seeing the field for 300 run blocking snaps. He's not someone to chase — the Cowboys will surely be looking for another receiving tight end to bring in. 
CeeDee Lamb made his NFL debut and predictably played behind Michael Gallup and Amari Cooper but saw plenty of snaps in three-WR sets. In fact, he tied for the most snaps among Cowboys wide receivers in 11 personnel, with Noah Brown and Cedrick Wilson occasionally giving Gallup and Cooper a break.
Waiver Wire Targets: RB Malcolm Brown, WR Van Jefferson