The overwhelming majority of fantasy and real-life football analysis attempt to predict the future in the most accurate manner possible. That's great and makes sense, but today we're going to do something slightly different: break down one fantasy football-related wish for every team ahead of the 2020 season.
Subscribe to PFF's EDGE or ELITE subscriptions to get access to the following tools, charts, etc. 
– All Premium Article Content
– Fantasy Football Rankings & Projections
– Fantasy Football Draft Guide, Cheat Sheets & Advanced Stats
– Fantasy Football Mock Draft Tool (DraftMaster)
– Fantasy Football Strength of Schedule Matrix
– NFL Player Grades
– NFL Premium Stats
This is not a list of things that I necessarily believe will happen; it's an exercise to highlight some of the best-case scenarios for some of the league's top players as well as my own personal favorites. We do this all the time. There's nothing sweeter than drafting a boom-or-bust WR in Round 7 before mercilessly mocking all your friends about his ceiling while ignoring the painfully low floor.
This will be as realistic as possible. Obviously, anyone's first real wish if a genie emerged would be "no injuries," so we'll go ahead and make that a baseline and ineligible for this breakdown.
Without further ado: My 32 fantasy football wishes for the 2020 NFL season.
Murray finished his rookie season as fantasy's QB8 overall and QB12 in fantasy points per game. This was great! He joined Cam Newton, Andrew Luck, Robert Griffin III, Dak Prescott and Russell Wilson as the only rookie QBs to finish among the position's top 12 fantasy performers since 2010.
However, a closer look at Murray's statistics through the air suggests that he was largely an average to below-average passer regardless of the situation:
QB rating: 83.8 (No. 23)

Deep-ball rating: 94.5 (No. 16)

Under pressure rating: 62.1 (No. 21)

Kept clean rating: 94.8 (No. 32)
Of course, the Cardinals hardly surrounded their franchise QB with a plethora of talented skill-position weapons. Murray made a number of highlight-reel throws that demonstrated the sort of ceiling he might possess with a better surrounding cast.
Kyler Murray might just be unstoppable sooner rather than later pic.twitter.com/ORJwW36bHC

— Ian Hartitz (@Ihartitz) April 30, 2020
This offense's rushing attack was already lethal in 2019, while natural progression and the addition of DeAndre Hopkins should certainly lead to a nice Year-2 leap for Murray as a passer. Even failure for the 2020 Cardinals to progress in the win column in a similar manner as the 2019 Browns likely won't hurt Murray's fantasy stock all that much thanks to his absurd rushing floor. Overall, Murray's average of 34 rushing yards per game ranks sixth among all QBs to start at least 16 games in NFL history.
We've seen an average of 4.3 instances of a single team employing two top-24 PPR WRs per season since 2010. Of these teams, 74% also included a fantasy QB1. The potential for 1) Julio to Julio, and 2) Ridley to turn in a third-year breakout, are both more than possible within the Falcons' pass-heavy offense. After all, Matt Ryan proved plenty capable of enabling multiple high-end WRs back in the day with Jones and Roddy White.
No offense has more available targets than the Falcons. Ridley averaged 17.5 points per game in six games without Mohamed Sanu in 2019, a mark that would've ranked seventh among all wideouts if extrapolated over the entire season. Ridley has had at least eight targets eight times in his career. He's posted the following stat lines:
7 receptions-146 yards-3 TDs

6-71-1

8-93-1

8-105-1

5-88-1

8-143-1

6-85-1

8-91-0
That's fine if you think Chris Godwin is better than Ridley and the "2020 Ridley is 2019 Godwin" comparison isn't entirely true. Regardless, it's tough to deny *both* Jones and Ridley are set up brilliantly to put up all sorts of numbers entering next season.
Last season's Ravens offense was absolutely lethal on the ground. Each of Lamar Jackson (No. 1), Gus Edwards (No. 3) and Mark Ingram (No. 7) ranked highly in yards per carry among 47 players with at least 100 rush attempts in 2019. Nobody averaged more yards before contact per rush. Jackson was objectively electric with the ball in his hands as a pure rusher.
The Ravens were also a force to be reckoned with through the air. Jackson was a top-six QB in rating under pressure, on deep passes and when kept clean in 2019, throwing plenty of tight-window dimes along the way.
Their league-high 33.2 points per game featured five contests with 40-plus points and not a single performance under 20 until their fateful January matchup against the Titans. Even that game still featured 530 total yards of offense from the birds.
I broke down the continuity of all 32 passing games and determined that only the Chiefs (tier 1) have a more complete returning offensive cast than the Ravens, Cardinals, Bills, Raiders, Falcons and Titans (tier 2). The 2019 Ravens were absolutely a juggernaut on offense, and the 2020 version might just have the goods to be every bit as fun for fans — and scary for opposing defenses.
Buffalo Bills: Josh Allen continues to be Josh Allen in the most Josh Allen way possible
I realize that Josh Allen fans around the world aren't always fond of what PFF might say about him. To be fair, charting accuracy is a science, and the results speak for themselves. 
Whatever. Allen is the type of guy to target his double-covered FB 50 yards downfield in OT of a playoff game that featured him blindly attempting to lateral the ball to a teammate no fewer than 10 minutes before.
How could anyone not love Josh Allenpic.twitter.com/nPEmR0UABj

— Ian Hartitz (@Ihartitz) July 13, 2020
Allen checked the ball down on just six of 461 pass attempts (league-low 1.3%) in 2019. He's somehow tied for eighth in rushing scores since entering the league with 17. Defenses are forced to account for every square inch of the field against the man who does not give a flying fook on a play-by-play basis.
It's absolutely breathtaking to watch for better and (often) for worse.
Carolina Panthers: Curtis Samuel gets rush attempts and catchable targets and proves to be amazing
The Buccaneers, Bills and Panthers stood out as the three weakest offenses last year in terms of consistent uncatchable targets both overall and down the field. Things were especially bleak for Samuel, who had to deal with issues under center pretty much all season. He wasn't miscast as a field-stretching WR in 2019 as much as Kyle Allen was mistaken for a starting NFL QB.
Regardless, the decision to bring in Robby Anderson as well as Teddy Bridgewater could result in a new role of sorts for Samuel. The former Ohio State RB/WR has always been a dangerous threat with the ball in his hands, meaning a low-aDOT slot role featuring some carries could be a fun time.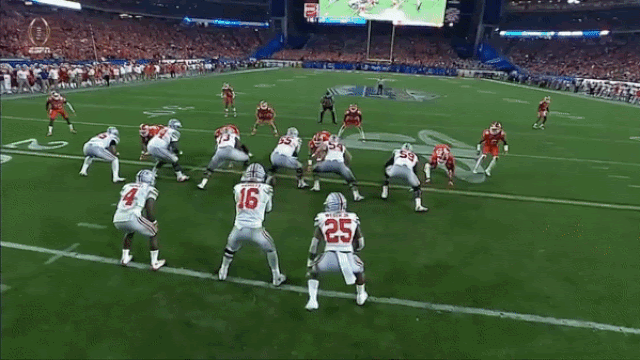 This offense will ultimately flow through Christian McCaffrey and D.J. Moore, but that doesn't mean new play-callers Joe Brady and Matt Rhule can't get Samuel five-plus designed touches per game.
Cincinnati Bengals: Joe Burrow leads the squad to an incredibly entertaining last-place AFC North finish
The 2019 National Championship and Heisman Trophy winner has a combination of accuracy and off-script goodness that has drawn comps to Tony Romo. Overall, Burrow threw for 5,671 yards, 60 TDs and just 6 INTs in 15 games while completing 76.3% of his passes and averaging 10.8 yards per attempt. He ranked No. 1 and No. 2 in completion rate under pressure and on deep balls (20-plus yards) among 242 qualified QBs.
Year 1 fantasy expectations deserve to be high. Only Cam Newton, Andrew Luck, Robert Griffin, Dak Prescott, Russell Wilson and Kyler Murray have posted QB1 fantasy production as a rookie since 2010, and Burrow meets the two-most common criteria of 1) Being a Week 1 starter, and 2) Having at least a decent rushing floor (he averaged 27 rushing yards per game at LSU). Nobody is going to confuse Burrow with Lamar Jackson anytime soon, but a 243-767-12 rushing line in 28 games at LSU is incredibly productive considering sacks count against collegiate rushing yards.
Add in the likelihood that the Bengals again rank near the top of the league in pass attempts, as well as the reality that they're quietly loaded at WR and RB, and it's clear Burrow is worth pursuing in fantasy drafts of all shapes and sizes.
Nobody in the history of football with at least 100 rush attempts has averaged more yards per carry than Patterson (7.6). The same is true for everyone with at least 100 kick returns. He averaged a more-than-solid 8.8 yards per target while serving as one of Tom Brady's top receivers during the Patriots' 2018 Super Bowl run.
Good things happen when Patterson is on the field. The 2020 Bears aren't exactly overflowing with proven play-makers all over the field. There's no reason why Matt Nagy and company can't scheme Patterson the ball 6.25 times per game. All I'm saying is the only team to ever give Patterson even 60 touches in a season won the Super Bowl.
Cleveland Browns: The fun, God-mode version of OBJ returns
It wasn't a good year for Odell Beckham stans such as myself in 2019. Proclamations that he was the single-best WR in the league grew quieter and quieter as the season went on. Ultimately, his 74-1,035-4 receiving line marked career-low marks in every category excluding his four-game 2017 season. OBJ's average of 1.81 yards per route run ranked 25th among 33 players with at least 100 targets in 2019.
This was hardly all OBJ's fault: he joined Mike Evans as the league's leaders in most incomplete targets that were deemed to be their QB's fault last season. The idea that Baker Mayfield would be an upgrade over Eli Manning seemed like a certainty this time last year. Now that idea is more sad than anything.
Only Randy Moss (43), Jerry Rice (40), Rob Gronkowski (38) and John Jefferson (36) scored more receiving touchdowns than Beckham (35) during the first three seasons of a career. The swaggy and flashy manner in which Beckham accomplished these feats was even more impressive. All boat pictures and kicking net proposals aside: Football is more fun when Beckham is balling. Hopefully Mayfield and company can better enable one of the brightest talents the WR position has ever seen in 2020.
Dallas Cowboys: Dak (again) proves worthy of a big-money deal
The Cowboys should've signed Dak Prescott to a long-term deal this offseason. It's hard to see him failing ahead of next season. The 2019 Cowboys finished as one of just 11 offenses to average at least 6.5 yards per play since 1970. The offense could embrace a more pass-first attack under coach Mike McCarthy, and the likelihood that CeeDee Lamb/Blake Jarwin are upgrades over Randall Cobb/Jason Witten makes the 2020 version of this unit even scarier.
Prescott has finished as the fantasy QB6, QB10, QB10 and QB2 over the past four seasons, regularly creating off-script goodness that only a handful of other signal callers might be capable of pulling off.
Dak Prescott is #good pic.twitter.com/dR9crAyhW3

— Ian Hartitz (@Ihartitz) May 18, 2020
It's always fun when players bet on themselves against a franchise and come out on top. Here's to hoping Dak will be the latest to accomplish this goal.
Denver Broncos: Drew Lock again raps Jeezy on the sideline, winds up being a good QB, too
The Broncos' 2019 second-round pick suffered a thumb injury in the preseason and was forced to begin his rookie year on injured reserve. Lock would ultimately return and start the final five games of the season. While the 4-1 record was great, the competition — and his individual performance — left a lot to be desired:
Week 13 vs. Chargers: 18-28, 134 yards, 2 TD, 1 INT

Week 14 at Texans: 22-27, 309 yards, 3 TD, 1 INT

Week 15 at Chiefs: 18-40, 208 yards, 0 TD, 1 INT

Week 16 vs. Lions: 25-33, 192 yards, 1 TD, 0 INT

Week 17 vs. Raiders: 17-28, 177 yards, 1 TD, 0 INT
Credit to Lock for only taking five combined sacks along the way, as well as for posting a respectable 18-72-0 rushing line. He also dripped swagger the entire time. Still, three fumbles didn't help, and he failed to lead the offense to at least 24 points in three of five starts.
The rationale for expecting a leap forward in 2020 is 1) The addition of talented rookie WRs Jerry Jeudy and K.J. Hamler as well as RB Melvin Gordon, and 2) The reality that Lock demonstrated some true high-end arm talent at various points as a rookie.
Lock didn't show much deep-ball goodness as a rookie, but this was largely the strength of his game at Missouri, ranking second and fourth in QB rating and yards per attempt, respectively, on passes thrown 20-plus yards downfield among 50 draft-eligible QBs. The potential for the defense to go from good to great in its second season under Vic Fangio means that Lock might only need to be *OK* for the Broncos to compete for a Wild Card spot in 2020. A rise up the ranks in fantasy land seems more unlikely, although the presence of new-OC Pat Shurmur should absolutely be viewed as a positive for Lock's continued development.
The Lions posted the following target distribution in eight games with Matthew Stafford under center last season:
Golladay and Jones have quietly matched each other ever since the Lions drafted the former WR in 2017. Whether you want to look at just the eight games with Stafford last season:
Golladay: 62 targets, 35 receptions, 640 yards, 7 TDs, PPR WR11

Jones: 57 targets, 42 receptions, 535 yards, 6 TDs, PPR WR14
Or since 2017 as a whole:
Golladay (42 games): 163 receptions, 2,730 receiving yards, 19 TDs

Jones (38 games): 158 receptions, 2,388 receiving yards, 23 TDs
It's clear that Jones is more of a 1B than a true No. 2 WR in this offense.
Luckily, both WRs have enough fantasy-friendly opportunities to make up for reduced overall volume. Since 2014, WRs have understandably averaged more PPR on red-zone (2.46) and deep-ball (2.17) targets compared to looks between the 20s (1.45). Both Golladay and Jones ranked among the league's top-15 most fantasy-friendly WRs when controlling for these differences in target value.
Golladay is the ultimate upside answer here. He simply oozes talent and upside in an offense that is seemingly built around enhancing his strengths. There might be too much competition for a Megatron-esque workload in 2020, but golly would that be a good time if it comes to fruition anyway.
Kenny Golladay with 150+ targets would be excellent televisionpic.twitter.com/lefF9NvNkV

— Ian Hartitz (@Ihartitz) June 14, 2020
Jones was fantastic in 2019, posting 236-1,084-16 rushing and 49-474-3 receiving lines while working as one of the clear-cut focal points of the offense. And yet, there's a case to be made that the Packers' exceptionally talented RB will continue to largely be relegated to a two- or even three-back committee. Williams didn't play fewer than 40% of the offense's snaps even once after Week 1 when healthy.
Further complicating Jones' projection is that he averaged 3.5 targets per game with Davante Adams in 2019 — and 6.8 targets per game without. He spent more than six snaps in the slot or out wide on just one occasion all season. Considering the RB's success when lined up out wide, it would make sense if the Packers feature Jones more as a true receiver in 2020 after curiously declining to add hardly any noteworthy players to their WR and TE rooms.
Jones had one game with more than six snaps in the slot or out wide and proceeded to hang a 7-159-2 receiving line on the Chiefs. It's OK to get multiple backs involved in the offense; it's less ideal to refrain from giving one of your team's best players the ball as much as possible.
The problem: Coach Matt Lafleur seemingly has no intention of doing so. Before the draft, he stated: "I think the RB position is one of the tougher positions to play in terms of physicality, and I think you always need multiple guys to get to that finish line. Certainly we'd like to play one more game than we did last season, and we're going to need not only those two guys, but I do think we're going to need a third guy to put into that mix moving forward."
Spending a second-round pick on A.J. Dillon would indicate that he'll be getting double-digit touches himself sooner rather than later. A-aron, one of the league's most-talented backs, deserves better.
David Johnson is the Texans' starting back. I believe with all my heart that Duke is an objectively better option:
David Johnson career stats: 4.0 yards per carry, 7.2 yards per target, 5.4 yards per touch, 28 years old, 36th-percentile BMI
Duke Johnson: 4.4 yards per carry, 7.1 yards per target, 6.5 yards per touch, 26 years old, 59th-percentile BMI
Of course, Duke wasn't acquired in a deal featuring one of the biggest stars in franchise history. There are actually some people in this world who believe the all-time leading rusher from the University of Miami isn't capable of handling a three-down role because of decisions made by Hue Jackson and Bill O'Brien.
Duke ranked third in yards per touch and fourth in yards after contact per attempt among 51 RBs with triple-digit touches last season. He's a baller.
Duke Johnson is your favorite running back's favorite running back pic.twitter.com/5eIy3ET1UP

— Ian Hartitz (@Ihartitz) June 16, 2020
Only Nick Chubb, Derrick Henry and Josh Jacobs have averaged more yards after contact per attempt than Duke over the past three seasons. Only Jacobs and Hunt have averaged more forced miss tackles per attempt.
Unfortunately, even an injury to David Johnson would likely lead the Texans to sign a veteran early-down grinder. Note that Duke has never missed a game since entering the league in 2015.
#FreeDuke.
Indianapolis Colts: The league's best offensive line leads them back to the playoffs
Nobody employs a better group of big uglies than the Colts. PFF's No. 1 ranked offensive line returns all five starters from last season and will look to get old man Philip Rivers back to playing football in January. This is a team that went into Arrowhead against Patrick Mahomes and came out victorious in the year 2019; even a moderate improvement from Rivers over what Jacoby Brissett brought to the table could be enough to win a wide-open AFC South.
The defense is quietly stacked up the middle between DeForest Buckner, Darius Leonard and Malik Hooker. It remains to be seen if this version of the Colts can be the contender that everyone believes the Buccaneers are, but either way more playoff-Rivers GIFs would be much appreciated.
Travis Kelce has led the Chiefs in targets in four consecutive seasons. He's worked as the PPR TE1 in every season along the way, truly functioning as one of the league's top receivers regardless of positional designation. Only Michael Thomas (3,130), Julio Jones (3,071), DeAndre Hopkins (2,737) and Mike Evans (2,681) have more receiving yards than Kelce (2,565) over the past two seasons. Only Hopkins (25 games) and Julio (25) have more instances with at least five receptions and 50-plus receiving yards than Kelce (24) since 2018.
Tony Gonzalez (5) is the only TE with more seasons as the overall PPR TE1 since 2000 than Kelce (4).
The question is how much longer he'll be able to provide this type of high-end production. He hasn't missed a game due to injury since 2013, although fellow-HOF talent Rob Gronkowski is only 144 days older, and TE is one of the league's more demanding positions. Luckily, having Patrick Mahomes at QB should continue to produce plenty of production in the near future. Even if Tyreek Hill leads this offense in targets, don't expect Kelce to fall out of fantasy's tippy-top tier of TEs in 2020.
Ekeler has played seven games without Melvin Gordon during his career, posting snap rates between 65-95% on every occasion. MGIII is gone, but the public still seems a bit afraid to trust Ekeler as a high-end fantasy RB in 2020 with Tyrod Taylor under center. Luckily, the Chargers' decision to hand Ekeler a four-year, $24.5 million contract reinforces the reality that this is his backfield.
There's also the simple reality of the matter that Ekeler is 1) A stud, and 2) One of few RBs that should function as both their team's RB1 and WR3.
Austin Ekeler is a cheat code as a receiver pic.twitter.com/hvsSeMvT0R

— Ian Hartitz (@Ihartitz) May 1, 2020
Taylor's 2015 and 2016 Bills offenses rank alongside the 2019 Ravens and Cardinals as PFF's top-four offenses in yards before contact per rush over the past half decade. While we should expect a regression from Ekeler's receiving production due to the loss of Philip Rivers, there's reason to expect a voluminous, and more efficient, rushing role.
Los Angeles Rams: Cam Akers takes over the Rams' backfield, giving offseason coach speak another L
The Rams' second-round RB flashed week in and week out at Florida State despite playing behind one of the nation's worst offensive lines.
Many have pointed to Akers as the frontrunner to land lead back duties with the Rams. Coach Sean McVay attempted to extinguish some of those thoughts with this quote:
"We feel good. We've got three guys really on our roster that have played football when you look at Darrell Henderson, John Kelly is another guy, Malcolm Brown has consistently produced in that No. 2 role behind Todd. And then Cam Akers is a guy that we're excited about. So we've got four backs that we feel like are all NFL-legitimate starting-caliber backs and not feeling like you've got to force carries or touches to any of them. Just open mind and see how these guys do."
McVay has coached 52 games with the Rams, including playoffs. His lead back played at least 60% of the offense's snaps in 48 of those games. The four non-qualified games still featured a RB with a snap rate greater than 50%.
Somebody is likely to rise up to the top of this fantasy-friendly backfield, and nobody has more draft capital or investment from the team than Akers. There aren't many one-back backfields in the league. McVay could, of course, change course and display a new committee look, but the upside if he doesn't is tantalizing for a player with Akers' three-down ability.
The only rookie QBs (minimum eight starts) to average more adjusted yards per attempt than Minshew since 2000 have been: Dak Prescott, Robert Griffin, Ben Roethlisberger, Russell Wilson, Nick Mullens, Matt Ryan, Baker Mayfield and Marcus Mariota.
Additionally, only Lamar Jackson (1,206 rush yards), Kyler Murray (544), Josh Allen (510) and Deshaun Watson (413) had more yards on the ground than Minshew (344) last season. This isn't to say that Minshew is the same caliber threat on the ground as those other QBs; he literally picked up all of his rush yards on scrambles. Still, it's clear he's far from a statue under center.
Minshew was the only QB rated higher than Patrick Mahomes when throwing 20-plus yards downfield on a per-attempt basis. He also flashed similar improvisation skills on a number of occasions in 2019.
The Jaguars' 4.5 over/under win total paints the picture of potentially the league's single-worst team. Even if another high-end draft pick is likely in 2021, Minshew might just be good enough to make it a fun ride to the bottom.
Miami Dolphins: Ryan Fitzpatrick gets to play YOLO-ball for another season
Fitzpatrick took over the full-time starting job in Week 7 last season and proceeded to function as the fantasy QB2 behind only Lamar Jackson. He's clearly still capable of putting up numbers thanks to the Dolphins' plethora of contested-catch monsters in DeVante Parker, Preston Williams and Mike Gesicki.
The Dolphins threw plenty of resources at their offensive line and have enough firepower at WR and TE to feasibly enable a fantasy QB1. The favorite to start more games in 2020 needs to be Tua due to the history of top-10 QBs finding the field rather quickly; 17 of 20 QBs drafted inside the top-10 picks went on to start double-digit games during their rookie seasons over the past 10 years.
Still, any sort of lingering concern over Tua's hip could lead to the Dolphins embracing the FitzMagic show for another season. The second-half version of this team in 2019 was fun enough to seemingly stay in good favor with the fanbase if they choose to go with such a decision. Either way, expect the Dolphins' passing game to again be fantasy relevant more weeks than not.
Cook has a real case as the league's best-pure runner with the ball in his hands. The lead back of a Gary Kubiak-coached offense has averaged north of 290 touches per season, largely serving as a fantasy cheat code over the years. Overall, he's enabled eight different RBs to a combined 15 top-12 PPR seasons from 1995-2019.
Cook played at least 60% of the offense's snaps with 16-plus touches in every game from Weeks 1-11 before getting injured in 2019. A potential holdout is troublesome, but there's little doubt that Cook will continue to cook (sorry) as the focal point of this offense if on the field in 2020.
Dalvin Cook is so so so so good pic.twitter.com/BFlmuz81WU

— Ian Hartitz (@Ihartitz) July 25, 2020
There's serious potential here for a 2,000 yard season with enough touches. Injuries are always a concern, but a hopeful future fantasy investor can dream.
It almost wasn't fair how good Gilmore was in 2019. Despite regularly being matched up one-on-one against the league's best WRs, the Patriots' No. 1 CB consistently gave his opponent all sorts of issues:
The final member of our list thoroughly dominated against Gilmore, winning numerous contested-catch situations as the Dolphins robbed the Patriots from getting a much needed first-round bye. They'll be matched up again in Week 1 and you better believe the 2019 Defensive MVP hasn't forgotten about the late-season L.
New Orleans Saints: A healthy Alvin Kamara reminds everyone why he's a top-five RB (and first-team all-swagger)
Kamara missed two games due to injury last season and admitted that he didn't feel like himself upon returning. And yet, he finished as the PPR RB9. Kamara's broken tackle rate resumed 2017-2018 levels when healthy, and his ceiling remains as a top-five RB in 2020 considering positive scoring regression is also well within his potential range of outcomes.
More importantly, keeping Kamara on the field is simply good for the sanctity of the game when it comes to swagger. Despite rocking No. 41, Kamara should be anyone's 1.01 selection in an all-swagger draft.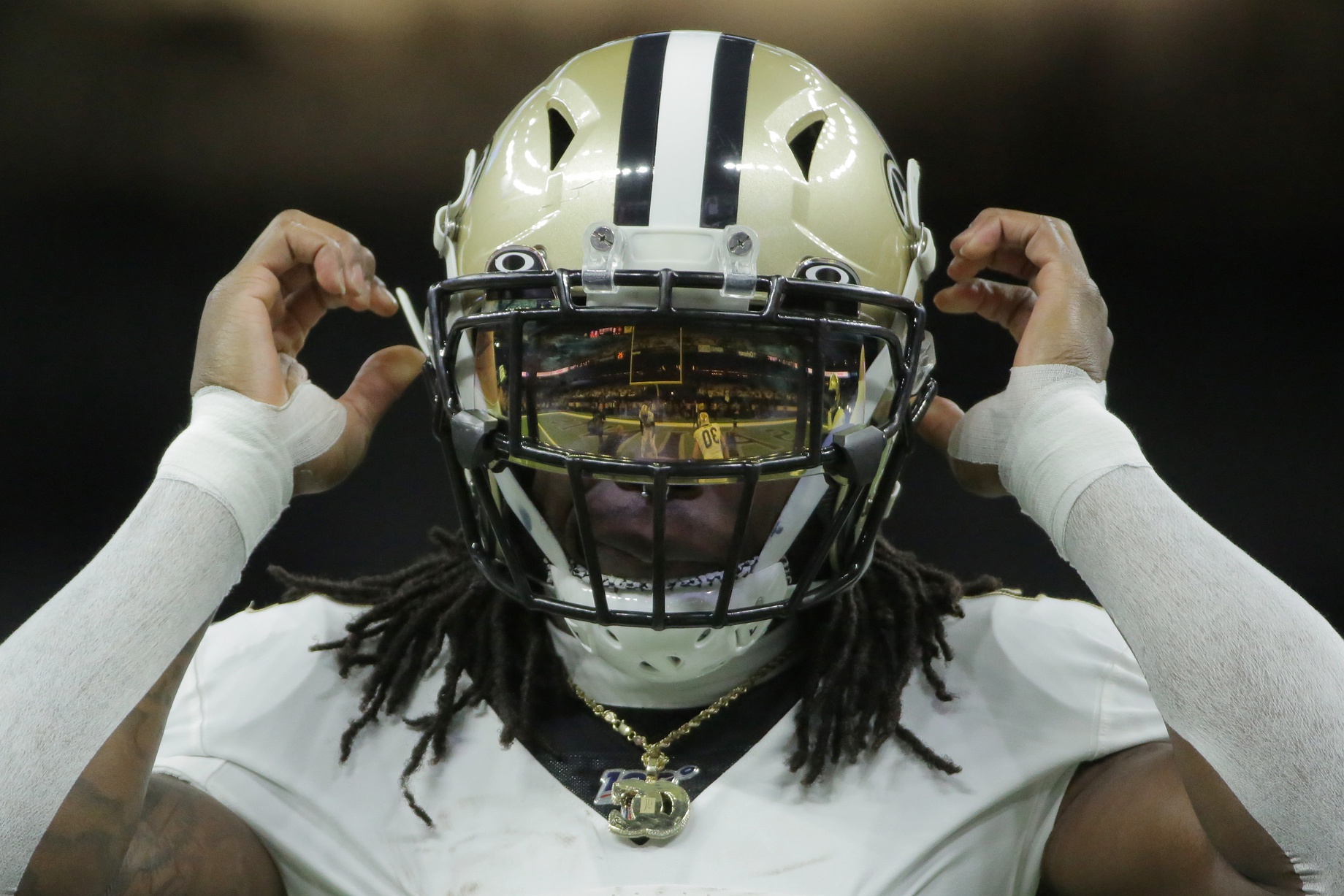 The Saints are absolutely loaded on offense (again); don't expect their stud RB1 to do anything other than ball out when on the field in 2020.
New York Giants: Saquon Barkley re-establishes himself as the league's best player with the ball in his hands
Barkley has been one of the NFL's few true, three-down workhorses since entering the league in 2018. Sure, he's entering a new offense, but new OC Jason Garrett is one of the only play-callers we can feasibly expect to give the Giants' stud RB an even larger role. The 2018 PPR RB1, Barkley is arguably the single-best RB in the league from a pure talent perspective.
He was the league's broken-tackle leader in 2018, which puts him among the following list: 
Sometimes even three men aren't enough to bring down one of the more talented RBs the league has seen in recent memory.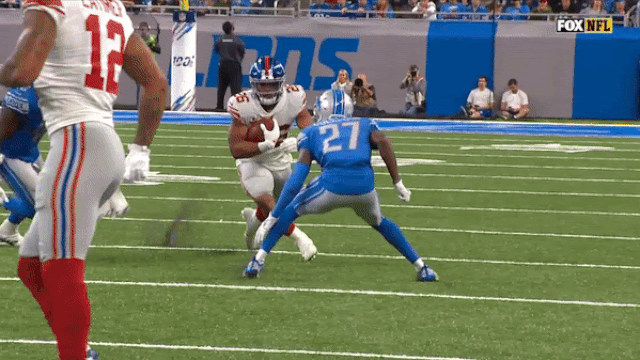 New York Jets: We get reasons to make fun and nice versions of the Sam Darnold mono graphic
Darnold's sophomore campaign was largely undone by an early-season case of mono as well as Adam Gase's token snail-paced offense. Ultimately, the game plan generally consisted of feeding Le'Veon Bell and Jamison Crowder, a strategy that produced the league's 32nd- and 31st-ranked offense in yards per play and points per game, respectively.
Darnold has flashed at various points and is just 23 years old. Still, his path to success in 2020 will need to include:
1. Gase enabling the first high-end offense of his career not led by Peyton Manning.
2. The likes of Crowder, second-round pick Denzel Mims, Breshad Perriman and Chris Herndon out-performing their current status as one of the league's worst receiver groups.
3. The offensive line going from awful to average after adding loads of resources to the unit throughout the offseason.
The Jets' 6-2 end to last season was largely thanks to an incredibly soft schedule; they beat the Giants, Redskins, Raiders, Dolphins, Steelers and Week 17 Bills backups while losing to the Bengals and Ravens. It seems unwise to expect the team's numerous offseason additions to immediately gel and give Darnold anything more than a below-average supporting cast.
Jacobs finished behind both Jalen Richard (43) *and* DeAndre Washington (41) in Derek Carr's pecking order last season. Overall, his 27 targets ranked 46th at the position.
This was truly a shame because Jacobs emerged as one of the league's top playmakers with the ball in his hands during his underrated rookie campaign:
Elusive rating: 103.6 (No. 2 among 61 qualified RBs)

Broken tackles: 78 (No. 2)

Yards after contact per attempt: 3.48 (No. 8)

15-plus yard runs: 16 (No. 3)
#WatchTheFilm.
Josh Jacobs is fooking specialpic.twitter.com/QoFNfFmVMr

— Ian Hartitz (@Ihartitz) July 23, 2020
The presence of third-round pick Lynn Bowden and decision to re-sign Richard makes it unlikely there are many chances for redemption through the air in 2020. One can dream that Jacobs will be featured now that he isn't playing through a fractured shoulder, but I wouldn't bet on it.
Wentz has his best group of skill-position talent since his MVP-worthy 2017 campaign. Overall, the Eagles added three speedy WRs through the draft in Jalen Reagor (1.21), John Hightower (5.23) and Quez Watkins (6.21) while also nabbing ex-49ers field-stretching WR Marquise Goodwin. Throw in DeSean Jackson, and it's clear that the likes of Zach Ertz, Dallas Goedert, Alshon Jeffery and Miles Sanders should have plenty of room to operate in the underneath and intermediate areas of the field.
This is huge: 2018 featured season-long injuries to field-stretching WRs Mike Wallace and Mack Hollins, while D-Jax didn't last past Week 1 in 2019. Having legit field-stretching talent could very well be the key that unlocks Wentz and this entire Eagles offense.
Few signal callers are more capable than Wentz at creating something out of nothing when the play breaks down.
Carson Wentz No. 1 receiver for his career has been a TE with 2 career broken tackles. The one season he had any semblance of field-stretching talent he played at MVP level. Has still supplied fantasy QB1 goodness even with all this meh.

The man is #goodpic.twitter.com/MuX6kTlR6u

— Ian Hartitz (@Ihartitz) June 30, 2020
The Dak vs. Wentz debate is silly; both young QBs have demonstrated the ability to function as top-tier signal-callers during their respective short careers. Wentz's newfound downfield weaponry should help open up the rest of the offense in a way that we haven't seen since 2017.
There was a time when you could barely go a day on fantasy Twitter without being reminded of McKinnon's LT-esque makeup:
McKinnon: 5-foot-9, 209-pounds, 4.41-second 40-yard dash, 4.12-second 20-yard shuttle, 6.83-second three-cone drill, 40.5-inch vertical

LaDainian Tomlinson: 5-foot-10, 221-pounds, 4.46-second 40-yard dash, 4.21-second 20-yard shuttle, 6.84-second three-cone drill, 40.5-inch vertical
Obviously, we'd know by now if McKinnon was truly Tomlinson 2.0; he's not. Still, his dual-threat ability as a rusher and receiver was a centerpiece of some solid Vikings offenses during the mid-2010s, and the thought of him obtaining a featured role as Kyle Shanahan's lead back was, and still is, enticing.
It's unlikely that McKinnon sees anything resembling a three-down role in an offense expected to consistently churn between up to four backs. This doesn't change the reality that it'd be a helluva great time to see McKinnon make an impact on the football field again for the first time since the 2017 NFC Championship.
This shouldn't be that hard. Russell Wilson is truly one of the most-efficient QBs the game has ever seen:
Completion rate: 64.5% (No. 11 among 158 QBs to start at least 50 games over the past 50 years)

Pass TD rate: 6% (No. 1)

INT rate: 1.8% (No. 6)

QB rating: 101.2 (No. 2)

Yards per attempt: 7.87 (No. 4)

Adjusted yards per attempt: 8.26 (No. 2)

Rush yards per game: 31.2 (No. 4)
Further muddling matters was the reality that the Seahawks wouldn't even utilize Wilson's unique dual-threat talents in 2019: He gained just seven total yards on designed runs after going for an average of 151 rush yards per season from 2012-2018 on non-scramble rushes.
The Seahawks are in win-now mode. The least they could do is allow their all-world QB to ball the hell out on a more consistent basis.
Russell Wilson is a godpic.twitter.com/DXs1yuc1np

— Ian Hartitz (@Ihartitz) July 21, 2020
It's rare to find 6-foot-1, 230-pound running backs who are able to move in space like Conner. The only RBs who joined Conner in the 50 broken tackles club during Weeks 1-13 in 2018 were Saquon Barkley and Kareem Hunt, who just so happened to lead the NFL in broken tackles during the 2018 and 2017 seasons, respectively.
Only Todd Gurley, Saquon Barkley, Christian McCaffrey and Alvin Kamara had more PPR points than Conner in 2018 Weeks 1-13. He finished as "just" the RB6 despite missing three games, posting 215-973-12 rushing and 55-497-1 receiving lines along the way.
Shoulder and quad injuries would limit Conner to just 10 games in 2019, with limited snaps in several others. Conner wasn't quite as efficient in both the run and pass game, but that was to be expected with Mason Rudolph and Devlin Hodges under center. He was the PPR RB9 in Weeks 1-8 before injury. He was one of just 16 RBs with at least 125 touches, while his pass-game usage was equal to that of Dalvin Cook and David Johnson. This was despite splitting plenty of snaps with Jaylen Samuels and having a Week 7 bye along the way.
Steelers coach Mike Tomlin pretty much confirmed Conner would be the team's three-down back in March: "I'm a featured-runner type guy by mentality. … No question in today's game, a featured runner needs to be supplemented and supplemented by guys who are capable of doing similar things in case he misses time. … Usually when it's going well, it's because you have a lead dog out front, and that guy is the featured runner. James is a featured guy and proven runner when healthy. We're excited about him getting back to health and displaying that in 2020."
Every starting Pittsburgh RB was fed a featured workload before last season:
There's some competition on the roster between Jaylen Samuels, Benny Snell and fourth-round RB Anthony McFarland. Still, it seems likely that this will be Conner's backfield during his contract year as long as he can stay on the field and provide at least decent efficiency.
Tampa Bay Buccaneers: The "Dream Team" thing immediately works
You may have heard TB12 and Gronk joined the Buccaneers over the offseason. High-priced QBs signing elsewhere typically hasn't worked out in recent history. Six QBs over the past four offseasons were signed to big-money contracts on a new team:
Obviously Brady is plenty capable of bucking this recent small-sample trend. It is comical to hear coach Bruce Arians change his moniker from "No risk it, no biscuit" to "Can't go broke taking a profit" thanks to the presence of the GOAT. 
To be fair it's probably a good idea: 2019 Jameis Winston, 2013 Carson Palmer and 2012 Andrew Luck "achieved" the three-most turnover-worthy play seasons since 2006 during their respective first seasons with Arians.
Brady is fresh off his worst season since at least 2013. Of course, this wasn't all on the GOAT, as only Dak Prescott had more dropped passes (36) than Brady (34). Additionally, Brady didn't exactly fall off a cliff when it came to the ability to test defenses downfield, as he was one of 14 QBs to post a QB rating over 100 on passes thrown at least 20 yards downfield.
There's talent everywhere on offense between the ex-Patriots, Mike Evans, Chris Godwin and the team's additional RBs and TEs. Only the Patriots, 49ers, Steelers, Ravens and Bills were better on defense in terms of EPA per play. Their 12-1 Super Bowl odds might be a tad inflated from all the offseason hoopla, but make no mistake about it: The 2020 Buccaneers are plenty capable of competing right away.
Tennessee Titans: A.J. Brown emerges as the true next big thing at the WR position
One-hundred-sixty-eight rookie WRs have had more than 50 targets in the Randy Moss era (1998-2019). Only 10 managed to average double-digit yards per target.
Brown's ability to rack up yards after the catch was the root of his dominance. NFL's Next-Gen Stats calculates both a receiver's yards after the catch per reception *and* expected yards after the catch per reception. This allows us to see which receivers are under- or over-performing relative to expectations with the ball in their hands. Brown (+4.9) easily posted the single-highest mark in their database (2016-2019) as a rookie. George Kittle (+3.4) and D.J. Moore (+3.2) in 2018 were the only other receivers to finish with a mark above three.
There are volume concerns inside the Titans' run-first offense; just realize 150-plus targets for AJB would be a terrifying thought for any and every secondary out there.
Guice has fewer than 50 career touches and largely split snaps with Adrian Peterson when he was healthy in 2019. The Washington Football Team employs roughly 30 RBs at the moment. A brand new coaching staff further complicates all of this.
And yet, who wouldn't hope for Guice to put together a complete campaign and get as many touches as his heart desires. The former LSU RB possesses three-down ability and appears capable of monumental production if he can just hold off that pesky injury bug.
Derrius Guice has an awful lot of #good plays for a guy with fewer than 50 career touches pic.twitter.com/MHnZSNFjmJ

— Ian Hartitz (@Ihartitz) June 30, 2020
Complete Hartitz offseason series: