NFL depth charts are always in a constant state of flux due to transactions, injuries, performance and, at-times, questionable coaching decisions. The RB position in particular can be tough to stay on top of, as an overwhelming majority of offenses have replaced a single three-down back with committees of various shapes and sizes.
[Subscribe to PFF EDGE or ELITE to gain access to  our fantasy football rankings and projections, PFF Player Grades, premium content and more.]
What follows is a breakdown of each team's backfield in order to better determine:
Offenses featuring a single workhorse

Fantasy-friendly committee backfields

Situations fantasy football owners should avoid

Teams that are most open for a rookie back to thrive in 2020
This isn't a full depth-chart listing; I'm not concerned about special teams RBs or guys who might not even make the roster come September. Rather, the goal here is to get an early idea of the league's various committee situations in an effort to see both undervalued situations as well as teams that could theoretically enable a highly productive rookie RB.
RB1: Kenyan Drake

RB2: Chase Edmonds
RB3: Eno Benjamin
Notes: Head coach Kliff Kingsbury said he'd prefer to have *three* RBs to deploy during the regular season, but this *should* be Drake's backfield if the second half of last season was any indication of what is to come.
Week 9: 19 combined carries and targets, 84% snaps

Week 10: 17, 64%

Week 11: 23, 90%

Week 13: 18, 79%

Week 14: 14, 66%

Week 15: 23, 75%

Week 16: 28, 81%

Week 17: 16, 96%
Overall, Drake worked as the PPR RB4 during Weeks 9-17. The man is a beast.
Kenyan Drake with a 3-down role might be scarypic.twitter.com/CzGYS0qJXV

— Ian Hartitz (@Ihartitz) June 1, 2020
With that said, Edmonds was balling out himself during the first half of the season before battling a hamstring injury for basically the last eight games of the year. The disparity between their respective average draft positions makes Edmonds a solid value as one of the league's more-underrated handcuff options.
Of course, the Cardinals aren't paying Drake $8.5 million to sit on the bench. His ceiling is as a true three-down back, and Kyler Murray's dynamic dual-threat ability already helped enable the Cardinals to great heights in the run game. Arizona's decision to not add a RB until the seventh round adds more evidence to the idea that they have every intention of feeding him touches.
Prediction: Drake receives a true three-down role for the first time in his career and accordingly finishes as the PPR RB6.
RB1: Todd Gurley
RB2: Ito Smith or Brian Hill or Qadree Ollison
Notes: Back in May, OC Dirk Koetter made headlines by stating that the Falcons really have no idea about Gurley's health situation. A passed physical is good news, although it's unclear if a three-down role is on the horizon. This has been a backfield that has historically kept multiple backs involved. Sure, both Devonta Freeman and Tevin Coleman were given featured roles when the other was injured, but Freeman played at least 60% of the offense's snaps in just 14 of 36 games (39%) with Coleman and/or Smith healthy compared to 13 of 15 games (87%) with the Falcons' backup RB injured.
Nobody threw the ball more than the Falcons in 2019. It's unlikely we see Gurley flirt with more than 15 or so rushes per week. Still, there's perhaps an underrated TD ceiling here considering Atlanta has posted average ranks of 5.6 yards per carry and 12 rushing touchdowns over the past five seasons. Nobody has more rushing scores than Gurley since 2018, and he's entering arguably a better overall offense. The Falcons are one of just seven teams with 150 or more carries unaccounted for from 2019 to 2020.
Gurley's pass-game ability is superior to what Freeman historically offered.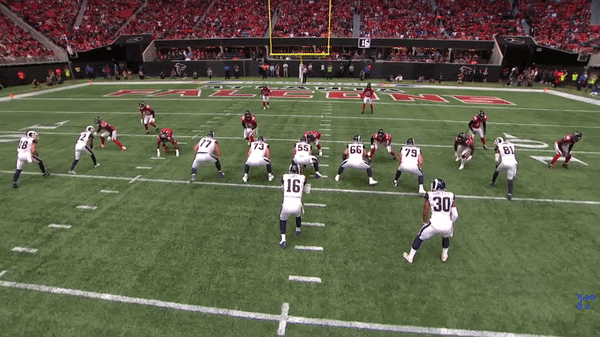 Smith could certainly lose his job to either Hill or Ollison, although the rising third-year back deserves credit for leading all Falcons RBs in yards per carry (4.8) and yards per target (6.2) last season. He should be the favorite for RB2 duties in what figures to be a multi-back committee of sorts.
Prediction: Gurley's downward career trajectory sadly continues on a middling Falcons offense that is one injury away at pretty much any position from being in serious trouble. He finishes as the volume-induced PPR RB21.
RB1: Mark Ingram
RB2: J.K. Dobbins
RB3: Gus Edwards
Notes: The Ravens kept all three of their RBs fairly involved last season.
Ingram: 15.4 combined carries and targets per game, 46% snap rate

Edwards: 8.8, 36%

Justice Hill: 4.1, 17%
Intriguingly, Hill (50% snaps) worked ahead of both Ingram (30%) and Edwards (19%) when the Ravens were playing from behind during their AFC Divisional Round loss to the Titans. The rookie didn't get a single rush attempt, but Hill (5 targets) was used in the pass game more than Ingram (2) and Edwards (0) combined. Note that Ingram was playing through a calf injury that he suffered in Week 16.
Ultimately, the Ravens' promising 2019 fourth-round pick doesn't figure to get consistent touches after the team spent a second-round pick on their top-ranked RB Dobbins. The problem is that it's unlikely Edwards is completely benched in a similar manner; his average of 5.3 yards per carry is the top mark among 40 RBs with at least 200 rush attempts since 2018.
Ingram (26-247-5 receiving) was hardly a liability in the passing game like Edwards, making Dobbins' role a bit murky entering Week 1. Investing in anyone involved in 2019's No. 1 scoring offense seems like a good idea for fantasy business, but this again figures to be a three-back committee of sorts. The likely potential difference is a slightly reduced role for Ingram in an effort to get Dobbins touches, meaning we probably shouldn't expect another 15 TDs from the 30-year-old RB in 2020.
Prediction: Both Ingram and Dobbins fail to post top-20 fantasy production without an injury, finishing as the PPR RB26 and RB31, respectively.
RB1: Devin Singletary
RB2: Zack Moss
RB3: T.J. Yeldon
Notes: Singletary emerged as a reliable three-down back as a rookie and played at least 65% of the offense's snaps in every game in which he wasn't either injured or just returning from a layoff. He worked as the PPR RB18 during Weeks 7-16.
Still, Frank Gore's departure was met by the selection of Moss, who has the potential to not only gain Gore's early-down work but *also* steal some of Singletary's target share.
Ultimately it's tough to expect much of a ceiling from either RB as long as their QB remains one of the most-productive vultures in the league. Allen's 17 rushing scores over the past two seasons trail only Todd Gurley (29), Derrick Henry (28), Aaron Jones (24), Christian McCaffrey (22), Alvin Kamara (19), Ezekiel Elliott (18) and Melvin Gordon (18). Allen and Gore combined for 29 rush attempts inside the 10-yard line last season; Singletary had three.
An injury to either Singletary or Moss would lead to Yeldon being active on game days. Until then, it seems likely that both backs flirt with around 10-15 opportunities per game that don't figure to be of the fantasy-friendly variety.
Prediction: Singletary works as the Bills' most-productive RB but doesn't boast much of a ceiling and finishes as the PPR RB23.
RB1: Christian McCaffrey
RB2: Reggie Bonnafon
Notes: CMC posted an out of this world 93% snap rate in 2019 on his way to putting together one of the greatest fantasy seasons we've ever seen. Overall, only 2006 LaDainian Tomlinson (481.1) racked up more PPR points in a single season than McCaffrey (471.2). The man averaged a full 6 (!!!) points more than the next-highest-scoring skill-position player in 2019.
The receiving floor here is what makes McCaffrey's production so absurd. He has two seasons with at least 100 receptions; every other RB in NFL history has combined for three such seasons. CMC finished 2019 with more PPR points from receiving production than all but 12 other players.
It remains to be seen what new head coach Matt Rhule and OC Joe Brady will bring to the table. There's a chance that we see the offense's various talented WRs get more involved in a quick-hitting passing attack led by Teddy Bridgewater, but this expected scheme also sets up nicely for McCaffrey to once again see all the check-downs he can handle. He's the no-doubt 1.01 fantasy selection.
A reality where McCaffrey gets hurt and Bonnafon inherits a three-down role seems spotty at best. Curtis Samuel was getting true RB snaps down the stretch of last season and is capable of siphoning off (at least) a handful of carries per game. The lack of invested draft capital or addition of another RB is good news for Bonnafon; just don't expect a workhorse role if disaster strikes.
Prediction: McCaffrey becomes the first back to finish consecutive seasons as the overall PPR RB1 since 2002-2003 Priest Holmes.
RB1: David Montgomery
RB2: Tarik Cohen
Notes: Montgomery didn't fulfill lofty expectations as a rookie, but his 267 touches wound up being good for the 12th-highest mark in the league. The main issue was a lack of both big-play and tackle-breaking ability. The latter factor in particular was surprising considering Montgomery led all of college football in broken tackles from 2018-2019. His standing as the 53rd-best RB in yards after contact per attempt was nothing short of awful
And yet, like most running games, the porous performance of the Bears in 2020 should probably be chalked up mostly to the offensive line. It remains to be seen if PFF's 12th-worst run-blocking unit will improve after replacing league-worst G Kyle Long, but otherwise they're returning four starters.
Throw in both Mitchell Trubisky's standing as a true bottom-five passer in virtually any category as well as his reluctance to run the ball himself for most of the season, and it's a bit easier to see why Montgomery struggled to get much of anything going last season.
It wouldn't be surprising if the Bears tap the breaks on their Tarik Cohen experiment. The 5-foot-6 and 179-pound RB set career-low marks in yards per carry (3.3) and yards per target (4.4) in 2019. This pass-game efficiency in particular was absolutely brutal. Only 2003 Az-Zahir Hakim averaged fewer yards per target in a single season since the metric began being tracked in 1992. Cohen is the only reason why Leonard Fournette wasn't the league's least-efficient receiver last season. And yet, Cohen joins Christian McCaffrey, Alvin Kamara and James White as the only RBs with at least 200 receptions over the past three seasons.
Another 250-plus touches seem more than reasonable for Montgomery in 2020. This number, like most statistical thresholds, is fairly arbitrary, but there has been a strong history of success from players that manage to reach this "milestone." Overall, only nine out of 153 RBs with at least 250 touches in a season failed to finish better than the PPR RB24. Yes, 2019 featured three of those players in Montgomery himself, Carlos Hyde and Sony Michel, but the potential for the Bears' featured back to continue to improve his efficiency and pass-game role adds a bit more of a ceiling for 2020.
Prediction: Montgomery somewhat bounces back in his second season and finishes as a top-20 PPR RB.
RB1: Joe Mixon
RB2: Giovani Bernard
RB3: Trayveon Williams or Rodney Anderson
Notes: Mixon finished 2018 and 2019 as the PPR RB10 and RB13, respectively, despite splitting plenty of snaps with Gio and operating behind one of the league's worst offensive lines. The addition of Joe Burrow, combined with the return of 2019 first-round OT Jonah Williams, should help both Mixon's touchdown equity and efficiency.
The problem is that there isn't much reason to believe Bernard (40% snaps) will take a full backseat to Mixon (59%). There is a high floor either way; Mixon was one of just nine RBs with at least 300 touches last season. Still, Bernard (43 targets in 2019) is a true issue to Mixon's (45) pass-down ceiling.
It's unclear how this backfield would unfold if Mixon were to miss time due to a holdout or injury. Gio was trusted as the three-down RB under previous coaching staffs, but the presence of Williams and Anderson makes a 20-touch role unlikely if disaster strikes. He's outside of my top five handcuffs entering 2020.
Prediction: Mixon finishes as a top-10, not top-five, fantasy RB after again not seeing as much pass-game work as he should.
Notes: Chubb's 298-1,494-8 performance on the ground in 2019 sealed the deal on the reality that he's one of the game's best rushers. Lamar Jackson (5.9 yards per carry) is the only player to average more yards per rush than Chubb (5.1) among 26 players with at least 300 combined carries over the past two seasons. Only Derrick Henry has averaged more yards after contact per attempt (4.3) than Chubb (4) over the past two seasons.
Unfortunately, the presence of Duke Johnson and Kareem Hunt kept the Browns from tapping into Chubb's receiving ability. The Browns' decision to bring back Hunt isn't ideal.
Chubb per game Weeks 1-9 without Hunt: 19.2 carries, 4 targets, overall PPR RB6

Chubb per game Weeks 10-17 with Hunt: 18 carries, 2.1 targets, overall PPR RB15
Of course, taking Hunt off the field doesn't make a ton of sense, either. He led the league in rushing and racked up 11 total scores as a rookie, posted 181-824-7 rushing and 26-378-7 receiving lines in just 11 games of action before being suspended in 2018, then produced more-than-stellar 43-179-2 rushing and 37-285-1 receiving lines during the second half of the 2019 season with the Browns. Nobody averaged more broken tackles per touch than Hunt (0.42) during the latter stretch. The PPR RB17 from Weeks 10-17, Hunt has the potential to return RB2 value with or without an injury to Chubb.
There isn't a guarantee that Hunt will see the same role that he had in the second half of last season, but new head coach Kevin Stefanski does have a history of utilizing plenty of formations other than three-WR sets. It would make more sense if the Browns prioritize two-RB formations over two-TE sets, particularly after how good Hunt was during the second half of last season. Their decision to not invest anything more than a late-round pick to address their No. 3 WR spot adds further evidence to the idea that this could be a two-RB base offense.
Of course, either Chubb or Hunt would offer potential league-winning upside if the other were forced to miss extended action.
Prediction: Chubb (PPR RB11) is a good bit more productive than Hunt (RB27) when the season is all said and done.
RB1: Ezekiel Elliott
RB2: Tony Pollard
Notes: Elliott functioned as the PPR RB2, RB11 (in 10 games), RB5 and RB3 from 2016-2019, respectively. The Cowboys' workhorse is a virtual lock for 300 rush attempts and 50 receptions with good health. The 24-year-old RB has never missed a game due to injury and is the centerpiece of an offense that became just the 11th unit in the Super Bowl era to average at least 6.5 yards per play.
The potential for Zeke's receiving production to get back to 2018 levels (77-567-3 without Jason Witten) could help him flirt with overall RB1 production for the first time. The only real change in the offense that could be perceived as negative is the retirement of stud C Travis Frederick, but 2018 starting C Joe Looney and the league's second-most expensive offensive line should be just fine.
And then we have Pollard. The electric rookie RB led the NFL in elusive rating, racking up an absurd 26 broken tackles on just 101 touches. It's scary to think what he'd be capable of achieving with a true three-down role.
Tony Pollard is objectively a studpic.twitter.com/XJ5zlojl8o

— Ian Hartitz (@Ihartitz) June 24, 2020
Pollard deserves to be mentioned alongside Alexander Mattison and Latavius Murray as the league's top handcuff options; just don't expect consistent touches or standalone value as long as the Cowboys continue to pay Elliott a small fortune.
Prediction: Zeke notches another top-five PPR effort as the engine of the Cowboys' top-five offense.
RB1: Melvin Gordon
RB2: Phillip Lindsay
RB3: Royce Freeman
Notes: New OC Pat Shurmur utilized committee backfields during his time in Minnesota before turning over the offense to Saquon Barkley while serving as head coach of the Giants. Expect something in the middle for Denver. Lindsay (4.9 career YPC) has been a more-efficient rusher than Gordon (4.0), although MGIII has shined brighter in the passing game. Note that the Broncos have typically fielded the superior offensive line. 
This ultimately *should* be Gordon's backfield if the same man that led the NFL in broken tackles from 2016-2018 shows up. A rough start to the 2019 season overshadowed what was ultimately a mostly-solid effort, as Gordon cleared 4 yards per carry in six of his final eight games after failing to clear the mark even once during October.
Gordon has nine games with at least five receptions over the past two seasons; Lindsay has two. The former undrafted free agent is too good to be benched after racking up back-to-back seasons with 1,200 total yards to go along with 17 combined scores, but it's quite possible if not likely that we've already seen the most-productive Denver years from Linsday and Freeman.
Prediction: Gordon functions as the bell-cow RB on a contending Broncos team and posts borderline RB1 production, finishing as the PPR RB14.
RB1/RB2: Kerryon Johnson or D'Andre Swift
RB3/RB4: Ty Johnson or Bo Scarbrough
Notes: Swift swiftly puts a final nail in the #FreeKerryon coffin (sorry). The Lions gave Kerryon a featured role in each of the past two seasons… only for him to suffer an IR-worthy injury in both. This isn't to say he won't be involved; expect a two-back committee at a minimum in Detroit. Still, Swift was drafted too high not to see double-digit touches per game himself. A two-back committee featuring just Swift and Kerryon could produce solid fantasy production, but keep an eye on whether or not the likes of Ty and/or Scarbrough earn first-team reps come August.
The last two weeks of the 2019 season paint a somber picture of what we should potentially expect from this backfield moving forward:
Week 16: Kerryon (32% snaps), Scarbrough (28% snaps), Ty (24%), J.D. McKissic (14%)

Week 17: Kerryon (45%), Scarbrough (28%), Ty (13%), McKissic (13%)
Swift should be considered the favorite to lead the way in most categories; just realize there's a long path to gaining a three-down role under Matt Patricia. This backfield is one of the most muddled situations in the league and has a very real chance of featuring three to four backs on a weekly basis.
Prediction: Swift functions as the Lions' most-productive back and finishes as the PPR RB30.
RB1: Aaron Jones
RB2/RB3: A.J. Dillon or Jamaal Williams
Notes: Jones was fantastic in 2019, posting 236-1,084-16 rushing and 49-474-3 receiving lines while working as one of the clear-cut focal points of the offense. And yet, there's a case to be made that the Packers' exceptionally talented RB will continue to largely be relegated to a two- or even three-back committee. Williams didn't play fewer than 40% of the offense's snaps even once after Week 1 when healthy:
Week 1: Jones (61% snaps); Williams (39%)

Week 2: Jones (59%); Williams (45%)

Week 3: Jones (39%); Williams (61%)

Week 4: Williams hurt

Week 5: Williams hurt

Week 6: Jones (49%); Williams (53%)

Week 7: Jones (57%); Williams (40%)

Week 8: Jones (63%); Williams (48%)

Week 9: Jones (59%); Williams (44%)

Week 10: Jones (50%); Williams (50%)

Week 11: Bye

Week 12: Jones (52%); Williams (48%)

Week 13: Jones (58%); Williams (42%)

Week 14: Jones (58%); Williams (42%)

Week 15: Jones (59%); Williams (41%)

Week 16: Williams hurt

Week 17: Williams hurt
Further complicating Jones' projection is that he averaged 3.5 targets per game with Davante Adams in 2019… and 6.8 targets per game without. He spent more than six snaps in the slot or out wide on just one occasion all season. It would make sense if the Packers feature Jones more as a true receiver in 2020 after curiously declining to add hardly any noteworthy players to their WR and TE rooms considering the RB's success when lined up out wide.
Still, Jones is going to need to continue to function as one of the league's most-efficient backs. RBs aren't drafted in the second round to sit on the bench, and Dillon's Derrick Henry-esque size should earn him double-digit carries per game sooner rather than later.
Green Bay managed to overcome its middling efficiency marks in 2019 on both the scoreboard and in the win column. It again seems unlikely Jones gets close to 300 touches without injuries, meaning we probably shouldn't expect him to flirt with 20 scores again in 2020. 
Prediction: Jones continues to flash elite ability as a rusher and receiver, but a lack of volume leaves with an underwhelming PPR RB13 finish.
RB1: David Johnson
RB2: Duke Johnson
Notes: David Johnson played between 60% and 87% of the Cardinals' offensive snaps in Weeks 1-6 last season, posting 76-298-2 rushing and 30-315-3 receiving lines. This was great! Only Christian McCaffrey, Dalvin Cook, Austin Ekeler and Nick Chubb had more PPR points after six weeks of action.
His ability as a receiver was particularly impressive, as he demonstrated the ability to beat defenses from pretty much anywhere on the field.
(The Texans quietly used Duke Johnson in the slot/out wide on 26% of his snaps last season meaning maybe David Johnson will kinda be used right)pic.twitter.com/evnr0my8JB

— Ian Hartitz (@Ihartitz) June 24, 2020
The potential for a healthy version of David Johnson to spend 20% of his snaps as one of Deshaun Watson's receivers can only mean good things for his fantasy projection. We already know he should see all the rush attempts he can handle considering coach Bill O'Brien's history of feeding his starting RB plenty of carries.
2014: Arian Foster 260 rushes, 59 targets

2015: Alfred Blue 183 rushes, 16 targets (Foster missed 12 games)

2016: Lamar Miller 268 rushes, 39 targets

2017: Miller 238 rushes, 45 targets

2018: Miller 210 rushes, 35 targets (missed 2 games)

2019: Carlos Hyde 245 rushes, 16 targets
Of course, there's a very real case to be made that Duke Johnson is the best RB in Houston.
David Johnson career stats: 4.0 yards per carry, 7.2 yards per target, 5.4 yards per touch, 28 years old, 36th-percentile BMI

Duke Johnson: 4.4 yards per carry, 7.1 yards per target, 6.5 yards per touch, 26 years old, 59th-percentile BMI
Unfortunately for Duke stans like myself: O'Brien didn't trade one of the most-loved fixtures of the franchise for him. That just so happens to be David. Regardless of whether or not you think the long-time Cardinals back still has much left in the tank, nobody has more carries unaccounted for from 2019 than the Texans. A three-down role is likely on the way.
Prediction: David Johnson stays healthy enough to flirt with borderline RB1 production, ultimately finishing as the RB17.
RB1/RB2: Marlon Mack or Jonathan Taylor
RB3: Nyheim Hines
Notes: Mack's starting job is on life support, but we shouldn't necessarily expect Taylor to fully take over this backfield immediately.
A good sample size to try and predict this backfield's splits might just be Weeks 14-17 from last season after Mack returned from injury.
Week 14: Hines 56% snaps, Mack 41%, Jordan Wilkins 14%

Week 15: Mack 45%, Wilkins 43%, Hines 16%

Week 16: Mack 48%, Wilkins 34%, Hines 17%

Week 17: Hines 55%, Mack 48%, Jonathan Williams 2%
Hines had earned some dark-horse appeal in this new-look offense that will feature Philip Rivers under center, considering he possesses an Austin Ekeler-esque skill set thanks to his demonstrated ability to thrive as a true WR in the slot or out wide.
Look all I'm saying is Nyheim Hines doesn't suck pic.twitter.com/HUnZLJzFZ7

— Ian Hartitz (@Ihartitz) June 30, 2020
But he almost assuredly won't see enough snaps to provide anything resembling consistent fantasy production despite Reich's prediction of 10-plus reception games.
Both Mack and Taylor would offer immense upside behind arguably the league's best offensive line if an injury occurs, although neither will seemingly carry much of a pass-game floor as long as Hines continues to stay plenty involved.
Prediction: Taylor eventually pulls away from the pack enough to finish his rookie season as a top-25, not top-20, fantasy RB.
RB1: Leonard Fournette
RB2: Chris Thompson
RB3: Ryquell Armstead
Notes: Fournette (341) finished with more touches than everybody except Christian McCaffrey (403) and Ezekiel Elliott (355) in 2019. Only CMC (142), Austin Ekeler (108) and Tarik Cohen had more targets than Fournette (100). The Jaguars' workhorse back somehow only found the end zone on three occasions last season and was easily one of the most unlucky players in the league. And yet, Fournette finished as the PPR RB7.
The question is whether this sort of elite usage will persist under OC Jay Gruden, who made a habit of utilizing committees during his time in Washington. Fournette ranked 37th among 38 players with triple-digit targets in yards per target; Thompson is going to heavily eat into this part of Fournette's workload. The likelihood of fewer touches, combined with the former No. 4 overall pick's tendency to ruffle feathers in Jacksonville, makes him a risky high-round pick despite the potential for another monstrous role inside a bad offense.
Armstead would likely inherit a featured role of sorts if Fournette ultimately misses game time, although Thompson would again be relevant in the passing game. The ex-Redskins scatback has struggled to stay healthy over the years, but his potential impact can't be understated. Only Ekeler and McCaffrey had more targets than Thompson in Weeks 1-5 last season before Gruden was fired.
Prediction: Fournette falls out of favor in this new-look offense, finishes as the PPR RB20 with severely reduced target share.
RB1/RB2: Damien Williams or Clyde Edwards-Helaire
Notes: The Chiefs drafted Clyde Edwards-Helaire with the No. 32 overall pick of the 2020 NFL draft. The 5-foot-7 and 207-pound back burst onto the scene during his junior season at LSU, posting absurd 215-1,414-16 rushing and 55-453-1 receiving lines in 15 games of action.
He's not the biggest, strongest or fastest runner, but CEH has already demonstrated the ability to convert his rare explosiveness into productiveness on the football field. He graded out well in a variety of tackle-breaking metrics from PFF in 2019.
Yards after contact: 781 (24th among 226 qualified RBs)

Yards after contact per attempt: 3.65 (56th)

Forced missed tackles: 71 (14th)

Forced missed tackles per attempt: 0.33 (14th)
The main part of Edwards-Helaire's game that makes him so special is his ability as a receiver. Coach Andy Reid has already compared his new rookie RB to former Eagles' great Brian Westbrook, noting, "He can block for you. He can run routes. He's got tremendous vision and lateral abilities with cuts and route running, all those things. He's just a real good football player." Furthermore, CEH was also apparently Patrick Mahomes' preferred pick. RB-guru and Fantasy Points analyst Graham Barfield called Edwards-Helaire the "best route runner to come into league since Christian McCaffrey."
It's tough to disagree.
— Ian Hartitz (@Ihartitz) May 28, 2020
NFL.com draft guru Lance Zierlein noted that Edwards-Helaire "needs to crank up commitment level in pass sets" and "has the talent to become a good, three-down back in time, but needs to improve in pass protection." This isn't great news, but it's also a skill that Kansas City hasn't made a habit of asking its starting RB to utilize. Williams had eight or fewer snaps as a pass blocker in literally every game he's played with the Chiefs. Kareem Hunt never even surpassed five snaps as a pass blocker during his time in Kansas City.
We've seen 21 different versions of Reid's offense since he took over as the Eagles' head coach in 1999. The players always change, and the scheme is updated, but one of the larger trends that has persisted over time is the presence of a high-end fantasy RB:
| | | |
| --- | --- | --- |
| Year | Player | PPR per game rank |
| 1999 | Duce Staley | RB11 |
| 2000 | Duce Staley | RB15 |
| 2001 | Duce Staley | RB11 |
| 2002 | Duce Staley | RB15 |
| 2003 | Brian Westbrook | RB19 |
| 2004 | Brian Westbrook | RB5 |
| 2005 | Brian Westbrook | RB7 |
| 2006 | Brian Westbrook | RB4 |
| 2007 | Brian Westbrook | RB1 |
| 2008 | Brian Westbrook | RB1 |
| 2009 | Brian Westbrook | RB36 |
| 2010 | LeSean McCoy | RB3 |
| 2011 | LeSean McCoy | RB3 |
| 2012 | LeSean McCoy | RB8 |
| 2013 | Jamaal Charles | RB1 |
| 2014 | Jamaal Charles | RB7 |
| 2015 | Jamaal Charles | RB2 |
| 2016 | Spencer Ware | RB17 |
| 2017 | Kareem Hunt | RB5 |
| 2018 | Kareem Hunt | RB8 |
| 2019 | Damien Williams | RB25 |
Williams has performed at too high of a level during the Chiefs' past two playoff runs to simply be relegated to a true backup role right away, but CEH deserves the rookie-year hype, and history tells us he'll lead this backfield in touches. Twelve of the last 16 first-round RBs racked up at least 180 touches during their debut seasons.
Prediction: Edwards-Helaire catches 50 passes and finishes as a top-15 PPR RB.
RB1: Josh Jacobs
RB2/RB3: Jalen Richard or Lynn Bowden
Notes: Few players were better than Raiders RB Josh Jacobs in 2019 when it came to running the ball.
Elusive rating: 103.6 (No. 2 among 61 qualified RBs)

Broken tackles: 78 (No. 2)

Yards after contact per attempt: 3.48 (No. 8)

15-plus yard runs: 16 (No. 3)
The rookie racked up a dizzying array of highlights featuring dozens of defenders left grasping for air and/or planted into the turf.
Give Josh Jacobs a 3-down role or we riot @Raiderspic.twitter.com/QoFNfFmVMr

— Ian Hartitz (@Ihartitz) March 23, 2020
There were times that Jacobs truly looked like a top-five RB in the entire league. And yet, he was regularly pulled off the field in favor of both Richard and DeAndre Washington on pass downs. Overall, Jacobs (27 targets) finished well behind *both* Richard (43) and Washington (41) in Derek Carr's pecking order last season.
Raiders GM Mike Mayock said the following upon drafting Jacobs: "This is a three-down back. He's explosive. He's tough. We've watching him pass protect." A broken shoulder would've explained Jacobs' lackluster pass-down usage in 2020, but the Raiders went ahead and 1) Re-signed Richard to a two-year, $7 million contract, as well as 2) Used a third-round pick on RB/WR hybrid Bowden.
Jacobs posted 242-1,150-7 rushing and 20-166-0 receiving lines in 13 games last season. He finished the year as the overall PPR RB21 but the RB15 in PPR points per game. Another 250-plus touches seems more than reasonable, but the sort of pass-game role that is typically present for locked-in fantasy RB1s should unfortunately again be tough to come by.
Prediction: Jacobs again looks like one of the league's better pure runners and is good enough to finish as the PPR RB12.
RB1: Austin Ekeler
RB2/RB3: Justin Jackson or Joshua Kelley
Notes: Ekeler has played seven games without Melvin Gordon during his career, posting snap rates between 65-95% on every occasion. MGIII is gone, but the public still seems a bit afraid to trust Ekeler as a high-end fantasy RB in 2020 with Tyrod Taylor under center.
The artist formerly known as TyGod started 43 games for the Bills from 2015-2017. There were a number of key takeaways from the experience.
The Bills were a bottom-two offense in pass attempts during all three seasons TyGod was their starter.

This didn't prevent them from functioning as an efficient unit for extended stretches, as they ranked No. 9, No. 14 and No. 27 in yards per play during the 2015-2017 seasons, respectively.

Life was particularly fruitful for the Bills' bell-cow RB LeSean McCoy. Overall, Shady ranked as the PPR RB19 (2015, 12 games), RB4 (2016, 15 games) and RB7 (2017, 16 games) with Taylor under center.

McCoy didn't see quite the same target volume as he did during his time with Andy Reid and the Eagles, although he averaged the same number of yards per target.

Shady's target share also wasn't particularly bad; it just wasn't elite. His average of 4.3 targets per game with the Bills from 2015-2017 would've ranked 16th among all RBs in 2019.

Taylor's dual-threat ability proved to be good for McCoy's rushing efficiency. Overall, McCoy averaged as many yards with Taylor under center (4.6) as he did with the Eagles and Chiefs alike.
The Chargers' decision to hand Ekeler a four-year, $24.5 million contract reinforces the reality that this is his backfield.
Fourth-round RB Kelley figures to compete with Jackson for snaps as opposed to Ekeler. This is because RBs drafted outside of the top-three rounds almost never post major production as a rookie.
Ekeler functioned as the PPR RB5 in Weeks 5-17 with Gordon back in action, and as the PPR RB2 in Weeks 1-4 as the Chargers' featured back. Don't be afraid to draft great players who have large roles.
Prediction: Ekeler regresses in 2020… and finishes as a top-10 PPR RB.
RB1/RB2/RB3: Cam Akers or Darrell Henderson or Malcolm Brown
Notes: Not having Todd Gurley around changes everything in an offense that remains controlled by one of the league's brightest offensive minds. Nobody scored more rushing touchdowns than Gurley over the past two seasons, and only the Texans have more carries unaccounted for (254) than the Rams (228).
Week 6 was the only game the Rams played in 2019 without Gurley:
Brown: 11-40-0 rushing, 0-0-0 receiving, 67% snaps

Henderson: 6-39-0, 1-9-0, 33%
Gurley otherwise commanded at least 70% of the offense's snaps in 10 of 15 games. Still, Brown was easily the more active backup, playing at least 20% of the offense's snaps in eight games compared to just two for Henderson.
Draft capital indicates Akers should be the favorite to lead the way in touches. He certainly looked like a stud three-down back at Florida State despite the offense's porous offensive line.
Oh so Cam Akers is a baller huh pic.twitter.com/d63L8zJIpm

— Ian Hartitz (@Ihartitz) June 25, 2020
However, McVay's offseason plans to create an offense featuring more personnel groupings that show off the talents of all three of the team's RBs is hardly a ringing endorsement.
The bad version of a McVay-led offense still finished 11th in points last season. The reward for Akers seizing the starting role is absolutely massive; it's just extremely unclear if/when he'll get there.
Prediction: Akers eventually works as the lead dog and provides consistent RB2 value during the second half of the season, ultimately posting PPR RB28 production.
RB1/RB2: Jordan Howard or Matt Breida
RB3/RB4: Patrick Laird or Kallen Ballage
Notes: Breida (4.99) has averaged more yards per rush than everyone other than Nick Chubb (5.1) and Aaron Jones (5.02) among 42 backs with at least 300 carries since 2017. The ex-49ers RB has also demonstrated plenty of ability to thrive as a receiver.
The potential hurdles for a three-down role in Miami are 1) Howard AKA millennial Frank Gore, and 2) 10 fumbles on 448 career touches. A two-RB committee seems likely within an offense that largely couldn't do anything other than convert contested-catch opportunities. Even a marketable boost from the offensive line would leave them as an average unit at best. Ryan Fitzpatrick led this team in rushing in 2019. Breida is talented, but it's troubling that someone as smart as Kyle Shanahan was so willing to part ways with him.
Howard appears poised to function as a Gore/Carlos Hyde early-down RB into perpetuity. He was well on his way to getting 225-plus touches from his *third* different coaching staff last season prior to injury. The good news: Neither back is particularly expensive in fantasy, so luckily figuring out the pecking order in this backfield isn't all that vital. Both players present value for zero-RB drafters who wish to load up at the WR position.
Prediction: Howard works as the lead early-down back and finishes comfortably in the RB3 range, while Breida catches more than 30 passes for the first time in his career and ranks as the RB38.
RB1: Dalvin Cook
RB2: Alexander Mattison
RB3: Mike Boone
Notes: Cook has a real case as the league's best-pure runner with the ball in his hands. The lead back of a Gary Kubiak-coached offense has averaged north of 290 touches per season, largely serving as a fantasy cheat code over the years. Overall, he's enabled eight different RBs to a combined 15 top-12 PPR seasons from 1995-2019.
Cook played at least 60% of the offense's snaps with 16-plus touches in every game from Weeks 1-11 before getting injured in 2019. A potential holdout is troublesome, but there's little doubt that Cook will continue to cook (sorry) as the focal point of this offense if on the field in 2020.
The Vikings' 2019 third-round pick should be considered a universal top-three handcuff option along with Tony Pollard and Latavius Murray, although I prefer the latter backs at the moment considering Mattison ranked dead last among 45 qualified backs in success rate as a rookie. Further failure to more consistently pick up positive yardage could be an issue if relied on as the featured back. Boone continues to flash with limited opportunity.
Prediction: Cook doesn't holdout, finishes as a top-five PPR RB and gets #paid.
RB1/RB2/RB3/RB4: Sony Michel or James White or Rex Burkhead or Damien Harris
Notes: There's always uncertainty within the Patriots' backfield but especially so in this post-TB12 era. Michel truly functioned as one of the league's worst backs on a per-touch basis last season, White's fantasy value has largely always been contingent on a steady dose of check-downs from Tom Brady, Burkhead usually fights for double-digit touches when healthy, and coach Bill Belichick didn't spent a third-round pick on Harris for no reason.
None of these backs are particularly expensive in fantasyland at the moment. Typically, buying the cheapest RB from the Patriots has been best for business, although Michel and Harris seem like the prime suspects to ultimately lead this backfield in touches. Cam Newton's historical trend of vulturing TDs away from his RBs is much more prevalent than the limited sample of his career that featured an extreme dosage of targets to his lead pass-game back.
Prediction: The Patriots don't have a single RB finish inside of fantasy's top-36 backs.
RB1: Alvin Kamara
RB2: Latavius Murray
Notes: Kamara has caught 81 passes in each of the past three seasons. Christian McCaffrey has also accomplished this feat. Every other NFL RB has combined for just four-such instances during this span.
Drew Brees' chemistry with his stud RB is second to none.
Alvin Kamara option routes are a damn cheat code pic.twitter.com/InltEth8b5

— Ian Hartitz (@Ihartitz) March 31, 2020
Kamara missed two games due to injury last season and admitted that he didn't feel like himself upon returning. And yet, he finished as the PPR RB9. Kamara's broken tackle rate resumed 2017-2018 levels when healthy, and his ceiling remains as a top-five RB in 2020 considering positive scoring regression is also well within his potential range of outcomes.
We saw just how special Murray can be in this offense on two occasions with Kamara sidelined last season:
Week 7: 27-119-2 rushing, 6-31-0 receiving, 84% snaps

Week 8: 21-102-1, 9-55-1, 82%
Murray otherwise had double-digit touches in just four of 15 games. He won't carry much standalone value outside of absolutely pristine matchups, but continue to treat the Saints' RB2 as a consensus top-three handcuff.
Prediction: Kamara finishes as a top-five PPR RB and catches exactly 81 passes for the fourth straight season.
RB1: Saquon Barkley
RB2/RB3: Dion Lewis or Wayne Gallman
Notes: Barkley has been one of the NFL's few true three-down workhorses since entering the league in 2018. Sure, he's entering a new offense, but new OC Jason Garrett is one of the only play-callers we can feasibly expect to give the Giants' stud RB an even larger role. The 2018 PPR RB1 and league-leader in broken tackles, Barkley is arguably the single-best RB in the league from a pure talent perspective.
His pass-game floor makes him the consensus RB2 behind only Christian McCaffrey. Only CMC (8.3 targets per game), James White (8) and Alvin Kamara (7) have been more involved in their team's passing game than Barkley (6.7) over the past two seasons. This is perhaps a bit inflated by his ridiculous 121 targets from 2018, but even his 73 pass-game opportunities in 2019 ranked eighth among all RBs despite the 2018 No. 2 overall pick missing three games. The Giants haven't made a habit of deploying Barkley as a true receiver in the slot or out wide. Still, it would be shocking if he doesn't continue to see more than a handful of targets per game in 2020.
Expect a multi-back committee of sorts if Barkley is ultimately forced to miss any game time.
Prediction: Barkley challenges CMC for No. 1 RB honors, but ultimately finishes with silver.
RB1: Le'Veon Bell
RB2: Frank Gore
RB3: Lamical Perine
Notes: Bell's 59 broken tackles were good for the ninth-highest mark among all RBs in 2019. He continued to ball out when lined up as a true WR, as has been the case throughout his entire career.
Unfortunately, that was about the only good to come out of the 2019 season. Bell averaged a career low 3.2 yards per carry behind the Jets' absolutely brutal offensive line, failing to clear the century mark on the ground even once.
A bounce-back campaign in 2020 would be easier to invest in if coach Adam Gase wasn't continuing to give the opposite of endorsements about Bell's status as the offense's featured back. The team's decision to sign The Inconvenient Truth to serve as an early-down complement further cements the idea that Bell likely won't be clearing 100 targets again in 2020.
Ultimately, the Jets are a slow-paced and low-scoring offense banking on their plethora of free agent offensive linemen to make an immediate difference. Bell wasn't washed in 2019, but he'll need to truly boom in efficiency to make up for a likely decrease in volume.
Prediction: Bell finishes as a borderline RB2 as Gore accounts for over 125 rush attempts for the 16th consecutive season.
RB1: Miles Sanders
RB2: Boston Scott
RB3: Corey Clement
Notes: Sanders more than met expectations as a rookie, racking up 1,327 yards from scrimmage and six touchdowns despite splitting plenty of work with early-drown grinder Jordan Howard. Now the backfield is seemingly the Sanders show after 1) Howard took his talents to Miami, and 2) Philadelphia declined to draft a RB. Still, coach Doug Pederson has never made a habit of enabling a three-down back, and we have a limited sample size of Sanders in this true bell-cow role.
The back we saw during the second half of the season possessed a gaudy combination of big-play ability and elusiveness. He finished the season ranked 12th in yards after contact per attempt among all RBs.
Of course, Sanders is at his best as a receiver. Only Austin Ekeler (2.74 yards per route run), Dalvin Cook (1.93), James White (1.91), Christian McCaffrey (1.76) and Chris Thompson (1.71) averaged more yards per route than Sanders (1.61) in 2019. Only Kamara (8.26) has averaged more yards per target than Sanders (8.08) among 32 rookie RBs with at least 50 targets since 2000.
Sanders was the offense's workhorse following Howard's injury, posting snap rates north of 70% in six of seven non-injured games down the stretch. Overall, Sanders worked as the PPR RB8 from Weeks 11-17. He possesses big-play ability as both a rusher and receiver in addition to his proven savagery as a pass blocker.
Scott's enhanced role as the season went on seemed more due to the offense's lack of resources at WR than a true investment in getting him the ball. Expect a more-strict committee of sorts if Sanders is forced to miss action.
Prediction: The Eagles add an early-down complement in August… and Sanders still posts season-long top-eight RB production as the lead back of a very good offense.
RB1: James Conner
RB2: Jaylen Samuels
RB3: Benny Snell
RB4: Anthony McFarland
Notes: It's rare to find 6-foot-1, 230-pound running backs who are able to move in space like Conner. The only RBs who joined Conner in the 50 broken tackles club during Weeks 1-13 in 2018 were Saquon Barkley and Kareem Hunt, who just so happened to lead the NFL in broken tackles during the 2018 and 2017 seasons, respectively.
Only Todd Gurley, Saquon Barkley, Christian McCaffrey and Alvin Kamara had more PPR points than Conner in 2018 Weeks 1-13. He finished as "just" the RB6 despite missing three games, posting 215-973-12 rushing and 55-497-1 receiving lines along the way.
Shoulder and quad injuries would limit Conner to just 10 games in 2019, with limited snaps in several others. Conner wasn't quite as efficient in both the run and pass game, but that was to be expected with Mason Rudolph and Devlin Hodges under center. He was the PPR RB9 in Weeks 1-8 before injury. He was one of just 16 RBs with at least 125 touches, while his pass-game usage was equal to that of Dalvin Cook and David Johnson. This was despite splitting plenty of snaps with Samuels and having a Week 7 bye along the way.
Steelers coach Mike Tomlin pretty much confirmed Conner would be the team's three-down back in March: "I'm a featured-runner type guy by mentality. … No question in today's game, a featured runner needs to be supplemented and supplemented by guys who are capable of doing similar things in case he misses time. … Usually when it's going well, it's because you have a lead dog out front, and that guy is the featured runner. James is a featured guy and proven runner when healthy. We're excited about him getting back to health and displaying that in 2020."
Every starting Pittsburgh RB was fed a featured workload before last season: 
There's some competition on the roster between Samuels, Snell and fourth-round RB McFarland. Still, it seems likely that this will be Conner's backfield during his contract year as long as he can stay on the field and provide at least decent efficiency.
Prediction: Conner takes over the Pittsburgh backfield and functions as a high-end season-long RB2 in a rejuvenated offense.
RB1 or RB2: Raheem Mostert or Tevin Coleman
RB3: Jeff Wilson
RB4: Jerick McKinnon
Notes: This backfield was an absolute mess to try to figure out in 2019:
Coleman 36% snaps

Mostert 34%

Matt Breida 24%

Wilson 6%

FB Kyle Juszczyk 37%
There were brief moments of clarity between some injuries, but coach Kyle Shanahan has shown absolutely no fear in simply going with the hot hand. Mostert earned the starting role at the end of the regular season, worked behind Coleman in the Divisional Round, ripped off a 29-220-4 performance in the NFC Championship… and then posted a relatively mundane 62% snap rate with the season on the line in the Super Bowl.
The 49ers boasted the league's No. 2 scoring offense last season while running the ball more than anyone other than the Ravens. There will be rushing production in this offense, but it's going to be tough to predict on a week-to-week basis. Luckily, Breida is out of the picture, but the potential return of McKinnon would further reduce the already low pass-game floor of everyone involved.
Mostert represents one of the last expected starters available in fantasy drafts, although the potential for Coleman to see just as much usage makes him a significantly better value at his reduced cost.
Prediction: Mostert finishes as a borderline RB2 and Coleman as a RB3.
RB1: Chris Carson
RB2: Rashaad Penny
RB3: Carlos Hyde
RB4: DeeJay Dallas
Notes: 2019 featured an alarming mix of good and bad moments for Carson:
Career-high marks in carries (278), rushing yards (1,230), receptions (37), receiving yards (266) and receiving scores (2).

Only Nick Chubb (79), Josh Jacobs (78) and Christian McCaffrey (75) broke more tackles than Carson (74).

Carson led all RBs with seven fumbles. Inconveniently for fantasy managers, he had two separate three-game streaks of fumbles that led to multiple in-game benchings.
Carson largely split reps with Penny when both were healthy down the stretch of last season, although the status of the team's 2018 first-round pick is in question following a late-season torn ACL.
The Seahawks' decision to not add any serious resources to their backfield is good news for Carson's chances at keeping his starting job. Still, more funny business and inability to hang on to the ball could force coach Pete Carroll's hand sooner rather than later. In the meantime, expect to see defenders falling to the ground more times than not when attempting to bring down the Seahawks' boom-or-bust RB.
It seems unlikely any of Penny, Hyde or Dallas receive a true three-down role without the help of multiple injuries.
Prediction: Carson gets back to not fumbling every other play, finishing as a top-20 PPR RB.
RB1 or RB2: Ronald Jones or Ke'Shawn Vaughn
RB3: Dare Ogunbowale
Notes: Yes, Tom Brady called Ronald "Ron." Also yes, both the front office and coaching staff have seemingly gone out of their way to praise Jones during the offseason. Add in the reality that Peyton Barber is now on the Redskins, and there's a reason why Jones has emerged as a sleeper entering 2020.
I like RoJo, but that usually only applies to conversations that also include Barber. Jones couldn't even beat out Ogunbowale for the majority of the offense's pass-down work last season. He was immediately benched upon blowing a pass-blocking assignment after finally seizing the job away from Barber. Clearly the Bucs felt the need to add a pass-catching RB in Vaughn, meaning another multi-back committee is the most-likely scenario here.
The good news is neither RoJo nor Vaughn are being priced as top-30 fantasy backs. This reality makes both prime investments for zero-RB drafters looking to nab a potential starter in the later-mid rounds of the draft. Just keep expectations in check for a backfield that consistently rotated three backs throughout the 2019 season.
Prediction: RoJo emerges as the Buccaneers' lead RB, but all three backs stay involved and Jones ultimately posts borderline RB3 production.
RB1: Derrick Henry
RB2: Darrynton Evans
Notes: Henry was the NFL's triple-crown rushing winner in 2019, setting league-high marks in carries (303), rushing yards (1,540) and rushing touchdowns (16). Since the 1970 NFL merger, the only triple-crown rushing winners have been: O.J. Simpson (1973, 1975), Walter Payton (1977), Earl Campbell (1980), Charles White (1987), Emmitt Smith (1995), Shaun Alexander (2005), DeMarco Murray (2014) and Adrian Peterson (2015).
The incredible season was spearheaded by an absolutely bonkers finish that saw Henry gain over 150 total yards and find the end zone 12 times in his final nine games. The 6-foot-3 and 247-pound monster has demonstrated a penchant for getting stronger as the season goes on throughout his career.
September: 3.87 yards per carry

October: 3.87

November: 5.87

December: 5.38

January: 5.2
Henry is and always has been an incredible rusher. However, his ability in the pass game perhaps deserves a bit more credit. Henry won't be confused with Christian McCaffrey or Alvin Kamara as a receiver anytime soon, although the only RBs to average more than Henry's 7.5 yards per target among 69 RBs with at least 50 targets since 2017 are Austin Ekeler (8.6), Kyle Juszczyk (8.2), Miles Sanders (8.1) and Kareem Hunt (7.9). 
Even if Evans slides right in as 2020 Dion Lewis, the idea that Henry is a game-script dependent back is a bit exaggerated. He had at least 16 touches in every single contest last season despite at times losing snaps to Lewis in negative game script situations. Ultimately Henry played at least 60% of the offense's snaps in 13 of 18 games.
Prediction: Henry again finishes as a top-10 PPR RB in his typically ferocious and entertaining fashion.
RB1: Derrius Guice
RB2: Adrian Peterson
RB3 or RB4 or RB5 or RB6: Antonio Gibson or Bryce Love or J.D. McKissic or Peyton Barber
Notes: What an absolute mess. Guice is the favorite to start, but truly there's more unknown in this backfield than any other in the league.
Guice has played in five of 32 games over the past two seasons. He's been fantastic in this short sample and is talented enough to make the most out of 10-15 touches per game, but there are serious reinjury concerns here, and a three-down role seems unlikely at any point regardless of whether or not he can maintain good health.
However, this is all being heavily baked into his mundane average draft position already. To reiterate: Guice is a stud.
Derrius Guice has an awful lot of #good plays for a guy with fewer than 50 career touches pic.twitter.com/MHnZSNFjmJ

— Ian Hartitz (@Ihartitz) June 30, 2020
Peterson was actually #good in 2019 and wouldn't be back in Washington without some sort of guarantee for playing time, but don't expect this new staff to feed him in the same manner as interim coach Bill Callahan did down the stretch in 2019.
That leaves us with the remaining crew. Gibson seems like the best candidate to command some sort of role approaching double-digit touches per game. It's easy to love Gibson the player. He scored 14 touchdowns on just 77 touches in 2019, ripping off seven plays of 50-plus yards and breaking roughly a million tackles along the way. Gibson is viewed as a WR/RB hybrid, standing 6-foot and weighing 228 pounds with the ability to run the 40 in 4.39 seconds. The Athletic's Grant Paulsen reports the Redskins want to run more 21 personnel (two running backs, one tight end) with rookie Gibson and Guice or Peterson on the field at the same time.
Prediction: Guice is healthy enough to play at least half the season and flirts with RB2 production while on the field; Gibson emerges as a better real-life player than fantasy asset due to limited and inconsistent touches.