Tight end is perhaps the most physically demanding position of the entire NFL offense. These players have to boast the size to regularly help control defensive linemen in the trenches and the pass-catching ability to simultaneously function as a threat to the secondary. Today's TEs are more well versed than ever in terms of contributing to the passing game.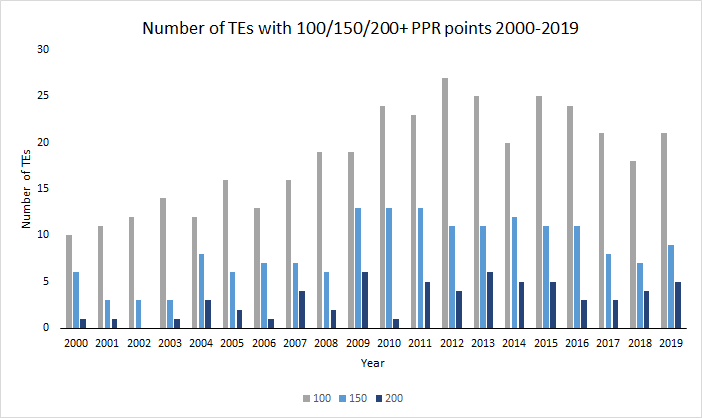 Fantasy football roster construction varies, but for most season-long leagues we have one QB, two RBs, two WRs, another 1-2 FLEX positions and almost always just one TE. Since 2009, there have been an average of 10.8 tight ends per season to score at least 150 PPR points, indicating that there's typically been enough players at the position for almost every fantasy manager in an eight- to 12-team league to roster a fairly high-scoring option at TE.
[Subscribe to PFF EDGE or ELITE to gain access to our fantasy football rankings and projections, PFF Player Grades, premium content and more.]
The 2020 class of players in particular looks like another example where fantasy drafters can safely pick from several high-upside options if they don't manage to get one of the position's studs. What follows is a quick overview of this year's group of TEs and what to expect in their respective offenses. Note that the tiers don't reflect pure fantasy ranks, and the corresponding TEs aren't listed in any specific order — this is more of an exercise for best-case scenario ceilings at the position. Check out my top-150 rankings for more fantasy-specific projections.
TEs with true opportunity to lead their offense in targets (7)
Mark Andrews averaged a team-high 6.5 targets per game in 2019. He made the most of the opportunities, scoring 10 TDs and functioning as one of the position's most-efficient pass catchers. Overall, Andrews was one of just seven TEs to average at least 2 yards per route run in 2019 (minimum 25 targets):
Of course, Andrews isn't used all that often as a traditional TE; the second-year talent lined up in the slot or out wide on 61% of his snaps last season. Lamar Jackson fed his trusty No. 1 receiver at least six targets in all but four games last season, and Andrews has demonstrated enough elite ability with both ball in his hands and in contested-catch situations to continue to warrant high-end fantasy appeal.