Quarterback play has never been better in the NFL thanks to a variety of factors, including softer rules, improved pass-friendly schemes and natural human development. Of course, the NFL's never-ending quest for excellence under center means that even the league's best signal-callers will inevitably face some level of scrutiny for their performances in 2020.
[Editor's note: Subscribe to PFF ELITE today to gain access to PFF's Premium Stats and new Player Grades experience in addition to the 2020 NFL Draft Guide, 2020 Fantasy Rookie Scouting Report, PFF Greenline, all of PFF's premium article content and more.]
This article will attempt to pinpoint the single most pressing question for all 32 starting QBs ahead of the 2020 NFL season with a focus on their fantasy football expectations.
Question: Is he worthy of top-five fantasy QB hype?
Analysis: Murray finished his rookie season as fantasy's QB8 overall and QB12 in fantasy points per game. This was great! He joined Cam Newton, Andrew Luck, Robert Griffin III, Dak Prescott and Russell Wilson as the only rookie QBs to finish among the position's top-12 fantasy performers since 2010.
However, a closer look at Murray's statistics through the air suggests that he was largely an average to below-average passer regardless of the situation:
QB rating: 83.8 (No. 23)

Deep-ball rating: 94.5 (No. 16)

Under pressure rating: 62.1 (No. 21)

Kept clean rating: 94.8 (No. 32)
Of course, the Cardinals hardly surrounded their franchise QB with a plethora of talented skill-position weapons. Murray made a number of highlight-reel throws that demonstrated the sort of ceiling he might possess with a better surrounding cast.
Kyler Murray might just be unstoppable sooner rather than later pic.twitter.com/ORJwW36bHC

— Ian Hartitz (@Ihartitz) April 30, 2020
This offense's rushing attack was already lethal in 2019, while natural progression and the addition of DeAndre Hopkins should certainly lead to a nice Year-2 leap for Murray as a passer. Even failure for the Cardinals to progress in the win column likely won't hurt Murray's fantasy stock all that much thanks to his absurd rushing floor. Overall, Murray's average of 34 rushing yards per game ranks sixth among all QBs to start at least 16 games in NFL history.
Fantasy ruling: QB4 with overall QB1 upside.
Question: Are the best years of his career in the past?
Analysis: The Falcons' long-time QB1 completed a league-high 408 passes last season despite missing a game and dealing with mostly-brutal offensive line play. The 2019 fantasy QB11 again figures to be throwing the ball more often than not after the Falcons failed to make much of a change to their porous defense.
While Julio Jones and Calvin Ridley are undoubtedly ballers, there's a troubling lack of depth among the offense's skill-position talents. The Falcons' 35-year-old QB took a league-high 48 sacks last season and struggled down the stretch while playing through a painful ankle injury. The result was largely the worst season from Ryan since his pre-MVP days. Here's how Ryan has fared in yards per attempt, adjusted completion percentage and QB rating over his career.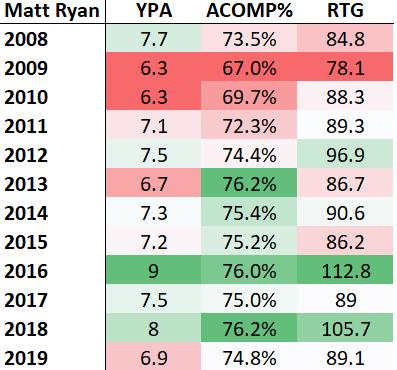 Positive regression isn't guaranteed, particularly when the offense is basically an injury away from having to make some very tough decisions at almost every position. There have been more than a few QBs to put together solid seasons after turning 35 in recent history, but the Falcons' lack of upgrades on offense indicates a return to 2016 form likely isn't on the horizon.
Fantasy ruling: QB15 as an immobile and aging gunslinger.
Question: Can he become the first repeat fantasy QB1 since Dante Culpepper?
Analysis: The 2019 MVP has set the NFL record for carries by a QB in back-to-back seasons. Yes, Jackson's average of 61 rush yards per game is well ahead of second-place Mike Vick (43) on the all-time leaderboard for QBs, but he's actually gone for 81.6 yards per game on the ground if we only include starts. That mark has only been topped by Ezekiel Elliott, Josh Jacobs, Derrick Henry and Chris Carson over the past two seasons.
Additionally, referring to Jackson as anything other than a great passer is simply false. Sure, he might face simplified defenses and coverage schemes thanks to his unrivaled rushing ability, but that's not exactly a threat that will be going away anytime soon. Jackson was a top-six QB in rating under pressure, on deep passes and when kept clean in 2019, throwing plenty of tight-window dimes along the way.
74 seconds of Lamar Jackson throwing dimes pic.twitter.com/u5SBsXrYGC

— Ian Hartitz (@Ihartitz) June 20, 2020
His astronomical 9% TD rate is certain to regress; eight QBs have posted a rate of at least 8% since 2000 and only Aaron Rodgers managed to surpass 6.5% in the encore. Still, Jackson's generational (I hate the word too but in this case it works) rushing talents make him the closest thing we have to a modern fantasy cheat code.
Fantasy ruling: The overall QB1.
Question: Will the presence of Stefon Diggs be enough to enable Allen to reach new heights?
Analysis: Allen was one of the league's single-worst QBs when asked to throw deep in 2019. Obviously, Buffalo's young signal-caller has the arm strength to make pretty much any throw, but consistently carving up defenses on passes thrown 20-plus yards downfield was a major struggle throughout his second season:
Deep yards per attempt: 8.7 (No. 32 among 35 QBs to throw at least 20 passes 20-plus yards downfield)

Deep catchable rate: 31% (No. 32)

Deep QB rating: 64.4 (No. 28)

Deep ball rate: 14.8% (No. 6)
The deep ball is to Allen what the three-point shot is to Russell Westbrook: a useful skill that they don't possess yet insist on attempting at a high volume anyway.
Enter Diggs, who led the NFL in receiving yards on deep passes in 2019 and deserves to be named alongside the league's premiere route-running technicians. Allen significantly improved in completion rate (+6%), TD rate (+1.2%), INT rate (-1.8%), adjusted yards per attempt (+1.3) and QB rating (+17.4) from 2018-2019 thanks in large part to the additions of John Brown and Cole Beasley, so another jump in 2020 wouldn't be shocking. Still, it's going to take a lot for Diggs to take Allen from a brutal to even average deep-ball passer.
With that said, Allen is still plenty worthy of his QB1 fantasy hype. He joined Jackson as the only QBs with at least 100 rush attempts in 2019. Allen is tied for eighth among all players with 17 rushing touchdowns since entering the league. You don't have to think Allen is a good real-life QB, but 2019's fantasy QB6 is again more than capable of putting up 18 fantasy points per week.
Fantasy ruling: QB6 with legit overall QB1 upside.
Question: Is he 2020's premiere late-round QB?
Analysis: Bridgewater is anyone's idea of an improvement over current-Washington backup QB Kyle Allen:
Completion rate: Bridgewater (No. 6 among qualified QBs), Allen (No. 25)

TD rate: Bridgewater (No. 13), Allen (No. 32)

INT rate: Bridgewater (No. 4), Allen (No. 33)

QB rating: Bridgewater (No. 11), Allen (No. 34)

Yards per attempt: Bridgewater (No. 19), Allen (No. 27)

Adjusted yards per attempt: Bridgewater (No. 15), Allen (No. 34)
Of course, the biggest knock on Bridgewater is his tendency to check down. Only Jimmy Garoppolo (6.5% deep-ball rate) had a lower percentage of pass attempts travel fewer than 20 yards downfield. Allen (11%) ranked 16th. The good news for the Panthers' plethora of talented receivers is that Bridgewater (57% catchable deep ball rate) was far and away more accurate when he did throw deep compared to Allen (30%).
The Panthers probably boast the league's single-worst defense and have a number of YAC-oriented weapons at Bridgewater's disposal in Christian McCaffrey, D.J. Moore and Curtis Samuel. There's no rushing floor here, but the potential for Carolina to participate in plenty of shootouts next season makes Teddy two-gloves anyone's idea of a late-round QB worth targeting in two-QB leagues. Note that the Panthers have the league's fourth-easiest schedule in Weeks 1-4 in terms of fantasy points allowed to QBs in 2019.
Fantasy ruling: QB18 and a truly fantastic late-round option to target.
Question: Can Foles take this passing game from awful to average?
Analysis: Trubisky regressed in virtually every category during his brutal 2019 campaign, ultimately functioning as the league's 36th-worst passer in adjusted yards per attempt among 42 QBs to throw at least 100 passes. Further complicating matters in fantasy land was his newfound refusal to run the ball: Trubisky was a true threat on the ground in both 2017 (20 rush yards per game) and 2018 (30) before largely declining to use his legs in 2019 (13).
It's almost certain that Foles is under center in Week 1 despite coach Matt Nagy's insistence on going through an open competition. Sure, Foles hardly looked like a world-beating talent last season, but it was hardly an ideal situation behind the Jaguars' patchwork offensive line. He's more than capable of orchestrating Matt Nagy's RPO-heavy offense at a high level considering his past success running similar schemes with the Eagles. Of course, Nagy was Foles' QB coach in Kansas City back in 2016.
Foles has functioned as an above-average QB when not coached by Jeff Fisher or Doug Marrone. We'll have a better idea of whether or not Nagy deserves to be in that conversation after 2020, but either way we shouldn't expect this passing game to join the league's elite units after failing to add many difference-makers to the receiving core or offensive line. High-end fantasy production is unlikely for both QBs in an offense that boasts limited receiving talent behind Allen Robinson and Anthony Miller.
Fantasy ruling: Foles wins the job, but both QBs finish outside fantasy's top-30 signal callers.
Question: Will he be the next rookie to finish as a fantasy QB1?
Analysis: The 2019 National Championship and Heisman Trophy winner has a combination of accuracy and off-script goodness that has drawn comps to Tony Romo. Overall, Burrow threw for 5,671 yards, 60 TDs and just 6 INTs in 15 games while completing 76.3% of his passes and averaging 10.8 yards per attempt. He ranked No. 1 and No. 2 in completion rate under pressure and on deep balls (20-plus yards) among 242 qualified QBs.
The concerns about Burrow are 1) That he transferred from Ohio State, and 2) He's "old" at 23. Ultimately, losing a competition to Dwayne Haskins — who went on to break Drew Brees' single-season Big Ten touchdown record — shouldn't be viewed as a massive red flag, particularly when Burrow went on to top Haskins' output in the SEC. The age isn't ideal for a prospect who might be incredibly raw, but that's clearly not the case with Burrow.
There's a surprising amount of skill-position talent for an offense that finished with the fewest wins in the league last season. A.J. Green, Tyler Boyd, John Ross, Auden Tate, Tee Higgins, Joe Mixon and Giovani Bernard form anyone's idea of above-average WR and RB rooms, while the team's likely-still-porous defense should leave the offense in comeback mode more weeks than not. The Bengals were one of just nine teams to throw the ball at least 600 times last season.
Year-1 fantasy expectations deserve to be high. Only Cam Newton, Andrew Luck, Robert Griffin, Dak Prescott, Russell Wilson and Kyler Murray have posted QB1-fantasy production as a rookie since 2010, and Burrow meets the two-most common criteria of 1) Being a Week 1 starter, and 2) Having at least a decent rushing floor (he averaged 27 rushing yards per game at LSU). Nobody is going to confuse Burrow with Lamar Jackson anytime soon, but a 243-767-12 rushing line in 28 games at LSU is incredibly productive considering sacks count against collegiate rushing yards. Add in the likelihood that the Bengals again rank near the top of the league in pass attempts, and it's clear Burrow is worth pursuing in fantasy drafts of all shapes and sizes.
Fantasy ruling: QB12 and deserves more Year-1 hype.
Question: Is he capable of regaining second-half 2018 form?
Analysis: Mayfield entered 2020 with all the hype in the world thanks to both his blistering second half as a rookie and the Browns' loaded group of skill-position players. Ultimately, the team's porous offensive line doomed the entire unit. The decision to 1) Sign ex-Titans RT Jack Conklin, and 2) Draft Alabama OT Jedrick Wills with the No. 10 overall pick indicates the Browns might have solved their biggest issue.
Mayfield again has more than enough talent at his disposal between Odell Beckham, Jarvis Landry, Nick Chubb, Kareem Hunt, Austin Hooper and David Njoku to theoretically ball the hell out. The improved offensive line means he'll have a real chance to capitalize and look more like the guy who broke the NFL record for most TD passes by a rookie, although it's unclear how much passing volume he'll be afforded in a potential run-first attack in new coach Kevin Stefanski's offense.
The good news is that while Stefanski didn't ask Kirk Cousins to pass much last season, the veteran QB did post career-best marks in TD rate, adjusted yards per attempt and QB rating. An increase in play-action rate is expected and should boost the entire passing game's efficiency. The new-look Browns have done everything in their power to address the offensive front, while the same gaudy weapons that caused a ridiculous amount of hype in 2019 are back (and then some). Asking Mayfield to leap into the league's top-QB tier might be asking a lot, but at the very least we should expect a step forward from this passing game in 2020. And yet, it's tough to be overly optimistic about Mayfield's fantasy upside considering his lack of a rushing floor and potential for minimal high-end passing volume.
Fantasy ruling: QB24 and a worthy late-round dart throw as a backup option.
Question: Is he locked in as a top-five fantasy QB?
Analysis: The Cowboys' rising fifth-year QB hasn't missed a game since entering the league in 2016. He's experienced some lows, notably struggling in 2017 and during the first half of the 2018 season before the team acquired Amari Cooper. And yet, Prescott has finished as the fantasy QB6, QB10, QB10 and QB2 over the past four seasons.
As a whole, we've seen nothing but solid-to-great efficiency from Prescott:
Completion rate: 65.8% (No. 11 among 44 QBs with 16-plus starts since 2016)

TD rate: 4.7% (No. 17)

INT rate: 1.74% (No. 14)

QB rating: 97 (No. 13)

Yards per attempt: 7.62 (No. 11)

Adjusted yards per attempt: 7.77 (No. 12)
Of course, a large part of Prescott's game involves his rushing ability. The dual-threat talent has averaged a relatively mundane 19 rushing yards per game during his career, but Prescott's ability to find the end zone has been special: Josh Allen (17) joins Prescott (21) as the only QBs with more than 15 rushing scores since 2016.
The 2019 Cowboys finished as one of just 11 offenses to average at least 6.5 yards per play since 1970. The offense could embrace a more pass-first attack under coach Mike McCarthy, and the likelihood that CeeDee Lamb/Blake Jarwin are upgrades over Randall Cobb/Jason Witten makes the 2020 version of this offense even scarier.
Fantasy ruling: QB3 behind only Lamar Jackson and Patrick Mahomes.
Question: Can he make a difference and get the Broncos in contention as early as 2020?
Analysis: The Broncos' 2019 second-round pick suffered a thumb injury in the preseason and was forced to begin his rookie year on injured reserve. Lock would ultimately return and start the final five games of the season. While the 4-1 record was great, the competition — and his individual performance — left a lot to be desired:
Week 13 vs. Chargers: 18-28, 134 yards, 2 TD, 1 INT

Week 14 at Texans: 22-27, 309 yards, 3 TD, 1 INT

Week 15 at Chiefs: 18-40, 208 yards, 0 TD, 1 INT

Week 16 vs. Lions: 25-33, 192 yards, 1 TD, 0 INT

Week 17 vs. Raiders: 17-28, 177 yards, 1 TD, 0 INT
Credit to Lock for only taking five combined sacks along the way, as well as for posting a respectable 18-72-0 rushing line. Still, three fumbles didn't help, and he failed to lead the offense to at least 24 points in three of five starts.
The rationale for expecting a leap forward in 2020 is 1) The addition of talented rookie WRs Jerry Jeudy and KJ Hamler as well as RB Melvin Gordon, and 2) The reality that Lock demonstrated some true high-end arm talent at various points as a rookie.
Best of Drew Lock as a rookie pic.twitter.com/iaBRjJq0IF

— Ian Hartitz (@Ihartitz) May 2, 2020
Lock didn't show much deep-ball goodness as a rookie, but this was largely the strength of his game at Missouri, ranking second and fourth in QB rating and yards per attempt, respectively, on passes thrown 20-plus yards downfield among 50 draft-eligible QBs. The potential for the defense to go from good to great in its second season under Vic Fangio means that Lock might only need to be *okay* for the Broncos to compete for a Wild Card spot in 2020. A rise up the ranks in fantasy land seems more unlikely, although the presence of new-OC Pat Shurmur should absolutely be viewed as a positive for Lock's continued development.
Fantasy ruling: QB25 who won't be on the radar in one-QB redraft leagues.
Question: Can he resemble the same man we saw in the first half of 2019?
Analysis: Stafford absolutely soared in his first year with Darrell Bevell calling plays before missing the second half of the season with a broken back. Overall, Stafford *easily* set career-high marks in TD rate (6.5%), YPA (8.6), AY/A (9.1), yards per completion (13.4) and QBR (73.1) in 2019. He did so as an entertaining gunslinger: Stafford led all QBs in average target depth, deep-ball rate and aggressiveness (Next-Gen Stats).
Expecting a 32-year-old QB to recover perfectly from a broken back is risky business, but the good news is he'll have virtually all the same weapons at his disposal. The likelihood that this defense again operates as one of the league's worst units means that Stafford might be forced to throw as often as ever in an attempt to keep the Lions alive in a potentially softer version of the usually-rabid NFC North.
Only Lamar Jackson, Deshaun Watson and Dak Prescott averaged more fantasy points per game than Stafford among all QBs last season. Priced as a borderline QB1, Stafford presents a tantalizing floor/ceiling combo as one of this year's premiere later-round options at the position.
Fantasy ruling: QB10 with demonstrated top-five upside.
Question: Are the best years of his career in the past?
Analysis: Rodgers finished as the fantasy QB9 in his first season with Matt LaFleur. The organization has talked about wanting to embrace the run game ahead of next season, something that seems likely after they curiously declined to add any notable receivers other than Devin Funchess to their TE and WR rooms.
Rodgers is certainly still capable of limiting mistakes and taking over games when needed. Still, it's been a half decade since we've seen him average more than 8 yards per attempt in a season. The superhuman efficiency that Rodgers achieved regularly from 2009-2014 simply hasn't been there in recent years.
Maybe the anger from watching the team use their first-round pick on Jordan Love will be enough for the Packers' 36-year-old QB to regain his previous form. The problem is Rodgers will have to do so without the presence of trusty RT Bryan Bulaga, and passing volume could reach an all-time low. Davante Adams is the team's only proven high-end receiving option. A borderline QB1 projection seems like a gift considering the stale state of the Packers offense.
Fantasy ruling: QB16 who doesn't have any tangible reasons to expect improvement from 2019.
Question: Will he continue to provide top-five fantasy production without Nuk?
Analysis: Watson is literally functioning as one of the most-efficient signal callers the league has ever seen:
Completion rate: 66.8% (No. 4 among all QBs to ever start at least 16 games)

Yards per attempt: 8.07 (No. 8)

Adjusted yards per attempt: 8.17 (No. 6)

Touchdown rate: 5.9% (No. 31)

Interception rate: 2.41 (No. 34)

Passer rating: 101 (No. 5)
Watson's talents as a rusher mean that even a modest decrease in passing efficiency shouldn't lead to much of a decline in fantasy production. Only Lamar Jackson (61), Mike Vick (43), Josh Allen (41), Cam Newton (38), Kyler Murray (34), Robert Griffin (34) and Colin Kaepernick (33) have averaged more rush yards per game than Watson (32) among all QBs ever.
Losing DeAndre Hopkins is objectively bad. Still, this offense finally has some form of depth at the position between Will Fuller, Brandin Cooks, Randall Cobb and Kenny Stills. David Johnson and Duke Johnson are two of the better receiving backs in the league.
We've never seen what happens to Watson without his trusty No. 1 WR, but losing the offense's ace field-stretching threat has typically sunk the passing game:
Watson with Fuller (22 games): 28.1 PPR, 2.27 TD, 0.91 INT, 276.5 yards, 8.72 YPA 

Without (16 games): 23.3 PPR, 1.31 TD, 0.56 INT, 227.1 yards, 7.26 YPA
Hopefully the presence of multiple speedsters helps steady these future splits. Tom Brady (7.96 YPA with Cooks; 7.46 without), Drew Brees (7.59 vs. 7.49) and Jared Goff (7.95 vs. 7.33) were all more efficient with Cooks than without. Watson has been one of the league's most-prolific deep-ball passers over the past three seasons. His 48% catchable deep-ball rate and average of 14.3 yards per attempt on passes thrown 20-plus yards downfield rank No. 6 and No. 7 among 42 QBs to throw at least 50 deep passes over the past three seasons.
Watson is hardly just a product of Hopkins' greatness.
Amazing Deshaun Watson plays not involving Nukpic.twitter.com/VzoD8YoYCZ

— Ian Hartitz (@Ihartitz) June 22, 2020
Only Mahomes (23) has averaged more fantasy points per game than Watson (21.6) among every signal caller in NFL history. Watson is still surrounded by talented receivers on a team that figures to be in shootouts and/or comeback mode more often than not.
Fantasy ruling: QB5 behind only Lamar Jackson, Patrick Mahomes, Dak Prescott and Kyler Murray.
Question: Can he get the Colts into the playoff hunt?
Analysis: Rivers enters an offense that ran the ball more than anyone other than the Ravens, 49ers, Seahawks and Vikings last season. The Colts almost certainly boast the best offensive line he'll have played behind. This combination is needed for Rivers to regain his status as one of the league's better QBs: only Jameis Winston (39), Kyle Allen (32) and Daniel Jones (31) had more turnover-worthy plays than Rivers (30) in 2019.
The longtime Chargers QB has never exactly won with arm strength, but RIvers' tear-drop deep balls seemed to flutter more than ever last season. There's plenty of talent at WR and TE between the likes of T.Y. Hilton, Parris Campbell, Michael Pittman and Jack Doyle, although it's not exactly an upgrade from Keenan Allen, Mike Williams, Hunter Henry and Austin Ekeler.
The Colts are strong up the middle on defense and boast enough talent at RB and WR to make some noise in a fairly wide open AFC South. Offensive domination from Rivers (39 in December) shouldn't be the expectation, but he's still just one season removed from averaging a gaudy 8.7 adjusted yards per attempt. A lighter workload in a potentially improved scheme could lead to a better version of Rivers in 2020, even if we don't see a return to the 30-TD club.
Fantasy ruling: QB26 with next to zero spike-week potential.
Question: Is he 2020's premiere late-round QB? 
Analysis: Minshew largely functioned as an average to above-average passer in everything other than raw completion percentage as a rookie:
Completion rate: 60.6% (No. 29 among 32 qualified QBs)

TD rate: 4.5% (No. 16)

INT rate: 1.3% (No. 8)

QB rating: 91.2 (No. 16)

Yards per attempt: 7 (No. 18)

Adjusted yards per attempt: 7.3 (No. 13)

Adjusted net yards per attempt: 6.44 (No. 14)

QB rating kept clean: 96.7 (No. 25)

QB rating under pressure: 77.7 (No. 10)

QB rating throwing deep: 129 (No. 1)
That's right: Minshew was the only QB rated higher than Patrick Mahomes when throwing 20-plus yards downfield on a per-attempt basis. He also flashed similar improvisation skills on a number of occasions in 2019.
Gardner Minshew might just be #good enough to make the Jaguars annoyingly competitivepic.twitter.com/bwChYe3WbX

— Ian Hartitz (@Ihartitz) May 28, 2020
The only rookie QBs (minimum eight starts) to average more adjusted yards per attempt than Minshew since 2000 have been: Dak Prescott, Robert Griffin, Ben Roethlisberger, Russell Wilson, Nick Mullens, Matt Ryan, Baker Mayfield and Marcus Mariota. Additionally, only Lamar Jackson (1,206 rush yards), Kyler Murray (544), Josh Allen (510) and Deshaun Watson (413) had more yards on the ground than Minshew (344) last season. This isn't to say that Minshew is the same-caliber threat on the ground as those other QBs; he literally picked up all of his rush yards on scrambles. Still, it's clear he's far from a statue under center.
Minshew will need to reign in his off-script style a bit in order to become a great real-life QB. However, we don't need him to even be anything close to great in order to provide fantasy value in 2020. Minshew functioned as the QB12 in Weeks 1-9 before Nick Foles returned. His average of 16.8 fantasy PPG in 13 games with at least 80% of the snaps would've been good for the 15th-highest mark behind Carson Wentz and Aaron Rodgers but ahead of Tom Brady (per 4for4's John Paulsen).
Fantasy ruling: QB20 who ranks behind only Joe Burrow, Cam Newton and Teddy Bridgewater as my favorite late-round QB targets.
Question: Should he be the overall fantasy QB1 entering 2020?
Analysis: Mahomes went for 5,097 yards and 50 scores through the air in 2018, ultimately coming one ill-timed Dee Ford offsides penalty away from matching up with Jared Goff and the Rams in the Super Bowl. Then Mahomes managed to play through a nasty ankle injury and lead the Chiefs all the way to the big dance in 2020, where he engineered numerous clutch fourth-quarter drives to lead the team back to championship glory.
Through 31 regular season starts, Mahomes is truly on pace to be the greatest QB the game has ever seen:
Completion rate: 65.9% (No. 6 among all QBs to ever start at least 16 games in the Super Bowl era)

TD rate: 6.9% (No. 3)

INT rate: 1.6 (No. 5)

QB rating: 108.9 (No. 1)

Yards per attempt: 8.6 (No. 1)

Adjusted yards per attempt: 9.2 (No. 1)

Adjusted net yards per attempt: 8.6 (No. 1)
The latter metric is arguably the most-impressive number of them all. Adjusted net yards per pass attempt weighs TDs, INTs and sacks into the number of yards gained per pass. Lamar Jackson (7.5) and Aaron Rodgers (7.3) are the only other QBs to average even 7.2. So Mahomes has basically been a full yard better than any QB to ever play the game when asked to drop back and pass.
The scary part is the 2020 Chiefs offense returns every single starter and adds the draft's premiere receiving RB in Clyde Edwards-Helaire. There's little doubt Mahomes is the *best* QB in the NFL. Still, Lamar Jackson remains the preferred fantasy option due to his historically elite  rushing floor.
Fantasy ruling: Easy QB2 that is plenty capable of finishing as the overall QB1
Question: Who starts more games for the Raiders in 2020?
Analysis: Time for a game!
QB A: 63% cmp, 4.3% TD rate, 2.5% INT rate, 7.5 Y/A, 89.6 QB rating

QB B: 64% cmp, 4.3% TD rate, 1.9% INT rate, 6.9 Y/A, 90.7 QB rating
QB A is of course Mariota, while QB B is Carr. This isn't perfectly indicative of recent performance: Mariota was benched in 2019 while Carr posted the best season of his career in virtually every efficiency metric. Still, it's clear the Raiders are seeking improvement under center after handing Mariota a two-year, $17.6 million contract.
The presence of rookies Henry Ruggs, Bryan Edwards and Lynn Bowden provide this passing game a much-needed talent infusion, but it remains to be seen if Carr can be anything more than an above-average QB when *everything* is perfect. He simply hasn't consistently put the offense in a position to succeed: Only Nick Foles and Blake Bortles have attempted passes past the first-down marker on a lower percentage of dropbacks than Carr among 42 QBs with at least 300 pass attempts over the past two seasons.
Carr's career-best 2019 campaign was still only good enough for fantasy QB15 production. Perhaps Mariota could experience a Ryan Tannehill-esque leap on a new team, but his inability to do much of anything in the early parts of 2019 doesn't inspire much confidence in a bounce-back 2020 performance. Carr should be the slight favorite to start more games next season, although this passing game likely won't be all that pretty either way.
Fantasy ruling: Carr finishes as QB28 and lands on the bench in December.
Question: Who will start more games in 2020?
Analysis: Tyrod Taylor is apparently more than a bridge QB to the Chargers. The fantasy appeal is clear: he posted 104-568-4, 95-580-6 and 84-427-4 rushing lines in his three seasons as the Bills' starting QB. There aren't many offenses that boast a better crop of receivers in Keenan Allen, Mike Williams, Hunter Henry and Austin Ekeler.
The artist formerly known as TyGod started 43 games for the Bills from 2015-2017. There were a number of key takeaways from the experience:
The Bills were a bottom-two offense in pass attempts during all three seasons that TyGod was their starter.

This didn't prevent them from functioning as an efficient unit for extended stretches, as they ranked No. 9, No. 14 and No. 27 in yards per play during the 2015-2017 seasons, respectively.

Life was particularly fruitful for the Bills' bell-cow RB LeSean McCoy. Overall, Shady ranked as the PPR RB19 (2015, 12 games), RB4 (2016, 15 games) and RB7 (2017, 16 games) with Taylor under center.
Taylor's rushing ability will make him a streamer fantasy darling for however long he can hold off Herbert… which probably won't be all that long. Seventeen out of 20 top-10 QBs drafted since 2010 have started at least 10 games as a rookie. The Chargers insistence on publicly backing Taylor throughout the offseason means the former-Bills QB *should* be the favorite to start Week 1, but it's unlikely to last for the entire season.
The Oregon QB boasts plus size (6-foot-6 and 236-pounds) as well as underrated speed (4.68-second 40-yard dash). He didn't make a habit of taking off in college but did show potential with three rushing scores in the Ducks' Rose Bowl victory over Wisconsin. Don't expect Herbert to make too much of a habit taking off on scrambles, although the talent to do so might be there. His ability to function as a true pocket passer is feasibly already better than Taylor. The Chargers offense is talented enough to enable Herbert to put up some solid fantasy production sooner rather than later.
Per usual, there's an underrated amount of talent on the Chargers' roster. A prime-version of Taylor would certainly be capable of posting QB1 production; just don't expect to 1) Get the exact same talent we saw from 2015-2017, and 2) Taylor to finish with more starts than Herbert.
Fantasy ruling: Neither QB reaches double-digit starts or top-30 fantasy production.
Question: Can he get back to being the 2017-2018 version of himself?
Analysis: The first year of the Jared Goff "era" was hysterically awful: seven games, seven losses, five touchdowns, seven interceptions and 26 sacks taken. Then the Rams replaced Jeff Fisher with Sean McVay and suddenly Goff more-closely resembled a world-beating QB. We still didn't get many examples of Goff creating off-script magic, but he managed to join Drew Brees and Patrick Mahomes as the only QBs to average at least 8.5 adjusted yards per attempt during the 2017-2018 seasons (min. 100 attempts).
Last season wasn't nearly as bad as 2016 for Goff, but it was a steep regression from the player we saw during the previous two seasons. He took most of the blame for the offense's disappointing effort… as is the case with most signal callers from below-average teams. The Rams didn't exactly surround Goff with the league's best roster in 2019, and we have plenty of past evidence of the 25-year-old QB performing at a high level.
The biggest issue in expecting a return to form is Goff's proven inability to get anything going under pressure. Every QB in the league was worse when operating under pressure compared to a clean pocket in 2019, but the problem is that Goff has displayed Jekyll and Hyde-level splits between the two situations:
Yards per attempt kept clean: 8.3 (No. 10 among 42 qualified QBs)

QB rating kept clean: 99.5 (No. 22)

Yards per attempt under pressure: 5.72 (No. 27)

QB rating under pressure:60.4 (No. 26)
Overall, Goff was the ninth- and 14th-most sensitive QB to pressure in terms of difference in yards per attempt and QB rating, respectively. These issues under pressure could continue to be magnified with the Rams' offensive line again looking shaky. Yes, they return all five starters from a season ago, but that group was far from dominant after being forced to replace C John Sullivan and LG Rodger Saffold. The decision to bring back 38-year-old LT Andrew Whitworth after he regressed in a major way seems questionable. Their only "real" addition to the unit was seventh-round G Tremayne Anchrum.
Goff was the fantasy QB5 during Weeks 13-17 last season with the Rams embracing more two-TE formations. Perhaps McVay gets back to looking like the NFL's brightest mind outside of New England and engineers another elite season from Goff. The problem with expecting this in fantasy land is the reality that none of the team's offseason acquisitions, or 2019 performance, points to a positive change in performance.
Fantasy ruling: QB17 with sneaky boom-or-bust appeal more suitable for best-ball formats.
Question: Who will start more games in 2020?
Analysis: Fitzpatrick took over the full-time starting job in Week 7 last season and proceeded to function as the fantasy QB2 behind only Lamar Jackson. He's clearly still capable of putting up numbers thanks to the Dolphins' plethora of contested-catch monsters in DeVante Parker, Preston Williams and Mike Gesicki.
And then we have Tagovailoa, whose ability to improvise in the pocket has drawn comparisons to Russell Wilson. The Dolphins' first-round QB is reportedly recovering just fine from hip surgery, meaning FizMagic's grip on the starting job might not make it past August.
The Dolphins threw plenty of resources at their offensive line and have enough firepower at WR and TE to feasibly enable a fantasy QB1. The favorite to start more games in 2020 needs to be Tua due to the history of top-10 QBs finding the field rather quickly, although both signal-callers are plenty capable of boasting streamer upside. Don't expect either to start enough games to finish as a season-long high-end fantasy option, but the per-game numbers could very well be solid.
Fantasy ruling: Both QBs finish outside of fantasy's top-30 QBs but provide borderline QB1 production in select good matchups.
Question: Can he provide a fantasy ceiling in 2020?
Analysis: Cousins set career-best marks in TD rate (5.9%), INT rate (1.4%), adjusted yards per attempt (8.7) and QB rating (107.4) in his first season with Gary Kubiak. However, his 444 pass attempts marked the first time in five seasons he hadn't reached even 540 passes. Overall, he never threw 40 passes in a game and finished as the QB19 in fantasy points per game.
The departure of Stefon Diggs, combined with promotion of Kubiak, makes a more pass-heavy approach in 2020 unlikely. Cousins showed off an underrated rushing floor in Washington (13 rushing TDs in 48 games) but has found the end zone as a runner just twice since joining the Vikings.
Perhaps the Vikings defense regresses and forces Kubiak to orchestrate a more pass-happy offense. Additionally, first-round WR Justin Jefferson is a more-than-solid replacement for Diggs. Still, Cousins finished as just the QB16 in fantasy points per game back in 2018 with a more-pronounced role. Last season produced the best version of Cousins yet in terms of efficiency; it's just tough to expect him to have the sort of volume to turn that goodness into consistent fantasy production. 
Fantasy ruling: QB22 with a feeble floor/ceiling combination.
Question: Will the real Cam Newton please stand up?
Analysis: The Jarrett Stidham era is officially over in New England. The presence of Newton is a much needed reminder that Bill Belichick isn't in the tanking business. The fantasy-friendly nature of his QB style also can't be understated: Newton has functioned as anyone's idea of an elite fantasy option throughout his career:
2011: Fantasy QB3

2012: QB4

2013: QB3

2014: QB17 (missed two games, QB7 in FP per game)

2015: QB1

2016: QB17 (missed one game, QB13 in FP per game)

2017: QB2

2018: QB12 (missed two games, QB8 in FP per game)
Entering last season, Newton joined Patrick Mahomes, Deshaun Watson and Aaron Rodgers as the only QBs in NFL history to average at least 20 fantasy points per game.
The Patriots wouldn't have signed him if there was any extreme concern in his recovery from his foot injury. Still, it's fair to wonder if we'll see the same athletic monster that terrorized NFC South defenses for the better part of the last decade.
CAM NEWTON IS BACK PEOPLE TIME TO PARTYpic.twitter.com/LH5V93qI2w

— Ian Hartitz (@Ihartitz) June 28, 2020
Julian Edelman, Mohamed Sanu, N'Keal Harry and James White aren't exactly the league's most-intimidating group of skill-position weapons. Still, it's arguably an upgrade over any unit that Cam has had other than perhaps the 2018 Panthers. The following WRs received at least 50 targets for the Panthers from 2011-2019: Steve Smith, Kelvin Benjamin, Devin Funchess, D.J. Moore, Ted Ginn, Brandon LaFell, Curtis Samuel, Jerricho Cotchery, Corey Brown, Jarius Wright, Legedu Naanee, Brenton Bersin and Louis Murphy. Newton's National Championship team at Auburn included approximately zero additional names that non-Tigers stans will remember.
The single most consistent part of the Patriots' reign of terror has been their willingness to adapt their strategy to both attack their opponent's weakness as well as to enhance their own strengths. Perhaps they won't finish fifth in pass attempts again in 2020, but don't expect Newton's generational dual-threat talents to be ignored. As referenced in PFF's Seth Galina's excellent breakdown on Newton's fit with the Patriots, Jacoby Brissett's spot start in 2016 against the Texans (11-for-19, 103 pass yards, 8-48-1 rushing) demonstrates that this coaching staff is hardly out of ideas when it comes to crafting fantasy-friendly schemes for rushing QBs.
Brady worked as the QB9, QB2, QB15, QB3, QB14 and QB12 from 2014 to 2019, respectively. Newton's enhanced rushing floor makes the latter finishes within reach even with an expected decrease in passing efficiency.
Fantasy ruling: QB14 who shouldn't be counted out by any stretch.
Question: Does he have one last great fantasy season left?
Analysis: Brees averaged at least 40 passes per game from 2010-2016 but has been below 37 ever since. This is due to more winning, an improved defense, a great rushing attack and a desire to extend the career of the 41-year-old QB. This strategy has been perfectly fine for business: New Orleans has posted a top-four scoring offense in four consecutive seasons. Still, Brees has finished as fantasy's QB7 in fantasy points per game in back-to-back seasons after perennially functioning as a top-five option at the position.
Brees isn't anything close to washed; he was a top-five QB in adjusted yards per attempt, QB rating, completion rate, TD rate and INT rate last season. An improved offense with Emmanuel Sanders can only help, and vulture Taysom Hill isn't really all that annoying for Brees considering he has just 15 career pass attempts and never played more than five snaps at QB in a game last season.
The Saints' long-time franchise QB is still plenty capable of turning in a top-10 fantasy season; the question is whether it's worth investing a top-10 pick at the position to find out if he's still capable of turning in a top-five fantasy season. Expect another excellent offense, but realize rolling the dice on a slightly later-round pick like Daniel Jones or Matthew Stafford will probably deliver more consistent upside.
Fantasy ruling: QB9 with a meh chance of delivering top-five production.
Question: Can he take a leap in year two?
Analysis: Jones undoubtedly exceeded expectations as a rookie, parlaying a dominant preseason campaign into a regular season that consisted of 3,027 yards, 24 TDs and just 12 INTs. It was particularly entertaining and fruitful from a fantasy perspective, as only Lamar Jackson had more games with at least 30 fantasy points (7) than Jones (3) at the QB position. 
The biggest issue was ball security: Jones had *18* fumbles in just 12 starts. He joins Jameis Winston, Kyle Allen, Philip Rivers, Eli Manning and DeShone Kizer as the only QBs to rack up 30-plus turnover-worthy plays in a season since 2017. The Giants' 2019 first-round pick possesses enough athleticism and arm strength to force defenses to account for most of the field, but he'll need to get a better grip on the erratic plays in order to make a true leap in 2020.
Holding onto the football is certainly a skill that can be learned; Lamar Jackson had 12 fumbles in seven starts as a rookie before fumbling just nine times during his 2019 MVP campaign. Jones' ability to rack up big plays and mistakes alike with his talented group of skill-position players is as similar to Jameis Winston as any QB in the league. Even if he doesn't improve the decision-making in Year 2, expect the Giants' passing game to continue to post plenty of production.
Fantasy ruling: QB13 with legit QB1 upside
Question: Can Adam Gase enable his young QB to a Year-3 boom?
Analysis: Darnold's sophomore campaign was largely undone by an early-season case of mono as well as Gase's token snail-paced offense. Ultimately, the game plan generally consisted of feeding Le'Veon Bell and Jamison Crowder, a strategy that produced the league's 32nd- and 31st-ranked offense in yards per play and points per game, respectively.
Darnold has flashed at various points and is just 23 years old. Still, his path to success in 2020 will need to include:
1. Gase enabling the first high-end offense of his career not led by Peyton Manning.
2. The likes of Crowder, second-round pick Denzel Mims, Breshad Perriman and Chris Herndon out-performing their current status as one of the league's worst receiver groups.
3. The offensive line going from awful to average after adding loads of resources to the unit throughout the offseason.
The Jets' 6-2 end to last season was largely thanks to an incredibly soft schedule; they beat the Giants, Redskins, Raiders, Dolphins, Steelers as well as Week 17 Bills backups while losing to the Bengals and Ravens. It seems unwise to expect the team's numerous offseason additions to immediately gel and give Darnold anything more than a below-average supporting cast.
Fantasy ruling: QB27 with limited ceiling inside stupid-slow offense.
Question: Can he regain his 2017-MVP form?
Analysis: Wentz has his best group of skill-position talent since his MVP-worthy 2017 campaign. Overall, the Eagles added three speedy WRs through the draft in Jalen Reagor (1.21), John Hightower (5.23) and Quez Watkins (6.21) while also nabbing ex-49ers field-stretching WR Marquise Goodwin. Throw in DeSean Jackson, and it's clear that the likes of Zach Ertz, Dallas Goedert, Alshon Jeffery and Miles Sanders should have plenty of room to operate in the underneath and intermediate areas of the field.
Wentz was quietly the fantasy QB10 in 2019 despite devoting heavy targets to the likes of Nelson Agholor, Greg Ward, Boston Scott, Mack Hollins and Joshua Perkins. The potential for Wentz's efficiency numbers to get back to 2017 levels, combined with a sneaky-solid rushing floor (he tied with Ryan Fitzpatrick for 10th-most rushing yards in 2019), makes the Eagles' franchise QB worthy of mid-level QB1 treatment.
Few signal callers are more capable than Wentz at creating something out of nothing when the play breaks down.
Carson Wentz looks like a world-beater at least once or twice a game pic.twitter.com/MuX6kTlR6u

— Ian Hartitz (@Ihartitz) May 4, 2020
The Dak vs. Wentz debate is silly; both young QBs have demonstrated the ability to function as top-tier signal-callers during their respective short careers. Wentz's newfound downfield weaponry should help open up the rest of the offense in a way that we haven't seen since 2017. 
Fantasy ruling: QB8 and deserves to be prioritized in fantasy drafts of all shapes and sizes.
Pittsburgh Steelers: Ben Roethlisberger
Question: What version of Big Ben will we get in 2020?
Analysis: Last season's Steelers offense limped to 27th- and 30th-place finishes in points per game and yards per play, respectively. Of course, this was due to worst-case scenario QB performance from Mason Rudolph and Devlin Hodges alike. The 38-year-old Roethlisberger is expected to be ready to go for Week 1, but it remains to be seen if we'll see the man who threw for a league-high 5,129 yards in 2018.
Luckily, the WR room is once-again overflowing with talent. JuJu Smith-Schuster and Diontae Johnson are expected to function as the top-two options, while James Washington, rookie Chase Claypool as well as TEs Eric Ebron and Vance McDonald give Roethlisberger one of the deeper groups of receivers he's had.
Not having AB is obviously not ideal, and it would be surprising if the best years of Roethlisberger's career are on the horizon. The good news is we should expect the Steelers to again function as one of the league's more pass-happy attacks in 2020, and even a modest decrease in efficiency should leave a healthy Big Ben on the QB1 borderline more weeks than not. Note that Roethlisberger's infamous home/away splits took a turn for the better in 2018, as he actually averaged more fantasy points per game on the road (21.7) than at Heinz Field (21.5).
Fantasy ruling: QB19 worth targeting in two-QB formats
Question: Can Jimmy G be more than a game manager in 2020?
Analysis: The 49ers asked Garoppolo to attempt fewer than 30 passes in 11 of 19 games in 2019. He largely functioned as an above-average QB throughout the season, although he's best remembered for missing an open Emmanuel Sanders on a potential go-ahead score late in the 49ers' Super Bowl loss to the Chiefs. Sheesh.
The good news for a potential resurgence from Jimmy G in 2020 is that there's an underrated floor/ceiling combination here. Only Lamar Jackson had more games with at least four passing scores (4)  than Garoppolo (3) last season, and further improved health should be expected next season considering the 49ers' franchise QB suffered a torn ACL back in 2018.
Coach Kyle Shanahan helped Matt Ryan reach MVP heights in 2016. Like Ryan, Garoppolo might not be the NFL's premiere off-script QB, but he's shown the ability to operate at a high level: Jimmy G is one of just six signal-callers in league history to average at least eight adjusted yards per attempt (min. 16 starts).
A banged-up version of Deebo Samuel and limited proven weapons outside of all-world TE George Kittle doesn't paint the picture of a massive 2020 for the 49ers' passing game. Still, Jimmy G is presently being drafted much closer to the floor we saw in 2019 as opposed to the underrated ceiling.
Fantasy ruling: QB23 worthy of late-round attention in two-QB leagues
Question: Will the Seahawks finally let Russ cook in 2020?
Analysis: Wilson is truly one of the most-efficient QBs the game has ever seen:
Completion rate: 64.5% (No. 11 among 158 QBs to start at least 50 games over the past 50 years)

Pass TD rate: 6% (No. 1)

INT rate: 1.8% (No. 6)

QB rating: 101.2 (No. 2)

Yards per attempt: 7.87 (No. 4)

Adjusted yards per attempt: 8.26 (No. 2)

Rush yards per game: 31.2 (No. 4)
Yet Wilson ranks 104th among this 158-QB sample in pass attempts per start. The Seahawks just haven't been willing to truly build the offense around his talents, never ranking higher than 18th in pass attempts per game since turning over the offense to Wilson back in 2012. Recent seasons under Brian Schottenheimer have been even more brutal, with Russ ranking 38th and 30th in pass attempts per start in 2018 and 2019, respectively, among all QBs with at least 100 pass attempts.
Imagine building a run-first offense with this man at QB.
Would be cool if the Seahawks let Russell Wilson cook like all the time pic.twitter.com/DXs1yuc1np

— Ian Hartitz (@Ihartitz) May 13, 2020
Further complicating matters is the reality that the Seahawks wouldn't even utilize Wilson's unique dual-threat talents in 2019: He gained just seven total yards on designed runs after going for an average of 151 rush yards per season from 2012-2018 on non-scramble rushes.
Wilson has never been anything other than a fantasy QB1 despite the lack of passing volume. Still, his lack of *both* pass and rush attempts makes a top-five preseason ranking a bit too lofty.
Fantasy ruling: QB7 who will need to continue to provide historically-elite efficiency.
Question: Will TB12 rebound in 2020?
Analysis: Brady just put together his worst statistical season in 2019 since at least 2013 (and maybe 2006) by most statistical measures. Note that:
QBR is ESPN's Total Quarterback Rating that has been calculated since 2006

Adjusted net yards per attempt differs from yards per attempt by adding sacks, touchdowns and interceptions to the equation

Completion rate is completions per pass attempt

Touchdown rate is touchdowns per pass attempt

Interception rate is interceptions per pass attempt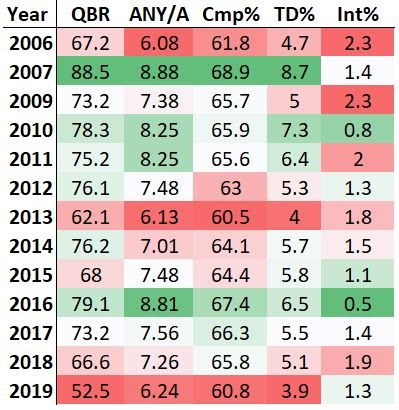 Of course, this wasn't all on the GOAT, as only Dak Prescott had more dropped passes (36) than Brady (34). Additionally, Brady didn't exactly fall off a cliff when it came to the ability to test defenses downfield, as he was one of 14 QBs to post a QB rating over 100 on passes thrown at least 20 yards downfield.
Brady has worked as the QB9, QB2, QB15, QB3, QB14 and QB12 from 2014 to 2019, respectively. We can't expect three rushing scores like we saw in 2019, but there's certainly a chance for TB12 to resume his status as a fantasy QB1 equipped with explosive weapons like Mike Evans, Chris Godwin and Rob Gronkowski. Unfortunately, Brady, like the rest of the Buccaneers' receivers, is currently being priced near his ceiling in fantasy land. Note that Arians has enabled a QB1 in fantasy points per game in seven of 12 seasons as a play-caller dating back to 2007.
Fantasy ruling: QB11 who you should feel comfortable letting someone else draft.
Question: Was 2019 a fluke or a sign of things to come for Tannehill? 
Analysis: TanneThrill was a top-five QB last season in: adjusted net yards per attempt (No. 1), TD rate (No. 2), completion rate (No. 3) and QB rating (No. 1). Of course, the Titans' run-heavy offense also only asked Tannehill to throw at least 30 passes in just four of 13 starts. Tannehill has always provided a decent rushing floor, but the lack of pass-game volume is incredibly concerning. He functioned as one of the league's most-efficient QBs *ever* last season… and ranked as the QB4 in fantasy points per game upon taking over as the starter in Weeks 7-17.
The reality that Tannehill's insane efficiency already fell back to Earth in last season's playoffs indicates that we probably shouldn't expect more of the same from this passing game in 2020 without a marketable boost in volume. This doesn't mean Tannehill will be bad; he repeatedly demonstrated the ability to eviscerate secondaries with pin-point downfield accuracy.
Ryan TanneTHRILL pic.twitter.com/PcTPeVAQiM

— Ian Hartitz (@Ihartitz) December 4, 2019
Still, this offense is once again fully expected to flow through Derrick Henry. I'd much rather take my chances on a late-round QB who isn't a part of one of the league's most run-heavy offenses.
Fantasy ruling: QB21 who shouldn't be prioritized
Question: Can he operate as even an average QB in 2020?
Analysis: Washington's decision to not draft a QB means this will be the Dwayne Haskins show for however long he can keep Kyle Allen on the bench (this Ohio State fan hopes and assumes that will be forever).
The all-time Big Ten leader in single-season scores didn't exactly ball out as a rookie. In fact, Haskins was largely awful:
Completion rate: 58.6% (No. 40 among 42 QBs to throw at least 100 passes in 2019)

TD rate: 3.4% (No. 35)

INT rate: 3.5% (No. 37)

Yards per attempt: 6.7 (No. 28)

Adjusted yards per attempt: 5.9 (No. 37)

QB rating: 76.1 (No. 38)

Deep ball rating (PFF): 41 (No. 35

Under pressure rating: 58.9 (No. 27)

Kept clean rating: 81.8 (No. 39)
Still, context is needed. Head coach Jay Gruden was fired after Week 5, forcing Haskins to attempt to survive inside of a Bill Callahan offense that essentially flowed through inside runs with Adrian Peterson. While Haskins struggled mightily in his first few starts, he did come on strong with a pair of great performances against the Eagles and Giants to end the season.
There were moments in 2019 where Haskins looked the part of a true franchise QB.
Best of Dwayne Haskins as a rookie pic.twitter.com/cPgoOdSgyY

— Ian Hartitz (@Ihartitz) June 22, 2020
The problem is that Terry McLaurin is the offense's only proven commodity at WR or TE, and the offensive line again figures to be one of the league's worst units. A Year-2 leap will almost certainly need to happen from Haskins himself.
Fantasy ruling: QB29 who has one of the league's worst supporting casts