Rookies face an uphill battle in both real life and fantasy football. New teammates and coaches force them to 1) Prove they have the skills to compete at the highest level, and 2) Successfully convince multiple higher-ups that they're ready to get on the field. Obviously, plenty of first-year players make a big impact every single season, but the usual outcome is typically less ideal for the majority of the 250-some new players added to the league on a yearly basis.
Specific to fantasy football: We simply haven't seen many high-end successes from rookies drafted outside the top three rounds regardless of position.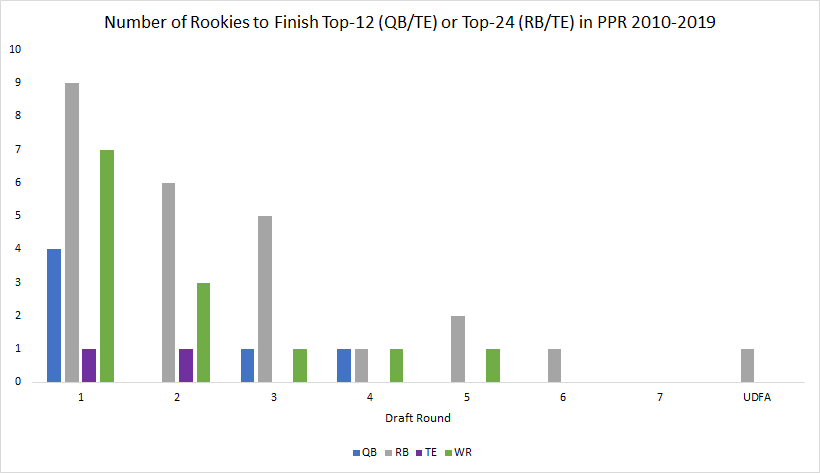 There's very little chance that your favorite prospect will be a top-producing rookie if he's drafted after the third round. Specifically, at least 80% of every position's top rookie performers were drafted in the first three rounds since 2010.
QB: 83%

RB: 80%

WR: 85%

TE: 100%
What follows is a breakdown of the projected role and fantasy production of every rookie QB, RB, WR and TE entering the 2020 season. Each section will focus mostly on players selected inside the top three rounds, along with some general trends from the rookies at the position over the past decade. The rankings denote *dynasty* thoughts with an emphasis on long-term production.
Quarterback
The QB position has produced six rookies who finished their debut seasons as a top-12 fantasy performer. Among those, only Dak Prescott (Round 4) and Russell Wilson (Round 3) weren't first-round selections. The larger trends from this group are both being a Week 1 starter as well as the existence of a rushing floor, as each of Cam Newton, Andrew Luck, Robert Griffin, Prescott, Wilson and Kyler Murray displayed fantasy-friendly rushing ability as rookies and in college.
Rushing QBs of all shapes and sizes are generally are a bit of a cheat code in fantasy football, and this skill appears to be especially vital for rookies who are still learning the ins-and-outs of leading an NFL scheme.
Dynasty QB top-five rankings
1. Joe Burrow (1.01, Bengals): The 2019 National Championship and Heisman Trophy winner has a combination of accuracy and off-script goodness that has drawn comparisons to Tony Romo. The man threw for 5,671 yards, 60 TDs and just 6 INTs in 15 games while completing 76.3% of his passes and averaging 10.8 yards per attempt in his last season at LSU, ranking No. 1 and No. 2 in completion rate under pressure and on deep balls (20-plus yards) among 242 qualified QBs. Burrow possesses the type of profile we've seen result in stud rookie fantasy performers and meets the two most common criteria of 1) Being a Week 1 starter and 2) Having at least a decent rushing floor (Burrow averaged 27 rushing yards per game at LSU). The ceiling could be worthy of top-12 fantasy investment as early as 2020.
Ballerpic.twitter.com/57mF5nTwCI

— Ian Hartitz (@Ihartitz) July 13, 2020