• Luke Musgrave is Green Bay's clear top tight end: It was clear Musgrave was ahead of Tyler Kroft and Tyler Davis last week, and this week it's clear that he's also ahead of Josiah Deguara.
• Kendrick Bourne is the Patriots' third wide receiver … for now: Bourne is holding off sixth-round rookie Demario Douglas for now.
• Isaiah Bolden's injury suspends the game: The game ended with 10 minutes left in the fourth quarter after Isaiah Bolden was taken off the field on a stretcher. It was reported that he had feeling in all of his extremities soon after.
Estimated Reading Time: 4 minutes
---
PFF's fantasy football recap focuses on player usage and stats, breaking down all the vital information you need to achieve fantasy success in 2023. You can find more information on why it's essential to pay attention to the preseason here.
Check out PFF's 2023 Fantasy Draft Kit for even more content to help you dominate your league.
---
Preseason Recaps: Friday Week 2 | Thursday Week 2 | Week 1 | Hall of Fame Game
Player Profiles | Depth Charts
Rankings: PPR | Half-PPR | Standard | Superflex | Best Ball
Dynasty Rankings: PPR | Rookie | Superflex | Superflex Rookie
Position Rankings: QB | RB | WR | TE
Sleepers: Top-10 | QB | RB | WR | TE
League Winners: Top-5 | QB | RB | WR | TE
Breakouts: QB | RB | WR | TE
Position Draft Strategy: QB | RB | TE
14-Team Draft Strategy: Overall strategy
12-Team Draft Strategy: Overall strategy | Picks 1-3 | Picks 4-6 | Picks 7-9 | Picks 10-12
10-Team Draft Strategy: Overall strategy | Picks 1-3 | Picks 4-7 | Picks 8-10
---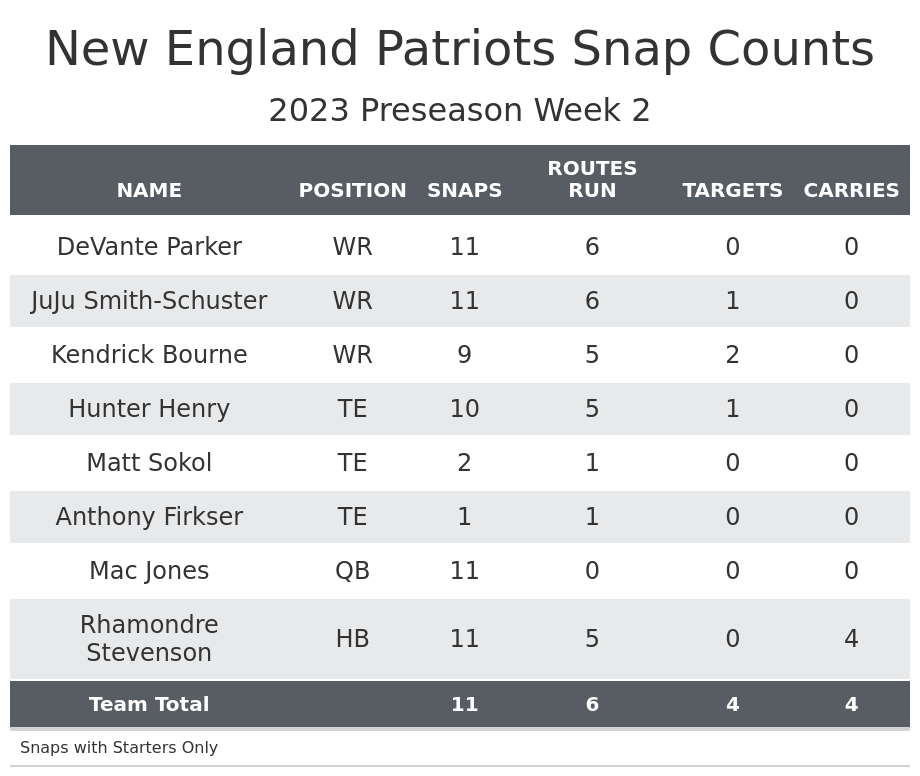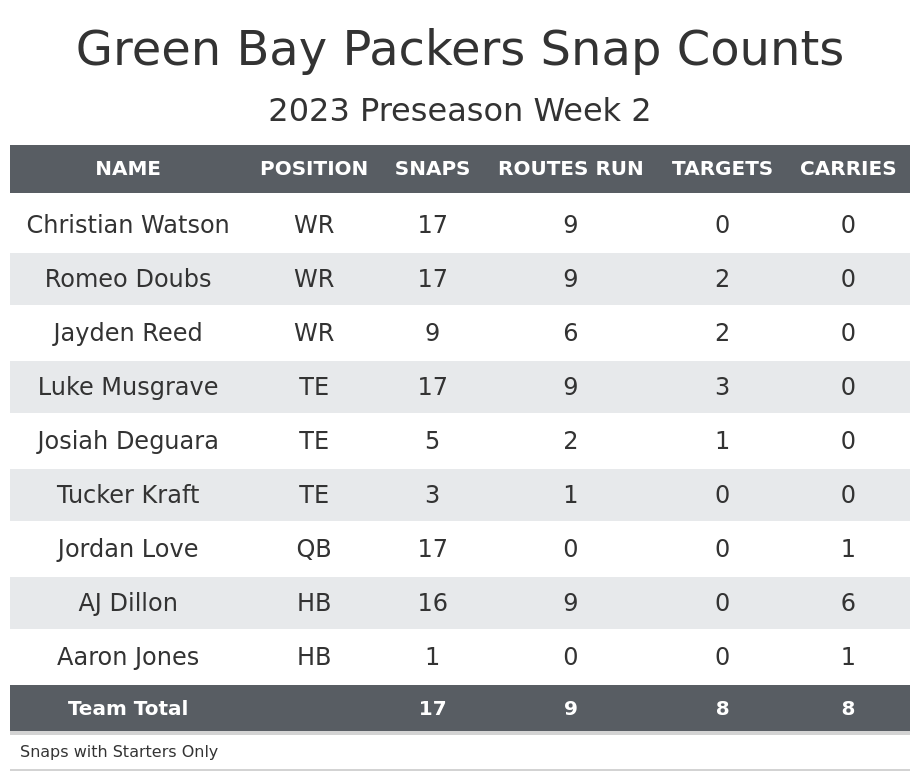 Luke Musgrave is Green Bay's clear top tight end: He played every snap with the starters last week and got even more playing time this week.
Josiah Deguara

was the Packers' third tight end last week. He was Musgrave's biggest competition for the starting job.

Musgrave played every snap with the starters last week, but Deguara missed that game with an injury.

Deguara played in this game, but that didn't stop Musgrave from playing 100% of snaps with the starters again.

It's been a long time since Green Bay had a tight end whom they were willing to play significantly in both run and pass situations.

Musgrave also led the Packers starters in targets, bringing in two passes for 13 yards.

Deguara did take snaps away from third-round rookie

Tucker Kraft

, who fell to third on the depth chart for this game.
Kendrick Bourne remains third on the depth chart: Bourne consistently played in three-receiver sets on their first two drives.
Demario Douglas

has received a lot of hype recently but didn't play the first two drives.

Rhamondre Stevenson

and two-fifths of the offensive line left after those drives, but several starters kept playing.

Douglas started mixing in the third drive with

Mac Jones

still playing. He received three snaps on that drive, and

Kayshon Boutte

played one snap.

Parker, Smith-Schuster and Bourne were all done playing by the fourth drive.

Bourne has a history of playing both out wide and in the slot, but he will play almost exclusively out wide with Smith-Schuster taking the slot snaps.

There is certainly a chance Douglas can receive more snaps with the starters over time, but for now, it is Bourne's job to lose.
Miscellaneous Notes
Aaron Jones

played the first snap for the Packers and called it a night for the second straight preseason game.

Jayden Reed

continued to dominate snaps in the slot like he did last week. He ran six routes from the slot, compared to two by

Romeo Doubs

and one by

Christian Watson

. He caught a 19-yard pass for a touchdown from the slot.

Ezekiel Elliott

didn't play aftly signing with the Patri recentlyots, while

Mike Gesicki

missed this game with a shoulder injury. We weren't able to gain more information about the running back or tight end rotations without them playing.