• D'Andre Swift takes the night off: The Eagles rested Kenneth Gainwell and Boston Scott last week, and this week it was Swift's turn to sit out.
• Olamide Zaccheaus leaves early: Zaccheaus made his Eagles debut after resting in the first preseason game, but he left the game in the first quarter.
• The Browns' third running back spot is unsettled: John Kelly started for the third straight preseason game, but his most notable play was a fumble at the goal line.
Estimated reading time: 6 minutes
PFF's fantasy football recap focuses on player usage and stats, breaking down all the vital information you need to achieve fantasy success in 2023. You can find more information on why it's essential to pay attention to the preseason here.
Check out PFF's 2023 Fantasy Draft Kit for even more content to help you dominate your league.
---
Player Profiles
Rankings: PPR | Half-PPR | Standard | Superflex | Best Ball
Dynasty Rankings: PPR | Rookie | Superflex | Superflex Rookie
Position Rankings: QB | RB | WR | TE
Sleepers: Top-10 | QB | RB | WR | TE
League Winners: Top-5 | QB | RB | WR | TE
Breakouts: RB | WR | TE
Position Draft Strategy: QB | TE
 14-Team Draft Strategy: Overall strategy
12-Team Draft Strategy: Overall strategy | Picks 1-3 | Picks 4-6 | Picks 7-9 | Picks 10-12
10-Team Draft Strategy: Overall strategy | Picks 1-3 | Picks 4-7 | Picks 8-10
Preseason Recaps: Week 1 | Hall of Fame Game
---
D'Andre Swift takes the night off: The Eagles rested Kenneth Gainwell and Boston Scott last week, and this week it was Swift's turn to sit out.
• It sounds like the plan to play Swift last week and Gainwell and Scott this week was made before the first preseason game.
• Gainwell started the game and played the first eight snaps. He ran twice for 6 yards. Scott took over after that point, taking the next three plays, where he lost a yard on his only carry.
• Rashaad Penny entered the game immediately after and broke off a 16-yard run on his first carry. However, he played only six snaps over two drives. The fact that he played so little is probably a good sign for his chances of making the roster, as players on the roster bubble typically get more opportunities.
• Trey Sermon also got playing time in the second quarter, but he immediately fumbled. He looked better in the second half but clearly remains behind the other four running backs.
• At this point, we can be confident that Gainwell is ahead of Scott on the depth chart and that Penny sits fourth.
• We know the Eagles' preseason rotations at running back won't match what they will do in the regular season. 
• The Eagles typically play certain backs more on early downs compared to late downs in the regular season, but in the preseason they let one back take several snaps in a row, regardless of the situation. They did that today, last week and last preseason.
• It's fair to draft Swift first and Gainwell second, given everything we currently know, but there is no certainty Swift ends up leading the Eagles' backs.
• It's still possible Gainwell will be the better fantasy back. Recent reports suggest he is playing like a feature back, while Swift has gotten most of his praise as a receiving back. This could mean Gainwell takes Miles Sanders' old role while Swift takes Gainwell's.
• It's also too early to rule out the possibility that Penny works his way back up the depth chart and sees a significant role on early downs.
• The Eagles rested their starters in the last week of the preseason last season, so it's possible we might not gain much information next week outside of who is and isn't playing.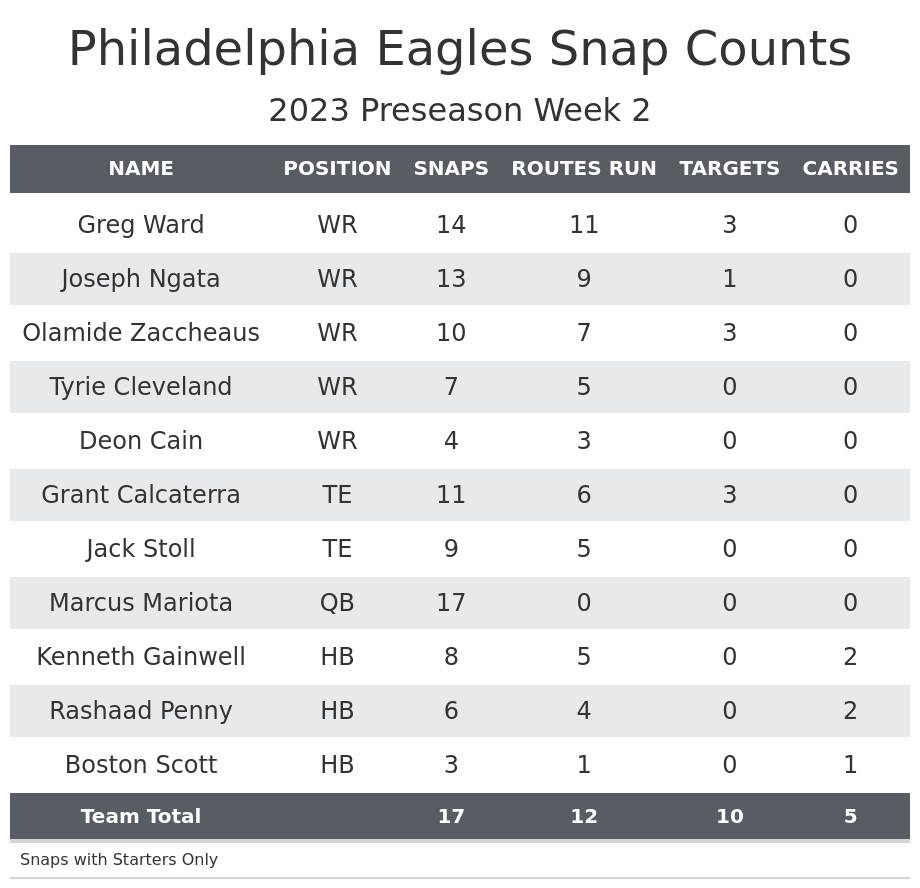 Monitor Olamide Zaccheaus' health: Zaccheaus started the game but left for the locker room in the first quarter.
• Eagles reporter Tim McManus reports that Zaccheaus was looked at by the independent neurologist in the medical tent before heading to the locker room, suggesting it is possibly a head injury. It was officially reported as a shoulder injury.
• Zaccheaus was a free-agent addition from the Atlanta Falcons and was among the veterans who sat out the first preseason game.
• There is at least a chance he could surpass Quez Watkins on the depth chart if he is healthy. Watkins has missed time with a hamstring injury.
• He caught one of three passes thrown his way for 17 yards in the first quarter, leading the team in receiving yards in the first period of play.
• He was spotted on the sideline with his pads still on in the second quarter.
---
The Browns might look elsewhere for a third running back: John Kelly seemed to have the lead for the third running back spot, but his performance might have Cleveland looking elsewhere.
• Kelly had started the Browns' first two preseason games, with Nick Chubb resting and Jerome Ford injured. Felton has mixed in with Kelly and has typically played a quarter longer than him.
• Felton has graded well as a runner. He has gained 95 yards on 20 carries over their first two games, while Kelly ran 17 times for 46 yards. Kelly has been stuffed in the backfield on 41.2% of carries.
• Kelly has surprisingly graded better as a receiver despite Felton playing wide receiver last season. Felton caught two passes for 9 yards and dropped another pass, while Kelly has caught six passes for 49 yards and a touchdown.
• Kelly started tonight and took all 13 snaps on the first drive, but he fumbled to end the drive. He ran for 13 yards on five carries on their first two drives.
• Cleveland rotated by drive, with Felton outplaying Kelly on the first four drives with three carries for 21 yards in that time. 
• Undrafted rookie Hassan Hall replaced both players in the second quarter, much earlier than he had in the last two games.
• There is a chance the Browns end up letting go of both players and finding a new third running back in either free agency or off the waivers once teams cut down to 53.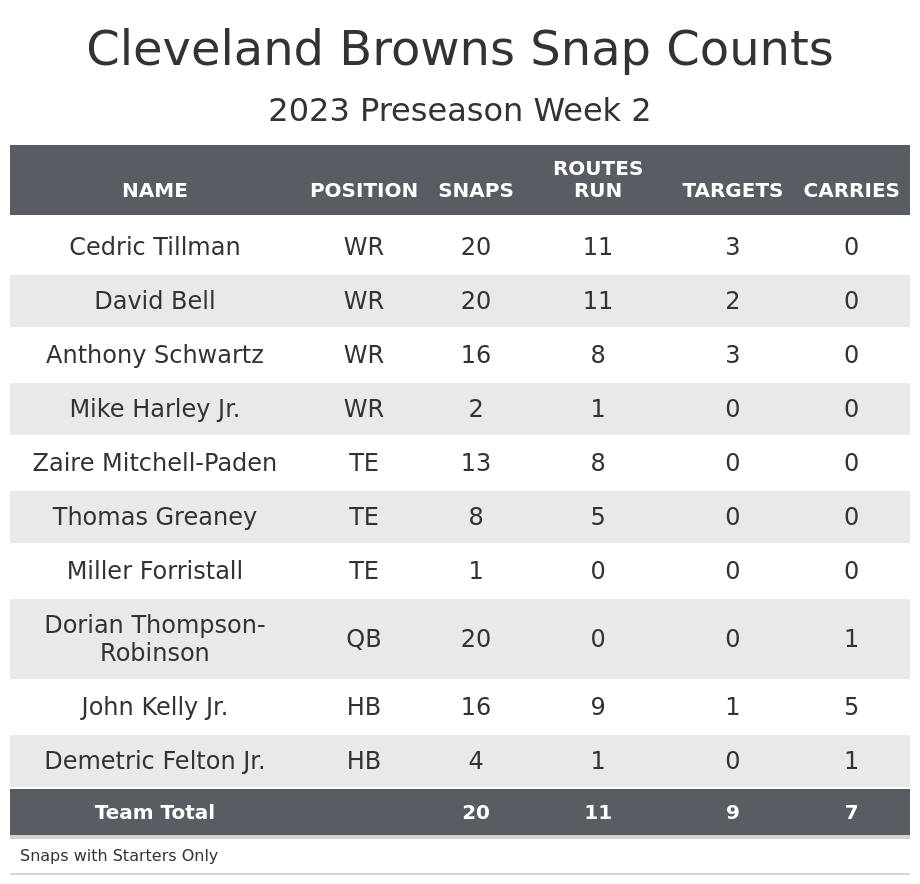 ---
Miscellaneous Notes
• The Browns announced 36 players who would not be playing in this game, including quarterback Deshaun Watson, running backs Nick Chubb and Jerome Ford, wide receivers Amari Cooper, Elijah Moore, Donovan Peoples-Jones, Jaelon Darden, Jakeem Grant Sr., Michael Woods II, Marquise Goodwin, and tight ends David Njoku, Jordan Akins and Harrison Bryant.
• Most of those players are assured roster spots except for Darden, Grant, Woods and Goodwin. They are all probably competing with Anthony Schwartz for a potential sixth wide receiver spot, but it will be hard for any of them to win that spot if they aren't healthy.
• Tillman might be the most fantasy-relevant player who played for Cleveland. He gained 50 yards on two catches on the first drive after averaging 0.81 yards per route run in the first two games. He and David Bell were subbed out after the first three drives while the rest of the second team kept playing, making it pretty clear they are among the top five wide receivers on the depth chart.
• The Eagles didn't announce which players weren't playing, but Jalen Hurts, D'Andre Swift, A.J. Brown, DeVonta Smith, Quez Watkins and Dallas Goedert were all among the healthy players who had the night off.
---
Table Notes
Snaps include plays called back due to penalties, including offensive holding or defensive pass interference. The other three stats have these plays removed.

Targets may differ from official NFL sources. The most likely discrepancy would be from a clear thrown-away pass, where the NFL may give the target to the nearest receiver, while this data will not.

Carries are only on designed plays. Quarterback scrambles won't count for the total number of carries in the game.