• Darren Waller impresses right off the bat: The Giants' new tight end was targeted on each of his first three plays and on 50% of his total plays during the game.
• Bijan Robinson is already dominating offensive snaps: The eighth overall pick played over 70% of the snaps with the starters in his first preseason game.
• Kyle Pitts remains a boom-or-bust fantasy prospect: His usage in the first half of the Falcons' first drive was a dream come true, and his usage in the second half of the drive was a nightmare.
Estimated reading time: 5 minutes
PFF's fantasy football recap focuses on player usage and stats, breaking down all the vital information you need to achieve fantasy success in 2023. You can find more information on why it's essential to pay attention to the preseason here.
Check out PFF's 2023 Fantasy Draft Kit for even more content to help you dominate your league.
---
Preseason Recaps: Thursday Week 2 | Week 1 | Hall of Fame Game
Player Profiles | Depth Charts
Rankings: PPR | Half-PPR | Standard | Superflex | Best Ball
Dynasty Rankings: PPR | Rookie | Superflex | Superflex Rookie
Position Rankings: QB | RB | WR | TE
Sleepers: Top-10 | QB | RB | WR | TE
League Winners: Top-5 | QB | RB | WR | TE
Breakouts: QB | RB | WR | TE
Position Draft Strategy: QB | RB | TE
 14-Team Draft Strategy: Overall strategy
12-Team Draft Strategy: Overall strategy | Picks 1-3 | Picks 4-6 | Picks 7-9 | Picks 10-12
10-Team Draft Strategy: Overall strategy | Picks 1-3 | Picks 4-7 | Picks 8-10
---
Darren Waller thrives in his first game with the Giants: The former Las Vegas Raider was targeted on each of his first three plays.
• Waller was among the Giants veterans who took preseason Week 1 off.
• He took the vast majority of snaps on the first drive, leaving the field for just two snaps after securing catches. 
• He caught three passes on four targets for 30 yards.
• His backup, Daniel Bellinger, scored a touchdown on the first drive out of a two-tight end set, but that isn't an indication that Bellinger will take touchdowns away from Waller.
• Daniel Jones, Matt Breida and Waller all stopped playing after the first long drive.
• His performance was unsurprising, considering the constant praise he's received throughout training camp. However, this is more evidence that Waller should be picked as a top-five tight end.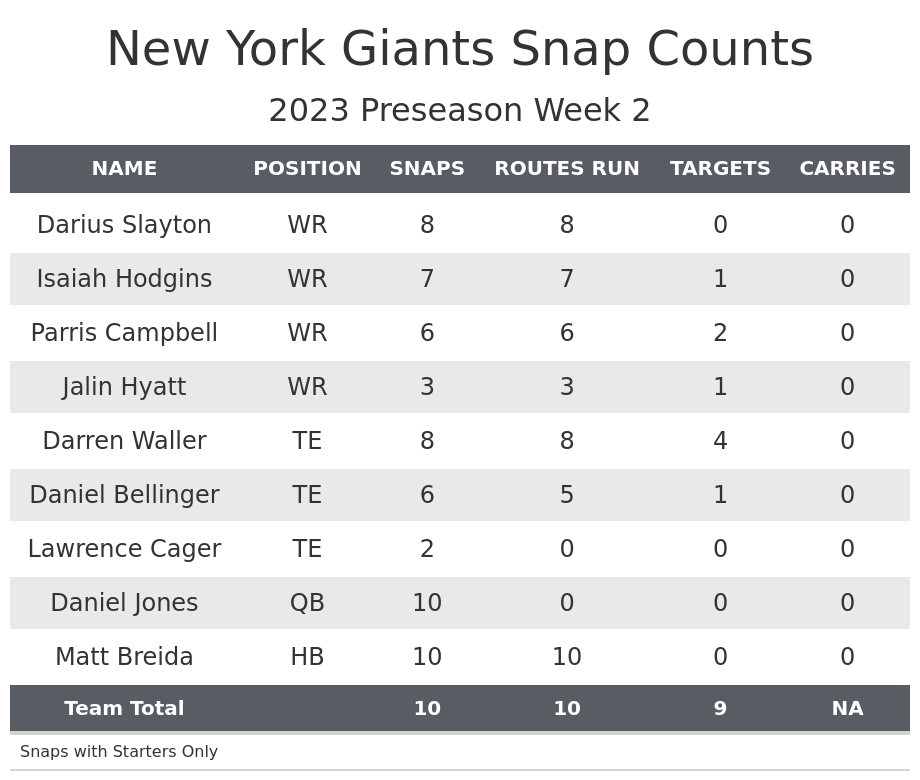 Giants wide receiver rotation becomes clear: The Giants' WR depth chart remains similar to last week.
• Darius Slayton and Parris Campbell were the two healthy veterans who took last week off, and they started this game alongside Isaiah Hodgins. These three should be the Giants receivers to target in fantasy leagues.
• Campbell is typically a slot receiver, but he did play a snap in 12 personnel, something he also did with the Indianapolis Colts at times. The additional potential playing time is a good sign of his fantasy potential.
• All three players continued to play even after Jones' night was done.
• Third-round rookie Jalin Hyatt played three snaps with the starters, which is a good sign that he should get at least some playing time with the starters early in the season. It's also an indication that he's fourth on the depth chart.
• Hyatt dropped a pass and caught a touchdown the following play in the second quarter with the backups.
• Sterling Shepard, who missed most of last season as well as the first preseason game, played on the third drive in place of Slayton. He seems likely to be a versatile backup at this point.
• Cole Beasley started last week's preseason game but missed this game with a leg injury.
• Giants second-year wide receiver Wan'Dale Robinson remains on the PUP list after tearing his ACL in the middle of last season, but Giants GM Joe Schoen mentioned that he could be back to practice soon.
• Beasley will probably only make the roster if Robinson starts the season on the PUP list.
---
Jonathan Mingo may be the Panthers wide receiver to target: Mingo was the main bright spot for Carolina with the starters.
• Mingo started the game with D.J. Chark Jr. and Adam Thielen, similar to last week.
• Carolina had rotated wide receivers by drive in the first game.
• Terrace Marshall Jr. is currently fourth on the depth chart, but he's been dealing with a back injury that kept him out of this game.
• Mingo was the player off the field in 12 personnel, but he was also the only wide receiver on the field for 13 personnel for a play that didn't happen due to a pre-snap penalty.
• He forced a missed tackle and moved the chains on a 15-yard catch and was Carolina's receiving yards leader when the starters were on the field.
• We know what Thielen and Chark are capable of, giving Mingo the most upside of the group as it becomes more and more clear that he's in the mix to start.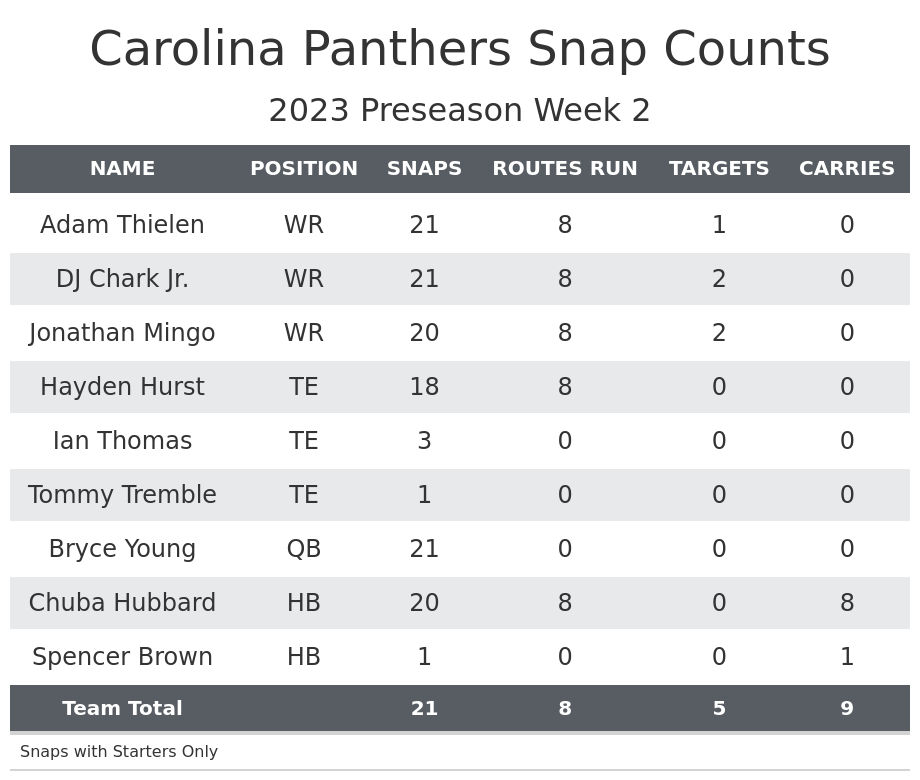 Hayden Hurst dominates playing time again: Hurst played nearly every snap with the starters for the second straight week.
• Hurst played all 11 snaps with Bryce Young in their first preseason game.
• He played in the first 14 snaps against the Giants, leaving the field only because he had played 11 straight snaps in what ended up being a 15-play drive.
• At his peak, he was a top-10 fantasy tight end with the Atlanta Falcons.
• It looks like he should get the playing time in Carolina to reach that peak again, but will ultimately depend on the quality of the Panthers offense and his target share. 
• He was not targeted in this game after catching one pass last week.
---
Miscellaneous Notes
• Both starting running backs — Giants' Saquon Barkley and Panthers' Miles Sanders — sat out of this game.
• Giants fifth-round rookie running back Eric Gray began playing at the start of the Giants' second drive. He could see some playing time on offense this season.
Bijan Robinson shines with the starters: Robinson didn't start the game, but he gained 26 yards on one drive with the starters.
• Tyler Allgeier started the game and played the first two offensive snaps, but Robinson proceeded to play 12 of the following 15.
• The fact that Robinson hasn't started this preseason should not be concerning. Plenty of teams have opted to start veterans at the position — even in the regular season — just to have the younger player play more snaps and have more fantasy success.
• Robinson consistently played four snaps in a row, with Allgeier giving him a break for one or two snaps.
• Robinson ran the ball four times. He broke off a 12-yard run, and he also caught a 6-yard pass.
• It's worth noting that Cordarrelle Patterson missed this game with a soft tissue injury and is expected to miss a few weeks.
• Both Robinson and Allgeier were taken out for the second drive.
• Robinson is capable of living up to his ADP if he's playing more than 70% of offensive snaps, as he did in this game.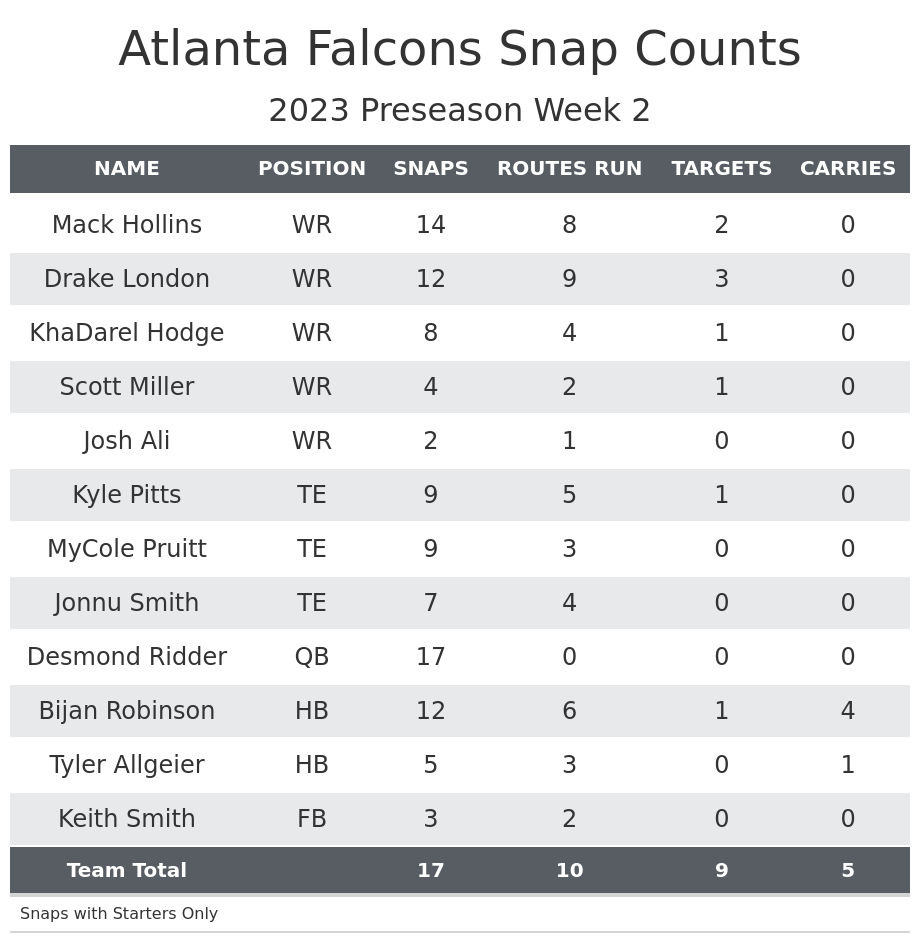 Kyle Pitts is a player to closely watch: Pitts' low snap count with the Falcons' first-team offense should raise some eyebrows.
• Pitts played six of the team's first nine snaps, only leaving the field when the team lined up in 21 personnel. There are plenty of tight ends who dominate in fantasy football without playing often in 21 personnel.
• He played two snaps as an outside wide receiver, basically showing he's capable of acting like a wide receiver or a tight end out of 13 personnel.
• He only played three snaps over the rest of the drive, with all of the snaps he missed coming out of 11 personnel.
• It's possible this change was due to the long drive or Atlanta wanting to mix in different players in different situations with Desmond Ridder still on the field.
• Atlanta was doing something similar at wide receiver, with Scotty Miller and Josh Ali mixing in more over the second half of their 17-play drive.
• It's also possible that both MyCole Pruitt and Jonnu Smith both play more passing snaps out of 11 personnel than Pitts' fantasy mangers would like.
• Pitts was targeted once on the drive for a 9-yard catch.
• He should remain a top-seven fantasy tight end simply due to his talent compared to the rest of the tight ends in the league, but he is also the riskiest tight end among the top seven.
---
Neither Bengals running back emerges as the potential backup: Chris Evans started over Chase Brown for a second week, but neither player was able to pull away from the other.
• Evans played the first seven offensive snaps before Brown started mixing in. The two rotated throughout the first half.
• Both ran the ball four times, with Brown barely out-rushing Evans at 15 yards to 11.
• They each came away with one reception, with Evans' catch going for 10 yards compared to Brown's 0 yards.
• Trayveon Williams remains sidelined with a mild ankle sprain. These last two weeks should have been an opportunity for Evans or Brown to surpass Williams for the backup job, but it appears Williams should keep his job if he can return to action sooner rather than later.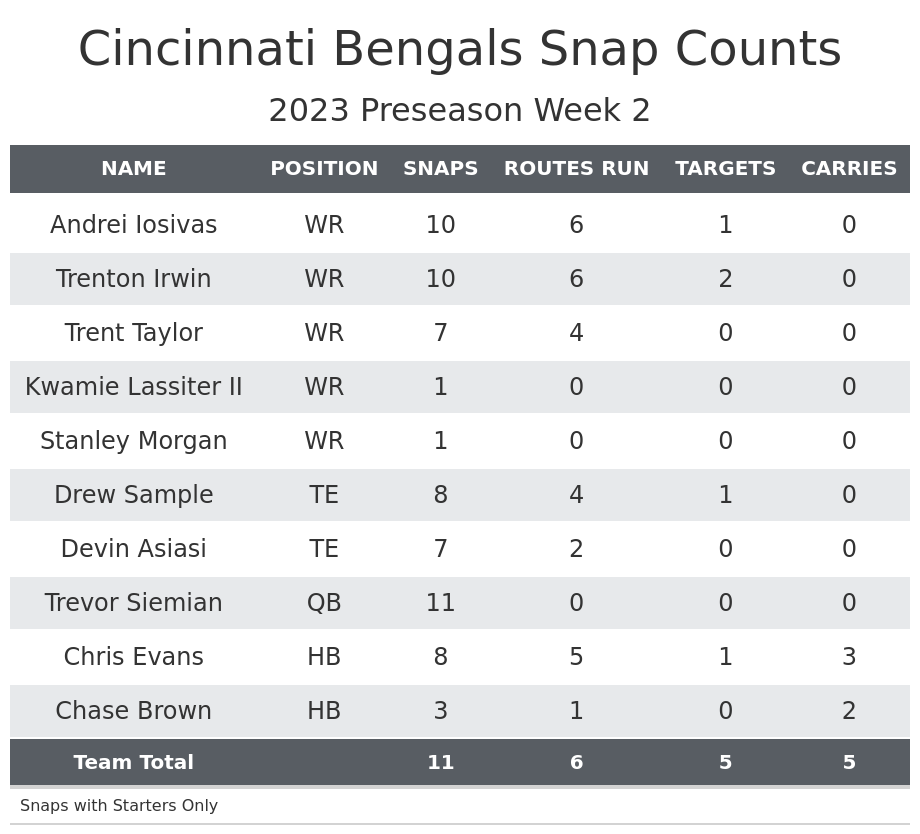 Miscellaneous Notes
• Bengals quarterback Joe Burrow is still dealing with a calf injury and didn't make the trip to Atlanta.
• Cincinnati has typically rested their starters in the preseason under Zac Taylor, and that continued in this game. Running back Joe Mixon, wide receivers Ja'Marr Chase, Tee Higgins and Tyler Boyd, and tight end Irv Smith Jr. did not play.
• Falcons wide receiver KhaDarel Hodge appeared to be third on the depth chart, as he was among the three wide receivers who got last week off. And this was more clear in this game, based on his playing time with the starters.
• Bengals sixth-round rookie wide receiver Andrei Iosivas appeared to have passed Stanley Morgan on the depth chart. Iosivas started the game with Trenton Irwin outside and Trent Taylor in the slot, with Morgan not seeing his first snap until late in the first quarter.
Table Notes
• Snaps include plays called back due to penalties, including offensive holding or defensive pass interference. The other three stats have these plays removed.
• Targets may differ from official NFL sources. The most likely discrepancy would be from a clear thrown-away pass, where the NFL may give the target to the nearest receiver, while this data will not.
• Carries are only on designed plays. Quarterback scrambles won't count for the total number of carries in the game.