Just like that, the first three rounds of the 2021 NFL Draft are in the books. The fun continued into Day 2 of the draft, with a flurry of trades and a few head-scratching selections. But that's par for the course with the NFL Draft — anything can happen.
View PFF's 2021 NFL Draft position rankings:
QB | RB | WR | TE | T | iOL | DI | EDGE | LB | CB | S
Like we did for Round 1, let's take a look through all the rookies added to NFL rosters on Day 2 and consider the fantasy football fallout of their new situations.
You can find the PFF fantasy analysts' instant reactions to every pick in the LIVE fantasy football pick tracker article here. 
The ultimate tackle-breaking running back has found a new home in Denver. 
Javonte Williams' missed tackle rate per attempt (48%) was 12 percentage points higher than the next running back in 2020. Williams graded as PFF's No. 1 inside zone/power runner (92.3) last season, and that makes him a perfect fit for Denver's offense. The Broncos finished second in inside zone/power runs in 2020. 
With Denver spending a high Day 2 pick (and trading up) to add Williams, we should expect him to finally see the type of workload that will unleash his vast talent as a true all-purpose back. MG3 is entering the final year of his contract, so his days appear to be numbered in the Mile High City. 
Williams' explosiveness — second in the nation in runs of 15-plus yards — is going to help him usurp Gordon as the team's lead back sooner rather than later. He should be viewed as a low-end RB2 — ahead of the veteran — heading into 2021. 
I have the "Big Three" rookie running backs ranked in the following order heading into the season: 1. Najee Harris, 2. Javonte Williams, 3. Travis Etienne. 
Elijah Moore is one of my favorite wide receivers in the class because of his explosiveness, speed and impressive college production profile. In 2020, he finished second in receptions per game (10.8) and first in receiving yards per game (149.1) among WRs in his draft class. 
He offers the entire package and should be be Gang Green's next PPR slot machine. I fully expect him to take over the starting role in the slot, as the team has an "out" in Jamison Crowder's contract and can save over $10 million by releasing him.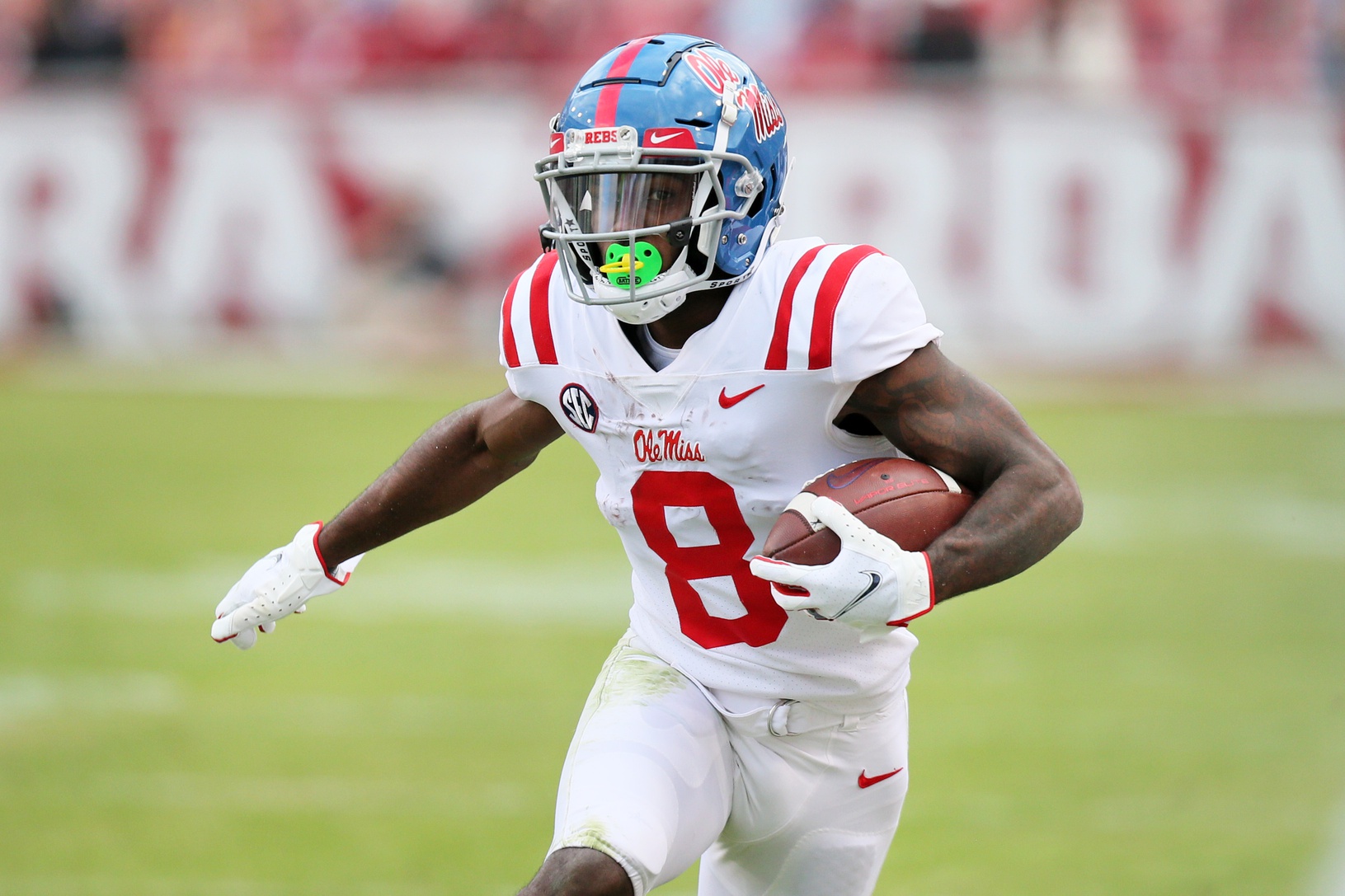 Unlike Crowder, Moore is a downfield home-run threat — a skill set that will transition well with new rookie quarterback Zach Wilson. Moore's aDOT from the slot (10.8) is the third-highest among draft prospects dating back to 2019. Under the new coaching regime in New York, Moore gets the nod as the team's No. 2 fantasy receiver behind Corey Davis and in front of Denzel Mims. 
Arizona desperately needs playmakers behind DeAndre Hopkins to heighten Kyler Murray's ceiling, and Rondale Moore does exactly that.

Since the start of the 2018 season, he ranks second in forced missed tackles from the slot (44) despite playing only seven games over the last two years. His 11.7 receptions per game (first) and 80.3 yards after the catch per game (second) in 2020 reflect his usage dominance in Purdue's offense. 
He will be an immediate upgrade in the slot over a 37-year-old Larry Fitzgerald. 
The Cardinals run more four-WR sets than most teams, so we should see plenty of Moore operating from the slot. The elusive wideout will have a real shot to emerge as the team's No. 2 option in the passing game if he can stay healthy.
His presence in the offense likely means Christian Kirk retains his role as the team's field-stretcher on the outside. The rookie could also siphon a few carries from the team's running backs — Moore's extremely low aDOT (2.6, dead last in 2020) figures to eat into targets that might otherwise have gone to Chase Edmonds, whose RB2 potential is on life support. 
Pat Friermuth is going to have a tough time finding fantasy relevance in Year 1 with the Pittsburgh Steelers, who are littered with playmakers on the offensive side of the ball.
Considering the poor state of the Steelers' offensive line, the team might leverage Freiermuth more as an inline blocker than as a pass-catcher.
Eric Ebron will be a free agent in 2022, so Friermuth will have to wait at least one season before becoming the TE1 in the Steel City. That makes him an easy fade in redraft formats. 
In dynasty, however, he's a great value in the late second round of rookie drafts because of his overall strong profile and second-round draft capital. 
The Seattle Seahawks were in "need" of a No. 3 WR, and they got their guy in D'Wayne Eskridge. The speedy wideout led the class in yards after the catch per game (81.5) and leads all of college football in yards per route run (3.36) when aligned out wide dating back to 2018.
He'll compete with tight end Gerald Everett and backup wide receiver Freddie Swain for third in the target pecking order. Eskridge likely won't have any immediate fantasy relevance outside an occasional spike week (when Russ inevitably gets to cook) unless an injury happens to DK Metcalf or Tyler Lockett. 
A year after the Rams selected Van Jefferson in the second round, the team doubled down on the position by adding Louisville WR Tutu Atwell. The diminutive WR (5-foot-9, 165) will seemingly operate as the team's big-play threat if/when DeSean Jackson goes down with an injury. Since the start of the 2019 season, Atwell ranks seventh in catches of 20-plus yards (20), fifth in yards per route run (3.45) and fourth in yards after the catch per reception (9.0).
Like Eskridge, Atwell isn't likely to have any major impact in fantasy football unless either Robert Woods or Cooper Kupp suffer an injury. As a smaller slot receiver, we should view Atwell in a similar light to Denver Broncos wideout K.J. Hamler. 
Terrace Marshall Jr. is the first offensive player drafted by the Matt Rhule regime, and the selection reunites him with his former offensive coordinator at LSU, Joe Brady. It's tough to be too excited about TMJ landing in Carolina with Robby Anderson and D.J. Moore entrenced as the team's top two WRs and with Sam Darnold at quarterback.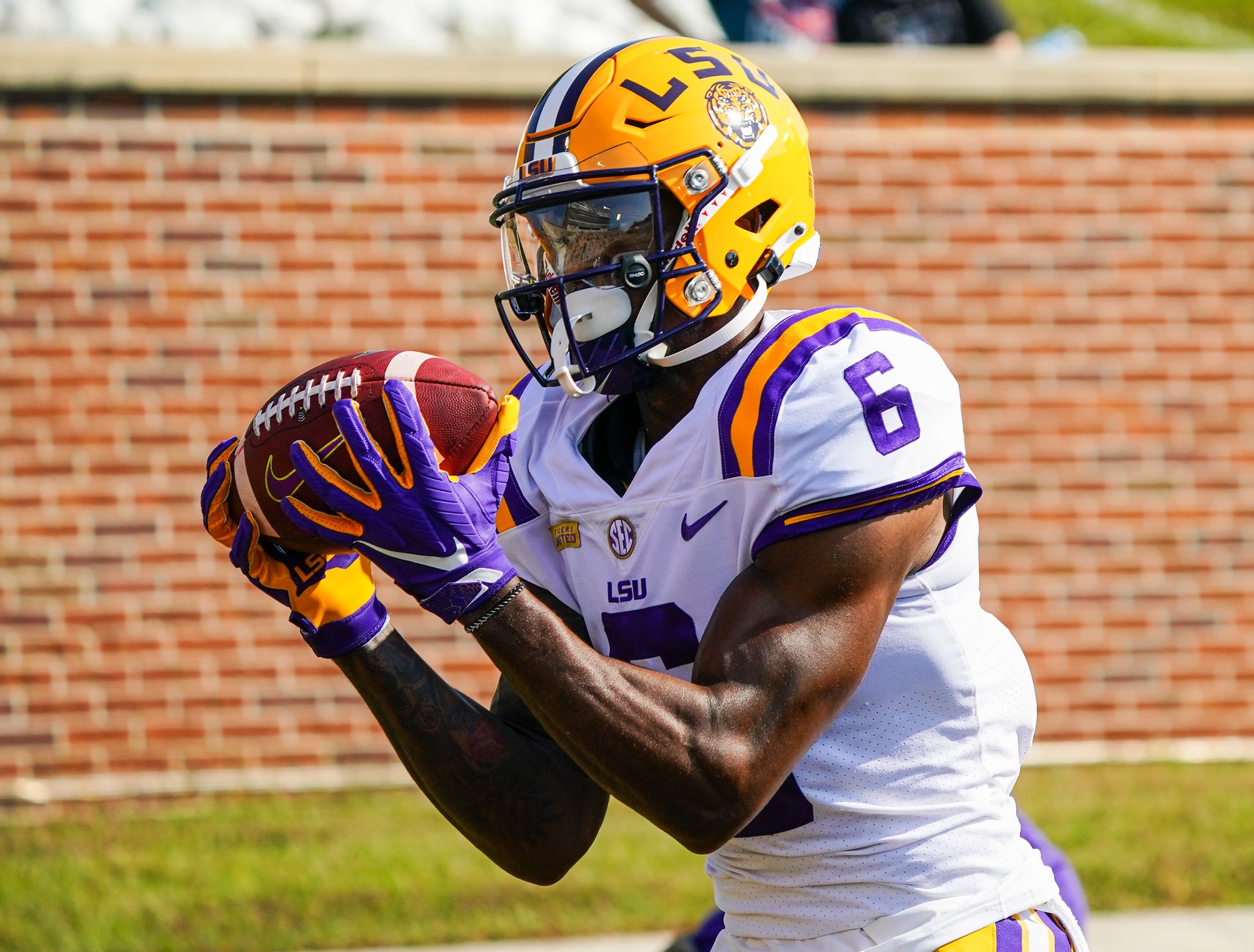 Long-term, things don't look nearly as grim considering Anderson's contract is expiring at the end of the 2021 season. 
Marshall played on the outside in 2019, so I would assume he'll reprise that role in the NFL based on his size (6-foot-3). 
The heir to Tom Brady in Tampa Bay? Florida quarterback Kyle Trask will get the chance to sit and learn behind Brady, but that's not enough of a reason to get behind him as a long-term fantasy option. He doesn't offer any type of rushing upside, and his numbers spiked during his final college season in part because he was throwing to Kyle Pitts and Kadarius Toney. 
Kellen Mond ranks third in the QB draft class in rushing yards on designed runs (623) since the start of 2019. Any rookie quarterback that can offer dual-threat ability will have fantasy value if/when he earns a starting gig. 
Mond will have to wait until Kirk Cousins' contract expires in 2023 before he can officially take over. But with the league transitioning to more mobile guys under center, Mond becomes an intriguing option to take a flier on later in 2QB/Superflex rookie drafts. 
He has the skill set to flash during preseason contests, which could dramatically inflate his long-term dynasty value. It just takes one implosion game from Cousins for Mond to see some live action. I'm sure the rookie will be a popular QB option in preseason DFS. 
The Deshaun Watson saga doesn't look like it is going to end anytime soon. The Texans drafted quarterback Davis Mills with their first pick of the draft, and that means he will be in the running to start opening day if Watson is not on the roster. 
Mills' career big-time throw percentage of 6.0% isn't far behind Trevor Lawrence or Mac Jones, who each recorded a mark of 6.9%.
The fact that he might start games as early as the 2021 season makes him worth targeting late in 2QB/Superflex drafts. 
The Chargers were in desperate need of a legitimate WR3 option, and I believe Josh Palmer can deliver in that department. At 6-foot-1 and 210 pounds, it's not surprising to learn that Palmer commanded a significant share of his team's end-zone targets. He was also featured heavily downfield with a very high aDOT (17.1, 12th in 2020), which bodes well attached to reigning rookie of the year Justin Herbert. 
In college, Palmer suffered tremendously from poor QB play. Only 31% of his deep targets were deemed catchable dating back to 2019 — third-worst in the class. 
Veteran WR Mike Williams will be a free agent at the end of the season. 
Hunter Long stacks up nicely from an experience and production standpoint. He led the nation in targets (89) and catches (57) while also finishing second in receiving yards in 2020, all career-high marks for the Boston College tight end. He's most likely going to be regulated to TE2 duties behind Mike Gesicki, but that may only be for one season. Gesicki is a free agent at the end of the year. 
WIth Long in the fold, the team could deploy more 12 personnel going forward, which will greatly benefit quarterback Tua Tagovailoa. Last season, Miami TEs finished second in passer rating generated (146.3).
Dyami Brown is easily one of the most pro-ready WRs in this class, and he has the chance to make an immediate impact for the WFT offense alongside Curtis Samuel and Terry McLaurin. I fully anticipate him operating on the outside and trying to take the top off the defense. No college player had more total yards (1,116) or catches (26) on targets of 20-plus yards over the past two seasons.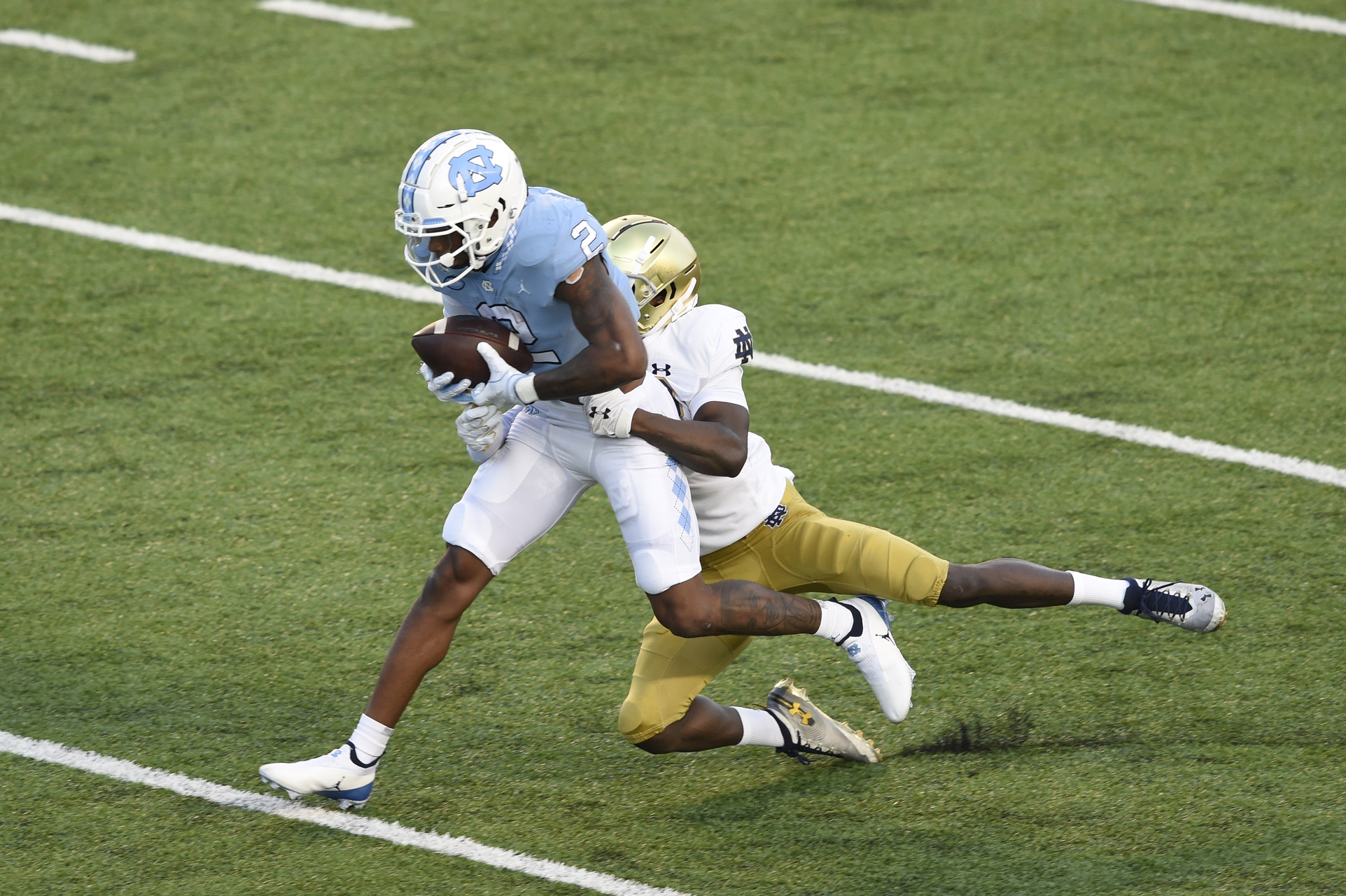 Adding a boundary receiver like Brown signifies that Samuel will be the team's primary slot WR. It also introduces another mouth to feed in the offense, which is not a good sign for tight end Logan Thomas.
Tommy Tremble might be viewed as a fullback at the next level more than as a tight end, so fantasy managers need to proceed with caution. As great as Kyle Juszczyk is in real life, he serves little to no value for fantasy gamers.
Tremble won't be able to carve out much of a role with so many mouths to feed in the Panthers' offense. If any tight end is going to be relevant for Carolina next year, my money would be on Dan Arnold. 
Amari Rodgers played exclusively as the Clemson Tigers' slot wideout, leading the nation in receptions (68) when lined up inside. His claim to fame was creating yards after the catch, as he finished first in that category in 2020. Rodgers' 9.6 yards after the catch per reception from the slot is the highest among any player over the past two seasons. 
Being attached to Aaron Rodgers (fingers crossed) is great for his fantasy value, especially considering the slot role duties will fall between him and Allen Lazard. If Rodgers can rise to the occasion, he could be sneaky productive in 2021. 
Trey Sermon boasts PFF's fourth-highest career rushing grade (94.9) — behind only the "Big Three" — in the 2021 NFL Draft Class. As the featured back during Ohio State's final three games, Sermon rushed for 640 yards (9.0 yards per carry) and flashed elusiveness with 28 forced missed tackles (30% missed tackle rate).
Sermon's draft capital has vaulted him to the clear-cut RB4 among the rookie class and gives him a decent chance of becoming a fantasy factor in the 49ers' offense. Sermon averaged 7.7 yards per carry running from outside-zone concepts during his final season at Ohio State.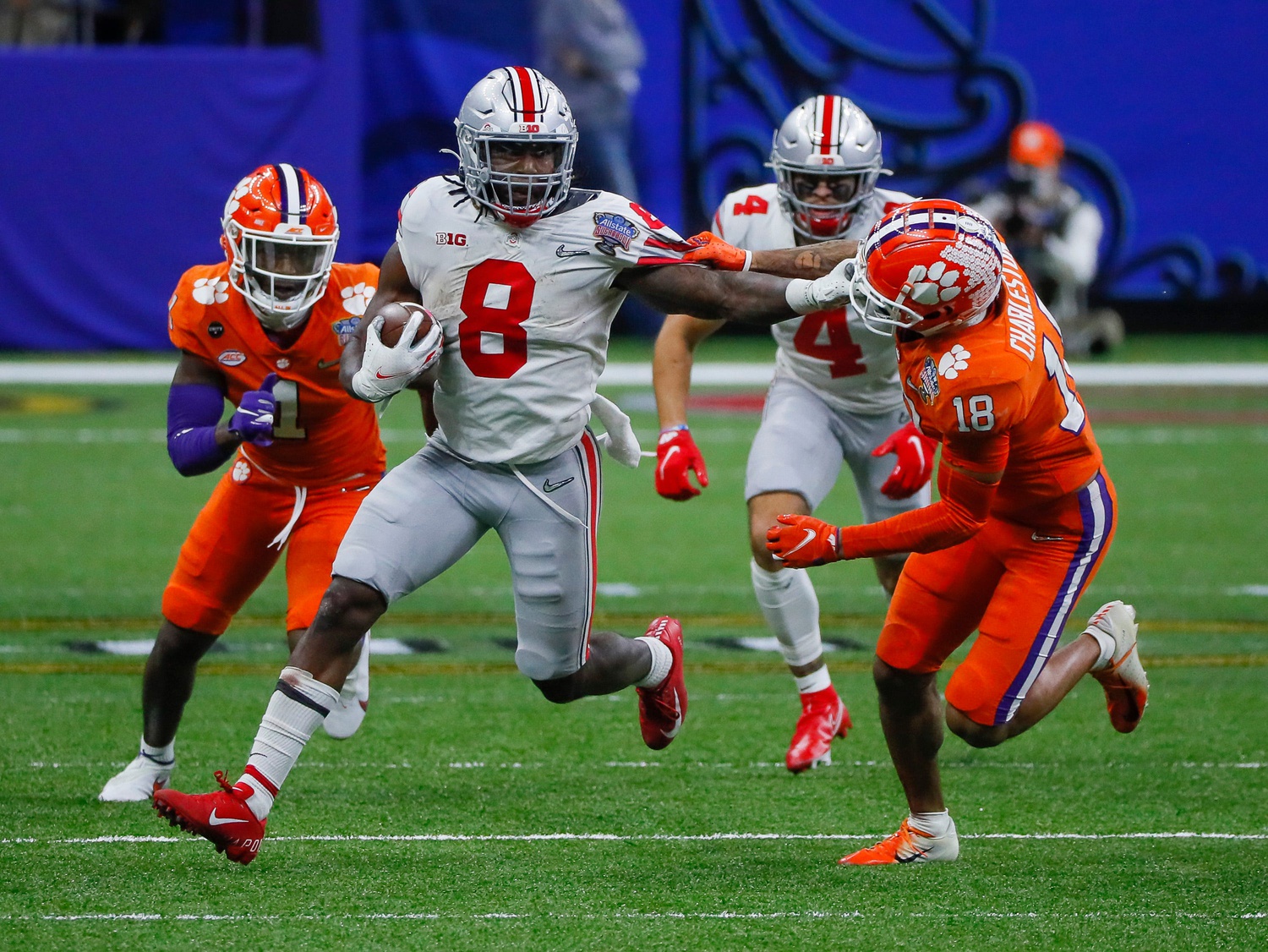 Between Raheem Mostert, Jeff Wilson Jr. and now Sermon, we might have a full-blown RBBC on our hands. It's probably best to go after whomever can be acquired at the cheapest price.

Mostert should still be viewed as the presumed starter, but I will be more than happy to take shots on Sermon where I can. 
WR14 NICO COLLINS, HOUSTON TEXANS
The Houston Texans have one of the league's worst receiving corps behind Brandin Cooks, and that might be enough to vault Nico Collins to fantasy relevance as early as Year 1. The QB play might be horrendous, but that's nothing new for a contested-catch fiend like Collins. 
Until Odell Beckham Jr. is traded or released by the Cleveland Browns, Anthony Schwartz will offer little to no fantasy value outside keeping defenses honest with his 4.26 speed. 
Per PFF's NFL Draft Guide: Tre McKitty improved in 2020 but still profiles as a TE2 in the NFL. The third-round draft capital is encouraging, but he still has a long way to go before sniffing any kind of fantasy relevance. His increase in draft stock is probably due to his proficiency as a blocker — the exact thing we don't want our fantasy tight ends to partake in.