With the NFL draft in the rearview mirror, I rounded up 12 of PFF's sharpest minds and pitted them against each other in a four-round dynasty rookie draft. 
Subscribe to
The goal is to see how things play out with 12 different perspectives in the virtual draft room. This offers a sense of how incoming rookies are moving in the rankings after the 2021 NFL Draft. Landing spots dramatically affect rookie outlooks — I dove into the some of the league's biggest post-draft winners and losers here. 
The chart below reveals all 48 rookie selections, followed by pick-by-pick analysis on each selection in the first two rounds. I'll also share some thoughts on where I've seen certain rookies come off the board in recent rookie drafts.
We assumed traditional 1QB, full-point PPR, 12-team dynasty league settings. Shout out to Ian Hartitz, Nathan Jahnke, Jarad Evans, Jon Macri, Kent Weyrauch, Kevin Cole, Sosa Kremenjas, Danny Cross, Ben Brown, Mario Pilato and Ben Cooper for participating. Literally couldn't have done it without them.
| | | | |
| --- | --- | --- | --- |
| Round | Player | Position | Fantasy Analyst |
| 1.01 | Ja'Marr Chase | WR | Nathan Jahnke |
| 1.02 | Kyle Pitts | TE | Jon Macri |
| 1.03 | Najee Harris | RB | Kevin Cole |
| 1.04 | Travis Etienne | RB | Sosa Kremenjas |
| 1.05 | Javonte Williams | RB | Jarad Evans |
| 1.06 | Jaylen Waddle | WR | Danny Cross |
| 1.07 | DeVonta Smith | WR | Kent Weyrauch |
| 1.08 | Trey Lance | QB | Ian Hartitz |
| 1.09 | Rashod Bateman | WR | Mario Pilato |
| 1.10 | Terrace Marshall Jr. | WR | Andrew Erickson |
| 1.11 | Trevor Lawrence | QB | Ben Cooper |
| 1.12 | Trey Sermon | RB | Ben Brown |
| 2.01 | Michael Carter | RB | Nathan Jahnke |
| 2.02 | Elijah Moore | WR | Jon Macri |
| 2.03 | Rondale Moore | WR | Kevin Cole |
| 2.04 | Dyami Brown | WR | Sosa Kremenjas |
| 2.05 | Justin Fields | QB | Jarad Evans |
| 2.06 | Kadarius Toney | WR | Danny Cross |
| 2.07 | Nico Collins | WR | Kent Weyrauch |
| 2.08 | Amon-Ra St. Brown | WR | Ian Hartitz |
| 2.09 | Zach Wilson | QB | Mario Pilato |
| 2.10 | Tylan Wallace | WR | Andrew Erickson |
| 2.11 | Josh Palmer | WR | Ben Cooper |
| 2.12 | Amari Rodgers | WR | Ben Brown |
| 3.01 | Kenneth Gainwell | RB | Nathan Jahnke |
| 3.02 | Chuba Hubbard | RB | Jon Macri |
| 3.03 | D'Wayne Eskridge | WR | Kevin Cole |
| 3.04 | Tutu Atwell | WR | Sosa Kremenjas |
| 3.05 | Pat Freiermuth | TE | Jarad Evans |
| 3.06 | Mac Jones | QB | Danny Cross |
| 3.07 | Anthony Schwartz | WR | Kent Weyrauch |
| 3.08 | Rhamondre Stevenson | RB | Ian Hartitz |
| 3.09 | Khalil Herbert | RB | Mario Pilato |
| 3.10 | Elijah Mitchell | RB | Andrew Erickson |
| 3.11 | Jaelon Darden | WR | Ben Cooper |
| 3.12 | Ihmir Smith-Marsette | WR | Ben Brown |
| 4.01 | Semi Fehoko | WR | Nathan Jahnke |
| 4.02 | Chris Evans | RB | Jon Macri |
| 4.03 | Kene Nwangwu | RB | Kevin Cole |
| 4.04 | Cornell Powell | WR | Sosa Kremenjas |
| 4.05 | Demetric Felton | RB | Jarad Evans |
| 4.06 | Larry Rountree | RB | Danny Cross |
| 4.07 | Tommy Tremble | TE | Kent Weyrauch |
| 4.08 | Dazz Newsome | WR | Ian Hartitz |
| 4.09 | Seth Williams | WR | Mario Pilato |
| 4.10 | Javian Hawkins | RB | Andrew Erickson |
| 4.11 | Hunter Long | TE | Ben Cooper |
| 4.12 | Davis Mills | QB | Ben Brown |
Ja'Marr Chase has been a consensus top-two pick in standard dynasty rookie drafts per Dynasty League Football ADP. I understand Chase's high-end upside and the longevity of the WR position, but I still can't get behind taking him in front of the top-tier RBs in the class. 
Ask any dynasty manager what their team "needs," and the vast majority of owners will say running back. It's just so much easier to finagle WR fantasy production in dynasty than at the RB position. 
From a value standpoint, running backs don't have to post elite numbers to increase their worth. Look at what it took for Justin Jefferson to demand Round 1 start-up ADP — arguably the greatest rookie season for a WR in NFL history. 
D'Andre Swift and Cam Akers flashed as rookies but hardly blew the doors off the league. They also have Round 1 start-up ADPs. Running backs add more value, and that's why the ones with true RB1 upside should be the first off the board. 
I love Kyle Pitts as much as the next fantasy fanatic, but taking him over the top-tier RBs in the class is too rich for my blood. I'd feel much better taking Pitts at the 1.04 or 1.05, but he hasn't lasted that long in most of my rookie drafts.
As my highest-ranked rookie, Najee Harris is an absolute steal at the 1.03. The Steelers' OL problems are being blown out of proportion, and Pittsburgh has one of the easiest schedules to start the season for RBs. Managers who pass on Harris might be feeling buyer's remorse early in 2021. 
Speaking of exaggerations, have you heard the news that Travis Etienne was taking reps at WR during training camp? This is typical rookie training camp buzz that we get every season about certain RBs getting reps at WR.
Etienne was the only RB at the rookie minicamp, and Trevor Lawrence wasn't handing the ball off to anyone, according to Jags beat reporter Demetrius Harvey. This shouldn't be breaking news. 
Based on Urban Meyer's usage of RB/WR players like Curtis Samuel and Percy Harvin at the collegiate level, ETN's workload is likely to be filled with high-value opportunities.
As noted by fantasy analyst Charlie Friar, both Samuel and Harvin recorded more than 15 TDs and over 1,300 total yards in their final seasons under Meyer. Their touches per game ranged anywhere from nine to 13 on average. 
That's likely what we see from Etienne in Year 1 — double-digit touches with the majority coming from receptions. 
Considering ETN's best-case scenario was to take on an Alvin Kamara-type role, these reports should not harm his fantasy stock. It's actually confirming my priors about his usage in the offense, so I would be buying him at a discount all day and night.
Etienne's role is probably less of a concern for his fantasy outlook than second-year wide receiver Laviska Shenault Jr., who finished with the league's fourth-lowest aDOT (6.7) in 2020.
I'd expect that to rise in 2021 under Darrell Bevell's offensive scheme, which highlights downfield throws.
If Travis Etienne's role has him commanding the short-area targets in the Jags offense, that means we get more Laviska Shenault downfield.

I'm game. pic.twitter.com/DTtiG2Gqbt

— Andrew Erickson™ (@AndrewErickson_) May 17, 2021
I feel like we might look back at this rookie class and wonder how Javonte Williams fell to the 1.05 so often. The market doesn't like the landing spot, as his ADP has fallen since the draft. 
There have been reports about a so-called "committee" between Williams, Melvin Gordon III and Mike Boone, but that's coach speak at its finest. 
The team told us how it felt about Williams when it traded up to draft him at the top of the second round. Running backs drafted in that range don't split carries with others for too long. Besides, Gordon is a free agent at the end of the year, and Boone has only 71 career carries to his name. 
Boone's name has been mentioned as someone who could help on special teams — that doesn't sound like a threat to Williams. 
DeVonta Smith seems to go ahead of Jaylen Waddle in most rookie drafts, so this selection does stand out. I agree with the selection because I'm not convinced Smith's landing spot in Philadelphia is much better than Waddle's in Miami.
Offenses with mobile QBs can reduce volume significantly, so there's no guarantee that Smith sees a ton targets even if he leads the Eagles in target share. Per PFF's fantasy projections, Philadelphia has a total of 510 projected passing attempts compared to 574 for Miami.
Jalen Hurts attempted more passes per game (37.6) than Tua Tagovailoa (32) in 2020, but they completed the same amount of passes per game (20.5). So although Smith has the higher projected target share (17% versus 16%), the lower total passing volume and decline in QB accuracy provide Waddle the slight edge in the projections. 
Those who opt for Waddle over Smith (or wait for the former to fall) will be pleasantly surprised by the slot WR's fantasy production in Year 1. 
Tua was at his best at Alabama when utilizing his great short accuracy to allow receivers to create plays after the catch. 
Since 2014, no Power Five receiver has averaged more yards after the catch per reception than Waddle's 9.8 (min. 100 receptions). He was PFF's No. 1 YAC receiver in the 2021 draft class. 
Although I like Waddle more, it's by the slightest of margins. Landing DeVonta Smith as the locked and loaded WR1 for the Eagles will translate into fantasy production. 
Selecting Trey Lance over Trevor Lawrence is definitely a contrarian take. In more casual leagues, Lance will be drafted much later than Lawrence, but in industry leagues the gap is quite small. 
If you're eyeing Lance, chances are you can wait for Lawrence to be selected and then pull the trigger on the 49ers rookie QB. 
Rashod Bateman typically falls anywhere between 1.08 and 1.12 — appropriate given his landing spot in Baltimore. Lamar Jackson only averaged 25 passing attempts and 16 completions per game last season, so the Ravens offense will need to shift systematically for us to see Bateman flourish.
Still, using a first-round pick on Bateman suggests that things could be changing in this offense. Last season, only the Eagles failed to increase their passing attempts among teams that drafted a first-round WR.
Regardless of what changes the Ravens make or do not make, selecting Bateman here in rookie drafts is a bet on the talent rising above the circumstances. I was lucky enough to nab Bateman in two of my dynasty leagues around this range.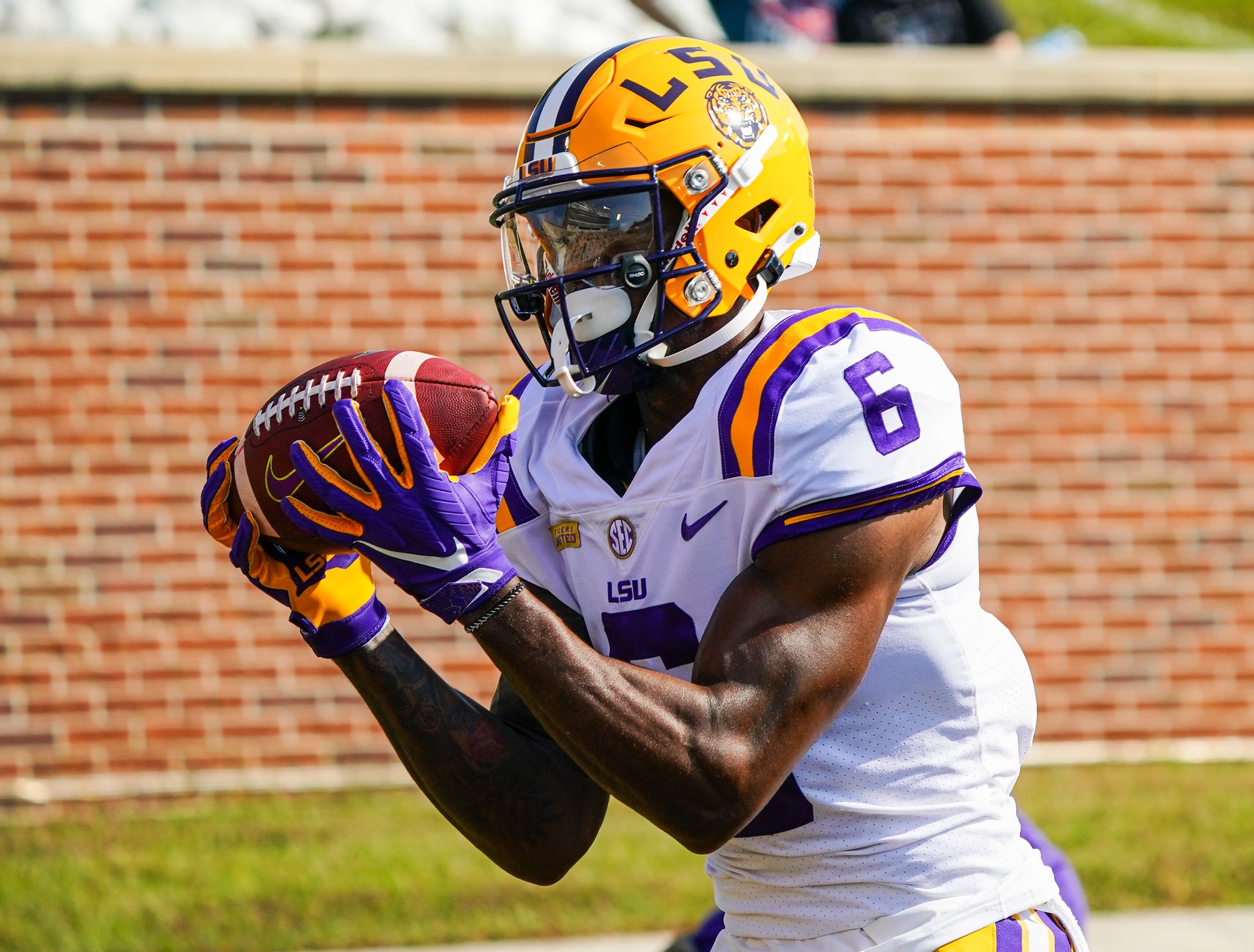 This might seem like a reach — especially with the RBs still on the board — but the selection is spot on based on the upside Terrace Marshall Jr. offers. He has alpha fantasy WR1 in his upper percentile of outcomes.
Marshall is a red-zone monster — an area where Carolina desperately needs to improve after last year. 
Consider yourself lucky if Marshall falls into the second round of rookie drafts. 
I've seen Trevor Lawrence go as early as the 1.08 and sometimes fall into the second round. Drafting a rookie quarterback in a 1QB league shouldn't ever be a priority — QBs are easy to find, even on the waiver wire. Don't reach to address the position. 
Trey Sermon is being drafted right around where Ke'Shawn Vaughn was last year. I don't hate the price — RBs are hard to come by nowadays, so Sermon makes a ton of sense for RB-needy rosters selecting in the late-first. 
FIRST-ROUND OVERVIEW
The only major difference between this first round and the last rookie dynasty mock was Kenneth Gainwell's epic fall. He went from 1.12 to 3.01. Fifth-round draft capital nukes RB value in fantasy.  
Michael Carter's draft boost in redraft formats is warranted, but his dynasty stock rise is not. Intuitively, it makes sense to see him fly off the board after Sermon, but I think the gap between the two is wider than most.
The 49ers traded up for Sermon and have no reason to make him the starter from Day 1 with Raheem Mostert and Jeff Wilson Jr. still under contract for another season. For that reason, Sermon looks to be in much better shape for the 2022 season as the potential starter. 
The team invested significant draft capital in Sermon and also added rookie back Elijah Mitchell. I bet Sermon is the clear RB1 next year regardless of his rookie performance. He's likely to be solid on a per-touch basis anyway, considering almost every 49ers RB produces in the outside-zone scheme. 
But I feel differently about Carter, who has to hit in Year 1 to maintain his value into next year. As a fourth-rounder, the Jets don't have as much draft capital attached to him and could easily add to their backfield with a Day 2 pick next year. 
I'm also less likely to buy Carter as a fantasy juggernaut in a brand new offense led by rookie quarterback Zach Wilson — this could ultimately just be a poor man's version of the 49ers' offense. 
Carter doesn't profile as a three-down workhorse, but his price suggests otherwise. Simply put: He's being overrated in plenty of rookie drafts. 
Excellent value for one of the most explosive wide receivers in the draft class. Elijah Moore was a mega-producer at the collegiate level and looks to be Wilson's home-run threat out of the slot for years to come. 
Rondale Moore marks the end of my second tier of rookie WRs, so getting him here early in the second round is great value. The two Moores aren't very far behind some of the WRs going in Round 1 talent-wise, so I'm ecstatic to get one of them at this point in the rookie draft. 
I don't think Dyami Brown needs to be drafted this soon, but I can't knock the pick much, as he's my next-highest-ranked rookie WR available. I've routinely seen Brown fall to the end of the second round and into the third round. Scoop him up if he falls.
Brown's ability to win deep could lead to multiple splash weeks in his first season.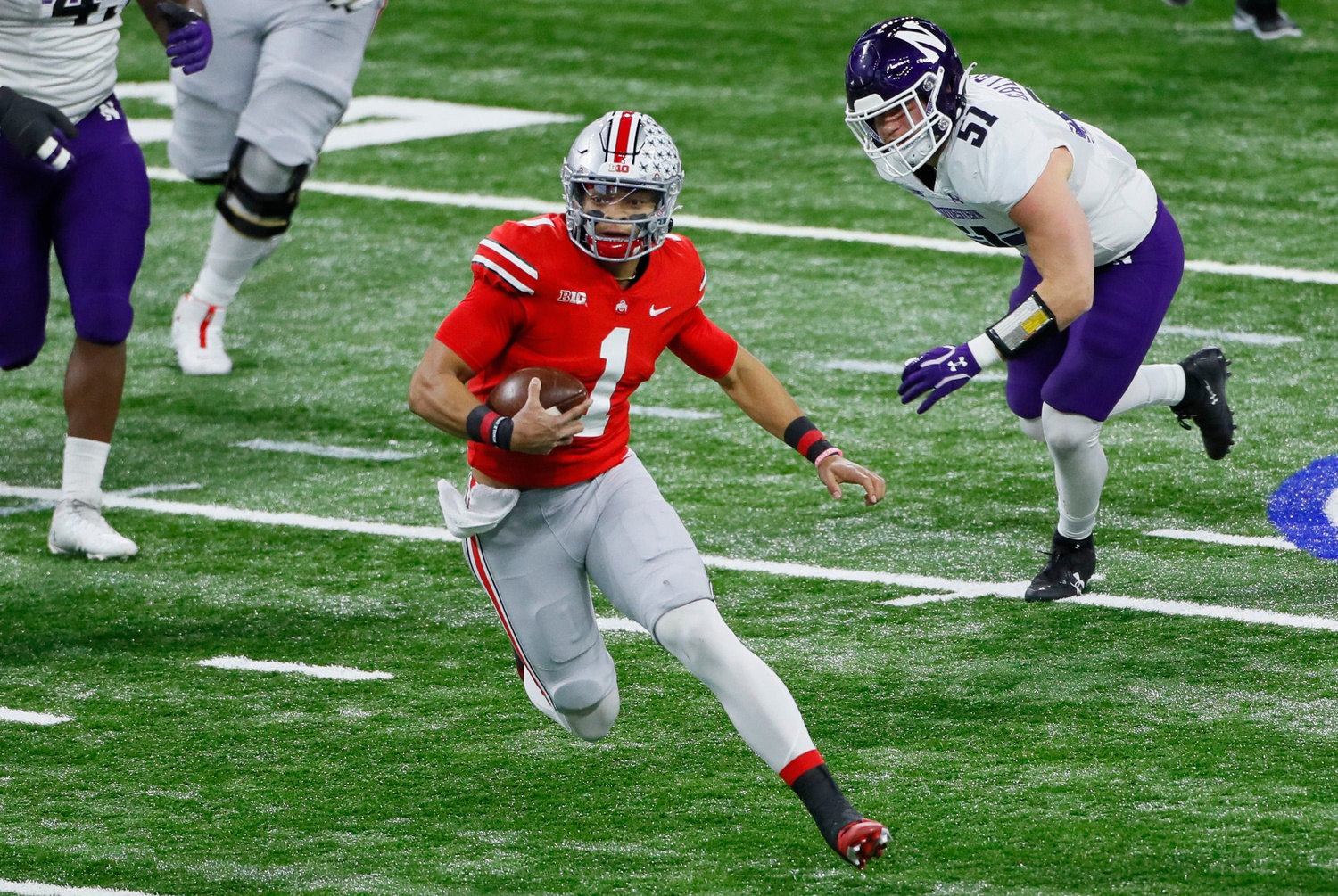 It's extremely telling when a coach has to repeatedly answer questions from the media about who his starting quarterback is. There's a reason why coaches never talk about QBs that are actually locked-in as starters and have zero chance in losing their jobs. It's only the fringe starters — sorry, Andy Dalton — who need a vote of confidence, only to be yanked in the middle of Week 1 after a pick-six.
Justin Fields is the future of the Bears organization, and he is going to start sooner rather than later. 
Drafting Kadarius Toney all comes down to price. The red flags are so well-known that he is falling in rookie drafts, making him a potential value. I wouldn't have taken him here at 2.06, but it's hard to pass on an NFL first-round pick in the 2.09 to 2.12 range.
Nico Collins would have been my selection instead of Toney — I like his Year 1 opportunity more. Houston is in a total rebuild, and we could easily see them adding a high-end rookie quarterback as soon as 2022. 
Collins' 2021 season is sure to be filled with inefficiency, but at least you'll have a strong idea of what you have with him as a fantasy asset after his rookie campaign. 
Like Collins, Amon-Ra St. Brown found a desirable landing spot that should translate to immediate production in Year 1. I'm so-so on his talent, but the draft price has stayed relatively level despite a high projected target share as a rookie. 
Zach Wilson's range of outcomes is pretty wide from a fantasy perspective, so getting him as a late second-rounder is a stellar value. Unlike two of the QBs drafted ahead of him, Wilson has a path to immediate fantasy relevance, which makes him worthwhile. 
This was my second pick in the draft, and I messed up by over-drafting Tylan Wallace. That's not to say I don't like having Wallace on my team — I've drafted him in two different leagues — but he likely would have been available later.
In another 1QB standard league, I acquired him at the 3.08. Learn from my mistake and wait till at least the third round to take a swing on Wallace.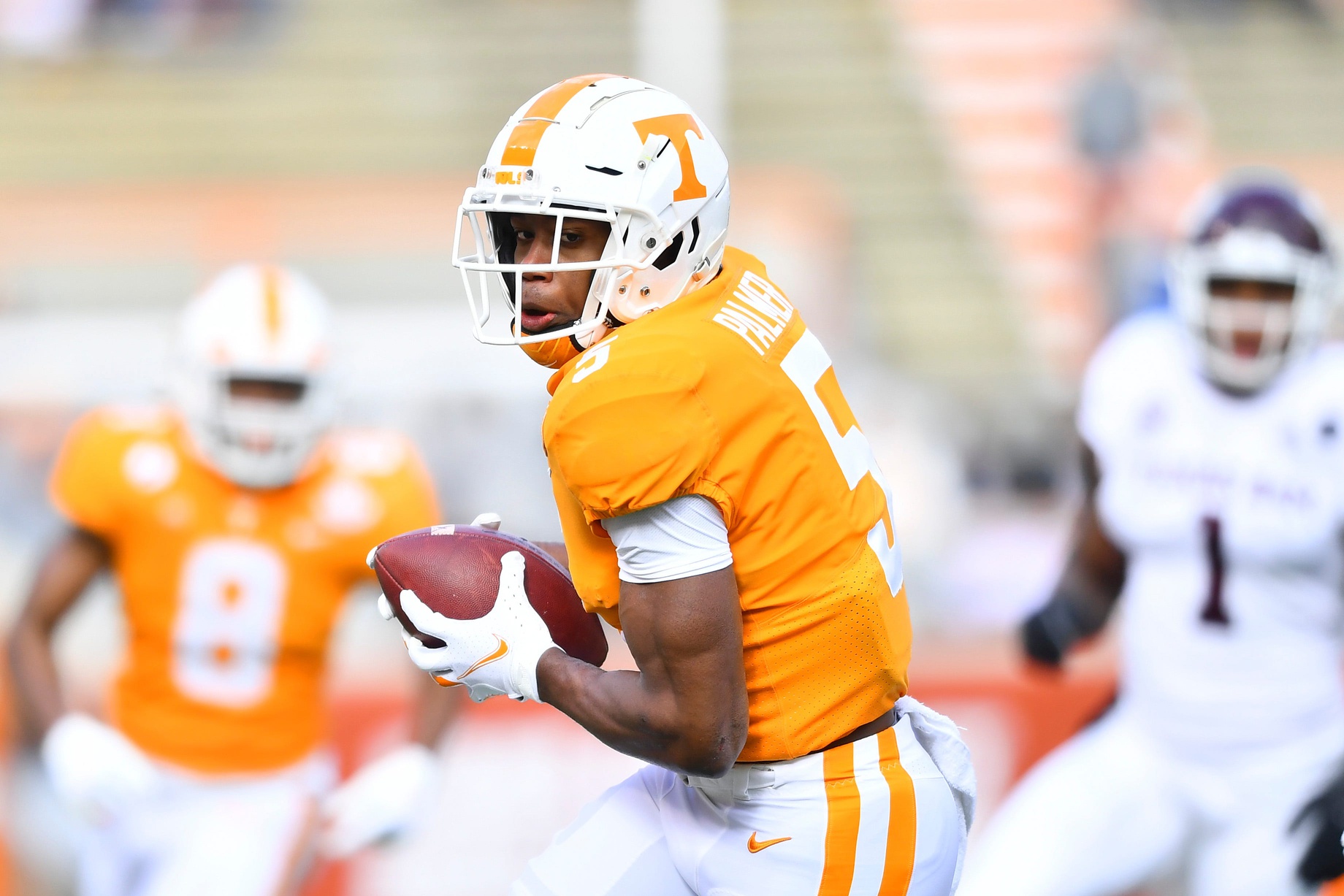 Josh Palmer should have been my selection instead of Wallace based on the fact that I probably could have acquired both by the end of the third round. Palmer's college numbers leave a lot to be desired, but you have to love him with Justin Herbert long-term. Mike Williams is an impending free agent, so Palmer could easily ascend to WR2 status in L.A. in 2022. 
Amari Rodgers' long-term outlook looks shaky when it comes to the quarterback "situation" in Green Bay, but the team looks to be all-in on making Rodgers a focal point of the offense. Not to mention, his role could grow with the Packers receiver room primed to be overhauled after the 2021 season: Davante Adams, Devin Funchess, Allen Lazard (RDFA), Marquez Valdes-Scantling and Equanimeous St. Brown are all free agents in 2022.
SECOND-ROUND OVERVIEW
The biggest differences in Round 2 compared to the last rookie mock were Trey Sermon (1.12) moving up and Chubba Hubbard (3.02) and Jaelon Darden (3.11) falling. This is all due to their landing spots. 
Even with subpar situations, Hubbard and Darden are worth gambling on in the third round of rookie drafts based on their pre-draft evaluations. 
Hubbard looks like he can be the primary backup for Christian McCaffrey, and that role is worth keeping on a dynasty roster. 
Darden could find himself in a much better position relatively quickly in Tampa Bay. Antonio Brown is dealing with more legal trouble, and Chris Godwin has yet to sign a long-term contract with the Bucs.