The 2021 NFL free agency period is nearly upon us, and that means it's time to get our dynasty fantasy football rosters prepped for action. With so many players likely to be released or change teams, we're going to see volatile fantasy values as the market does its best to quickly react to the most recent league transactions. 
But sitting around waiting for the latest Adam Schefter tweet isn't going to provide any kind of edge. We need to be proactive with dynasty trades in the days, hours and minutes leading up to the free agency frenzy. As heavily invested dynasty managers, we have an advantage after keeping up with all the news and rumors since the end of the season. 
I've dug deep into the running backs, wide receivers and tight ends who could emerge as winners post-free agency, and that's the main idea behind this piece — to provide a dynasty "to-do" list before free agency hits. This will ensure that our rosters are filled with players whose stock is on an upward trajectory. And we'll of course want to jettison players whose stock is projected to fall after next week.
For more dynasty-related content, be sure to check out my top-five dynasty buys and sells articles from the past few weeks. 
Will Fuller showed out in his first season without DeAndre Hopkins. In 11 games, he earned a career-high PFF receiving grade (85.0, 11th overall) and averaged 17.2 fantasy points per game (ninth). From Weeks 1-12, Fuller was everything fantasy managers dreamed he could become: a legit WR1. (Not to mention he achieved this with zero points scored in Week 2.)
Unfortunately for Fuller, he was suspended for the remainder of the season for testing positive with PEDs and will be forced to miss one more game in 2021. 
In a parallel universe, Fuller stays attached to Deshaun Watson in Houston and they continue to build off last year's success. In reality, the way the Texans have been "handling" their franchise this offseason makes a Fuller/Watson bring back seem all but impossible.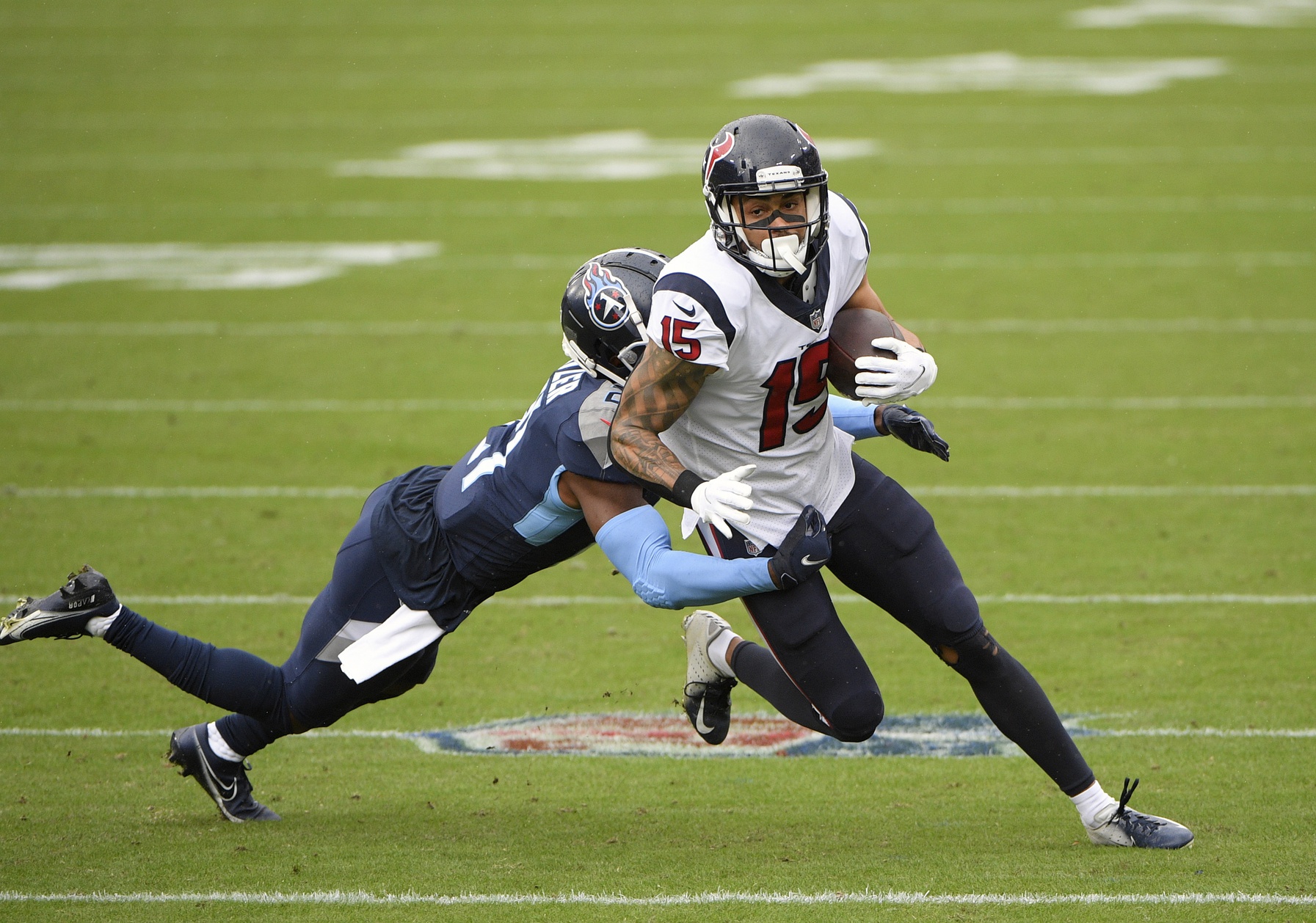 That means Fuller will hit the market. When I analyze the NFL landscape, I struggle to find a bad landing spot for Fuller. As a big-play receiver, he'll be a viable fantasy option even as a No. 2 in his own offense, and he showed last season what he can do as a focal point. 
There are so many teams that could use a WR like Fuller, and his deflated price tag because of the suspension/injuries could make it even more likely that he lands on a solid offense. The teams with less money to spend should be able to get Fuller at a bargain. 
And if you have concerns about his injuries — they are real — then just flip him for profit after he lands with his new team. 
It seems like a foregone conclusion that Gerald Everett is on his way out of L.A. Tyler Higbee is in place as the TE1, and the team drafted Brycen Hopkins in the fourth round last season.
Everett now has the chance to be a new team's No. 1 tight end, and his value will spike for that reason alone. I could see him signing with the Seattle Seahawks after the team brought in offensive coordinator Shane Waldron. He spent his last four years with Everett in L.A. serving as the team's tight end coach (2017) and passing game coordinator (2018-2020).
Seattle has a need at the tight end position with Jacob Hollister (free agent) and Greg Olsen (retired) not returning. 
Everett's departure is going to generate a ton of buzz for Higbee heading into the 2021 season. My recommendation is to sell the hype. The masses will flock toward Higbee because his insane 2019 finish (21.4 fantasy points per game from Weeks 13-17) coincided with Everett sidelined.
But the market is overvaluing this five-game sample instead of looking at what Higbee has been for the rest of his career — basically a blocking tight end. TEs that spent too much time blocking are frustrating to own in fantasy football.
I learned this lesson the hard way after hyping up Jonnu Smith and Chris Herndon as potential tight end breakouts in 2020 just to see their teams "use" them as blockers. Smith finished second in run-blocking snaps and Herndon finished first in pass-blocking snaps.
But neither could match Higbee, who led all tight ends in blocking snaps in 2020. That could be very problematic for those looking for the next breakout tight end in Los Angeles. 
I also don't think we should overlook the second-year tight end, Hopkins. He barely played as a rookie but profiles as a prototypical pass-catching TE who can deliver splash plays on deep routes. He's got the speed to be a mismatch in the passing game, and that could elevate him to the primary receiving tight end role in the offense.
From 2018-2019, Hopkins ranked fourth among all college tight ends in catches 10-plus yards downfield. He also had the lowest contested target rate (13%) on those throws, which highlights his ability to separate from defenders downfield. 
Hopkins' biggest knock coming out of Purdue was his lack of blocking ability, so we can assume that if he ever gets on the field he will be running routes and not blocking. 
I am firmly on the side of buying the likes of D.J. Moore and Curtis Samuel in dynasty leagues while looking to sell Robby Anderson. Anderson shocked the fantasy football world last season, playing way above expectation and sending Moore-truthers into a straight panic.
He posted over 1,000 receiving yards for the first time in his career and did the majority of his damage working as an underneath receiver. That was a utilization we had not seen from him in the NFL. 
Anderson also led the team in receptions (95), but that will be extremely difficult to repeat, as this offense has the potential to look a lot different in 2021 with Christian McCaffrey back in the fold. CMC led the team in targets (137) in 2019. 
Samuel could also return in free agency, making it even tougher for Anderson to command a high target share. 
There's also the question mark surrounding the Panthers' quarterback position, which could further muddle projected target shares across the board. 
As good as Anderson's counting stats ended up in 2020, he was the only member of the Panthers' trio of wideouts to score fewer fantasy points than expectation. And he finished eighth in the NFL among WRs in targets (134) but outside the top 25 in fantasy points per game.
I understand that the Anderson's total of three TDs was low considering the volume, but that's the price you pay with a lower aDOT. He's no longer the guy who puts up massive 100-yard, two-touchdown games because of the way he's being deployed in the offense. 
One of my many fears with David Johnson is that the Texans might try to add another running back in free agency after recently cutting ties with Duke Johnson Jr. The move saved the team nearly $5 million in cap space, and they also made Johnson restructure his deal to come back. 
The 2021 Houston Texans season is looking like it could be a potential disaster, so DJ's stock is already starting to dip. Throw in that he is already 29 years old coming off a season in which he posted an unsustainable breakaway run rate, and I can't help but think he's the next coming of Todd Gurley II, Mark Ingram, Matt Breida, Tevin Coleman and Le'Veon Bell. 
What DJ does have going for him is that he appears to be locked-and-loaded as the three-down workhorse after the release of Duke. That could be enough to salvage some value from the aging RB before it's too late. 
I can't confidently decide on buying or selling JuJu Smith-Schuster without knowing his landing spot. His fantasy value is so closely tied to where he ends up.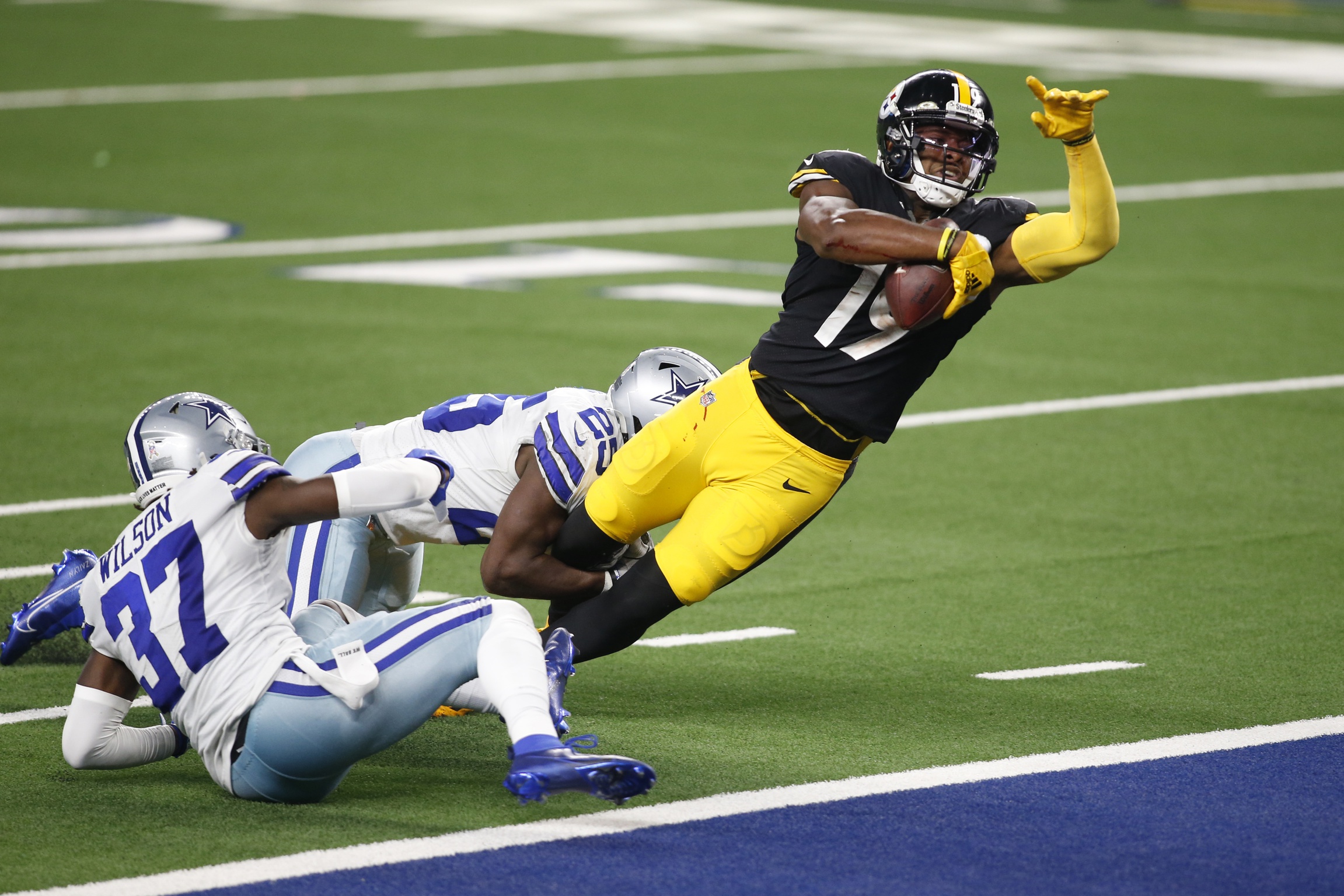 JuJu's best bet from a fantasy standpoint is to operate as the No. 2 slot receiver in an efficient offense with an established alpha on the outside. Going to a team where he will see a huge target share without help from other WRs isn't enough. Still, in that situation you could probably find a taker willing to bet on volume alone. 
The Arizona Cardinals have been rumored to be in the market for a wide receiver this offseason. I originally wrote up Christian Kirk as a potential winner in free agency thinking Larry Fitzgerald wouldn't return, but it seems like another receiver is likely to take his place. 
Kirk has yet to break out after three seasons in the NFL and hasn't shown much growth. After starting his career with a 70.3 PFF grade, he's fallen to 62.5 and 62.3 the past two seasons. He posted the worst yards per route run (1.21) of his NFL career in 2020.
It might be best to get out now. It doesn't appear that Kirk is a good bet to lock up the No. 2 receiver role for the Cardinals. 
It's amazing how fantasy football Twitter will hype newly starting tight ends but forget about players at the position who could actually be difference-makers. 
That's why I'm going aggressively after T.J. Hockenson in dynasty formats — he has a legitimate case to emerge as the Lions' No. 1 pass-catcher in terms of target share. 
first, it was Irv Smith Jr.

then it was Adam Trautman

now it's Donald Parham Jr.

chances are they all just suck because it's tight end lol, but I LOVE the enthusiasm

— Andrew Erickson™ (@AndrewErickson_) March 9, 2021
Every wide receiver who played meaningful snaps in Detroit last season — Marvin Jones Jr., Danny Amendola and Kenny Golladay — will be long gone by the time free agency concludes.

That leaves Hockenson's main competition for targets as: second-year wide receiver Quintez Cephus; RB/WR hybrid Jamal Agnew; opt-out returnee Geronimo Allison; and newly acquired WR Tyrell Williams, who hasn't caught more than 50 passes in a season since 2016.

That's nobody's idea of an elite receiving unit.
At just 24 years old entering his third season, Hockenson has the opportunity to be a force in fantasy football. He finished third in receiving yards at the position (723) just last season. 
If I own one or several recently hyped tight ends like Irv Smith Jr., Adam Trautman or Donald Parham Jr., you better believe I'm packaging them in trade deals to go after Hockenson. 
Tampa Bay tight end O.J. Howard is getting absolutely no love in dynasty circles. It's not all that surprising after he missed a huge chunk of the 2020 season. But we should keep in mind how he started the year — Howard was PFF's fourth-highest-graded tight end (85.3) and ranked third in yards per route run (2.39) through the first four weeks. He's been extremely efficient throughout his NFL career outside a disastrous 2019 campaign. 
With Gronk expected to return for the 2021 season and the Bucs placing the franchise tag on Chris Godwin, things aren't looking any better on the surface near-term. 
But Howard is young and talented enough that he could be worth buying-low in dynasty. The hope is that he'll end up on another team some point during the offseason or as a free agent in 2022. 
There's also a chance the team moves on from Cameron Brate. PFF salary cap expert Brad Spielberger suggested that Brate could be a surprise cut this offseason, which would certainly boost Howard's fantasy value.
This one is solely based on the cost of acquisition. Jamaal Williams is being severely undervalued by the dynasty community because A.J. Dillon's quads have become the hot new dynasty commodity. 
I'll admit that I like Dillon's long-term outlook. Aaron Jones isn't coming back to Green Bay, and Dillon was a second-round pick last season. He has to be the next man up. 
Still, Green Bay has been a committee backfield the past two seasons under Matt LeFleur, and if the team brings Williams back that's probably how things will shake out to start 2021.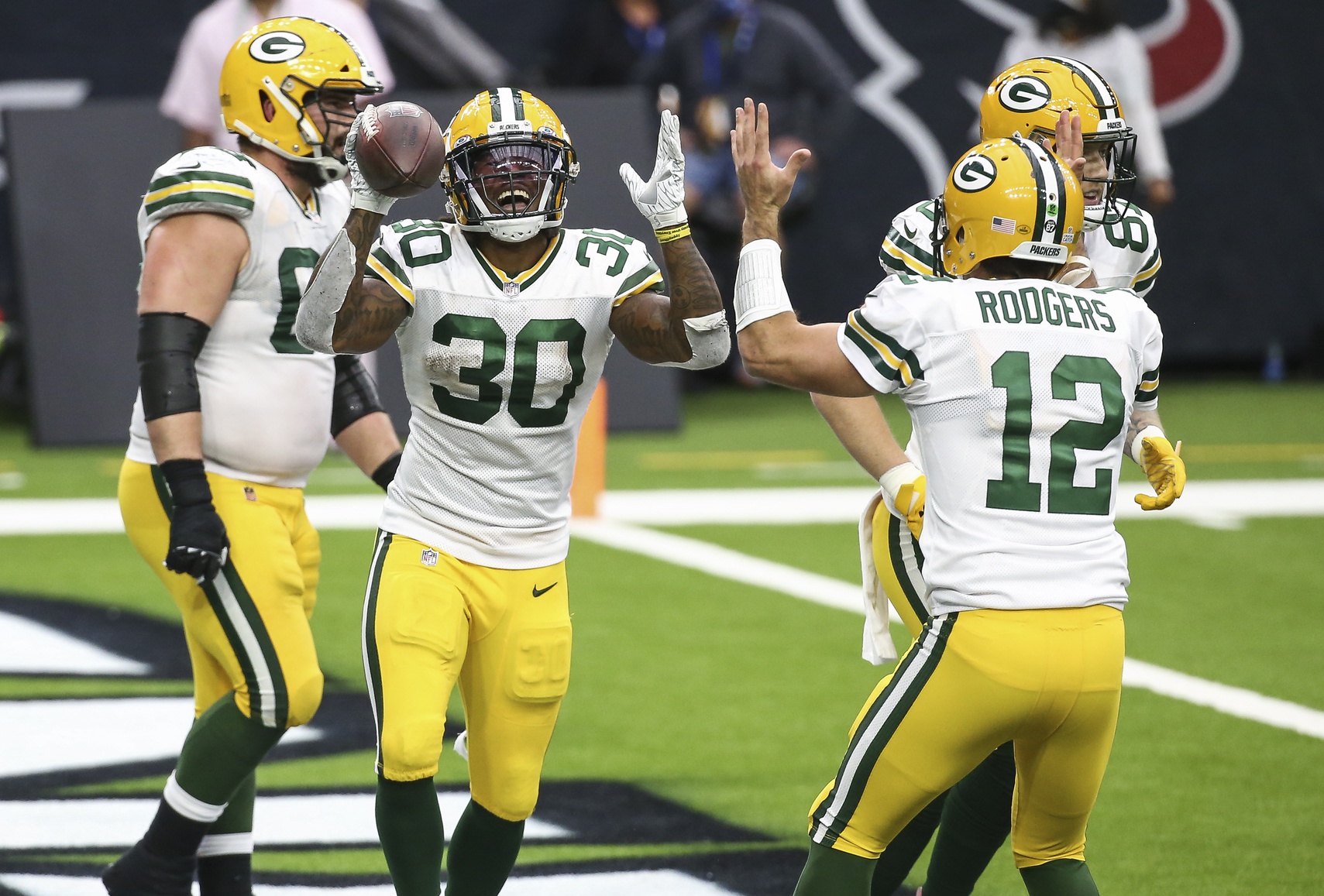 Williams has shown capable pass-catching chops in the NFL and would likely maintain that role even with Dillon operating as the team's early-down back. He's also shown that he can be called upon on all three downs when needed. 
During Weeks 7 and 8 with Jones sidelined, Williams averaged 18.8 fantasy points per game and 21.4 expected fantasy points per game. 
This tip is catered toward two-quarterback and Superflex formats. The rationale: The market is way too low on Jones, who has flashed the upside of an above-average fantasy quarterback at times. That's just not being baked into his price tag.
PFF's QB Annual opened my eyes to the upside Jones can bring to the table in 2021. He had an extremely disappointing supporting cast last year and still managed to increase his PFF grade from 65.7 as a rookie to 78.4 in Year 2.
The Giants' OL ranked dead last in PFF pass-blocking, yet Jones was able to post the third-best grade and highest passer rating in the league (132.5) on throws 20-plus yards downfield. 
Giants general manager Dave Gettleman and head coach Joe Judge have made it clear that Jones is the guy for the 2021 season. With an additional pass-catcher, we could see Jones take a big step forward in 2021.
Recall the third-year leap Josh Allen made with the addition of Stefon Diggs. Jones' deep ball and mobility offer similar upside should the Giants add weapons around him. 
The Giants' schedule is also projected to be much easier than it was a season ago. Getting Saquon Barkley back in the mix can't hurt, either.