This is the mock that your general manager told you not to worry about because there is no way that your GM will pass up the generational run-stuffing interior lineman that you so desperately need in order to go from five wins to the Super Bowl. If you're looking for a running back in the first round, you might as well just exit right now, and while one of us was a run-blocking tight end in college, our ilk will be greatly disappointed in us if they wanted to see the next Kyle Brady on this list.
Let's explain the methodology. We're not trading any picks and we're not attempting to predict what will actually happen (we'll give our opinion on some draft props later). We're simply giving the players who we think should be taken in the first round of the 2020 NFL Draft. How are we making the picks? (Insert snide, witty comments here) We are relying primarily on two components:
1. Positional value: Our goal isn't to pick the eventual Rookie of the Year; it's to win a Super Bowl. Saquon Barkley is awesome at his job, but his job doesn't contribute to winning nearly as much as that of his quarterback. Players who impact the passing game have the most value, and that is reflected here.
2. Our college-to-pro projections: We take into account how each player grades in different situations in college and train algorithms to project performance into a set of NFL situations. We also take into account the prospects' athletic profiles with respect to each facet of play. Here is a more in-depth look at these projections for stud playmaker Isaiah Simmons from Clemson, for example.
We also consider team needs when there is a close call between two equally valuable picks. However, football is a war of attrition, so the need is abundant for most teams. Prepare your trigger fingers. Let's mock.
[Editor's note: PFF's 2020 NFL Draft Guide is live! Subscribe to PFF's EDGE or ELITE subscription today to download your copy.]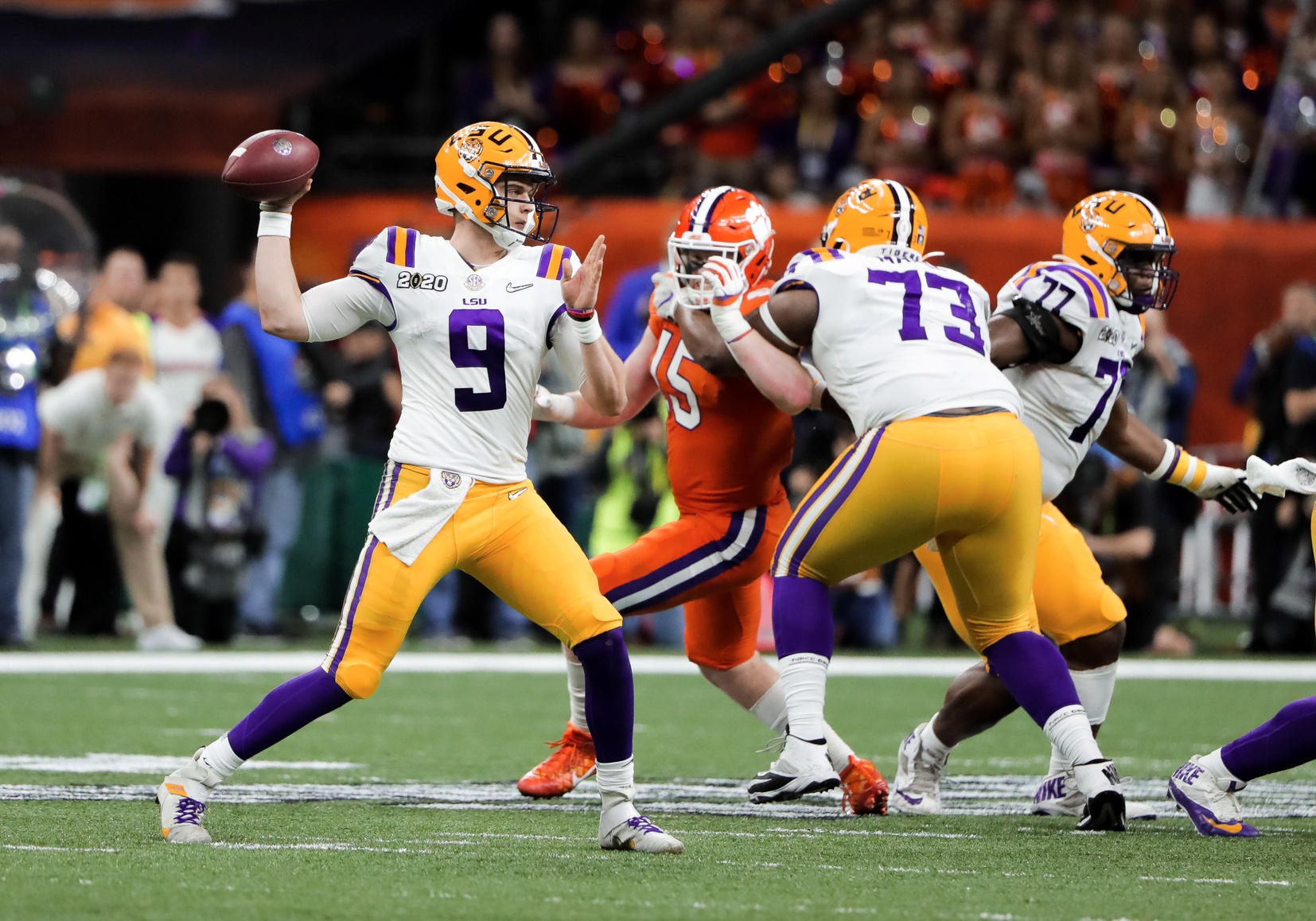 Eric Eager: The Bengals shouldn't overthink this. Burrow has the best projection of any quarterback we've graded at PFF (2014-present); he earned the most wins above average of any player we've calculated, and he capitalized on a scheme change better than anyone could have imagined, which is a skill that is important in an NFL where teams and schemes change fluidly. With Tyler Boyd, Jonah Williams and (probably) A.J. Green waiting for Burrow in the Queen City, he steps into a decent situation for a No. 1 pick, too. 
George Chahrouri: Is Chase Young the better player? Yes. Does he play quarterback? No. T.J. Watt, Aaron Donald, Khalil Mack and Myles Garrett are all transcendent pass-rushers who didn't make the playoffs last season because of the play, or lack thereof, at the quarterback position. Dwayne Haskins would be the third-ranked quarterback in this draft, which means the Redskins will have plenty of options whenever they decide to trade either of these quarterbacks (paging the Chicago Bears). The old saying is, "if you have two quarterbacks, you don't have one," but this is disgustingly false. The right way to think about this is that if you have two quarterbacks, you have two chances to find "the one," and that is what every NFL team should have as their No. 1 priority.
3. Detroit Lions —CB Jeffrey Okudah, Ohio State
EE: A lot of Lions fans want to see Chase Young here. However, Matt Patricia (and Bill Belichick) simply don't value edge as much as they do secondary players, and with Darius Slay wanting a trade, Justin Coleman struggling during the second half of 2019 and Quandre Diggs already out the door via trade to Seattle, it's high time for the Lions to rebuild on the back end. Okudah is an excellent prospect as a press-man corner, which should allow the Lions to rush more players than they did in 2019.
4. New York Giants — WR Henry Ruggs III, Alabama
GC: The worst thing that can happen to the Giants is ending up in a position where they don't quite know about Daniel Jones because he has yet to throw to a legit set of receivers. As important as throwing the football is, getting open and catching the football is the second most valuable component of the passing game. Ruggs possesses the athleticism that every offense dreams of, and he gets open at all levels of the field. While many have his teammate, Jerry Jeudy, as their top WR, our projections slightly favor Ruggs. Ruggs lined up primarily out wide, where he was dominant at all levels of the field, while Jeudy saw a majority of his snaps lined up in the slot. Our very own Timo Riske wrote about the difference between the types of receivers and showed that the difference between elite and average is far smaller for slot receivers than it is for players who line up on the outside.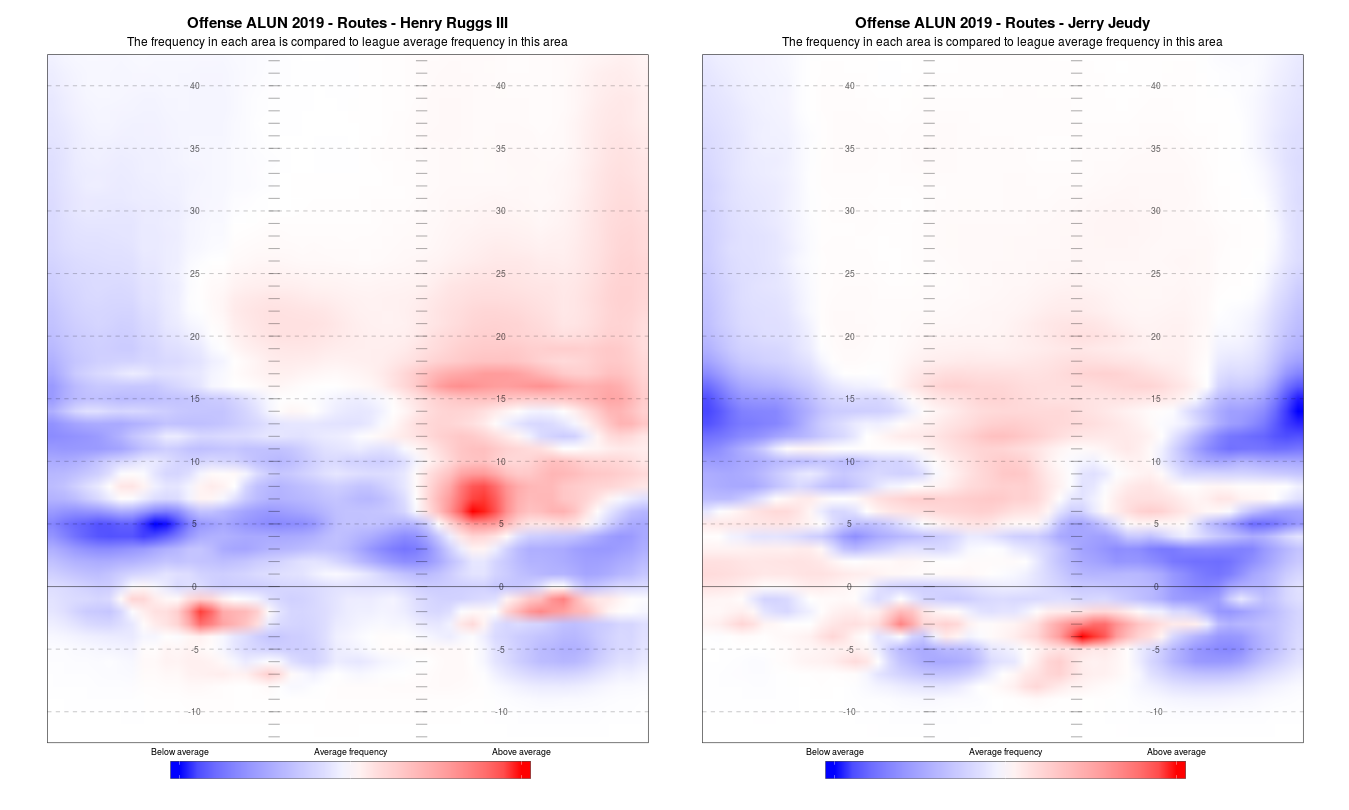 5. Miami Dolphins — Edge Chase Young, Ohio State
EE: Young, who is the best edge prospect in recent memory, is a great pick for a Miami team that was the worst in the NFL in terms of WAR generated by defensive players in 2019. While it's completely fair for fans to want the Fish to move up and take Tua with this immense draft capital they've built up over the past year-plus, getting what we project to be the best edge player in this class at the reduced rate relative to veteran elite edges is a great start to being consistently competitive for the first time since the 1990s. 
GC: The Chargers have been a total disaster on the offensive line and have playmakers everywhere else. If they want to lure a top free agent quarterback — like, say, Tom Brady — they will need to invest in their O-line. Wirfs' dominant athleticism boosted his pass-blocking projection to the top of the list.
7. Carolina Panthers — Playmaker Isaiah Simmons, Clemson
EE: Simmons, who has all the potential to be a difference-maker on any defense, is an absolute steal at Pick 7 to replace Luke Kuechly. No other player on the defensive side of the ball in this draft combines the versatility and the quality of play that Simmons provides, and for a team in a clear rebuilding phase, a player who does too many things to fail will add value in a number of different circumstances.
GC: There was a lot of debate about either taking a tackle here or reuniting Kyler Murray with his former Sooner teammate, CeeDee Lamb. However, Jeudy's production and athleticism made him our No. 2 wide receiver in our projection system, and Kyler found himself without an open receiver far too often in his rookie season. 
EE: The Jaguars are in full-on rebuild mode around Gardner Minshew and D.J. Chark Jr. For that to have any success, they'll need better protection from what they got last year in tackles Cam Robinson (-0.123 wins above replacement) and Jawaan Taylor (0.043). Prior to a poor performance at the 2020 NFL Scouting Combine, Thomas had the best projection of any tackle in the class, meaning the Jaguars would be getting good value if the Combine were to be faded.
GC: The run on tackles continues. Cleveland should have all the weapons to figure things out offensively if they can sustain a few blocks for more than a second. Jones gave up just four pressures all last season across 310 pass-blocking snaps for the Cougars.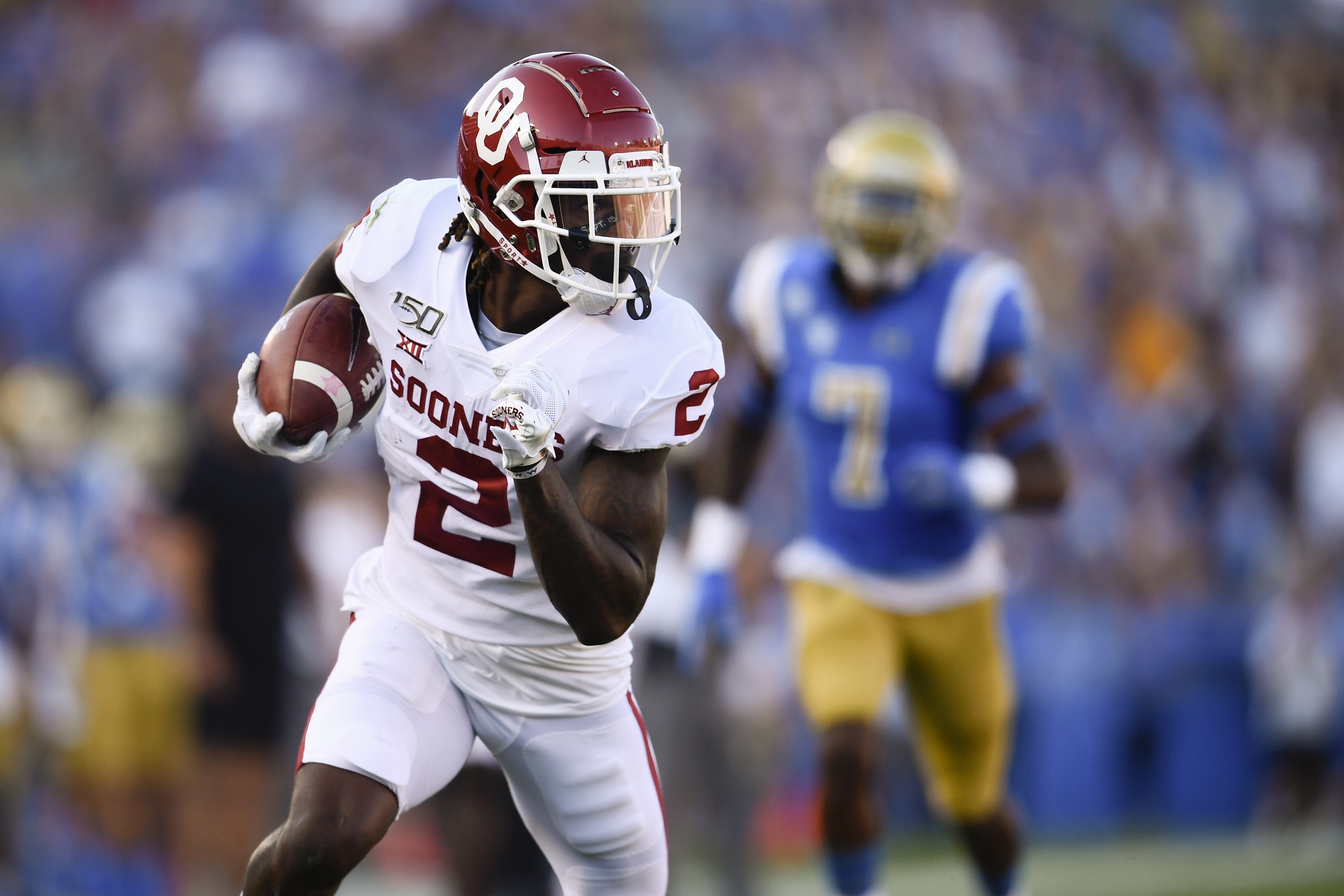 11. New York Jets — WR CeeDee Lamb, Oklahoma

EE: With Robby Anderson likely leaving and the time ticking on Sam Darnold's rookie deal, the Jets stock up at receiver with the former Oklahoma Sooner star. Lamb was the fifth most valuable wide receiver in college football last year, but he was the second most valuable one who played fewer than 700 snaps.
GC: Okudah is getting all the hype, but Fulton is not far behind him. He earned a top-20 PFF grade in each of the last two seasons. Coverage is the most valuable facet on the defensive side of the ball (yes, more so than pass-rushing), and the top wide receivers are all off the board at this stage.
EE: With Eric Ebron leaving and 2019 draft pick Parris Campbell a bit slow to come on as a complement to T.Y. Hilton, the Colts are in need of a receiver who can play a very effective No. 2 role but can still have games in which he puts up No. 1-like numbers — a player like Robert Woods of the Los Angeles Rams, for example. Luckily, Woods is one of Shenault's comps at the next level.
GC: The Bucs have quietly built a defense over the last year. They invested heavily in the cornerback position last season, and Delpit adds another playmaker on the back end. Delpit is projected to have the best playmaker rate (pass breakups plus interceptions) of any safety in this class, and he comps to the likes of Devin McCourty and Earl Thomas III.
15. Denver Broncos — WR Justin Jefferson, LSU

EE: Whether Drew Lock actually played as well as his 4-1 record as a starter or not, he's still the Broncos quarterback, and they would be smart to surround him and superstar wideout Courtland Sutton with another playmaker. Jefferson's projected catch rate is one of the highest in this class, and adding a Davante Adams-type receiver to a down-the-field player like Sutton will help mitigate some of the uncertainty surrounding Lock as a prospect. 
16. Atlanta Falcons — CB Trevon Diggs, Alabama

GC: The PFFalcons are bound by law to take a coverage player here for the brand to help mitigate some of the risks they've felt first-hand over the last few years. There is also the case for an edge rusher here, but Diggs is in the upper tier of cornerbacks with Okudah and Fulton, which is just too valuable to pass up given how poorly the Falcons' corners performed last season.
17. Dallas Cowboys — S Antoine Winfield Jr., Minnesota 
EE: The Cowboys get a good one here in the son of former Vikings and Bills do-everything cornerback and nickel defender. Winfield had a great Combine and has one of the highest projected playmaker rates (pass breakups plus interceptions) among safeties in this class.
GC: The Dolphins need it all, so why not attack coverage while waiting for a franchise quarterback. Henderson struggled last season, but his athleticism and past performance are strong enough to keep him in the good graces of the math in which we trust.
EE: After a year that saw the Raiders use their first-round picks on players who were not necessarily proven, they get a good bargain in Reagor after a tough 2019 season that was followed by an underwhelming Combine. One of Reagor's (statistical) comps is Allen Robinson II, a player who has made a lot of quarterbacks far worse than Derek Carr look valuable.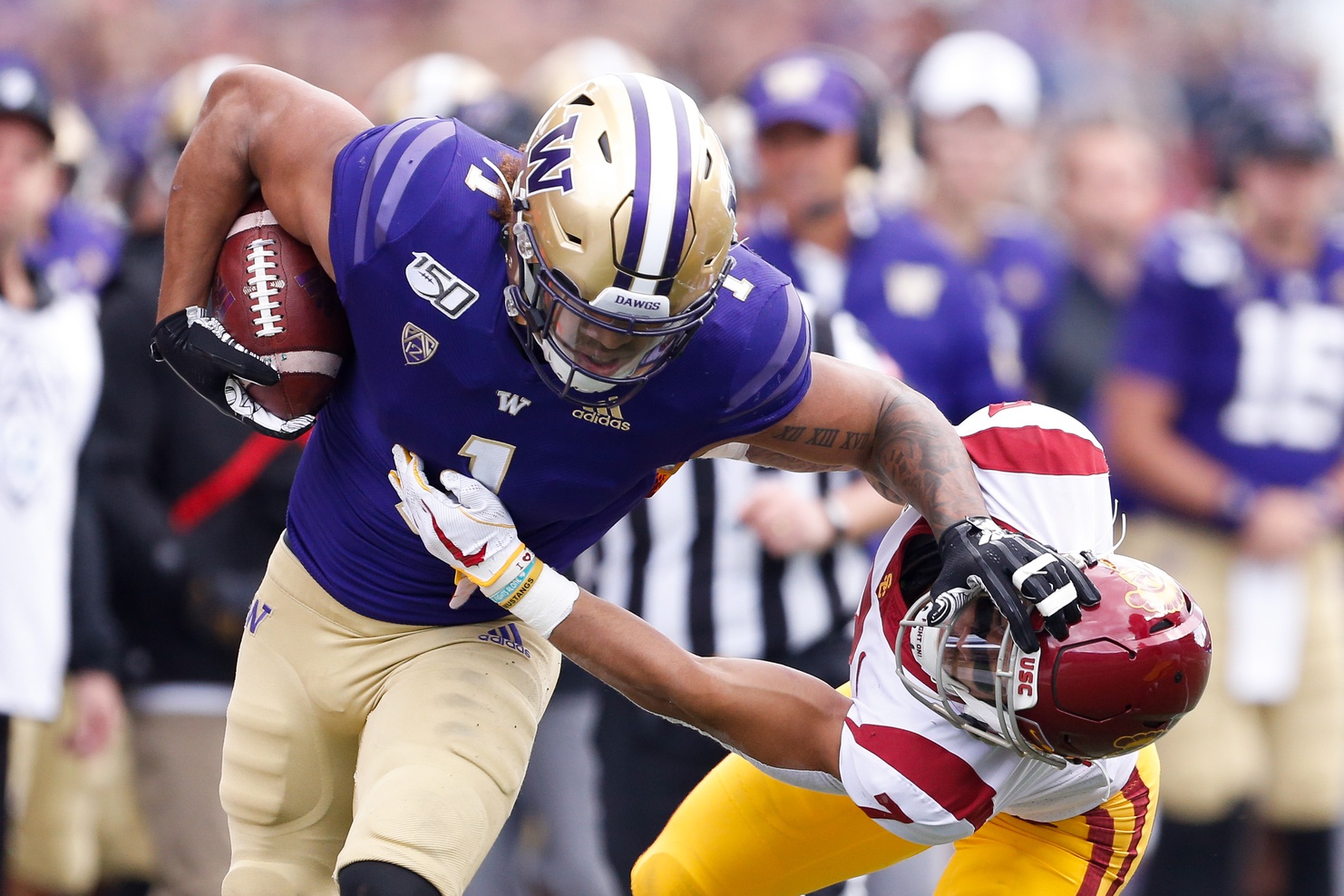 GC: The Jags went with a tackle earlier and now look to provide some more weapons for Gardner Minshew. Bryant projects as our most efficient tight end despite being a little undersized. Given what the Jaguars had at that position last season, though, he should be a massive upgrade.
EE: This is a position of need for the Eagles, and luckily the draft is deep enough at the position for the Eagles to get some value on the outside for Carson Wentz. With DeAndre Hopkins and D.J. Chark Jr. as two of his comps, he projects as the all-around player at the position the team has lacked since Jeremy Maclin left for Kansas City in 2015.
22. Buffalo Bills — T Ezra Cleveland, Boise State

GC: Cleveland's impressive Combine workouts put his pass-blocking athleticism score in the same ballpark as Tyron Smith, David Bakhtiari and Laremy Tunsil. While he projects to give up a slightly higher pressure rate, beggars can't be choosers after the poor performance of Cody Ford, who can move to guard.
EE: The Patriots have dealt with perturbations throughout their offense during the Brady era, but the loss of Gronk was too much for them to overcome in 2019. Okwuegbunam, who ran a 4.49-second 40-yard dash at the Combine at 6-foot-5, projects as an above-70% catch rate guy, with comps in the passing game that include Julius Thomas, Charles Clay and Eric Ebron at the next level. That's not a bad start to rebuilding the Patriots' passing game.
GC: No one loves the idea of an "offensive weapon" more than Sean Payton. How would defenses combat facing both Claypool and Taysom Hill at the same time? Heads would likely explode. Claypool is some sort of receiver/tight end hybrid with freaky athleticism and solid production as a receiver in college. The Saints could use a burner to stretch the field, and while Claypool isn't the obvious choice, he might just be the most intriguing.
EE: The Vikings are likely to need a safety with the potential losses of Anthony Harris and Jayron Kearse. Davis steps into that deep safety role, with comps in the passing game that include Earl Thomas, Kurt Coleman and Tony Jefferson.
GC: We are all-in on the Dolphins going full Tankapalooza once again. Some might argue that they should take a passer here, but there aren't any quarterbacks who project to be that much better than replacement level, so they are best off exercising some patience. While they wait for Trevor Lawrence, why not take shots at creating a great coverage unit? Having already selected Chase Young and C.J. Henderson, they can make history by selecting a second corner named "Jeff" in the first round. Gladney projects very well thanks to his solid production and athleticism.
27. Seattle Seahawks — CB Cameron Dantzler, Mississippi State

EE: Dantzler did not test well in the 40 at the Combine. Then again, neither did Richard Sherman in 2011. Like Sherman, Dantzler is a tall cornerback who can cover; he allowed less than 45% of the passes into his coverage to be completed in a tough SEC. Seattle, in large part due to their lack of depth at cornerback, played too much base defense in 2019. Dantzler helps that cause moving forward.
28. Baltimore Ravens — Edge Curtis Weaver, Boise State

EE: Aside from Young, no edge defender in the current class projects better as an all-around player than Weaver does. Aside from Matthew Judon, the Ravens allowed their edge players to leave going into last season, experimenting with the idea of being a truly secondary-first defense. Not tagging Judon and going with Weaver late in Round 1 is another step in the direction of that philosophy.
GC: Instead of getting overly excited about some serious projects like Mekhi Becton, let's take a guy who performed very well against strong competition and in situations that project well to the next level. Driscoll is precisely that, and he'd provide some protection for whoever ends up throwing passes for the Titans.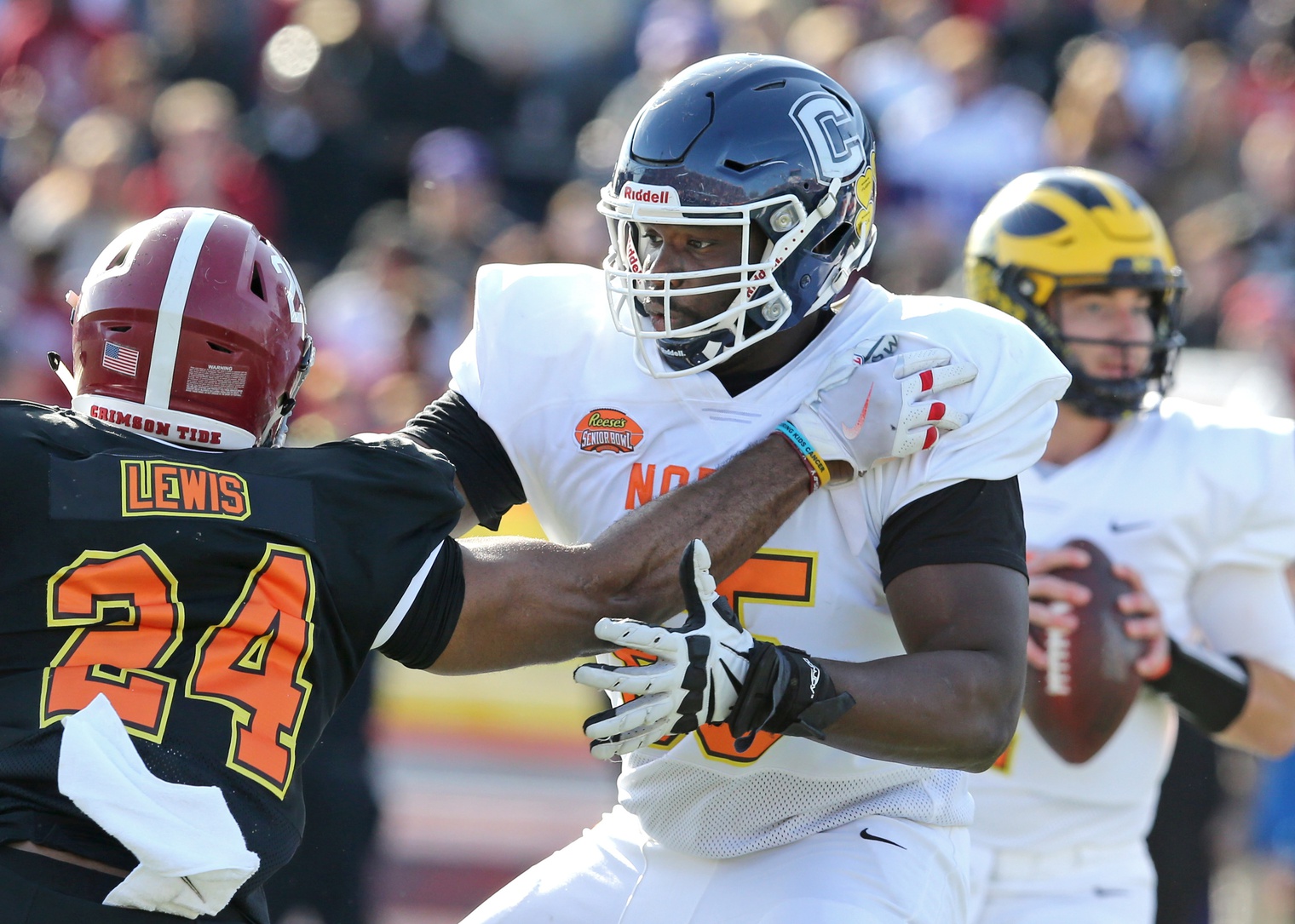 EE: While UConn had (another) season to forget in 2019, Peart was not a reason, as the 6-foot-7 tackle allowed just seven total pressures during his final season as a Husky. With Bryan Bulaga a likely free agent in a couple of weeks, the Packers need a contingency plan should they lose a starter at the position. But even if they don't, depth at that position never hurt anyone.
GC: The 49ers don't have any glaring issues, so long as Patrick Mahomes isn't on the other sideline. George Kittle and Deebo Samuel are both tremendous receiving options, but a third guy would sure be nice to have. Johnson earned the highest grade of any wide receiver in the FBS last season, and his production and route-running ability should allow him to excel in the Shanahan offense.
EE: Anthony Hitchens has been the least valuable linebacker in the NFL over the last two seasons, and he gave way to 2018 undrafted free agent Ben Nieman on passing downs for much of 2019. Taylor has many of the same comps as Isaiah Simmons and would fit the Chiefs perfectly here.