In any given draft, there are very few truly scheme-diverse defensive backs who can immediately fit into any NFL system. We see both sides of the learning curve almost every year. Some defensive backs struggle to pick up the nuances of schemes ill-suited to their skill sets; others make an immediate impact playing familiar assignments that tap into what the player does best.
Today, I'm going to highlight my favorite landing spot for the top 12 defensive back prospects on PFF's 2021 NFL Draft Big Board, just as I did for wide receivers and offensive linemen.
This list is not a projection but rather a realistic look at the best prospect-team pairings ahead of the 2021 NFL Draft.
Subscribe to
The Virginia Tech defense rarely gave Farley the opportunity to play press-man coverage, but he would be playing in a vastly different defense under Dan Quinn in Dallas.
In 2019, Farley's final season of collegiate action (he opted out in 2020), the Hokies ranked 57th among the 65 Power 5 programs in Cover 1 and Cover 3 usage rate at 29.6%. In Dallas, those Cover 1 and Cover 3 coverage shells will be at the very center of what they do defensively. 
Farley has all the physical tools to thrive in this kind of defense. He has the size and length desired at the next level at 6-foot-2, 197 pounds, and he pairs that with unbelievable speed (he reportedly ran the 40 in the low 4.3s).
Farley's 2019 season was one of the best we have ever seen from a Power 5 corner in the PFF College era — it was a true lockdown year. He generated a 90.5 coverage grade while giving up just nine first downs on 50 targets and making 14 plays on the ball. He allowed a passer rating of only 26.8 on throws into his coverage, the third-lowest mark among all FBS cornerbacks with at least 50 targets in a single season over the last seven years.
Any team would love to have a guy like Farley on the roster.
---
Arizona is in the market to bolster the cornerback room with fresh talent to take over the mantle from Patrick Peterson and Dre Kirkpatrick. The two veterans struggled in Vance Joseph's press-man-heavy defense last year, with neither player cracking the 25th percentile when it came to PFF coverage grade in single coverage.
Surtain at the 16th overall pick would be a dream scenario for the Cardinals. In 2020, no college corner was tasked with playing on an island more than Surtain, yet he still managed to generate the highest PFF grade at the position. He allowed less than 15 yards into his coverage in exactly half of his games played, and he never allowed any more than 60 in one outing.
The Alabama product's press technique is advanced, and he pairs that with the perfect size and physicality. And even with those traits, he didn't commit a single penalty Alabama's national title run in 2020.
The big concern with Surtain is his speed. As PFF's Mike Renner said in the PFF 2021 NFL Draft Guide, he'd be a top-five pick if he were an elite athlete. That's how good he is. Surtain might not have the wheels Farley does, but we don't think it'll prevent him from being a quality starting corner at the next level.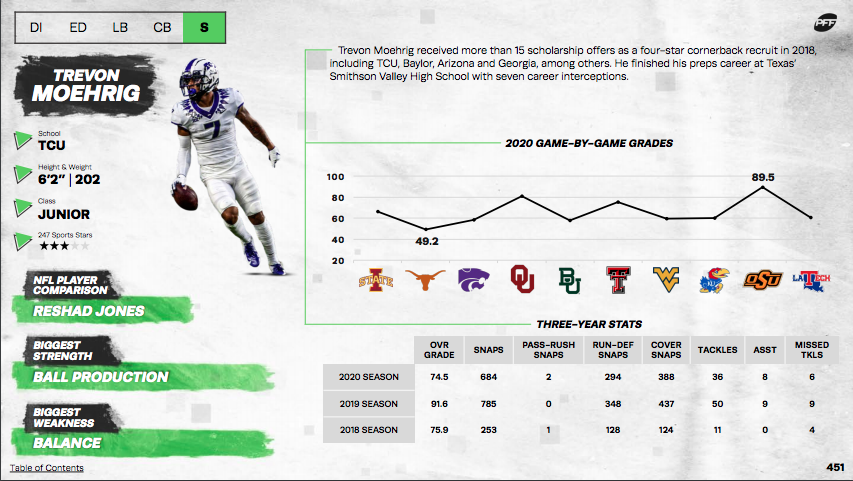 It's not easy for a safety to play in a defense that plays as much quarters coverage as TCU does, but Moehrig found immense success in that kind of role. With the help of his size, length, strength and explosiveness, Moehrig was one of the country's most productive safeties. Over the last two years, no FBS safety recorded a higher coverage grade or racked up more combined pass breakups and interceptions (26). He's just a monster at the catch point.
Moehrig has the skill set to be a versatile weapon at the next level, and that's exactly what Joe Cullen and the Jags are looking for in their defense.
---
This prospect-team fit could very well change in the coming weeks, depending on whether the cap-strung Saints are forced to cut cornerback Janoris Jenkins. The move — which would save the Saints $7 million if he's cut before June 1 and $10 million if he's cut after June 1 — looks likely right now.
Jaycee Horn — the son of former Saints wide receiver Joe Horn — would be a quality replacement if he is on the board when New Orleans picks at No. 28 in April. Horn needs to go to a team that will task him with playing a high rate of press-man coverage, and that's exactly what the Saints will do.
Horn plays bully ball — he is as physical as they come at the line of scrimmage, and he is going to do everything he can to overpower his opposition. However, the South Carolina product will have to dial it back a bit in the NFL, as the rules aren't so friendly to his playstyle.
The 6-foot-1, 205-pound cornerback ate up every receiver he faced in 2020, allowing just eight catches and making nine plays on the ball across seven games. Over his three years at South Carolina, Horn played the third-most press-man snaps in the Power 5 and led the group in forced incompletion rate on those same plays (32.4%). And he did all of that at the ages of 18, 19 and 20.
---
This is a match made in heaven if Denver decides to pass on Farley at No. 9. Vic Fangio covets instinctive and athletic corners who can plug into his deceptive, zone-heavy defense — and that's precisely who Samuel is.
He may not be the biggest guy on the field, at 5-foot-10, 184 pounds, but you can count on him still being a playmaker with read-and-react ability and athleticism. In his three years at Florida State, Samuel produced one of the 10 highest coverage grades among Power 5 outside corners and came in at No. 2 among the group in forced incompletion rate (23.8%).
Samuel isn't a fit for a team looking for a press corner on the outside, but that won't be an issue in Denver. He will be able to hold up on the outside in Fangio's system despite his size.
We don't yet know the kind of defense we will see in Detroit with first-time DC Aaron Glenn, but one thing is for sure: They need more playmakers in the secondary, and that's who they'd be getting with Washington.
Washington is the most instinctual safety in the class and has elite change-of-direction ability and strength. With the help of his many top-notch traits, he generated one of the three highest coverage grades among FBS safeties over the last two seasons. 
---
Atlanta is in a brutal position when it comes to their secondary. The Falcons unit finished 26th in expected points added (EPA) allowed per pass play, and their three highest-graded defensive backs from that squad — Keanu Neal, Darqueze Dennard and Damontae Kazee — are all impending free agents.
With the Falcons being $20 million over the cap, they'll need to address this issue on Day 2 of the draft after (hopefully, for the team's sake) taking Justin Fields in Round 1.
Molden may "just" be a slot corner, but not only is that now a starting position in today's NFL, but it is also one of the most valuable positions on the field. And given Molden's floor, this would be a home-run selection for Atlanta.
There's no reason to think that Molden won't be an effective slot defender at the next level. He is one of the hardest-hitting defensive backs in the class at 5-foot-10, 190 pounds, and he has great short-area quickness and eyes in coverage. Molden ranks first among slot cornerbacks in the PFF College era in coverage grade, forced incompletions and passing stops.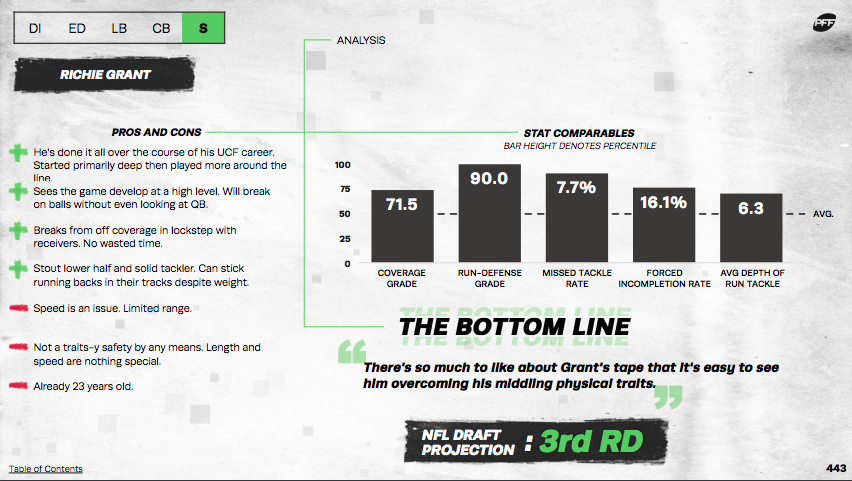 The Raiders have to keep swinging the bat to improve the secondary until they find the right guys. I would expect them to pursue a cornerback like Richard Sherman to man an outside spot in Gus Bradley's Cover 3 defense and a single-high safety like Marcus Williams. Even then, they have to keep taking swings in the draft, specifically on a player to challenge Johnathan Abram, as the 2019 first-round pick was the lowest-graded safety in the league in coverage in 2020.
Grant has an underwhelming physical profile, but he makes up for it with his processing speed. No college safety has logged more snaps over the last three years, and he made the most of them, generating 25 combined pass breakups and interceptions to rank in the top three at the position over that span. Grant held up exceptionally well when playing down in the box against the run, too, earning the highest run-defense grade in the box among FBS safeties over the last three years.
---
Newsome has a scheme-versatile skill set, and that's something San Francisco needs at cornerback. As things stand, five key 49ers defensive backs are set to hit the open market in free agency, and the team only has $12 million in the bank, with tackle Trent Williams also in need of a new contract. 
Newsome is fresh off a monster breakout campaign where he locked up the opposition each week. He posted the seventh-best coverage grade in the Power 5 in 2020 (83.8) and allowed only 93 yards and five first downs on 223 coverage snaps while making eight plays on the ball. Newsome is a fluid mover and was never caught out of position in Northwestern's zone-heavy scheme.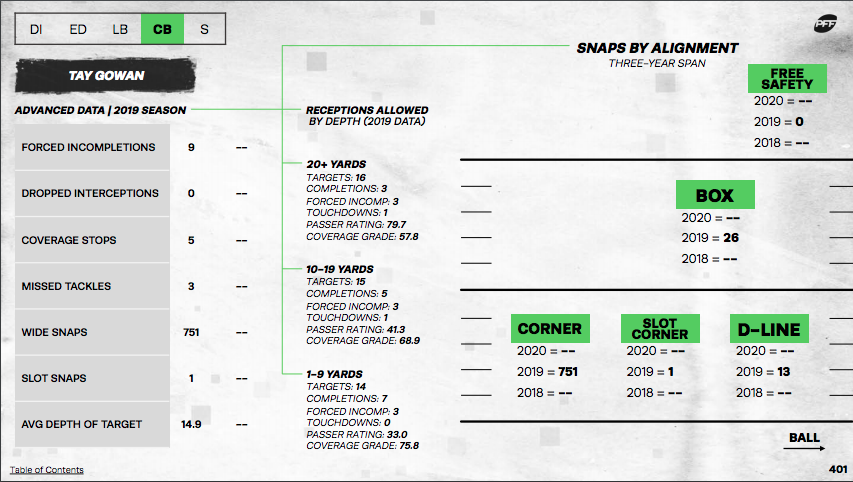 Gowan was built for a Steve Spagnuolo-led Kansas City Chiefs defense that tasks its outside corners with playing more press than any other team in the NFL. He has great length at 6-foot-2 to go with the production in a defense that tasked him with playing press in NFL-type coverages. 
After a couple of years at Miami of Ohio and playing only six snaps in 2016 and 2017, Gowan transferred to community college for the 2018 season before returning to the FBS ranks to play for UCF in 2019. He was nothing short of exceptional that year, earning an 80.1 coverage grade while making 12 total plays on the ball and allowing just 13 first downs or touchdowns across 12 starts. He opted out of the 2020 season due to COVID-19 concerns.
Gowan has the combination of size, length and speed desired for the position, but the lack of experience is a bit scary and easily the biggest knock on him as a prospect.
---
Seattle's cornerback situation will be something to monitor as we head into free agency, with Shaquill Griffin hitting the open market, but this is still a great pick for the franchise to make on Day 2. Campbell is a perfect fit for a press-zone team like the Seahawks.
Campbell has all of the physical tools desired for the position but little to no ball production to show for it. The 6-foot-2, 185-pound corner has the ideal length and tremendous change-of-direction and speed for the outside, but he produced just a 13.6% forced incompletion rate in his final two years at Georgia. There's a lot of untapped potential with Campbell, and a team like Seattle could help break that open.
---
Following Chuck Pagano's retirement, the Bears opted to go in-house to find his replacement, promoting Sean Desai to defensive coordinator after he spent six years as a quality control assistant and two years as the safeties coach.
He says he isn't going to use the exact concepts as past coaches he has worked under but that there will still be some Vic Fangio influence. So, there will likely be a multitude of disguised coverages in 2021, meaning they need a safety who processes at an elite level and can make plays in coverage rotations alongside Eddie Jackson. Holland could not be a better option for that job.
Holland doesn't have elite-level athleticism, but he makes up for it with his instincts and how well he sees the field. In his final two years at Oregon in 2018 and 2019 (he opted out in 2020), Holland racked up the second-most combined pass breakups and interceptions in the FBS with 20. He has the slot/deep safety versatility that Chicago desperately needs in its secondary.
---
Courtesy of PFF's 2021 NFL Draft Guide, find PFF's top draft prospect, biggest riser and wild card to watch at each position here: