The franchise-tag window has officially come and gone, and the official start of free agency is just days away.
Back in December, PFF presented its top 50 free agents and gave landing-spot predictions for each. We updated the list a few weeks ago, but after the wave of tags and roster cuts around the NFL, we have decided to update it one final time, adding new free agents to the list while removing those who are no longer on the market.
Below are the updated predictions, along with some analysis that will explain each one.
Prediction: New York Giants — Four years, $85 million ($57.5 million guaranteed)
Golladay is going to garner a whole lot of interest, but none may want or need his services more than the Giants, who have publicly voiced their desire to add playmakers to the offense and actually tried to trade for the receiver before the 2020 trade deadline.
Before his injury-riddled 2020 campaign, Golladay established himself as one of the best deep threats and contested-catch specialists in the entire league. In 2018 and 2019 combined, Golladay racked up the third-most deep (20-plus-yard target) receiving yards, with 930, and he tied for first in contested catches with 43.
Prediction: San Francisco 49ers — four years, $80 million ($62.5 million guaranteed)
San Francisco is going to be an interesting team to watch in free agency. They are projected to have around $22 million in cap space available, but star tackle Trent Williams is set to hit free agency along with every single important defensive back outside of safety Jimmie Ward.
Williams played for nine years in Washington before sitting out in 2019. He was then traded to the Niners during the 2020 NFL Draft. Williams looked as good as ever in his return this past season, showing no signs of rust while earning the highest PFF grade of any tackle in the NFL (91.9)
Prediction: Cleveland Browns — four years, $56 million ($27.5 million guaranteed)
Once a league-wide laughing stock, the Cleveland Browns have transformed into one of the best rosters from top to bottom in the NFL. However, they still need improvement in some areas, with the most notable being at the safety position. The good news is that the free-agent safety market is littered with talent, and they have the cap space to make a play for a guy like Harris, who looks capable of playing in any scheme.
Harris emerged back in 2018 after three years of limited snaps as a former UDFA and has since been one of the five most valuable safeties in the NFL. With Harris and the return of 2020 second-round safety Grant Delpit from injury, Cleveland's coverage unit would take another big step forward.
Prediction: Los Angeles Chargers
Henry has been with the Chargers since 2016, and I suspect that to remain the case despite the team deciding against using the tag on the tight end. However, this move comes with some slight risk for L.A. considering the injury history the former second-round pick carries.
Henry solidified himself as one of the best receivers at the position back in his first two seasons in the NFL, trailing only Rob Gronkowski and Travis Kelce for the highest two-year receiving grade among all tight ends. But then the injuries began to bite; he missed all of 2018 and hasn't been nearly the same player ever since. Henry's receiving grade over the last two years ranks 12th at the position — still good, but a marked step away from the path to elite he was on to start his career.
Henry's ceiling is more than deserving of a contract that makes him one of the three highest-paid tight ends in the NFL, as PFF's projected contract would make him. The only question is, can he remain healthy and reclaim that high-end play we once knew?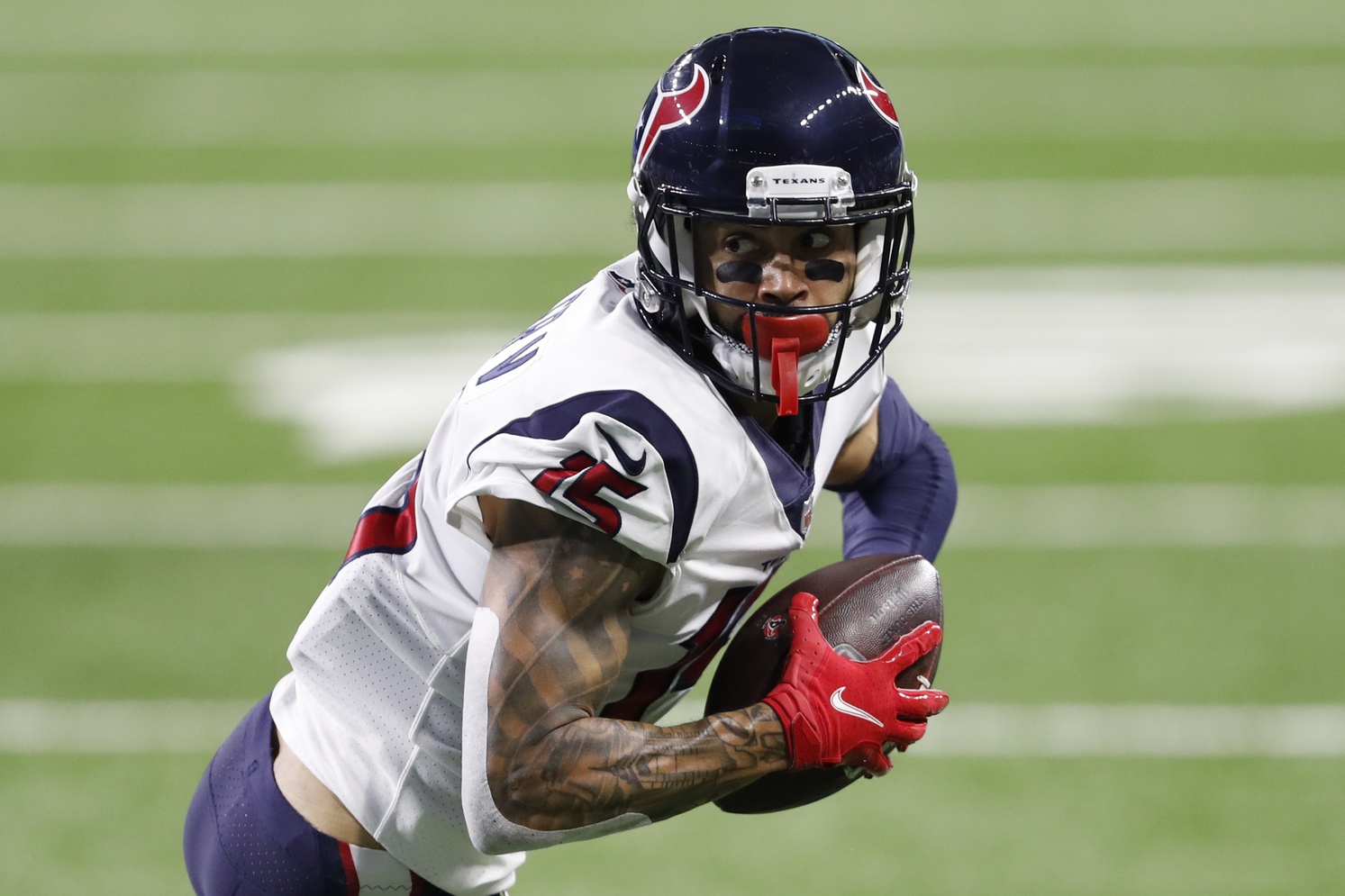 Prediction: Indianapolis Colts — five years, $87.5 million ($25 million guaranteed)
The Will Fuller-to-Green Bay story has been around for many months now, but with Emmanuel Sanders officially a cap casualty, I'd expect the Packers to go the cheaper route with Sanders.
Fuller is a prime candidate to go back to Indiana, where he played in college for the Fighting Irish. He is a genuine speedster who has proven to be one of the most dangerous deep threats at the position when healthy. Over 26% of Fuller's targets since 2018 have resulted in a 15-plus-yard gain, the eighth-highest percentage among wide receivers over that span. Despite missing significant time in each of those three seasons, Fuller came in at No. 8 in total receiving yards on vertical targets where he had separation on his coverage defender.
Prediction: Cincinnati Bengals — four years, $57 million ($35 million guaranteed)
It's no secret that Cincinnati's offensive line has been among the worst in the NFL for quite some time now — they have ranked in the bottom five in PFF grade in each of the last four years. Last season, they came in at No. 30 in combined offensive line grade.
Left tackle Jonah Williams and center Trey Hopkins performed quite well relative to their counterparts, but the rest of the line was a downright liability. And following the season-ending injury to Joe Burrow last year, they know they can't afford to ignore the line in free agency.
They have the cap space to make a massive move to address that fact, and Thuney — who grew up just outside the Cincinnati area — could well be that big signing. Thuney ranks sixth among left guards in PFF grade since entering the league in 2016. He has also never ranked lower than 13th among guards in single-season WAR generated.
Prediction: Tampa Bay Buccaneers — four years, $68 million ($40 million guaranteed) 
Somehow, someway, the Buccaneers are going to find a way to retain Barrett after tagging Chris Godwin and re-signing Lavonte David. It'll take some restructures from Mike Evans and Ali Marpet as well as a painful cap casualty, but Tampa can and will likely find a way to do it.
Barrett has recorded the 11th-best pass-rush grade and third-highest pressure rate among edge defenders since joining Tampa's ranks. Taking stunts and Bowles' infamous blitzes out of the equation, Barrett ranks in the top 10 in both pass-rush grade and pressure rate generated.
Prediction: Cincinnati Bengals — three years, $40 million ($22.5 million guaranteed)
Cincinnati head coach Zac Taylor has been on record saying he wants Jackson to remain a Bengal, and the franchise has the funds to make that possible while making a move for a star offensive lineman like Thuney.
While Jackson hasn't been able to replicate his success as a sophomore in 2017, he has still been one of the top outside cornerbacks in the game. He has finished as one of the 25 most valuable players at the position in three of his four seasons and is 12th among outside corners in coverage grade since 2017.
Prediction: Miami Dolphins — one year, $10 million (fully guaranteed)
Keeping Fitzpatrick around for another year to help guide Tua Tagovailoa is a sensible step for the Dolphins to take. And in the event Fitzpatrick is needed on the field for Miami, he has proven he can make the team competitive. Over the past two years, he ranks 18th in passing grade and seventh in positively graded throw rate. Considering the Dolphins' poor offensive line and average-at-best receiving unit, that's quite impressive.
Prediction: Las Vegas Raiders — two years, $28 million ($18 million guaranteed)
"Richard Sherman, if you are a free agent, which there is a rumor you are, we are looking for an alpha presence in our secondary. Somebody that could play this Hawk 3 press technique with the read step. If you're available and interested, maybe you and I can get together at some point off-air." — Jon Gruden on PFF's Cris Collinsworth Podcast with Richard Sherman.
Las Vegas could very well try to make a run at Sherman — one of the best cornerbacks of this century — to play in Gus Bradley's defense, a defense that the veteran cornerback has found a lot of success in.
Just a couple of years ago, Sherman was PFF's highest-graded and most valuable cornerback in the NFL. He was limited to only five games in 2020 but gave up just 87 yards across 210 coverage snaps.
The Raiders have ranked in the bottom half of the league in expected points added (EPA) allowed per pass play in each of the last three seasons. Sherman is still one of the smartest cornerbacks in the game and would surely help bring the Raiders out of the coverage rut.
Prediction: Tennessee Titans — three years, $17.5 million ($10 million guaranteed)
Tennessee traded for King during the 2020 season and is more than capable of locking him up for a few more seasons. King didn't particularly have the best season of his career in 2020, but we shouldn't forget what he did before arriving in Tennessee. Since entering the league as a fifth-round pick out of Iowa in 2017, King ranks first among defensive backs in slot coverage grade.
King may have had some hiccups in his first few games as a Titan, but remember that he was thrown into the fire and tasked with learning a new defense. It's no guarantee that King reclaims the same level of success that he had in Gus Bradley's system predicated on Seattle Cover-3 in L.A., but he's worth betting on.
Prediction: Los Angeles Chargers — four years, $55 million ($26.5 million guaranteed)
"Tremendous communicator, respect for his teammates, and he's a guy who was never going to leave the field… We just knew John was going to be out there the entire time. Whether he's playing safety, star, money, he was going to be out there… They [the safeties] are the ones saying the most stuff, not the inside linebackers. That's not the way the game is anymore. We just felt like using him in that way would be the best for the Rams, and I'm glad we did it. There's no way… there's no way… we have that season without JJ as the green dot." — Former Rams defensive coordinator and new Chargers head coach Brandon Staley in response to Richard Sherman asking why John Johnson III was the green dot of his No. 1 coverage unit in 2020.
That sounds like pretty high praise for the free-agent safety. This isn't a pressing need for the Chargers, but Staley bringing in Johnson to lead his defense again alongside Derwin James would be a match made in heaven. He thrived in this system last year, as he generated the third-most WAR of any safety in the game and fifth-most among every single defender for the 2020 season.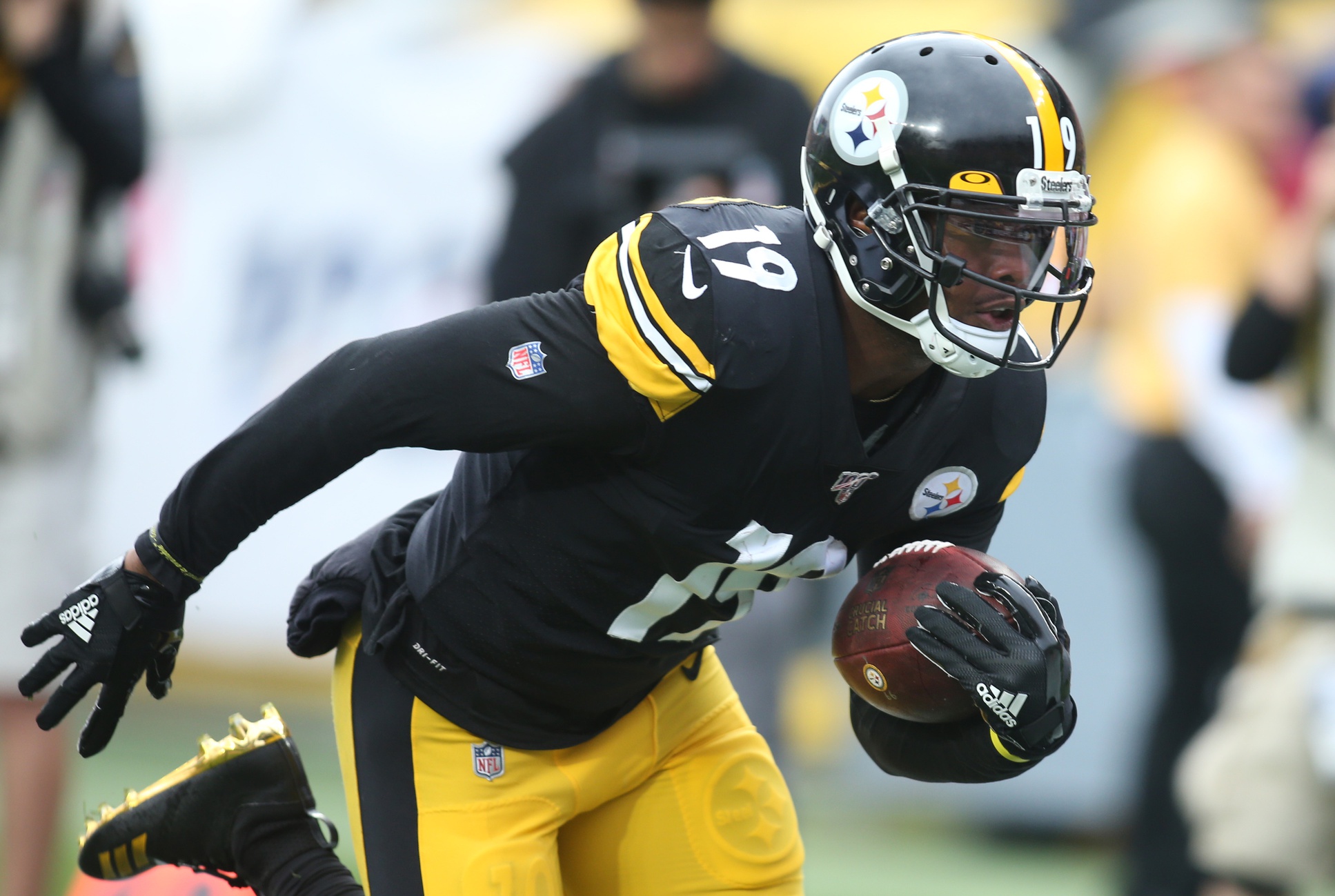 Prediction: New York Jets — four years, $68 million ($35 million guaranteed)
Smith-Schuster is one of the riskiest bets in this free-agent class, and the Jets have been rumored to have significant interest in the wide receiver.
He produced the 16th-best receiving grade in the NFL playing primarily in the slot alongside Antonio Brown back in 2017 and 2018 — his first two seasons in the league. Once Brown departed before the 2019 season, Smith-Schuster was expected to hold his own become the focal point of the offense. That, however, was not the case. He struggled with the extra attention and battled injuries throughout the year, recording a disappointing 63.1 PFF grade. Things were marginally better in 2020, with a PFF grade of 70.0 that ranked in the bottom half of the league.
Smith-Schuster doesn't have to be a primary outside receiver to become a WR1, but the fact that he failed to win there following the departure of AB does him no favors.
Prediction: Washington Football Team — four years, $65 million ($32 million guaranteed)
Terry McLaurin was quite easily one of the biggest steals of the entire 2019 draft class. He has produced receiving grades of 86.5 and 77.6 in his first two seasons in the league. Even with having a top-25 receiver on their hands in terms of PFF grade, Washington still had the lowest-graded receiving room in the entire league in 2020. That's how bad the depth is. Quarterback is obviously the top priority for Washington this offseason, but whoever leads the Football Team's offense needs more receiving options outside of McLaurin. Enter Corey Davis, who was one of the top-10-graded wide receivers of 2020. Against single coverage in particular, Davis sat at the 85th percentile in receiving grade.
Prediction: Los Angeles Chargers — three years, $33 million ($16.5 million guaranteed)
The Chargers had one of the worst offensive lines in the NFL this past season, and a lot of the underperformers are set to hit the open market in March. As a group, they ranked fourth-to-last among the 32 offensive lines in pass-block grade. The good news is that they have the capital to bring in a couple of marquee players, like Corey Linsley at center, to help fix that. Over his seven years in the NFL, Linsley has generated the sixth-best PFF grade at the position. Linsley came in at No. 1 among centers in PFF grade this past season in particular. Dan Feeney, who started all 16 games at center for L.A. in 2020 and is also a free agent, ranked second-to-last in PFF grade at the position.
Prediction: Pittsburgh Steelers — three years, $12 million ($4 million guaranteed)
The Steelers are limited in what they can do in free agency this March, considering their current cap situation ($5 million projected). Their big-name free agents — JuJu Smith-Schuster, Alejandro Villanueva and Bud Dupree — are likely to find new homes as a result. However, Pittsburgh might be able to retain one of the most important and underrated players on their team in Mike Hilton.
Over the last three years, Hilton ranks third in slot coverage grade behind Desmond King II and Bryce Callahan. Hilton has actually generated more WAR over the previous two years than Smith-Schuster and Dupree combined. Yet, he is likely to receive a deal that pays him less than half of those two players in 2021.
Prediction: Cincinnati Bengals — four years, $55 million ($30 million guaranteed)
As he did with William Jackson III, head coach Zac Taylor made it known that he'd prefer if Lawson remained a Bengal for 2021 and beyond. That makes sense considering he was the only formidable pass-rusher on the roster last season. Lawson produced an 84.9 pass-rush grade in 2020 that ranked ninth among qualifying edge rushers, yet Cincinnati still ranked second-to-last as a team in pass-rush grade.
Prediction: New Orleans Saints — one year, $5 million (fully guaranteed)
Winston re-signing with New Orleans for another dirt-cheap (relative to his position) one-year deal is the best and most likely scenario for the franchise. The 2015 No. 1 overall pick is quite easily the most volatile quarterback PFF has ever charted. In his five years starting for the Tampa Bay Buccaneers, Winston never ranked worse than fourth in percentage of throws earning a positive grade and never ranked better than 25th in the rate of throws that earned a negative grade.
Taking Dak Prescott out of the equation, no quarterback on the free-agent market can come remotely close to Winston's high end — for as many negatives as Winston has produced, he's nearly doubled the output with positives. The decision-making has been a liability at times, but there is no question that he has the arm talent necessary to succeed at the NFL level. With the right play-caller and supporting cast, as well as some turnover luck, Winston can help lead a successful passing offense.
Prediction: Tampa Bay Buccaneers — one year, $2 million (fully guaranteed, incentives can raise value to $4 million)
Brown's contract value will be interesting to monitor given his current off-the-field issues, but it seems highly likely that it'll be another cheap one-year deal back in Tampa for the wide receiver. It will have to be low-cost if he wants to remain a Buccaneer, and Brown has said he wants to return.
All things considered, Brown performed quite well in 2020 after playing in just one game in nearly two years. He earned an 82.6 receiving grade on the year, including the Bucs' postseason run, and he did it in an unorthodox manner relative to the rest of his career. Brown was utilized on more underneath concepts than in any other season of his career and posted a career-low 9.4-yard average depth of target. He added value after the catch with 5.2 additional yards on average, breaking eight tackles while also displaying sure hands. Brown caught 98% of his catchable targets and hauled in eight of 11 contested targets.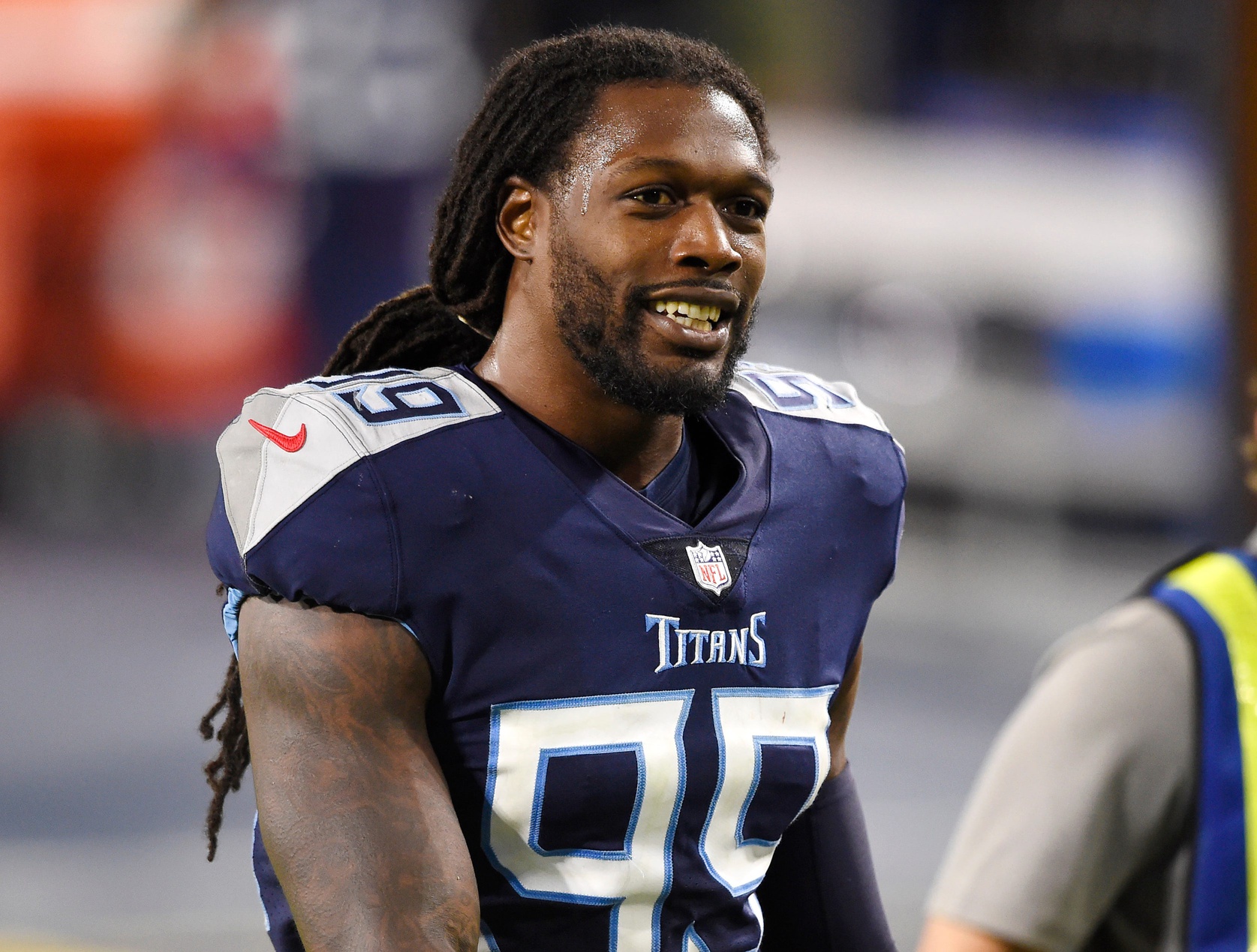 Prediction: Tennessee Titans — one year, $13 million (fully guaranteed)
Clowney has reportedly made it known that he is "open" to a return to Tennessee for 2021. Considering the lack of quality edge defenders the Titans have on the roster, it's hard to imagine them not feeling the same way.
Clowney only played half of the 2020 season due to injury and was as expected: above-average at-best. He ranked 19th at the position in PFF grade at 74.9, and there were no "dominant" pass-rush outings to really speak of. That's really been the story of Clowney's whole career. His run-defense is the key reason why he ranks No. 8 at his position in total WAR generated over the last six years.
Prediction: Arizona Cardinals — four years, $38 million ($20.5 million guaranteed)
With or without Larry Fitzgerald in 2021, Kyler Murray needs more receiving threats to go along with DeAndre Hopkins — especially at tight end, as the Cardinals didn't really get consistent production out of that group in 2020.
Smith's ability to extend plays after the catch would surely help. The four-year Titan is likely to hit the open market with Tennessee lacking cap space and looking at other marquee players in need of new contracts. Over the last two years, Smith ranks sixth in receiving grade, third in yards after the catch per reception (6.8) and sixth in broken tackles (17).
Prediction: Washington Football Team — three years, $50 million ($32.5 million guaranteed)
Okung has ties to Washington: Marty Hurney, who traded for Okung as general manager for the Carolina Panthers back in 2020, is now the executive vice president of football of player personnel for the Football Team (in other words, he has some say in the shaping of the roster). Washington needs a left tackle and has the money to afford a guy like Okung.
Okung has played just over 650 snaps over the last couple of years for the Chargers and Panthers. He was average at best on those reps, earning a PFF grade that ranked 46th among 90 qualifying tackles, and he turns 34 years old in the middle of next season. Needless to say, this would be an extremely risky bet for Washington.
Prediction: Indianapolis Colts — three years, $45 million ($30 million guaranteed)
With the retirement of Anthony Castonzo, the Colts require a new left tackle and could opt to bring in veteran Alejandro Villanueva to man that spot and perhaps mentor a young Day 2 pick from the 2021 NFL Draft. Over the last three years, Villanueva ranks 12th among all left tackles in pass-block grade and has routinely done his job in the ground game with a negatively graded run-block rate that sits in the 82nd percentile at the position.
Prediction: Washington Football Team — one year, $5 million (fully guaranteed)
The interest for Newton isn't likely to be strong after how his one-year "prove-it" deal went with New England in 2020. He brought value to the run game in short-yardage situations and in the red zone, but the downfield passing was wildly inconsistent. Newton completed four or fewer passes on throws of 10-plus yards downfield in 11 of his 15 starts in 2020 and completed only 14 deep passes on the year. Overall, the accuracy was poor from Newton, as he ranked just 28th in percentage of accurate passes thrown beyond the line of scrimmage.
Washington is in the veteran quarterback market this offseason, and Football Team head coach Ron Rivera, who also coached Newton in Carolina, could reunite with the 2015 MVP and give him a shot to compete with Taylor Heinicke.
Prediction: Houston Texans — two years, $10 million ($8 million guaranteed)
At this point, it looks more likely than not that Houston will be forced to trade away their franchise quarterback, Deshaun Watson. Dalton — who is from the Houston area — could serve as a bridge and mentor to a rookie quarterback whom Houston would take with the draft capital they receive for Watson.
Dalton ranked 23rd in PFF grade in 2020 with Dallas. He failed to make many big-time throws (32nd by rate), but he limited bad throws, too. He posted the 10th-best negatively graded throw rate and delivered an accurate ball on passes beyond the line of scrimmage at the league's fifth-highest rate.
Prediction: Seattle Seahawks — three years, $28.5 million ($15.5 million guaranteed)
Despite nagging injuries this past year, Griffin managed to sustain a quality level of play and has been the 17th-most valuable corner in the NFL since 2019. Seattle plays zone coverage at one of the highest rates in the league, a scheme in which Griffin has thrived. He ranks in the top 10 among cornerbacks in zone coverage grade over the past two years.
Prediction: Detroit Lions — four years, $45 million ($20 million guaranteed)
Buffalo has some tough decisions to make this offseason, and one of them could be letting Milano walk in free agency. Detroit doesn't have much cap space, but it wouldn't be a surprise to see the team do everything in its power to create room to upgrade at off-ball linebacker. The Lions' linebacker room outside of Jamie Collins Sr. struggled mightily in 2020, with Reggie Ragland and Jahlani Tavai each posting 35.7 coverage grades.
Milano has been rather inconsistent, but he's looked like one of the top coverage linebackers in the league at times. Back in 2018 and 2019, he ranked 14th and fourth, respectively, in coverage grade. Yet, his run defense and tackling have underwhelmed. Milano posted sub-60.0 grades against the run, in coverage and as a tackler in 2020, leading him to a PFF WAR rank of 37th at the position.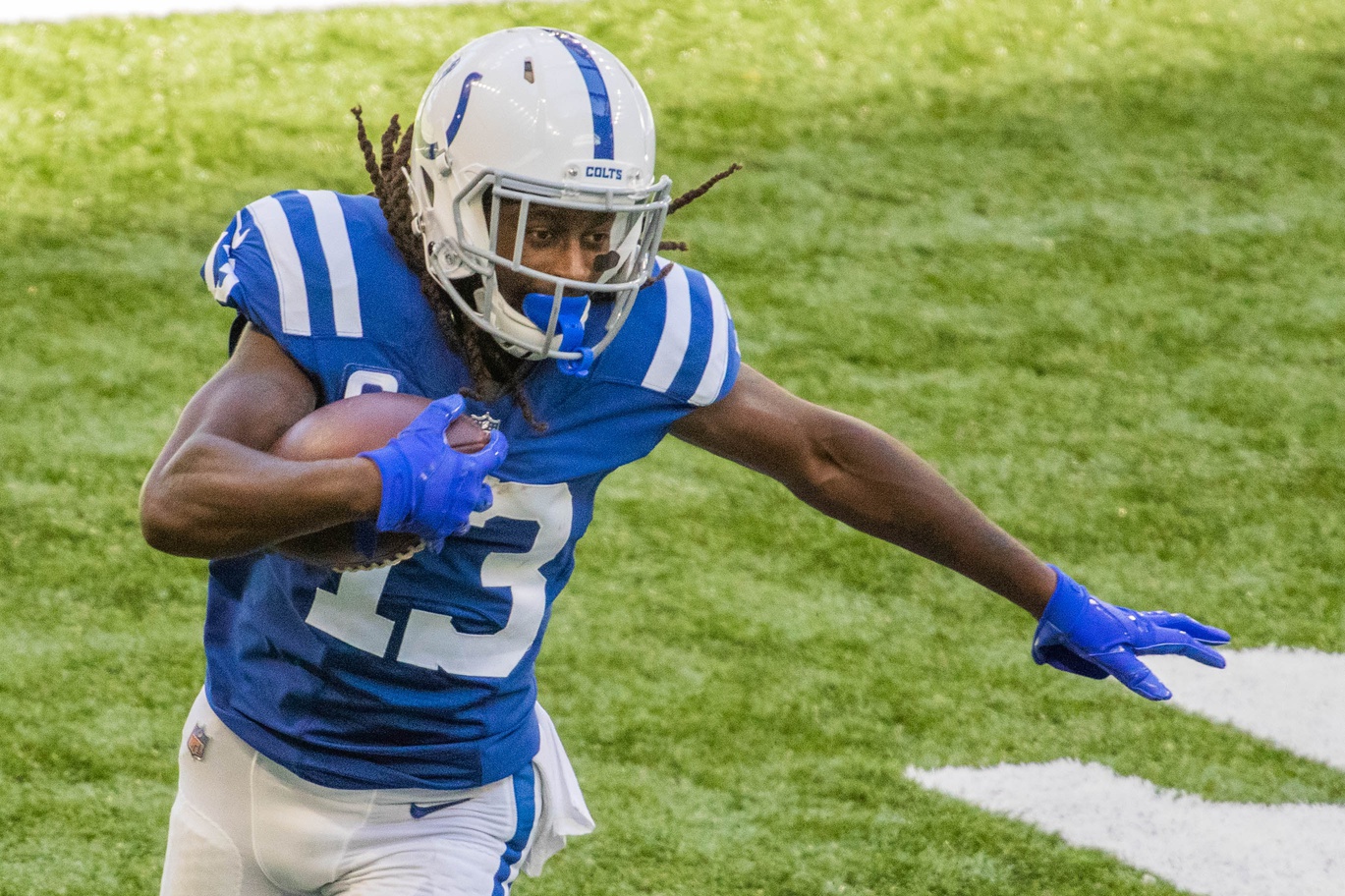 Prediction: Jacksonville Jaguars — three years, $28.5 million ($18 million guaranteed)
If Hilton and Indianapolis decide to part ways, him moving back to his home state of Florida and partnering up with projected first overall pick Trevor Lawrence is certainly in the cards.
Hilton was once considered a top deep threat in the NFL, but that production has tailed off in the years since Andrew Luck's retirement. With Jacoby Brissett and Philip Rivers running the offense, Hilton brought in only 190 yards from vertical targets over the past two seasons, which is less than half of his 397 yards in 2018 that ranked seventh in the NFL. 
Sure, Hilton has lost a step and may not possess the 4.34-second speed he once boasted. However, it's also worth considering that injury, quarterback play and usage got in the way in 2019, in addition to the offense being a bit limited with Rivers' declining arm in 2020. Hilton still posted a top-15 receiving grade on targets at the intermediate level last season, so it wouldn't be crazy to say he can add value as a vertical threat if paired with the right quarterback.
Prediction: Jacksonville Jaguars — four years, $52.5 million ($26.5 million guaranteed)
There is a world in which New York retains both Leonard Williams and Tomlinson, but that'd be an extremely difficult scenario for the cap-strung Giants to pull off. Jacksonville will be in the market to bolster its below-average interior defensive line, and the franchise has the money to make a push for one of the best on the open market. After Williams, that player is Tomlinson.
Up until this past season, Tomlinson was the same player as Williams — a great run defender and a subpar pass rusher. This year, Tomlinson was solid in both facets, as he notched a 70.0-plus grade in each area. Only 11 other interior defensive linemen accomplished that in 2020. And at nose tackle, in particular, Tomlinson was one of the most productive pass-rushers in the league, putting together the second-best such grade at the alignment.
Prediction: Buffalo Bills — three years, $31.5 million ($18.75 million guaranteed)
After an injury-plagued, up-and-down five-year stint with Carolina to begin his NFL career, Williams came to the Bills prior to the 2020 season to be their starting right tackle. Not only did he play in all 19 games in 2020, but he also played at an extremely high level. His 80.0 pass-blocking grade ranked fourth among all right tackles.
Prediction: Los Angeles Rams — two years, $10.5 million ($7.25 million guaranteed)
The Rams have virtually no cap flexibility — they're roughly $33 million over the limit as of now — and two of their marquee defensive backs are set to hit the open market in safety John Johnson III and cornerback Troy Hill. The bad news is that Johnson will fetch around $13 million per year on his next contract, putting Los Angeles out of the running. The good news is that Hill will be cheap enough for the Rams to retain him if they can open up just a little bit of cap space.
Hill has emerged as one of the best slot corners in the NFL over the past few seasons. An increased role has resulted in the best slot coverage grade in the league since 2019. Despite projecting to receive such a cheap deal — mostly due to the league still undervaluing slot corners — Hill was Los Angeles' fifth-most valuable non-quarterback in 2020 and the NFL's 36th-most valuable defensive player, per PFF WAR.
Prediction: Indianapolis Colts — three years, $27 million ($15.5 million guaranteed)
Awuzie is a pure zone corner by nature, which means he's not necessarily a fit for new Cowboys defensive coordinator Dan Quinn. He has ties to Colts defensive coordinator Matt Eberflus, as they were both with the Cowboys in Awuzie's rookie 2017 campaign. Plus, Indianapolis is in the market for a zone corner because 2019 second-rounder Rock Ya-Sin hasn't shown the requisite growth. They aren't going to completely abandon Ya-Sin, as he still has some time to right the ship, but starting him would be a risky bet.
Eberflus' zone coverage usage this past season was the second-highest in the NFL, behind only Brandon Staley's Los Angeles Rams, at 76.6%. We pegged Awuzie as a great fit for a zone-heavy scheme coming out of college, and his NFL numbers back that up. Since entering the NFL, he ranks 48th of 70 cornerbacks in coverage grade when in single coverage. In zone, he jumps all the way to 19th.
Prediction: New England Patriots — three years, $27.5 million ($17.5 million guaranteed)
Samuel had the best season of his NFL career this past season in Joe Brady's Carolina Panthers offense, posting a 77.0 PFF grade. Brady dialed up over 40 designed runs for Samuel and slashed his average depth of target nearly in half, down to 7.5 yards from 14.8 yards. He can win underneath, separate against single coverage when given the opportunity and — with the right quarterback — add value vertically with his speed.
There is an argument to be made that Samuel has some untapped potential considering his quarterback room has produced the lowest passing grade on throws over 10 yards downfield throughout his NFL career.
Prediction: Miami Dolphins — four years, $46 million ($25 million guaranteed)
Jones will likely encounter a slim market due to more NFL front offices recognizing the value — or lack thereof — of the running back position. This is no disrespect to Jones, who is a great athlete and an NFL running back, but his position simply doesn't stack up in terms of wins and losses on the football field.
Jones was the 10th-most valuable running back of the 2020 season, generating 0.13 WAR. That made him just the ninth-most valuable player in Green Bay's offense.
Miami is just one of a few teams that will have the cap space and be willing to sign Jones to a deal of this magnitude. The Dolphins fielded one of the least efficient rushing attacks of the 2020 season, producing -0.1 EPA per run, which ranked 28th in the NFL. It's worth noting that Tampa Bay — Super Bowl 55 champions — ranked 29th in regular-season play.
Prediction: Buffalo Bills — four years, $70 million ($40 million guaranteed)
Buffalo head coach Sean McDermott mentioned how his team's pass rush is a "critical area" of improvement this offseason, and the Bills could be looking for a complete overhaul along the defensive front. It'll take a handful of cuts and/or restructures to create the cap space, though.
Ngakoue, who is tied for ninth among edge rushers in pass-rush grade over the past four seasons, would bolster the Bills' pass rush and could slide right into Mario Addison's role. Ngakoue admittedly provides little impact in run defense, grading below 60.0 in all five of his NFL seasons in that facet, but he and Jerry Hughes would immediately form one of the NFL's better pass-rushing tandems.
With Corey Davis on his way out, Nick Westbrook-Ikhine is likely the Titans' next best wide receiver under contract. No disrespect to him, but that just goes to show how badly the team needs several wideouts.
Brown's speed has led to plenty of big plays for Buffalo over the past couple of years. He turned over a quarter of his targets the past two seasons into 15-plus-yard gains, which ranks among the 10 highest rates in the entire league over that span.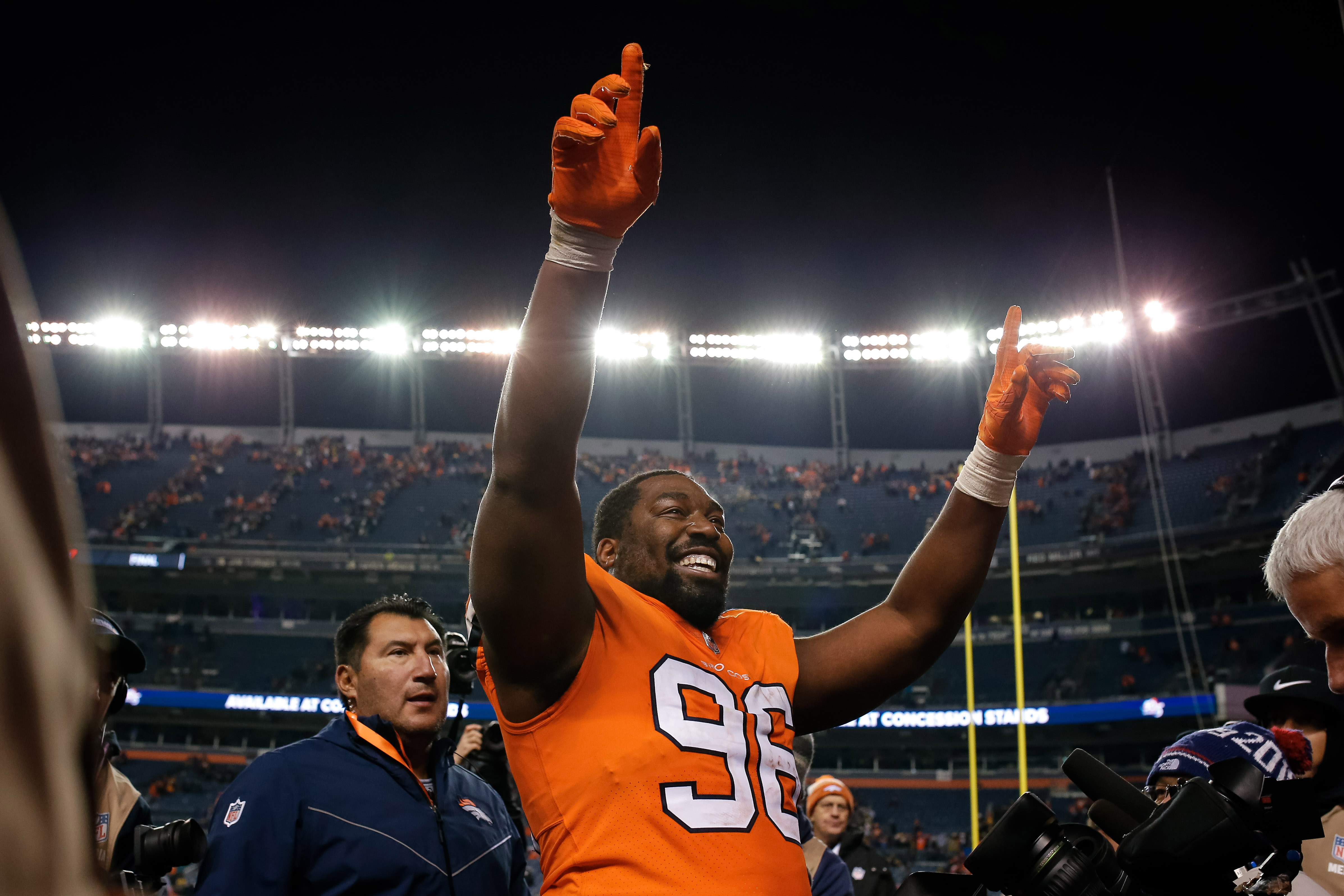 Prediction: Denver Broncos — three years, $33.38 million ($16.5 million guaranteed)
New general manager George Paton has publicly mentioned how Harris is a priority re-sign, and the Broncos easily have the cap space for it.
Harris didn't emerge in the NFL ranks until his fourth NFL season — and first with Denver — back in 2017. He has logged at least 390 snaps in each of his four years with the Broncos, providing uber-productive play when on the field. He is tied for 10th in PFF grade among interior defensive linemen over that span.
Harris is an effective player at both 0- and 3-technique. He has primarily played defensive tackle in Denver (84.8 PFF grade at that alignment) but found immense success at nose tackle, where he earned an elite 91.3 PFF grade across 313 such snaps. 
Prediction: Miami Dolphins — three years, $27 million ($16.5 million guaranteed)
Miami knows it needs to add receiving talent through free agency and the draft, and the team easily has the capital to do both. 
Jones' price tag is fairly reasonable given his output as of late. Over the past two seasons, he ranks 23rd among wide receivers in PFF WAR generated and sits at the 85th percentile in receiving grade against single coverage.
He has never been a separation-getter, but he still remains a strong receiver at the catch point. Whether from the slot or on the outside, he is still capable of producing at a semi-high level despite getting ready to turn 31.
Prediction: Carolina Panthers — three years, $15 million ($9.5 million guaranteed)
Quarterback is priority No. 1 for Carolina this offseason, but tight end is right up there, too. The Panthers' tight end room ranked dead last in receiving grade and was responsible for only three 15-plus-yard receptions (four fewer than any other team) in 2020.
Everett is coming off a down year in 2019, but he more than proved he is capable of producing at a top-10 level in his two prior seasons. In fact, he ranked seventh at the position in receiving grade in 2018 and 2019 combined. He is your classic move tight end who adds value after the catch with his athleticism.
Giants general manager Dave Gettleman handed Vikings general manager Rick Spielman a gift in the form of Zeitler's release. It wouldn't be a surprise to see Minnesota open up cap space to sign a guard of Zeitler's caliber. The position was a liability for the team in 2020, with the team's guards combining for a 37.2 pass-blocking grade — over five grading points worse than any other NFL team.
Zeitler is clearly not nearly as strong of a player as he once was in Cincinnati and Cleveland, but he would be a significant upgrade for the Vikings. He has generated the 15th-most WAR by a guard over the past two seasons and ranks eighth among right guards in PFF grade over that same span.
Prediction: New York Jets — three years, $18 million ($11.5 million guaranteed)
Poole turned his career around with the Jets, whom he joined in 2019 after three middling years with Atlanta. The former undrafted free agent has produced the seventh-best slot coverage grade over the past two seasons in New York. He has allowed the fewest yards per coverage snap in the slot in that span by a significant margin, at 0.75, while producing the fourth-best slot forced incompletion rate (12%).
That has helped Poole generate the 13th-most PFF WAR among all cornerbacks since 2019. Considering his cheap contract and the fact that the Jets having the second-most cap space available this offseason, it'd be a shock if Poole didn't return.
Prediction: Jacksonville Jaguars — four years, $25 million ($14 million guaranteed)
Jacksonville needs versatile safeties, and that's precisely what Woods has profiled as throughout his NFL career. Unfortunately for the safety, he put together by far the worst season of his NFL career in his 2020 contract season.
Still, Woods has been a quality coverage defender wherever he has lined up on the field in his four years with Dallas, ranking 24th among 59 qualifying safeties in coverage over that span.
Prediction: Philadelphia Eagles — two years, $10 million ($5 million guaranteed)
Philly is in the market for a backup quarterback who can also mentor Jalen Hurts, and Taylor couldn't be a better option. The two have extremely similar skill sets, so much so that Hurts' comp in the 2020 NFL Draft Guide was Taylor, courtesy of PFF lead draft analyst Mike Renner. 
Taylor succeeded plenty as an NFL starting quarterback back in 2015 and 2016 with the help of offensive guru Greg Roman, who was his offensive coordinator for his first two years in Buffalo. During those two seasons with Roman in Buffalo, the offense ran the fourth-most read-option plays and was highly successful when Taylor kept the ball on those plays, producing 0.198 EPA per play.
Roman used his emphasis on running the ball in the passing game through play-action passes at an above-average rate. In doing so, Buffalo improved its expected points added per pass to ninth and Taylor's passing grade to sixth.
This is the kind of offense Philadelphia will run with Hurts under center, and Taylor could help the cause.
Prediction: Jacksonville Jaguars — two years, $12 million ($9.5 million guaranteed)
Dunbar was recruited by and played for Urban Meyer back in his first few years of college at Florida as a wide receiver, and we could see the two reunite back again in The Sunshine State. Well, that is assuming they can make amends after Dunbar took a shot at him for losing at Ohio State during the 2013 season. 
Just two years ago, Dunbar was the second-highest-graded corner in the league for Washington. Last year, however, Dunbar battled injuries in Seattle, struggling en route to his PFF grade falling by nearly 40 grading points. Dunbar is a low-risk option, as he is projected to receive a two-year, $12 million deal and would certainly be an upgrade for the Jags.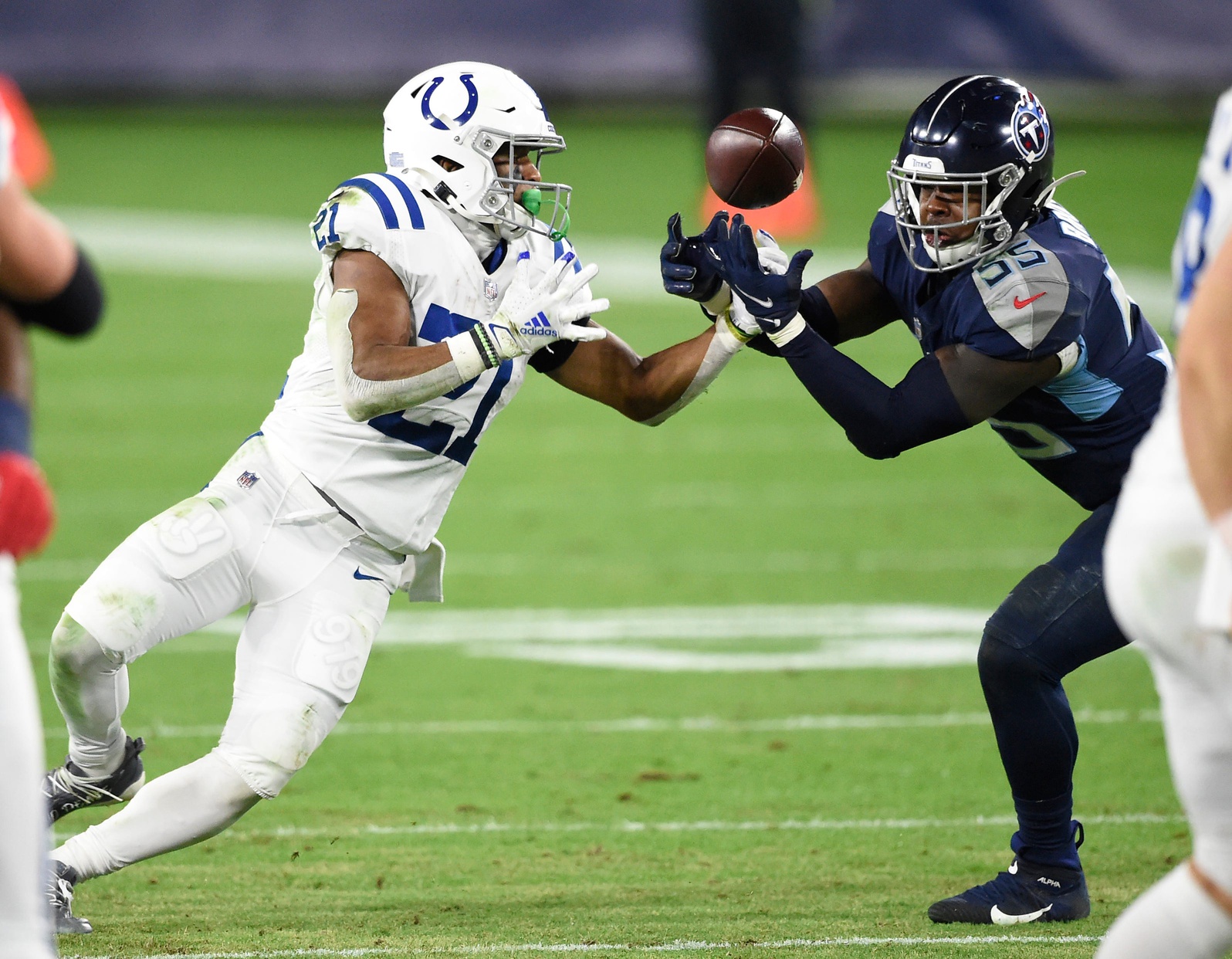 Prediction: Carolina Panthers — four years, $47.5 million ($22.5 million guaranteed)
Off-ball linebacker has been an obvious need for Carolina ever since Luke Kuechly's retirement and Jayon Brown is a good fit. He has established himself as one of the top coverage backers in the game in his young NFL career. Over the past three years, Brown notched the fifth-highest coverage grade at the position and tied for the fourth-most forced incompletions (16).
Prediction: Baltimore Ravens — two years, $20 million ($16 million guaranteed)
Baltimore has a plethora of edge rushers set to hit the open market in free agency and could look to modestly upgrade at the position with Ingram. He has missed some time as of late, but the nine-year Charger has generated consistent pass-rush production throughout his career, holding his own when dropping into coverage, too.
Ingram has produced a pass-rush grade north of 73.0 in each of the past seven seasons and ranks 14th over that entire span in pass-rush win rate among edge defenders.
Prediction: Chicago Bears — two years, $9 million ($5 million guaranteed)
Chicago parted ways with their former starting right tackle Bobby Massie, and Wagner, who Green Bay cut solely because of cap reasons, would be a great replacement. Wagner generated 2.5 times more WAR than Massie in the 2020 season and ranked 12th among right tackles in PFF grade.
Among all tackles on the year, Wagner sat above the 75th percentile in both true pass set grade and negatively graded run-block rate — two of the most stable metrics for the position. This move makes a lot of sense if Wagner decides to not hang up his cleats.
Prediction: New York Jets — one year, $15 million ($12 million guaranteed)
Dupree is one of the riskiest free agents in this entire class. He may have put up an impressive sack total prior to his ACL injury in 2020, but remember, not all sacks are created equal; it's a noisy stat. Dupree saw over 60% of his pressures in 2020 come courtesy of a cleanup or being unblocked — which is by far the highest rate at the position — and generated a lowly 61.2 pass-rush grade that ranked 71st of 105 qualifiers.
This has really been the story of his career. That pass-rush grade from 2020 is actually the second-highest mark of his six years in the NFL ranks. Dupree has a high motor and will rack up pressures in a blitz-heavy defense, but his lack of consistent true one-on-one wins screams buyer beware.
Prediction: Tampa Bay Buccaneers
Gronk has made it apparent that if he's playing in the NFL, he's playing with Tom Brady. He would take a team-friendly deal to do so, which is likely to be the only option for this relationship to work. While Gronkowski wasn't his elite self that we saw in New England in the 2010s, having the most unproductive season of his career, he was still very much an effective receiver relative to his counterparts when given the opportunity. His 78.4 receiving grade ranked fifth among 38 qualifiers.
Prediction: New York Jets — three years, $30 million ($15 million guaranteed)
New York is one of the few teams that can go on a spending frenzy in free agency, and it wouldn't be a surprise to see them bring in Carson to run rampant in Mike LaFleur's wide-zone offense. Like Jones, this is way too much money to be investing at the running back position. Still, Carson has been the ninth-most valuable running back over the past three years, with 0.45 WAR generated. On wide-zone runs, in particular, he ranks fifth in yards per attempt, at 4.9.