Like any other industry, the NFL is everchanging; teams are constantly innovating, adapting and becoming smarter. Rosters are constructed far differently than they were decades ago. The physical skill sets of the players themselves have greatly increased. And new schematic concepts have taken over as others have died out.
I could dedicate this entire article to the changes we've seen across the NFL, but I'm going to focus on one that the league has yet to recognize it: the value of a slot corner.
"I couldn't do it. In that slot, man, you've got to be on it. You can't guess" — Hall of Fame cornerback Deion Sanders, per The Washington Post
Subscribe to
Base defense is no longer the default in the NFL. Over the past 15 years, we have seen schemes with four defensive backs drop significantly. As a matter of fact, base went from the most used defense — 57% of the time in 2006 —to being called less than a quarter of a time in 2020.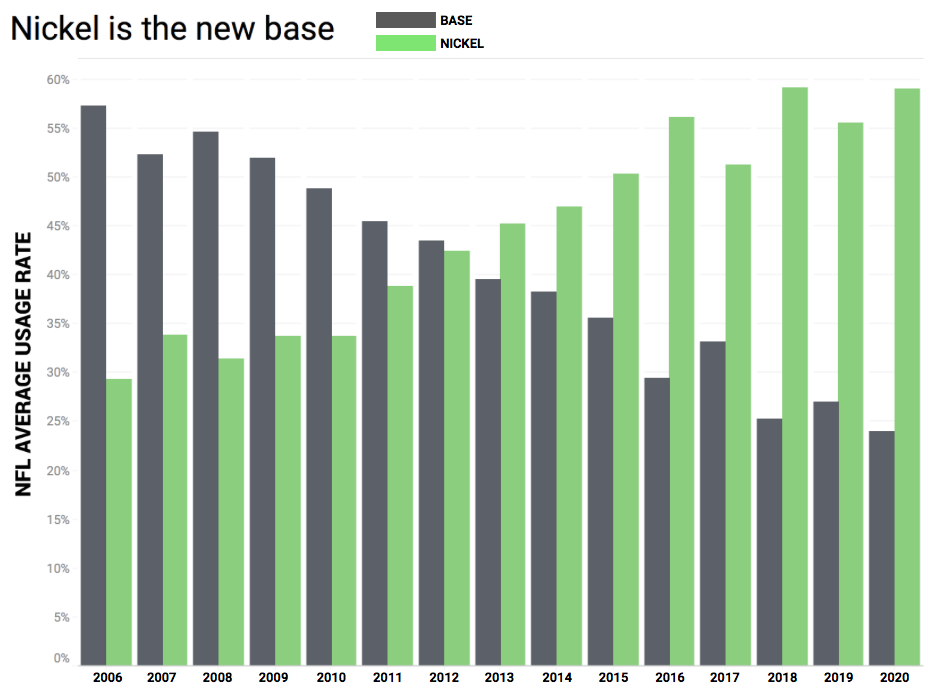 This isn't news. It's a widely known fact that nickel has become the new base with the offense making use of the slot. But what isn't widely known is the value generated by that fifth defensive back and how it's just as important to defend the inside as it is the outside. 
It has long been maintained that covering the inside is easier than doing so on the outside because you're not covering "WR1s." That's a misconception. Over the past two years, Tyreek Hill, Chris Godwin and Keenan Allen have all produced top-10 receiving grades at the position and run over 50% of their routes from the inside.
Over the course of the PFF era, offenses have actually generated more expected points added (EPA) per pass when targeting the slot than the outside. When you're in the slot, you have more space to cover. There's no sideline to assist you. You have to be an instinctive player and a great tackler with top-notch short-area quickness.