The 2021 NFL Draft offensive line class is stacked. It features one of the best offensive line prospects of the century and other first-round talents who will likely slip into Day 2. Today, we'll explore ideal landing spots for PFF's top 10 offensive linemen, just as I did for PFF's top 10 wide receivers last week.
This list is not a projection, but rather a realistic look at the best prospect-team pairings ahead of the 2021 NFL Draft.
Subscribe to
I'm still in the camp of Miami (and Cincinnati) drafting one of the blue-chip receiver prospects over Sewell, but it wouldn't be the end of the world if the Dolphins opted for Sewell. After all, Sewell is among the top tackle prospects of the century and projects as one of the safest picks in the draft.
Back in 2019, at just 19 years old, Sewell broke the record that still stands to this day for the highest single-season PFF grade by a Power Five tackle (95.8). He allowed just seven total pressures, none of which were sacks, in 14 games and racked up a higher rate of positively graded run blocks than anyone in the country. 
It doesn't matter which team drafts him; Sewell is going to be a standout performer at the next level.
There's a debate as to whether Slater should play at guard in the NFL, as he doesn't have the longest arms and is a bit undersized, but we believe he'll hold up just fine at tackle.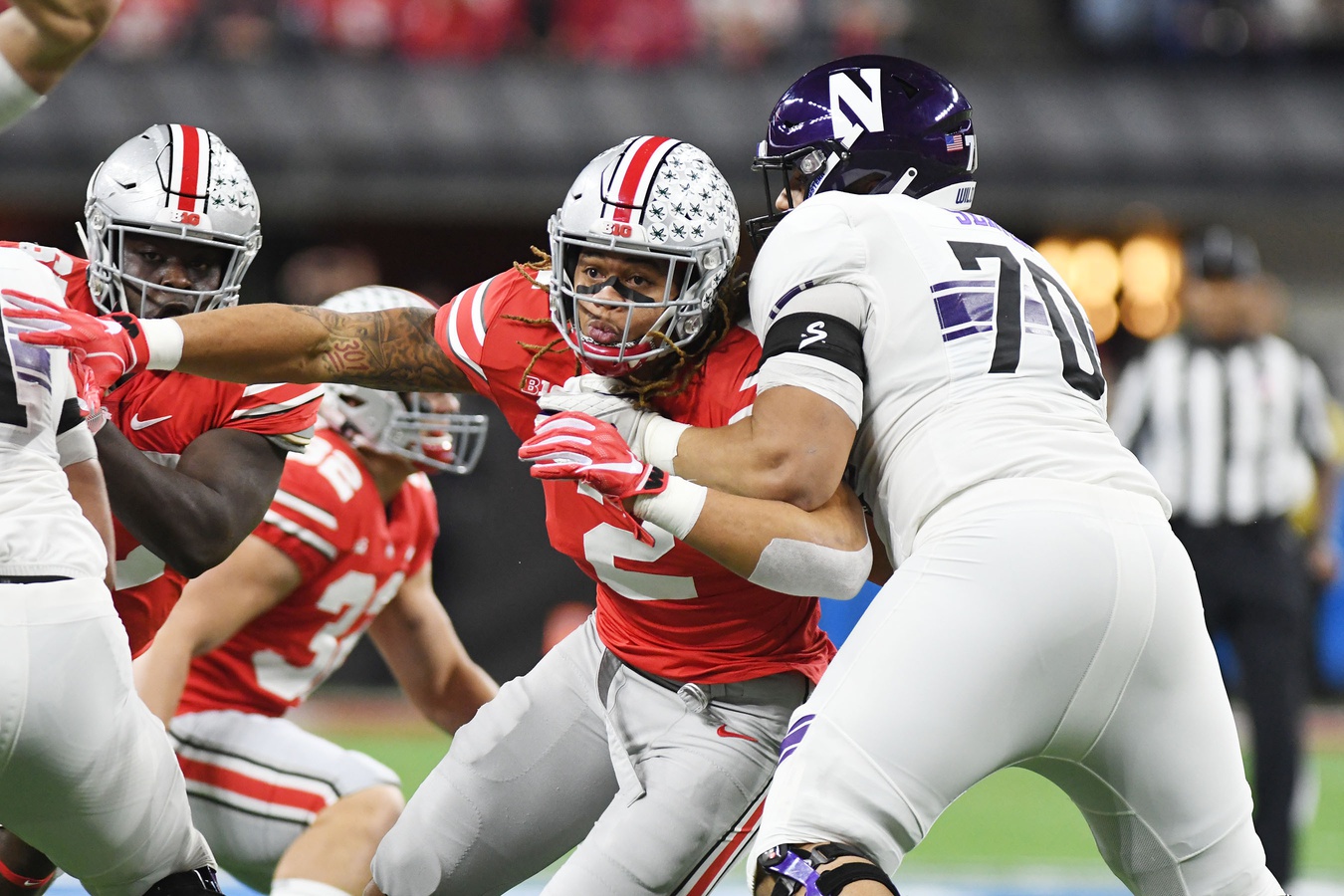 Either way, the Chargers, who may be looking to replace four of the five starters along the line, could certainly use Slater's services. Quarterback Justin Herbert withstood the second-highest rate of quick pressure (28% of his dropbacks had pressure within 2.5 seconds of the snap) in the entire NFL en route to winning NFL Rookie of the Year. That, however, won't last forever. 
From a technical and production standpoint, there's nothing not to like about Slater. He performed at a high level at right tackle as an underclassman in 2017 and 2018, earning PFF grades of 75.0 and 76.6, respectively. He then moved over to left tackle for 2019, where he made his name known as one of college football's polished players at the position, recording a 90.0 PFF grade with just five total pressures allowed across 355 pass-blocking snaps and 11 games.
Darrisaw will fit like a glove into an NFL zone-heavy offense, and Chicago — which may have to cut Charles Leno Jr. or Bobby Massie to create cap space — runs more zone than any other team in the league. Nearly 76% of the Bears' runs in 2020 were a zone concept, and that led the league by eight percentage points.
This past season, Darrisaw recorded the second-highest zone run-blocking grade from a Power Five tackle in the PFF College era (Penei Sewell in 2019 was the only one better). Chicago should use its first-round selection to bolster its receiving corps, regardless of whether the team retains Allen Robinson II, but this is still a great pairing. 
Darrisaw went up against some of the stiffest competition in the country this past season in the ACC and still finished the year ranked first in the Power Five in both pass- and run-blocking grade. He's one of the most powerful tackles in this class — a people-mover in its purest form.
Darrisaw didn't see a lot of true pass sets in Virginia Tech's offense, but landing in the Windy City wouldn't throw him into the fire in that regard. Matt Nagy's offense will likely task him with one of the lowest true pass set rates in the league.
Tackle Orlando Brown Jr.'s camp has officially begun exploring trade destinations, according to ESPN's Jeremy Fowler. There are a handful of teams that will express interest in him, but perhaps the most likely landing spot for Brown is the Jacksonville Jaguars, who own the 25th and 33rd overall picks. Regardless of what pick the Ravens receive in that hypothetical deal, they need to have their eyes on a tackle. Teven Jenkins would be a match made in heaven.
Jenkins was a mainstay on the Pokes' offensive line over the past three years, and he performed exceptionally well each season. He excelled in the run game, where he notched the second-best run-blocking grade among FBS right tackles in those three seasons combined. He intimidated edge defenders with his strength, resulting in a multitude of positively graded blocks as he rarely ceded ground. He was the only Power Five tackle to rank top five in both positively and negatively graded run block rate in 2020.
The rarity in which we saw Jenkins go one-on-one on true pass sets in Oklahoma State's offense is a minor concern, though. Just 128 of his 946 snaps in the past three years were true pass sets. That said, Jenkins posted an elite 90.0 pass-blocking grade on those snaps, which would have been the best at the position had he played enough to qualify.
Another concern is his shorter arm length, which could kick him inside at the next level. In an offense like Baltimore's, though, those concerns aren't as prominent. He'll hold up just fine in pass protection and would be a huge asset for the Ravens' potent run game with his brute strength.
Kansas City's interior offensive line is among the team's few problems — one that is an area of focus this offseason. While Vera-Tucker held up fairly well at tackle in 2020, he's more than likely a guard at the next level. He'll still be good there, especially in a zone-heavy scheme like Andy Reid's.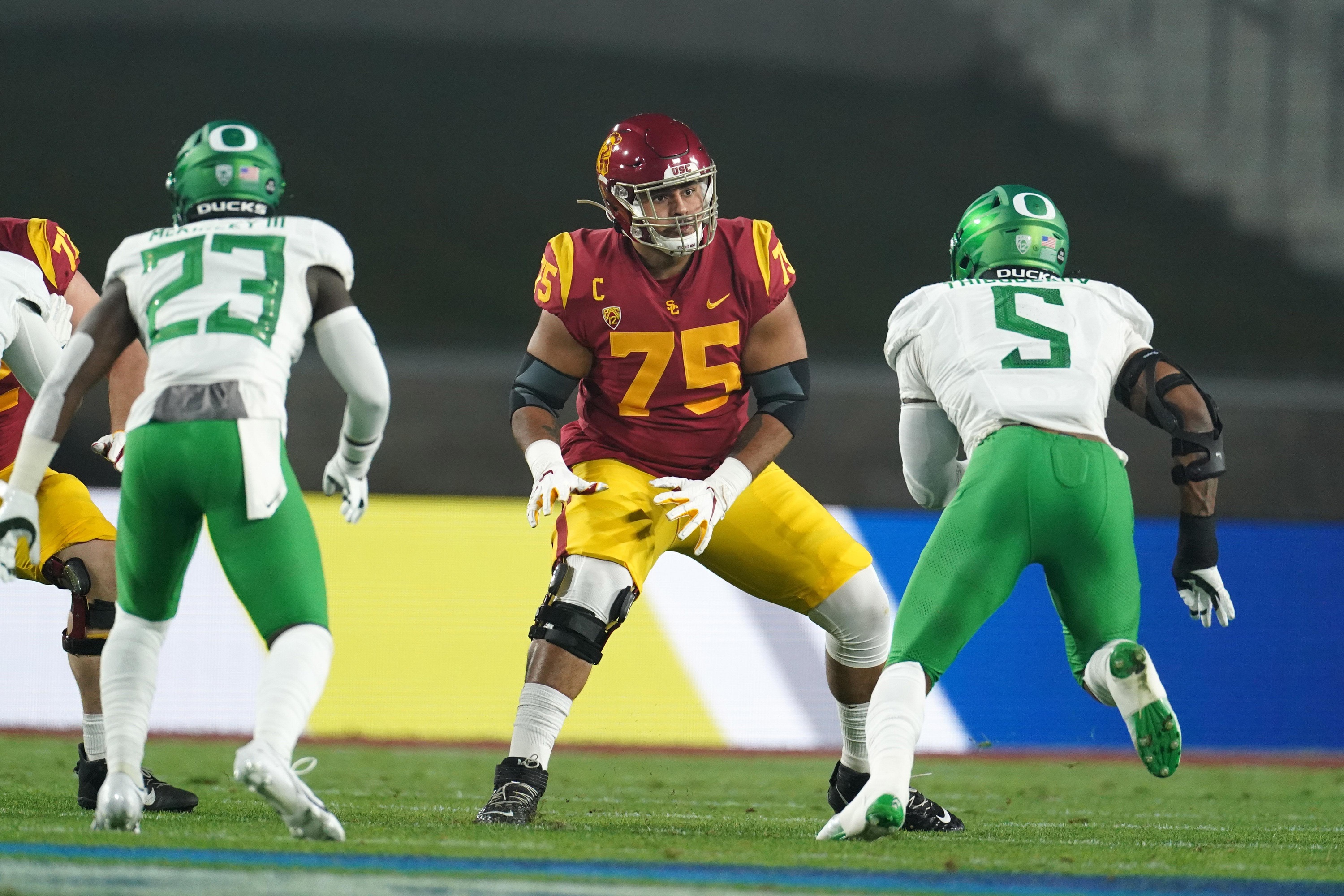 At left tackle in 2020 and left guard in 2019, Vera-Tucker owned a zone blocking grade that surpassed the 90th percentile in the FBS in each of the two years. His 2019 season was as consistent as it gets, as he produced the second-best grade on true pass sets among FBS guards. Vera-Tucker also allowed just seven pressures across 590 pass-blocking snaps overall at guard that year.
While Radunz could fit in any scheme, it would be a smooth transition into the Steelers' offense, which is likely to see its veteran left tackle Alejandro Villanueva walk in free agency. Radunz played in a North Dakota State offense built on gap runs, and he'd play in a similar setup in Pittsburgh. 
Back in 2019, Radunz posted a negatively graded block rate on gap runs that would have led all Power Five tackles. He's explosive off the line and routinely gained leverage with his hand placement. When it came to pass protection, Radunz was just as strong. Since the start of 2019, he recorded an 88.7 pass-blocking grade for North Dakota State. That would have been a top-three mark among FBS left tackles. Obviously, the level of competition is drastic, but Radunz's success is impressive nonetheless. 
The major concerns with Radunz as a prospect have to do with his core, but he eased that a great deal with his Senior Bowl performance. Radunz was dominant in one-on-ones, finishing the week of practices as the highest-graded tackle.
Buffalo and quarterback Josh Allen endured some lowly pass protection at guard in 2020, and a couple of the contributors to that poor play — Jon Feliciano and Brian Winters — are set to hit the free agency market. Davis is a bit of a risky play given the question marks surrounding his health (had a knee problem this past season that caused him to go down several times), but if he can stay on the field, he could help patch up Buffalo's woes at guard. 
As stated in PFF's 2021 NFL Draft Guide, Davis' balance is elite and his pass sets are second to none among interior offensive linemen in the class. He has the physical skill set to play in any system and rarely loses one-on-one battles. Back in 2019, Davis didn't allow a single sack or hit across 459 pass-blocking snaps, and he also racked up more positively graded run blocks than any Power Five guard.
Most of his pressures allowed throughout the past couple of years were because of slow stunt and blitz recognition, with 16 of his 26 total pressures qualifying as such.
If Cincinnati opts to draft LSU wide receiver Ja'Marr Chase early in Round 1, then taking a tackle in Round 2 will certainly be the play. And the Bengals are bound to get a first-round caliber player at the 38th overall pick with how loaded this class is. Samuel Cosmi is exactly that; he's an exceptional athlete who would add immense value to a Bengals ground game that is likely to drastically increase its outside zone usage in 2021.
Cosmi was a key cog on the Longhorns' line over the past three years. He saw over 400 true pass sets over that span, the fourth-most in the Power Five. And he fared incredibly well on that heavy workload, posting pass-blocking grades of 82.8, 86.0 and 90.7 in his three years of starting action.
Cosmi needs to work on his pass-blocking technique a bit, but he has all the tools to become a quality starting tackle at the NFL level.
The Panthers may have created plenty of cap space in recent weeks, but I'd be surprised if it were because they want to re-sign both starting tackles Taylor Moton and Russell Okung. I expect the Panthers to bring back Moton, who has ranked 12th or higher among all tackles in PFF WAR generated in each of the past three years, and let Okung, who is aging and battling injury issues as of late, walk. Subsequently, they'll be in the market for a new left tackle, as 2019 second-round pick Greg Little has far from proven capable of handling the job.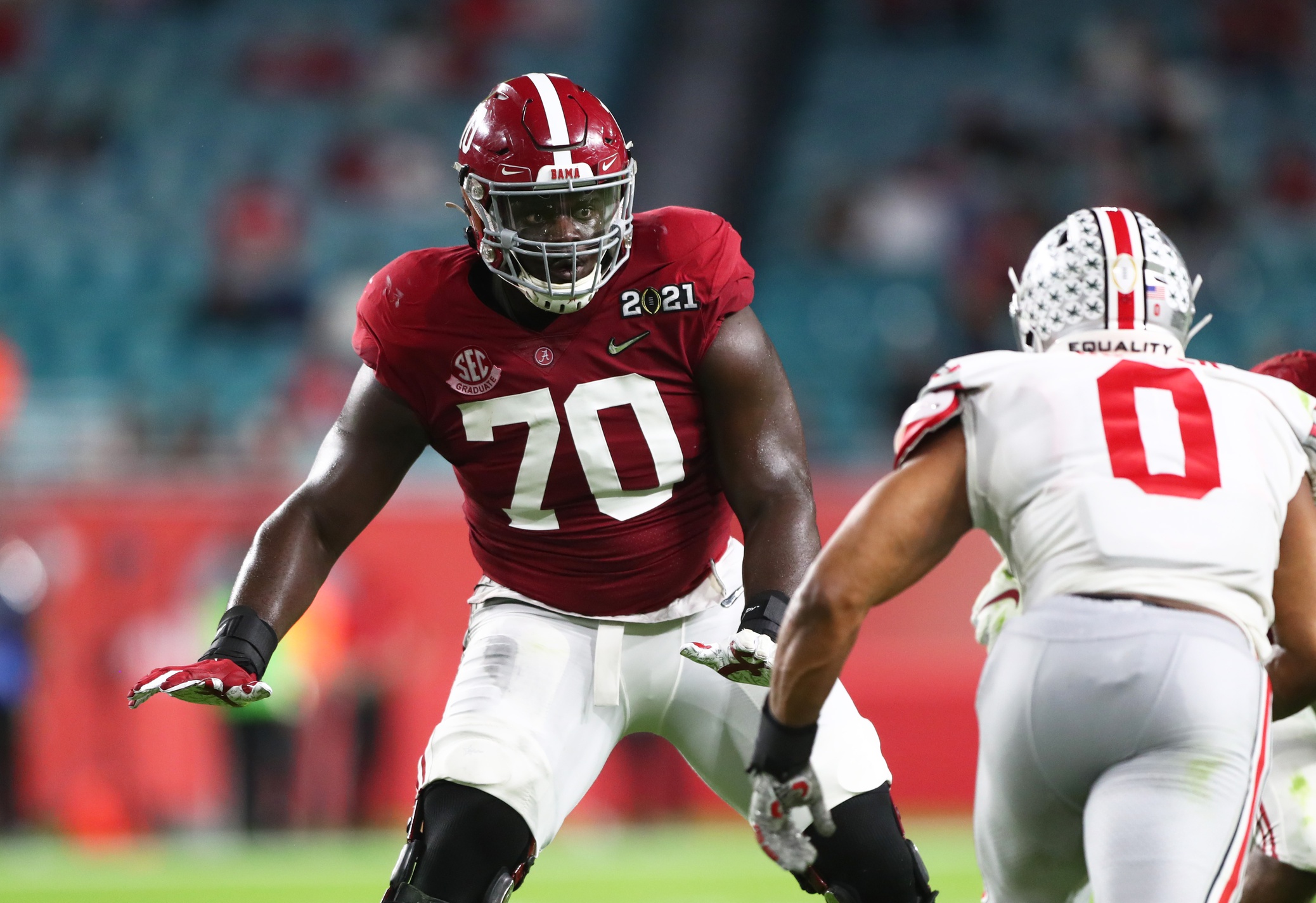 Enter Alex Leatherwood. There is a chance the Alabama prospect is forced inside at the next level, but either way, the Panthers could use him. Both of their starting guards from 2020 are set to be free agents, as well.
If there's any reason why Leatherwood won't hold up at tackle, it's because of his athleticism. Speed rushers got to him in college, and that could be an issue in the NFL. From a physical standpoint, though, Leatherwood is going to hold up just fine. The 6-foot-6, 322-pounder doesn't cede much ground in a phone booth and boasts nightmarish length and strength.
His physical traits showed up routinely in the run game, where he posted more big-time blocks than any Power Five tackle in the country last season.
Little is a high-risk, high-reward prospect. The former five-star recruit played just one game over the past two years due to injury and opting out of the 2020 season. As a result, Little is a question mark. But the 6-foot-7, 309-pound tackle has all the physical traits a team could want from a tackle prospect, and what we last saw from him in pass protection was promising.
Across Little's last seven games at Stanford — one in 2019 and six in 2018 — he posted a 93.3 pass-blocking grade and a 0.4% pressure rate allowed. He has a strong core and some of the best mirror ability in the entire class. 
Indy has a clear need at left tackle following Anthony Castonzo's retirement. It would be a great environment for Little to get back up to speed in. Not to mention, this would also allow Quenton Nelson to stay at guard, where he belongs.
---
Courtesy of PFF's 2021 NFL Draft Guide, find PFF's top draft prospect, biggest riser and wild card to watch at each position here: