Unfortunately, not all of PFF's favorites could make our list of the 50 best NFL players entering the 2019 season – the 2019 PFF50.
The PFF50 is a product of evaluating every player on every play of each NFL season to produce PFF's unrivaled database of stats, grades and information. This list is not about how valuable players are, but instead how good they are, regardless of position.
We started from the standpoint of a multi-year look at their grading before making adjustments based on situation, injuries (where relevant), and new circumstances that could change a player's future outlook.
The 10 players listed below narrowly missed the cut for the 2019 PFF50 but very well could play themselves into a spot on the 2020 PFF50 with stellar efforts this upcoming season.
[Editor's Note: All of PFF's NFL advanced stats and grades are made available to our ELITE subscribers in Premium Stats 2.0. Sign up today to gain access!]
Hicks exploded onto the NFL scene in 2019, and that may even be an understatement. After earning sub-77.0 overall grades in each of his first six years in the NFL, the Bears defensive interior turned in a career-high 91.6 overall grade across 842 defensive snaps in 2018. He also earned career-high marks in run-defense grade (92.9) and pass-rush grade (78.0) on the year.
His improved run defense this past season was absurd. Hicks joined elite company in that regard, finishing the year ranked third among qualifying defensive linemen in run-stop percentage (13.3%) and fourth in run-defense grade (92.9).
Building on his career year will require Hicks to maintain his elite efficiency against the run while also improving his pass-rush grade even further. If he can do both of those things in his age-29 season, he's bound to land himself a spot on the 2020 PFF50.
Whitworth's best may be behind him as he enters the 2019 season at 37 years old, but the longtime stalwart – even in decline – is still one of the best offensive tackles in the game. He earned an impressive 86.1 overall grade while also logging 88.5 and 78.4 pass-blocking and run-blocking grades, respectively, with the Rams in 2018.
Among the 64 offensive tackles with 3,000-plus offensive snaps played in the last seven years, Whitworth ranks third in overall grade (92.9) behind Joe Thomas (94.4) and Joe Staley (94.2). Whitworth's 93.6 pass-blocking grade ranks second on the list, as well.
What Thielen did this past season was incredible. The former undrafted Minnesota State product earned a career-high 89.5 receiving grade in just his second season with 1,000-plus offensive snaps played. Among NFL receivers with 300-plus routes run in 2018, Thielen ranked seventh in receiving grade (89.5), 15th in yards per route run and 13th in passer rating when targeted (115.4).
If Thielen can repeat if not improve on his 2018 campaign, he'll be a lock for next year's list.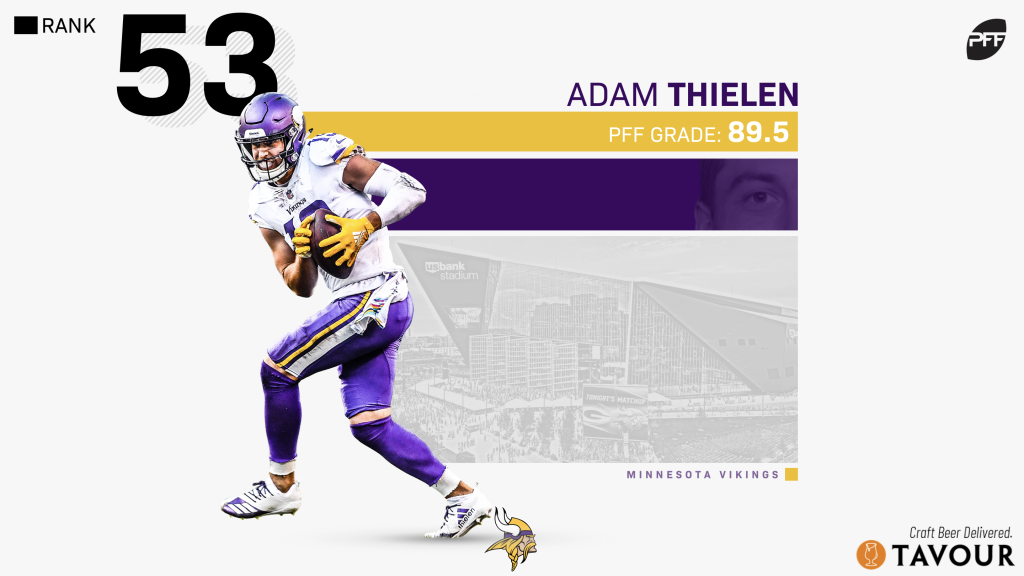 Even though Atkins earned the lowest overall grade (83.5) and pass-rush grade (85.1) we've seen from the big man in four years, the Cincinnati standout still finished 2018 ranked 16th in overall grade (83.5) and sixth in pass-rush grade (85.1) among qualifiers. He also finished the year ranked fifth in pass-rush win percentage (16.2%) among the 48 at his position with at least 300 pass-rush snaps in 2018.
For as long as Atkins is earning top-10 marks as a pass-rusher, he'll be in consideration for the PFF50. And though he enters 2019 at 31 years old, it's highly unlikely he dips outside the top 10 after earning 85.0-plus pass-rush grades in four consecutive seasons.
After earning 92.2 and 88.3 overall grades in 2016 and 2017, respectively, Ryan watched his overall grade drop to 84.3 in 2018. It's still impressive compared to the rest of the league, but it wasn't the standard we've come to expect from Matty Ice.
From PFF's 2019 QB Annual:
"Ryan's season was a dip down from what we've seen over the last couple years, as much like stretches of last year, the offense didn't quite mesh in some games. Most of Ryan's poor games came on the road this season, as the ball didn't quite have the same pop and accuracy as he saw in his friendly confines of the dome, leading to some questions about his arm that weren't apparent in previous seasons. After having some bad interception lock a season ago, the pendulum swung back in his favor this year, where he was not penalized as often on poor throws and decisions."
Like Ryan, Roethlisberger still turned in an above average season; it just wasn't the standard we've come to expect from him. He earned the lowest overall grade (78.2) and passing grade (75.2) we've seen from him since his 2011 campaign.
From PFF's 2019 QB Annual:
"Roethlisberger got off to a sloppy start, where he was forcing throws left and right into coverage, and his timing and accuracy were all over the place – especially down the field. He cleaned up his game in the middle part of the season with a mix of a quick passing attack and better accuracy on throws of 20-plus yards. Inconsistency throughout a game was the common theme for this year, as they are for many years when he doesn't play up to a top-10 standard – with poor decisions under duress late in the play, sloppy ball location at times and then bouncing back to make a big play when it was needed."
I've said this before, and I'll say it again. The top of the NFL is crowded at the wide receiver position. With elite receiving talent nearly everywhere you look, a superstar such as Evans enters the 2019 season as PFF's seventh-best wide receiver.
Since entering the league in 2014, Evans has caught 395-of-697 targets for 6,103 yards, 274 first downs and 40 touchdowns en route to a 92.0 receiving grade that ranks seventh among qualifiers. He's landed on the PFF101, a list of the best 101 best players from the previous season, three times in his career for his efforts.
From PFF's list of the top 101 players from the 2018 NFL season, where Evans ranked 56th:
"Evans had to endure shaky quarterback play this year, but that didn't stop him from producing. He ended the regular season ranked eighth among receivers with an average of 2.38 yards per route run, while his contested-catch rate of 61.5% ranked fifth among those with 10 or more contested targets."
Before injury cut his season short, Green earned an impressive 84.9 receiving grade across 313 routes run. He's now earned an 80.0-plus receiving grade in every season after his rookie campaign in 2011. Entering the 2019 season at 31 years old, Green will find it harder to have the success he had in years prior, but he's still a premier receiving talent with all of the tools necessary to turn in elite production in 2019 and the years following.
PFF has poured ample praise onto Adams in recent months. He landed at No. 20 on PFF's list of the 101 best NFL players in 2018 and was named to our list of the top-25 players under 25 years old, as well. He graded out as the third-best safety in football behind Eddie Jackson and Derwin James while earning grades of 77.0 or higher in all four facets of our defensive grading system in 2018. If we see another year similar to his sophomore campaign in 2019, Adams will undoubtedly fly up this list in 2020.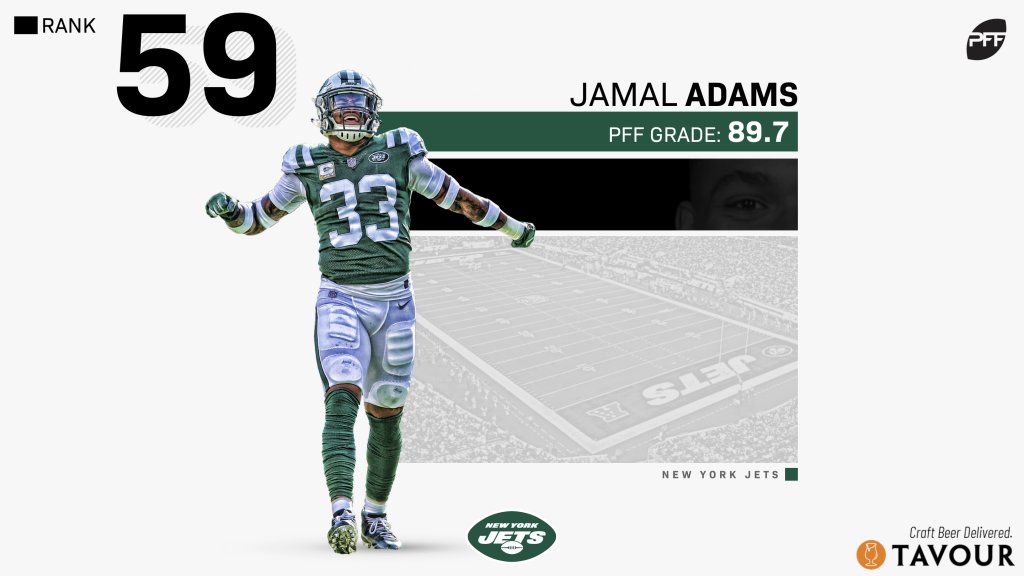 After earning sub-80.0 receiving grades in each of his first four seasons in the NFL, Adams earned career-high marks across the board in what was a breakout 2018 season for the former Fresno State standout. Catching 111-of-162 targets for 1,386 yards and 13 touchdowns, Adams earned an 87.5 receiving grade across his 695 routes run this past season.
Odds are the 26-year-old phenom continues his upward trend and blows the doors of the NFL again in 2019. And if he does, he won't be on the outside looking in at the PFF50 next year.