This week at Pro Football Focus, we're talking prototypes for several positions in the NFL as we head into the 2019 season. We kick things off at the receiver position as there were dominant performances from some of the who's who in the league a year ago while some pass-catchers have emerged as the new gold standard in the NFL.
Like last year, we've chosen five broad strokes within the position to assign these prototypes to: route runner, shifty slot, big slot, deep threat and possession receiver.
An underrated aspect of Allen's repertoire, his route-running skills are second to none at this stage of his career. Not only does he have a feel for coverages, but he also has an innate knack for reading when and where to make his breaks based upon the defenders he's going to face. He's just as routinely spotted jetting past overwhelmed linebackers as he is finding the soft spots in zone coverage in between defensive backs.
Over the past two seasons, Allen actually has the highest receiving grade on out-breaking routes while possessing top-six receiving grades on in-breaking routes and slants. He's been able to maneuver his way open more often than not and Philip Rivers has targeted him with a step or more of separation on 63.2% of his targets since 2017, the second-highest rate of open targets among receivers with at least 200 targets in that span. His 2,078 receiving yards and 107 combined first-down and touchdown receptions on targets with at least a step of separation are the most in the league over the past two years.
Simply put, it's his route running and knowledge of defenses that allow him to get as open as he does, and his rapport with Rivers only helps that.
Honorable mention: Adam Thielen, Davante Adams, Antonio Brown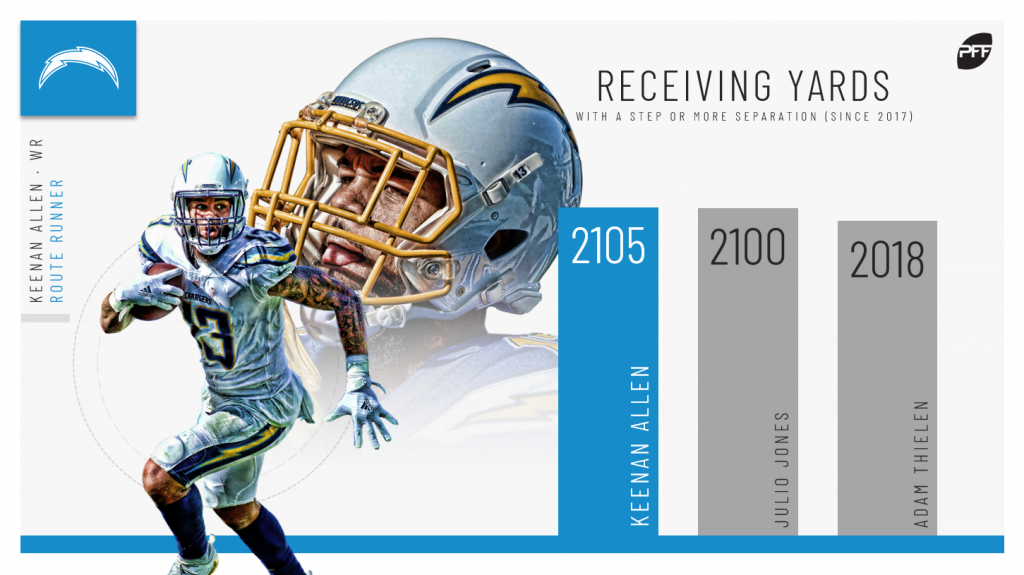 It has been long documented that Tate can make you miss, and that fact doesn't seem to be coming to an end anytime soon. Just last year alone, Tate forced 13 missed tackles in just seven games with the Lions and another 10 with the Eagles after the midseason move. More often than not, he's finding holes in underneath coverage or making linebackers miss from the slot. Since 2017, Tate has forced 28 missed tackles from the slot, which is only one fewer than Nos. 2 & 3 on that list combined. He's being targeted on average just 6.9 yards past the line of scrimmage on those throws, yet he averages 11.2 yards per reception, meaning he's doing a lot of the dirty work after the catch.
By forcing the most missed tackles in the slot, Tate also leads the NFL with 719 receiving yards after the catch from the slot. But he's also not just an 'after-the-catch' threat. He's come down with 12 contested catches from the slot and eight scores, both of which are top-10 marks over the past two seasons.
Honorable mention: Cooper Kupp, Albert Wilson, Julian Edelman
This one is really easy. For the longest time, it was Rob Gronkowski who was the prototypical big slot receiver and since his retirement, that moniker gets placed upon No. 2 all those years in Kelce. In fact, after a dominant season in 2018, Kelce would have made a strong claim for No. 1 even with Gronk in the mix. Kelce's career receiving grade of 90.8 when lined up in the slot is the second-highest among all NFL receivers over the span and now has Gronk beat in terms of career numbers. Nevertheless, Kelce's place atop the big slot targets is cemented by an incredible season in 2018 that points to even more dominance likely in 2019.
A season ago, Kelce's 90.2 receiving grade from the slot was the fifth-highest among all pass-catchers and first among tight ends. His 22 explosive plays from the slot were the most while his 34 combined first-down and touchdown receptions from the slot were the fifth most.
Honorable mention: O.J. Howard, Larry Fitzgerald, Jordan Reed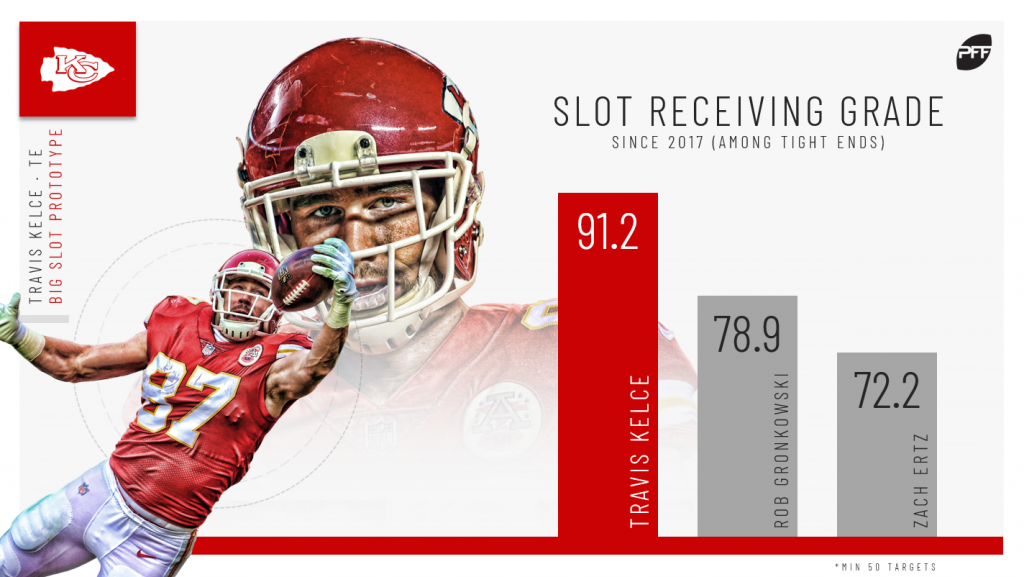 Jackson returns to Philadelphia where he did a lot of his early damage on deep threats in his career, returning as the NFL's leader in deep receiving yards over the past 10 seasons. He leads the league not only by a handsome margin in deep receiving yards but also leads the entire cast of WRs in receptions, yards after the catch, touchdowns, explosive plays all while averaging the second-highest yards per reception (40.0) among receivers with at least 100 deep targets over the past 10 years.
Jackson, even at this stage of his career, has speed to burn and an incredible burst when necessary while possessing the skills to locate, navigate to and track the ball while keeping his top-end speed.
Honorable mention: T.Y. Hilton, A.J. Green, Julio Jones
The marks of consistency for a possession receiver are the ability to catch the ball and the ability to move the chains. Hopkins ticks both those boxes with giant Texans' red X's over the past two seasons. As far as possession and maintaining just that, Hopkins has moved the chains or scored a touchdown on 150 of his 211 receptions over the past two years. That number tops the league, just like his 24 receiving touchdowns over that span does. He wins the 50-50 balls just as easily as he gets to the sticks on a routine basis and is no stranger to explosive plays down the field, all while having one of the league's surest set of hands.
Just last season alone, Hopkins set the PFF record for most catchable targets thrown his way without a drop at 115 and even extended that with a 5-catch performance in the Wild Card round. Dating back to last season, he actually has well over 120 regular-season receptions without a drop and is the highest-graded receiver in the league in that two-year span. The remarkable aspect about his high grade is the fact that he's played more regular-season snaps since 2017 than any other pass-catcher. He's a reliable target with safe, sure hands, a perfect player for a quarterback like Deshaun Watson, whose ability to get Hopkins the ball has led to great success for the Texans offense.
Honorable mention: Michael Thomas, Mike Evans, Larry Fitzgerald