For the first four years of his career, DeAndre Hopkins was one of the league's biggest what if's. He averaged over 1,000 yards a year with a who's who of replacement level QB's. We were only left to guess the numbers he'd put up with a real starting quarterback, but everyone was in agreement that they'd be off the charts.
We got a taste a year ago. In the six games started by Deshaun Watson, Hopkins averaged 91.8 yards per game and scored six touchdowns. With Watson back this season, though, Hopkins lived up to the hype and that's why he's the 2018 recipient of the PFF Offensive Player of the Year.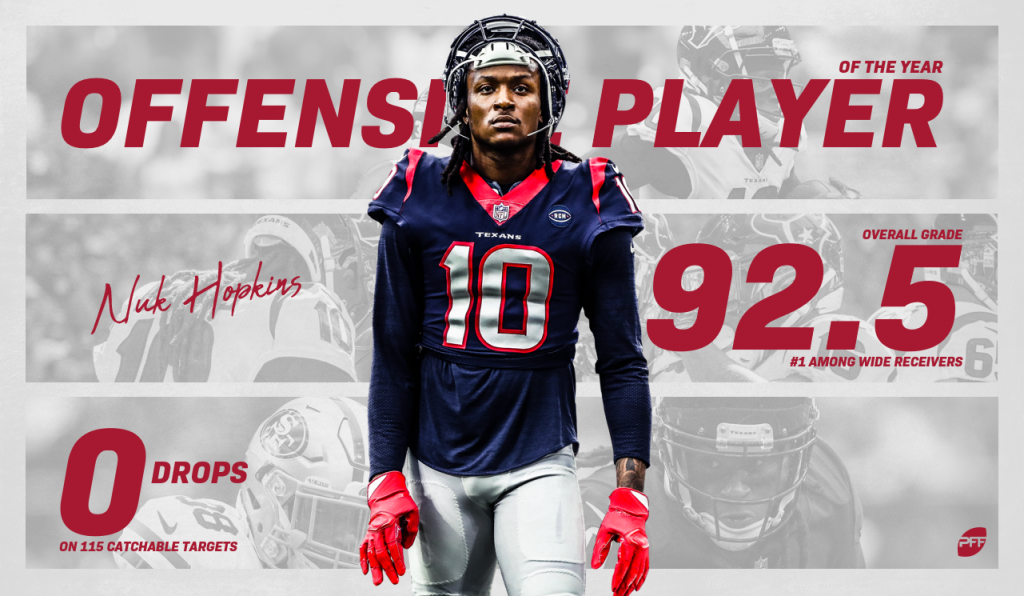 There are two distinct traits Hopkins possesses that he is unquestionably the best in the NFL at. The first is obviously his hands. Hopkins didn't drop a single ball all season. He's not the first wide receiver to accomplish such a feat, but he is the first to do so on more than 60 catches. And Hopkins almost doubled it. His 115 catches were the third-most in the NFL this season and it's not like he was racking up easy targets on screens. His 12.2 average depth of target is a healthy figure for a wide receiver and 4.3 yards farther than receptions leader Michael Thomas.
The other trait is Hopkins' contested catch ability. His body control, strength and 10-plus inch hands make him deadly in 50-50 situations. Hopkins is one of the few receivers in the entire NFL that tips those in favor of the offense. He hauled in 25 of his 43 contested targets on the season – the most in the NFL. That total was four more than any other receiver in the NFL, and only 19 receivers all season even had double digit contested receptions.
While he's elite in both those regards, there's really nothing Hopkins can't do as a wide receiver. He ranked top-10 in touchdowns (11), deep receiving yards (387) and broken tackles (12). Hopkins was everything and then some in his first full season with Watson at the helm. Still only 26 years old, Hopkins is going to be putting up big numbers for a long time in Houston.
Keep up to date with PFF's end of season awards:
Offensive Rookie of the Year | Defensive Rookie of the Year | Comeback Player of the Year | Offensive Player of the Year | Defensive Player of the Year | The Stephenson Award | PFF's Most Valuable Player | The Hutson Award for Best Wide Receiver | The Matthews Award for Best Offensive Lineman | The Reggie White Award for Best Pass Rusher | The Ted Washington Award for Best Run Defender | The Lane Award for Best Coverage Defender | Breakout Player of the Year | Pass Blocker of the Year | The NFL's Best Offensive Line | Run Blocker of the Year | Passer of the Year | Special Teams Player of the Year