The second week of preseason is now in the books, and we here at PFF have done what we always do at the conclusion of each week of NFL action: We've graded every player on every play of every game.
Like last week, there were a number of standout performances and a whole host of interesting talking points to get us ready for Week 1 of the regular season. Here are our takeaways from the second week of preseason.
[Editor's Note: All of PFF's advanced stats and grades for every NFL player are made available in PFF's ELITE subscription. Subscribe today to gain access!]

Stats to know after Week 2
---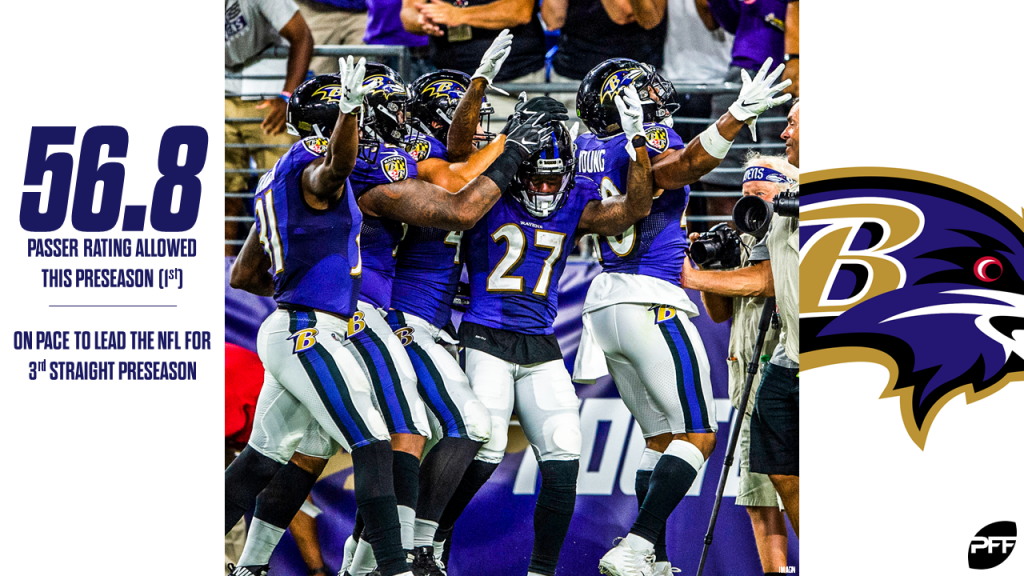 PFF's Mark Chichester has taken a deep dive into the numbers to find an interesting piece of information about all 32 teams after two weeks of preseason football. If you would like to make some observations of your own, you can do so with PFF Elite, where you can find several signature statistics for every offensive and defensive position in football, thanks to Premium Stats 2.0. Read more…
Gilbert makes his case
---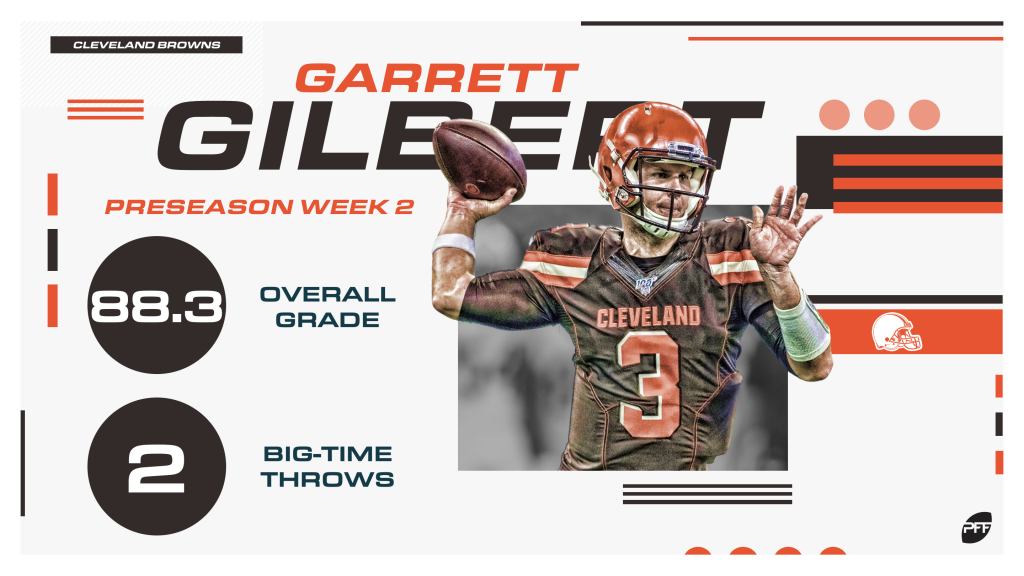 Baker Mayfield isn't the only quarterback who can make plays for the Cleveland Browns. Coming fresh off a successful stint in the Alliance of American Football, former Orlando Apollo quarterback Garrett Gilbert has an overall grade of 81.3 in the preseason, which ranks second among 13 quarterbacks who have at least 40 dropbacks thus far. Just as he was in the AAF, Gilbert has been unfazed under pressure this preseason, as his passer rating of 98.9 when pressured ranks first among 11 quarterbacks who have logged at least 15 pressured dropbacks.
Mayfield is firmly entrenched as the Browns' franchise quarterback, and Gilbert won't change that, but having depth at the most important position in the league is never a bad thing. If his name is called, Gilbert looks like he should be able to hold his own.
Williams stepping up in the pass-rush
---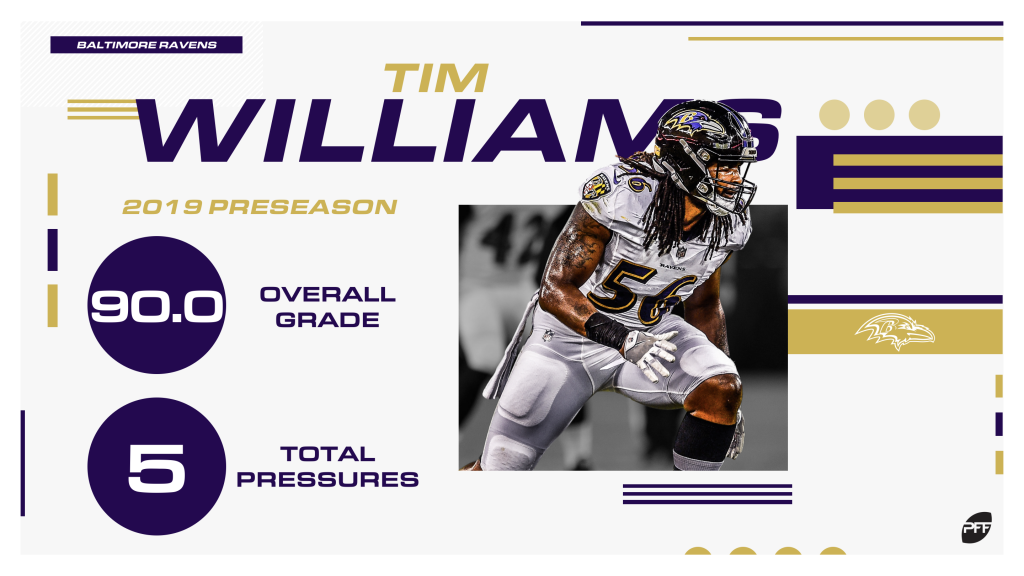 Tim Williams has been one of the best edge defenders in the NFL over the first two weeks of the preseason. The former standout from Alabama currently has an overall grade of 90.0, tied for fourth out of 130 edge defenders who have at least 40 total snaps so far. On 25 pass-rush snaps, Williams has five total pressures (one sack, one hit, three hurries), as well as two run stops on 15 run-defense snaps.
With the departure of Terrell Suggs and Za'Darius Smith this past offseason, the amazing potential that Williams showed in college could finally be realized for the Baltimore Ravens. For someone who earned consecutive 90.0-plus pass-rush grades at Alabama from 2015-16, Williams could be ready to make a big impact as a pass-rusher in his third year as a pro.
Daniel Jones is causing a stir
---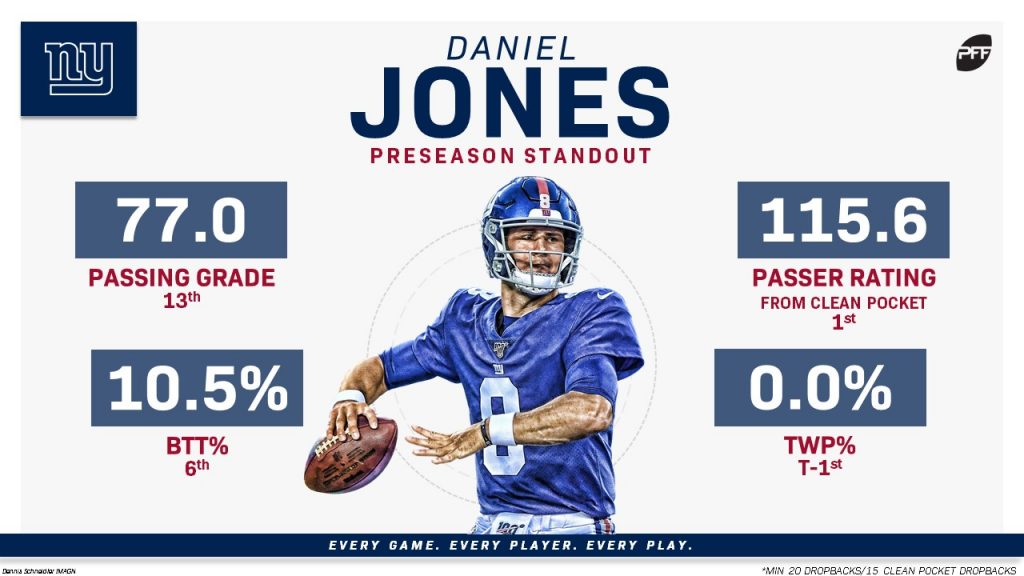 It seems like the New York Giants' quarterback spot is shrouded in controversy every year. Eli Manning is far removed from his days of beating the Patriots in Super Bowls, but the 38-year-old quarterback is still doing what he can to keep the Manning name alive in the NFL. Going into the 2019 season, Manning will once again be the starter for the G-Men in Week 1, but his job security is in as much doubt as it ever has been. Read more…
Keenum's job to lose?
---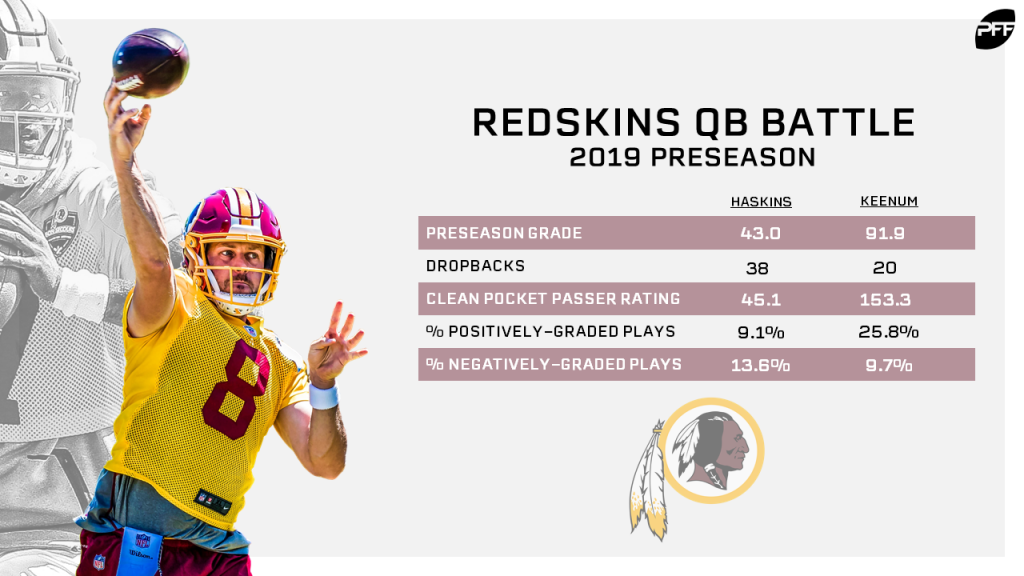 And then there were two.
After waiting and hoping for longtime backup Colt McCoy to return to 100% following his late-season leg fracture, Washington Redskins head coach Jay Gruden has told reporters that there's no timetable for when the quarterback may be ready to play.
McCoy, a 10th-year veteran who was originally drafted by Cleveland Browns, has served as the Redskins' backup quarterback for four years, and he was tabbed by many to be a serious contender in a quarterback battle that also included journeyman Case Keenum and first-round pick Dwayne Haskins. However, the injury that both ended McCoy's 2018 season and kept him out of his side's first two preseason games has yet to heal properly, essentially narrowing Washington's quarterback battle to a two-horse race. Here's how that race looks with just two preseason games left to play. Read more…
Marcus Mariota should be safe
---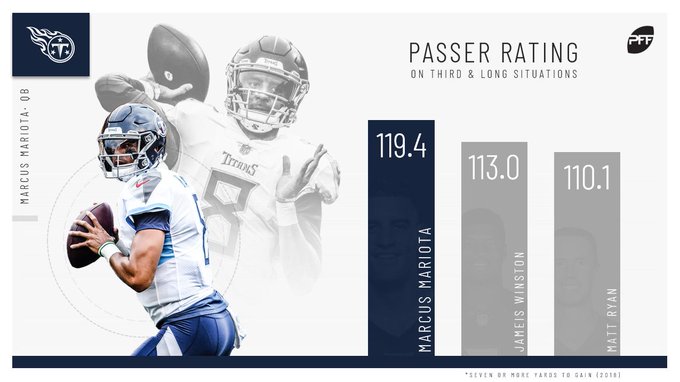 It's not every day you see two former top-10 quarterback picks, separated by just three drafts, on the same roster. Such is the case in Tennessee, but the signal-caller picture remains as clear as it was when Tannehill was in Miami. This is Mariota's team — at least for 2019. Read more…
Welcome back, Jimmy!
---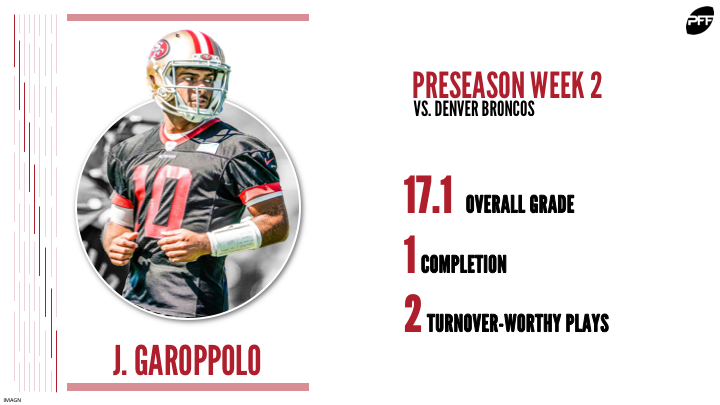 San Francisco 49ers quarterback Jimmy Garoppolo earned the second-lowest single-game grade ever recorded by a quarterback in Week 2.
Yes, the sample size was diminutive, but Garoppolo's two turnover-worthy plays, one interception and one completion on just six attempts do more than enough to warrant such a low mark. He also recorded a 0.0 passer rating and a 16.7% completion rate.
Of course, this preseason performance is no indication of how we believe he'll play this season after we ranked him 18th at his position entering 2019. The only way is up for the hopeful Comeback Player of the Year candidate.
The NFL's top rookies
---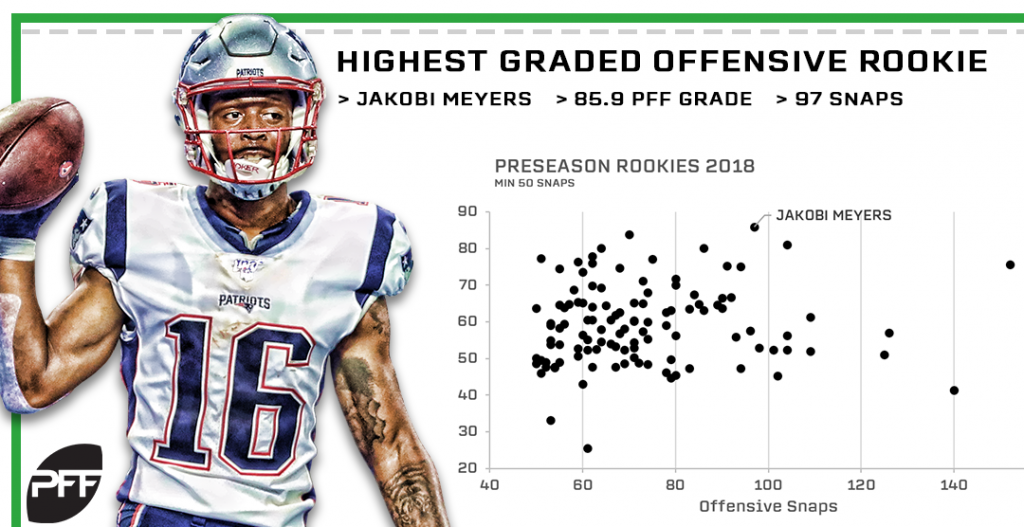 We're now two weeks through the 2019 NFL preseason, and there's been a lot to like so far, especially from the first-year players who have done the incredibly difficult but necessary job of distancing themselves from their classmates.
Some of these players were drafted to be the future of their respective franchises, others have come out of nowhere to secure a place on their 53-man rosters, others may face the chop on Aug. 31 but have done enough so far to make them a prime target for teams looking to add depth to their practice squad.
Here, in reverse order, are the highest-graded rookies so far this preseason. Read more…
Damontre Moore shines in 49ers' second preseason game
---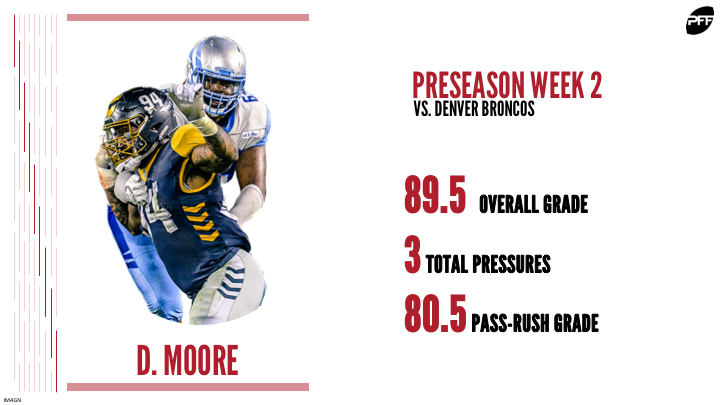 Earlier this week, San Francisco 49ers edge rusher Damontre Moore was disruptive in the team's second preseason game against the Denver Broncos. Despite only rushing the passer on 10 snaps, Moore made the most of his playing time totaling three quarterback pressures and earning an 89.5 overall grade. Moore was particularly impactful on a play in the first quarter where he drew a holding penalty on Garett Boles that wiped out what would've been a 45-yard passing play. On 41 pass-rush snaps this preseason, Moore has been a handful for offensive lines, generating nine total pressures.
Moore is a former 2013 third-round draft pick and will turn just 27 years old during the season. However, he's yet to find a permanent home in the NFL, playing for five teams in only six years while finishing with an overall grade above 70.0 just once. Despite his inconsistency,  Moore found himself in the Alliance of American Football this past offseason and was dominant. His 90.8 overall grade and nine sacks both led the league and appeared to have rejuvenated his NFL career. Moore did suffer an injury in Monday's contest, but if he can build off his strong preseason performances and stay healthy, we could be seeing a lot of Moore in the coming weeks.
Bradley Chubb makes strides in Week 2
---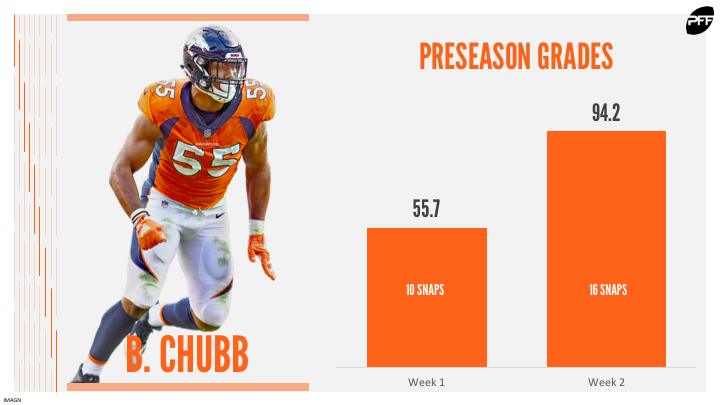 Denver Broncos second-year edge defender Bradley Chubb posted the highest game grade of any defensive player with 10-plus snaps in Week 2 of the preseason (94.2). Expectedly, he excelled in the pass-rush. In just six pass-rush snaps he attained two quarterback pressures, a 33.3% pressure rate and a 94.4 pass-rush grade.
Chubb lined up at right outside linebacker on all 16 of his defensive snaps in the contest, a year after he spent 64.7% of his total snaps there. Newly acquired head coach Vic Fangio will continue to slot Chubb in where he's most effective. In 2018, Chubb earned a 70.6 grade when lined up on the right side as opposed to his 58.9 mark on the left.
Taysom Hill proving to be more than a gadget player
---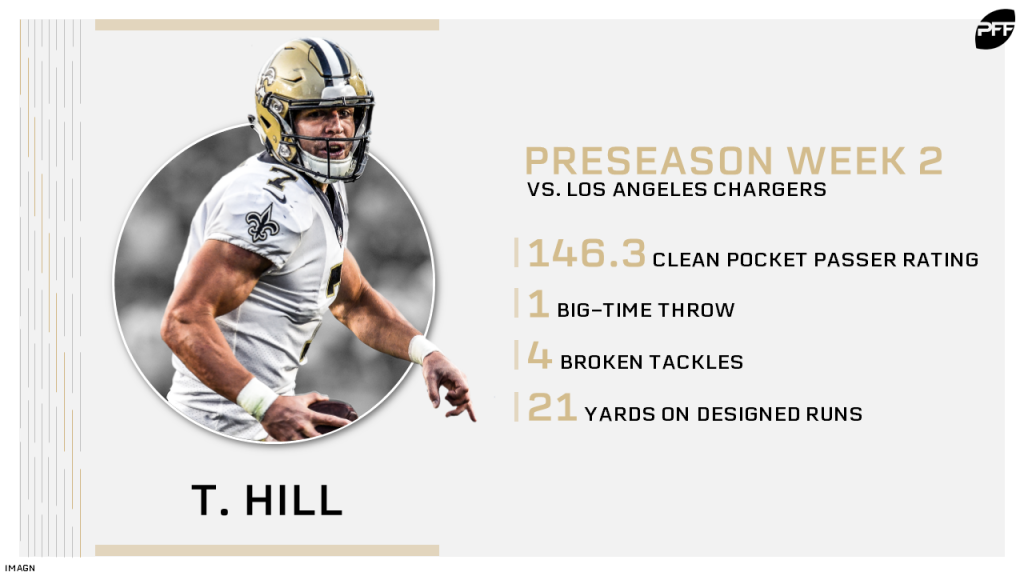 Is there a quarterback controversy developing in New Orleans? Probably not, but Taysom Hill is proving he's more than just a gadget player for the New Orleans Saints. Primarily used last year as a short-yardage specialist, the 29-year old completed 11-of-15 passes for 136 yards and two touchdowns in Sunday's win over the Los Angeles Chargers. He also added 53 yards on the ground at 10.6 yards a carry. His rushing grade of 90.7 shouldn't come as a surprise, as he's always had a knack for churning out yards on the ground,  however, what the football cognoscenti should be paying attention to is his development as a passer, as he also took home a passing grade of 86.6 following Sunday's contest.
After taking a sack on his first play from scrimmage in the third quarter, Hill bounced back, stepping up in the pocket and delivering a strike down the sideline to a galloping Austin Carr for a 27-yard score, and he ended the game with a passer rating of 146.3 from a clean pocket — ranking first among all quarterbacks with at least 10 clean-pocket attempts. 
Emmanuel Sanders is all the way back
---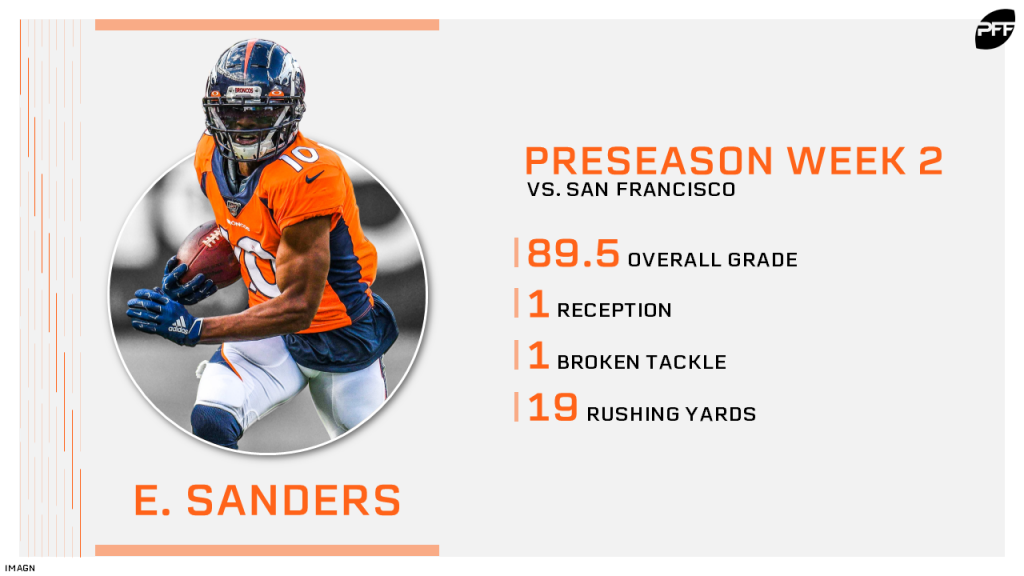 Denver Broncos wide receiver Emmanuel Sanders returned from injury with a splash in the Broncos' preseason game against the San Francisco 49ers on Monday Night Football, finishing the game as the Broncos' highest-graded player on offense with a PFF grade of 89.5. He hauled in one of his five targets for five yards, and he forced a missed tackle on a 19-yard carry, which also made him the team's leading rusher on the night.
Sanders has produced PFF grades of 81.0 or higher in four of the last five seasons and dropped just four of the 75 catchable passes thrown his way in 2018. Showing off his good hands has become something of a habit for Sanders, with just 10 drops on 207 catchable passes over the past two seasons. Forty-nine of his receptions came on throws either behind or within 10 yards of the line of scrimmage, and we shouldn't expect that to change with new quarterback Joe Flacco at the helm in Denver. Flacco ranked 36th out of the 44 quarterbacks with at least 100 dropbacks last year with a yards-per-attempt average of 6.5 and hasn't ranked in the top 20 since 2014.
Daryl Johnson makes his case
---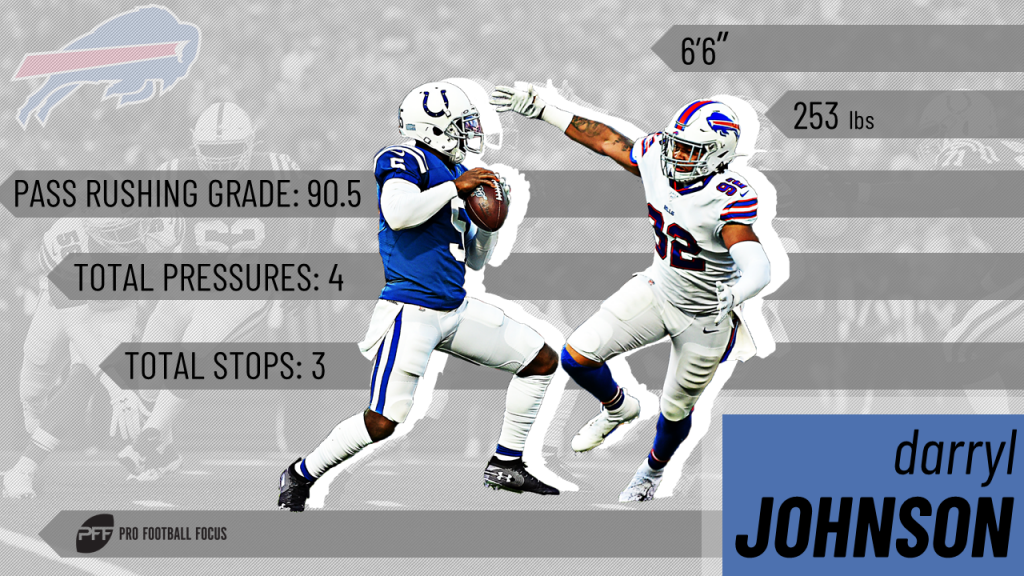 When the Buffalo Bills selected small-school prospect Darryl Johnson out of North Carolina A&T with the 225th overall pick in the 2019 NFL Draft, it did not register on the radar of most fans. Yet, two games into the preseason and Johnson is already making waves at Bills training camp and on the field. In the Bills' Week 2 win over the Carolina Panthers, Johnson tallied two pressures and a sack on 20 pass rushes, earning a 92.1 pass-rushing grade. Through two weeks of the preseason, Johnson is the highest-graded Bills defender and has an elite pass-rushing grade of 90.5. It's early, but there is a lot to like about the rookie edge defender. The natural question is, why was Johnson passed over on draft day? Read more…
Antonio Brown rejoins Raiders
---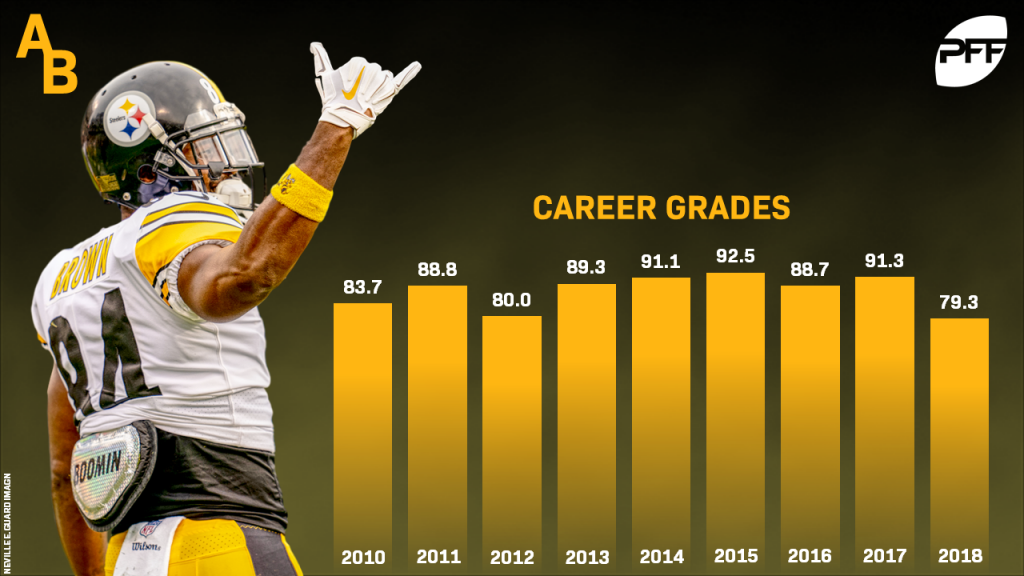 Oakland Raiders wide receiver Antonio Brown has returned to the team and attended practice today, per ProFootballTalk. His return comes a day after GM Mike Mayock was forced to make a bottom-line statement regarding his absence, and it now hopefully signals the end of a summer that has caught all the headlines for all the wrong reasons.
Since 2010, no receiver has recorded more receptions (837), yards (11,207), yards after the catch (4,076), touchdowns (74) or first-down receptions (471) than Brown, and his average of 2.45 yards per route run over that span is second only to Julio Jones. Still just 31 years old, Brown can win in many ways, ranking second in missed tackles forced after the reception, with 105, while he has dropped just 35 of the 872 catchable passes thrown his way in that span.
Since 2010, his historically-low drop rate of just 4.01% is the third-lowest among receivers with at least 1,000 targets — behind only future Hall of Famer Larry Fitzgerald and Deandre Hopkins — and no receiver who has seen at least 250 targets since 2010 has graded out higher than Brown, as his 94.6 overall grade sits firmly atop the league's best over the past nine seasons.
Brown will rejoin a Raiders receiving corps that has shown well over the last two weeks, combining to produce the league's best team receiving grade (82.0) and the league's third-best passer rating when targeted (133.5) so far this preseason.
Winovich pulls even further ahead
---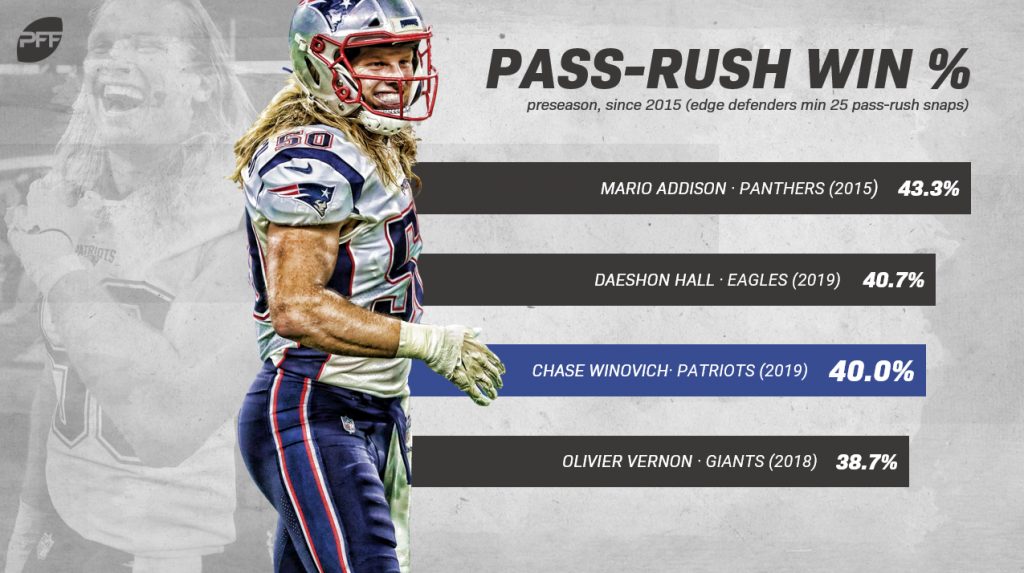 Only three things are certain in life: death, taxes and the draft community arguing over whether one player's athletic profile or his college tape is more predictive and important. Rest assured, these arguments took place in 2019 as well, and the division between the two groups was never more evident than when it came to two edge rushers from the same school. Michigan teammates Rashan Gary and Chase Winovich were both starters along the Wolverines' defensive line over the last two years, and both were mentioned among the top defensive line prospects of the 2019 NFL Draft — but they still divided experts. Read more…
Top-five offensive linemen through the first two weeks
---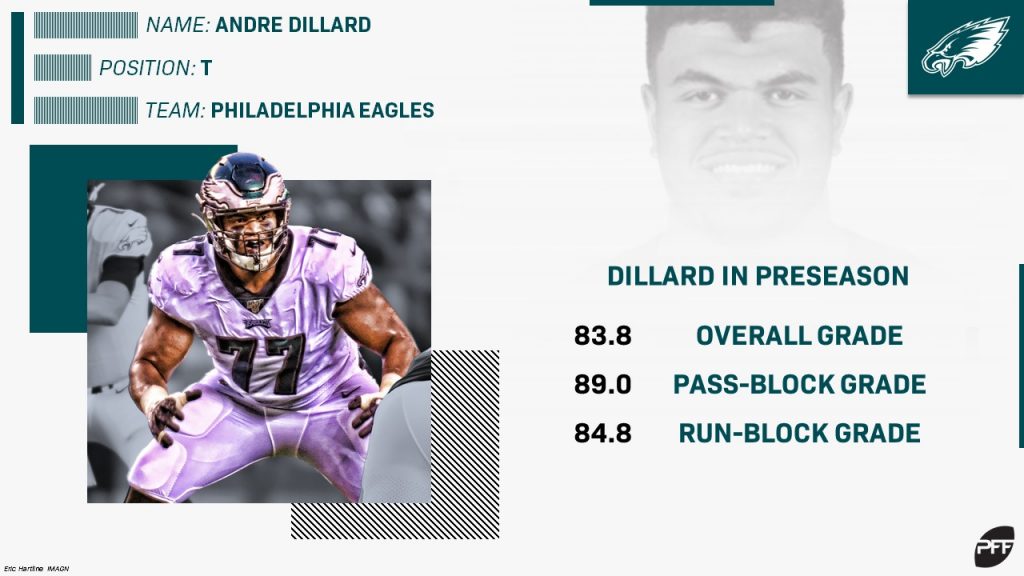 We've now seen at least two games from all 32 franchises, which means it's time to make some gross overreactions from our data. Oh, wait, that's not quite right. It's time to give credit to those who have performed admirably in their limited exposure. Preseason grades aren't the end all be all, but it's always better to show on the high-end of our grading scale rather than the low. Read more…
Cowboys' Tony Pollard is proving he can handle a starting role
---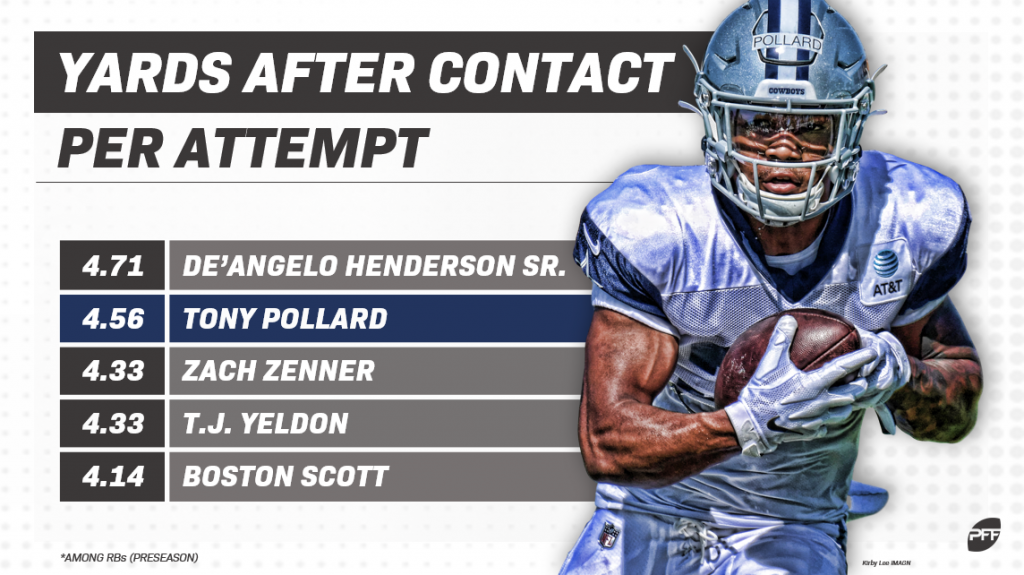 As a result of the NFL's most high-profile training camp holdout, all eyes have turned to Dallas Cowboys rookie running back Tony Pollard in Ezekiel Elliott's absence. The less-ballyhooed teammate of Los Angeles Rams 2019 third-round pick Darrell Henderson, Pollard emerged from Memphis with a 76.7 grade in 2018 and as the 244th ranked player on The PFF Top 250 Draft Board. After being selected 128th overall in the fourth round, Pollard's quick ascent now finds him as a leading candidate to be Elliott's top backup, or in the event of a lengthy holdout, the Cowboys' starting running back in 2019. Read more…
Alex Erickson quietly in line for a key role
---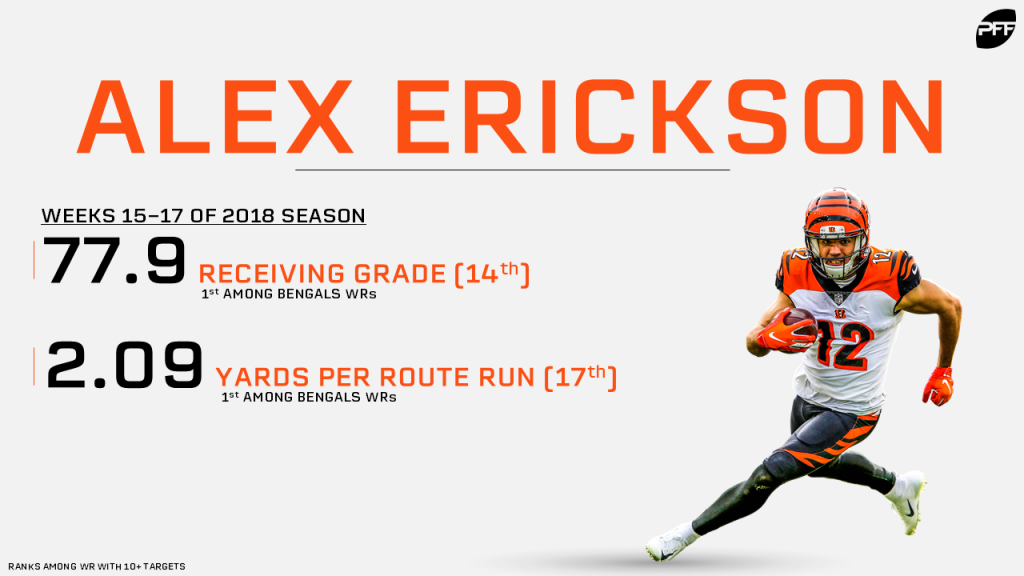 The Cincinnati Bengals had high expectations for improvement on the offensive side of the ball with the arrival of new head coach Zac Taylor, who was the quarterbacks coach of the Los Angeles Rams — one of the most effective offenses a year ago. However, those plans were possibly derailed when star wide receiver A.J. Green went down with an injury in July, and while return date is uncertain, Green will surely miss at least the first game of the regular season. Fourth-year receiver Tyler Boyd showed last year that he can handle a bigger workload, as he finished with more than 1,000 receiving yards in the absence of an injured Green. Still, Taylor's Rams lined up in 11 personnel — a personnel grouping which features three wide receivers — on a league-high 91.2% of their snaps, which would suggest that other wide receivers will also need to step up. Former undrafted free agent Alex Erickson might be one candidate who not many think of at the moment. Read more…
Rookie pass-blockers are standing out
---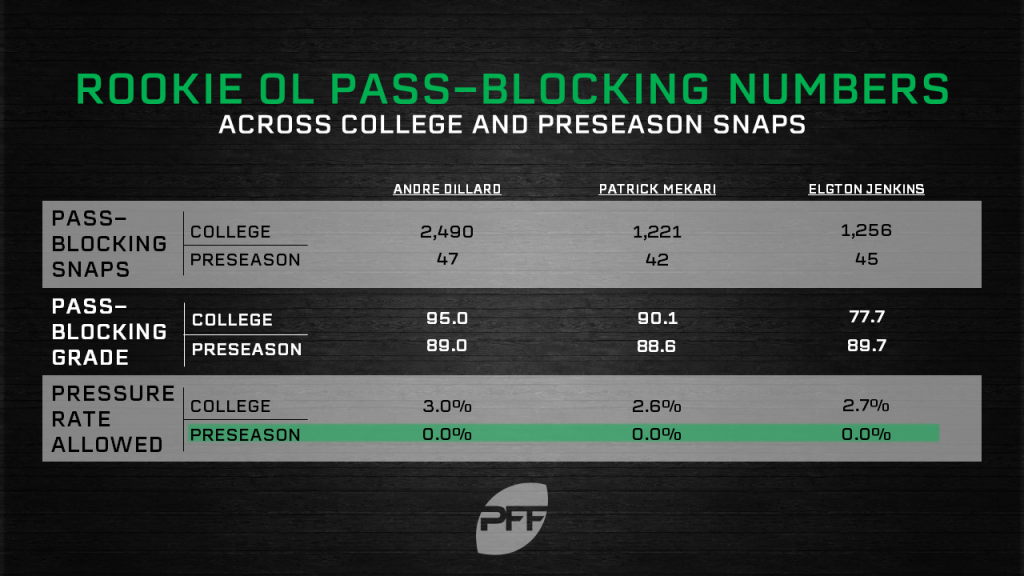 As the adage goes, "it's only preseason." But simply put, the preseason serves a valuable purpose: it exists partly to provide an opportunity for some of the NFL's unproven players to make a name for themselves in the hopes of earning a roster spot. And along the offensive line, that early experience is all the more valuable, as the position has proven to be one of the most challenging for rookies to grow accustomed to at the NFL level. Read more…
Maurice Hurst continues promising start
---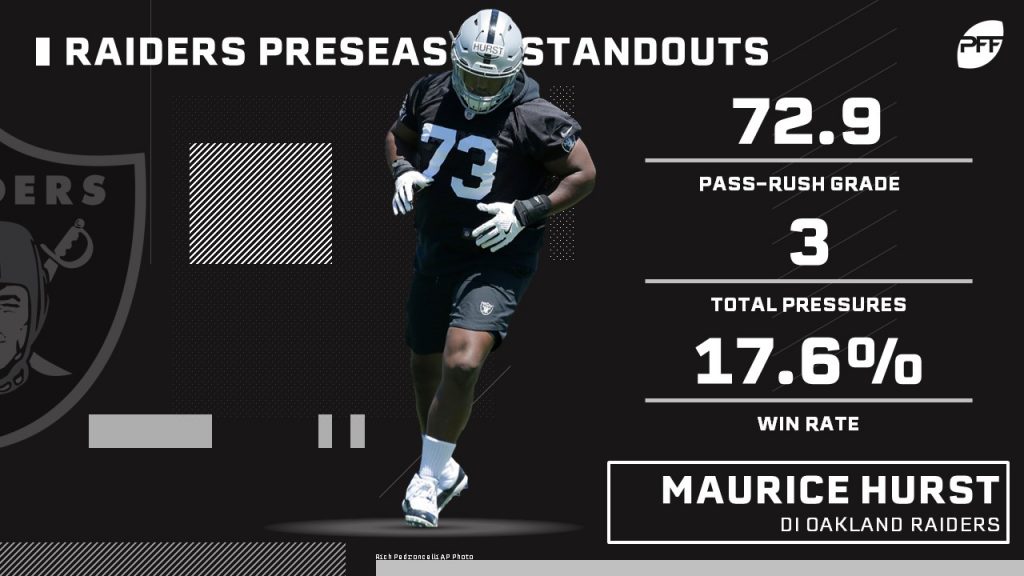 So, after a promising rookie campaign that was chock-full of promising bursts and flashbacks to his time wearing the blue and maize, it will have delighted fans to see Hurst dominate against the Arizona Cardinals on Thursday. Read more…
Lamar Jackson's rushing ability takes center stage
---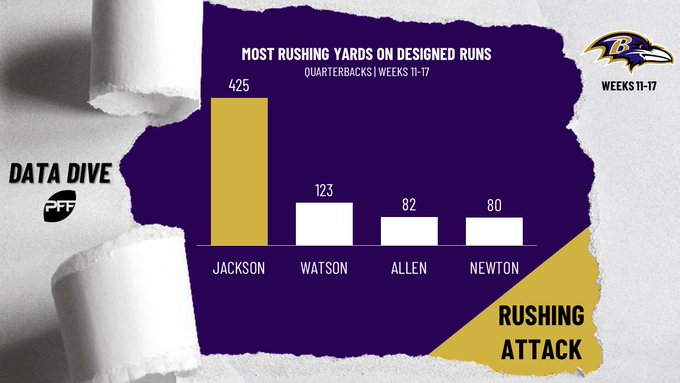 As a passer, it was another up and down performance from Jackson. There were good throws for first downs and there were throws behind receivers. While everyone is waiting for Jackson to develop as a passer, it's important to not lose sight of the fact that the Ravens' chances as contenders this season rely just as much on allowing him to still be the game-breaker we know he can be with his legs. Read more…
Daeshon Hall continues strong preseason
---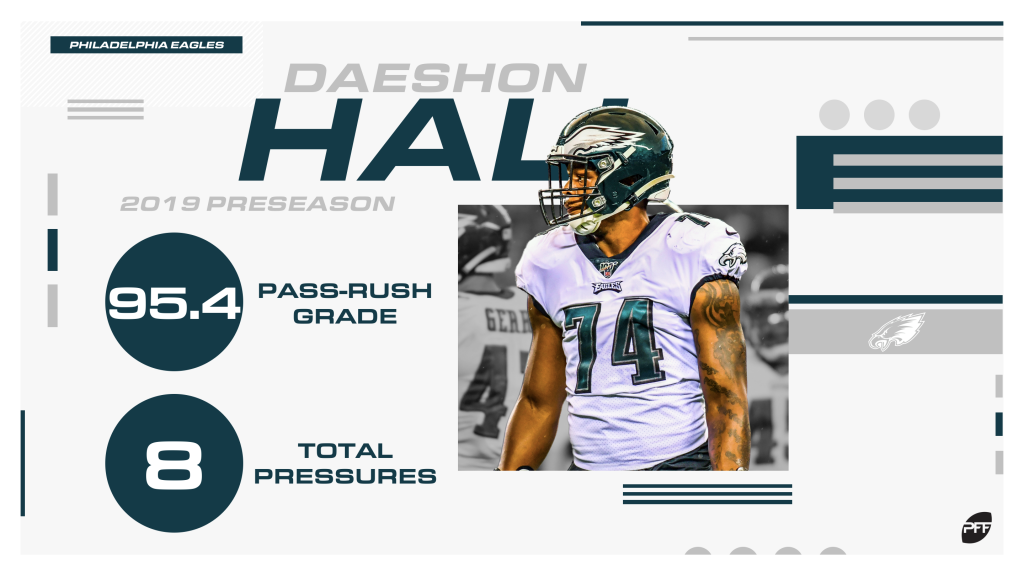 The Philadelphia Eagles have fielded one of the NFL's most fearsome pass-rushing units in the NFL since Jim Schwartz took over as the defensive coordinator in 2016. But this preseason, the team is presumably looking for a fourth pass-rusher to emerge behind starters Brandon Graham, Vinny Curry and former top-15 pick Derek Barnett. That has opened the door for fourth-year edge rusher Daeshon Hall, who has had two very productive weeks to start the exhibition season. Read more…
Film Breakdown: Cleveland's Rookie Defenders
---
PFF's own Steve Palazzolo and Solomon Wilcots breakdown footage of two Cleveland Browns defenders: Greedy Williams and Mack Wilson.
Examining the Raiders' defense
---
Mike Renner discusses Oakland's improvement on defense so far this preseason and gives us a name to watch as we head into regular-season play.
Rookie QB recap: Gardner Minshew
---
Austin Gayle discusses Gardner Minshew's impressive performance in Week 2 of the 2019 preseason.
PFF's NFL Team of the Week: 2019 NFL Preseason Week 2
---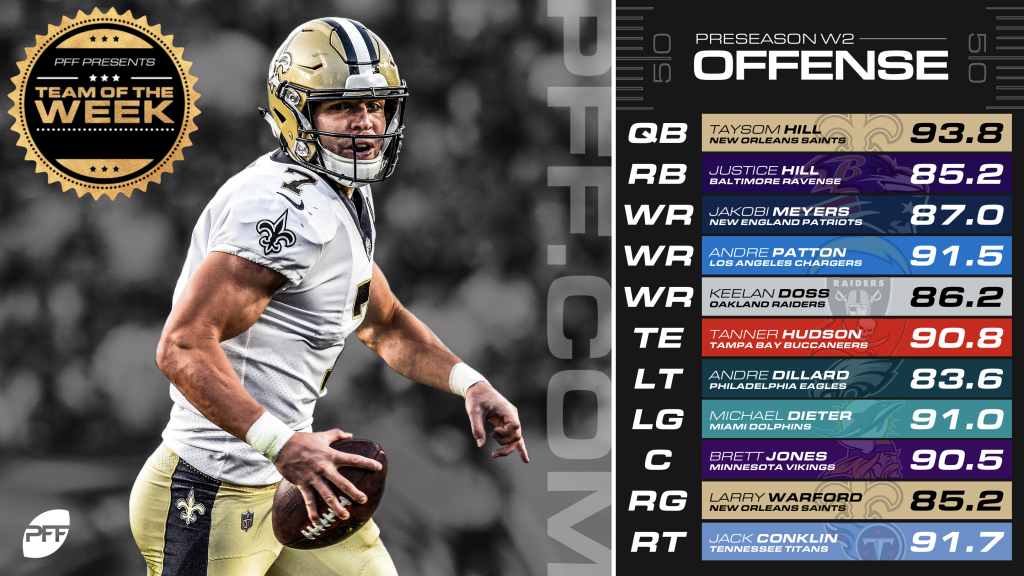 PFF's NFL Team of the Week series features game grades and advanced statistics for the NFL's top players at every position in a given week. All of PFF's ELITE subscribers have access to game grades, advanced statistics, positional snap counts and more in Premium Stats. All of PFF's grades and advanced stats from this week and every other week this upcoming NFL season are made available to ELITE subscribers within 24 hours of the final whistle. Read more…
PFF ReFocused, Preseason Week 2: All game recaps and analysis
---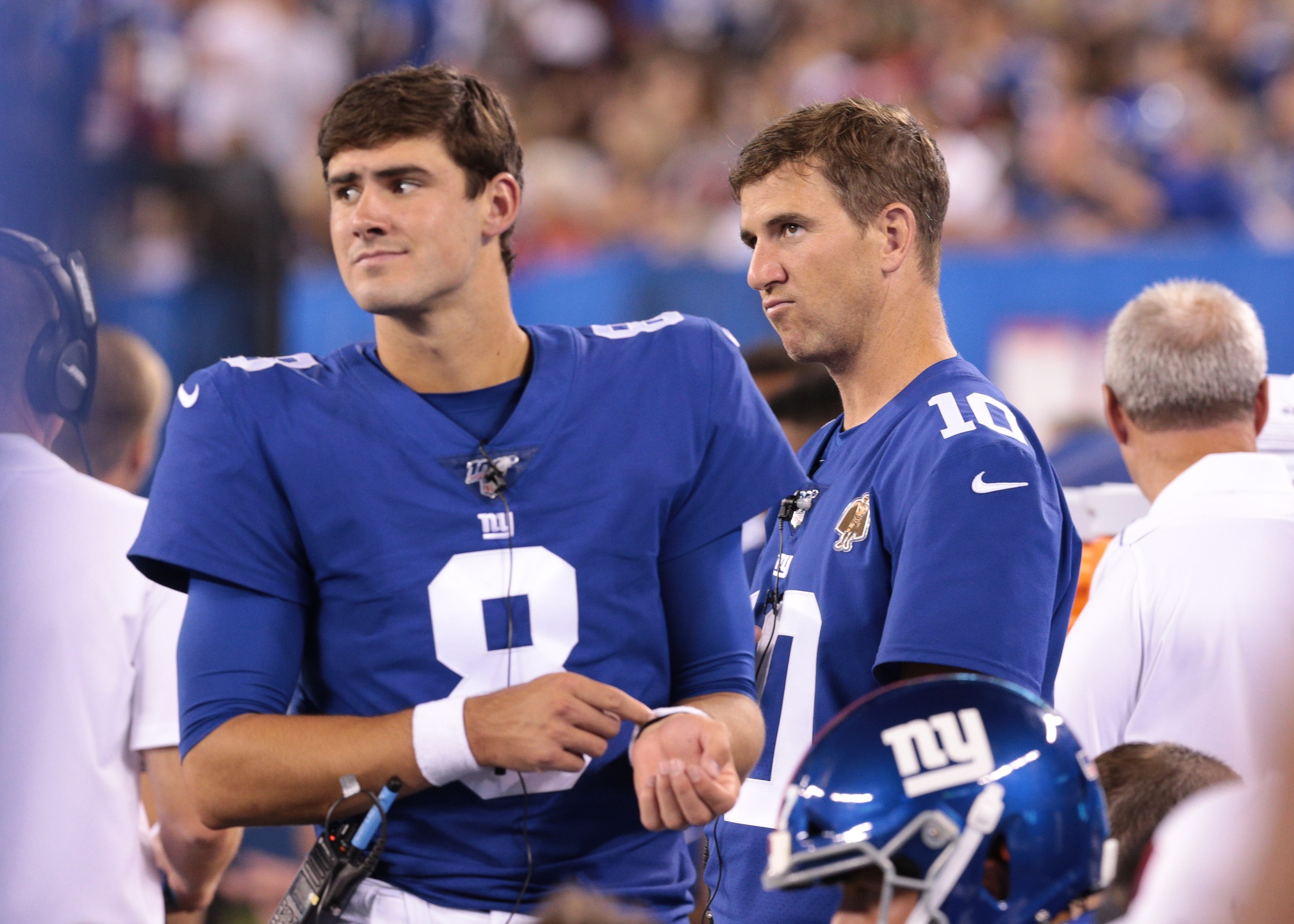 PFF's ReFocused series features immediate takeaways from the two analysts who graded the game live. The two offer a detailed breakdown of the game's most notable performances before the grades and advanced stats are reviewed and finalized by Senior Analysts. Read more…