PFF's Mark Chichester has taken a deep dive into the numbers to find an interesting piece of information about all 32 teams after two weeks of preseason football. If you would like to make some observations of your own, you can do so with PFF Elite, where you can find several signature statistics for every offensive and defensive position in football, thanks to Premium Stats 2.0.

AFC EAST
Buffalo Bills: Quarterback Matt Barkley currently owns a red-zone passing grade of 92.5, a grade that's almost 20 points higher than the next closest quarterback (Taylor Heinicke, 72.8). He's completed four of his five red-zone attempts for 42 yards, two touchdowns, two big-time throws and a league-best passer rating of 141.3.
Miami Dolphins: So far this preseason, seven of Preston Williams' 11 targets have been contested by a defender. He not only leads the league in preseason contested-target percentage (69.2%) but also in total contested catches (4) and receiving yards from contested passes (86).
New England Patriots: Through two games, 64.3% of Jakobi Meyers' targets have resulted in either a first down or touchdown, a mark that's second only to James Washington this preseason. So far, Meyers has caught 12-of-14 targets for 151 yards, 53 yards after the catch, two touchdowns and seven additional first downs. His average of 2.85 yards per route run currently ranks second among the 35 receivers who've run at least 30 routes this preseason, and his 151.2 passer rating when targeted is currently the best mark ever recorded by a Patriots skill position player in the preseason.
New York Jets: Wide receiver Deontay Burnett is generating a passer rating of 127.7 on short targets (1-9 yards downfield) so far this preseason, third among wide receivers with at least five short targets. Through two games, all of his targets have come at the short range of the field.
AFC NORTH
Baltimore Ravens: The Baltimore Ravens' defense is currently allowing a passer rating of just 56.8, the best mark among teams. If they can keep it up, it will be the third consecutive preseason that they've led the league in passer rating allowed, having done so in 2017 (58.8) and 2018 (71.5).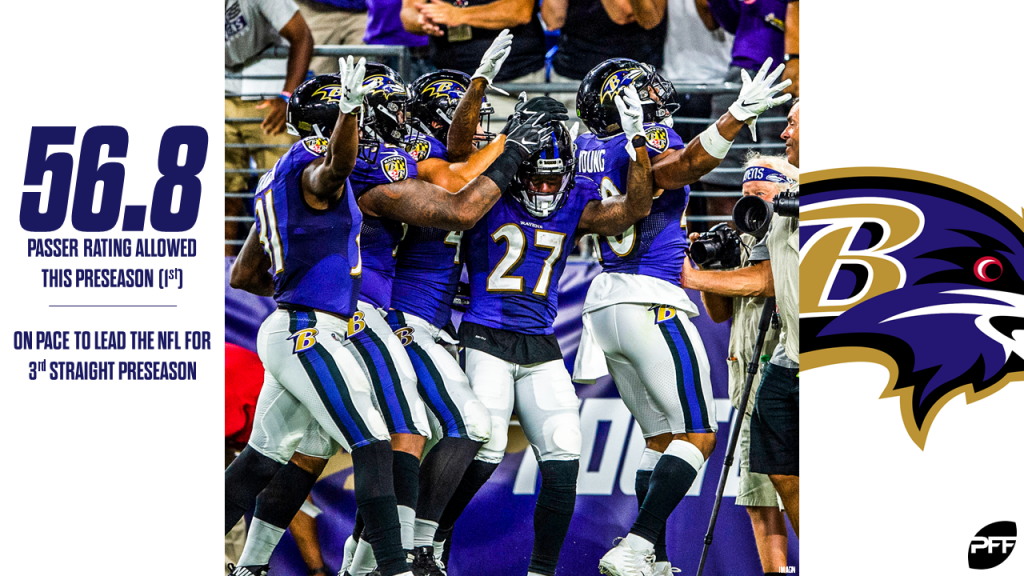 Cincinnati Bengals: Alex Erickson is averaging 22.6 yards per punt return this preseason, the best mark among the 20 players who've attempted at least four punt returns.
Cleveland Browns: Fighting for the backup spot, quarterback Garrett Gilbert currently ranks first among quarterbacks in accurate-throw percentage (66.7%) and "accuracy plus" percentage, per PFF's QB charting data.
Pittsburgh Steelers: The Steelers have blitzed 69 times so far this preseason, 32 more times than any other team. Unsurprisingly, given the volume, they rank first among teams in total pressures (35), total knockdowns (18) and pass-rush grade (91.1) on blitzes.
AFC SOUTH
Houston Texans: Cornerback Bradley Roby has been targeted five times so far this preseason, and while he's allowed three completions for 31 yards, he's also produced two pass breakups. Since he entered the league in 2014 (including preseason and postseason games), Roby has either broken up or intercepted 13.1% of his career targets (59 of 452), the eighth-best mark among the 22 cornerbacks who've seen 400 or more targets in that span. Only Malcolm Butler (65), Robert Alford (64), Darius Slay (62), Stephon Gilmore (57) and Josh Norman (52) have broken up more passes than Roby since 2014 (51).
Indianapolis Colts: Quarterback Jacoby Brissett has completed eight of his 10 early-down pass attempts so far this season, tallying 99 yards and one touchdown. Only Daniel Jones (158.3), Kyle Sloter (150.0) and Matt Barkley (143.1) have recorded a better early-down passer rating that Bissett (141.3).
Jacksonville Jaguars: UDFA cornerback Tae Hayes has been targeted 12 times so far this preseason. He's forced three incompletions and recorded a defensive stop on four of the seven receptions that he's allowed. His defensive success rate (forced incompletions+stops/coverage snaps) of 21.9% ranks first among cornerbacks with at least 10 targets this preseason, and it's more than double the rate of the next closest player at the position.
Tennessee Titans: Ryan Tannehill has now completed five of his seven third-down pass attempts for 75 yards and one touchdown. Among the 67 quarterbacks who've attempted at least five third-down pass attempts this preseason, Tannehill ranks fifth in passing grade (88.1), seventh in yards per attempt (10.7) and tied for fourth — with teammate Logan Woodside — in passer rating (145.8).
AFC WEST
Denver Broncos: Noah Fant has been targeted on 40.0% of his routes so far this preseason, the highest rate among tight ends with 20 or more routes run. He's caught five of his eight targets for 28 yards, 16 yards after the catch and one first down.
Kansas City Chiefs: Wide receiver Cody Thompson is currently averaging 2.67 yards per route run from the slot, the third-best mark among receivers with at least 20 slot routes run.
Los Angeles Chargers: Kyzir White is one of only three linebackers who have earned grades of at least 74.0 in both run defense and coverage.
Oakland Raiders: The Raiders' wide receiving corps has combined to produce a league-best 82.7 team receiving grade so far this preseason. They rank second among the 32 receiving corps in yards per route run (5.57) and they rank third in passer rating generated (133.5) — and that's without Antonio Brown.

NFC EAST
Dallas Cowboys: Xavier Su'a-Filo is the only offensive lineman this preseason who has played at least 20 third-down pass-blocking snaps yet not lost a single matchup.
New York Giants: The Giants have 11 defensive players who have earned coverage grades of at least 70.0 this preseason. No other team has more than nine.
Philadelphia Eagles: Daeshon Hall has already registered three sacks, four hits and one hurry from his 27 pass-rush snaps this preseason, and he currently leads all defensive linemen in pass-rush productivity (20.4). In fact, through two preseason games, Hall currently owns the second-best pass-rush win rate (40.7%) and the second-best pass-rush productivity rating ever recorded by a defensive lineman in the preseason (PFF started grading the preseason in 2013).
Washington Redskins: Rookie cornerback Jimmy Moreland has been targeted three times in red-zone coverage so far this preseason. He's allowed just one reception for 10 yards and no touchdowns, and he's broken up the other two passes. He's earned a red-zone coverage grade of 94.0 and a forced incompletion percentage of 66.7% that both rank first among qualifying cornerbacks.
NFC NORTH
Chicago Bears: Right tackle Rashaad Coward currently ranks first among all tackles in run-blocking grade, with a mark of 90.3. He also leads all 64 offensive tackles who have played 25 or more run-blocking snaps in impact run-block percentage (26.9%).
Detroit Lions: The Detroit Lions have passed the ball on 64.1% of their early-down plays (50-of-78) so far this preseason, fifth among offenses. This comes a year after they ranked 16th among teams in early-down pass-play percentage (55.7%).
Green Bay Packers: The Green Bay Packers' offensive line currently leads the league in pass-blocking efficiency, with a mark of 94.1. They've allowed just six total pressures on 59 passing plays.
Minnesota Vikings: Running back Mike Boone currently leads all running backs in breakaway yards (rushing yards from runs of 15 or more yards) this preseason, with 79.
NFC SOUTH
Atlanta Falcons: Wide receiver Russell Gage leads all qualifying wide receivers in third-down receiving grade (92.8) and passer rating when targeted on third down (116.7) so far this preseason.
Carolina Panthers: Running back Reggie Bonnafon leads all players — not just running backs — in receiving yards after the catch, with 59.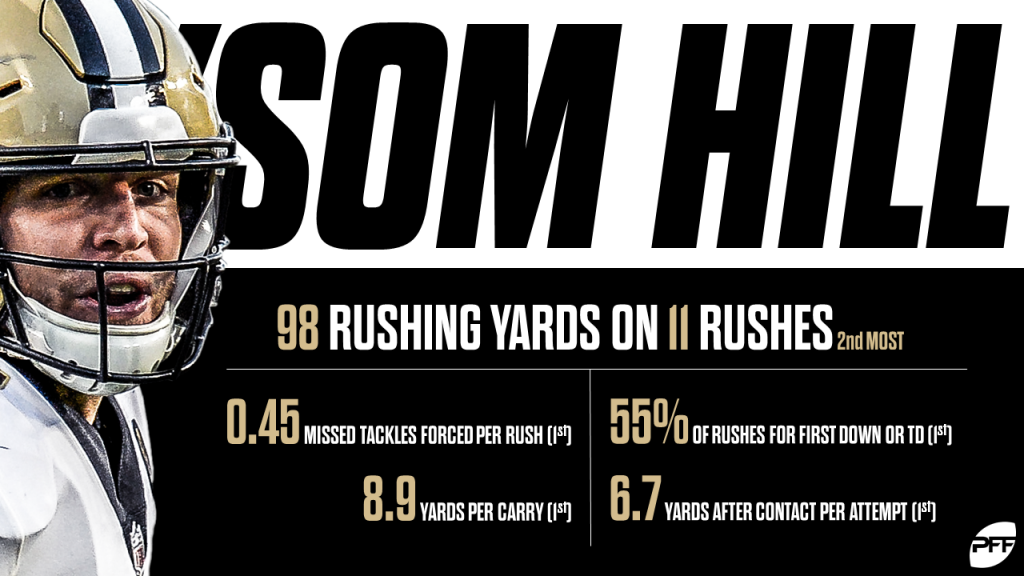 New Orleans Saints: Taysom Hill is currently the preseason's second-leading rusher, having run for 98 yards on 11 attempts through two games. He leads all players in missed tackles forced per attempt (0.45), yards per carry (8.9), yards after contact per attempt (6.7) and percentage of rushes that have resulted in either a first down or touchdown (55.0%).
Tampa Bay Buccaneers: Tight end Tanner Hudson has generated a passer rating of 155.4 so far this preseason, first among the 27 skill position players who have seen at least 10 targets. He leads all tight ends in both explosive plays (5) and yards per route run (2.67).
NFC WEST
Arizona Cardinals: Brett Hundley is the only quarterback in the NFL to record a 110.0-plus passer rating from a clean pocket (114.5), while under pressure (120.8) and from passes of 20 or more yards downfield (135.4). He ranks 14th, fifth and second, respectively, among quarterbacks in those facets.
Los Angeles Rams: Rookie edge defender Natrez Patrick has played only 58 defensive snaps this preseason, but he's still managed to tally six pressures and five defensive stops. His impact-play percentage (pressures+stops+batted passes/defensive snaps) of 19.0% ranks third among all edge defenders so far this preseason, behind only Chase Winovich (21.6%) and Damontre Moore (20.3%).
San Francisco 49ers: Last season, the Niners' defense combined to miss 155 tackles, and they ended the season with a dismal 43.8 tackling grade that ranked 31st among teams. However, two weeks into the preseason, things seem to be looking up: they currently rank second among teams in total missed tackles (only five). They also rank tied for third among teams in total tackles for a loss or no gain (16) and, more impressively, they lead the league with a team tackling grade of 90.1 — almost nine grading points clear of the next closest team.
Seattle Seahawks: Linebacker Austin Calitro has racked up nine defensive stops in his two preseason games, which is currently the best mark among all defensive players so far this preseason.