As a result of the NFL's most high-profile training camp holdout, all eyes have turned to Dallas Cowboys rookie running back Tony Pollard in Ezekiel Elliott's absence. The less-ballyhooed teammate of Los Angeles Rams 2019 third-round pick Darrell Henderson, Pollard emerged from Memphis with a 76.7 grade in 2018 and as the 244th ranked player on The PFF Top 250 Draft Board. After being selected 128th overall in the fourth round, Pollard's quick ascent now finds him as a leading candidate to be Elliott's top backup, or in the event of a lengthy holdout, the Cowboys' starting running back in 2019.

In college, Pollard graded particularly well in the passing game, with his style of play reminding some of New Orleans Saints running back Alvin Kamara, the third-round pick out of Tennessee in 2017. Like Kamara, Pollard is entering the NFL as more of a receiving back who must prove he can also run between the tackles. Encouragingly, Pollard had the sixth-highest percentage of runs where he was not tackled on first contact (41.8%), highlighting his elusiveness.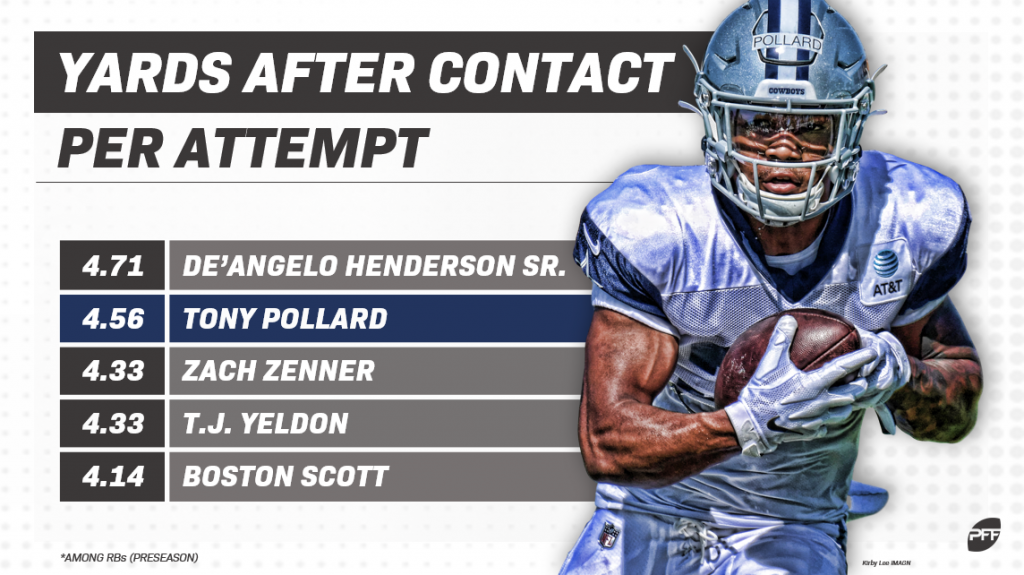 Across 22 snaps this preseason, an admittedly small sample size, Pollard has adjusted well while auditioning for the starting role, earning a 72.4 overall grade. Running behind the second-ranked Dallas offensive line, Pollard looked particularly impressive as he ran up the gut for a 14-yard touchdown on the Cowboys' opening drive against the Rams on Saturday. Overall, Pollard has forced four missed tackles on his nine carries and has averaged 4.56 yards after contact per attempt, placing him second among players with at least six preseason carries.
While the Elliott situation plays itself out, in our eyes, Pollard has jumped to the top of the Dallas depth chart by outperforming the likes of fellow rookie Mike Weber (49.4 preseason grade) and veteran Alfred Morris, who hasn't earned above a 64.5 overall grade since 2013, his second season in Washington.