As the adage goes, "it's only preseason." But simply put, the preseason serves a valuable purpose: it exists partly to provide an opportunity for some of the NFL's unproven players to make a name for themselves in the hopes of earning a roster spot. And along the offensive line, that early experience is all the more valuable, as the position has proven to be one of the most challenging for rookies to grow accustomed to at the NFL level.

Just last year, only three of the 18 qualifying rookie offensive linemen earned overall grades above 70.0. So yes, it's only preseason right now — but a few of those rookies have already stood out, and the premature hype is justified.
Of the 35 rookie offensive linemen who have lined up for at least 40 pass-blocking snaps this preseason, three have distanced themselves from the pack by not allowing a single quarterback pressure.
A few familiar names in Philadelphia Eagles first-round pick Andre Dillard and Green Bay Packers second-round pick Elgton Jenkins headline the small group, proving early on that they can succeed against NFL-caliber players. Unexpectedly rounding out the trio is Baltimore Ravens undrafted guard Patrick Mekari.
Jenkins, Dillard and Mekari rank Nos. 1, 2 and 3 in pass-blocking grade, respectively, through two weeks among all offensive linemen with 40-plus snaps in the passing game. It's a small sample size, but offensive line depth is hard to come by — and these three are showing off early in their NFL careers.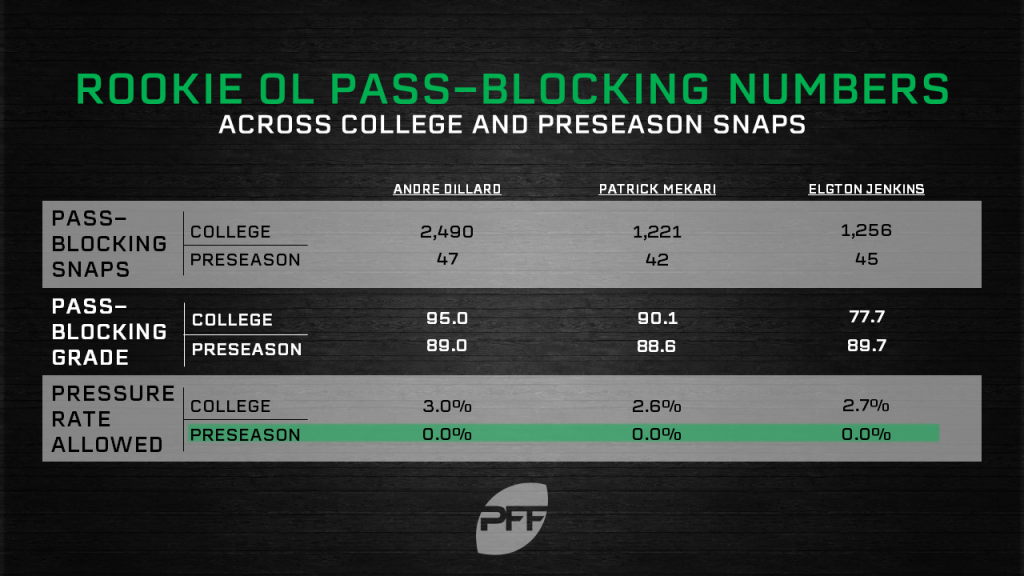 ANDRE DILLARD
Dillard is no stranger to quickly excelling above and beyond his peers, ranking second among FBS tackles in pass-blocking grade (92.6) in 2018. He was a workhorse, too, as he recorded the second-most pass-blocking snaps among the same group.
Unfortunately for Dillard, the Eagles enter 2019 with PFF's best offensive line — one that doesn't even include him. Jason Peters will assume starting left tackle duties, but Dillard will surely be ready to step in at any moment should the injury bug strike.
So far this preseason, we've seen him face off against a handful of players on the edge, including Jacksonville Jaguars first-rounders Josh Allen (2019) and Taven Bryan (2018), as well as Ravens castoff Kamalei Correa — now with the Tennessee Titans as a former second-round pick in 2016.
Of his 50 pass-blocking matchups, Dillard has been credited with a "loss" just once, otherwise stuffing Allen on three occasions and Correa on 10, among others.
If his early preseason success is any indication, Dillard may not be riding the bench for long come the regular season. Two impressive pass-blocking performances, and even a 91.6 run-blocking grade in preseason Week 2, will have the Eagles giddy to get him real playing time.
ELGTON JENKINS
The center position is rarely a turnstile for pass-rushers, as they're usually attacking the guards or tackles while the center helps out on those blocks. And after slotting in at center for Mississippi State for the past two seasons after playing some guard and tackle in the years prior, Jenkins has been moved around by the Packers frequently this preseason.
He's played significant snaps at center, left guard and right guard — and potentially for good reason.
He won't be unseating 28-year old stud Corey Linsley at center any time soon, as the sixth-year player has only missed a 70.0 grade just once in his young career. Guards Lane Taylor and Billy Turner have been less impressive, though, with each earning grades below 65.0 in 2018.
It makes sense then that Jenkins is seeing time at guard, despite not playing the position in his final two years with the Bulldogs, but it looks like he's transitioning seamlessly to the NFL level.
Matchups with Pernell McPhee, once a 73-pressure player for the Ravens in 2014, yielded no "wins" for McPhee. And for all of Jenkins' other snaps, it was much of the same for his opposition.
It's admittedly surprising that Jenkins has rediscovered his prowess at guard so early on at the NFL level, and the Packers have to be thrilled with him through two games.
PATRICK MEKARI
Mekari has put himself in quite an interesting position this preseason. Even with all his success, he could very well miss out on a roster spot with the Ravens as an undrafted free agent. He will almost certainly land on with a team by the time the offseason comes to a close, though, because he's outperforming offensive linemen around the league — many of whom heard their names called in Aprils of years past.
With that chip on his shoulder, he's catching the eye of his coaches. Jaguars veteran Datone Jones failed to earn a pass-rush "win" off him in 10 matchups. Green Bay's promising rookie Kingsley Keke suffered the same fate in seven faceoffs.
Similar to Jenkins, the Ravens are experimenting with Mekari. He saw time as a tackle and a guard at California, allowing just two sacks across more than 1,200 pass-blocking snaps. His success was well-documented, as he notched the third-best pass-blocking grade (89.2) among Pac-12 tackles in 2018 and the fourth-best overall grade (80.2) — one spot behind none other than Dillard.
This preseason, he has seen the most snaps at center, a position where Baltimore's Matt Skura ranked 26th of 39 centers in overall grade in 2018.
Perhaps there's a chance Mekari sneaks his way onto the Ravens roster with continued — and unprecedented — success at his least-experienced position, an otherworldly feat at the NFL level for a rookie.
[Editor's Note: All of PFF's advanced stats and grades for every NFL player are made available in PFF's ELITE subscription. Subscribe today to gain access!]