The play didn't count, but in a few brief seconds last night, we were reminded exactly why the Baltimore Ravens have been willing to rebuild their offense around second-year signal-caller Lamar Jackson. We have seen some real struggles with his consistency as a passer, but his special ability as a runner can break games open in an instant.
On 3rd-and-10 with 1:26 left in the opening quarter, Jackson scrambled up the middle then took off to his right. He faked a juke once, then juked past Green Bay Packers cornerbacks Tramon Williams before hurdling his former Louisville teammate, cornerback Jaire Alexander, into the end zone. The illegal block in the back penalty on wide receiver Willie Snead wiped the points off the board, but given that it's preseason, that will do little to dampen the excitement of the Ravens' fanbase.
As a passer, it was another up and down performance from Jackson. There were good throws for first downs and there were throws behind receivers. While everyone is waiting for Jackson to develop as a passer, it's important to not lose sight of the fact that the Ravens' chances as contenders this season rely just as much on allowing him to still be the game-breaker we know he can be with his legs. It's unlikely that we're going to see that too much this preseason, especially on designed runs, but the scramble last night was a great reminder of how the team's offense could break games open in 2019.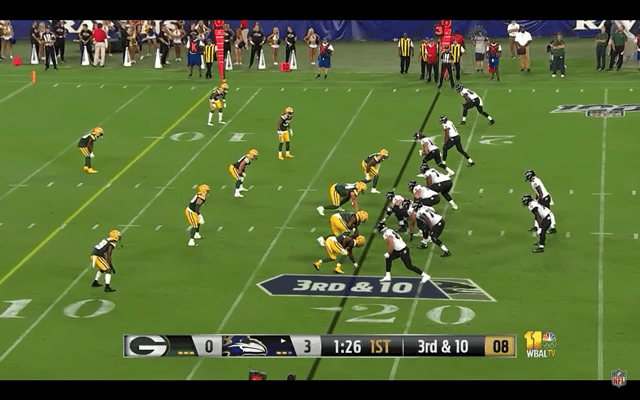 For all the concerns — and they are justified — with the Ravens being a run-first team, it's important to remember that they aren't going to line up and hand the ball off to a running back 50 times a game. What we expect to see is an offense where they manufacture open throws for Jackson, get him on the edge in the running game, and force defenses to respect his speed outside. 
Including the playoff loss to the Los Angeles Chargers, Jackson forced 22 missed tackles from 147 rushing attempts, and while he ran the ball a lot, just 22 of his carries came on quarterbacks scrambles. When he did scramble, he was fairly difficult to stop though, averaging 8.0 yards per carry, with 4.59 of those yards coming after contact. All the more impressive, once he broke into the open field on passing plays, he was a nightmare for defenders to bring down, with nine missed tackles forced from those 22 scrambles. Compare that with designed carries off left and right end, where he forced a combined 11 missed tackles on 71 carries, and it's clear that when defenses have to react to him scrambling out of the pocket, he can make things even harder for them than he can on designed runs.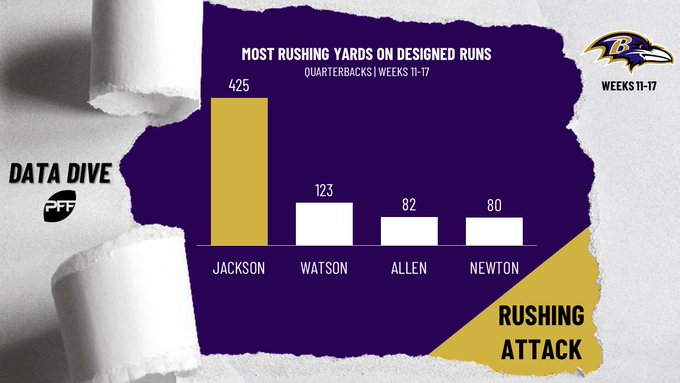 The Ravens appear to be trying to keep him from scrambling too much this preseason, which makes sense given the injury risk and how unnecessary it is for him to be taking hits in August. But if nothing else, that play last night should remind everyone that while he might not be one of the top passers in the NFL, he won the Heisman trophy for a reason and his ability to put pressure on defenses in the open field with his legs will be one of the storylines to watch as we head into the 2019 season.
[Editor's Note: All of PFF's advanced stats and grades for every NFL player are made available in PFF's ELITE subscription. Subscribe today to gain access!]