PFF's quarterback rankings are based on grading every player on every play and tapping into multiple years of data to project future performance. We go beyond just last season's performances, and the grading works to isolate each quarterback's performance from that of his supporting cast, making for more effective projections. The rankings are then tiered in order to gauge where each player stands and also highlight that the difference between No. 14 and No. 16, for example, is negligible. The NFL is in a rich time for middle-class signal-callers, and that's why so many land in Tier 3. 
[Editor's Note: All of PFF's advanced stats and grades for every NFL player are made available in PFF's ELITE subscription. Subscribe today to gain access!]

Tier 1: High-end quarterbacks who can carry a team. They have high percentages of positively graded plays while limiting negatively graded throws, and they're most likely to achieve high-end passing production no matter what the supporting cast looks like in a given year.
Despite taking a step back last season, Brady is still the highest-graded signal-caller in the NFL over the last few years. His stretch of play from 2015-17 is one of the best in the history of the game, as he graded at 96.7 overall during that period. Last year, he still ranked fourth in the league with a 90.6 overall grade, and he finished second in our accuracy charting. Brady's body of work has him as the top quarterback heading into 2019 and last year's regression put him more at his 2014 level where he was still one of the best in the league. Expect more of the same in 2019.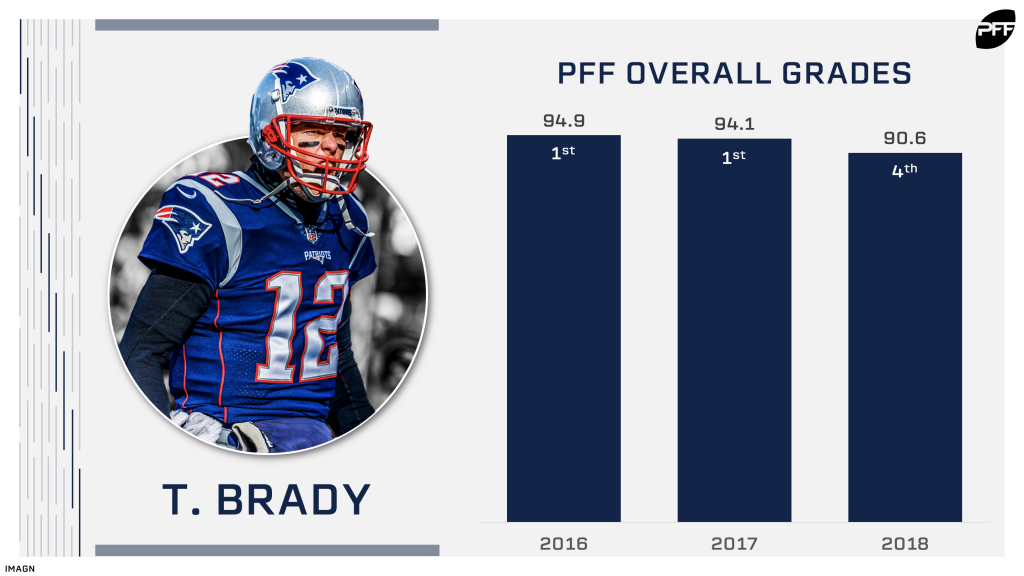 Like Brady, Brees has multiple years of excellent play that go into his ranking, including a career-best 94.0 overall grade last season. He was incredibly efficient, even with a late-season lull, and he finished the season with the highest accuracy percentage in our throw-for-throw charting. Brees excels at avoiding negatively graded throws, a stat which he led the NFL in last season.
It wouldn't surprise to see Mahomes sitting atop this list next year, but the two veterans get the nod for now given multiple years of excellent play. Mahomes was special last season, finishing first with 48 big-time throws and throwing for 1,156 yards outside the pocket, 555 more than the next-closest quarterback. While the highlights — and there are plenty of them — get the publicity, Mahomes ranked second in avoiding negatively graded throws last season, a trait which is perhaps more impressive. He hit the easy stuff while still lighting it up down the field, though he still needs to cut down on the turnover-worthy plays, as he had the 16th-highest rate in the league a year ago.
Tier 2: Quarterbacks who can move the chains and take care of the ball. More likely to elevate teammates and achieve top-end production, even with lesser supporting casts.
It was an odd 2018 season for Rodgers, who took too many sacks and was below average with his accuracy in the 0-9-yard range, but he still showed his special ability to make big-time throws (eighth-highest rate in the league) while avoiding turnover-worthy plays (the lowest rate in the league). Rodgers needs to work better within the flow of the offense in order to get back to his elite ways of 2011, 2014 and parts of 2016, but even if he doesn't, his big-play ability and turnover avoidance still put him in the top echelon of quarterbacks.
Luck may not have a better career than some of the quarterbacks ranked lower on the list, but his last two full seasons have graded at 90.0-plus (2016 and 2018) as he's finally lived up to his draft hype. Last year showed that Luck is capable of working the short game efficiently after years of seemingly living off the big play and high big-time throw rates, but also high turnover-worthy rates while also taking far too many hits. Luck finished well above average in our accuracy metrics on 10-plus yard throws, and he ranked fourth in positively graded throws in 2018.
Wilson dropped back about 100 fewer times than he did in 2017, increasing his efficiency to post an 86.7 passing grade, his best mark since his rookie season in 2012. He led the NFL in big-time throw percentage while ranking ninth at avoiding turnover-worthy plays after his worst season in that department in 2017. Wilson's downfield passing is as good as it gets, and he elevated his receiving corps with accuracy to all levels of the field. He's generally prone to a few bad games per season, often leading to questions about how much can be put on his shoulders in the passing game, but Wilson has proven to be one of the league's best since entering the league and those few poor games are well worth giving him more opportunities to make plays in the passing game rather than looking for protection behind a run-heavy attack.
The last four years of Ryan's career are a fascinating story of grades and stats not matching up. The 2015 and 2017 seasons saw Ryan grade better than his numbers would indicate, while 2016's MVP campaign and 2018 saw Ryan post gaudy numbers that were elevated by some interception luck and fantastic play by his playmakers and play-callers (particularly 2016). When you add it all up, Ryan has six top-10 finishes in PFF grade in his 10 years in the league, and he consistently throws the ball accurately down the field. Last season saw Ryan struggle when he left the friendly confines of dome stadiums, but he doesn't play an outdoor game until November this season, so expect another big year for the stat sheet.
It was an odd 2018 for Roethlisberger, who posted his fifth-worst grade since 2006 while throwing for over 5,000 yards. This disconnect is his throwing the ball a whopping 675 times to put up strong counting stats, but his throw-for-throw consistency just wasn't there as he finished with the sixth-highest percentage of negatively graded throws. As usual, Roethlisberger still had the big-time throws in his game, finishing second overall in total big-time throws and fifth in big-time throw percentage, so he's still more than capable of taking over a game. For Roethlisberger to get back to his 2014, 2015 and 2017 ways that saw him finish third in overall PFF grade, he needs to cut back on the misses and poor decisions that plagued his 2018 season.
In 2018, Rivers posted his best grade since 2010, finishing with the fifth-best mark in the league at 88.9 overall. He was strong all around, finishing the regular season sixth in big-time throw percentage, fourth in PFF grade under pressure, ninth in PFF grade from a clean pocket and fourth at avoiding negatively graded throws. Rivers has dealt with a poor offensive line for a number of years now, and while his production has dipped at times, he's handled the situation well. This is a big year to see if he's truly back to form after multiple years grading in the 70.0s and low 80.0s or if he'll regress back into the 2014-17 form that saw him as a borderline top-10 quarterback rather than a lock in the top echelon of the league.
After three elite years of college grading, Mayfield carried his strong play to the NFL where he finished with the No. 10 grade at 84.5. Mayfield finished second in big-time throw percentage, and his excellent college accuracy transferred nicely as he finished sixth in our overall accuracy charting. While Mayfield was accurate on a throw-for-throw basis, he could cut down on his percentage of uncatchable passes that ranked only 23rd (lower is better) in the league, and he put the ball in harm's way a bit more than what we saw in college, ranking just 14th at avoiding turnover-worthy throws. Either way, we now have four years of Mayfield grading at a high level, and his influx of playmakers has him poised to break with an MVP-caliber season in 2019.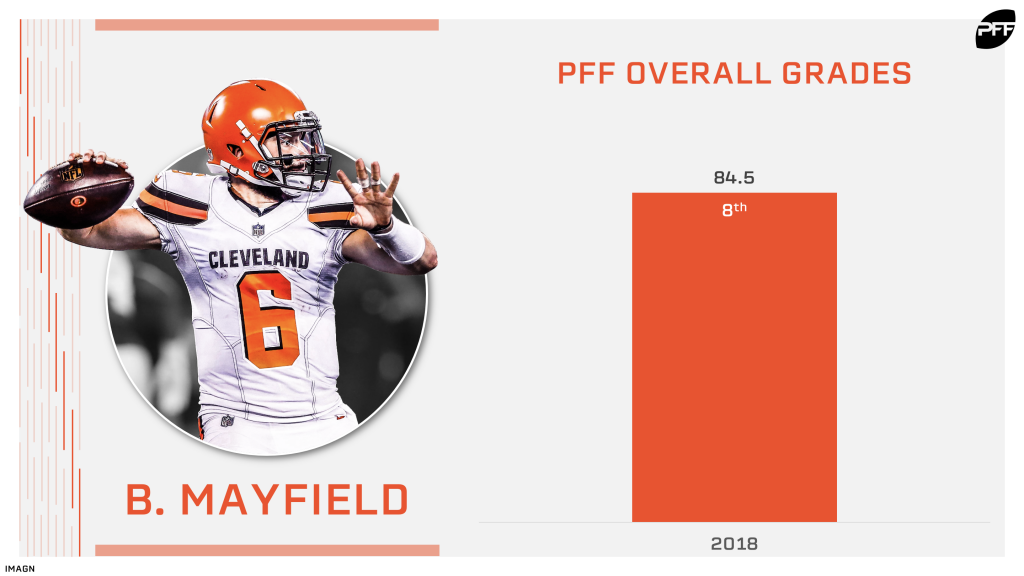 Tier 3: Volatile or conservative quarterbacks whose production will rely even more heavily on supporting cast and play calling. Tier 3 quarterbacks can post top-10 production in any given year in the right situation.
Coming off season-ending injuries in each of the last two years, Wentz is still primed for a big year given his offensive line and his plethora of playmakers. His near-MVP season of 2017 (No. 5 PFF grade at 84.9) saw him lead the league in accuracy percentage on tight-window throws while dominating on third downs, two impressive feats, but ones that are bound for regression from what the PFF data has told us through the years. That's exactly what happened last year, as he fell to the middle of the pack in both departments. If Wentz is going to get back into the MVP race, he'll likely need to get back to the 2017 form that saw him lead the league with a big-time throw percentage of 6.4%, a number that fell to 4.5% last year, good for 14th in the NFL.
Watson has two excellent statistical seasons under his belt, though he's gotten there in different ways. His rookie season saw an incredible big-time throw percentage (8.3%), but also some interception luck and garbage-time success that led to the shiny stats. Last year, he played a more consistent brand of football, going from one of the worst rates in turnover-worthy throws to 10th-best while ranking third in the NFL in the percentage of positively graded throws during the regular season. Watson's mobility has worked both for and against him as his 60 scrambles (third-most in the NFL since 2006) led to 481 yards last season, but he was also sacked a league-high 61 times, including 14 that were directly his fault. Watson must continue his progression in the short and intermediate game while still showing off the special plays that have helped him elevate a limited supporting cast.
There's no doubt that Sean McVay and excellent play-calling have aided Goff's development, but he deserves credit for improving his game every year in the league. Goff has led the league in passing yards off play-action in each of the last two years, and he's advanced from ranking 15th in PFF grade in 2017 to tying for 10th last season. Even with the improvement, Goff hit the worst three-game stretch of his career late last season, though he bounced back to lead the Rams' Super Bowl charge. Goff improved his accuracy last season, ranking above average on all throws at 10-plus yards down the field, but he must continue to advance with his decision-making where he ranked only 24th at avoiding turnover-worthy plays.
Since taking over as a full-time starter in 2015, Cousins has four years finishing in the top-10 in passer rating, but only one year finishing in the top-10 in PFF passing grade (ninth, 2016). The disconnect comes from Cousins getting help from a strong group of playmakers through the years but also playing a more conservative brand of football at times when aggressiveness is in order. He's more than capable of making big-time throws and pushing the ball down the field, but last season saw Cousins fall more in line with recent Vikings quarterbacks, as he ranked fourth in the league at avoiding turnover-worthy plays, the fifth straight season and fourth different Minnesota signal-caller to rank in the top 10 in that department. The offshoot was just the 20th-ranked big-time throw percentage and just a No. 31 ranking in positively graded throws. If the Vikings are going to get their money's worth with Cousins, perhaps a bit more unleashing is in order, as he's shown capable of making plays at the intermediate and deep levels throughout his career.
Perhaps no quarterback in the league tantalizes with high-end play as often as Stafford, though it usually comes out two to three times per season rather than an entire season at a time. At his best, Stafford makes throws with arm strength and accuracy, both on and off schedule. However, he's only ranked in the top-10 in PFF grade twice in his career, and last season lacked the high-end brilliance from previous seasons. It was a much more conservative passing game last season and losing Golden Tate hurt Stafford's production, as he ranked just 26th in positively grade plays, and his average depth of target on completions was only 5.1, the fourth-lowest mark in the NFL since 2016. It's a tricky balance when trying to tap into Stafford's strong velocity and off-balance magic while trying to corral him into a safer brand of football, but much like Cousins, perhaps an unleashing is once again in order to see if he can carry the offense on the back of downfield chunk plays.
The definition of a volatile down-to-down quarterback, Newton has ranked in the top-10 in PFF grades just twice in his career, and his 86.5 grade during his MVP campaign of 2015 is the only year in which he's graded above 80.0. Despite that fact, Newton has the second-highest percentage of positively graded throws since entering the league in 2011, while annually ranking among the worst at avoiding negatives. Last season saw a style change that led to Newton ranking 10th in the league in passer rating and 14th in PFF grade as his average pass traveled about three yards shorter per attempt than we're used to seeing from him. Injuries aided in his second-half decline, but it remains to be seen if Newton can sustain his success with a different style that saw him rank just 32nd in big-time throw percentage, normally a big part of his game and an explosive element that is needed for the Panthers.
After an impressive rookie season that saw Prescott rank eighth in PFF grades, he followed it up by ranking 19th in 2017 and 20th last year. Prescott's throw-by-throw grading has him on the more conservative side, with two top-10 rankings at avoiding turnover-worthy plays while never ranking better than 22nd in big-time throw percentage. That leaves him dependent on his playmakers in order to produce in the passing game, and that group was in steady decline until Amari Cooper arrived and played like a top-10 wide receiver during the second half of 2018. Adding to the issues for Prescott, he was charged with a league-high 15 sacks last year, while ranking just 25th at avoiding negatively graded throws. Even with his added rushing ability, Prescott has settled in as a mid-tier quarterback whose production is more dependent on his supporting cast, and this will be a big year to see if he can get back to his rookie levels of efficiency.
While Garoppolo has looked like a top-half-of-the-league quarterback when on the field the last two years, his lack of availability has been a concern. At his best, his quick release and accuracy lead to some of the league's best play in the short and intermediate range, though the downfield passing game has been a work in progress. Garoppolo takes care of the football with one of the lowest turnover-worthy play percentages in the league, despite some interception luck during his strong 2017 run in San Francisco. Garoppolo is in a good position to produce as Kyle Shanahan's system has consistently elevated quarterback play, it's just a matter of staying healthy and putting together a full season of action.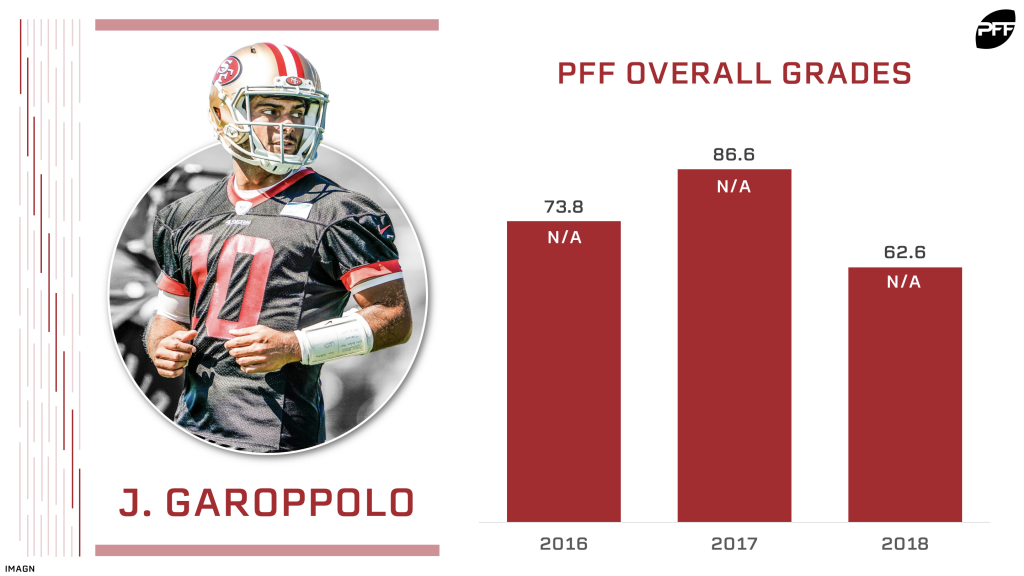 Things were trending up for Carr in 2015 and 2016, but he's ranked just 21st and 19th in PFF grades over the last two seasons. Carr generally does a good job of taking care of the ball, but 2016 saw him rank 10th in big-time throw percentage, a ranking that has dropped to 29th and 18th over the last two years. Like the other quarterbacks in this tier, Carr must be aggressive enough to take advantage of an arm that can zip it down the field and drop it in with touch while keeping his ability to keep turnover-worthy plays on the low side. Carr's first season on new head coach Jon Gruden saw him tie for 37th with an average depth of target of only 7.5, a number that likely needs to increase if he's going to live up to his potential.
There was a point in Dalton's career in which he was the poster child for "average" quarterback, with his 2015 season the perfect example of a group of excellent skill players being able to elevate him to top-10 production. However, an influx of similar talents has pushed Dalton down the list of rankings in recent years. He got off to a good start last year, showing off his usual quick release and solid accuracy while sprinkling in a few off-script plays that have been needed for a while in order to elevate his game. A new scheme may instill even more life into Dalton's game, and head coach Zac Taylor and company must take advantage of Dalton's accuracy in between the numbers, particularly on seam routes.
Like Newton, Winston is on the extreme end of volatile as a passer, ranking first in positively graded throws since entering the league in 2015 while also posting the second-highest percentage of negatives. It's due in part to Winston's downfield aggressiveness that has seen him post the three biggest years in terms of yardage coming through the air (line of scrimmage to target point) rather than after the catch. This profile is similar to Carson Palmer, another gunslinger who saw his best success under Bruce Arians, the new head coach of the Bucs. Arians may be able to turn Winston's downfield acumen into a more efficient product if he can help cut back on Winston's turnover-worthy plays where he hasn't ranked better than 20th during his career, including the second-highest mark in the league last season.
It's a make-or-break season for Mariota who has had bouts of good play during his career but is still plagued by inconsistency. Mediocre performance from a clean pocket throughout his career is a concern, but for such an athletic quarterback, Mariota has struggled to bridge that gap with plays outside the pocket where he has the ninth-worst grade in the league since entering the league. Overall, Mariota has yet to post a PFF grade of 80.0-plus in his career, and the Titans have a decision to make about whether to continue to build around his skillset or to move on after the season given the number of mid-tier quarterbacks currently available in today's NFL. This has a chance to be the best group of playmakers during Mariota's career, so a statistical uptick is not out of the question even if he continues his baseline of play.
Tier 4: Quarterbacks with more question marks, either due to a lack of experience/seeing them perform at a high level in the NFL or due to volatility when given extended opportunities to play.
Murray's ranking is a projection based on what we saw from him in college. He earned the No. 1 ranking on the PFF draft board and subsequently was picked No. 1 overall in the NFL draft after leading the nation in both passing and rushing grade a year ago. Murray lacks traditional NFL size, but he has plenty of arm and was accurate to all levels of the field at Oklahoma while adding a dynamic threat as a runner. His fit with new head coach Kliff Kingsbury should only accelerate his development, and Murray earned that No. 1 spot on the PFF board because we think he has top-10 NFL potential.
It's been an odd run for Foles throughout his career, and he has another chance to prove that he can be a true franchise quarterback in Jacksonville. His 2013 season is one of the best statistical seasons in history, though it was aided by Chip Kelly's brand-new scheme (ranked 10th in PFF grade). The 2014 season saw regression, his 2015 season was a disaster with the Rams where multiple quarterbacks struggled, then 2017 and 2018 saw Foles rejuvenated when given a chance to start for the Philadelphia Eagles, leading one of the most improbable Super Bowl runs in history in 2017. His last two years have been incredibly volatile as he's posted the top two PFF game grades for the Eagles despite starting fewer games than Wentz, but he's also put up six of the top-10 worst grades. It shows Foles as both streaky and scheme dependent, and he is going to a Jaguars team that has a fraction of the playmakers that he was working with in Philadelphia. On the bright side, Foles has shown the ability to take care of the football, and a return to top form defensively in Jacksonville could make for a good match with a game-managing Foles.
Darnold was our No. 2 quarterback in the 2018 draft, ranking right behind Mayfield. His rookie season had similar ups and downs as his final year at USC as he ranked No. 35 with a PFF grade of 50.9 during the first nine weeks of the season, but he came back after an injury to post the No. 1 grade over the last four weeks of the season at 87.7. Darnold is excellent at throwing with accuracy and anticipation at the short and intermediate level while complementing his in-pocket play with out-of-structure magic that was on display in the early going at USC. He is primed to take a big step forward, regaining his strong play on passes up to 20 yards. The big question for Darnold is the deep ball where he was inconsistent in college and last year posted a passer rating of just 42.3 on 20-plus yard passes. His career years will likely coincide with the emergence of a downfield playmaker who will steal a few jump balls while Darnold emerges as one of the better mid-range passers in the league.
There's a disconnect between Trubisky's statistical output and his throw-by-throw performance last season, and it's a big year in his development. He had impressive moments as a rookie and a few top-notch performances last year, though his 63.6 overall grade ranked just 29th in the league despite ranking 17th in passer rating during the regular season. Trubisky went from one of the worst play-calling/playmaker situations to one of the best, and that was a big reason for his statistical success. Among the positives, Trubisky ranked 11th in big-time throw percentage and his legs were a weapon as he finished with the top rushing grade among quarterbacks at 88.2. In order to take the next step, Trubisky must improve his accuracy at 10-plus yards down the field and lower his percentage of uncatchable passes that ranked 31st out of 35 qualifiers. Trubisky is set up with another good situation offensively, but improved play on his part is crucial if the Bears are going to repeat in the NFC North.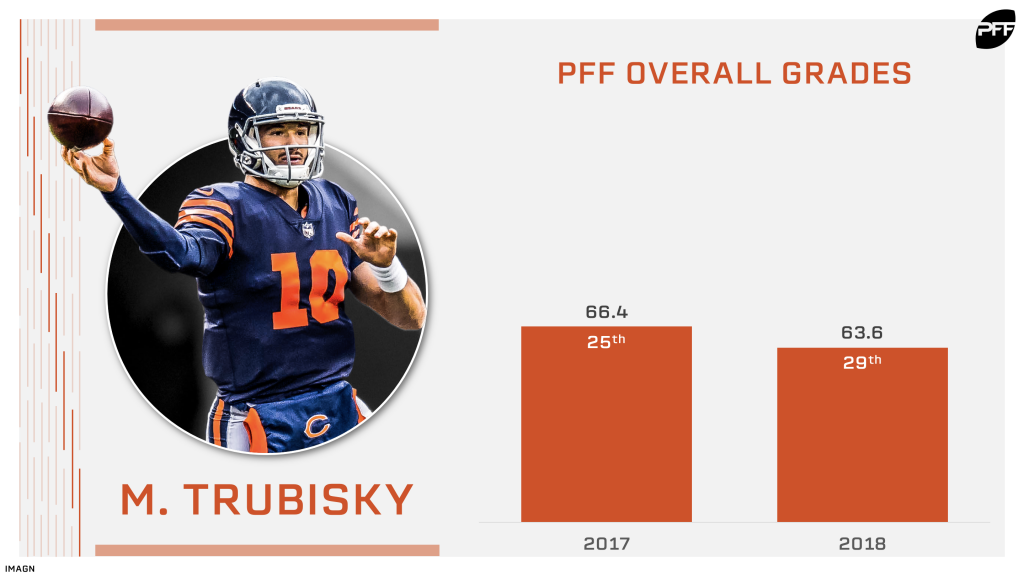 Jackson's 2018 performance backed up our pre-draft scouting report perfectly. As a passer, he can get through progressions and sprinkle in NFL-caliber throws, but his throw-by-throw accuracy is still below NFL standards and last among qualifiers in accuracy percentage and clean pocket PFF grade. However, Jackson's dynamic rushing ability was put to good use in the designed running game where he led the league with 550 yards, more than double the next closest quarterback. Jackson's rushing ability should be used to open up a higher percentage of open throws, and that will be his secret to mitigating the accuracy concerns and achieving the pass-game production needed to put up points in today's NFL.
We're still a few years removed from Flacco's best work, as his 2014 season is one of only two years in which he's posted a PFF grade of at least 75.0. While his velocity has been down in recent years, Flacco's best years showed off his ability to drive the ball outside the numbers while giving his playmakers opportunities to make plays down the field. Between a lack of aggressiveness and a lack of quality targets, Flacco has become one of the more conservative quarterbacks in the league, ranking sixth in check-down percentage since 2016 (9.1%) and posting the first and fifth-lowest average depth of completion in a season since 2016 (4.7 in 2017, 5.2 in 2016). Perhaps a change of scenery and a new scheme will rejuvenate Flacco this season, and his last good year in 2014 was built around a similar outside zone/play-action-heavy system.
While the Giants showed signs of life in 2016 with a playoff run and Manning's stats looked respectable last season, not much has changed about his play over the last five years. After posting his only two top-10 finishes in PFF grading in 2011 and 2012, he's graded between 64.3 and 70.9 in every season since 2013, consistently ranking among the bottom third of NFL quarterbacks. It's a similar case as Flacco as Manning's arm strength has taken a hit and his aggressiveness has followed as he has the third-highest percentage of check downs since 2016. Unfortunately, Manning has still ranked among the league-leaders in turnover-worthy plays while not ranking better than 20th in big-time throws over the last three years. While the offensive line has been an issue in New York, Manning has not been able to overcome and elevate his teammates, and it's actually been his playmakers elevating him during those stretches in which he manages to post stats near the league average.
Keenum's career has one clear outlier season in 2017, as he ranked seventh with an 81.4 grade with the Minnesota Vikings, but the rest of his extended starting opportunities have him ranked in the mid-20s among NFL signal-callers. Keenum has shown that he's a solid spot starter, but he's become somewhat of a bridge quarterback or placeholder for franchises looking for their long-term option. His 2017 season was aided by a strong receiving corps and unsustainably strong play under pressure, while last season saw Keenum fall back in line with a No. 28 ranking in percentage of positively graded throws while finishing 26th at avoiding negatives.
The situation in Arizona was as bad as it gets last season, as Rosen had the league's worst pass-blocking offensive line and a limited group of pass-catchers. Still, he played below his expected standard, ranking last with a PFF grade of 49.7. Coming out of UCLA, Rosen showed off excellent intermediate accuracy on NFL-type throws, but even that failed him in his rookie season. Despite first-round tools, Rosen never truly dominated at UCLA, and his inability to make plays outside of structure raised question marks about his ceiling. We compared Rosen to Eli Manning coming out, and that's still a best-case scenario as the right ecosystem could see him go on a run with aggressive big-time throws down the field, but subpar surroundings could lead to more ugly, turnover-prone play. Given the supporting cast in Miami, it may be the latter this season.
Like Rosen, Allen had a rough supporting cast as a rookie, though his uneven play resembled what he showed at Wyoming. He finished with the No. 25 overall grade at 65.3, showing off the expected big arm that led to the No. 12 percentage of big-time throws, but also the poor decision-making and inaccuracy that led to a No. 30 ranking at avoiding turnover-worthy plays. There are similarities to Lamar Jackson as they both have throw-for-throw accuracy concerns (Allen ranked 33rd out of 35 qualifiers after ranking poorly in college), but there are avenues for future success. Allen's best bet is continuing to make the big plays down the field while complementing with the rushing ability that saw him rush for a league-high 508 yards on scrambles while posting the No. 4 rushing grade among quarterbacks, at 81.4. A new group of playmakers may give Allen a few more open throws to help with the accuracy issues, and he looks like a quarterback who will struggle with week-to-week consistency but will put together monster stretches of play that will make life difficult on opposing defenses.
[Editor's Note: All of PFF's advanced stats and grades for every NFL player are made available in PFF's ELITE subscription. Subscribe today to gain access!]